40 Kanye West Quotes on Life, Love, and Billionaire Status
These Kanye West quotes will give you a glimpse into the billionaire's mindset.
Here are some of our favorite Kanye West quotes.about
We would love for you to leave your favorite Kanye West quote in the comment section below.
Kanye West is an American rapper, music producer, fashion designer, and newly minted billionaire, according to Forbes.
Kanye has a huge body of work and is one of the most awarded artists of all time with 21 Grammies.
He is best known for his critically acclaimed albums, The College Dropout, Late Registration, and Graduation.
Kanye is extremely outspoken, believes in himself, and believes that the world would be completely transformed if everyone believed in themselves and their ability to make their dreams real.
And after reading these quotes, be sure to also check out our list of Eminem quotes for additional motivation.
Check out our most popular quote article, a list of short inspirational quotes for daily inspiration.
Check out our entire collection of motivational quotes here.
Inspirational Kanye West Quotes
1. "It really matters and then like it really doesn't matter. What matters is the people who are sparked by it. And the people who are like offended by it, it doesn't matter. Because its about motivating the doers. Because I'm here to follow my dreams and inspire other people to follow their dreams, too." – Kanye West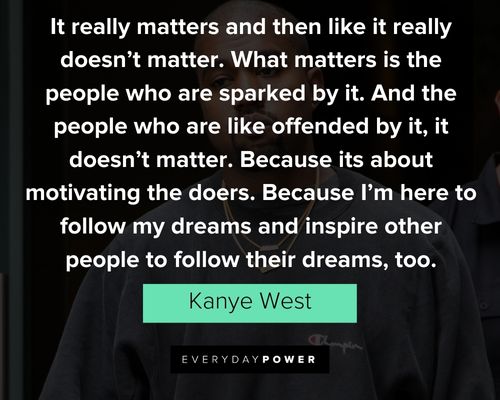 Kanye West quotes on self-education
2. "Most people are slowed down by the perception of themselves. If you're taught you can't do anything, you won't do anything. I was taught I can do everything." – Kanye West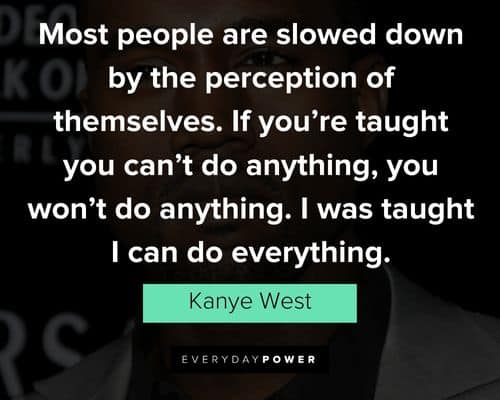 3. "Kanye West is so passionate that he will make a sucker feel uncomfortable because they aren't passionate like that about anything in their life." – Talib Kweli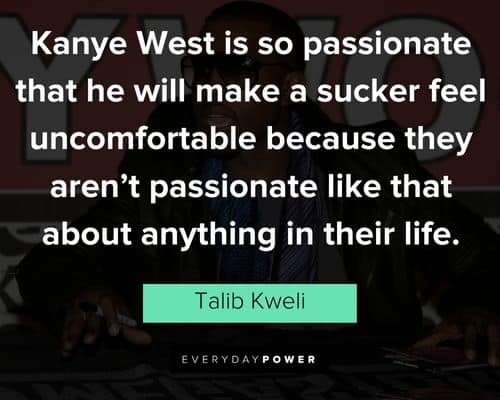 4. "It's crazy that we live in a world where if you're super positive and super creative…it's scary. Because what does that tell you about the mentality of most people if you're scared of like…positivity." – Kanye West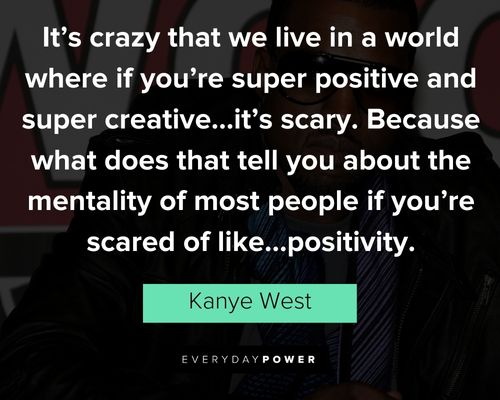 Kanye West Quotes on life and dreams
5. "Go listen to my music. It's the code of self-esteem. It's the code of who you are. If you're a Kanye West fan, you're not a fan of me, you're a fan of yourself." – Kanye West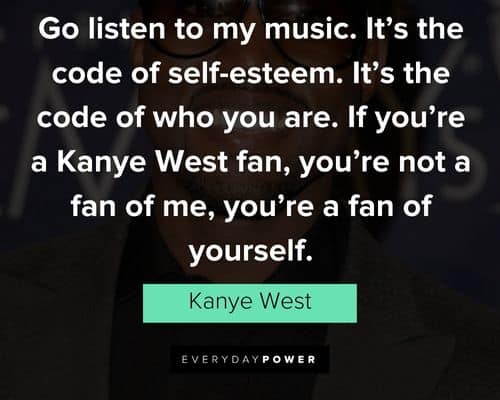 6. "I refuse to follow the rules where society tries to control people with low self esteem." – Kanye West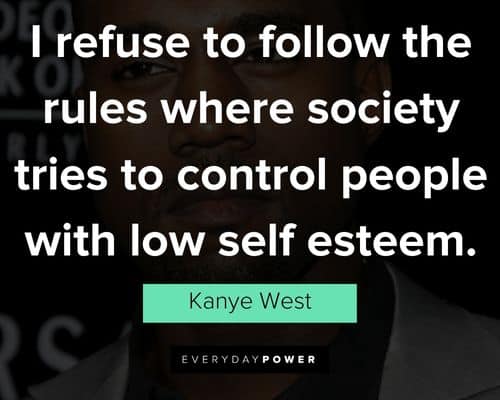 If you're enjoying this article, be sure to also check out these Tupac quotes on life, love, and being real.
Kanye West quotes about Kim and his family
7. "The only luxury is time. The time you get to spend with your family." – Kanye West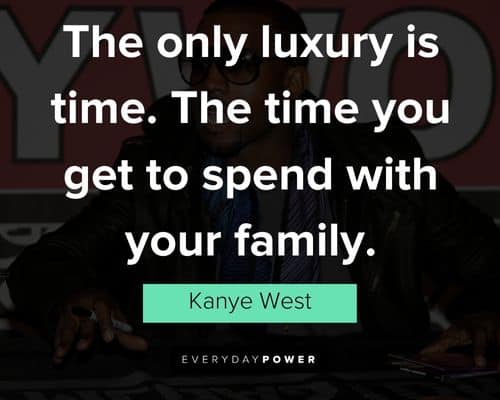 8. "Every time I say something that is extremely truthful, out loud…it literally breaks the internet. So what are we getting all the rest of the time." – Kanye West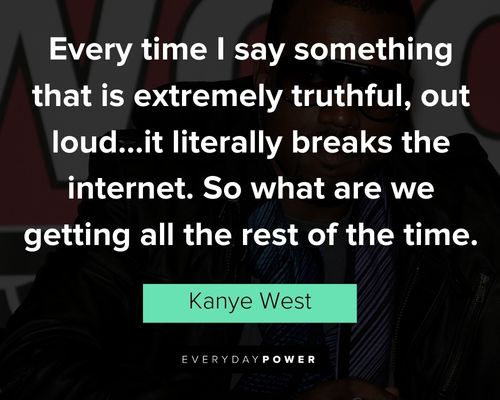 You will also enjoy our article on xxxtentacion quotes and lyrics.
Kanye West quotes on creativity
9. "People in this world shun people for being great, for being a bright color, for standing out. But the time is now, to be OK with being the greatest you." – Kanye West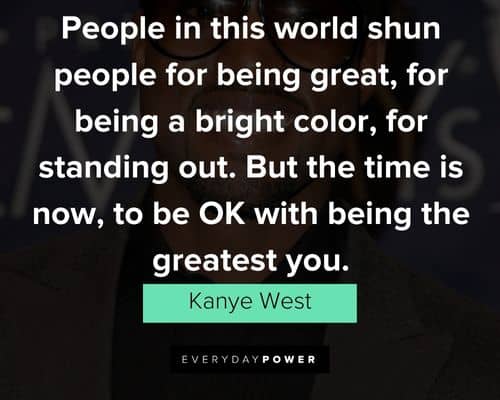 10. "We're not always in the position that we want to be at. We're constantly growing We're constantly making mistakes. We're constantly trying to express ourselves and actualize our dreams." – Kanye West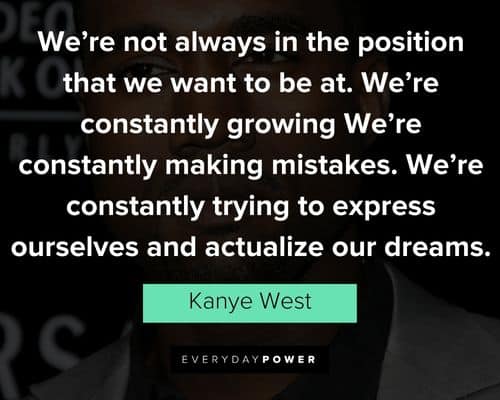 Kanye West quotes about life
11. "It's bigger than me. It's about while I was here on earth what did I do to help." – Kanye West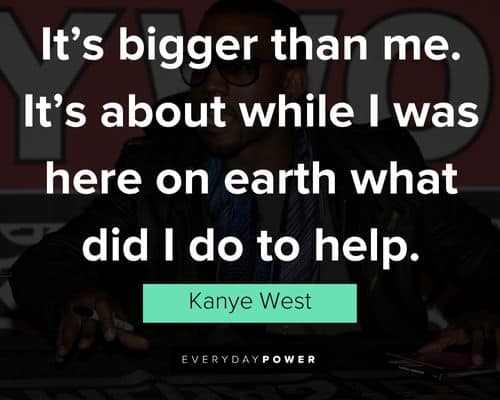 12. "You've got to be really dialed into exactly who you are to the one hundredth power or you're just everyone else." – Kanye West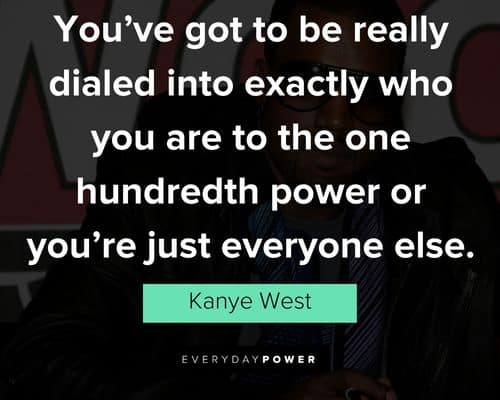 13. "I want people to feel like it's ok to create. It's ok to not be boxed in. I want people to feel like awesome is possible. – Kanye West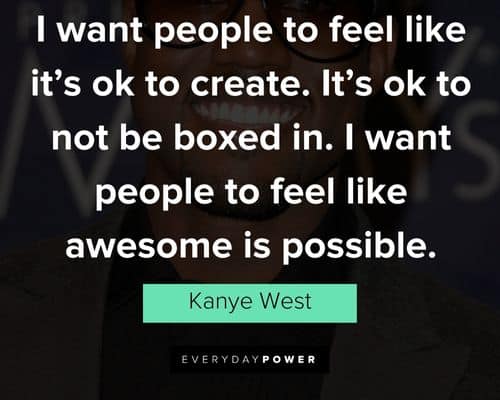 If you're enjoying this article, make sure to also check out these BTS quotes and lyrics from the platinum-selling South Korean boy band.
Kanye West quotes about the world and love
14. "We were born into a broke world, and were like the clean up crew." – Kanye West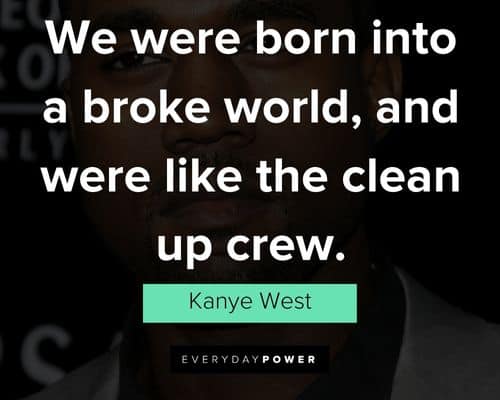 15. "I don't care about having a legacy, I don't care about being remembered. The most important thing to me is, while we're here, while we're having fun, while we're sleeping, breathng oxygen, living life, falling in love, having pain and having joy…what can we do with our voice to make things easier, to help someone to make it better for our kids." – Kanye West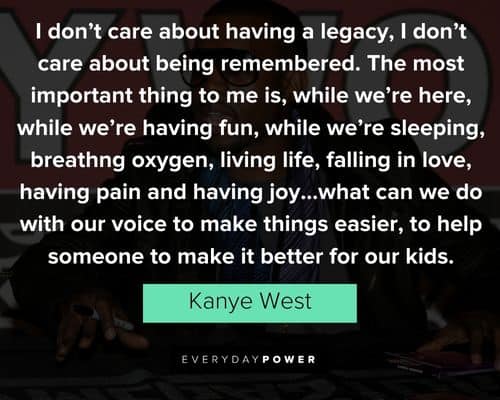 16. "I can be vilified. I can be misunderstood. I didn't come here to be liked. I came here to make a difference." – Kanye West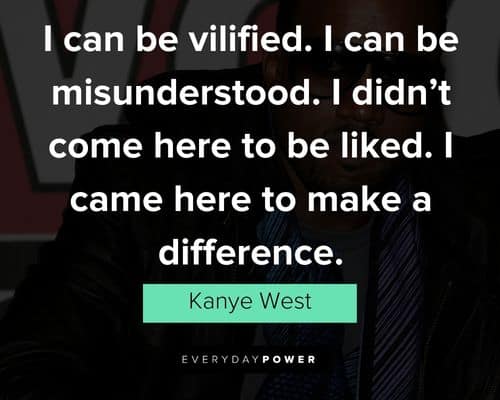 17. "We have to understand that we're not each others enemy." – Kanye West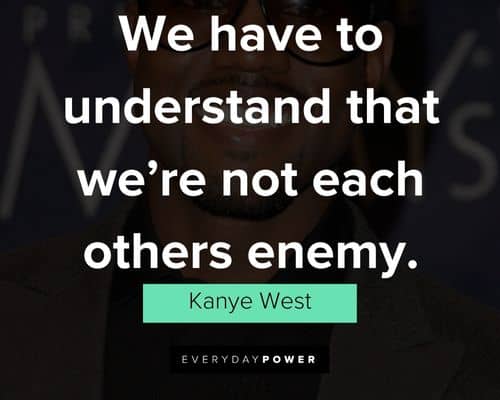 18. "So many people are just so obvious. They don't even realize that when they try to box me in and put me in a box, or put Donda in a box, they are actually showing their own level of ignorance and putting themselves in a box. People can write, write, write all they want, but what are people doing?
And anybody who is out there doing, they know how are it is to actually do. And I'm like, a motivation for the doers. If everything I did failed, which it doesn't it actually succeed, but if everything I did failed, just the fact that I'm willing to fail is an inspiration.
People are so scared to fail and lose that they don't even try. Like one thing people can't say, they can't I'm not trying. And, that I'm not trying my hardest to do it the best way I can with what little information I have."
– Kanye West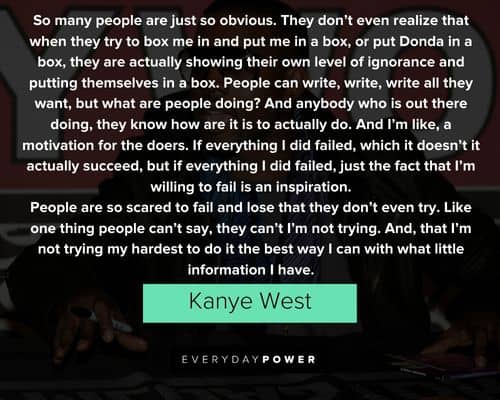 19. "I think there are school teachers who are on the exact same mission as me." – Kanye West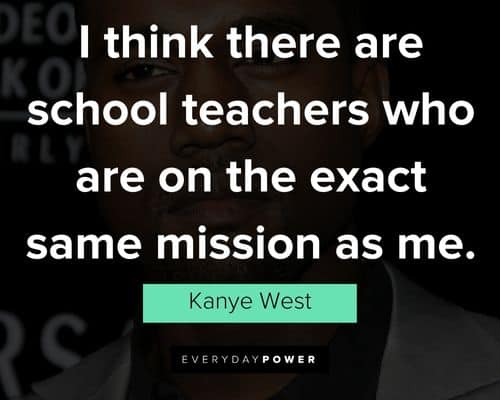 20. "The dinosaurs are remember only by their bones. What will we be remembered for with humanity?" – Kanye West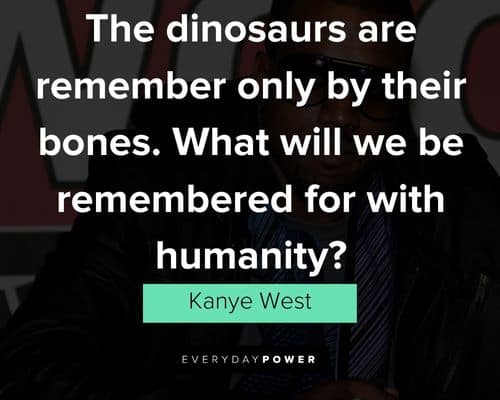 21. "Fusion is the future. The mixing of ideas. The two lunch tables working together. Humanity… we're 1 people." – Kanye West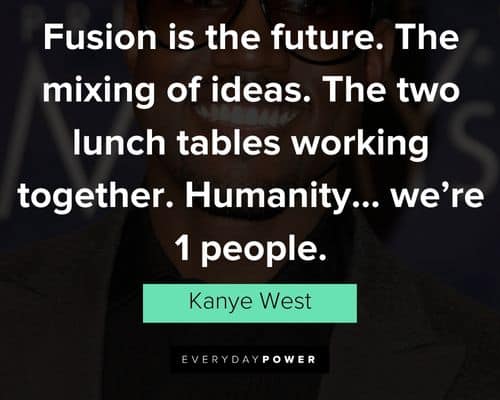 22. "People don't stand up and protect their dreams because they get spoofed in a way." – Kanye West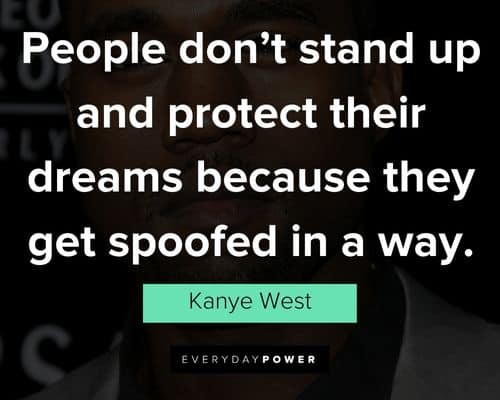 23. "I'm not going to sit inside of a corporation for 20 years. The time is now. The time is now to express yourself. The time is now to believe in yourself." – Kanye West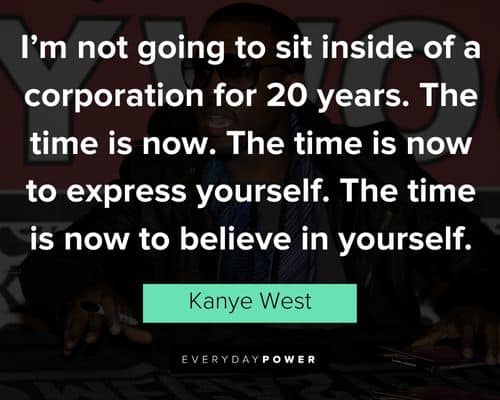 24. People always tell you to be humble, be humble, be humble. When was the last time someone told you to be great? To be amazing. To be awesome." – Kanye West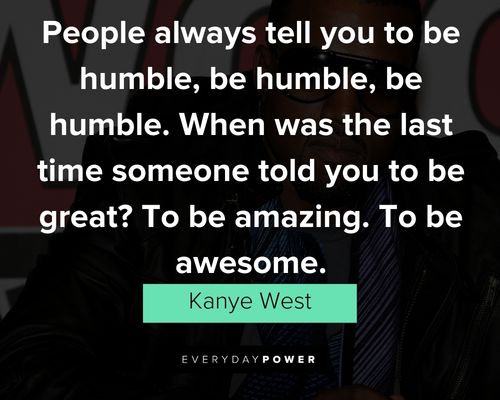 If you're enjoying this article, you might also like these XXXTentacion quotes to help weave through the darkness within.
More inspirational Kanye West quotes
25. "If you have the opportunity to play this game called life, you have to appreciate every moment. A lot of people don't appreciate their moment until it's passed" – Kanye West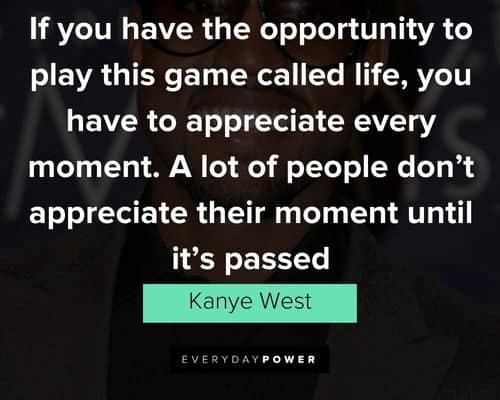 26. "People always say that you can't please everybody. I think that's a cop-out. Why not attempt it? 'Cause think of all the people you will please if you try." – Kanye West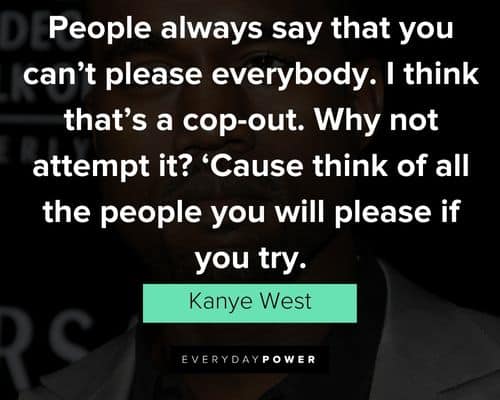 27. "I feel that I'm very blessed. But with great blessings come great responsibility." – Kanye West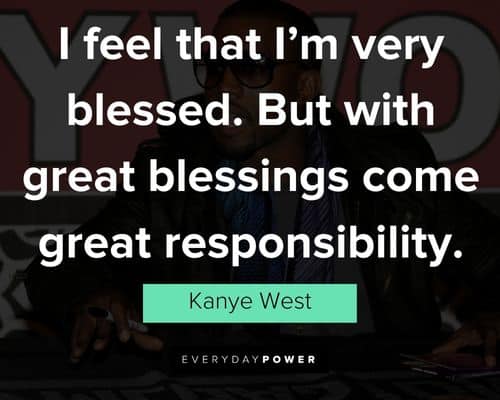 28. "Keep your nose out the sky, keep your heart to god, and keep your face to the raising sun." – Kanye West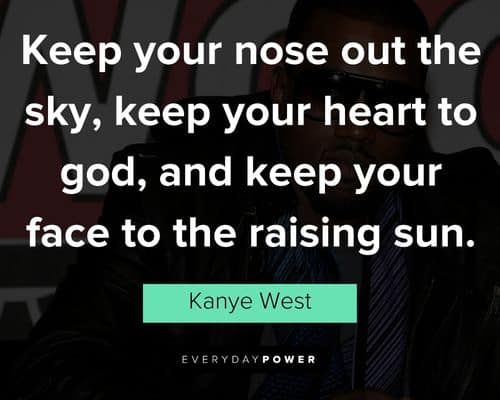 29. "I feel like I'm too busy writing history to read it." – Kanye West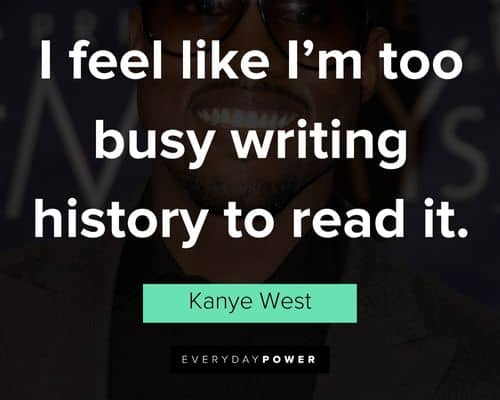 30. "Love your haters, they're your biggest fans." – Kanye West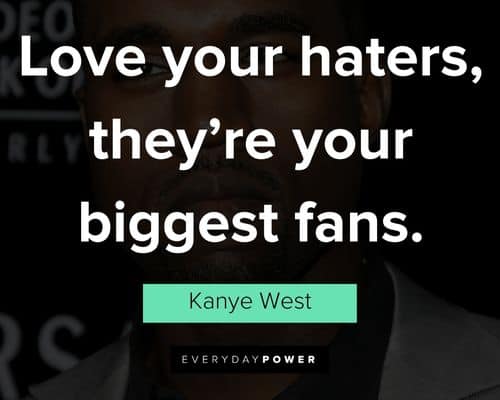 31. "My greatest pain in life is that I'll never be able to see myself perform live." – Kanye West
32. "I am flawed as a human. I am flawed as a person. As a man I am flawed…
… but my music is perfect!" – Kanye West
33. "I don't care about what people think, because people don't think." – Kanye West
34. "Nothing in life is promised except death." – Kanye West
If you're enjoying this article, be sure to also check out these J. Cole quotes on life & love.
Kanye West quotes and lyrics on happiness and success
35. "I refuse to accept other people's ideas of happiness for me. As if there's a 'one size fits all' standard for happiness." – Kanye West
36. "Let's go on a living free, they say the best things in life are free" – Kanye West
37. "People will have a problem with whatever you do. At the end of the day, nobody can determine what you need to do in order to be successful and why would you listen to someone who is not successful tell you what you need to do?" – Kanye West
38. "Having a Rolex or a Benz is not something that actually represents your success because there's always something more expensive to buy. Success is really being able to do things for others as well as the people around you and yourself." – Kanye West
39. "I was never really good at anything except for the ability to learn." – Kanye West
40. "Success is the best revenge." – Kanye West
Best Rap Lines From Kanye West
"It seems we living the American dream,
But the people highest up got the lowest self-esteem,
The prettiest people do the ugliest things,
For the road to riches and diamond rings,
We shine because they hate us, floss cause they degrade us,
We trying to buy back our 40 acres,
And for that paper, look how low we a stoop,
Even if you in a Benz, you still a nigga in a coupe!"
– All Falls Down, Kanye West
What if somebody from the Chi that was ill got a deal on the hottest rap label around
But he wasn't talking bout coke and birds it was more like spoken word
Except he's really putting it down
And he explained the story about how blacks came from glory
And what we need to do in the game
Good dude, bad night, right place, wrong time
In the blink of an eye his whole life changed
If you could feel how my face felt you would know how Mace felt
Thank God I ain't too cool for the safe belt
I swear to God driver two wanna sue
I got lawyer for the case to keep what's in my safe; safe
My dawgs couldn't tell if I
I look like Tom Cruise on Vanilla Sky, it was televised
There's been an accident like GEICO
They thought I was burnt up like Pepsi did Michael
I must gotta angel
Cause look how death missed his ass
Unbreakable, would you thought they called me Mr. Glass
Look back on my life like the ghost of Christmas past
Toys R Us where I used to spend that Christmas cash
And I still won't grow up, I'm a grown ass kid
Swear I should be locked up for stupid shit that I did
But I'm a champion, so I turned tragedy to triumph
Make music that's fire, spit my soul through the wire
– Kanye West, Through The Wire
I just needed time alone, with my own thoughts
Got treasures in my mind but couldn't open up my own vault
My child-like creativity, purity and honesty is honestly being crowded by these grown thoughts
Reality is catching up with me, taking my inner child I'm fighting for custody
With these responsibilities that they entrust in me
As I look down at my diamond encrusted piece thinking…
– Kanye West, Power
Don't forget to also read these song quotes from some of the biggest hits.
How we stop the black panthers?
Ronald Reagan cooked up an answer
You hear that?
What Jill Scott was hearin
When our heroes and heroines got hooked on heroin.
Crack raised the murder rate in DC and Maryland
We invested in that it's like we got Merril-Lynched
And we been hangin from the same tree ever since
Sometimes I feel the music is the only medicine
So we cook it, cut it, measure it, bag it,sell it
The fiends cop it
Nowadays they cant tell if that's that good shit
We ain't sure man
Put the CD on your toungue yeah, thats pure man.
– Kanye West, Crack Music
You know who you can call you gotta best believe it
The Roc stand tall and you would never believe it
Take your diamonds and throw 'em up like you bulimic
Yea the beat cold but the flow is anemic
After debris settles and the dust get swept off
Big K pick up where young Hov left off
Right when magazines wrote Kanye West off
I dropped my new shit sound like the best of
A&R's lookin' like "pssh we messed up"
Grammy night, damn right, we got dressed up
Bottle after bottle till we got messed up
In the studio, where really though, yea he next up
People askin' me if I'm gon' give my chain back
That'll be the same day I give the game back
You know the next question dog "Yo, where Dame at?"
This track the Indian dance to bring our reign back
"What's up with you and Jay, man, are y'all ok man?"
They pray for the death of our dynasty like Amen
R-r-r-right here stands a-man
With the power to make a diamond with his bare hands…
– Kanye West Diamonds From Sierra Leone
God show me the way because the Devil trying to break me down
The only thing that that I pray is that my feet don't fail me now
And I don't think there is nothing I can do now to right my wrongs
I want to talk to God but I'm afraid because we ain't spoke in so long
To the hustlers, killers, murderers, drug dealers even the strippers
To the victims of Welfare for we living in hell here hell yeah
Now hear ye hear ye want to see Thee more clearly
I know he hear me when my feet get weary
Cause we're the almost nearly extinct
We rappers are role models we rap we don't think
I ain't here to argue about his facial features
Or here to convert atheists into believers
I'm just trying to say the way school need teachers
The way Kathie Lee needed Regis that's the way I need Jesus
So here go my single dog radio needs this
They say you can rap about anything except for Jesus
That means guns, sex, lies, video tapes
But if I talk about God my record won't get played Huh?
Well if this take away from my spins
Which will probably take away from my ends
Then I hope this take away from my sins
And bring the day that I'm dreaming about
Next time I'm in the club everybody screaming out
– Kanye West, Jesus Walks
You might also like these NBA YoungBoy quotes that will motivate you to hustle.
Which Kanye West quotes were your favorite?
Despite his ego and outspoken personality, Kanye West remains to be one of the most respected and most awarded rappers of all time.
Hopefully, these Kanye West quotes have inspired you to believe in yourself and your ability to make your dream come true.
Did you enjoy these Kanye West quotes?
What other quotes by Kanye West would you add to the list?
Tell us in the comment section below.
We would love to hear all about it.