25 The Best Avatar: The Last Airbender Quotes
Anime fans can unite around these Avatar quotes from The Last Airbender.
There is no denying the success of the anime show, Avatar: The Last Airbender.
You may also enjoy our article on:
It first aired in the early 2000s and hasn't gone anywhere.
It's been wildly successful.
If you've never watched the series before, it's depicted in a time where there are four nations based around fire, earth, water, and air.
The Avatar is the one that holds the balance of them together until he disappears.
When that happens, peace is lost and war becomes the common theme among the nations.
While the series includes whimsical moments, there are also heavy messages that come along with it.
See what you can pick up from these quotes.
Remember also to check out these quotes from Avatar: The Way of Water.
Also, check out our most popular quote article, a list of short inspirational quotes for daily wisdom.
See the rest of our quote database for even more inspirational ideas and thoughts.
Inspirational Avatar quotes
1. "When we hit our lowest point, we are open to the greatest change."- Aang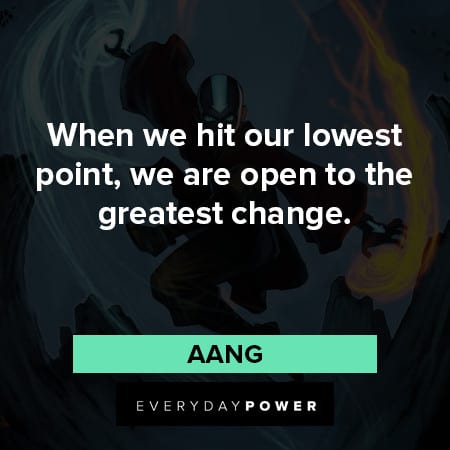 You will also enjoy our article on sad anime quotes.
2. "You need to find someone who WAITS and LISTENS before striking." – King Bumi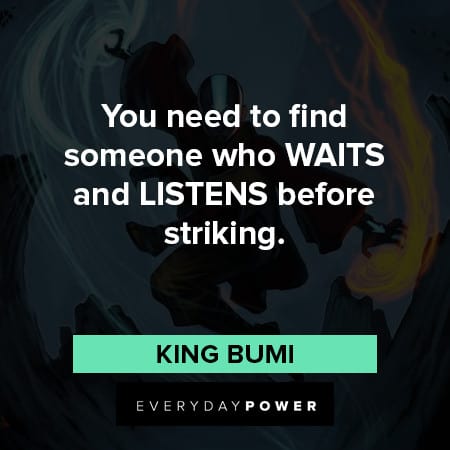 3. "Protection and power are overrated. I think you are to choose happiness and love." – Iroh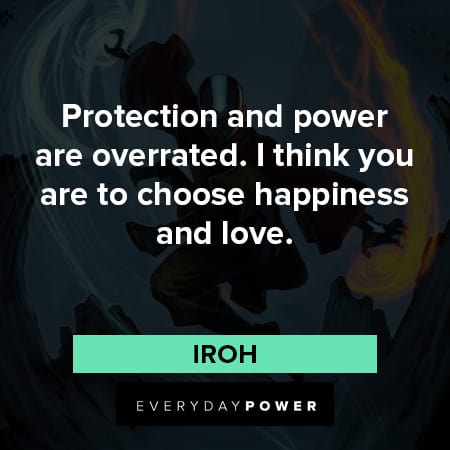 You will also enjoy our article on top netflix shows.
4. "Sometimes the best way to solve your own problems is to help someone else." – Iroh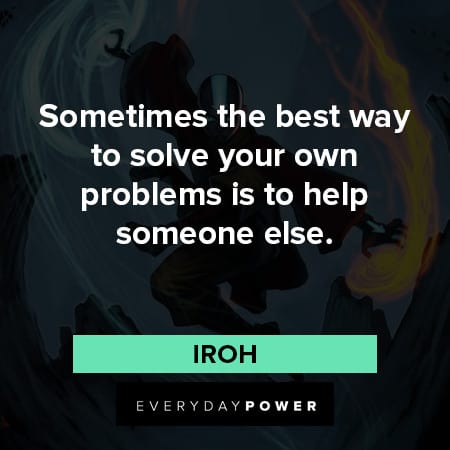 You will also enjoy our article on how to stop endlessly replaying the mistakes you made.
5. "The past can be a great teacher." – Aang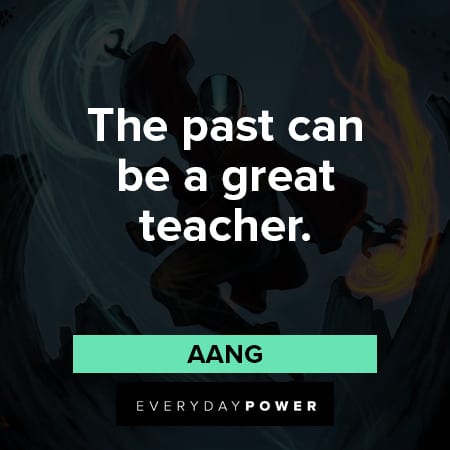 You will also enjoy our article on how to get a response from highly successful people.
6. "In the darkest of times, hope is something you give yourself." – Zuko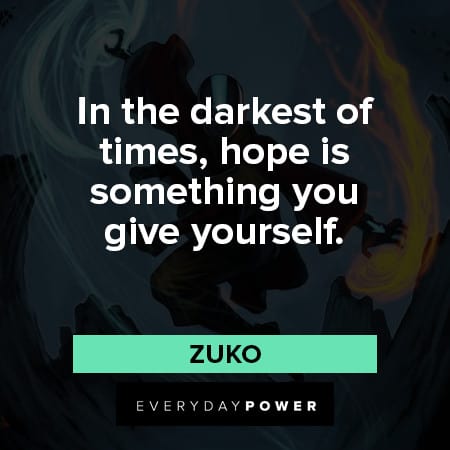 You will also enjoy our article on how to hustle without mental burnout.
7. "It's easy to do nothing, it's hard to forgive." – Aang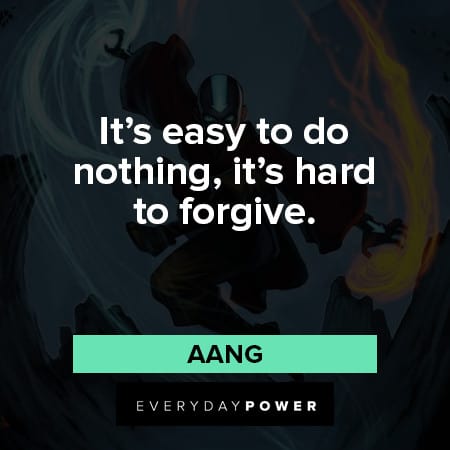 You will also enjoy our article on stop fighting the wrong battles.
8. "I know sometimes it hurts more to hope and it hurts more to care." – Katara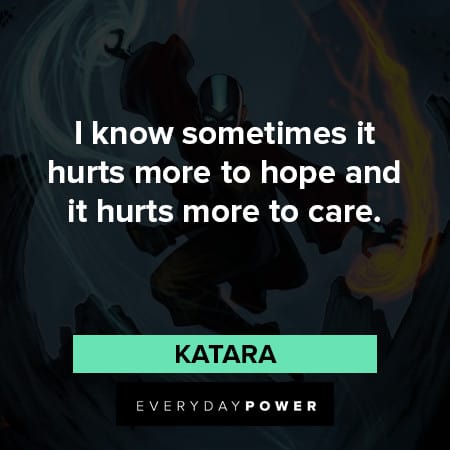 9. "Never forget who you are, for the world surely won't." – Zuko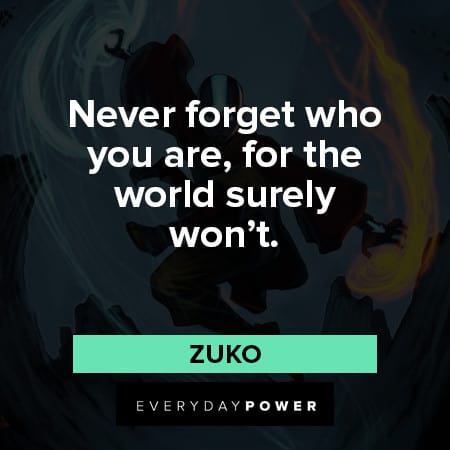 10. "Life happens wherever you are, whether you make it or not." – Iroh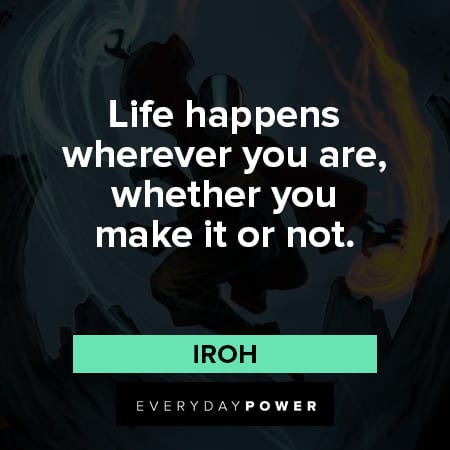 Wise Avatar quotes
11. "Love is brightest in the dark." – Katara
12. "Pride is not the opposite of shame, but its source. True humility is the only antidote to shame." – Iroh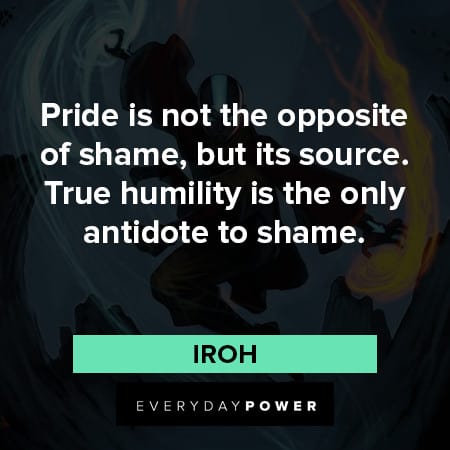 13. "I didn't know what or when, but I knew I'd know it when I knew it!" – King Bumi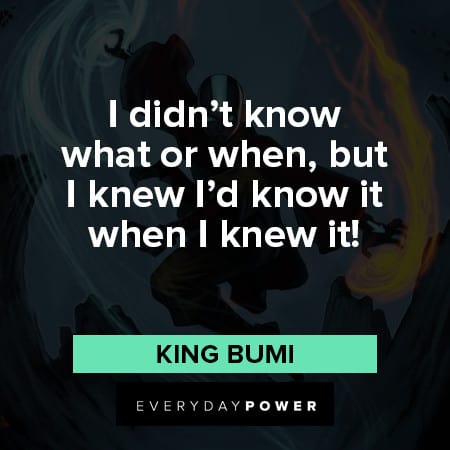 14. "Let it go." – Aang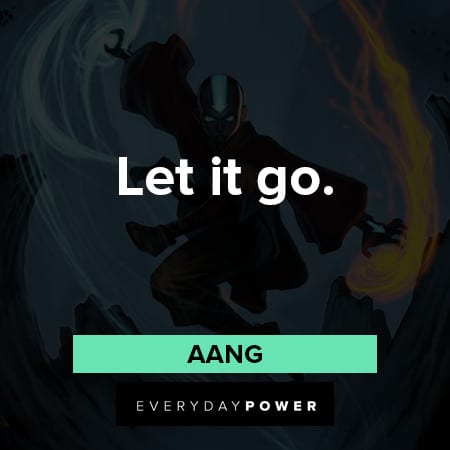 15. "If you want to be a bender, you have to let go of fear." – Aang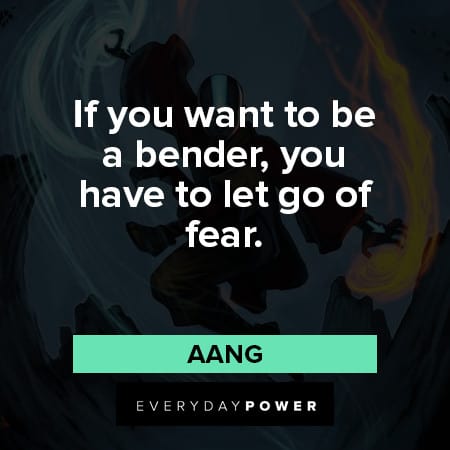 16. "There is nothing wrong with letting the people who love you help you." – Iroh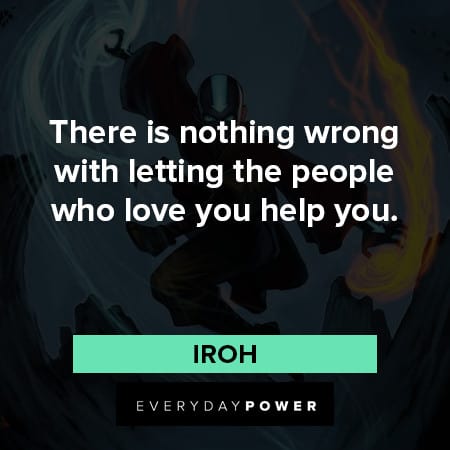 17. "But now you're not letting yourself feel anything. I know sometimes it hurts more to hope and it hurts more to care. But you have to promise me that you won't stop caring." – Katara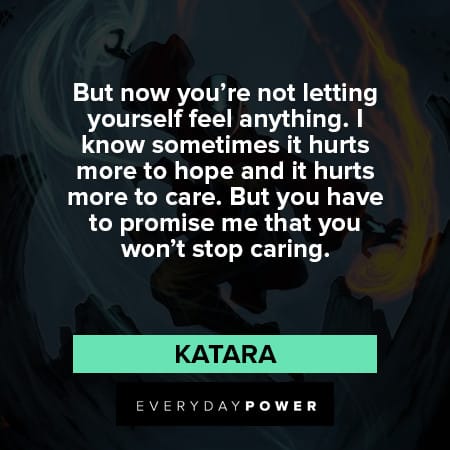 18. "While it is always best to believe in oneself, a little help from others can be a great blessing." – Iroh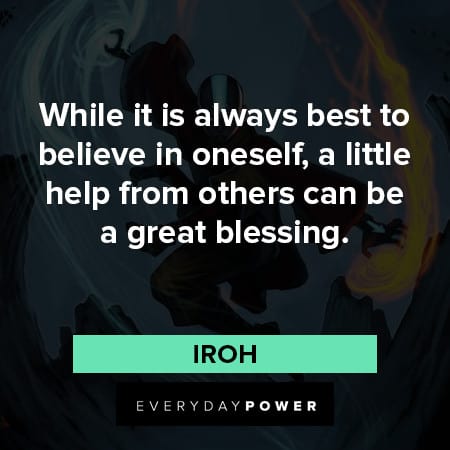 19. "The true mind can weather all lies and illusions without being lost." – The Ancient Lion Turtle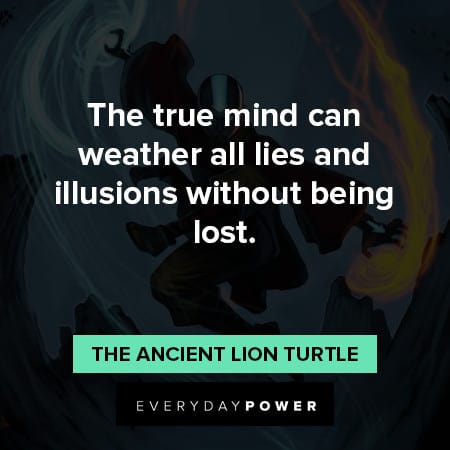 20. "You must actively shape your own destiny and the destiny of the world."  – Avatar Kuruk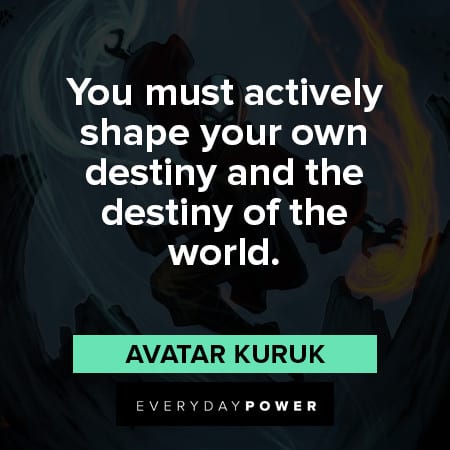 If you enjoy this article, check out our collection of Azula quotes from the crown princess of fire!
Funny Avatar quotes
21. "In my dream, we were right in the middle of the invasion, and you stopped to use the bathroom. We die because of your tiny bladder." – Aang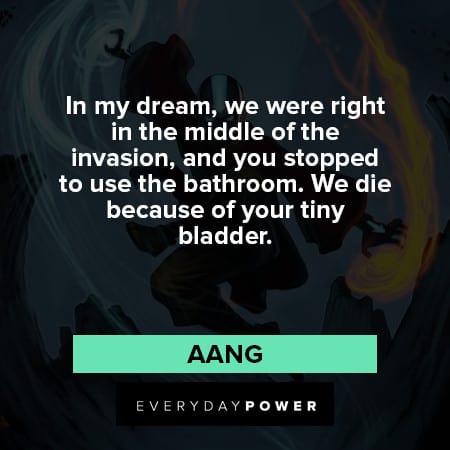 22. "Hey, we are in enemy territory. Those are enemy birds." – Sokka
23. "Oh, no! I knew it was only a matter of time! Appa ate Momo! Momo, I'm coming for you, buddy!" – Sokka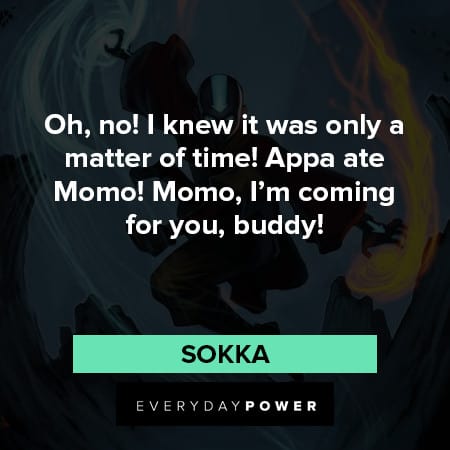 24. "Why? Because you think I can't hang posters on my own? It's upside down, isn't it? I'll just go with Sokka." – Toph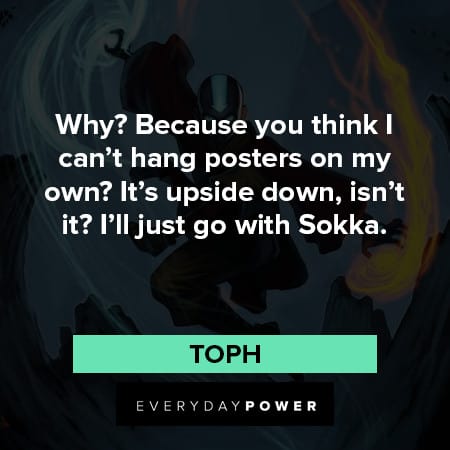 25. "Relax, Sokka. Where we're going, you won't need any pants!" – Aang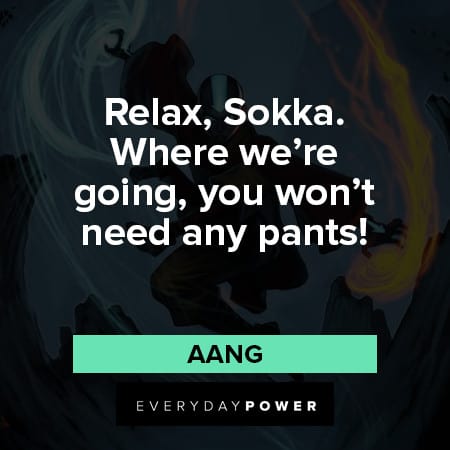 Did you enjoy these Avatar quotes?
People that are new to the idea of anime often struggle to understand what the craze is about among fans.
But it doesn't take long simply reading through the quotes to see how many of life's lessons are communicated through the stories and characters.
It has a way of bringing important lessons and ideas from fictional characters in a way that speaks very clearly to some.
For others, anime is simply an escape from reality, which we can use a little of from time to time.
Don't forget to check out these Zaheer quotes before you go!
So whether you like to find hidden messages or simply like to lose yourself in the story, if you enjoyed these Avatar quotes and lines, check out the series.
Which other movies should we feature on Everyday Power?
Let us know in the comment section below.