110 Problem Solving Quotes to Help You Arrive at a Solution
Life can not be lived without encountering a few problems as evidenced by these problem solving quotes.
Some of these problems might be small, some might be catastrophic, and others will fall in between.
The size and scope of the problem really doesn't matter.
What does matter, as you will see in these problem solving quotes, is your attitude and response to the problem.
How you view problems in general is a big part of the way you solve problems.
Do you think of them as something that is happening to you or an opportunity to learn something new?
Your understanding of the actual problem will also impact the way you solve it.
Many of these problem solving quotes stress that the solution will come from studying the problem itself.
Now, problem solving skills are something you can learn—either from academic knowledge, certain careers or activities, or emotional regulation techniques.
There are several steps involved in solving a problem including: identifying, analyzing, and describing the problem.
Then you follow that up with looking for the root cause of the problem.
After that, you can develop alternative solutions and then choose one to implement.
Finally, you should measure the results.
Keep reading through these problem solving quotes to elevate your perspective on how to handle a problem.
There are also a few tips at the end of the article for ways you can improve your problem solving skills!
Check out our most popular quote article, a list of short inspirational quotes for daily inspiration.
If you enjoy this collection, check out our inspirational quotes category page.
Short Problem Solving Quotes
This first collection of problem solving quotes are short and to the point. They are perfect for a quick glance when you are stressed.
1. "All problems are illusions of the mind." ― Eckhart Tolle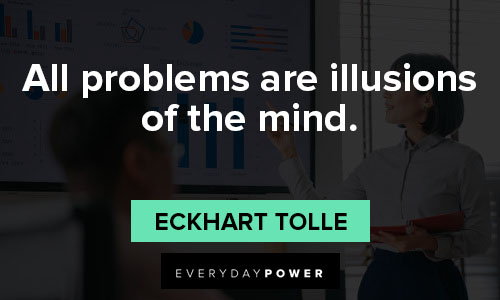 2. "A problem well stated is a problem half solved." — John Dewey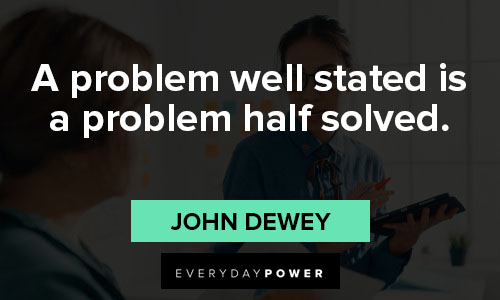 3. "A problem is a chance for you to do your best." — Duke Ellington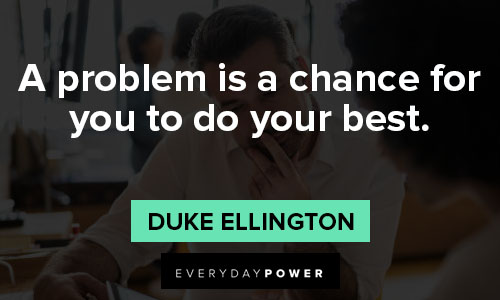 4. "Creating something is all about problem-solving." — Philip Seymour Hoffman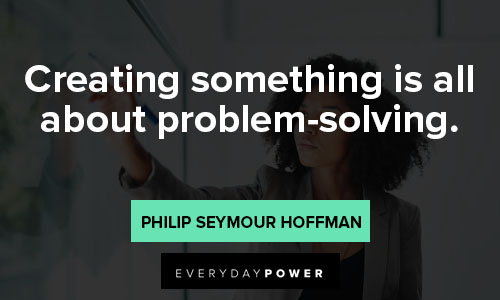 5. "I'm not afraid of problem-solving. There is always a way." — Hanneli Mustaparta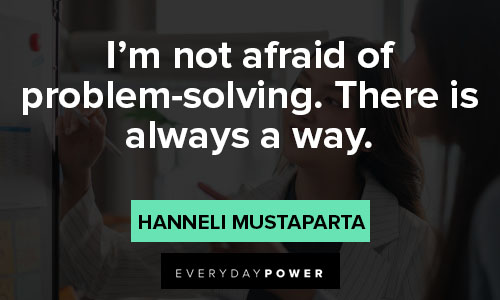 6. "There are only two ways to solve a problem: stop dwelling, and start doing." ― Emily Uraih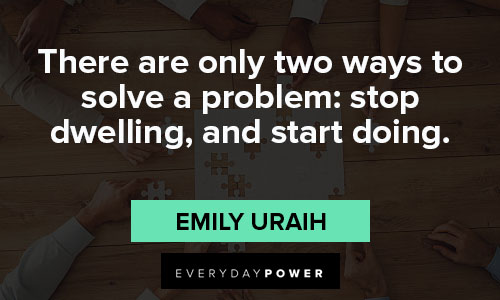 7. "If knowledge can create problems, it is not through ignorance that we can solve them." — Isaac Asimov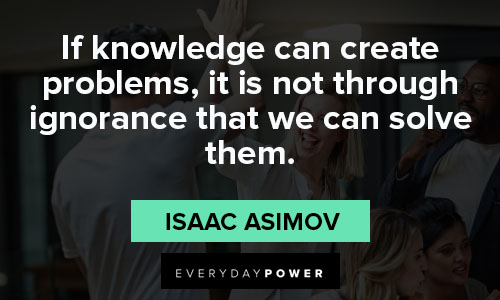 8. "We can not solve our problems with the same level of thinking that created them." — Albert Einstein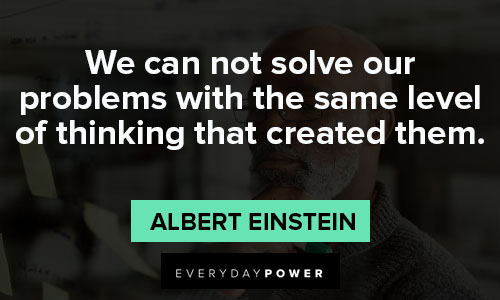 9. "Sometimes, the best way of solving a problem is by letting it unsolved." ― Joe Mari Fadrigalan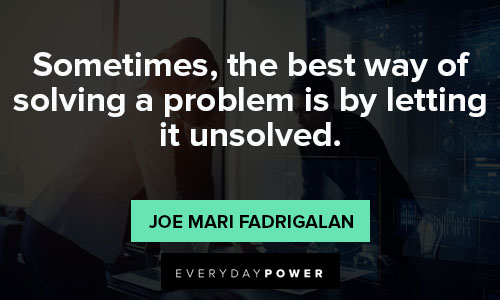 10. "The problem is not the problem. The problem is your attitude about the problem" ― Captain Jack Sparrow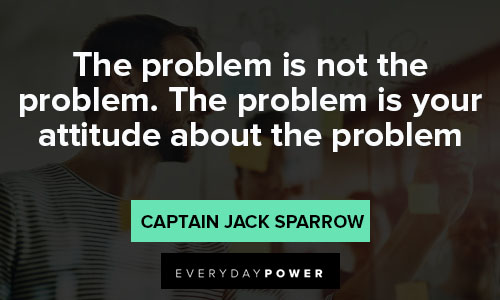 Problem Solving Quotes About the Solutions to Problems
With every problem there is a solution. The quotes below will help you become more proficient in finding that solution.
11. "It is courage which can find the solution to every problem." ― Amit Kalantri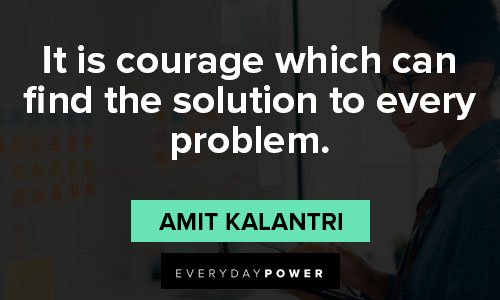 12. "There is always a solution to every challenging situation." ― Lailah Gifty Akita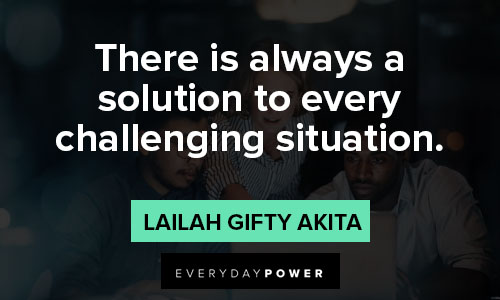 13. "There's no use talking about the problem unless you talk about the solution." — Betty Williams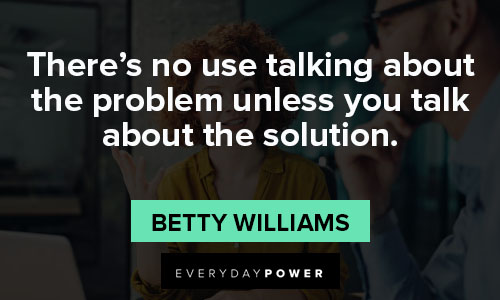 14. "Every problem has a solution; it may sometimes just need another perspective." ― Katherine Russell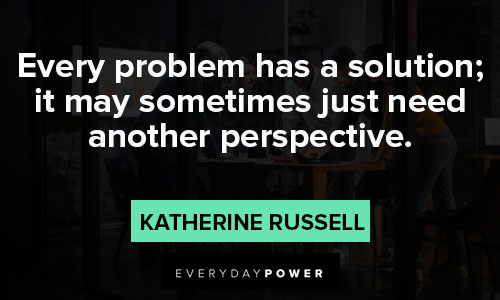 15. "It's so much easier to suggest solutions when you don't know too much about the problem." ― Malcolm Forbes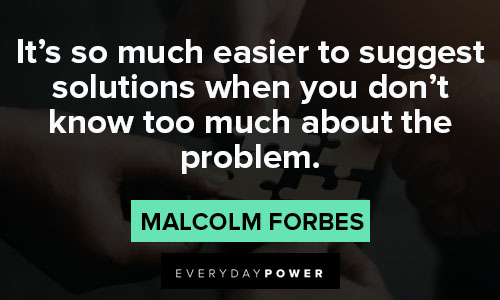 16. "The important thing about a problem is not the solution, but the strength we gain in finding a solution." ― Seneca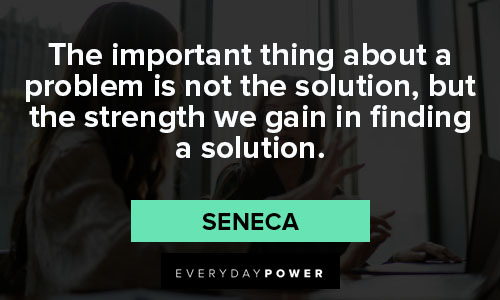 17. "Every outcome has its cause, and every predicament has its solution." — Anthony Doerr, All the Light We Cannot See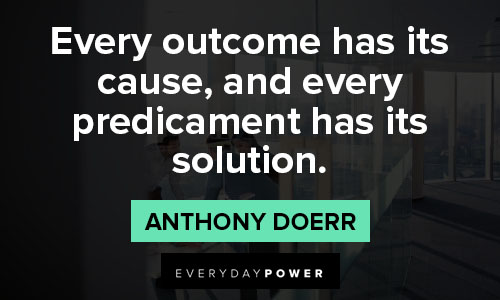 18. "Every problem has a solution, although it may not be the outcome that was originally hoped for or expected." — Alice Hoffman, Practical Magic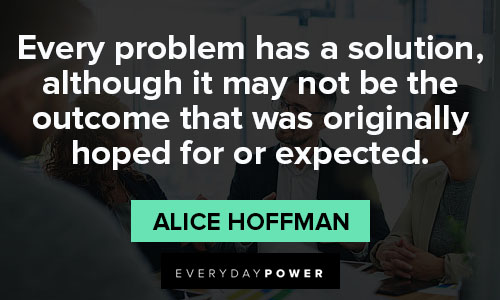 19. "Believe it is possible to solve your problem. Tremendous things happen to the believer. So believe the answer will come. It will." — Norman Vincent Peale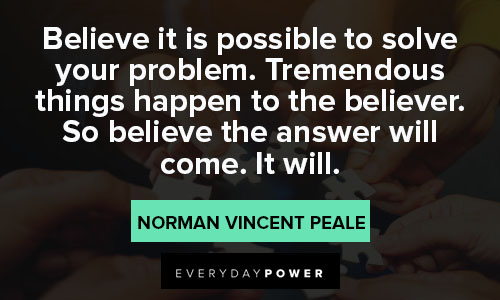 20. "Whatever the problem, be part of the solution. Don't just sit around raising questions and pointing out obstacles." — Tina Fey, Bossypants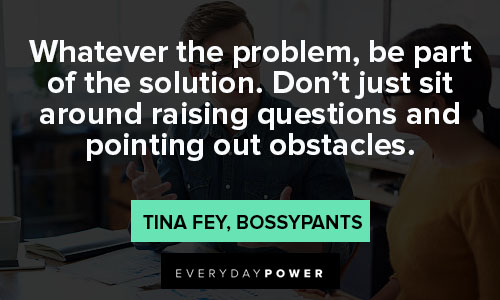 Problem Solving Quotes to Keep in Mind When Facing Your Problems
These quotes equip you with wisdom when facing your problems. Remember that we all have problems, the successful people learn how to handle them.
21. "The problem is not to find the answer, it's to face the answer." ― Terence McKenna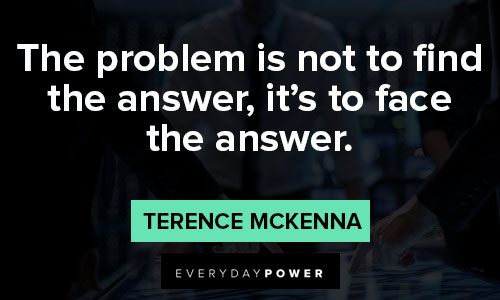 22. "If your only tool is a hammer then every problem looks like a nail." — Abraham Maslow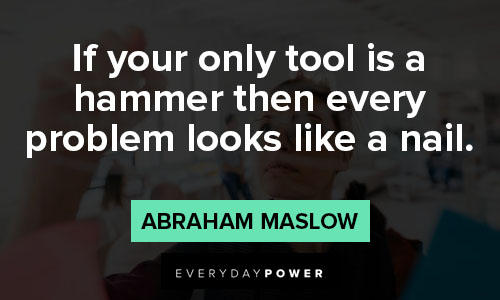 23. "Creating is no problem – problem solving is not creating." — Robert Fritz, The Path of Least Resistance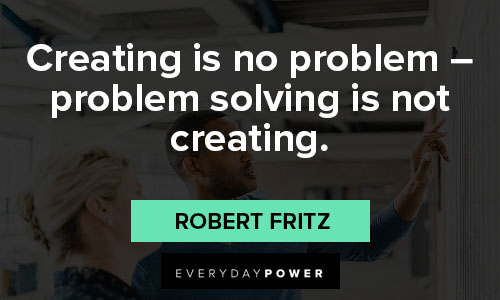 24. "A step at a time… One problem at a time—just figure out this one problem." — Linda Sue Park, A Long Walk to Water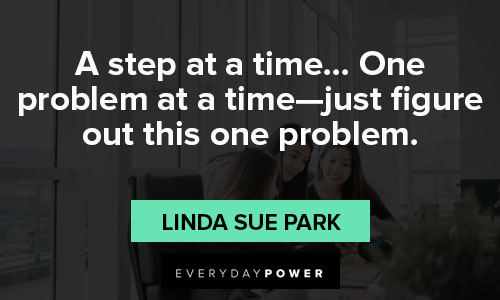 25. "Yeah, that's right; money is the greatest single problem-solver known to man…" — Jordan Belfort, The Wolf of Wall Street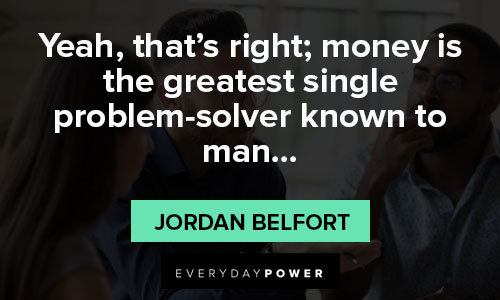 26. "Leaps of greatness require the combined problem-solving ability of people who trust each other." — Simon Sinek. Leaders Eat Last
27. "Problem-solving becomes a very important part of our makeup as we grow into maturity or move up the corporate ladder." — Zig Ziglar
28. "Too many problem-solving sessions become battlegrounds where decisions are made based on power rather than intelligence." — Margaret J. Wheatley
29. "'We just have to keep going until we find out what's wrong or find out why we don't know what's wrong.'" — Robert M. Pirsig, Zen and the Art of Motorcycle Maintenance
30. "As the world we live in is so unpredictable, the ability to learn and to adapt to change is imperative, alongside creativity, problem-solving, and communication skills." — Alain Dehaze
Careers or Activities that Aid in Problem Solving Quotes
We can increase our skills in problem solving if we are willing to put in the time and work. Take a look at the quotes below to get some ideas on how to solve problems.
31. "You can increase your problem-solving skills by honing your question-asking ability." — Michael J. Gelb
32. "Problem-solving, inventing, hacking and coding is more of an adrenaline rush of endorphins rather than a feeling." — Walter O'Brien
33. "Problem-solving is essential to engineering. Engineers are constantly on the lookout for a better way to do things." — Dinesh Paliwal
34. "On and on you will hike, And I know you'll hike far and face up to your problems whatever they are." — Dr. Suess, Oh, The Places You'll Go
35. "I've been amazed at how often those outside the discipline of design assume that what designers do is decoration. Good design is problem solving." — Jeffrey Veen
36. "I got addicted to the hands-on problem-solving through the process of making or designing something. Architecture school was really influential and amazing." — Evan Sharp
37. "When trouble strikes, head to the library. You will either be able to solve the problem, or simply have something to read as the world crashes down around you." — Lemony Snicket
38. "I'm wary of the word 'inventing,' because in the British psyche the word 'inventor' is immediately linked with 'mad'. For me, inventing is problem-solving." — Thomas Heatherwick
39. "Chess can open up a kid's brain, and develop it in a playful creative way. They can learn playfully about creative, strategic, and logical thinking, and quick problem-solving." — Judit Polgar
40. "The arts are the most uniquely suited to provide young people with critical-thinking skills, problem-solving, teamwork and collaboration, empathy and tolerance and compassion, looking at the other point of views." — Emma Walton Hamilton
More Problem Solving Quotes About Children, Students, Growth, and Life
You will more easily develop problem solving skills if you start at a young age, but you are never too late. Take a look at some problem solving advice.
41. "Life isn't about living without problems. Life is about solving problems." — Tom Krause
42. "Too often we give our children answers to remember rather than problems to solve." — Roger Lewin
43. "Children have such vibrant minds. They need to play. They need to imagine. And it helps them learn problem-solving." — Jan Brett
44. "Children that play outside develop better problem solving skills and have a stronger ability to work within a group." — Jeff Foxworthy
45. "If I had an hour to solve a problem I'd spend 55 minutes thinking about the problem and 5 minutes thinking about solutions." ― Albert Einstein
46. "Problems do not go away. They must be worked through or else they remain, forever a barrier to the growth and development of the spirit." — M. Scott Peck
47. "Let's teach boys at school the personally and economically valuable skills of self-expression and emotional intelligence, of mediation and problem-solving." — Naomi Alderman
48. "If there is no solution to the problem then don't waste time worrying about it. If there is a solution to the problem then don't waste time worrying about it." ― Dalai Lama XIV
49. "Since we don't know with any certainty what specific aptitudes today's students will need tomorrow, we need to ensure they have the critical thinking and problem-solving abilities that extend beyond any one technology or program." — Eric Adams
50. "It is only because of problems that we grow mentally and spiritually. It is through the pain of confronting and resolving problems that we learn." — M. Scott Peck, The Road Less Traveled
Problem Solving Quotes to Break Barriers
51. "The best way to find a solution to a problem is to first understand it." ― Stephen Covey
52. "A problem well-stated is a problem half-solved." ― Charles Kettering
53. "I can't solve problems by hitting them with my fist." ― Albert Einstein
54. "The best way to solve a problem is to remove its cause." ― John Dryden
55."The greatest barrier to success is the fear of failure." ― Sven Goran Eriksson
56. "It's not that I'm so smart, it's just that I stay with problems longer." ― Albert Einstein
57. "When you can't solve a problem, it's because you're playing by the rules." ― Paul Arden
58. "The only limit to our solution is the size of our problem." ― Maxwell Maltz
59. "The only way to solve a problem is to go through it, not around it." ― Richard Branson
60. "Problems are not stop signs, they are guidelines." ― Robert H. Schuller
Problem Solving Quotes to Unlock Solutions
61. "Stop assuming people can read your mind. Communicate yourself." ― Akiroq Brost
62. "Most people use their minds to solve problems way less often than they use their minds to create problems." ― Mokokoma Mokhonoana
63. "Don't give a permanent solution to a temporary situation." ― Martin Uzochukwu Ugwu
64. "Common sense is a good decision maker and problem solver until your mind reaches uncommon problems." ― Thomas Vato
65. "Go, get some work. Keeping yourselves busy could solve many problems." ― Giridhar Alwar
66. "Problems turn into chores that need action once we take our power back from all that weigh us down." ― Dr. Jacinta Mpalyenkana
67. "Theoretical knowledge becomes meaningless, if it cannot offer practical solutions to existing problems." ― Gift Gugu Mona
68. "If you have a problem, it means you are very powerful." ― Meir Ezra
69. "Problem solving is an everyday occurrence in life." ― Asa Don Brown
70. "When you confront a problem, you begin to solve it." ― Rudy Giuliani
Exploring Problem Solving Quotes for Everyday Challenges
71. "Never solve a problem for someone, instead, help them figure out how to solve it on their own. Otherwise, you destroy their adaptive competence." ― Lord Robin
72. "You must stay close to your problems and solve them, because running away doesn't work; Even if it does, it will only make you weak." ― Mohith Agadi
73. "A problem properly stated is half solved." ― John Dewey
74. "If you really have to argue, do it to find better solution not to show off your intelligence." ― Praveen Daga
75. "Pull out the weeds, or make peace with the dandelions." ― Frank Sonnenberg
76. "Take every problem as a task where you will be rewarded after completing the task." ― Narendra Singh Dhami
77. "The problem is not a problem until someone handles that problem in a problematic way." ― Ntambara Sylvestre
78. "Use challenges to reassess your strategic progress." ― Oscar Auliq-Ice
79. "Treat challenges as an opportunity to refocus your strategies and open up new horizons." ― Oscar Auliq-Ice
80. "Embracing and reframing failure or setbacks means developing goals to help you exceed expectations next time." ― Oscar Auliq-Ice
Problem-Solving Quotes About How To Deal With Them
81. "You cannot fix a problem that you refuse to acknowledge." ― Margaret Heffernan
82. "Sometimes in life there's no problem and sometimes in there is no solution. In this space – between these apparent poles – life flows." ― Rasheed Ogunlaru
83. "To 'see both sides' of a problem is the surest way to prevent its complete solution. Because there are always more than two sides." ― Idries Shah
84. "When you're problem solving with a team and somebody has an idea separate the idea from the person talking, because once in a while a jackass might come up with something useful." ― Rachel Brady
85. "Look at your heart-flower and smile. You will be able to solve your most pressing problems." ― Sri Chinmoy
86. "problem-solving leaders have one thing in common: a faith that there's always a better way." ― Gerald M. Weinberg
87. "What a pity human beings can't exchange problems. Everyone knows exactly how to solve the other fellow's." ― Olin Miller
88. "People who are winning at working don't ignore the problems they encounter." ― Nan S. Russell
89. "Identifying a problem is the real theorem and fixing it is only a corollary." ― Balan Gothandaraman
90. "If the problems you have this year are the same problems you had last year, then you are not a leader. You are rather a problem on your own that must be solved." ― Israelmore Ayivor
Problem-Solving Quotes Keep You On The Move
91. "The framing of a problem is often far more essential than its solution" ― Albert Einstein
92. "That's enough crying about the problems, let's begin killing the problems." ― Amit Kalantri
93. "You will have relatively less problems to solve, if you don't confuse problems with inconveniences." ― Amit Kalantri
94. "Complaining solves nothing but creative problem solving amongst people with a common focus will produce solutions." ― Auliq Ice
95. "Your problems aren't too big — perhaps your worship is too small." ― Tommy Tenney
96. "We'll never solve the problems we don't talk about." ― Justin Young
97. "Creativity is admired only if it solves the problem." ― Amit Kalantri
98. "Much of our existence is to deal with steep problems and slippery solutions; the rest is the celebration of life!" ― Abhijit Kar Gupta
99. "Rather than micro-managing to resolve every problem, create the right atmosphere, process, and system that facilitate effective problem solving." ― Assegid Habtewold
100. "The satisfaction? The joy? That comes from solving problems and making things." ― Hank Green
101. "Mental acuity of any kind comes from solving problems yourself, not from being told how to solve them." ― Paul Lockhart
102. "The stronger person is not the one making the most noise but the one who can quietly direct the conversation toward defining and solving problems." ― Aaron T. Beck
103. "Far more interesting than problem solving is problem creation." ― Chuck Close
104. "When I'm creatively solving problems, I'm in my sweet spot, and nothing can take me out of that joyful present." ― Maria Semple
105. "Your subconscious is always working in the background, unlocking things and solving problems." ― Marc Guggenheim
106. "I reject the notion that human beings have a single intelligence, which can be drawn on for the full range of problem solving." ― Howard Gardner
107. "Producing is the antidote to acting. Producing is practical problem solving all day long. As opposed to endless self-obsession and navel gazing." ― Alessandro Nivola
108. "Confidence in the human capacity for problem solving, for invention, for innovation." ― George Takei
109. "For me, creativity includes problem-solving. That's the broad definition of it." ― Edwin Catmull
110. "Of course design is about problem solving, but I cannot resist adding
something personal." ― Wim Crouwel
How to Improve Your Problem Solving Skills
There are several ways you can improve your problem solving skills!
Some you might expect, and others might just surprise you!
For instance, did you know that dancing can help you solve problems better?
Dancing has a positive impact on our neural processing abilities, and can encourage convergent thinking.
Engaging in brain teasers and logic puzzles will help you master an important skill—the art of working backwards.
Once you get comfortable doing this you can apply that same logic and skill to real world problems.
There are some physical things you can do that impact your problem solving ability as well.
Getting a good night's sleep matters. REM sleep will enhance your brain's creative processes.
Working out, especially to music, will also boost your creative thinking and cognitive abilities.
Do you have some tips on how you improved your problem solving skills that were not mentioned in the problem solving quotes?
If you love finding answers to questions, check out our Quotes With Question Marks that will make you think.
Let us know in the comment section below what has worked well for you.
Feel free to share books you have read or people you have listened to that made an impact on your problem solving abilities!