Tyson Fury Quotes on Mental Health and Depression
Our latest collection of inspirational Tyson Fury quotes on success and mental health.
Tyson Fury is an Irish British professional boxer who defeated long-reigning heavyweight champion Wladimir Klitschko in 2015 to win the unified WBA, IBF, WBO and IBO world titles.
He's previously earned the Fighter of the Year and Upset of the Year awards and was also ranked as the world's sixth-best active pound for pound boxer in 2016.
Following a tumultuous 30-month spell away from boxing, where he battled depression and accepted a backdated two-year UK Anti-Doping ban, Fury made a comeback in 2018.
On December 1st, 2018, he shared a thrilling battle in Los Angeles with WBC heavyweight champion Deontay Wilder.
The fight ended in a split-draw decision with Fury getting back up from a pair of knockdowns to nearly winning the match – a testament to the inner strength of body and mind of the boxer.
Fury is a natural-born fighter.
He was born three months prematurely weighing just one pound but defied the odds to survive.
He's had to overcome tough challenges outside the ring, including a lengthy battle with mental illness, substance abuse and a period in which he ballooned to as high as 400 pounds.
As someone who has demonstrated an incredible ability to come back from so much turmoil, Fury has clearly managed to tap into his Everyday Power.
In that respect, here are some inspirational Tyson Fury quotes on battling depression and mental health challenges.
Also check out our compilation of depression quotes that will inspire you to find your inner strength.
If you love this quote collection, read out our most popular quote article about short inspirational quotes for daily motivation.
If you need more inspirational quotes, check out our motivational quotes category page.
Tyson Fury Quotes on Mental Health and Depression
1. "Mental health has got to be the biggest battle I've ever ever fought with, more than any opponent." – Tyson Fury
2. "People really don't understand about mental health problems unless you've been through it. Looking from the outside in people say well, that's an idiot. He's got everything going for him and he's still not happy. If I knew what it was, then I'd have fixed it straight away." – Tyson Fury
You will also enjoy our article on anxiety quotes.
3. "I had everything but it didn't mean nothing. I wanted to die on a daily basis. So material goods are only good for when things are going right in your life." – Tyson Fury
4. "You can have everything in life and feel like shit on a daily basis because no one can see inside the mind." – Tyson Fury
5. "Nothing can make depression go away except medical advice and seeking medical help basically." – Tyson Fury
6. "He told me I couldn't come back. I was too fat. I was finished. So it gave me the motivation to come back." – Tyson Fury
7. "I was way out of control. Something needed to happen, and it did." – Tyson Fury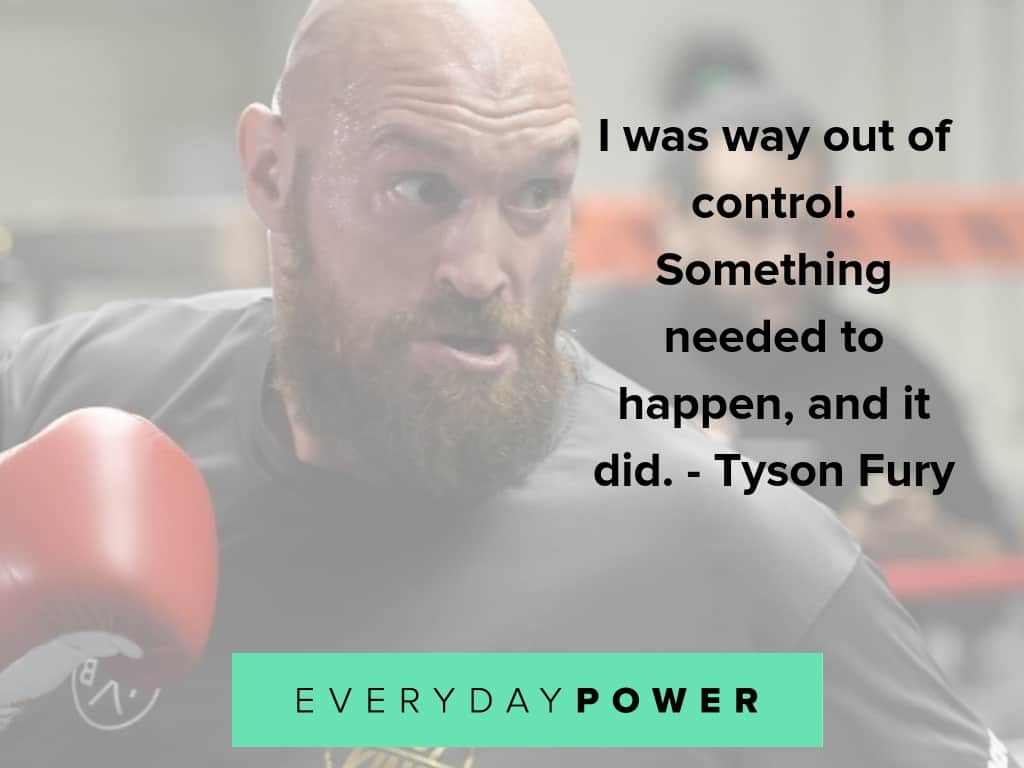 8. "I thought I've got a great platform to spread awareness about mental health, especially in sports. And if the heavyweight champion of the world comes out with these problems, and it's okay for him to come out and talk about it, that should encourage others to come out and talk about it. Because as big and tough and suppose as a great fighter I am, it can bring anybody down. Nobody is unstoppable from mental health problems." – Tyson Fury
9. "I'm battling for all those people behind me who are suffering from mental health problems, suffering from addiction and all these problems." – Tyson Fury
10. "I just showed the world tonight, everyone suffering with mental health, you can come back and it can be done. If I can come back from where I've come from, then you can do it too. So get up, get over it and let's do it. Seek help and let's do it together as a team." – Tyson Fury
You might also like these powerful Manny Pacquiao quotes for when you are feeling down and out.
More Tyson Fury quotes on mental health and depression
11. "I've been as low as anybody can go and as high as anyone can go…and you can always overcome these problems that one may have." – Tyson Fury
You will also enjoy our article on mental health.
12. "To come back from the brink of no return to get back to the top of the world, that's gonna be a statement for mental health itself." – Tyson Fury
13. "It won't be a great day every day. I used to wake up and think, why did I not die in the sleep last night. But there will be rose-colored sunshine days again. Maybe not today or tomorrow, but seek medical advice and it will get better, I promise you this."- Tyson Fury
14. "I can sit here as a man who has experienced the highest highs and the lowest lows, and I know exactly what you're going through. But my message to you today is, help is around the corner." – Tyson Fury
15. "If mental health can bring somebody as big and as strong as me to my knees, then it can bring anybody to the knees." – Tyson Fury
16. "Exterior assets mean nothing if you can't control what's going on inside." – Tyson Fury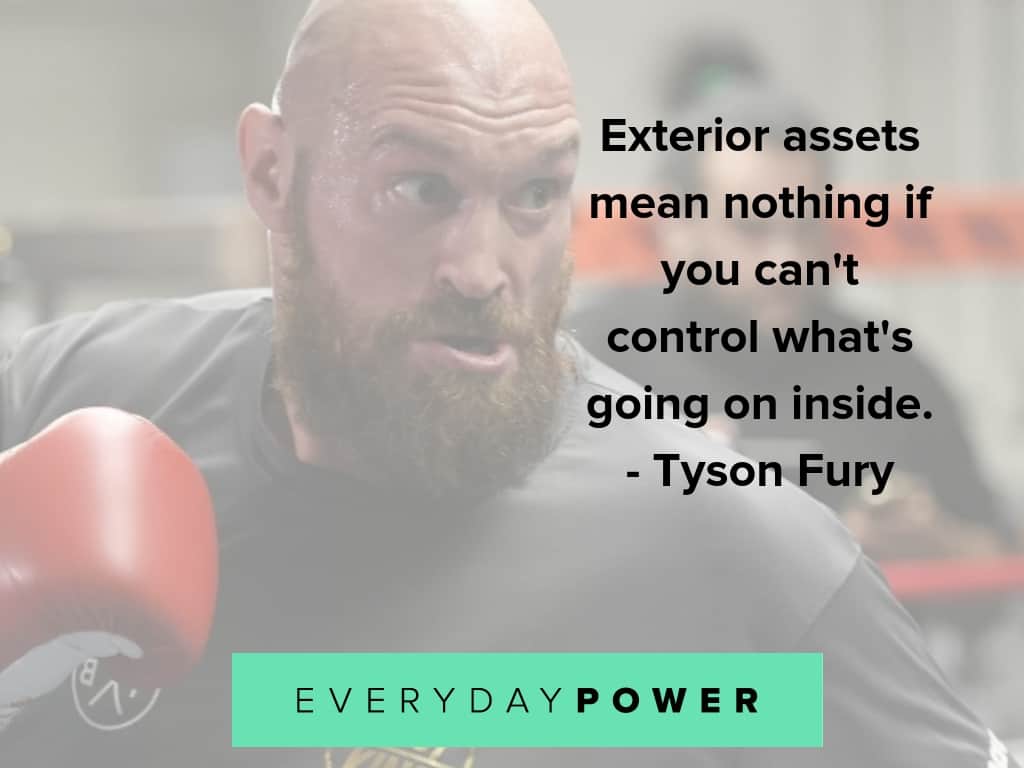 17. "If enough people talk about mental health, then it's gonna raise more and more awareness and soon or later this crisis will have to be addressed properly." – Tyson Fury
18. "I fight for those people: all the oppressed, depressed, alcoholics, drug addicts. I fight to give them hope every day so they can wake up in the morning and know there's somebody out there banging for us." – Tyson Fury
19. "If I can show the world that you can back from it, and get back in shape and to the top, then anybody can do it."- Tyson Fury
20. "The past is in the past. What happened yesterday is history. I look forward to the future on daily basis." – Tyson Fury
You will also enjoy our article on mental health quotes.
Which of these Tyson Fury quotes was your favorite?
Tyson Fury has been defying the odds since the day he was born.
Named after the great American heavyweight boxer, Mike Tyson, Fury has had to fight his way up since day one.
His incredible story of coming back from so much turmoil outside the ring should be an inspiration to each one of us.
Hopefully, these quotes have inspired you to fight through any mental obstacles that may come your way.
Did you enjoy these Tyson Fury quotes?
Which of the quotes was your favorite?
Tell us in the comment section below.
We would love to hear all about it.