Cicely Tyson Quotes About the Trailblazing Actress
I was not really aware of the powerhouse that was Cicely Tyson until I started watching How to Get Away With Murder.
If you haven't seen that show, I highly recommend it as it is a fantastic legal drama.
Cicely Tyson plays the role of Ophelia Harkness, in keeping with her tendency to take roles that portray strong black women.
She wrote a lot about the challenges she faced because of her race and gender in her memoir Just As I Am, which is where several of these Cicely Tyson quotes come from!
The role that launched her career was her critically acclaimed portrayal of Rebecca Morgan in Sounder.
This 1972 film, portraying a black family of sharecroppers, was set in Louisana in 1933.
The film tells the heartbreaking tale of the struggle facing sharecroppers, the imprisonment of the patriarch, the plight of being uneducated, and the hope that things will be better for future generations.
Of course, it also has the added element of exploring the relationship between a boy and his dog, Sounder, who gets shot by a deputy earlier and the film and then goes missing.
When the pair are reunited they set forth on an adventure to seek freedom.
There are several Cicely Tyson quotes about her time on the Sounder set and the impact it had on her career.
actress
Don't forget to also check out these How to Get Away With Murder quotes to relive your favorite moments
Check out our most popular quote article, a list of short inspirational quotes for daily inspiration.
Check out our entire collection of motivational quotes here.
Famous Cicely Tyson quotes from her memoir about God
1. "The Father has a way of choosing the flawed to attempt what many deem improbable." ― Cicely Tyson, Just As I Am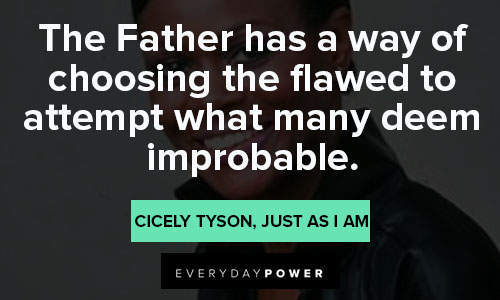 2. "I'm grateful that God often laughs at our plans and substitutes his better ones." ― Cicely Tyson, Just As I Am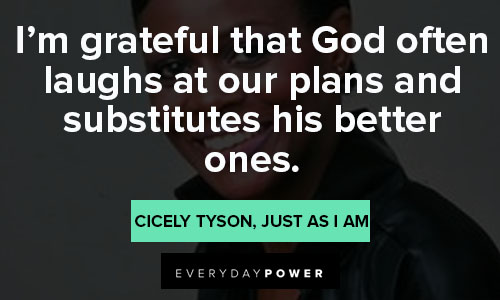 3. "God is the Master of the unlikely." ― Cicely Tyson, Just As I Am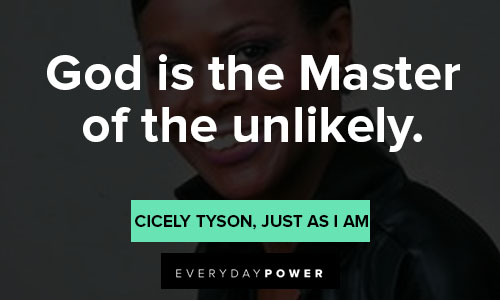 4. "Use me, God. Show me how to take who I am, who I want to be, and what I can do, and use it for a purpose greater than myself." ― Cicely Tyson, Just as I Am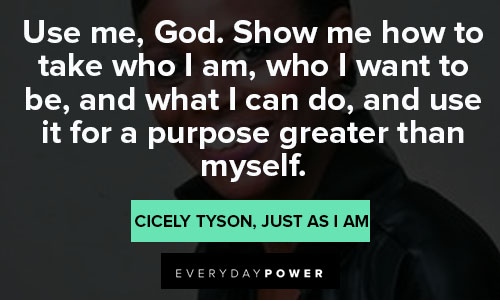 Check out our collection of Queen Latifah quotes if you enjoy this article.
5. "Rather, it was the Savior, by way of a pontiff's warm palm, who kept me safe in his care." ― Cicely Tyson, Just as I Am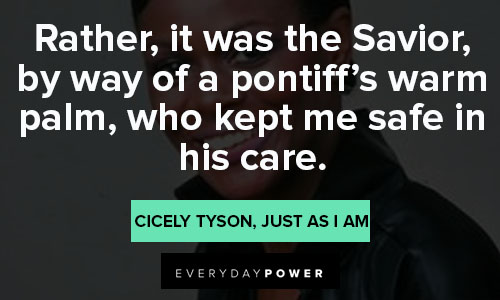 6. "When you ask God for strength, as I do daily, he doesn't usually just drop it from the sky. He often answers by placing you in a circumstance that requires you to build fortitude while relying solely on him." ― Cicely Tyson, Just As I Am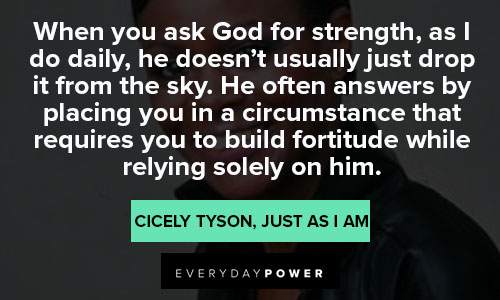 7. "My story will never be finished, nor should it be. For as long as God grants me breath, I will be living–and writing–my next chapter." ― Cicely Tyson, Just As I Am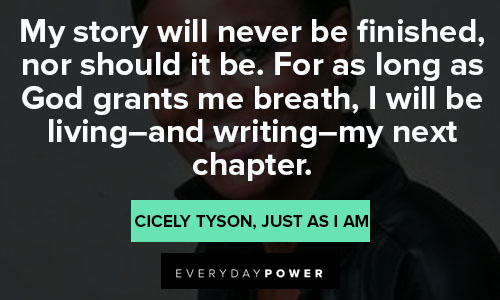 Other Cicely Tyson quotes from her memoir
8. "That is, in this life, who we are for one another–fellow sojourners and witnesses. We are here to see and hear one another." ― Cicely Tyson, Just as I Am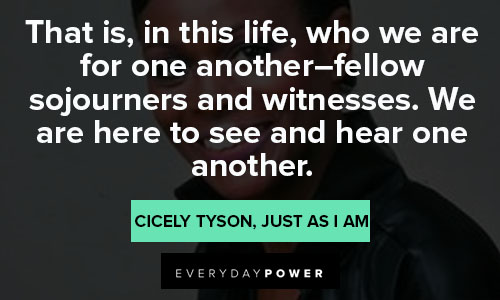 9. "What's for you in this life, you will get. And what is not for you, you will never get. Do you hear me?" ― Cicely Tyson, Just As I Am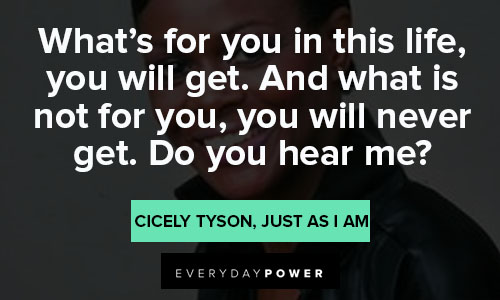 10. "The lie of Black inferiority was built right into America's infrastructure, and to this day, that framework remains stubbornly intact." ― Cicely Tyson, Just As I Am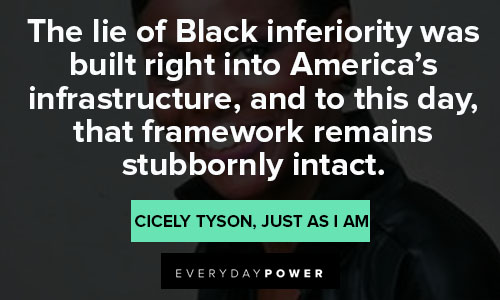 11. "My mother's falsehoods were not outright fabrications but lies of omission." ― Cicely Tyson, Just As I Am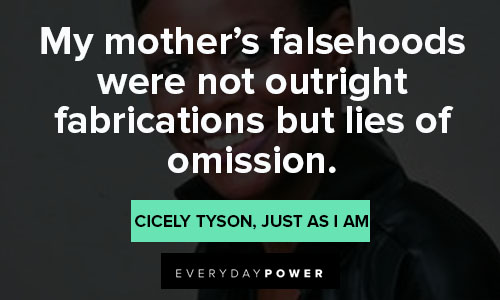 12. "Embedded in this woman's observation was an assumption that lives at the center of all bias: You are not like me. You are intrinsically different. And that difference deems you inferior." ― Cicely Tyson, Just As I Am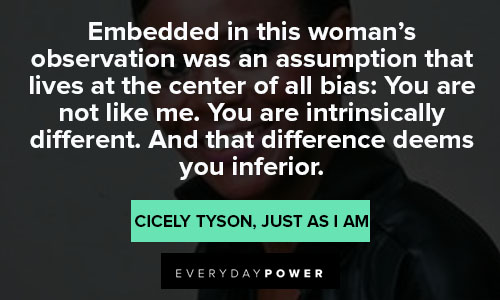 13. "You always seek to control others when you are not in full ownership of yourself." ― Cicely Tyson, Just as I Am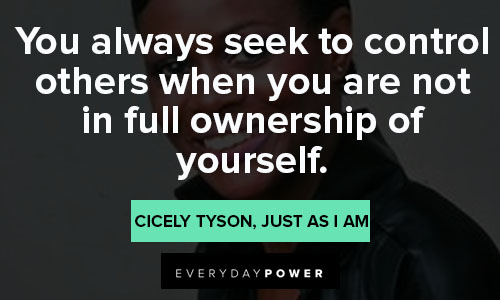 14. "Healing, as I see it, is not the absence of pain. Rather it is a gradual reduction in the ache. The lessening of that hurt eventually makes room for fond memories to surface." ― Cicely Tyson, Just as I Am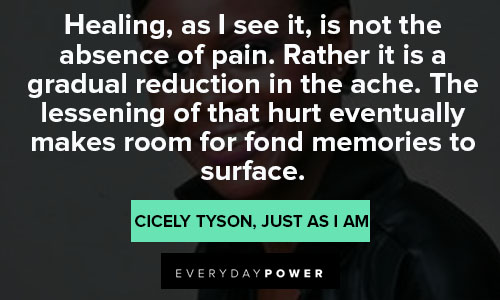 15. "You don't have to be touched to be emotionally robbed." ― Cicely Tyson, Just as I Am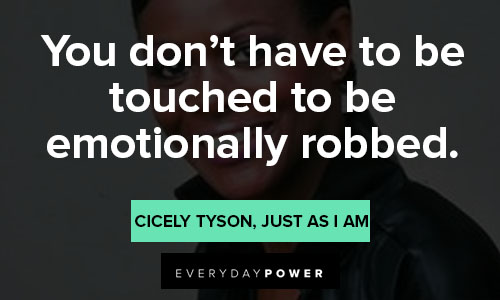 16. "Turning a blind eye to our history has not saved us from its consequences." ― Cicely Tyson, Just as I Am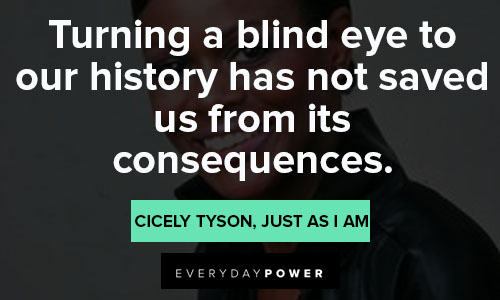 Cicely Tyson quotes about acting
17. "The choices of roles I made had to do with educating and entertaining. And as a result, I found myself working only every two or three years." ― Cicely Tyson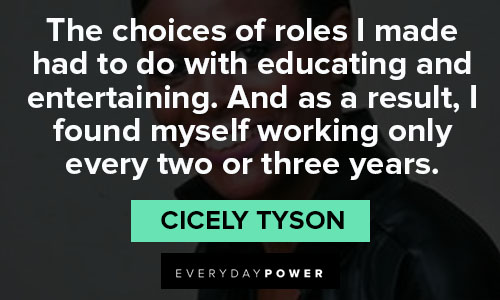 18. "Now, I am perfectly willing to just enjoy my career by choosing roles simply because I consider them to be a challenge and doing the best possible job I can." ― Cicely Tyson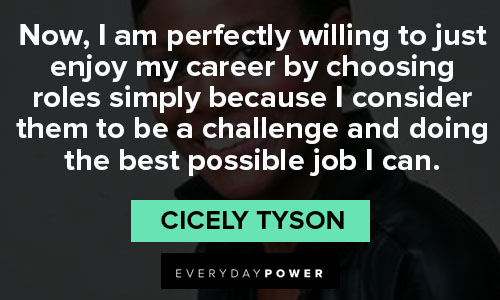 19. "Unless a piece really said something, I had no interest in it. I have got to know that I have served some purpose here." ― Cicely Tyson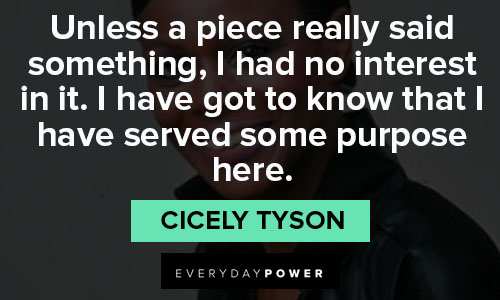 20. "I am the character until I go home." ― Cicely Tyson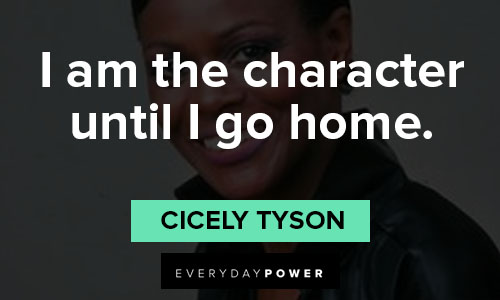 21. "When I told my mother that I wanted to be an actress, she said, you can't live here and do that, and so I moved out. I was determined to prove her wrong because she was so sure that I was going to go astray. And that's the juice that kept me going." ― Cicely Tyson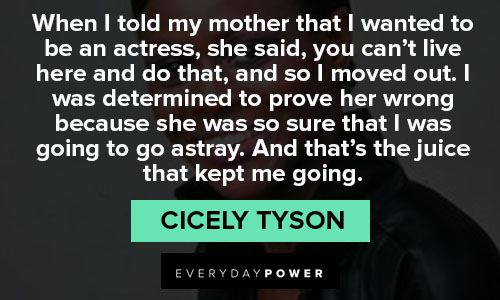 22. "I don't condemn anyone for making their choices. If someone chooses those roles, fine. But not for me. When someone stops me and says, You're the reason I became an actress, that lets me know I made the right decision." ― Cicely Tyson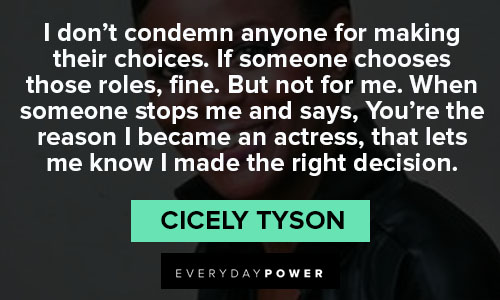 23. "My gratification in working comes from the preparation and the building of the character." ― Cicely Tyson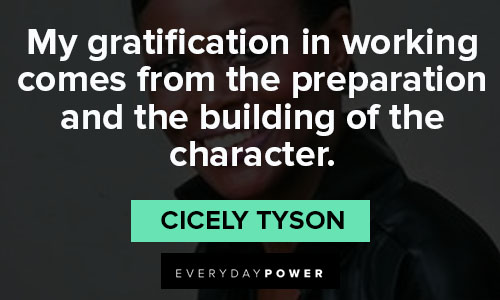 24. "When I attack a role, be it TV, film, or stage, the first thing I say is, I don't want to know anything. If it's good I don't want to hear it; if it's bad I don't want to hear it. The only thing either thing can do is distract me. I like to stay focused." ― Cicely Tyson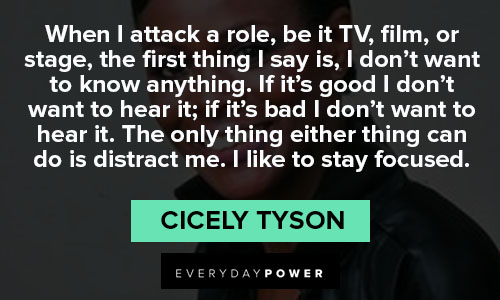 25. "In my early years, there were a number of experiences that made me decide I could not afford the luxury of just being an actress. There were a number of issues I wanted to address. And I wanted to use my career as a platform." ― Cicely Tyson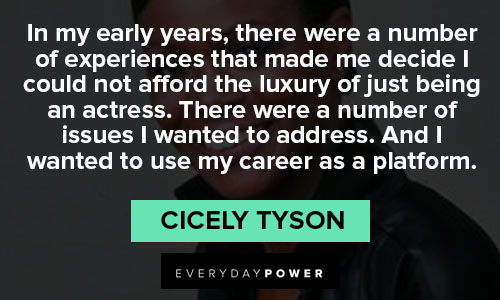 What did you learn from these Cicely Tyson quotes?
Cicely Tyson was quite the actress, winning three Primetime Emmy Awards, four Black Reel Awards, one Screen Actors Guild Award, one Tony Award, an honorary Academy Award, and a Peabody Award.
She was also a model, author, and mother!
Her daughter, who Cicely ensured led a private life away from her mother's public one, was named Joan in her memoir.
However, this is not her daughter's real name.
Part of keeping her daughter separate from her fame meant that Cicely had sent her daughter away to attend boarding school.
Cicely discussed her daughter and their relationship in great detail in her memoir, which was published just days before she passed.
She dedicated the book to "Joan" and said, "Joan felt, as a child, that she had to share me with the world.
I give her now, in adulthood, what my heart has always longed to bestow — my undivided focus, along with the full measure of her privacy."
Such poignant words, and it seemed like the pair were able to have a close relationship despite some of the pain they faced.
What was your favorite Cicely Tyson role?
Do you have any other Cicely Tyson quotes and sayings to add?
Let us know in the comment section below.