Meek Mill Quotes and Lyrics On Freedom and Success
These Meek Mill quotes prove the power of turning struggles into success.
Broaden your perspective on life, justice and success, and expand your mind with these powerful Meek Mill quotes and lyrics as your guide.
Here we will share with you some awesome words by this popular recording artist that will inspire you to stay grinding and shooting for the stars.
Who is Meek Mill?
Robert Rihmeek Williams, known to the rest of the world simply as Meek Mill, is a popular American rapper and emcee.
He is best known for his classic mixtapes and harrowing albums like "Dreams and Nightmares" and "Wins & Losses".
Born in South Philadelphia, Meek embarked on his musical journey through rap battles.
He got his first big break in 2008 when Atlanta-based rapper T.I. signed him to his first record deal.
He later signed with Rick Ross's Maybach Music Group (MMG) in 2011, and released his debut album, "Dreams and Nightmares", in 2012.
The album debuted at number two on the U.S. Billboard 200.
In November 2017, Meek was found guilty of violating his probation dating back to a 2008 conviction for gun and drug possession.
He served five months before being released while his trial continues.
Meek Mill released his fourth studio album, "Championships", on 30th November 2018.
The album is his first full-length LP since his release from prison earlier in the year.
As someone who has persevered through challenges throughout his life and managed to carve out a lane for himself in hip-hop, Meek Mill has clearly tapped into his Everyday Power.
In that respect, here are some motivational Meek Mill quotes and lyrics to inspire you to aim for excellence.
And when you're done reading this, be sure to also check out our list of DJ Khaled sayings.
Meek Mill Quotes and Lyrics To Inspire Black Excellence
1. "No matter how successful you become you gotta keep grindin' and be a good person and then good things will come to you." – Meek Mill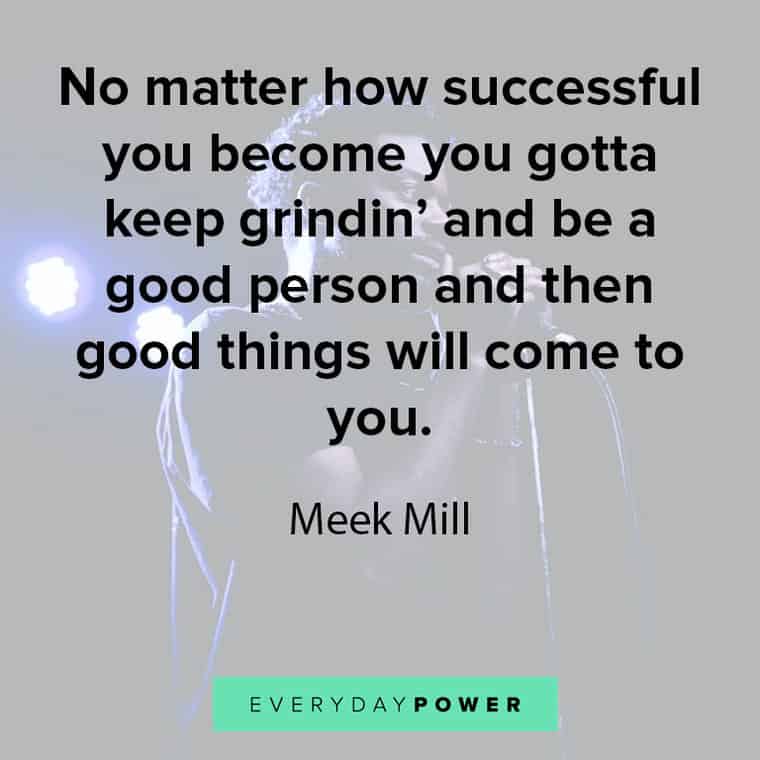 2. "I don't got time to be wasting my time" – Meek Mill, Stuck in My Ways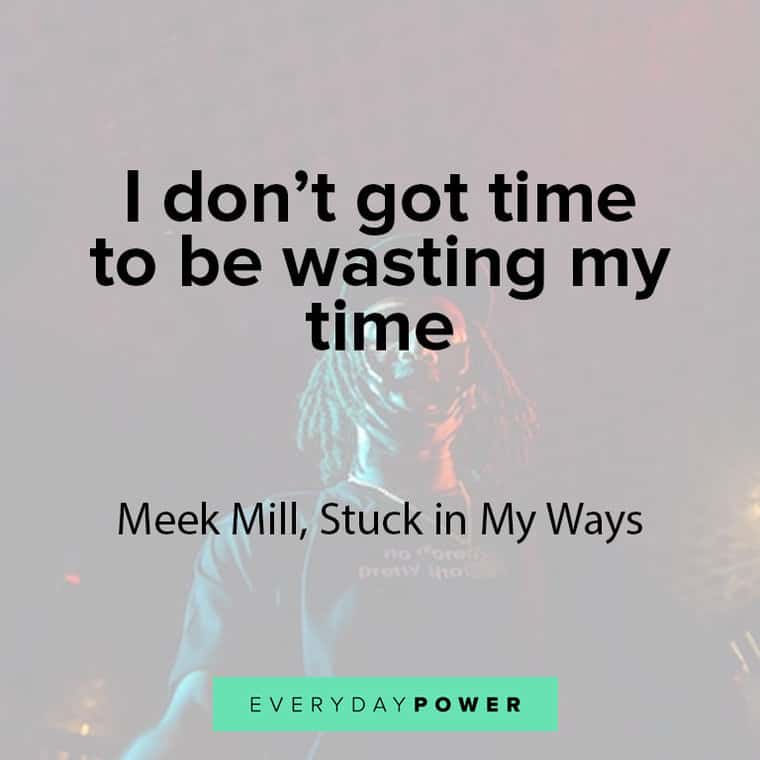 3. "They've been tryna stop the wave, but the wave don't stop." – Meek Mill, Uptown Vibes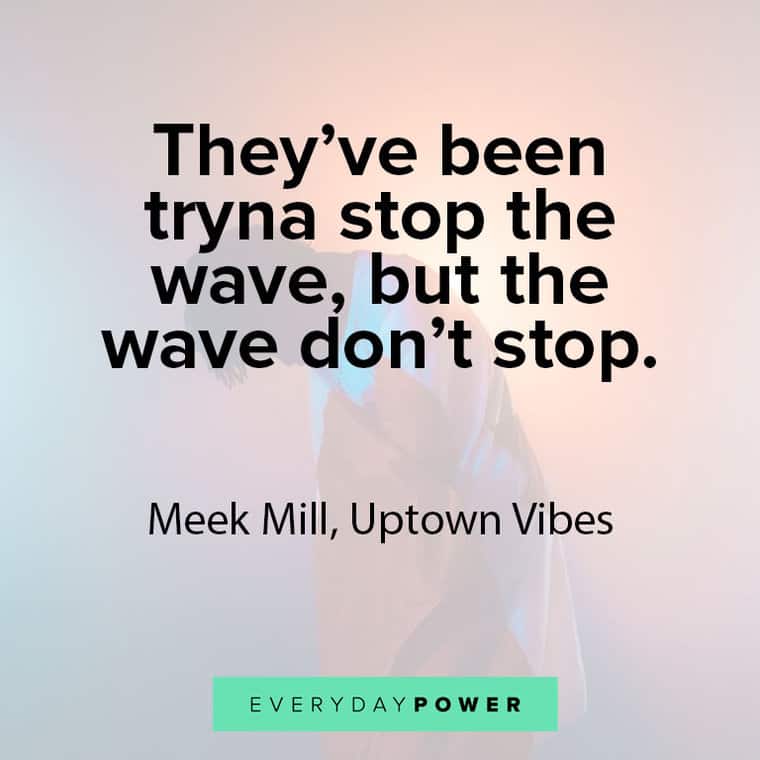 4. "Work harder than anybody you've ever seen. That's what I believe." – Meek Mill
5. "What's free?
Free is when nobody else could tell us what to be
Free is when the TV ain't controllin' what we see." – Meek Mill, What's Free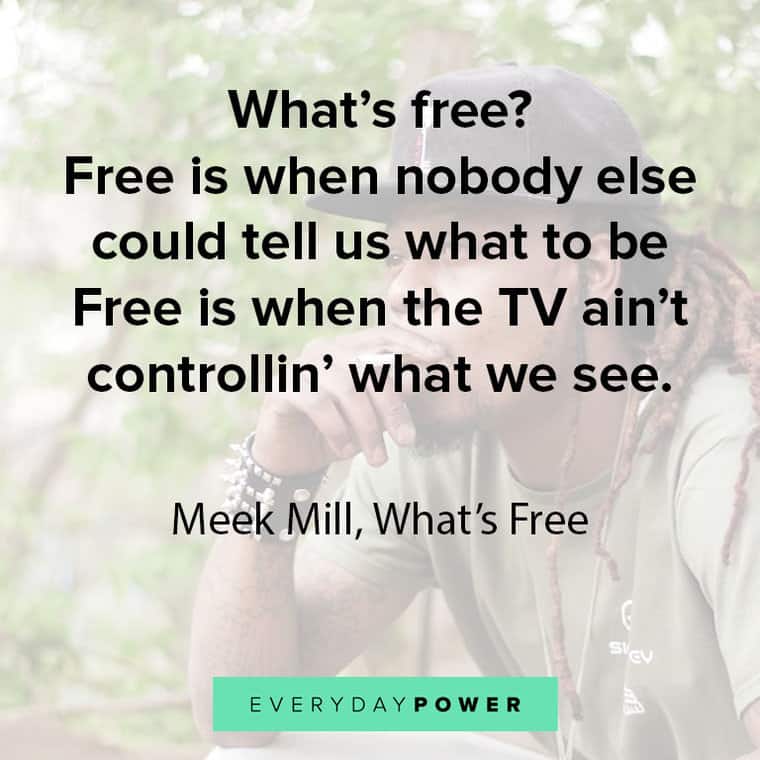 6. "How many times you send me to jail to know that I won't fail" – Meek Mill, Trauma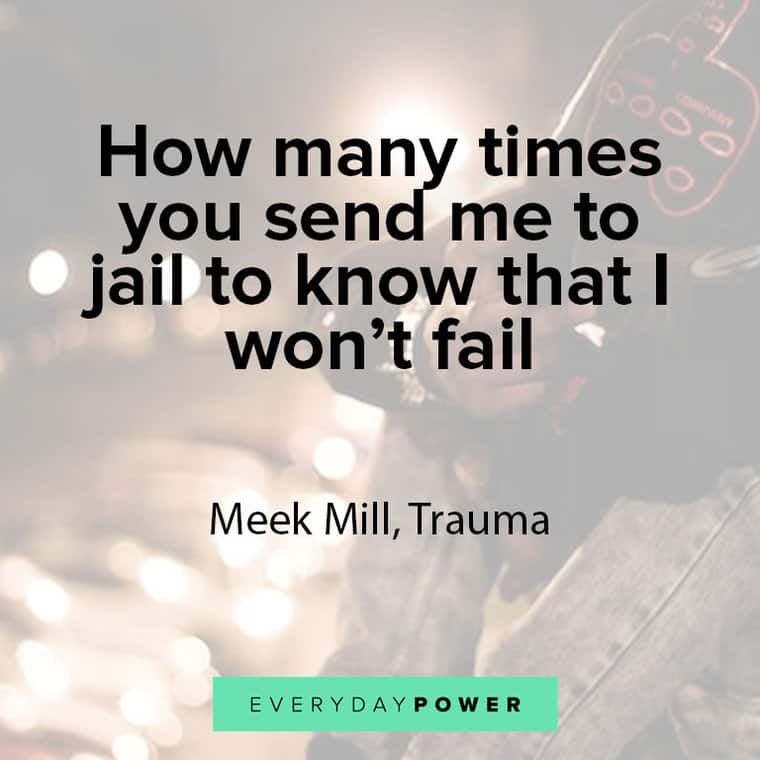 7. "If you don't know where you make your mistakes, that's your worst mistake: not knowing where your mistakes are at." – Meek Mill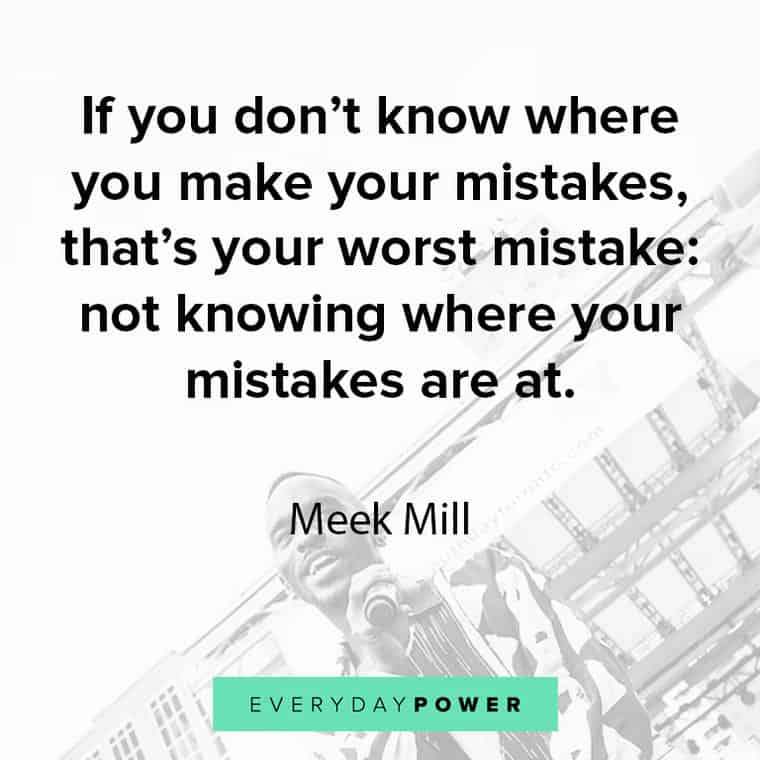 8. "Know they'd kill me in my hood, but I just keep on comin' through." – Meek Mill, 100 Summers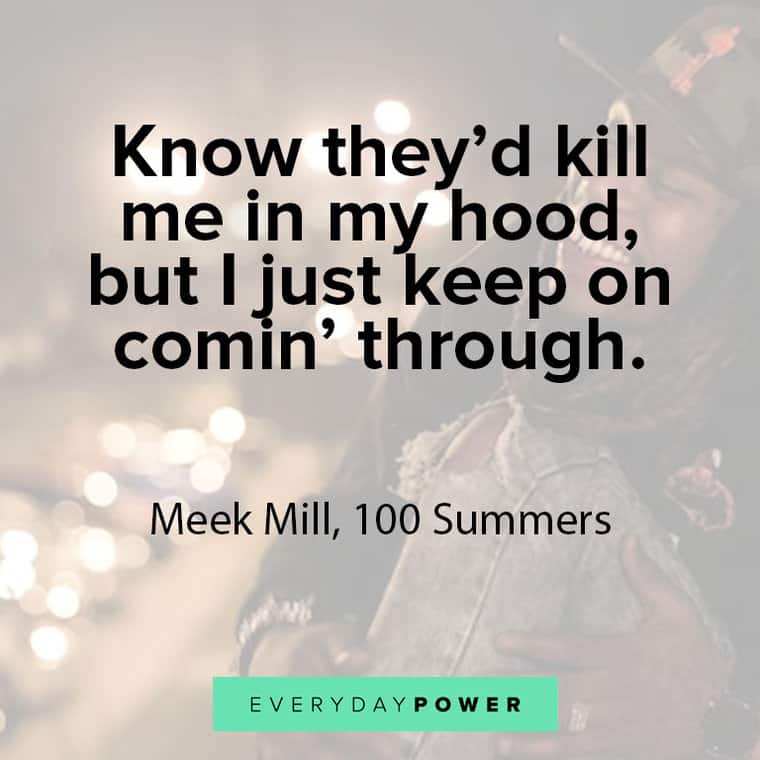 9. "I always wanted to be one of the hottest rappers." – Meek Mill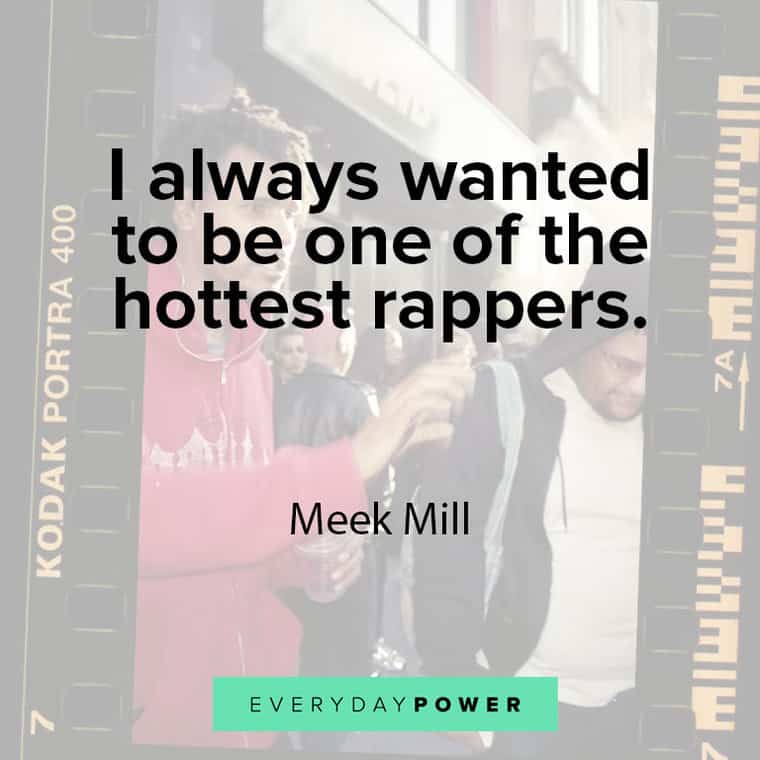 10. "Just build your brand from day one, man. Your brand is your name, basically. A lot of people don't know that they need to build their brand, your brand is what keeps you moving." – Meek Mill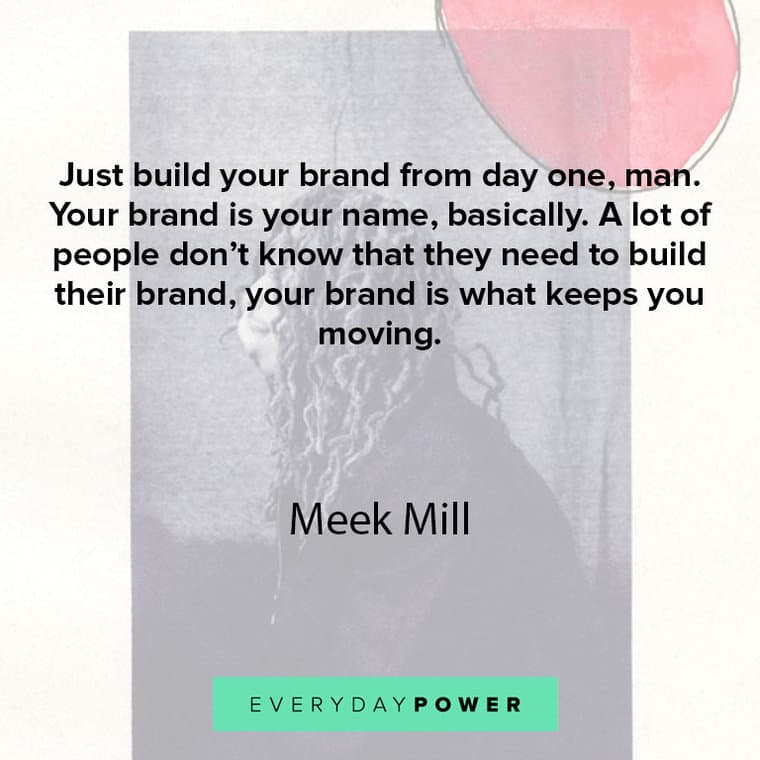 Meek Mill quotes and lyrics from his songs
11. "If you don't stand for nothing, you gon' fall for something" – Meek Mill, Trauma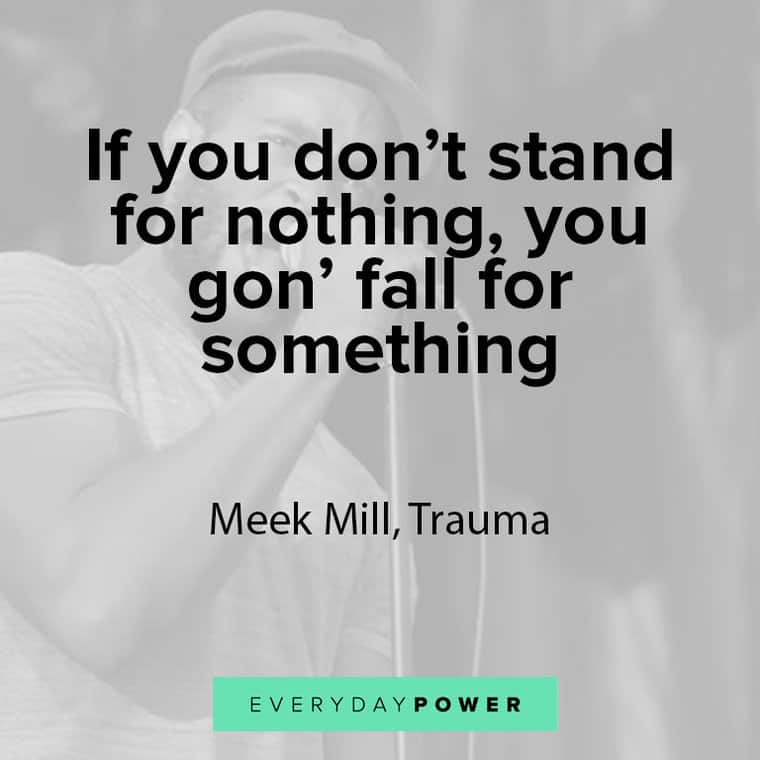 12. "…save you some of that money, shit you better stop splurgin'" – Meek Mill, Respect the Game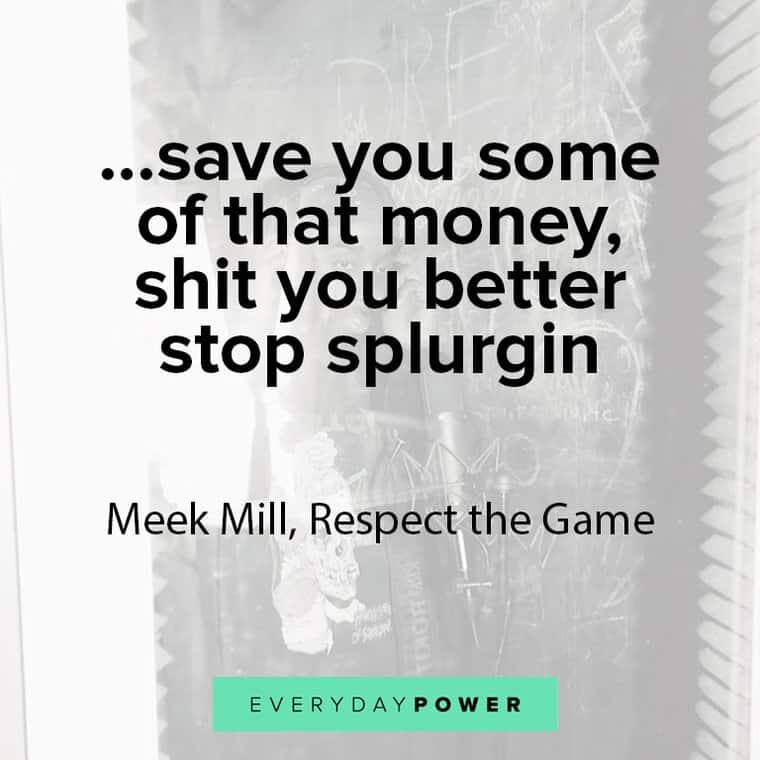 13. "I know my way to the top" – Meek Mill, Tic Tac Toe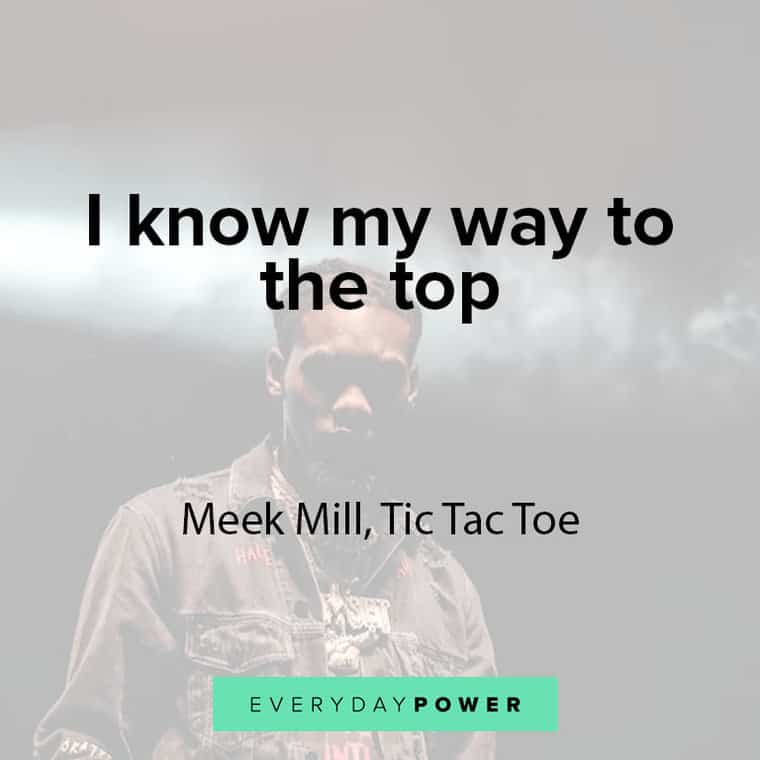 14. "I show love to all my fans 'cause I prevail through all this rapping." – Meek Mill, 100 Summers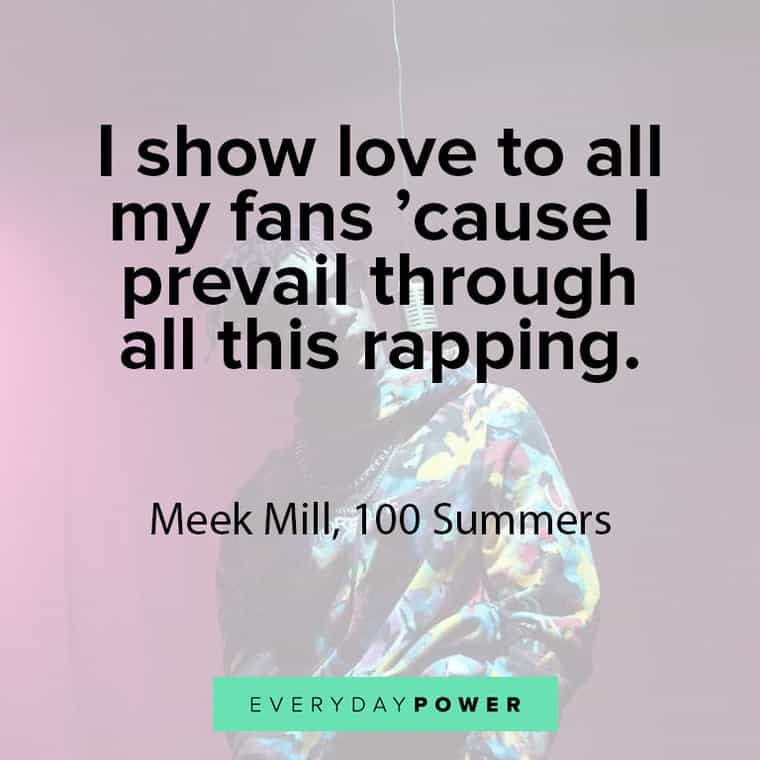 15. "Was dead broke but rich in soul" – Meek Mill, Championships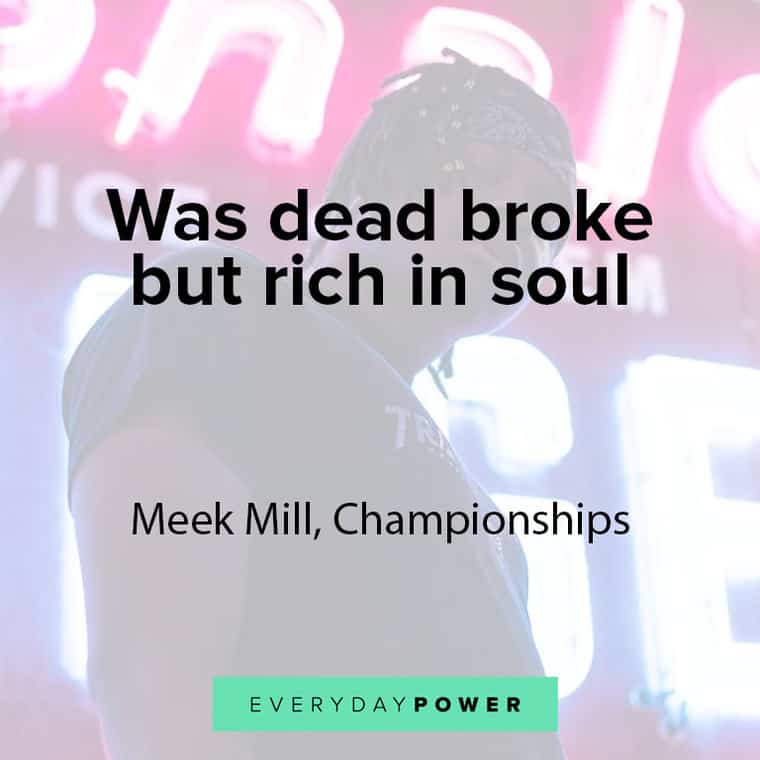 16. "Remember, nobody never believed in us
When they see us now, they can't believe it's us, no" – Meek Mill, Oodles O' Noodles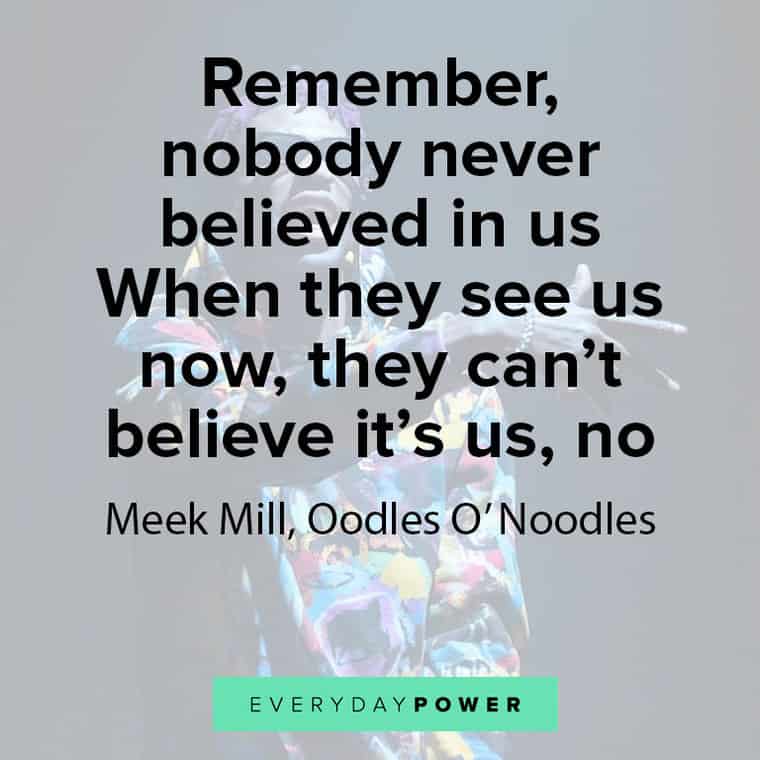 17. "Had to sacrifice my life just for my mom and kids" – Meek Mill, Pay You Back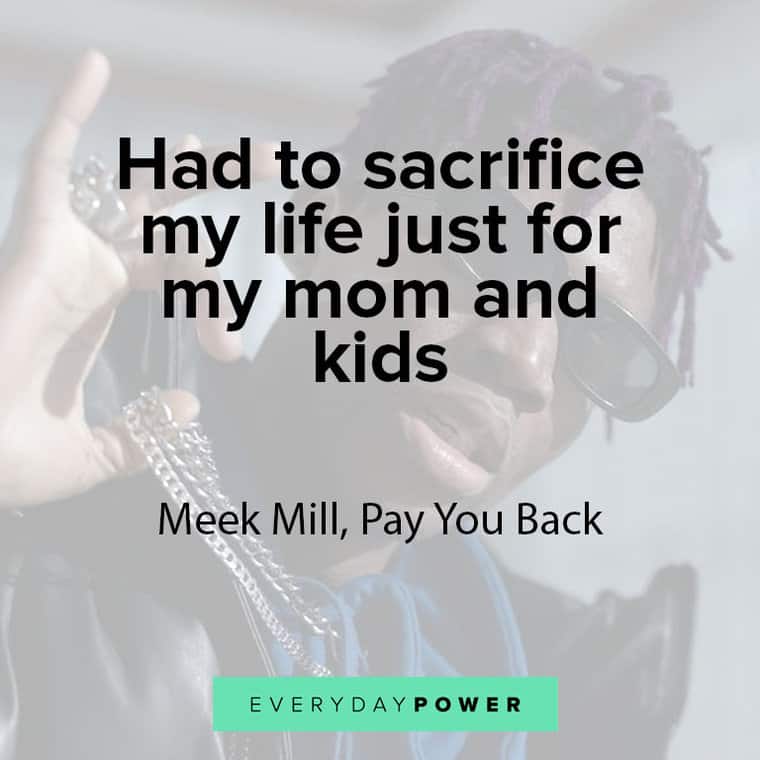 18. "See comin' from where I come from
We had to beat the streets
Beat the system, beat racism, beat poverty
And now we made it through all that we at the championship" – Meek Mill, Championships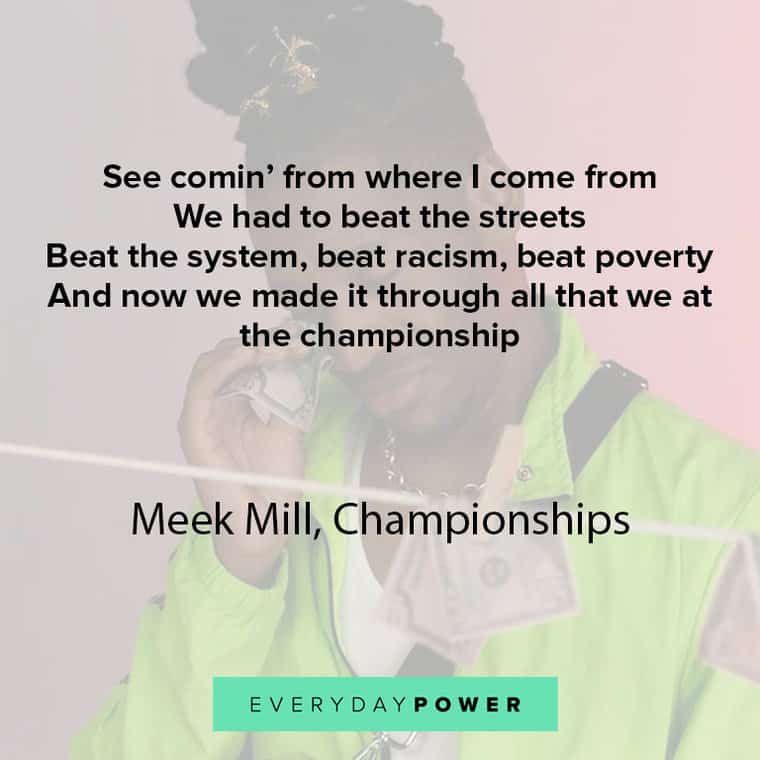 19. "I told my momma I won't leave her lonely" – Meek Mill, 100 Summers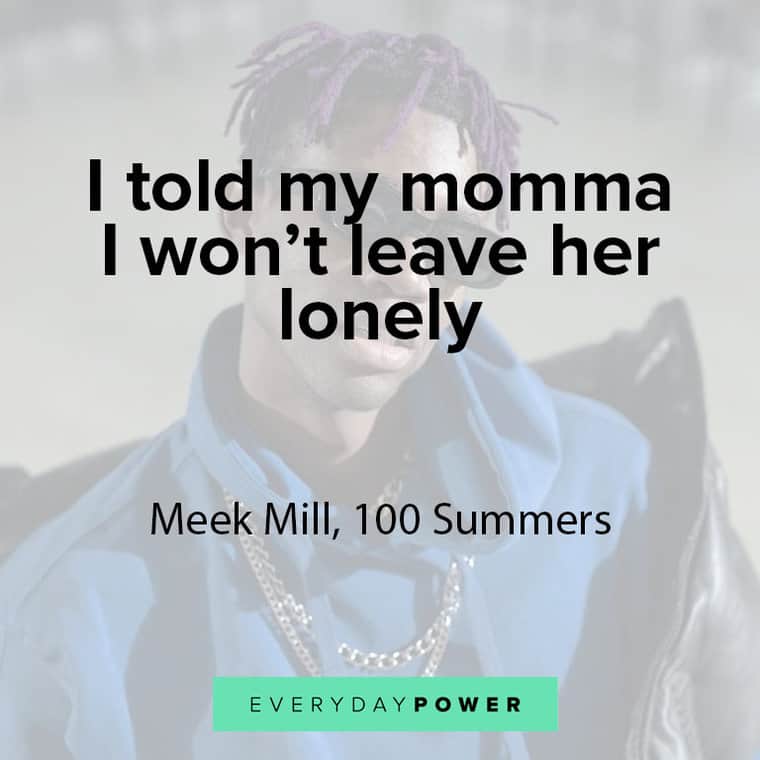 20. "Everybody want me to get out we gotta deal wit' it" – Meek Mill, 100 Summers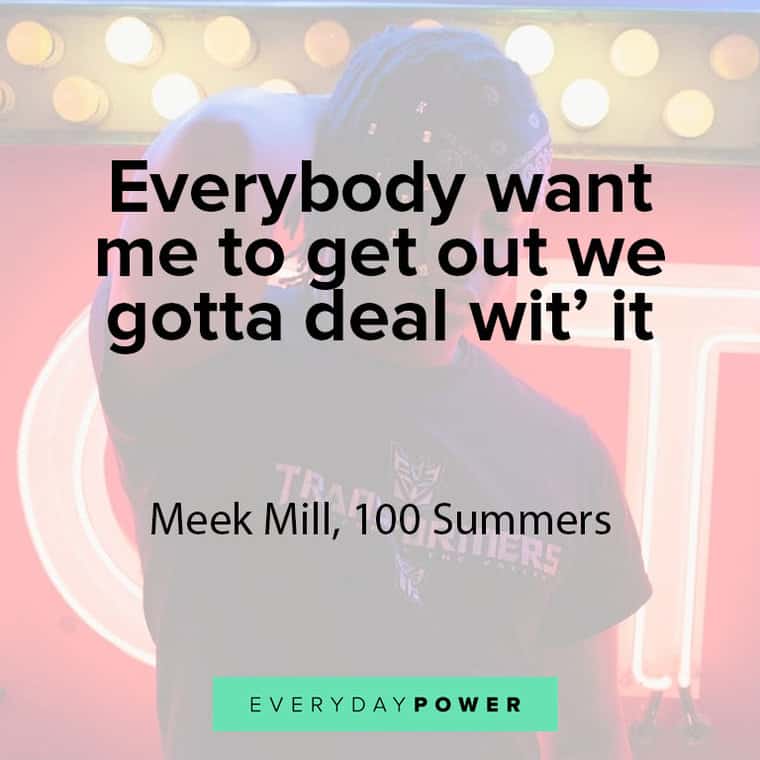 Also, read these NBA YoungBoy quotes that will motivate you to hustle.
Meek Mill quotes to inspire and motivate
21. "I called this album Championships because I feel like a champion after overcoming poverty, street violence, racism, and prejudice in my legal situation to reach this point in my life and career." – Meek Mill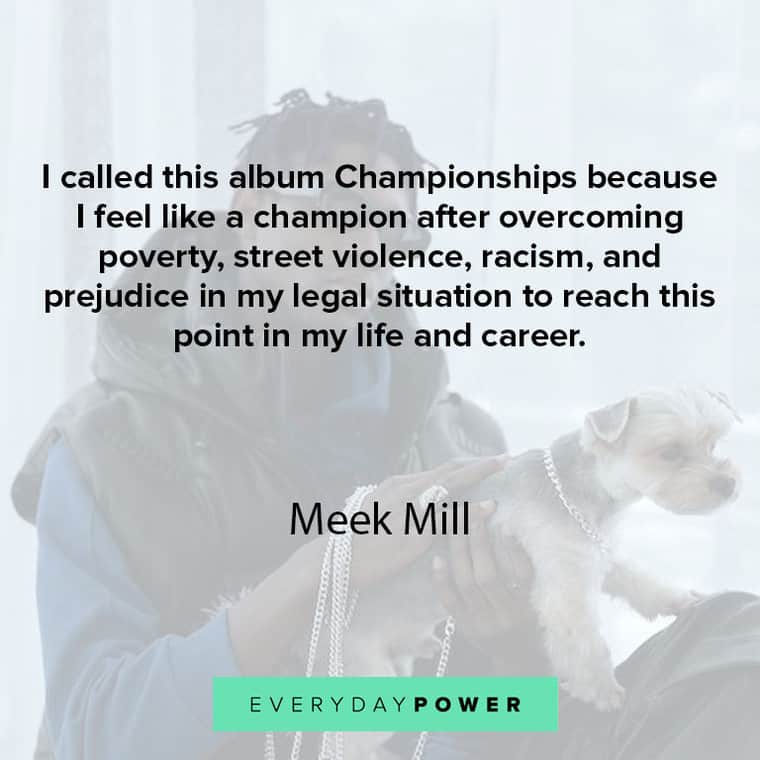 22. "I work hard. I focus on myself and putting food on my dinner table before anything else. I don't worry about other artists. Worrying about the next person in a negative way is the wrong way to be." – Meek Mill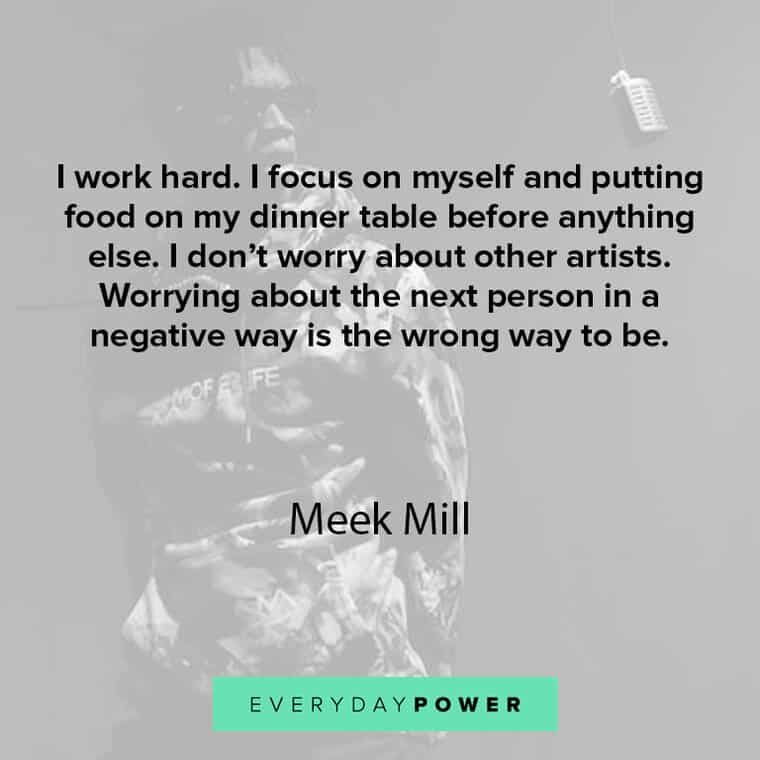 23. "I stay in my lane but I always try to graduate to the next level, you know what I'm saying. I stay hungry."– Meek Mill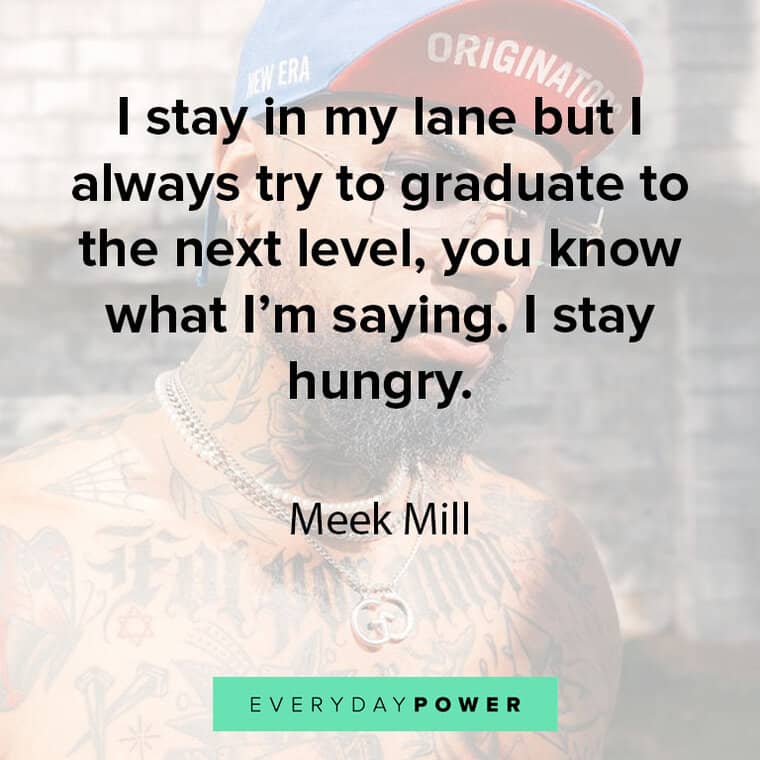 24. "Big dreams turn into big things." – Meek Mill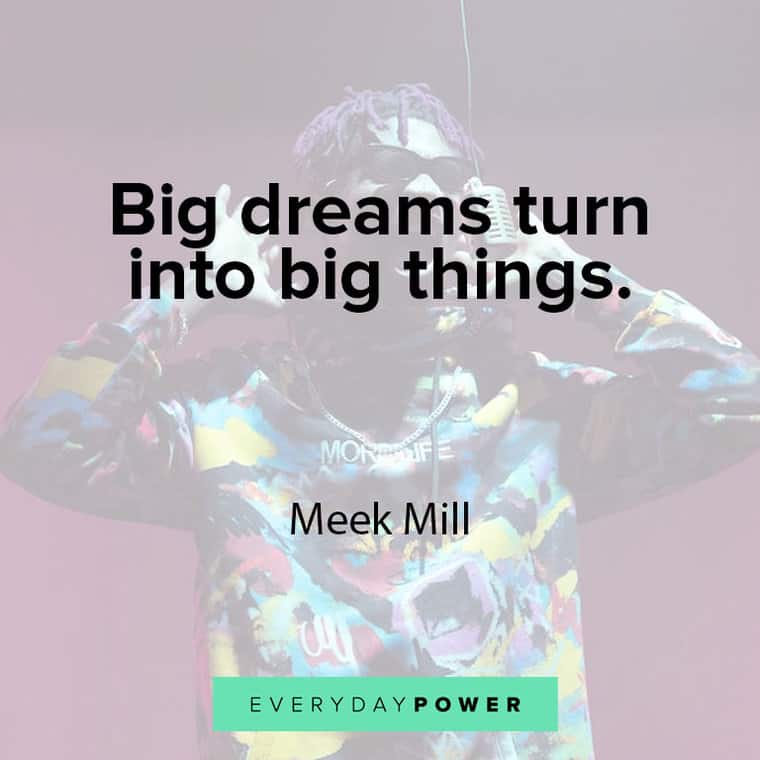 25. "I know all I really wanna do is get money and take care of my family." – Meek Mill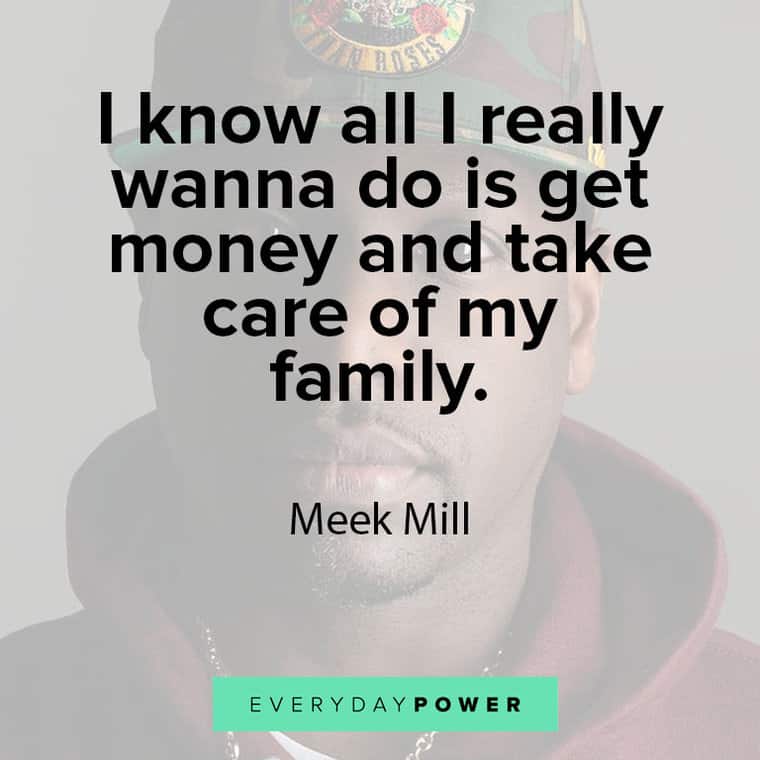 26. "Only the limits of your imaginations can determine how far you go in life" – Meek Mill
27. "I just do whatever I feel. Whatever the beat makes me say, I do that and I run with that." – Meek Mill
28. "I'm on the page that I want to be bigger than the world, you know what I'm saying. People told me I wasn't going to make it this far. But I always believed I was going to make it this far." – Meek Mill
29. "Live in the lead, but work hard like your trying to catch up." – Meek Mill
30. "I'm not the best person at putting words together. I can't give you the melody. But I might inspire somebody." – Meek Mill
Positive Meek Mill quotes
31. "Sometimes I have to remind myself, that on my worst day I live like somebody on their greatest." – Meek Mill
32. "If you don't have your friends and your family, what do you really have? You can have all the money in the world, but with no friends and no family, it's no good." – Meek Mill
33. "Made a few mistakes but this ain't where I wanna be" – Meek Mill, What's Free
34. "They say money rule the world, you can't pay God with it" – Meek Mill
35. "Count your blessings, not your problems." – Meek Mill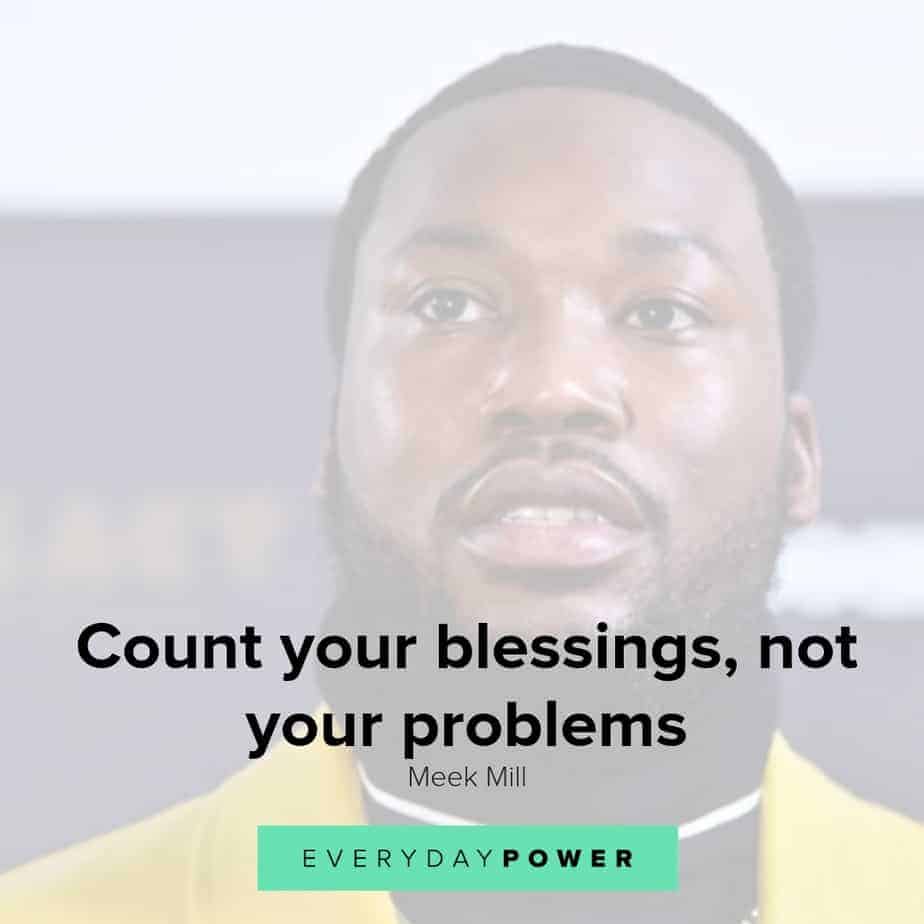 36. "I used to pray for times like this, to rhyme like this. So I had to grind like that to shine like this" – Meek Mill
37. "Appreciate the little things in life, they're what really matter the most." – Meek Mill
38. "The hardest hurdles for me was the streets, just getting out the streets. Surviving. Staying out of prison and staying on track. Staying focused." – Meek Mill
39. "When my girl do better than me, I still win. When I do better than her, she still wins." – Meek Mill
40. "I always had pressure on myself through my life. I put pressure on myself and not from other people. I always wanted to be one of the hottest rappers. So the pressure comes from myself." – Meek Mill
Don't forget to also read these inspirational Lil Peep quotes about love, life and music.
Inspirational Meek Mill quotes about loyalty and hustle
41. "I've been in a bad environment more years than I've been in a good environment. I'm still traumatized by what I've seen and been through. I just want to inspire people." – Meek Mill
42. "If you ain't got a dream, you ain't got nothing." – Meek Mill
43. "As I walk through the valley of the shadow of death
I did some things that I had to regret
I say some things I could never forget" – Meek Mill, 100 Summers
44. "My talent is my talent. I ain't really tripping off no ego; I just like to make good music with good people." – Meek Mill
45. "One night I prayed to God, I asked could he please remove my enemies from my life, and before you knew it I started losing friends." – Meek Mill
46. "Don't give up, the beginning is always the hardest." – Meek Mill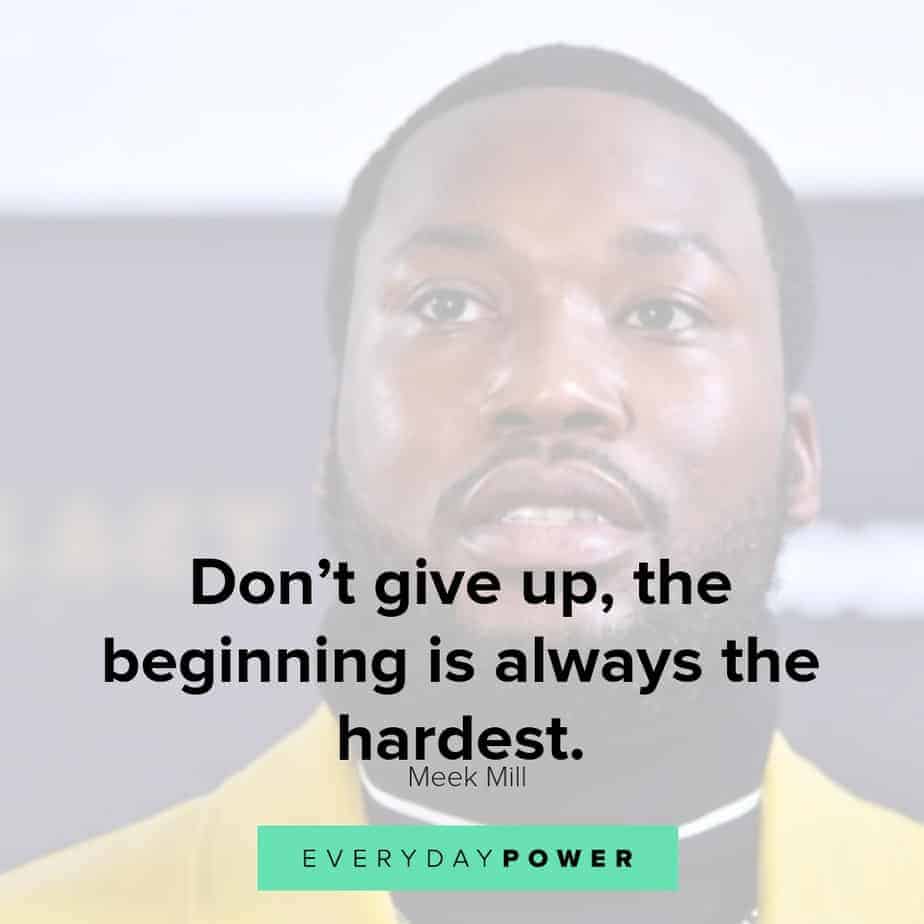 47. "I've been betrayed a lot of times in life. I think everybody's been." – Meek Mill
48. "Philly gave me my ambition and drive to get more. It's a reminder to stay on top of my game. That's not a place I want to go back to." – Meek Mill
49. "I think it's way harder when you have success, 'cause people tend to not treat you the same or look at you the same because they see the success or the money you make." – Meek Mill
50. "Now I move with aggression, use my mind as a weapon." – Meek Mill
More Meek Mill quotes to inspire and motivate you
51. "I've always been rapping before I was making money off of it. Before I made a profit, I had always been rapping." – Meek Mill
52. "I think artists should be able to do different things whenever they want and I like the way I am. I'm like – I ain't gonna say the only street rapper, but the only mainstream, new, young street rapper there is right now and I'm doing well with it." – Meek Mill
53. "I don't want to just be fully rapping my whole life." – Meek Mill
54. "I'm always gonna be all over my CD the most, of course." – Meek Mill
55. "It's cool when people know you more, but I like people to treat me regular when they see me. I take pictures. I don't really be big on people looking at me." – Meek Mill
56. "Nowadays everybody wanna talk like they got something to say
But nothing comes out when they move they lips." – Meek Mill
57. "In a world where black is wrong and white right, it's like a combat. We go to war for our freedom."— Meek Mill
58. "I have a fan base worldwide, man. I think they're really down for me. That's how I got signed – 30,000 fans retweeting Rick Ross." – Meek Mill
59. "How can I pledge allegiance to the flag?When they killin' all our sons, all our dads?" – Meek Mill
60. "I don't think I would change really anything about rap. Rap don't have no limits to it, and I like it like that." – Meek Mill
61. "I believe that, if you a man, you can make that much money as any man." – Meek Mill
62. "In jail, you get stripped of your freedom and everything, so I experienced different things, learned more. It basically brought most of my hunger back." – Meek Mill
63. "See my dreams unfold, nightmares come true. It was time to marry the game and I said, "Yeah, I do". If you want it you gotta see it with a clear-eyed view." – Meek Mill
64. "We came from nothing, so sometimes you gotta show 'em"– Meek Mill
65. "I'm extremely grateful that my long legal battle is finally behind me and I appreciate that it has sparked a much-needed discussion about probation reform and the inequalities that exist within our two Americas." – Meek Mill
Don't forget to also check out these Kevin Gates quotes that will make your day.
Meek Mill quotes about his life
66. "Jail was terrible. It was a nightmare." — Meek Mill
67. "I'm not gonna remix a record I don't got no love for." — Meek Mill
68. "People say money ain't nothing; money is basically everything." — Meek Mill
69. "If I was to get money, that's the first thing you would get: a '96 Impala." — Meek Mill
70. "I gotta keep hustling. I know when it comes to the Internet, we move units. I grew up on the Internet." — Meek Mill
71. "I don't rely on catchphrases or really like sing-along. I just do whatever I feel. Whatever the beat makes me say, I do that and I run with that. It's been working for me, so I'd be cool with that." — Meek Mill
72. "I don't wear the see-through shirts or anything too glittery. I come from that '90s school of rap. Fitted caps, because I got a big head, so snapbacks don't fit me right." — Meek Mill
73. "I don't like a girl on social media, when you have an open inbox, answering questions from dudes left and right every day. What's the point?" — Meek Mill
74. "It's like having your number all out. Everybody think they're famous when they get 100,000 followers on Instagram and 5,000 on Twitter." — Meek Mill
75. "The Rolls Royce was the real first car. It wasn't the first new car I got, but it was the first real car I bought that's like, 'Wow, I got this.'" — Meek Mill
More Meek Mill quotes about money and life
76. "They say loyalty brings forth royalty." — Meek Mill
77. "The money turned me into a monster." — Meek Mill
78. "Get money, got cash. You hate it, you mad." — Meek Mill
79. "Well connected, well respected and well protected." — Meek Mill
80. "When I bought the Rolls Royce they thought it was leased, then I bought that new Ferrari hater rest in peace." — Meek Mill
81. "You could be Top 5 on iTunes, but for people to buy an album, they've got to have a connection with an artist." — Meek Mill
82. "Every time I bought someone's album, it was about the connection. I was loving everything, from their raps to their style. I wanted to meet them." — Meek Mill
83. "First black president ever, and to be living while it happened – that's a good part of history. That's probably the biggest person I admire right now." — Meek Mill
84. "When you do ten interviews in one day, and ten different sources want to talk to you, that means you're doing good. I think about that every day." — Meek Mill
85. "When I'm not in the booth, I'm one of the most laid-back guys. But growing up, I liked DMX, Jay-Z, 50 Cent, and T.I. dudes that went all out on the track. My first songs were energetic because I liked their energy." — Meek Mill
Which of these Meek Mill quotes was your favorite?
Despite all the challenges that Meek Mill has had to persevere through, the emcee still boasts one of the most decorated discographies in hip-hop.
He has had to get past beefs, feuds, relationships, and everything in between to become a successful rapper.
Hopefully, these quotes and lyrics have inspired you to become the best you can be; regardless of what obstacles life throws your way.
Did you enjoy these Meek Mill quotes?
Which other quotes and lyrics would you add to the list?
Let us know in the comment section below.
We would love to hear all about it.
March 28, 2022 6:31 AM EST