80 Colorado Quotes About the Centennial State
Colorado is a diverse state in the Mountain West subregion of the United States, and these Colorado quotes capture that diversity in words.
Some of these quotes will make perfect captions for your Instagram posts, while others illustrate the state's beauty.
Your visit to Colorado might include many national parks or just enjoying the unique landscapes.
In Colorado, mountains, forests, high plains, mesas, canyons, plateaus, rivers, and desert lands can be found there.
"Colorado" is a Spanish word for the adjective meaning "ruddy," the color of red sandstone.
The Grand Canyon is made primarily of sandstone and mudstone and is a popular Colorado tourist spot.
Colorado also borders seven other states!
Wyoming, Nebraska, Kansas, Oklahoma, New Mexico, Utah, and Arizona are all neighbors to the Centennial State.
Just why is Colorado called the Centennial State?
Keep reading through these Colorado quotes to find out!
Don't forget to also check out these Florida quotes about the sunshine state.
If you like this article, we suggest you explore our most popular quotes article, a list of short inspirational quotes for daily encouragement.
Look through our complete collection of inspirational quotes here.
Colorado quotes for Instagram
1. "Colorado has always been a good place to find what you're made of." — John Hickenlooper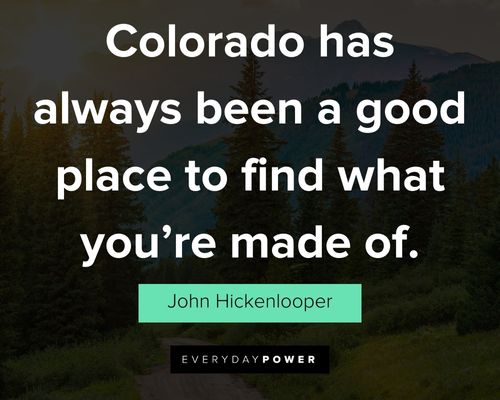 2. "Colorado is an oasis, an otherworldly mountain place." — Brandi Carlile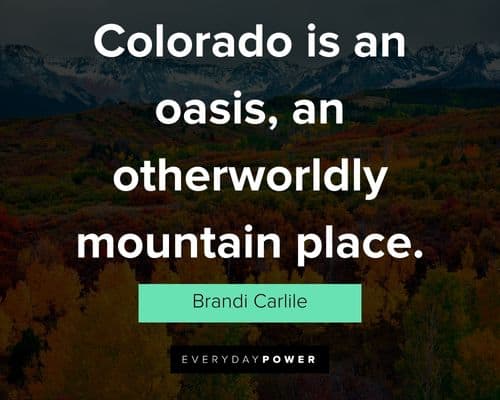 3. "Some of the most beautiful and colorful parts of Colorado are found in the clouds above." — Mike Nelson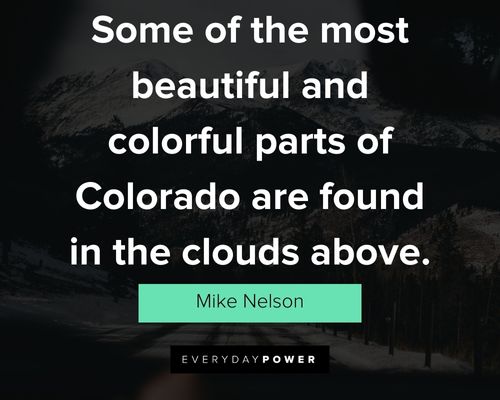 You will also enjoy our article on West Virginia quotes.
4. "I'm grateful for anything that brings me back to Colorado." — Sheryl Lee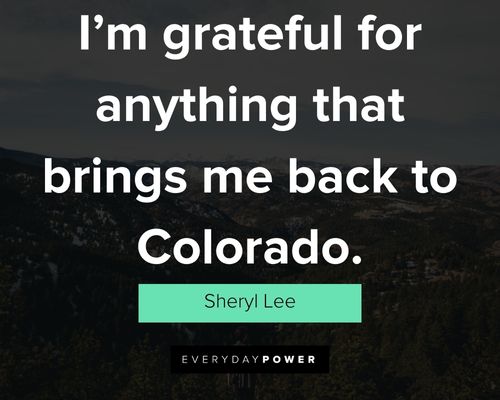 5. "A bad day in Colorado is better than a good day anywhere else." — Unknown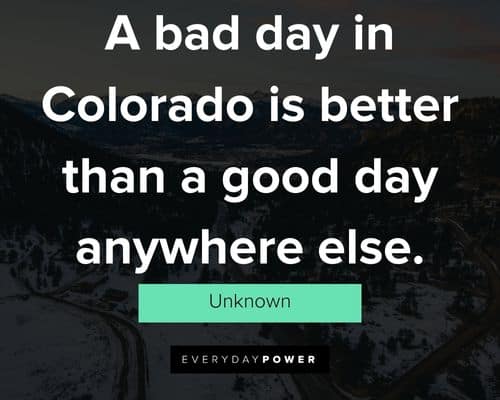 6. "Heaven is a little bit closer in Colorado." — Unknown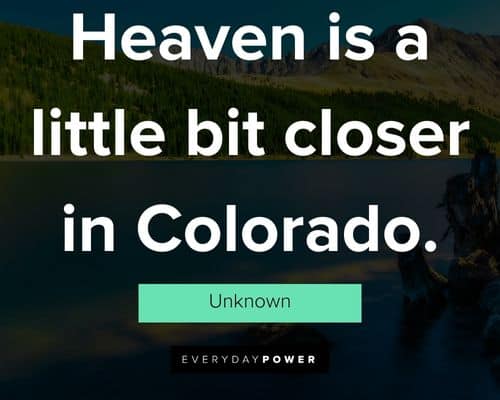 7. "You don't need missionaries in Colorado; you got Colorado." — Trey Parker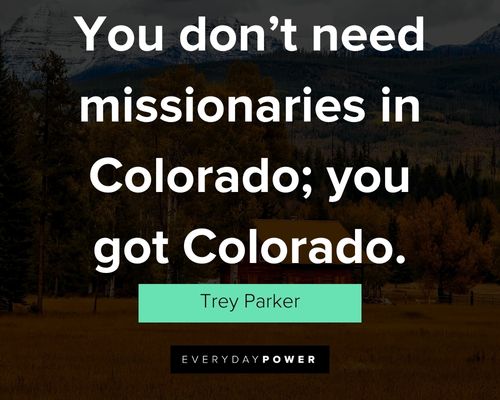 8. "Happiness is not a state of mind, but a trip to Colorado." — Unknown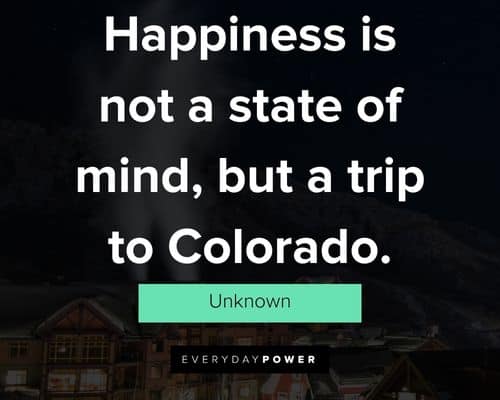 9. "I'm in a good place right now. Not emotionally, I'm just in Colorado." — Unknown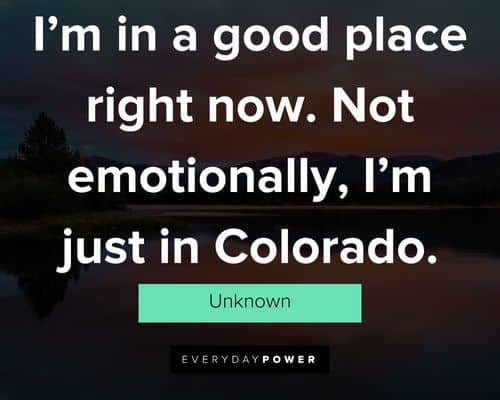 10. "Home is where the heart is, and the heart is in Colorado." — Unknown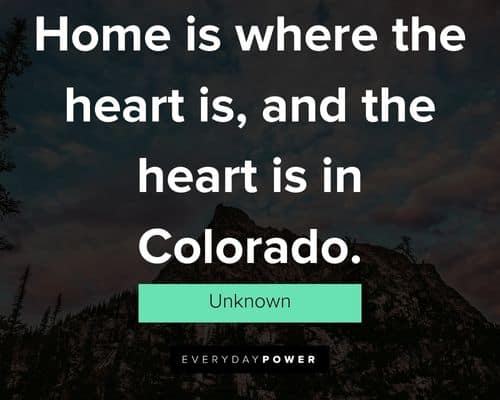 Short Colorado quotes
11. "Colorado is known for many great things." — John Hickenlooper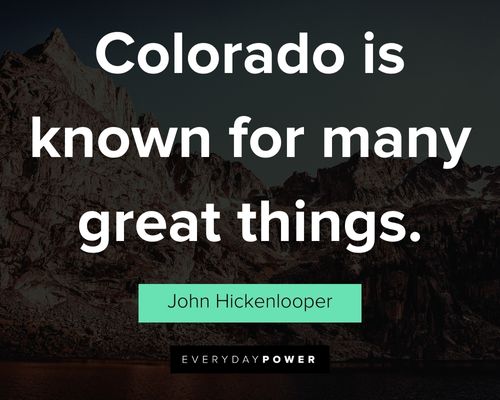 12. "The Colorado plateau is a strange, harsh, but wonderful country, indeed." — Donald L. Baars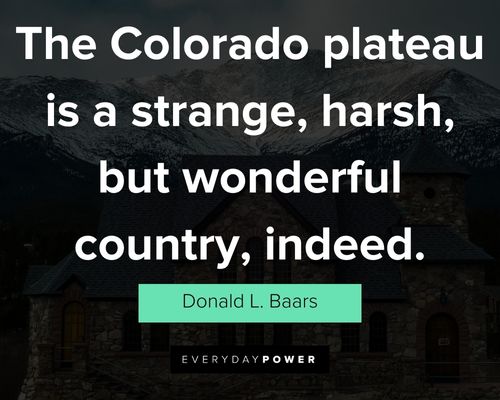 13. "Do what we will, Colorado will one day find an unimpeded way to the sea." — Donald Worster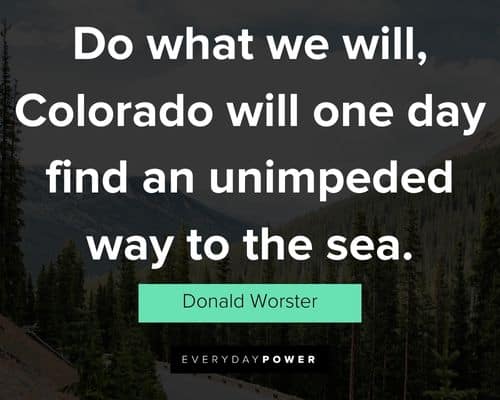 14. "Colorado—fresh air and fond memories served daily." — Unknown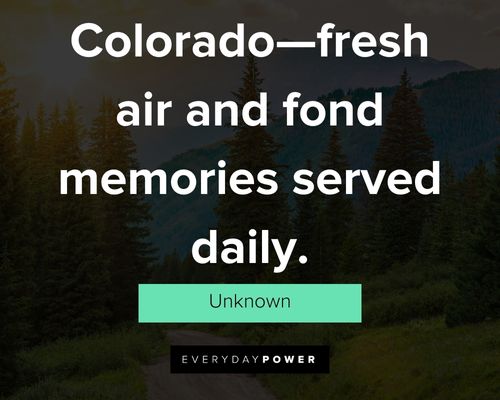 15. "People in Colorado are resilient." — Phil Heath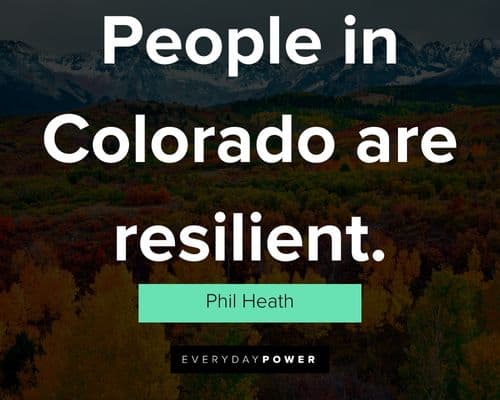 16. "I'm a blue-collar kid from Colorado. I grew up on a farm." — Ivan Moody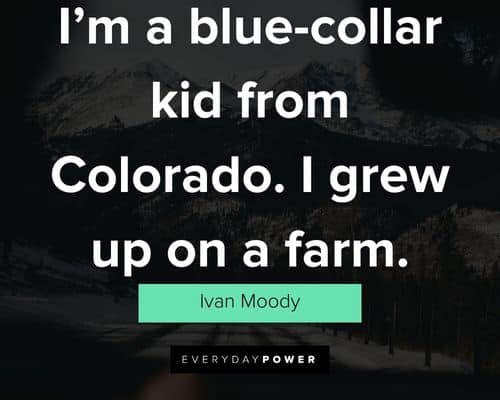 17. "There's a sense of family in Colorado; there's such a pride factor there." — Ivan Moody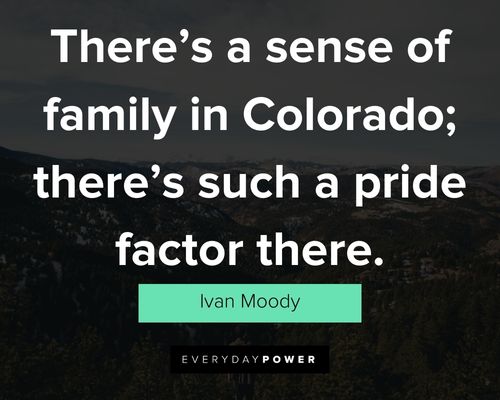 18. "Colorado does not shut down. Colorado does not quit. Colorado does not break." — John Hickenlooper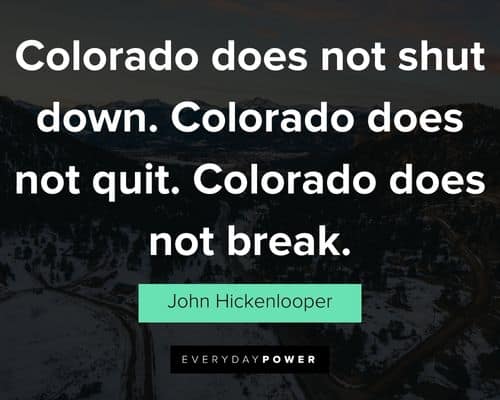 19. "The Colorado River did not form the Grand Canyon. The Grand Canyon was formed as the flood went down." — Kent Hovind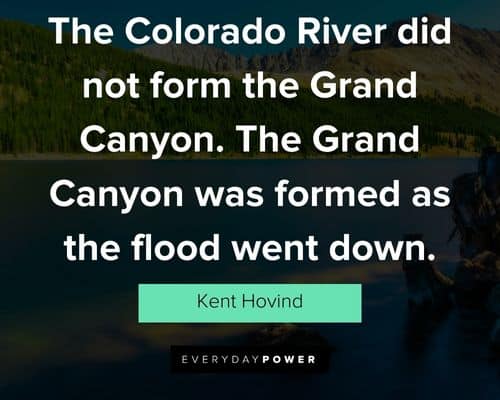 20. "Colorado Springs is one of the best places in the world to see the history of the Earth." — Kirk Johnson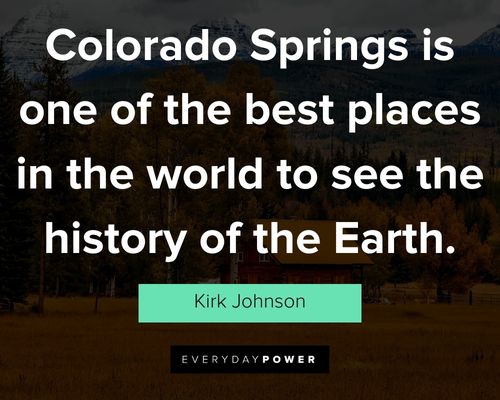 Colorado quotes about Denver and Aspen
21. "Denver is a city that will be far more defined by its future than its past." — John Hickenlooper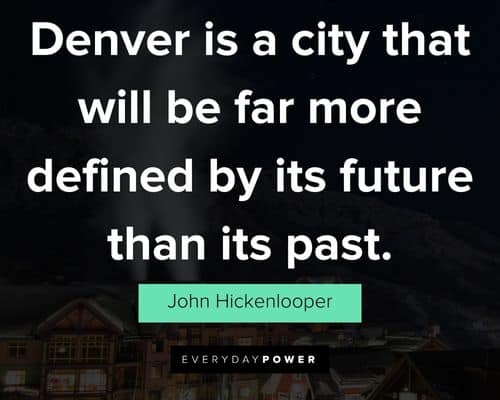 22. "Growing up in Denver, I'm sure it started with loving the Colorado mountains." — Gale Norton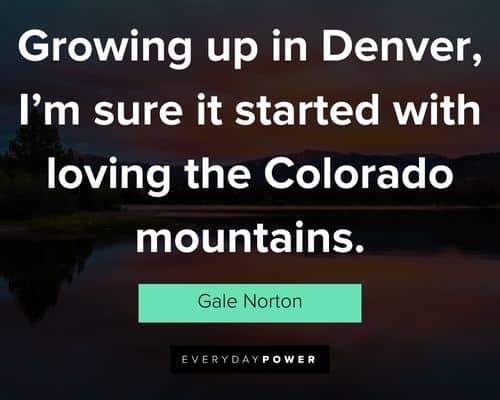 23. "We just love Denver. The love and support from people here is amazing." — Griz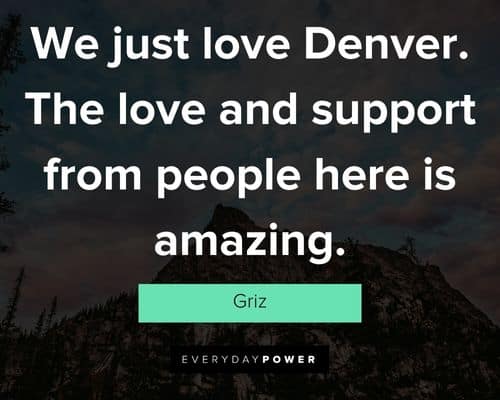 24. "Aspen is the life to live, see how much there is to give. See how strongly you believe, see how much you may receive." — John Denver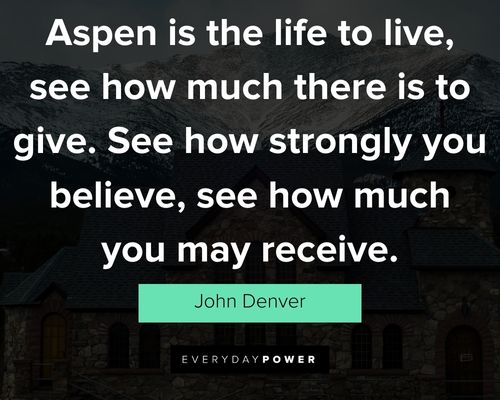 25. "My favorite Aspen memory is saving an upside-down cake that had exploded from the high altitude." — Emeril Lagasse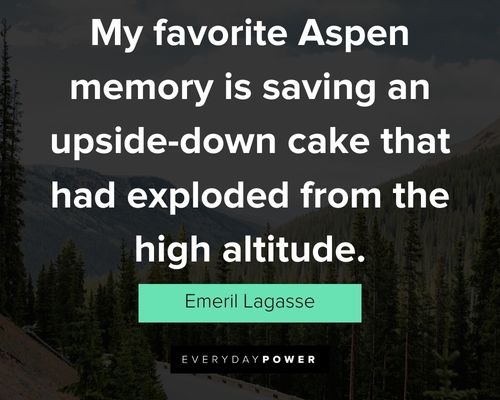 26. "And there in the blue air, I saw for the first time, far off, the great snowy tops of the rocky mountains. I had to get to Denver at once." — Jack Kerouac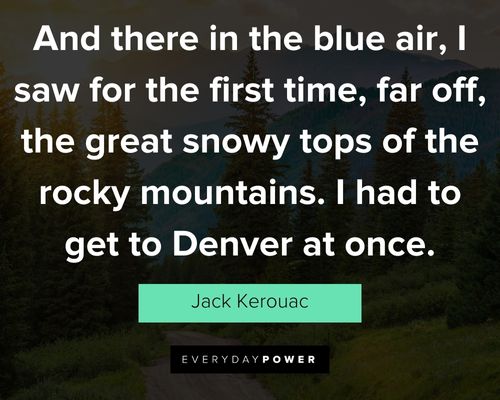 27. "I'm from Denver, and there is really nothing acting-wise to do there except for theater. I did everything I could get my hands on until I was able to make it to L.A." — Madisen Beaty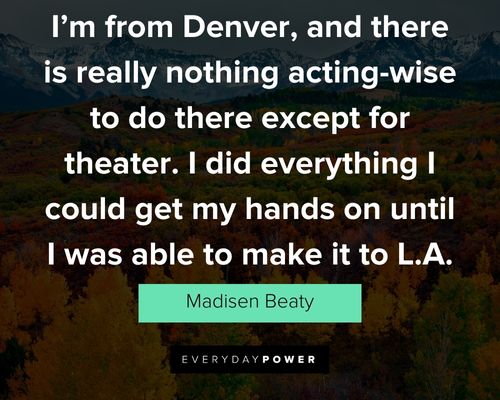 28. "Denver is home to me, and to be recognized for my achievements in the sports community here is a great honor." — Carmelo Anthony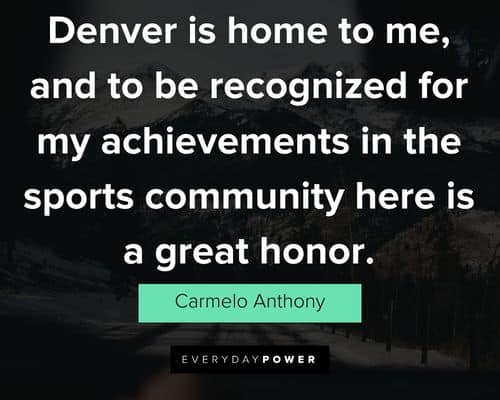 29. "Only a stone's throw from downtown Denver is an easy walk through time that leads past dinosaur tracks, bones, ripple marks, and other traces of Colorado's vanished life and ancient environments." — Ralph Lee Hopkins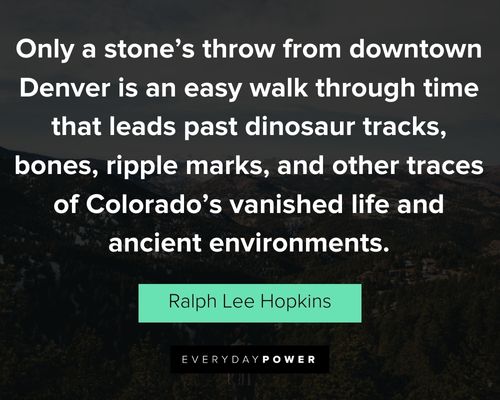 Colorado quotes about Boulder
30. "Denver and Boulder are good record-buying cities. I don't know why." — Mike D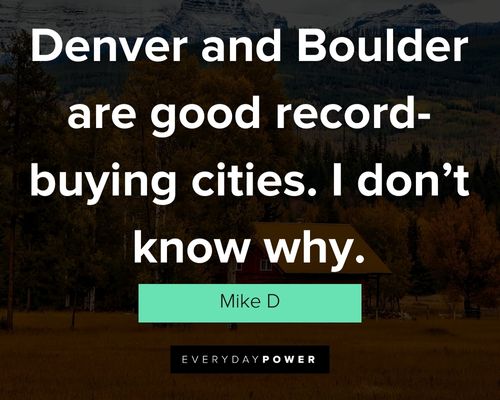 31. "Boulder should be next to the word 'community' in the dictionary." — Kimbal Musk
32. "Boulder was my U.S. base for the better part of 20 years, and it will always have a special place in my heart." — Tyler Hamilton
33. "I was living in Boulder, Colorado, which isn't really a funny town. There are a lot of smart people there, but comedy isn't at the forefront of their minds." — George Meyer
34. "We didn't have to put development just cheek to jowl all the way up to Boulder. There's enough room in Colorado! But we did." — Richard Lamm
35. "I discovered Boulder not through cycling but skiing. I was recruited by the university for the ski team, and in my opinion, it's the best place for skiing – you have this super-light, fluffy champagne snow." — Tyler Hamilton
36. "In Boulder entrepreneurship circles, there is a genuine desire to see others succeed and a general belief that karma matters. there's a sense that together we're building something here, and that we're all a meaningful part of it." — David Cohen
37. "Strong community and mentorship are the lifeblood of any successful entrepreneurial ecosystem, and it's exciting that Boulder is showing the world just what sort of impact these things can actually have." — David Cohen
38. "In Boulder entrepreneurship circles, there is a genuine desire to see others succeed and a general belief that karma matters. There's a sense that together we're building something here, and that we're all a meaningful part of it." — David Cohen
39. "Boulder was not the small town I had expected. It is a vivacious community of sophisticated people, who have the same aspirations and expectations you find in New York, Los Angeles, and San Francisco." — Kimbal Musk
40. "I have no idea how it got so big. I was just trying to find something to do while I was living in Boulder, Colorado, which isn't really a funny town. There are a lot of smart people there, but comedy isn't at the forefront of their minds." — George Meyer
Funny and beautiful Colorado quotes
41. "If you want to see an awesome color, then go to Colorado it's beauty is like no others." — Unknown
42. "Each year, millions of skiers come to Colorado to experience its superb emergency medical facilities." — Dave Barry
43. "Colorado's majestic landscapes are one of our most valuable assets, and it's important that we work to preserve these treasures." — Michael Bennet
44. "I think the Colorado Plateau is the most scenic area in the world – let's begin with that. Not just the United States." — Stewart Udall
45. "With more residents and tourism activity in Colorado, the 'great outdoors' is becoming a little crowded." — Nancy S. Greif
46. "You get a compound fracture in Colorado where I live, and you can probably be in a hospital within a matter of hours, certainly within a day." — Jon Krakauer
47. "'Have you ever been to colorado?' I frowned. 'Is that one of those square ones, in the middle?'" — James Patterson
48. "One day the Constitution of Colorado is the highest law of the state. The next day it's waste paper." — Robert F. Williams
49. "When people think 'Colorado', many of the images that pop into their minds are of majestic mountains, forests, rivers, canyons, and other natural features." — Nancy S. Greif
50. "If you like the outdoors, Colorado is a big adventure playground for adults: it's great for skiing, cycling, climbing, and hiking." — Tyler Hamilton
Colorado quotes on interesting tidbits about this mountainous region
51. "As we crossed the Colorado-Utah border I saw God in the sky in the form of huge gold sunburning clouds above the desert that seemed to point a finger at me and say, pass here and go on, you're on the road to heaven." – Jack Kerouac
52. "There can be nothing in the world more beautiful than the Yosemite, the groves of the giant sequoias and redwoods, the Canyon of the Colorado, the Canyon of the Yellowstone, the Three Tetons; and our people should see to it that they are preserved for their children and their children's children forever, with their majestic beauty all unmarred." – Theodore Roosevelt
53. "I'm a nature girl. I grew up in Colorado and was always outside. I still am, even when I'm in the city." – Kate Hudson
54. "This year, we must address the Colorado Paradox. We have more college degrees per capita than any state. Yet we lag the nation in the percentage of students who go on to higher education. – Bill Owens
55. "I love to hike, fly-fish, and ski in the mountains where I live in Colorado." – Blake Crouch
56. "I remember, when we moved out to Colorado, I was struggling. The mountains were so big, and I wasn't really prepared or used to it all." – Red Gerard
57. "My first bodybuilding competition was the 2003 NPC Northern Colorado, where I was a light-heavyweight weighing in at 192 lbs. I was very nervous, as it was my first real-life experience being a bodybuilder." – Phil Heath
58. "Colorado's collective shale deposits contain somewhere in the neighborhood of 1 trillion barrels of oil. That's almost as much as the entire world's proven oil reserves!" – Bob Beauprez
59. "My first time skiing was in Vail, Colorado. It was brilliant fun until I whacked myself in the face with my ski pole." – Lucy Worsley
60. "A new report says that last year Colorado collected $44 million in marijuana taxes. Unfortunately, they can't remember where they put it." – Conan O'Brien
Colorado Quotes That Will Make You Plan For a Trip
61. "When you're a pitcher for the Houston Astros and a stranger notices you in a mall in Colorado, you know things have really changed." — Brad Lidge
62. "I had my house converted to the Colorado altitude, so I am always above sea level." — Gilbert Arenas
63. "I'm proud that Colorado delivered a victory to Barack Obama in 2008 and we will do so again in 2012." — Ken Salazar
64. "Joan of Arc is my namesake. I played her character while still in my teens, at a music festival held at the University of Colorado in Boulder." — Joan Van Ark
65. "I learnt to drive at around eleven years old. In an old jeep on a field in Colorado. There were lots of ditches. I could barely see over the steering wheel." — David Lauren
66. "I still think I'm like the poor girl from Colorado who worked three jobs to buy a car. That's still my mentality, so I'll be walking down the street, and I forget what I do and who I am." — Amy Adams
67. "I would love to rent a little cottage or cabin in Colorado and learn to ski or snowboard. And on the warmer side, I also want to rent a house in Hawaii and learn to surf!" — Karlie Kloss
68. "I became a country music fan in 1990 when I moved to Colorado. It was my first exposure to it because I'm from a city. I've been a fan of country music ever since." — Ricky Schroder
69. "I'm born in Alaska, grew up in Colorado, went to college in Colorado, went to Colorado State, and I actually finished my degree." — Derek Theler
70. "I've lived out West some… I've always liked the High Plains areas – eastern Colorado, eastern Wyoming, western Nebraska." — Charles Frazier
Colorado Quotes for a Breathtaking View
71. "The reason it was so scary was that there was only one climber capable of rescuing us, and that was Layton Kor, and he was in Colorado." — Yvon Chouinard
72. "It's easier for me to go to Russia and train with top coaches and choreographers there than go to Colorado Springs and train with 14 of my competitors." — Johnny Weir
73. "Make friends with pain, and you will never be alone.~Ken Chlouber, Colorado miner and creator of the Leadville Trail 100 mile race." — Christopher McDougall
74. "There was this one lady in Colorado who made us something ceramic, where it could have been either a ring holder or a bowl cleaner. She was just like, "Here you go." And we were both like, "Oh my god! Thank yoooou!"" — Ilana Glazer
75. "In the late 1960s, I ended up in Telluride, Colorado. It wasnt like the country club that it is now. It was very raw. Skiing was there, but snowboarders have now entirely overrun it." — Lance Henriksen
76. "I graduated from college in Ohio and bummed around for a while, and then I joined VISTA, which was a domestic Peace Corps kind of thing, and they sent me to Colorado." — Mojo Nixon
77. "As Colorado attempts to build its brand as a healthy state, marijuana "dilutes what you're trying to do." — John Hickenlooper
78. "A stock market decline is as routine as a January blizzard in Colorado. If you're prepared, it can't hurt you. A decline is a great opportunity to pick up the bargains left behind by investors who are fleeing the storm in panic." — Peter Lynch
79. "I am proud to place Tercio Red River into a conservation easement forever protecting this spectacular landscape with Colorado Open Lands." — Louis Bacon
80. "I care a lot about Colorado. I consider it a state that is helping to shape the future." — Hillary Clinton
Some things you didn't learn from these Colorado quotes
So, Colorado is called the Centennial State because, on August 1, 1876, U.S.
President Ulysses S. Grant signed Proclamation 230, making Colorado the 38th state of the union.
The state was admitted to the United States 100 years after signing the declaration of independence.
If you are planning a trip to Colorado, make sure to check out Centennial, Colorado.
The city shares its name with the nickname for the entire state.
Centennial is home to the popular 17-mile House Farm Park with a preserved 19th-century farmhouse, where visitors are treated to scenic backdrops with red barns, milk shed, silo, and two fully functional windmills.
You probably should also visit Denver, the state's most populated city, for all the reasons mentioned in these Colorado quotes about Denver.
Denver is also known as the "Mile-High City" because it sits at 5,280 feet above sea level—exactly one mile.
What's your biggest takeaway from these Colorado quotes and sayings?
Do you have any other fun facts to share about Colorado?
You can do so in the comment section below.
And if you liked these Colorado quotes, check out our Utah Quotes!