21st Birthday Quotes you Would Love
Your friend is turning 21, and you are in need of the best 21st birthday quotes; don't worry, we have got you covered.
You can also take a look at the tips to celebrate your 21st birthday. So, without any further ado, let's dive in. 
How to plan your 21st birthday
Like any other party, you need to plan how you will celebrate your 21st birthday. To help you with this, here are the key factors to consider.
1. Finalize a budget
This is the first and most critical aspect to consider when you are planning your birthday.
For this purpose, you need to create a budget and make sure to keep all your birthday expenses under the decided amount.
Your party plan will depend on the budget you have created. Even if you don't have much to spend, creating a budget can help you manage things in a much better way.
2. Create a Guest List
The next step is creating a guest list. This particular aspect is also related to your budget.
If you are tight on budget, keep the guest list to its minimum.
Carefully think of the people that you are going to invite. Make sure to include your family members and close friends.
Having your favorite buddies around can add more fun to your party.
3. Venue Selection
Finding the best venue is also crucial. After finalizing your budget and creating a guest list, it would be easy for you to select a suitable venue.
If possible, you can arrange your birthday party at home. It will help you cut the overall cost.
Also, you can utilize the saved amount to decorate a specific room or open space of your home for the birthday party.
4. De-Clutter the Space
If you have selected your home as a party venue, the next step is to make it look great.
For this purpose, you need to remove the clutter and rearrange the furniture.
Doing so will allow you to have a better sitting arrangement and enough space for the guests to move around.
5. Party Food
This is the most essential element of every party. Make sure to offer the best food to your party.
In fact, if you offer gourmet food to your guests, they are going to remember the party till your next birthday.
When finalizing the menu, do consider the time when you will serve the food.
For instance, you can offer light snacks in the evening, but you need to offer a proper menu for dinner.
If you like this article, we suggest you explore our most popular quotes article, a list of short inspirational quotes for daily encouragement.
Read more related content on our inspirational quotes category page.
Related: Happy Birthday Quotes
Top ten 21st birthday quotes
Are you getting ready to celebrate your 21st birthday? These quotes are for you!
1. "You have one chance, one life and what you do with it is up to you." ― Peyton Sawyer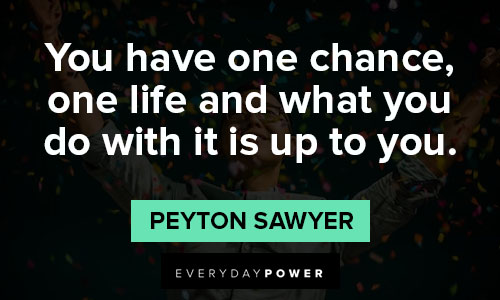 You will also enjoy our article on party quotes.
2. "The way I see it, you should live everyday like its your birthday." ― Paris Hilton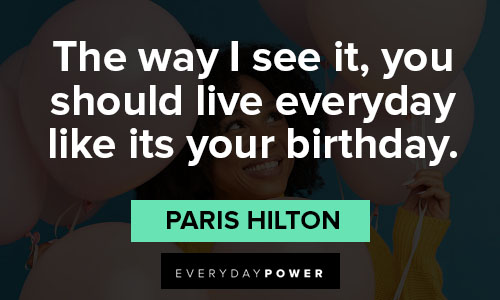 You will also enjoy our article on funny birthday quotes.
3. "It takes a long time to grow young." ― Pablo Picasso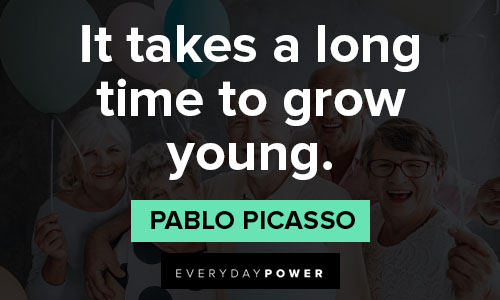 You will also enjoy our article on birthday quotes.
4. "Every year on your birthday, you get a chance to start new." ― Sammy Hagar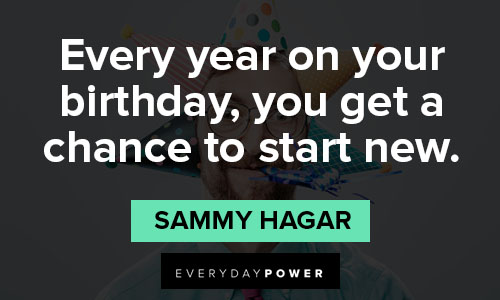 5. "Life is like riding a bicycle. To keep your balance, you must keep moving." ― Albert Einstein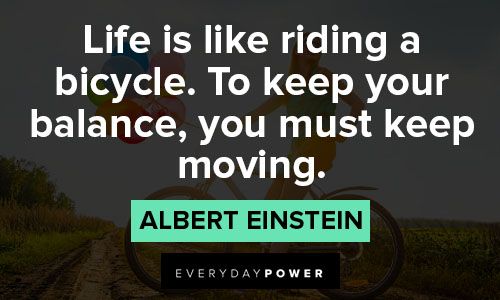 6. "And in the end, it`s not the years in your life that count. It`s the life in your years." ― Abraham Lincoln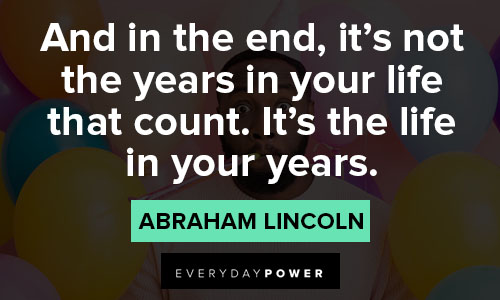 7. "Our birthdays are feathers in the broad wing of time." ― Jean Paul Richter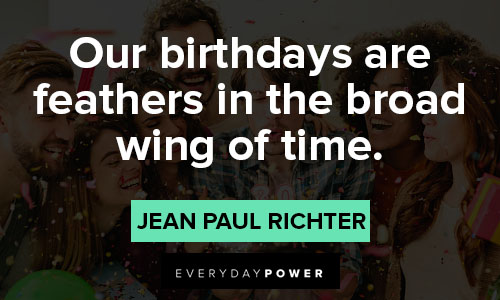 8. "Turning 21 is a special day may your future bring all that you wish for." ― Kate Summers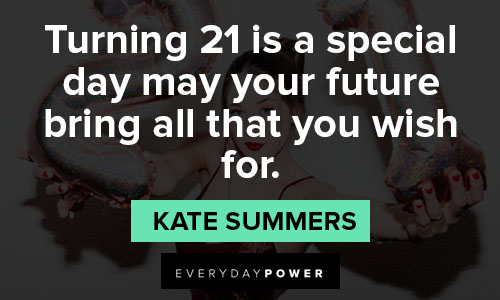 9. "Live as long as you may. The first twenty years are the longest half of your life." ― Robert Southey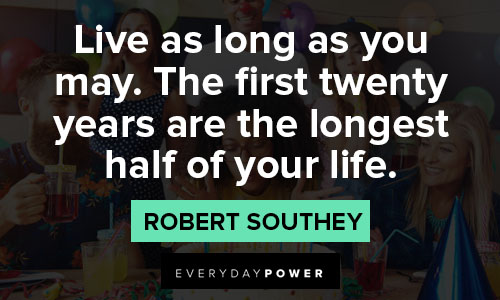 10. "Nature gives you the face you have at twenty, but it's up to you to merit the face you have at fifty." ― Coco Chanel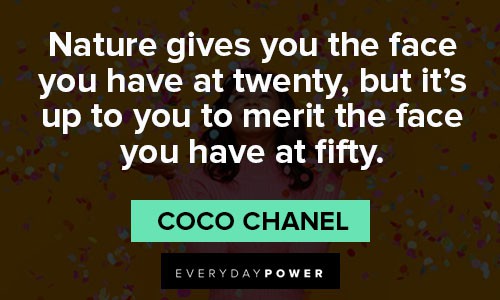 You might also like these 18th birthday quotes to wish a very happy birthday.
21st birthday quotes about turning 21
Wisdom comes with age; some if gained by the time you turn 21, but much is still to come. These quotes share some wisdom for those starting their adult years.
11. "One fun thing on your 21st birthday is getting carded. It's even more fun on your 30th." ― Melanie White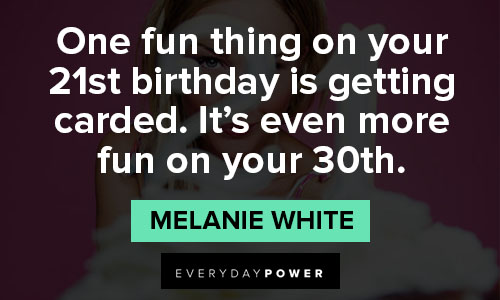 12. "There are three hundred and sixty-four days when you might get un-birthday presents … and only one for birthday presents, you know." ― Lewis Carroll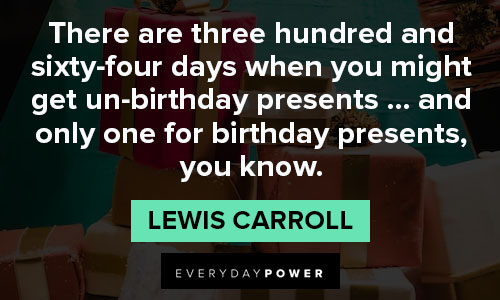 13. "When I was a boy of fourteen, my father was so ignorant I could hardly stand to have the old man around. But when I got to be twenty-one, I was astonished at how much he had learned in seven years." ― Mark Twain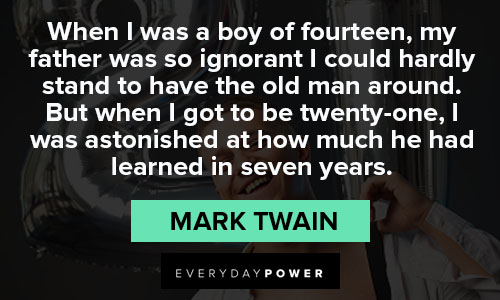 14. "As you grew, no matter what happened, we encouraged you to look at the sunny side of life. So as your turn 21, we wish you much sunshine and happiness." ― Catherine Pulsifer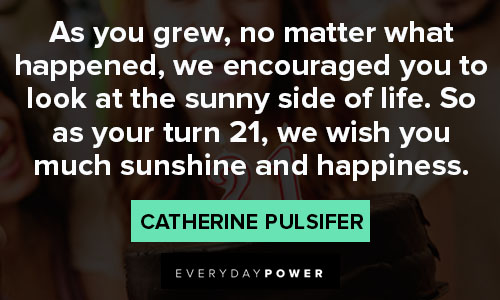 15. "At 21, your life is just beginning but cherish each day as the next 21 years will fly by before you realize they are gone." ― Catherine Pulsifer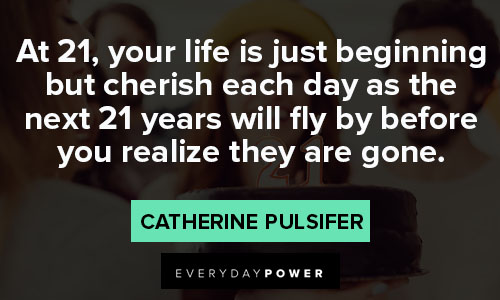 16. "At 21, my best advice to you are the words of Ralph Waldo Emerson: Live well, learn plenty, laugh often, and love much." ― Kate Summers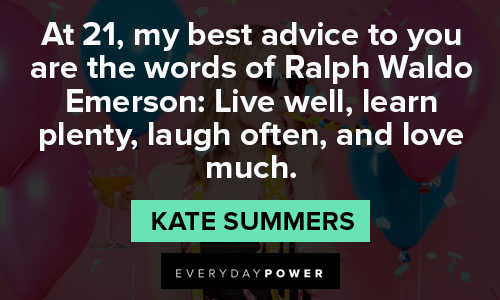 17. "When a man is tired of life on his 21st birthday, it indicates that he is rather tired of something in himself." ― F. Scott Fitzgerald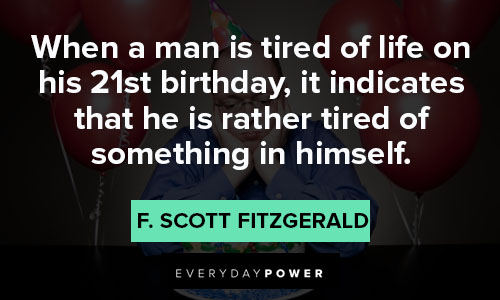 18. "The party is on my birthday, June 21 – my 21st on the 21st, which is Midsummer's Day, the longest day of the year and the longest night for a lot of people who are helping to organize it." ― Prince William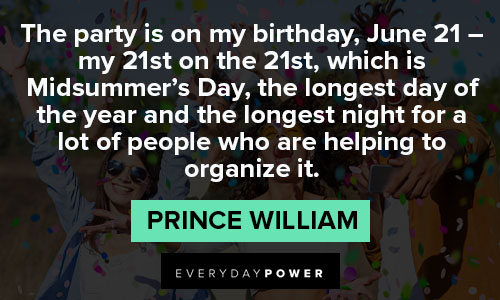 19. "At 16 you can drive. At 21 you can have a cold one. Do both at the same time and your present might not have a future." ― Greg Tamblyn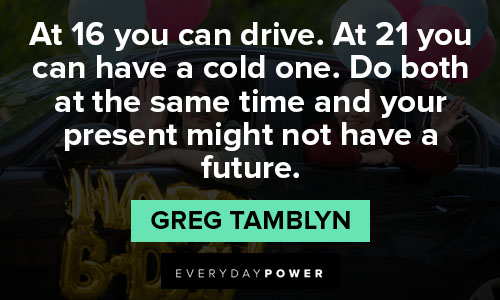 20. "Now that you're 21, nobody can tell you want to do unless of course, you're married." ― Melanie White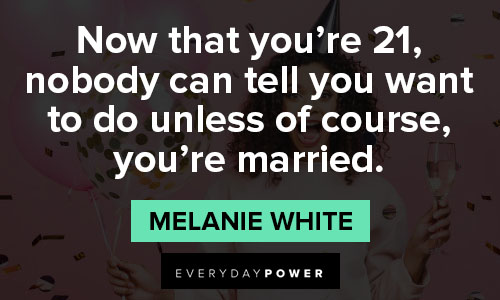 You will also enjoy our article on xxxtentacion quotes and lyrics.
21st birthday quotes to inspire you
Turning 21 can be viewed as the beginning of some big transitional life changes. These quotes may motivate you to find what changes its time for in your own life.
21. "Now that you're 21, it's time to stop playing video games and start designing them." ― Melanie White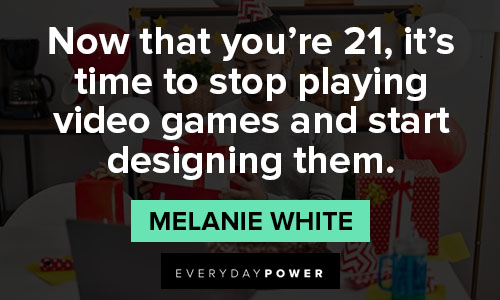 22. "At twenty years of age, the will reign; at thirty, the wit; and at forty, the judgment." ― Benjamin Franklin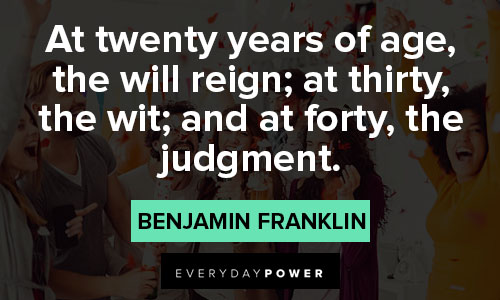 23. "By my 21st birthday, I was still straight-edge. I didn`t develop at all emotionally until I started drinking, smoking, and snorting things a while later, and even then it took a few more years before my self-awareness became useful for anything." ― Tony Tulathimutte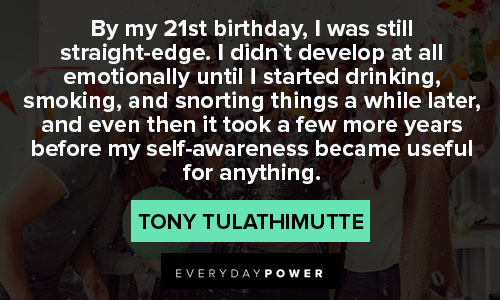 24. "At twenty-one, so many things appear solid, permanent, untenable." ― Orson Welles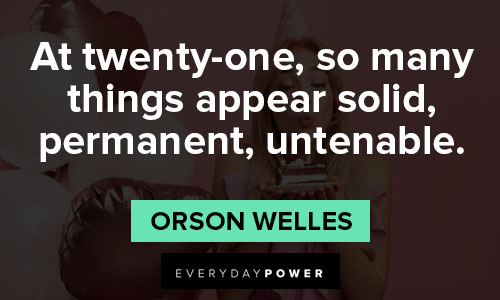 25. "On the roller coaster of life, your 21st birthday is like being at the top of the first giant hill with your hands in the air and no lap bar." ― Greg Tamblyn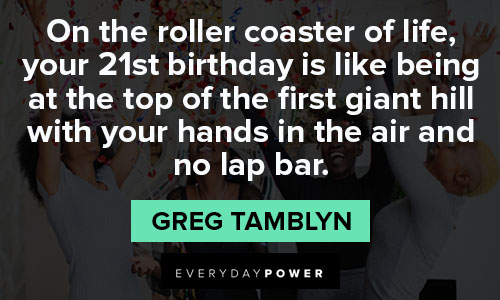 26. "My advice for a 21-year-old: Don't drink and vote." ― Melanie White
27. "21 is a terrific age, maybe the best. Too bad you can't be that old for the rest of your life." ― Greg Tamblyn
28. "Long-expected one and twenty Ling'ring year, at last, has flown, Pomp and pleasure, pride and plenty Great Sir John, are all your own.' ― Samuel Johnson
29. "You may be turning 21, but in my eyes, I can still remember the day you were born. It was an amazing day, and may God continue to bless you over the next 21 years." ― Kate Summers
30. "From the time I was 16 to really up until turning 21, the roles were really, really few and far between. I had people say that I just wasn't a good singer. They didn't know what to do with me; I would never fit in any markets. I almost quit acting altogether." ― Naya Rivera
21st birthday quotes about the good, bad, and funny
Sometimes you just have to laugh, and birthdays are a great time to do that. Let these 21st birthday quotes put a smile on your face.
31. "At 21 years old, I could produce 400 people like that." ― Eddie Perez
32. "Don't be intimidated by my outfit; it's Forever 21." ― Natasha Leggero
33. "Being 21 isn't all it's cracked up to be. You have to start buying your own toilet paper." ― Melanie White
34. "My 21st birthday wasn`t a big deal. I just went out with a few friends that night. I think I made it up for until I turned 22." ― Shane Gonzales
35. "I sold my first script when I was 21 – this kids' adventure movie that never got made. I just bought that one back, actually. I'm pretty psyched about it." ― Jason Segel
36. "Everything felt high-stakes and important, and every decision felt monumental. And yet, here I am 20 years later, and I literally have no memory of my 21st birthday." ― Emily McDowell
37. "If you look over the years, the styles have changed – the clothes, the hair, the production, the approach to the songs. The icing to the cake has changed flavors. But if you really look at the cake itself, it's really the same." ― John Oates
38. "In the USA, at age 18, you can go into a voting booth and cast a vote to help decide who will be empowered to launch a nuclear bomb. However, you still cannot, in most states, walk into a bar and order a shot until you turn 21." ― Ronnie Sellers
39. "I was working at a summer theater when I turned 21. My birthday was on a day-off, but we'd been scheduled to perform a few songs at one of the patron's parties. We were welcome to the food and alcohol which I took full advantage of, being 21." ― Stefanie O'Connell
40. "For my 21st birthday I was in Wilkes-Barre, Pennsylvania. It was my first pro season and the first time I had been away from my college in three years. It may not have been a typical 21st birthday, but it was a critical year in my life and my career as I transitioned from student to professional athlete." ― Brian Dumoulin
Best 21st birthday quotes to grab attention
Looking for what to say to someone turning 21? The following quotes might be a great fit.
41. "Twenty-one is the same as teen years, but with legality." ― Unknown
42. "You know you're getting old when the candles cost more than the cake." ― Bob Hope
43. "At 21, you can have it all―all the bills, problems, and responsibilities of an adult." ― Unknown
44. "There are two great days in a person's life – the day we are born and the day we discover why.' ― William Barclay
45. "A gift consists not in what is done or given, but in the intention of the giver or doer." ― Lucius Annaeus Seneca
46. "Many congratulations on your 21st! Wishing you success and happiness on your very special birthday!" ― Unknown
47. "I think, at a child's birth, if a mother could ask a fairy godmother to endow it with the most useful gift, that gift should be curiosity." ― Eleanor Roosevelt
48. "Only a few parents are privileged to be blessed with a gifted son like you. Happy 21st birthday to the best son in the whole wide world." ― Unknown
49. "What will 21 bring? No one knows what the future holds, but there's something I know; I know this thing. I'll be right by your side, whatever tomorrow unfolds." ― Unknown
50. "A birthday cake for you I did not make, but my wish for you is absolutely not fake. I wish you a 21st year filled with laughter and love and tons of good cheer! Happy birthday!" ― Unknown
Which of these 21st birthday quotes is your favorite one?
We hope you have enjoyed reading through our list of 21st birthday quotes.
People tend to have a lot of high expectations of turning 21.
We think about a fun night of partying and not having any more restrictions.
There are many different traditions that exist around the world for how young people spend their 21st birthday.
You can also find tons of ideas online about how to celebrate your special day.
But in the end, the most important thing is spending the day how you desire, whether having a big party or spending time with those closest to you.
Remember, each birthday is a reason to celebrate the life you have.
You can use these 21st birthday quotes to wish your friend or family member a happy birthday, plan for your own birthday or relive the day you turned 21.
If one of the above-mentioned quotes is your favorite, you can share it with us by commenting below.