Florida Quotes About the Sunshine State
Florida is an interesting state and these Florida quotes really sum it up!
They are a little all over the map, mentioning the state's beauty and weirdness at the same time.
These quotes will make great captions for your vacation photos on Instagram or your essay about the Sunshine State.
As far as vacations go Florida, which is the home of Disney World and Universal Studios Orlando, offers other entertainment venues too!
If you haven't ever been to Medieval Times, then make sure you add that to your vacation itinerary.
There are many other things you can do, like gamble at the Hard Rock Cafe in Tampa, or check out the Latin nightlife at Ybor City.
If none of those things sound exciting, then you can spend your day lounging on a towel at the beach.
These Florida quotes about the weather and Miami might also be useful in your vacation planning.
However, if your interest in the state of Florida is more academic, then keep reading through them for some interesting facts about the flattest state in the United States.
Don't forget to also check out these Texas quotes about the lone star state.
If you enjoy this article, check out our most popular quote article, a list of short inspirational quotes for daily motivation.
Browse our entire collection of inspirational quotes for more motivating ideas and concepts.
Florida quotes for Instagram
1. "Florida is the world's greatest amusement park." — Budd Schulberg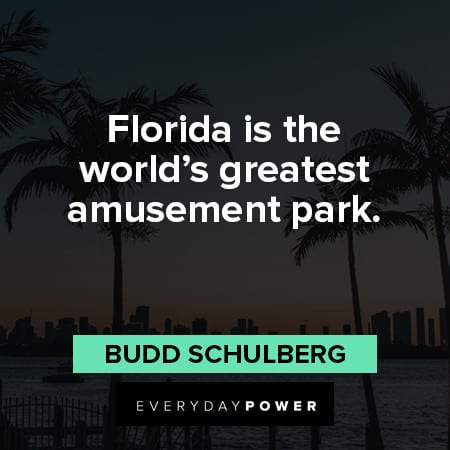 You will also enjoy our article on Pennywise quotes.
2. "It's always sunny in the Sunshine State. Except for at night." — Jarod Kintz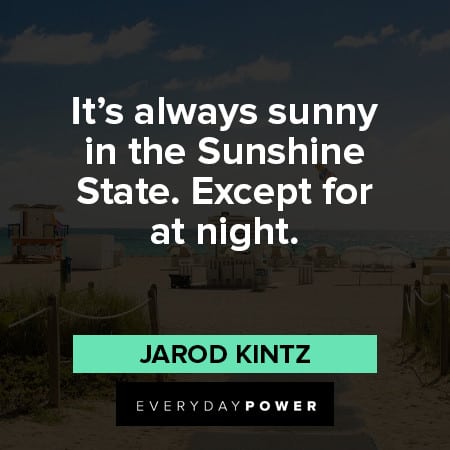 You will also enjoy our article on vacation quotes.
3. "Florida is a place for innovation, for prosperity, for pioneering." — Hendrith Vanlon Smith, Jr.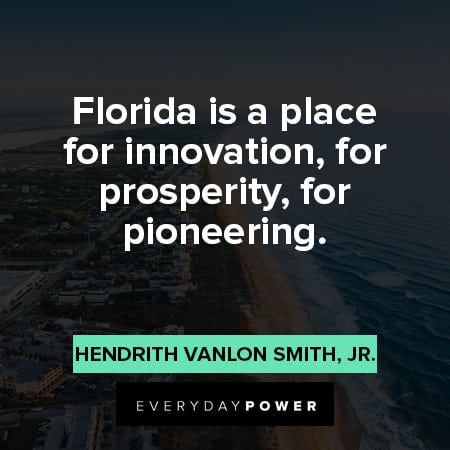 You will also enjoy our article on sunshine quotes.
4. "Gone to Florida, be back never." — Unknown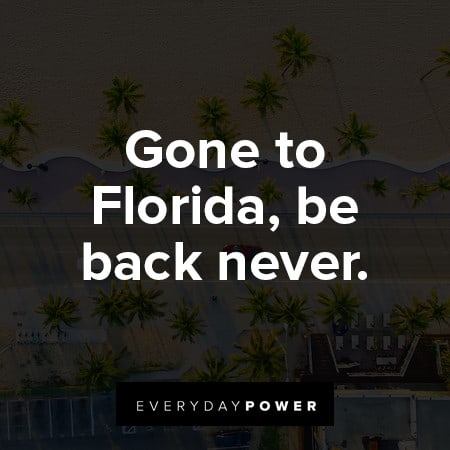 5. "Some call it Florida, I call it heaven." — Unknown
6. "My love for you is like a Florida sunset." — Jarod Kintz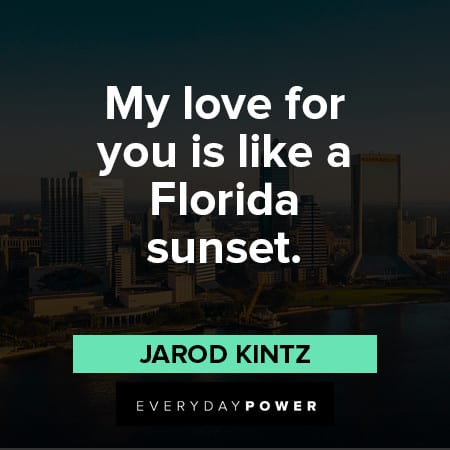 7. "In Florida, we salt margaritas, not sidewalks." — Unknown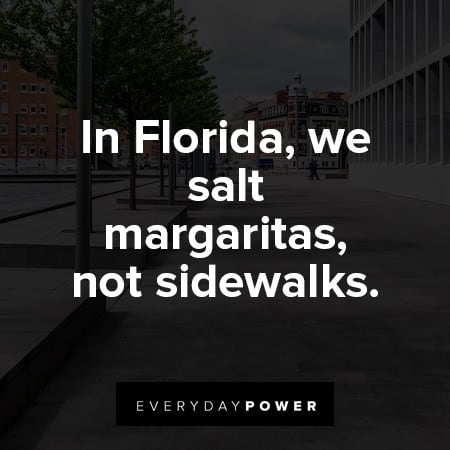 8. "Florida is a very healing place." — Burt Reynolds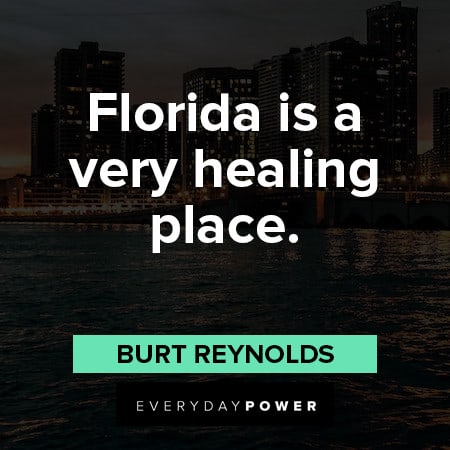 9. "Florida isn't so much a place where one goes to reinvent oneself, as it is a place where one goes if one no longer wished to be found." — Douglas Coupland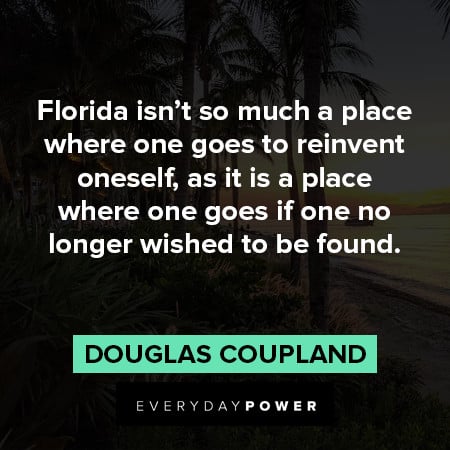 10. "I am absolutely convinced that Florida will become the most exciting place in the world to live and work." — Rick Scott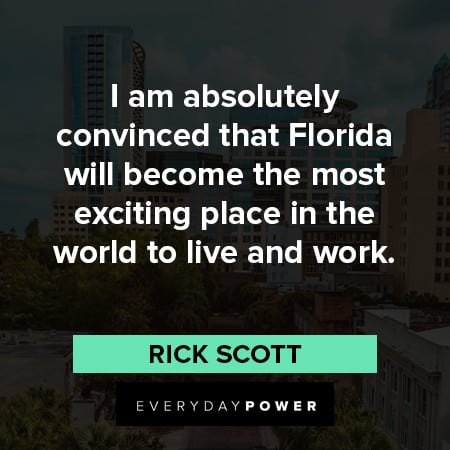 Funny Florida quotes
11. "I like Florida. Everything is in the '80s. The temperatures, the ages, and the IQs." — George Carlin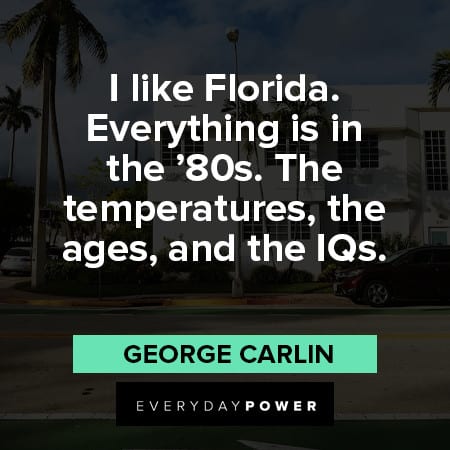 12. "My parents didn't want to move to Florida, but they turned sixty and that's the law." — Jerry Seinfeld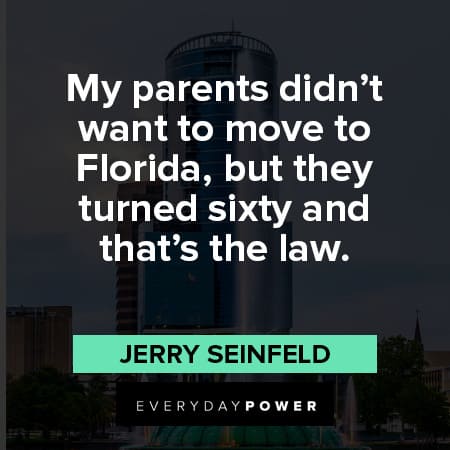 13. "It's Florida. Hair is just an extra sweater I'm forced to wear." — Emma Gonzalez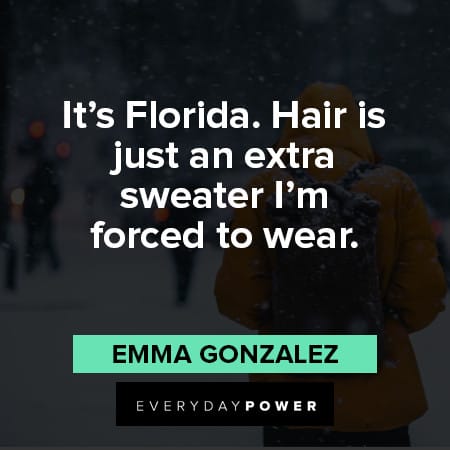 14. "I live in Florida and people are crazy here. And I say that lovingly." — Amy Simetz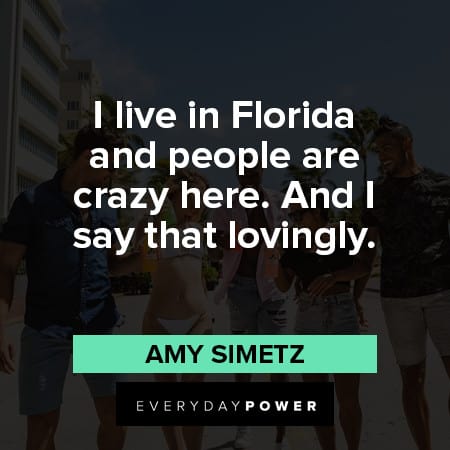 15. "August in Florida is God's way of reminding us who's in charge." — Blaize Clement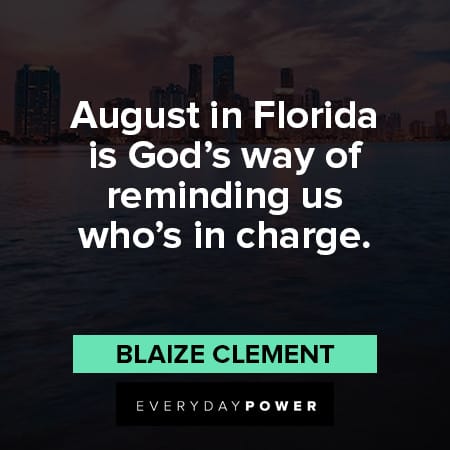 16. "Sometimes I think I've figured out some order in the universe, but then I find myself in Florida." ― Susan Orlean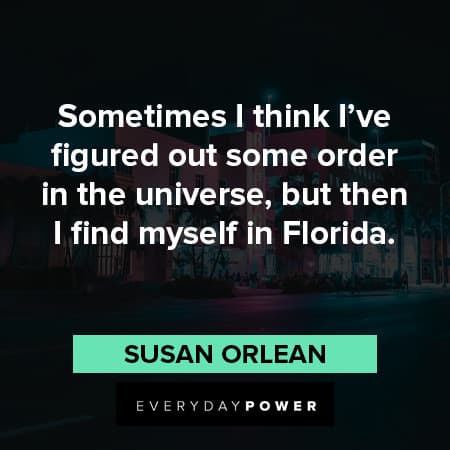 17. "To Florida—it's dreamers, it's builders, it's mavericks, and it's scoundrels. (Sometimes all four at once.)" — Beatrix Williams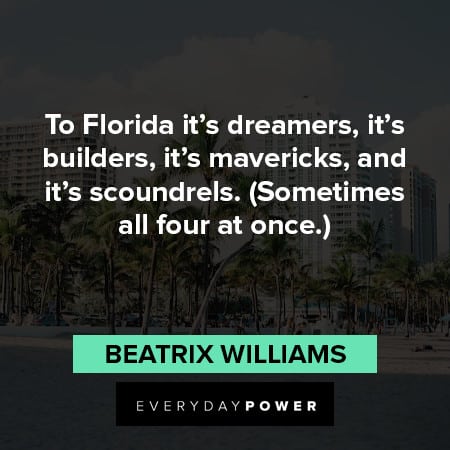 18. "I happen to know that Florida is now working on something that could revolutionize its real estate market. It's an alligator that eats crabgrass." — Robert Orben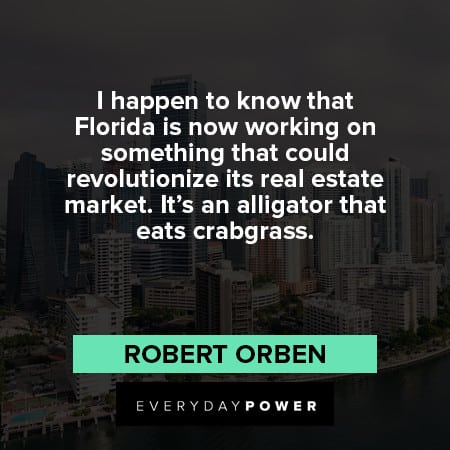 19. "Two things Florida can teach the other 49 states: how to make a good margarita and how to deal with the aftermath of a hurricane." — Tom Feeney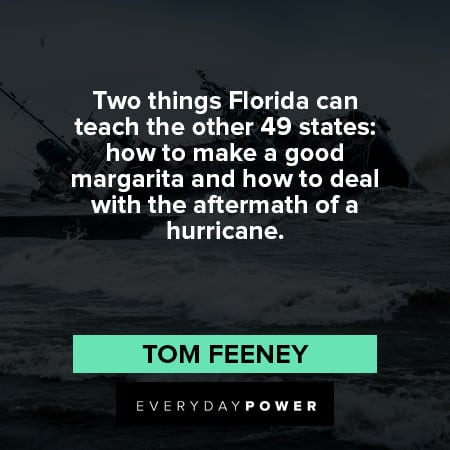 20. "There is only one problem in taking a winter vacation in Florida. You spend two weeks getting a deep, rich, golden tan — then they hand you the bill and you're pale again." — Robert Orben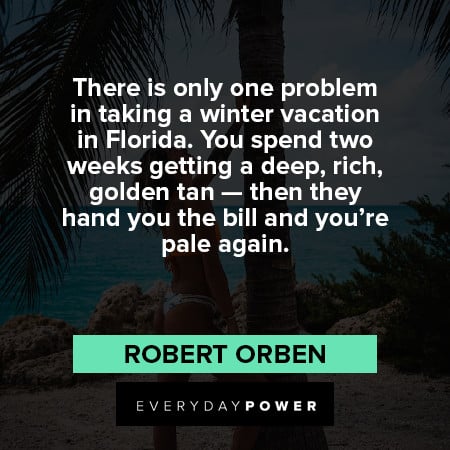 If you enjoy this article, check out our collection of Las Vegas quotes that are Insta-worthy
Florida quotes about Miami
21. "Miami is a melting pot in which none of the stones melt. They rattle around." — Tom Wolfe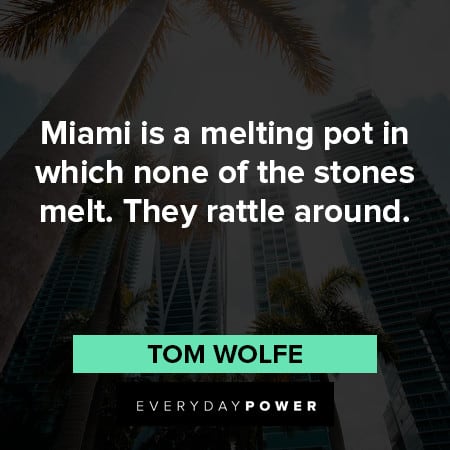 22. "Miami drivers will attempt to pass you inside a car wash." — Dave Barry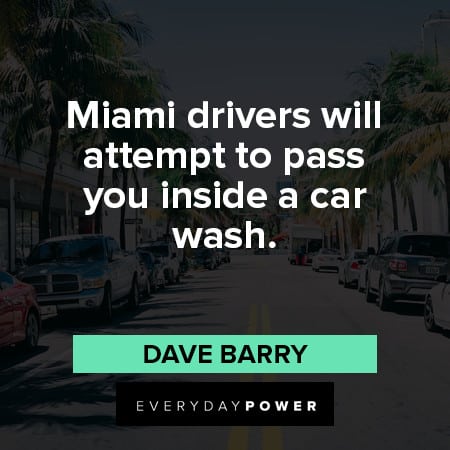 23. "Miami Beach is where neon goes to die." — Lenny Bruce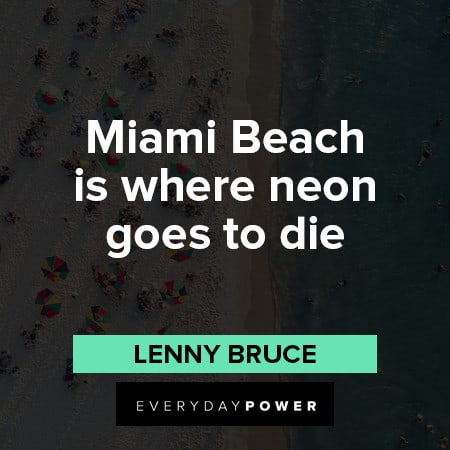 24. "My favorite city is Miami. It's very fresh, and the beach is sunny." — Liu Wen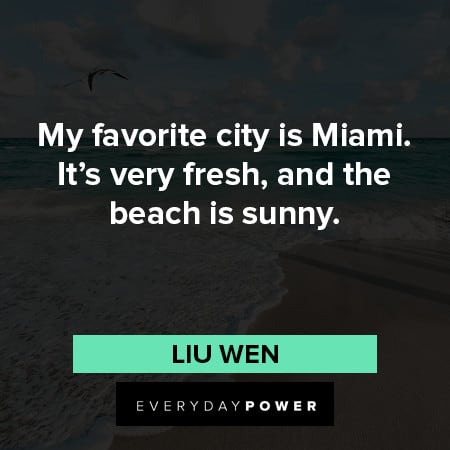 25. "In Miami, there's a Latin flavor, and I just love every bit of it." — Ryan Guzman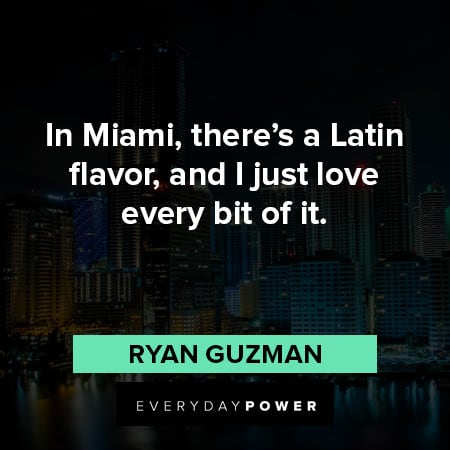 26. "Anytime I get down to Miami, it's a wonderful thing." — Bill Goldberg
27. "I love Miami: great town, always loved it, a great place to play basketball." — Chris Bosh
28. "What's special about Miami is the collision of cultures. And the white sand beaches and fantastic restaurants." — Jeffrey Dean Morgan
29. "Miami is one of these places when diversity is in our blood, where, you know, if you want to go have a Nicaraguan breakfast, a Cuban lunch, and an American dinner, you do." — Ana Navarro
30. "Miami Beach is a completely interesting hybrid because it is, on the one hand, a resort and, on the other hand, a real city. This condition of city and water on two sides I think really amazing." — Rem Koolhaas
31. "The thing that's really cool for me about Miami Beach is you have this dichotomy between sunlight and family and happiness and innocence and then at night, darker, stranger mob stuff sort of comes out. It seems like a storytelling engine." — Mitch Glazer
32. "One of my favorite vacation places is Miami, because of the people, the water and the beach—of course—and the architecture on Miami Beach is so wonderful." — Oksana Baiul
Florida quotes about the weather and winter
33. "I am a Florida guy. I don't do cold." — J. R. Ramirez
34. "Florida tends to be one of those places that people like to play in the winter." — Gary Bongiovanni
35. "I hear it's hot in Florida. And it's raining here tonight. But the sun's gonna shine tomorrow. And I'm gonna do alright." — Elton John
36. "California is lucky, the East Coast is lucky because we get great seafood and a lot of produce from Florida, locally in good weather, but in the winter we have to buy it." — Eric Ripert
37. "Florida is the only state in the union where zombie-like face eating is a legitimate concern, and where a category-four hurricane is considered a mild weather condition." — Unknown
38. "No winter coats in Florida, no boots, no chains, no salt, no plows, and shovels. In the balmy state of Florida, fruits fell in the meanest yard." — Christine Schutt
39. "They call Florida the "Sunshine State", which is funny because in the twelve years I lived here, it was only sunny for like twenty minutes—when the eye of the hurricane passed over my house." — Seth Lyon
40. "That's one of the reasons I moved to Florida. Of course, the main reason is the weather and the training. But there's more jealousy in Switzerland because it's so little and they don't have so many athletes." — Martina Hingis
Florida quotes about the beautiful state
41. "Florida means land of flowers, not land of ugly." — Bill Jonson
42. "There are characteristics of central Florida you don't see anywhere else. It's quite beautiful." — Sean Baker
43. "Florida is a strange place: hot, beautiful, ugly. I love it here, and how nothing makes sense but still, somehow, there is a rhythm." — Roxane Gay
44. "The state with the prettiest name, the state that floats in brackish water, held together by mangrove roots." — Elizabeth Bishop
45. "Florida… does beguile and gratify me—giving me my first and last (evidently) sense of the tropics, or a peu pres, the subtropics, and revealing to me blandness in nature of which I had no idea." — Henry James
46. "The Florida sun seems not much a single thing overhead but a set of klieg lights that pursue you everywhere with an even white illumination." — John Updike
47. "I go to Florida sometimes for vacation. I actually really like Florida. It's a weird place, it's surreal. It's so close, but you feel like you're in another world or on an island." — Jemima Kirke
48. "The miracle of the light pours over the green and brown expanse of saw grass and of water, shining and slow-moving below, the grass and water that is the meaning and the central fact of the everglades of Florida. It is a river of grass." — Marjorie Stoneman Douglas
49. "Florida is a golden word… The very name Florida carried the message of warmth and ease and comfort. It was irresistible." — John Steinbeck
50. "The Florida skies are like no other, with cloud formations that are awesome! Even when it rains, the sun shines through the drops." — Connie Letang
Florida quotes on memorable stories about it
51. "Almost everything strange washes up near Miami." – Rick Riordan
52. "They say you fear what you don't understand. Maybe that's why every time I'm in South Florida, and I hear someone talking in Spanish, I always shit my pants." – Jarod Kintz
53. "I'm also fascinated by the difference between terror and fear. Fear says, "Do not actually put your hand in the alligator," while terror says, "Avoid Florida entirely because alligators exist." – Mira Grant
54. "Florida is a place of unparalleled diversity of backgrounds, experiences and vision. It makes our culture unique, but it can also make it difficult to define a common identity and create a sense of community that reaches beyond our neighborhoods to all corners of our state." – Jeb Bush
55. "Major league baseball has asked its players to stop tossing baseballs into the stands during games, because they say fans fight over them and they get hurt. In fact, the Florida Marlins said that's why they never hit any home runs. It's a safety issue." – Jay Leno
56. "I even have a Harmony Rocket and a Stratocaster with a scalloped neck back in Florida." – Scott Putesky
57. "Here in Florida, we have something special we never enjoyed at Disneyland: the blessing of size. There's enough land here to hold all of the ideas and plans we can possibly imagine." – Walt Disney
58. "The summer of 2019 had overstayed its welcome in Florida, lingering well into September. As if to make a point about global warming, the rabid sun scorched the waters of Biscayne Bay for weeks. The heat weaponized asphalt roads and cement sidewalks, the shimmery mirages above them a clear warning to all living things to stay away or burn." – J.K. Franko
59. "One of the major hobbies in South Florida is keeping animals that no sane person would want to keep. They usually get them when they're small, and when they get too big, they let them go. And they all get away, eventually." – Dave Barry
60. "The way I figure it, everyone gets a miracle. But if you consider all the unlikely things together, at least one of them will probably happen to each of us. My miracle was this: out of all the houses in all the subdivisions in all of Florida, I ended up living next door to Margo Roth Spiegelman." – John Green
Florida Quotes To Inspire Your Next Staycation
61. "I grew up in Florida riding horses, so for the majority of my life I was either in boots and jeans or a bathing suit." — Kate Upton
62. "As amazing as it seems, the state of Florida must certainly be one of the most haunted places in the United States." — Greg Jenkins
63. "I grew up in Florida, where if you weren't comfortable dancing, you weren't going to get any girls." — Channing Tatum
64. "Remember that Florida is a land of weirdos and bizarre happenings, and conduct yourselves accordingly." — Jeff Zentner
65. "When the automobile came into popularity, Florida was among the first to begin work on a network of good roads." — Douglas Waitley
66. "I don't think about tennis 24/7. I enjoy time on the lake at my Florida home and just being lazy on the sofa." — Andy Roddick
67. "I'm pretty sure my house in Florida is haunted! He's a nice ghost though." — Ariana Grande
68. "I love Florida. I love the beach. I love the sound of the crashing surfers against the rocks." — Emo Philips
69. "Florida is so hot that when old people retire and move to Florida it's because they want to start practicing to hell." — Seth Lyon
70. "I like anywhere with a beach. A beach and warm weather are all I really need. I like going to Florida – to Miami and to visit my mom in Fort Meyers." — Rob Gronkowski
Florida Quotes To Give You Good Vibes
71. "I represent Orlando, Florida, the world's number one vacation destination." — Ric Keller
72. "I'm from Florida, so any time I get invited to come to Florida and play a show, I'm definitely always up for that." — Jake Owen
73. "The only way you're going to save things in life is through love, and that's what we're trying to do …. make people fall in love with Florida." — Clyde Butcher
74. "Florida has been really cool to us. This is our first big club tour, and Pennywise has been really nice." — Brandon Thomas
75. "Three years ago I came to Florida without a nickel in my pocket. Now I've got a nickel in my pocket." — Groucho Marx
76. "The first time I acted was in high school in Florida, and when I heard that applause I felt so alive and felt that electricity go up my spine." — Angela Bassett
77. "Lot Of Strip Clubs in Florida… Good grief… Florida has so many strip clubs, they need to change their state flag to a brass pole." — Wanda Sykes
78. "I grew up in Florida, and I wanted to go home and I couldn't. I didn't have the money. The book [The Tiger Rising] was a way to go home." — Kate DiCamillo
79. "Unfortunately, Florida is a mecca for the shyster element, and there are apparently no rules on the kinds of advertising a lawyer can do." — Carl Hiaasen
80. "The great thing about Florida is you – each city's about two hours' drive from everywhere else." — John Cleese
Florida Quotes To Plan Your Next Trip
81. "There are only five bad weather days a year here in Florida, and they aren't even that bad." ― Dick Ptomey
82. "Florida is different things to different people. To some, Florida is a paradise. It is warm water, sun-drenched beaches, mysterious swamps, and stunning coral reefs." ― Perry Chang
83. "Florida has its own rhythm, too. People go to work, they watch their children learn and grow and start families of their own. They play in the sun and pass their lives enjoying the outsized blessings that make our state unique." ― Jeb Bush
84. "To Michigan, Florida perfumes shall tenderly come; / Not the perfumes of flowers, but sweeter, and wafted beyond death." ― Walt Whitman
85. "I came from Michigan seven years ago, and every year I learn to love the winters in Florida even more." ― Patrick Ehnis
86. "Every child in South Florida can dance. And every child there is amazing." ― Abby Lee Miller
87. "When most people think of Florida, they may think of warm, sunny beaches, vacation attractions, and the night life it has to offer." ― Greg Jenkins
88. "As the immense dew of Florida / Brings forth hymn and hymn / From the beholder, / Beholding all these green sides / And gold sides of green sides." ― Wallace Stevens
89. "For a lot of people in different times in their life, Florida represents a new start." ― Larry Reimer
90. "Florida is a cultural crossroads where people of different backgrounds have mingled, traded, and sometimes fought." ― Perry Chang
What did you learn from these Florida quotes?
Florida earns the title of "flattest state in the union" because it has the lowest high point, which tops 345 feet.
To put this in perspective, Denali, which is the highest point in Alaska, reaches 20,310 feet.
Florida might not be an overly large state in terms of area, but with a population of over 21 million, is the third-most populous state.
It has the longest coastline (1,197 statute miles) in the contiguous United States, with 825 miles of accessible beaches.
It's also the only state that borders both the Atlantic Ocean and the Gulf of Mexico.
One other interesting fact about Florida is that there are no dinosaur fossils there!
This is because when dinosaurs roamed the earth, Florida was completely underwater.
Whether you are looking to explore some beaches, go to amusements parks, or just enjoy some orange juice, Florida is the place to be.
Did you know Florida produces 75% of the nation's oranges?
What are some other fun facts about Florida?
You can let us know in the comment section below.