130 Cooking Quotes That Will Entice Your Inner Chef
These cooking quotes are from some of the best chefs in the industry.
Ever since man discovered fire, humans have been obsessed with cooking.
Sure, some of us still prefer to just grill everything on an open flame, but others treat cooking like fine art.
You may also enjoy our article on:
Researchers at the Harvard T.H. Chan School of Public Health found that people who cook at home more frequently have a healthier overall diet than those who cook less often or rely on takeout and restaurant meals.
This research highlights the potential health benefits of cooking and the importance of home-cooked meals in a healthy lifestyle
Some cultures, like those from Greek and Italian families, treat cooking as a sacred duty that lets everyone know how much we love them.
As an Italian person, I plan nearly every event or holiday around the food, and my siblings all enjoy helping in the kitchen.
There are those who don't enjoy the act of cooking, but still do it because, you know, eating is important.
Then there are those who are just really not good at it.
Keep reading for some quotes that will resonate with you about cooking, while you think about what to make for dinner tonight.
My favorite chef and cookbook author, Julia Childs, has her own cooking quotes section!
Check out our most popular quote article, a list of short inspirational quotes for daily inspiration.
Explore our complete collection of motivational quotes here.
Inspirational cooking quotes from famous chefs
1. "Cooking is like snow skiing: If you don't fall at least 10 times, then you're not skiing hard enough." — Guy Fieri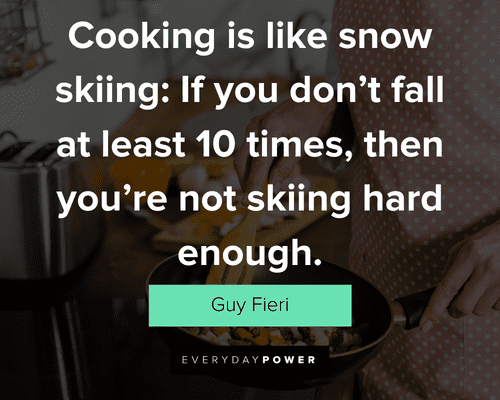 2. "Once you understand the foundations of cooking—whatever kind you like, whether it's French or Italian or Japanese—you really don't need a cookbook anymore." — Thomas Keller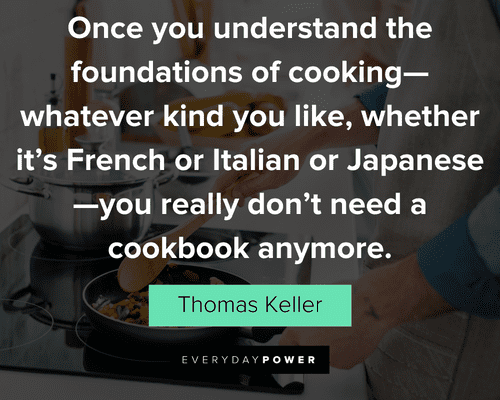 You will also enjoy our article on preparation quotes.
3. "Taste as you go. When you taste the food throughout the cooking process, you can make adjustments as you go." — Anne Burrell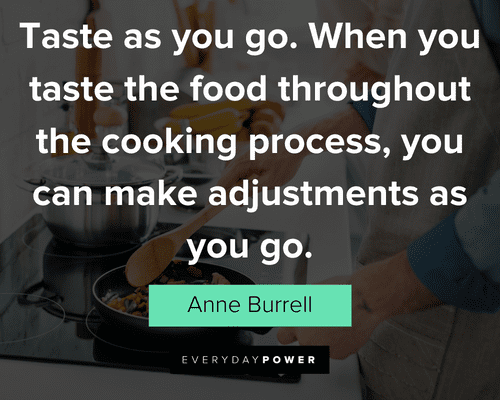 4. "Fifty thousand dollars' worth of cabinets isn't going to make you a better cook; cooking is going to make you a better cook. At the end of the day, you can slice a mushroom in about three inches of space, and you can carve a chicken in a foot and a half. So it doesn't matter how big the kitchen is." — Tyler Florence
5. "I feel a recipe is only a theme which an intelligent cook can play each time with a variation." — Madam Benoit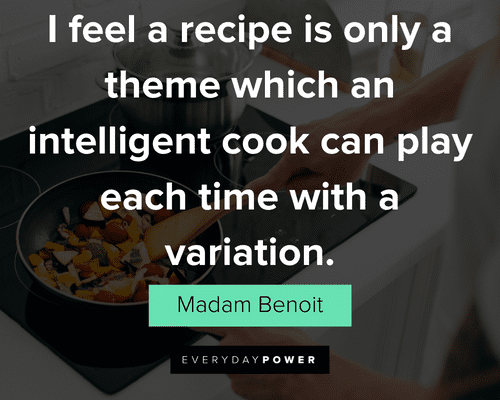 6. "Cooking is all about people. Food is maybe the only universal thing that really has the power to bring everyone together. No matter what culture, everywhere around the world, people get together to eat." — Guy Fieri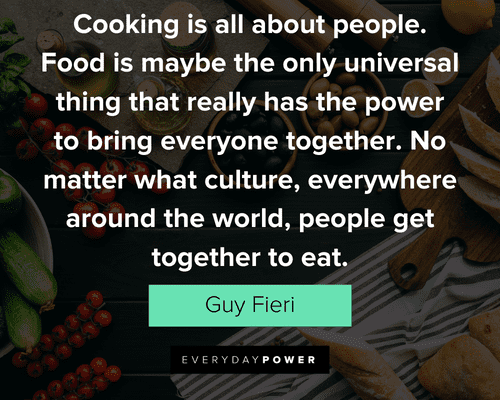 7. "Cooking with kids is not just about ingredients, recipes, and cooking. It's about harnessing imagination, empowerment, and creativity." — Guy Fieri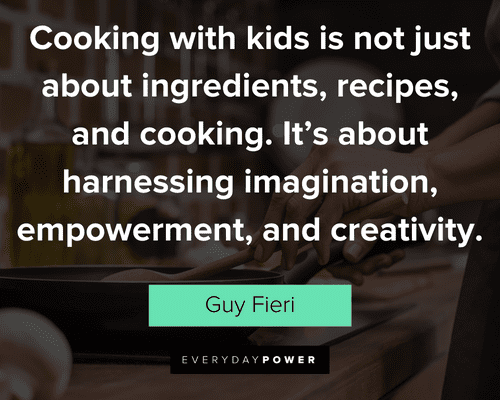 8. "I don't cook for the guide, I cook for customers." — Gordon Ramsay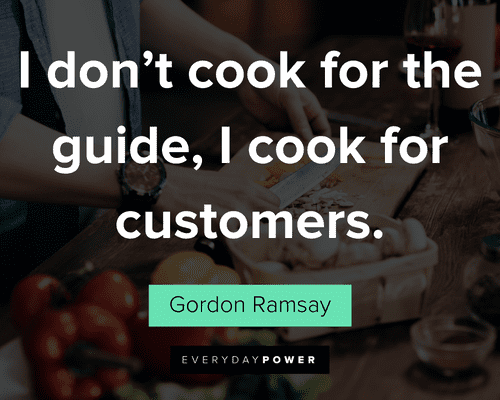 9. "I still love football, though, and I think cooking is like football. It's not a job, it's a passion. When you become good at it, it's a dream job and financially you need never to worry. Ever." — Gordon Ramsay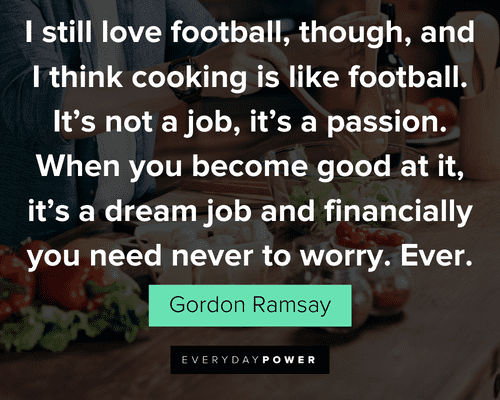 10. "Cooking is about passion, so it may look slightly temperamental in a way that it's too assertive to the naked eye." — Gordon Ramsay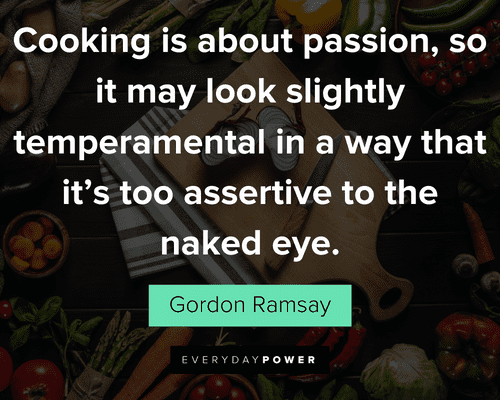 11. "Cooking and baking is both physical and mental therapy." — Mary Berry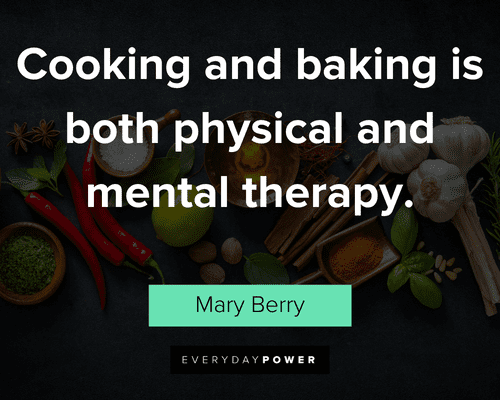 12. "Cooking is a philosophy; it's not a recipe." — Marco Pierre White
13. "Simple ingredients prepared in a simple way – that's the best way to take your everyday cooking to a higher level." — Jose Andres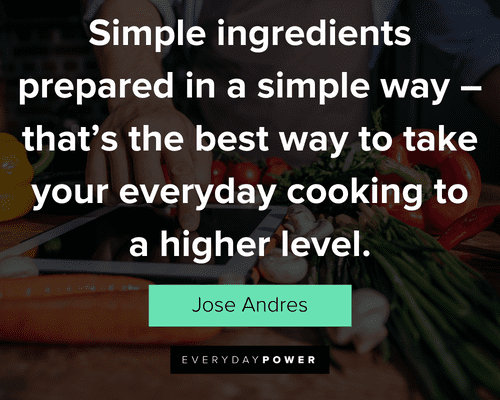 Cute cooking quotes from Julia Child
Research from the University of Sussex found that the sound and smell of cooking can trigger positive emotions and memories and stimulate appetite.
This suggests that cooking can be a multisensory experience that engages our senses and emotions in addition to satisfying our hunger.
14. "No one is born a great cook, one learns by doing." — Julia Child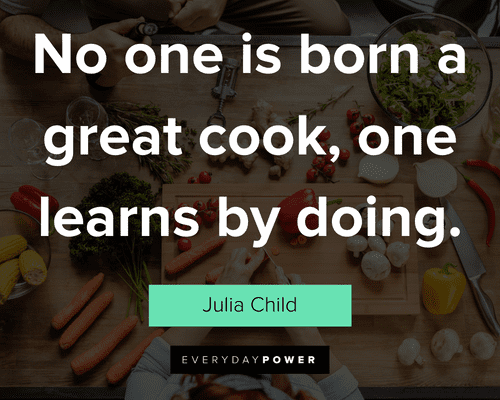 15. "Usually, one's cooking is better than one thinks it is." — Julia Child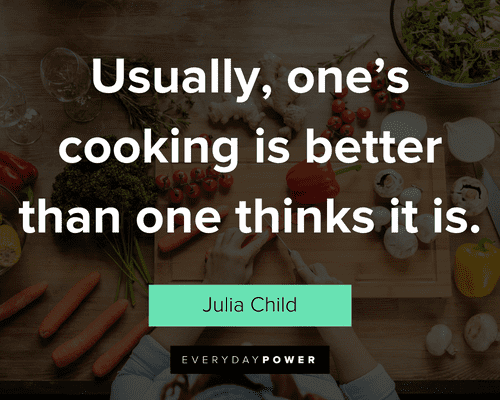 16. "I think careful cooking is love, don't you? The loveliest thing you can cook for someone who's close to you is about as nice a valentine as you can give." — Julia Child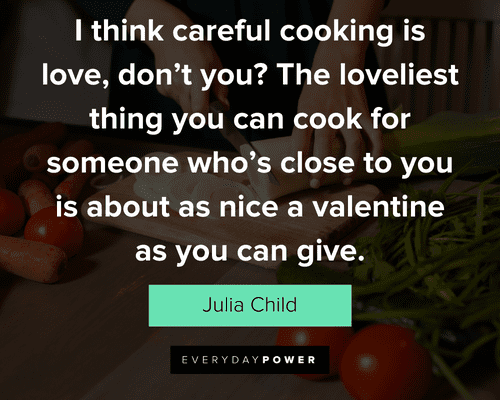 17. "You learn to cook so that you don't have to be a slave to recipes. You get what's in season and you know what to do with it." — Julia Child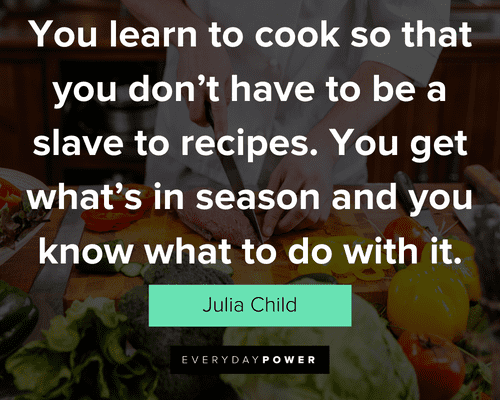 18. "Cooking well doesn't mean cooking fancy." — Julia Child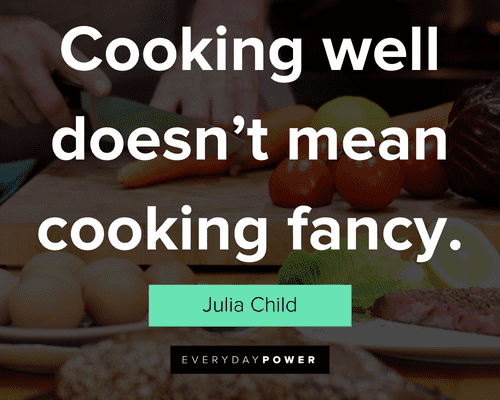 19. "You don't have to cook fancy or complicated masterpieces—just good food from fresh ingredients." — Julia Child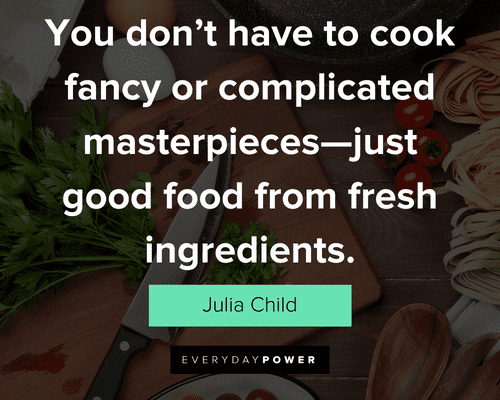 20. "This is my invariable advice to people: Learn how to cook — try new recipes, learn from your mistakes, be fearless and above all have fun!" — Julia Child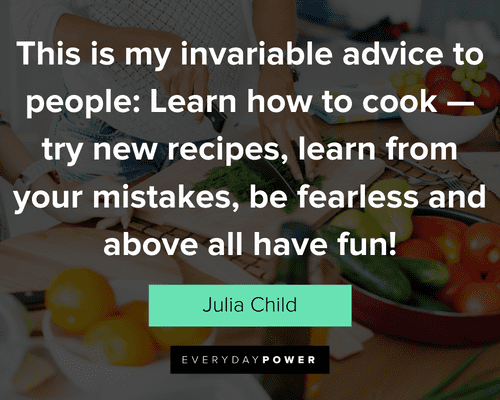 21. "In France, cooking is a serious art form and a national sport." — Julia Child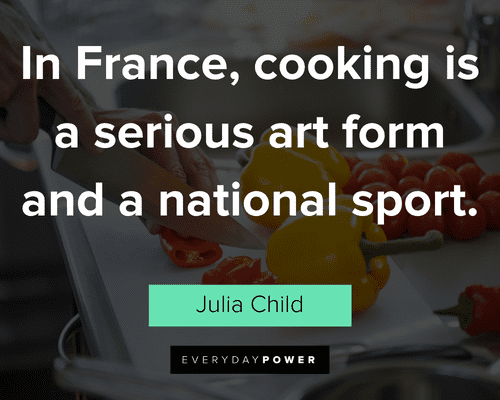 22. "Always start out with a larger pot than what you think you need." — Julia Child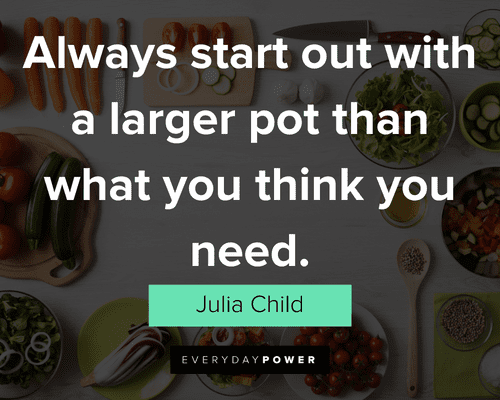 23. "If you're afraid of butter, use cream." — Julia Child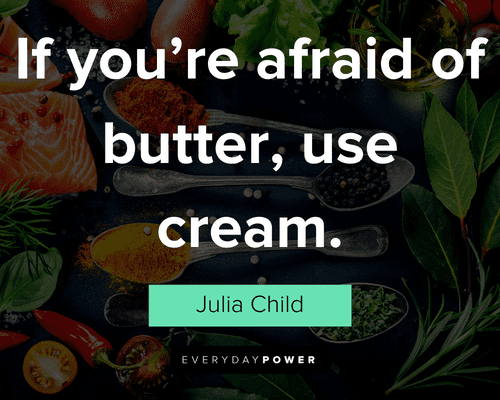 Cooking quotes that prove it's an expression of love
24. "I love cooking for myself and cooking for my family." — Al Roker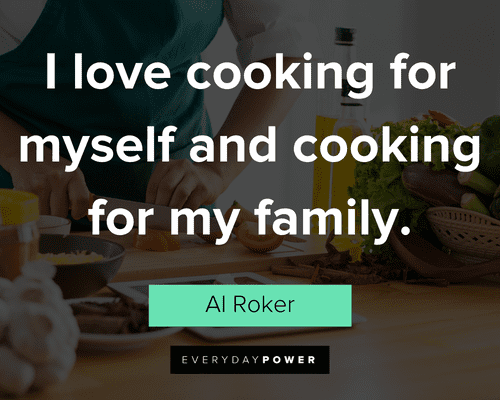 25. "Cooking is love made visible." — Unknown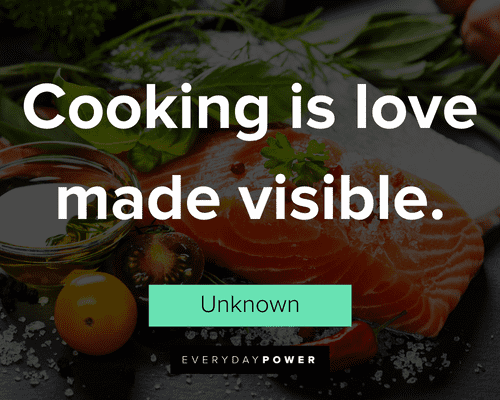 26. "Cooking is like love, it should be entered into with complete abandon or not at all." — Harriet Van Horne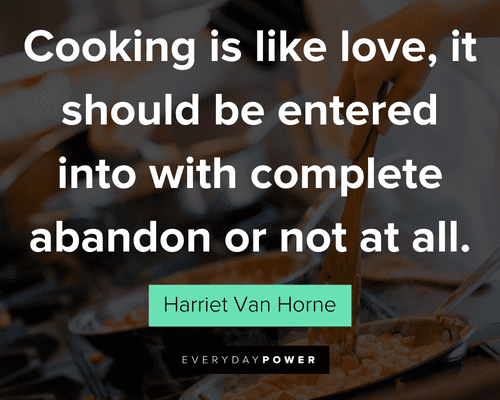 27. "Cooking with love provides food for the soul." — Valerie McKeehan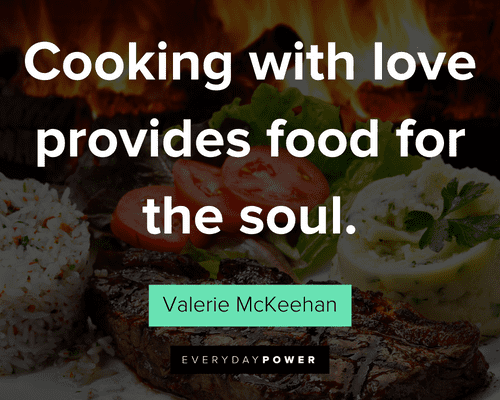 28. "Cooking is an art form that requires a dash of inspiration, a sprinkle of innovation, and a lot of love." ― Rachael Ray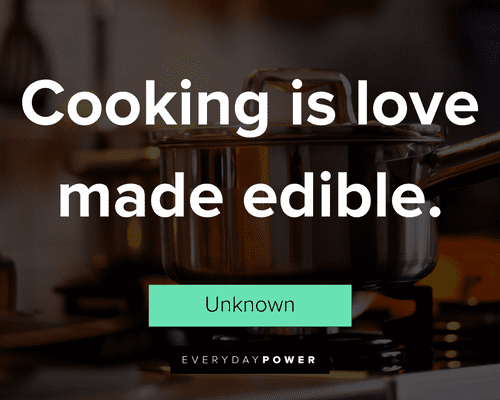 29. "The secret of good cooking is, first, having a love of it." — James Beard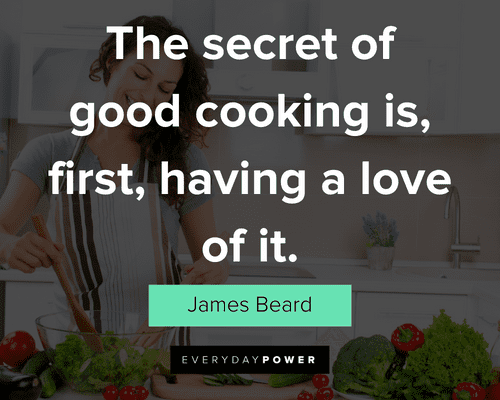 30. "The most indispensable ingredient of all good home cooking: love for those you are cooking for." — Sophia Loren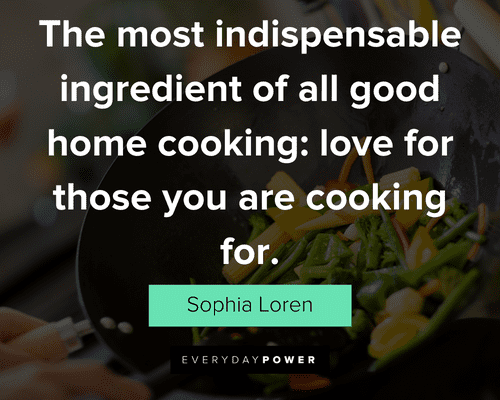 31. "Cooking done with care is an act of love." — Craig Claiborne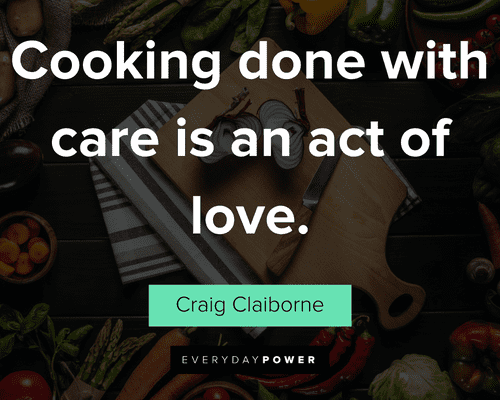 32. "Approach love and cooking with reckless abandon." — H. Jackson Brown, Jr.
33. "I love cooking. Not for myself alone. Cooking is about giving." — Christine Lagarde
34. "Food, to me, is always about cooking and eating with those you love and care for." — David Chang
35. "Cooking is at once one of the simplest and most gratifying of the arts, but to cook well one must love and respect food." — Unknown
Funny cooking quotes (make sure you aren't chewing or drinking)
36. "I cook with wine, sometimes I even add it to the food." — W. C. Fields
37. "My cooking is so fabulous even the smoke alarm is cheering on me on." — Unknown
38. "Annoying the cook will result in starvation." — Unknown
39. "The two biggest sellers in any bookstore are the cookbooks and the diet books. The cookbooks tell you how to prepare the food, and the diet books tell you how not to eat any of it." — Andy Rooney
40. "When compelled to cook, I produce a meal that would make a sword-swallower gag." — Russell Baker
41. "Cooking? Oh we were great, you'd take anything and melt cheese on it, and the one who could guess what it was didn't have to wash up!" — Dylan Moran
42. "If you're not the one cooking, stay out of the way and compliment the chef." — Michael Straham
More cooking quotes and sayings
43. "Cooking is actually quite aggressive and controlling and sometimes, yes, there is an element of force-feeding going on." — Unknown
44. "Cooking at home shows such affection. In a bad economy, it's more important to make yourself feel good." — Unknown
45. "I don't like food that's too carefully arranged; it makes me think that the chef is spending too much time arranging and not enough time cooking. If I wanted a picture, I'd buy a painting." — Andy Rooney
46. "I'm not a chef. But I'm passionate about food – the tradition of it, cooking it, and sharing it." — Zac Posen
47. "If you are a chef, no matter how good a chef you are, it's not good cooking for yourself; the joy is in cooking for others – it's the same with music." — Will.i.am
48. "Computers are to design as microwaves are to cooking." — Milton Glaser
49. "Cooking, to me, it's kind of therapeutic. It's completely different from music as well. I'm not amazing at it, but I can cook myself a good meal." — Phillip Phillips
50. "I'm just someone who likes cooking and for whom sharing food is a form of expression." — Maya Angelou
Powerful cooking quotes to unleash your inner chef
51. "Cooking demands attention, patience, and above all, a respect for the gifts of the earth. It is a form of worship, a way of giving thanks." – Judith B. Jones
52. "Cooking requires confident guesswork and improvisation—experimentation and substitution, dealing with failure and uncertainty in a creative way." – Paul Theroux
53. "Cooking is not difficult. Everyone has taste, even if they don't realize it. Even if you're not a great chef, there's nothing to stop you understanding the difference between what tastes good and what doesn't." – Gerard Depardieu
54. "Cooking is like painting or writing a song. Just as there are only so many notes or colors, there are only so many flavors—it's how you combine them that sets you apart." – Wolfgang Puck
55. "A recipe has no soul. You as the cook must bring soul to the recipe." – Thomas Keller
56. "Cooking is an observation-based process that you can't do if you're so completely focused on a recipe." – Alton Brown
57. "When baking, follow directions. When cooking, go by your own taste." – Laiko Bahrs
58. "Cookery is not chemistry. It is an art. It requires instinct and taste rather than exact measurements."
59. "For me, cooking is an expression of the land where you are and the culture of that place." – Wolfgang Puck
60. "Cooking is about creating something delicious for someone else." — Ayumi Komura
Cooking Quotes To Show You Are Excited By What You Do
61. "Cooking may be as much a means of self-expression as any of the arts." ― Fannie Farmer
62. "Oh, I adore cooking. It makes me feel so mindless in a worthwhile way." ― Truman Capote
63. "The ambition of every good cook must be to make something very good with the fewest possible ingredients." ― Urbain Dubois
64. "I ended up turning down a full scholarship of music at the conservatory to pay to go to cooking school." ― Emeril Lagasse
65. "I like being at home and cooking." ― Shania Twain
66. "I remember when I was in college, I used to watch Julia Child's cooking show during dinner and joke with my roommates about becoming a TV chef." ― Martin Yan
67. "Cooking for six people every day is like having a cafe." ― Linda McCartney
68. "I wouldn't exactly call it 'cooking' but I can make noodles. That means I can boil water, put the pasta in and wait until it's done." ― Devon Werkheiser
69. "Cooking is like making love, you do it well, or you do not do it at all." ― Harriet Van Horne
70. "I guess I fell into cooking." ― Bobby Flay
Cooking Quotes To Inspire Cooking From The Heart
71. "A restaurant is good when the cooking is better than your own." ― Neel Burton
72. "Cooking is the art of adjustment." — Jacques Pepin
73. "I watch cooking change the cook, just as it transforms the food." — Laura Esquivel
74. "Cooking and eating are a feast of colors, smells, and tastes." — Remez Sasson
75. "One of the greatest pleasures of my life has been that I have never stopped learning about Good Cooking and Good Food." — Edna Lewis
76. "All cooking is a matter of time. In general, the more time the better." — John Erskine
77. "Cooking is about imbibing different cultures and putting them in a plate on the table." — Johnny Iuzzini
78. "Cooking is one of the strongest ceremonies for life." ― Laura Esquivel
79. "One of the most meditative times of my day is when I'm cooking." — Gabrielle Bernstein
80. "Cooking is both simpler and more necessary than we imagine." ― Tamar Adler
Cooking Quotes for Happy Family Moments
81. "Marriage is survived just on the basis of ordinary etiquette, day in and day out. Also cooking together helps a lot." — Jim Harrison
82. "For me, thats one of the important things about cooking. What was good enough yesterday may not be good enough today." — Thomas Keller
83. "For me, cooking is very connected to my family and friends." — Trisha Yearwood
84. "My Mom always cooked healthy. Greek food lends itself to cooking healthy." — Cat Cora
85. "Cooking is great, love is grand, but soufflés fall and lovers come and go. But you can always depend on a book!" — Claudia Christian
86. "I can still enjoy the foods I like I just eat much smaller portions now. And of course Ive had to give up that southern style way of cooking." — Della Reese
87. "I love cooking during Christmas, all smells like the hot apple cider, the hot spiced wine." — Amy Smart
88. "I love food, all food, everything about food. I enjoy going to the market and having what's in front of me – what's fresh, seasonal – tell me what I'm cooking." — Tyler Florence
89. "A good cook is like a sorceress who dispenses happiness." — Elsa Schiaparelli
90. "Summer cooking implies a sense of immediacy, a capacity to capture the essence of the fleeting moment." — Elizabeth David
Cooking Quotes To Ignite The Cooking Passion In You
91. "The only real stumbling block is fear of failure. In cooking you've got to have a what-the-hell attitude." ― Julia Child
92. "No one who cooks, cooks alone. Even at her most solitary, a cook in the kitchen is surrounded by generations of cooks past, the advice and menus of cooks present, the wisdom of cookbook writers." — Laurie Colwin
93. "Great cooking favors the prepared hands." — Jacques Pepin
94. "Cooking is one failure after another, and that's how you finally learn." — Julia Child
95. "When we no longer have good cooking in the world, we will have no literature, nor high and sharp intelligence, nor friendly gatherings, no social harmony." — Marie-Antoine Careme
96. "My two rules of cooking: keep it fresh and keep it simple." — Michael Isabella
97. "Cooking is the most succulent of human pleasures." — Sylvia Townsend Warner
98. "Cooking is about life. It gives us what we need to keep going, and it gives us something to share with other people." ― Joan Bauer
99. "If you can read you can cook, if you can season you can delight." ― Nanette L. Avery
100. "Good cooks make the most of what they have, great cooks of what they don't." ― Neel Burton
Cooking Quotes on the Art of Cooking and Enjoying Food
101. "Cooking has always brought me a happiness that I didn't think was available. I just fire up the stove, and things start to fade away." ― Paula Deen
102. "An agrarian mind begins with the love of fields and ramifies in good farming, good cooking & good eating." ― Wendell Berry
103. "Balance is key in cooking – you want a little acid, a little sweet, a little savory – the flavors should be harmonious." ― Gail Simmons
104. "Fine cooking is when the things you have cooked taste as they are." ― Curnonsky
105. "Advice is like cooking-you should try it before you feed it to others." ― Croft M. Pentz
106. "Cooking is an art form and the kitchen is your canvas." ― Emeril Lagasse
107. "To barbecue is a way of life rather than a desirable method of cooking." ― Clement Freud
108. "My mom is a really good cook. I didn't get the cooking gene, but she cooks this really amazing dinner every Christmas, and that's always really fun." ― Miranda Cosgrove
109. "I cook with love, and the rest is just ingredients." ― Carla Hall
110. "Cooking is like love. It should be entered into with abandon or not at all." ― Harriet Van Horne
Cooking Quotes to Explore the Art of Cooking
111. "Cooking is like magic. You take the ordinary and make it extraordinary." ― Ted Allen
112. "The kitchen is where we create memories and share stories, one recipe at a time." ― Carla Hall
113. "Cooking is the art of turning edible ingredients into love on a plate." ― Alton Brown
114. "In the kitchen, as in life, simplicity is the ultimate sophistication." ― Emeril Lagasse
115. "Cooking is a form of self-expression, and a meal is the canvas." ― Marcus Samuelsson
116. "Cooking is a language through which all cultures communicate. It transcends borders and connects people." ― José Andrés
117. "The kitchen is my happy place, where every dish tells a story of flavor and tradition." ― Padma Lakshmi
118. "Cooking is not just about the food; it's about the experience and the joy it brings." ― Giada De Laurentiis
119. "Cooking is about nurturing, creativity, and the pursuit of perfection." ― Gordon Ramsay
120. "The art of cooking is a blend of science, creativity, and a dash of love." ― Bobby Flay
Cooking Quotes for Food Enthusiasts
121. "Cooking is my way of spreading warmth and happiness, one dish at a time." ― Rachael Ray
122. "Cooking is an act of love, a gift you share with family and friends." ― Ina Garten
123. "The kitchen is where I find my zen, and each recipe is a meditation on flavors." ― Yotam Ottolenghi
124. "Cooking is like a journey with a delicious destination." ― Carla Hall
125. "Cooking is the ultimate blend of art and science, where creativity meets precision." ― Alton Brown
126. "In the kitchen, mistakes are just opportunities for delicious improvisation." ― Chef Marcus Samuelsson
127. "Cooking is a symphony of tastes, where every ingredient plays its part in the composition." ― Bobby Flay
128. "The kitchen is my sanctuary, where I find solace in the flavors and aromas of my creations." ― Padma Lakshmi
129. "Cooking is like poetry for the palate, each dish a carefully crafted stanza." ― Gordon Ramsay
What did you learn from these cooking quotes?
Cooking can be something you do alone as a form of therapy.
It can also be a great idea for a date night, as cooking together requires teamwork and communication.
Cooking can also be a family affair and is a great way to spend time with one another.
However you cook, cooking is good for your physical and mental health.
Cooking gives you control of what ingredients go in your food, so it is easier to make sure that you are using fresh and wholesome ingredients.
It is also less costly than going out to eat, which is good for your wallet.
I have trouble cooking for the right amount of people (a downside of being from an Italian family), so we almost always have leftovers.
This also saves us money on lunch for the next day!
My son's favorite dish is chicken parmesan, and my husband loves meatloaf!
I like to cook a meal we haven't had before at least once a week.
What is your favorite dish to cook?
Do you have any other favorite cooking quotes and sayings to add?
Let us know in the comment section below.