Julia Child Quotes from the Favorite Cooking Teacher
Remember the words and works of the famous cooking teacher with these Julia Child quotes.
Julia Child was an American author and cooking teacher, as well as a famous television star.
She became famous for bringing French Cuisine to the American public through her cookbook and then through television.
Julia Child was one of those people who found something that she had an interest in and became very proficient in that.
She gained fame, especially in the culinary world.
What shaped Julia Child's passion for French Cuisine was actually living in France.
In 1948, her husband was transferred to Paris, and that is where Julia fell in love with and learned about French cuisine.
Enjoy these Julia Child quotes.
Don't forget to also check out these Gordon Ramsay quotes from the international chef and restaurateur.
Check out our most popular quote article, a list of short inspirational quotes for daily inspiration.
Explore our complete collection of motivational quotes here.
Julia Child quotes about life
1. "I don't think about whether people will remember me or not. I've been an okay person. I've learned a lot. I've taught people a thing or two. That's what's important. Sooner or later the public will forget you, the memory of you will fade. What's important is the individuals you've influenced along the way." – Julia Child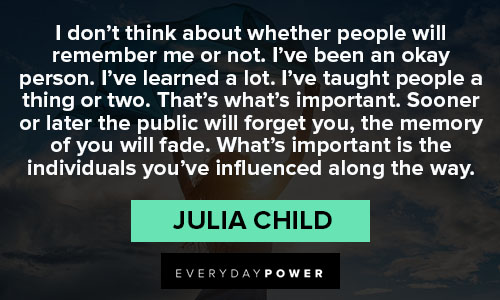 You will also enjoy our article on cooking quotes.
2. "Well, all I know is this—nothing you ever learn is really wasted, and will sometime be used." – Julia Child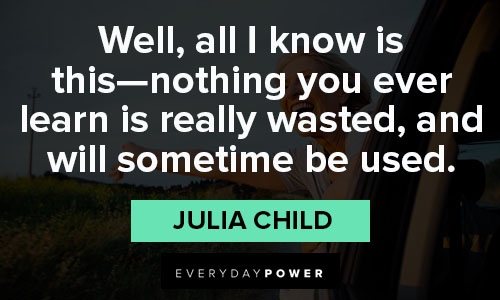 You will also enjoy our article on kitchen quotes.
3. "The sweetness and generosity and politeness and gentleness and humanity of the French had shown me how lovely life can be if one takes time to be friendly." – Julia Child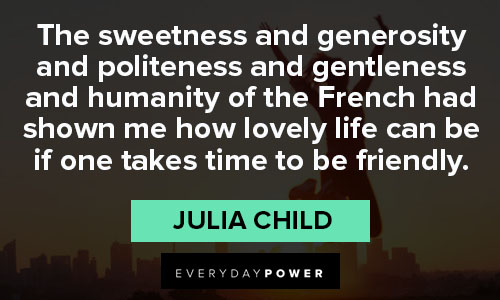 4. "Drama is very important in life: You have to come on with a bang. You never want to go out with a whimper. Everything can have drama if it's done right. Even a pancake." – Julia Child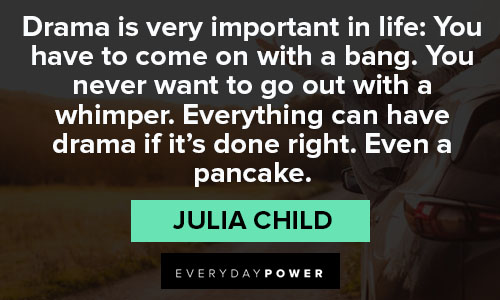 5. "Find something you're passionate about and keep tremendously interested in it." – Julia Child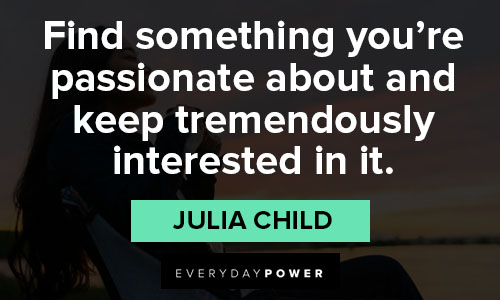 6. "…no one is born a great cook, one learns by doing." – Julia Child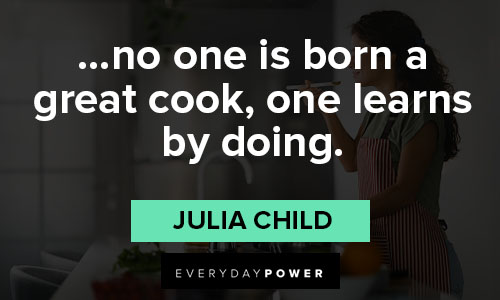 7. "Until I discovered cooking, I was never really interested in anything." – Julia Child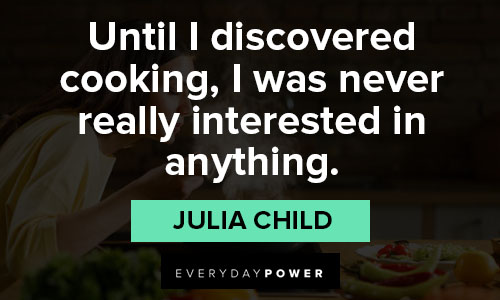 8. "Just speak very loudly and quickly, and state your position with utter conviction, as the French do, and you'll have a marvelous time!" – Julia Child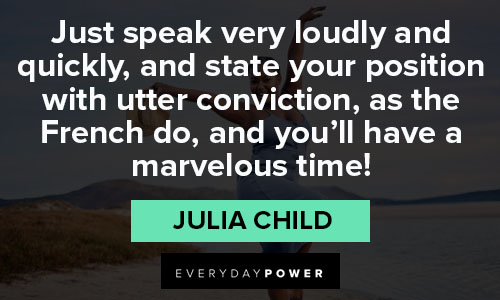 9. "…The more I learned the more I realized how very much one has to know before one is in-the-know at all." – Julia Child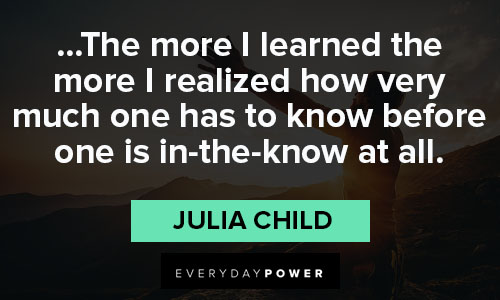 10. "But how nice it is that one can come to know someone just through correspondence, and become really passionate friends." – Julia Child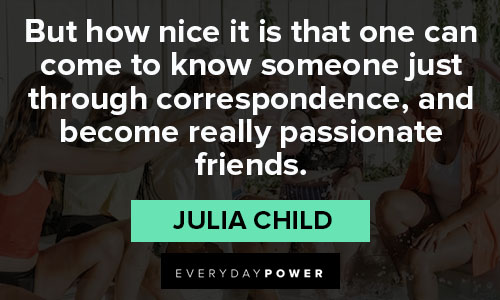 Julia Child quotes about cooking
11. "If you're afraid of butter, use cream." – Julia Child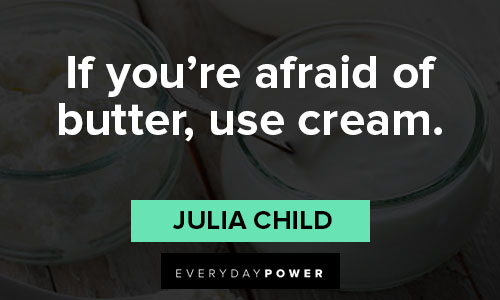 12. "The only time to eat diet food is while you're waiting for the steak to cook." – Julia Child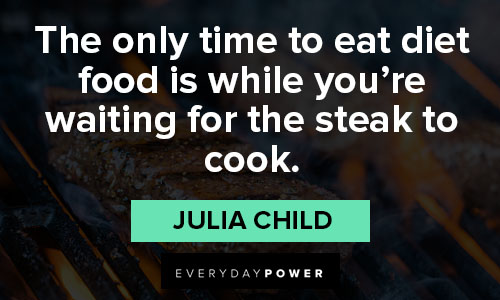 13. "This is my invariable advice to people: Learn how to cook — try new recipes, learn from your mistakes, be fearless and above all have fun!" – Julia Child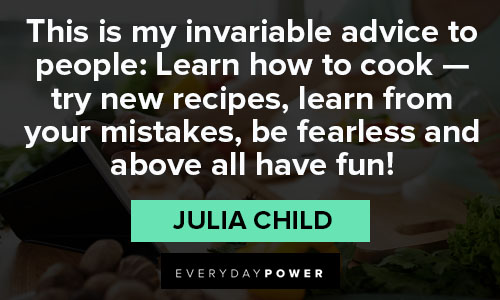 14. "Cooking well doesn't mean cooking fancy." – Julia Child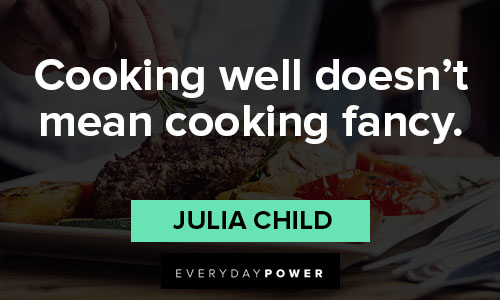 15. "You learn to cook so that you don't have to be a slave to recipes. You get what's in season and you know what to do with it." – Julia Child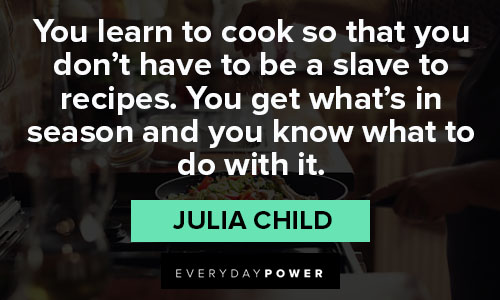 16. "Maybe the cat has fallen into the stew, or the lettuce has frozen, or the cake has collapsed. Eh bien, tant pis. Usually, one's cooking is better than one thinks it is. And if the food is truly vile, then the cook must simply grit her teeth and bear it with a smile, and learn from her mistakes." – Julia Child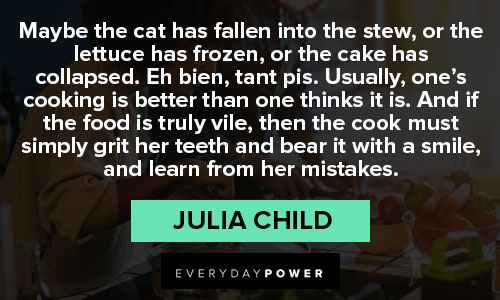 17. "In France, cooking is a serious art form and a national sport." – Julia Child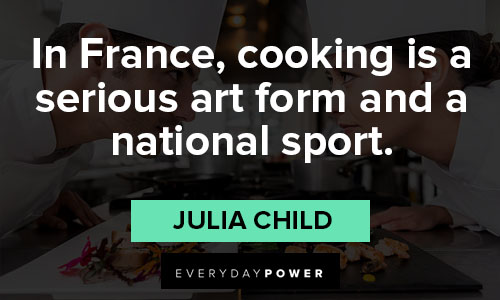 18. "You don't have to cook fancy or complicated masterpieces – just good food from fresh ingredients." – Julia Child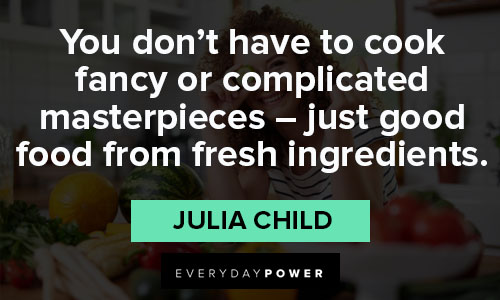 19. "Always start out with a larger pot than what you think you need." – Julia Child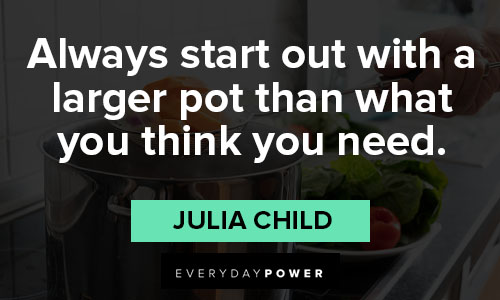 20. "But my favorite remained the basic roast chicken. What a deceptively simple dish. I had come to believe that one can judge the quality of a cook by his or her roast chicken. Above all, it should taste like chicken: it should be so good that even a perfectly simple, buttery roast should be a delight." – Julia Child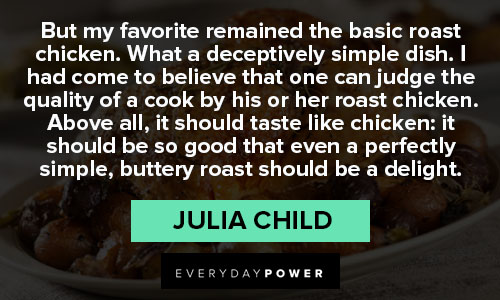 Funny Julia Child quotes
21. "People who love to eat are always the best people." – Julia Child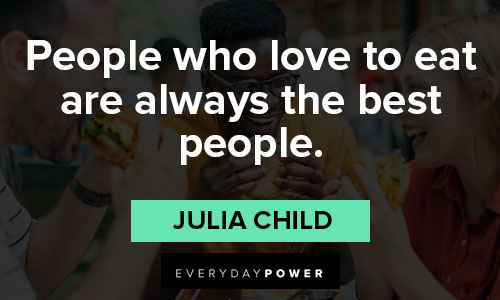 22. "I enjoy cooking with wine. Sometimes I even put it in the food…" – Julia Child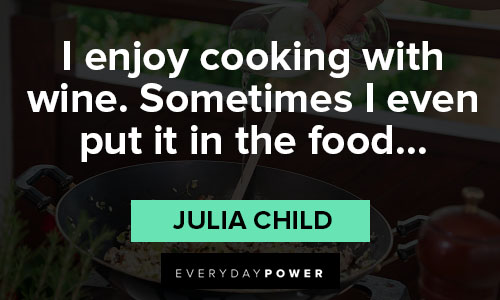 23. "A party without cake is just a meeting." – Julia Child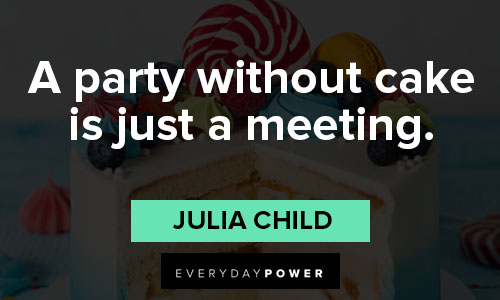 24. "I don't believe in bottled salad dressing… why should you have it bottled? It's so easy to make. And they never use very good oil." – Julia Child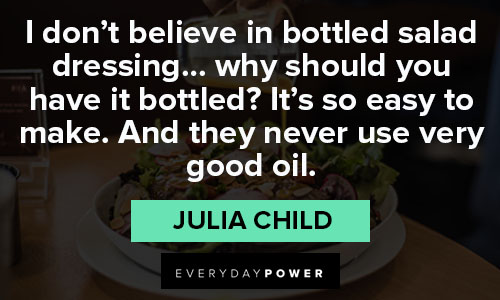 25. "Always remember: If you're alone in the kitchen and you drop the lamb, you can always just pick it up. Who's going to know?" – Julia Child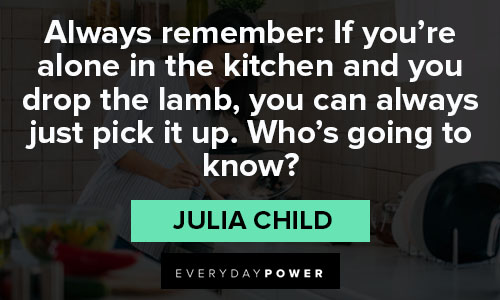 Did you enjoy these Julia Child quotes?
As you can tell from the quotes, Julia Child was a very relatable person, and many believe that is why she was so successful on television.
Her television show debuted in 1963 and she became a star.
At that time technology was not as advanced to cut out miscues during the show, so any mistakes were shown.
That actually worked in her favor as people were able to see her as a real person.
After seeing some of Julia's most famous quotes, hopefully, you're encouraged to learn more about her.
She was talented in many areas of her life, as are many successful people.
What's your biggest takeaway from these Julia Child quotes and sayings?
Do you have any other favorite quotes to add?
Let us know in the comment section below.