25 Cool Runnings Quotes From The Iconic Bobsled Movie
Cool Runnings is a quintessential 90's movie with all of the typical Disney hijinks you would expect from that era: American actors poorly executing accents, slapstick humor, witty one-liner comebacks, and of course the disgraced American coach who has to inspire a group of misfit athletes.
You may also enjoy our article on:
The film also has amazing life lessons and educational value.
Most people know the movie portrays the unlikely rise of the 1988 Jamaican men's bobsled team who made it to the winter Olympics in Calgary.
However, did you know that Jamaica has had at least one sled compete in every Olympics from 1988 to 2002?
That is an impressive accomplishment for a tropical country.
Most recently they finished 14th in the 2014 Olympics.
The true story of the 1988 Jamaican bobsled team is an important piece of world athletic history that proves underdogs can win and nothing is impossible.
Let these 50 Cool Runnings quotes inspire you to push yourself to your limits to achieve your goals.
Check out our most popular quote article, a list of short inspirational quotes for daily inspiration.
Explore our complete collection of motivational quotes here.
Fan Favorite Cool Runnings Quotes
1. "I'm feeling very Olympic today. How about you?" – Sanka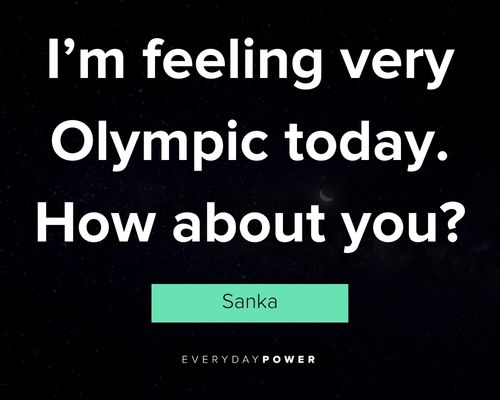 You will also enjoy our article on Remember the Titans quotes.
2. "Feel the rhythm! Feel the rhyme! Get on up, it's bobsled time! Cool runnings!"- Sanka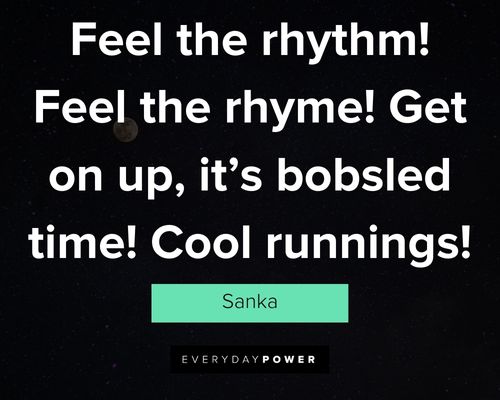 You will also enjoy our article on Coming to America quotes.
3. "I had to win. You see, Derice, I had made winning my whole life, and when you make winning your whole life, you have to keep on winning, no matter what." – Irv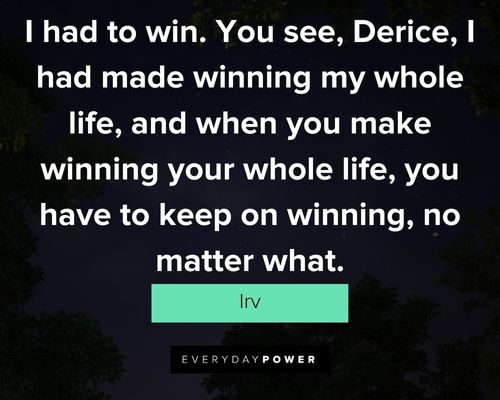 4. "Seemin' to you nobody likes us?" – Junior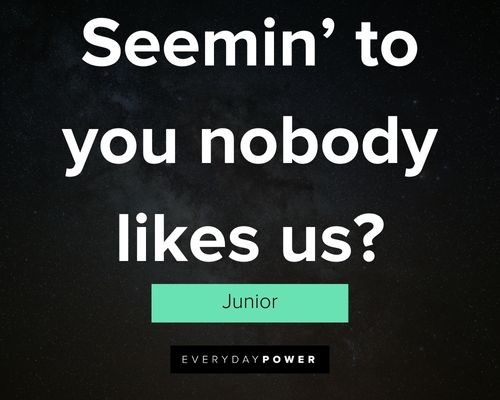 5. "This is what the Swiss do to psyche themselves up." – Derice
6. "How about 'Cool Runnings'? Means peace be the journey."- Derice
7. "Sanka mon, whatcha smoking?" – Derice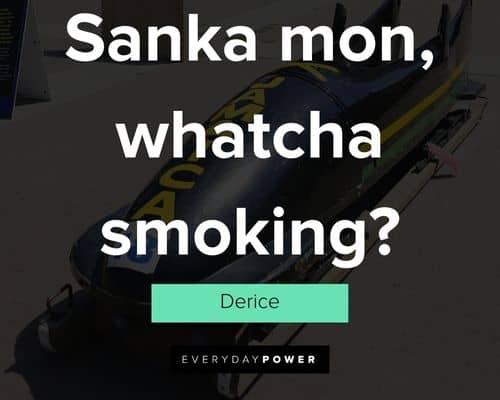 8. "I'm not smoking, I'm breathing!" – Sanka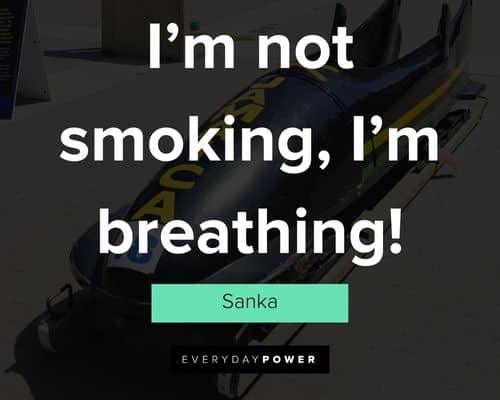 9. "Hey coach, how will I know if I'm enough? – Derice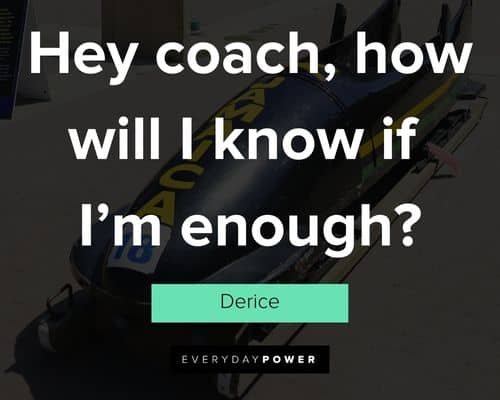 10. "When you cross that finish line tomorrow, you'll know." – Irv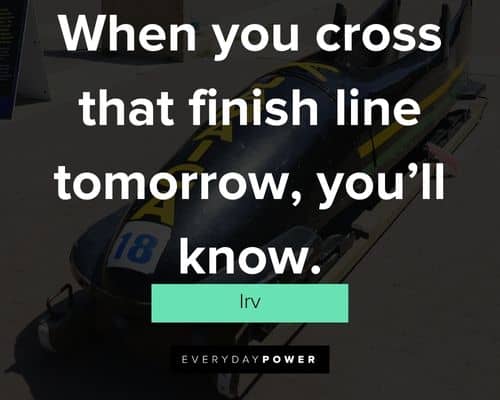 Cool Runnings Quotes by Sanka
11. "So am I, and the best I can be is Jamaican. Look, Derice… I've known you since Julie Jeffreys asked to see your ding-a-ling and I'm telling you as a friend if we look Jamaican, walk Jamaican, talk Jamaican and is Jamaican, then we sure as hell better bobsled Jamaican." -Sanka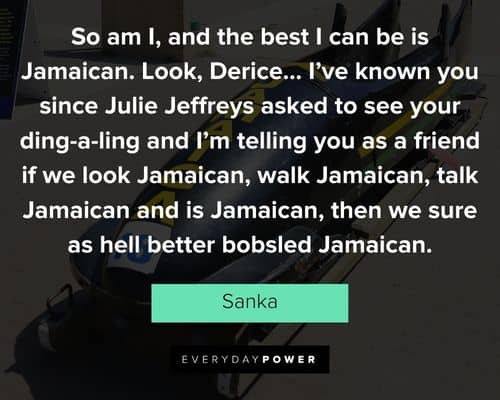 12. "That's a hell of a place to be coming from!" – Sanka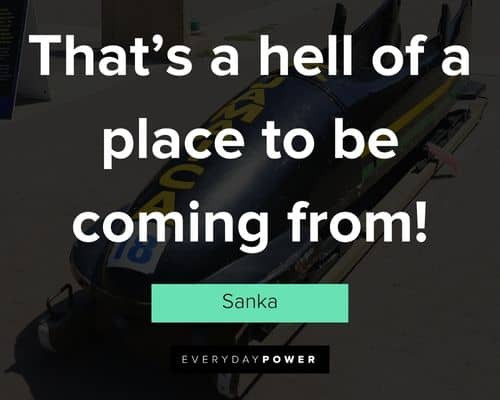 13."Derice, why are you hitting the teammates' helmets? – Sanka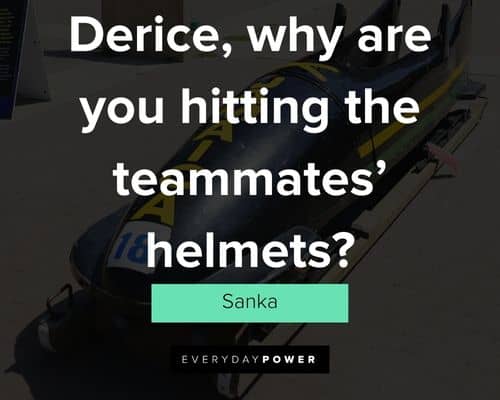 14. "They also make them little pocket knives, too, but I don't see you doing that." – Sanka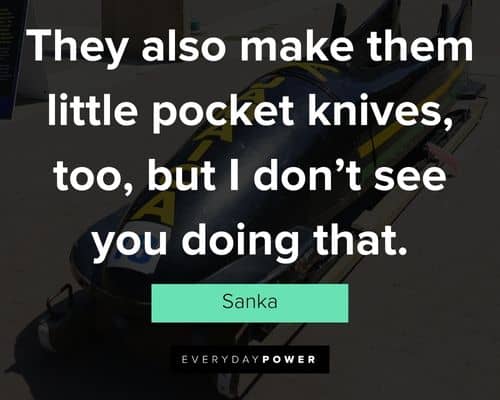 15. "Well the right foot for us is not the Swiss foot. I mean come on Derice, we can't be copying nobody else's style. We have our own style." – Sanka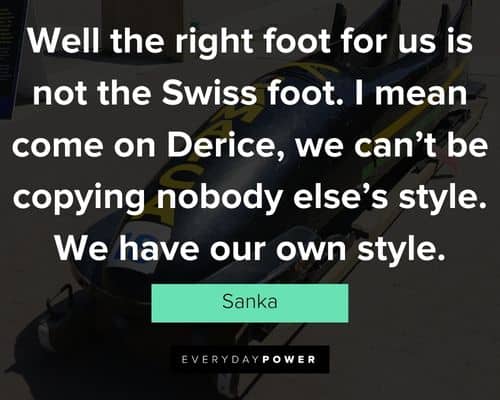 16. "When you need something from me…All you have to do is..say, "you are my best friend and we have been through a whole heap together and I really, really need you." – Sanka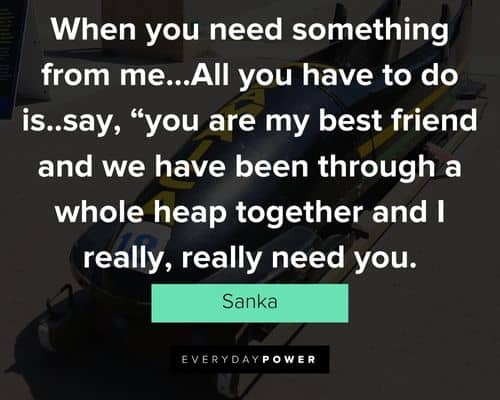 17. "You mean winter, as in igloos and Eskimos and penguins and ice?" – Sanka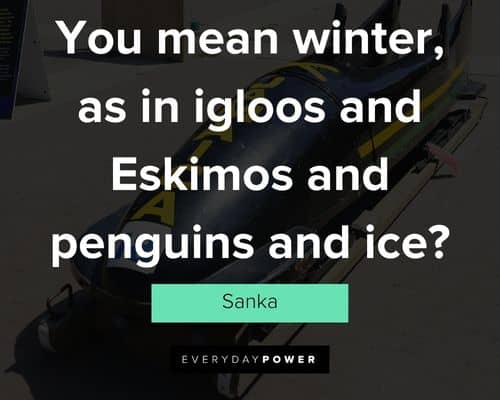 18. "How about I draw a line down the middle of your head so it looks like a butt?" – Sanka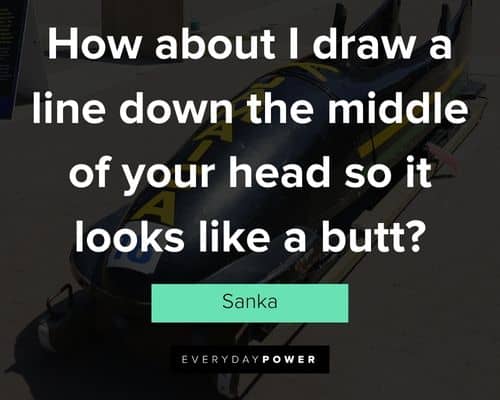 19. "Maid service sir. Would you like your bed turned down? Mint? Perhaps I could dust your head?" – Sanka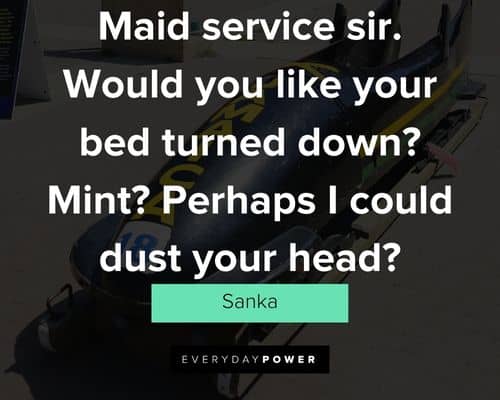 20. "Tallulah! Hahaha! Tallulah! Sounds like a 2 dollar hooker! Where you come up with that? – Sanka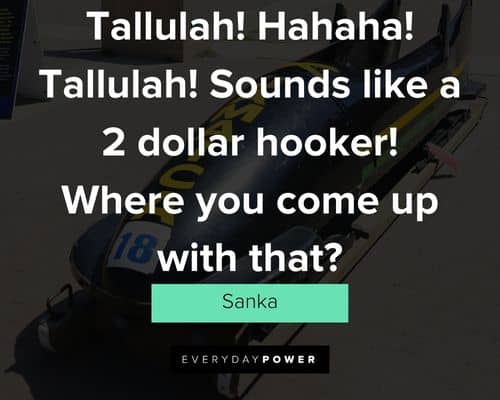 Cool Runnings Quotes by Irv
21. "It doesn't matter if they come in first or 50th. Those guys have earned the right to represent their country. They've earned the right to march into that stadium and wave their nation's flag. That's the single greatest honor an athlete can ever have. That's what the Olympics are about." – Irv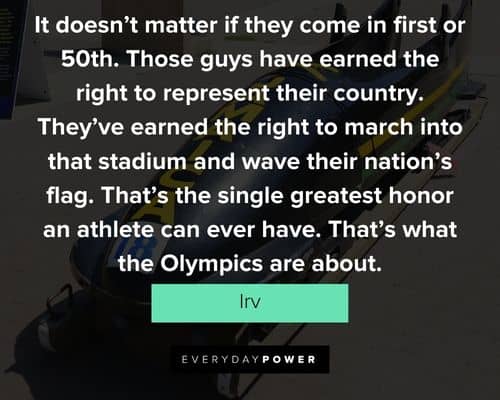 22. "Dig where I'm coming from. I'm coming from two gold medals. I'm coming from nine world records in both the two and four-man events. I'm coming from ten years of intense competition with the best athletes in the world." – Irv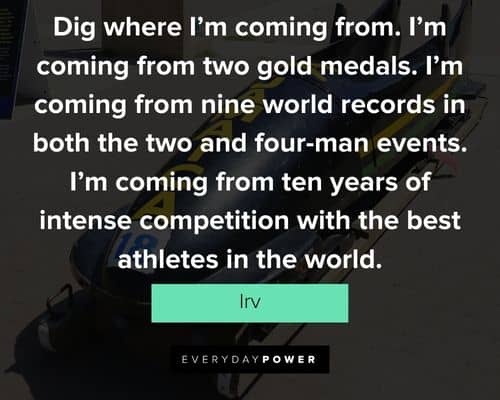 23. "Oh, yeah, just one little drawback to this delightful winter sport. The high-speed crash. Ooh! That hurt. Always remember, your bones will not break in a bobsled. No, no, no. They shatter." -Irv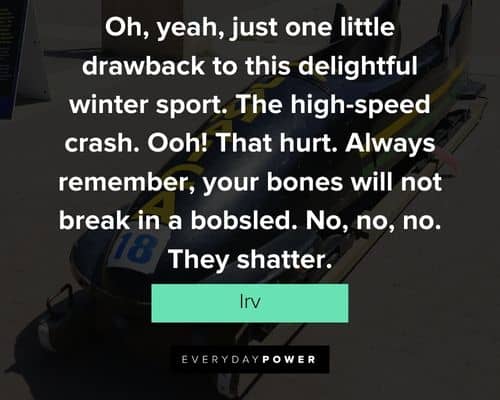 24. "Whether you win or lose a bobsled race, it's all about right here, the push-start! And this is where you're gonna learn about the push- start, is right here in a Volkswagen!" – Irv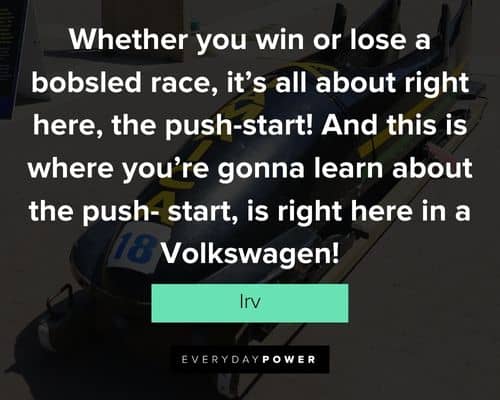 25. "Gentlemen, a bobsled is a simple thing." – Irv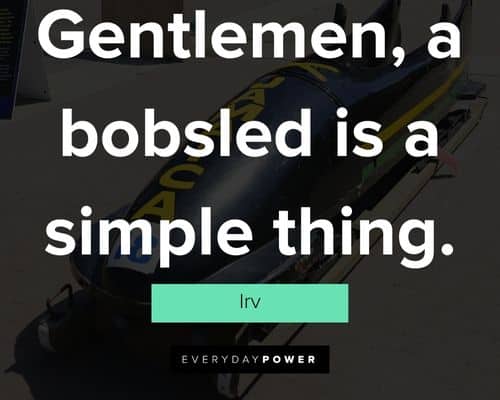 Enjoy Cool Runnings quotes again and again
My favorite character from Cool Runnings is Sanka Coffie.
Not only because as a kid I thought Doug.
E Doug was hilarious, but because of his name.
Sanka Coffie is a play on the West African concept of "Sankofa" which is an Adinkra symbol created by the Akan people from Ghana.
Adinkras are more than just symbols, they are deep concepts used to construct our understanding of our world.
Sankofa means that as you move forward, it is okay to look back to your past and reclaim what is good and belongs to you.
Throughout the movie, Derice, Sanka, Junior, and Yul demonstrate intelligence, determination, pride and elegance in the face of xenophobia, fear, and doubt.
Each reaches back to lessons they learned from their past and reclaims their power to succeed in the now.
What lessons from your past do you gain strength from?