The Notebook Quotes for the Hopeless Romantic
August 11, 2022 5:00 AM EST
Listen to article
4 minutes
Get ready to be flooded with emotion as you read through The Notebook quotes on falling in love with that special person.
The ever popular movie, The Notebook, which was based off the book by Nicholas Sparks quickly became a fan favorite.
Both book and movie provide the hopeless romantic with quotes that inspire them to find the love of their life and keep them longing for that special person.
From falling in love to losing that love and the struggle to reconnect, it's a story that people everywhere can identify with.
While the story is a rollercoaster of emotion, it's a ride that people can't get enough of.
Also check out our collection of beautiful engagement quotes for the love of your life.
If you like this article, we suggest you explore our most popular quotes article, a list of short inspirational quotes for daily encouragement.
Look through our complete collection of inspirational quotes here.
The Notebook quotes on making it work
1. "Would you stop thinking about what everyone wants? What do you want?" – Noah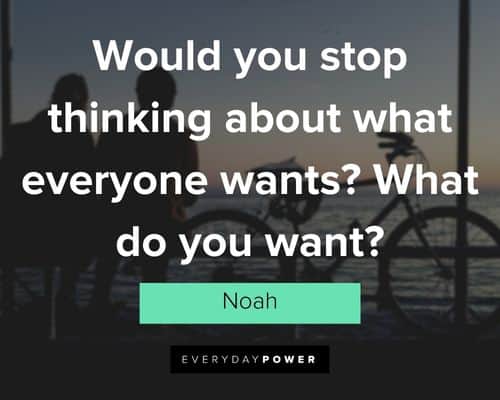 2. "This is just a fight we're having and tomorrow it will be like it never happened, right?" – Allie
3. "You can't live your life for other people. You've got to do what's right for you, even if it hurts some people you love." ― Nicholas Sparks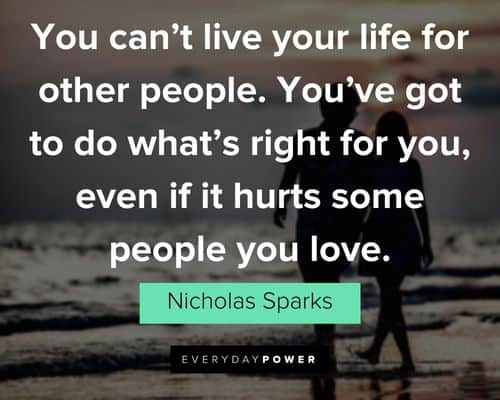 4. "I think our love can do anything we want it to." – Duke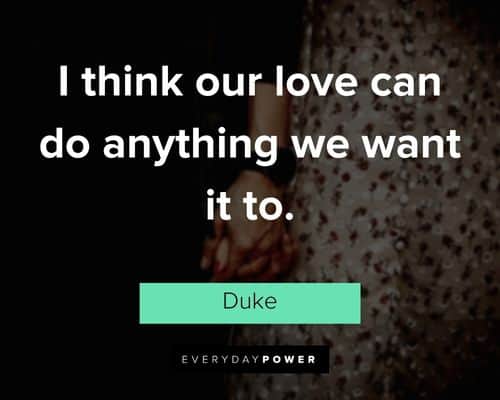 5. "No matter what happens to us, everyday spent with you is the best day of my life." – Noah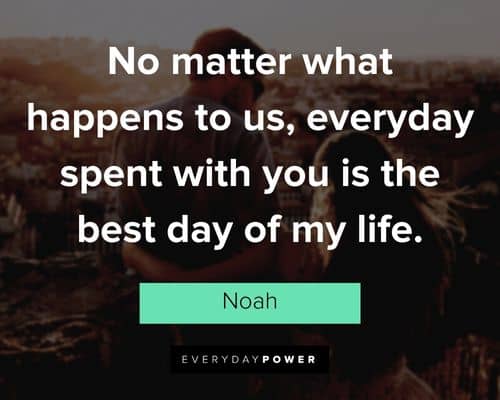 6. "I am nothing special, of this I am sure. I am a common man with common thoughts and I've led a common life. There are no monuments dedicated to me and my name will soon be forgotten, but I've loved another with all my heart and soul, and to me, this has always been enough.."― Nicholas Sparks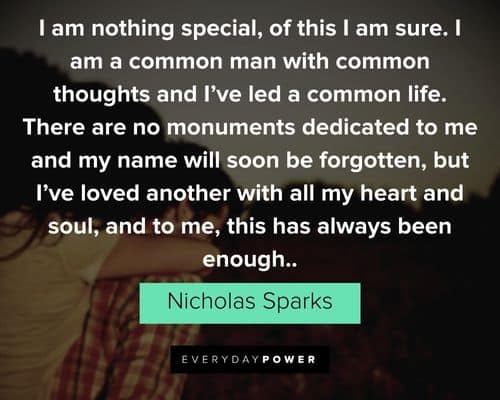 7. "So it's not gonna be easy. It's going to be really hard; we're gonna have to work at this everyday, but I want to do that because I want you. I want all of you, forever, everyday. You and me… everyday." ― Nicholas Sparks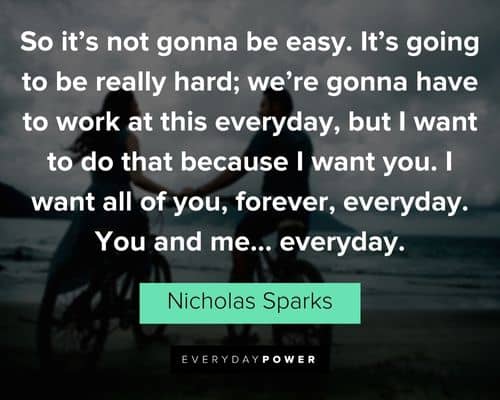 8. "I could be whatever you want. You just tell me what you want, and I'm gonna be that for you." – Noah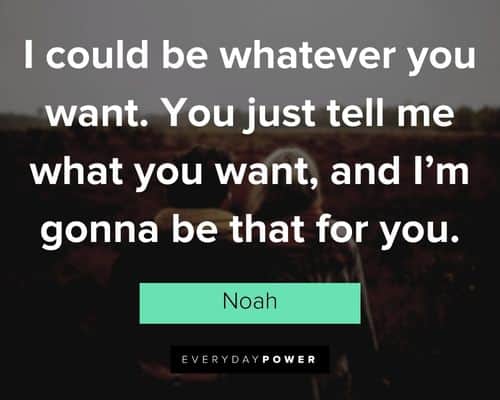 9. "The scariest thing about distance is that you don't know whether they'll miss you or forget you." – Nicholas Sparks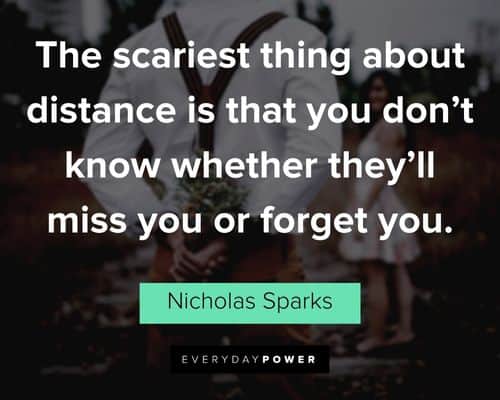 10. "Dusk is just an illusion because the sun is either above the horizon or below it. And that means that day and night are linked in a way that few things are there cannot be one without the other yet they cannot exist at the same time. How would it feel I remember wondering to be always together yet forever apart?"― Nicholas Sparks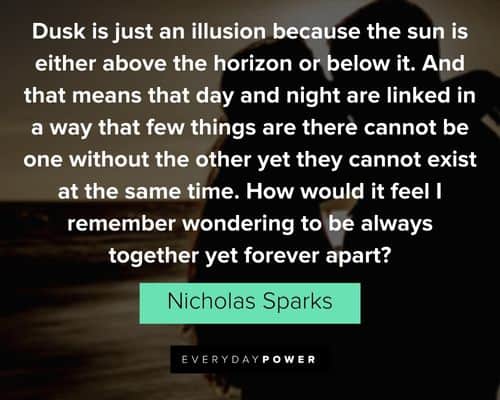 11. "We're not the same people we were then. We've changed, we've grown." ― Nicholas Sparks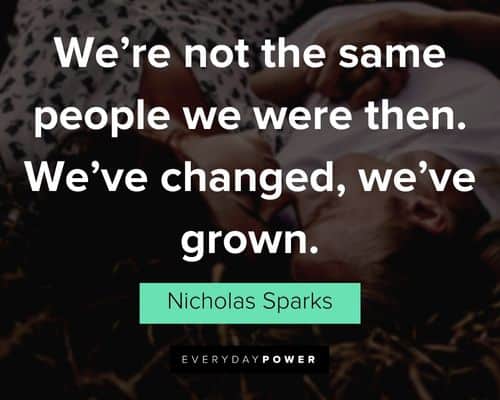 12. "The romantics would call this a love story, the cynics would call it a tragedy. In my mind it's a little bit of both…." ― Nicholas Sparks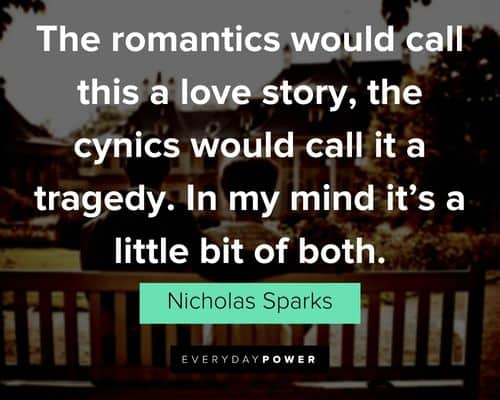 The Notebook quotes about thatspecial person
13. "You are, and always have been, my dream." ― Nicholas Sparks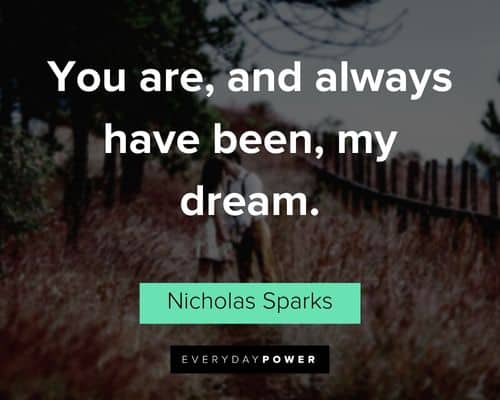 14. "You are my best friend as well as my lover, and I do not know which side of you I enjoy the most. I treasure each side, just as I have treasured our life together." ― Nicholas Sparks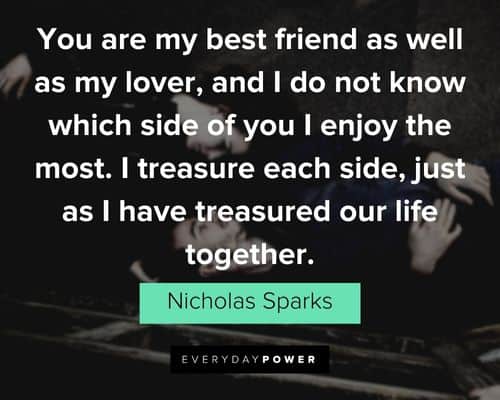 15. "Even now, when I'm sitting here, I think about her. There could never have been another." ― Nicholas Sparks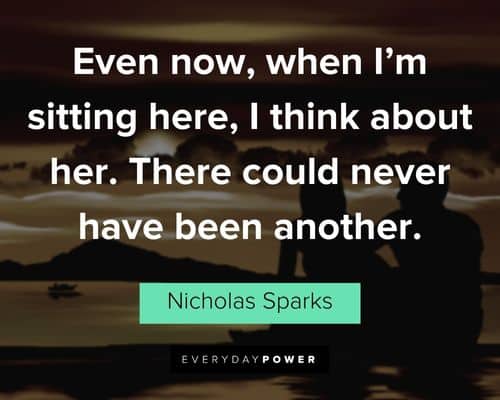 16. "That's my sweetheart in there. Wherever she is, that's where my home is." ― Nicholas Sparks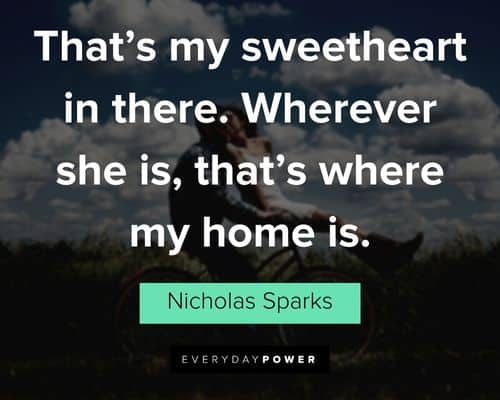 17. "I know I've spent each life before this one searching for you. Not someone like you but you, for your soul and mine must always come together." ― Nicholas Sparks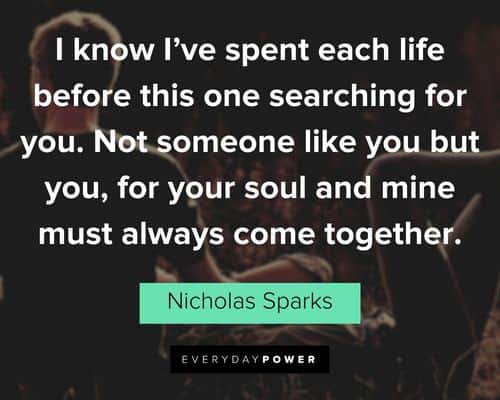 18. "He looked at her. She was pretty still, with thick hair and soft eyes, and she moved so gracefully that it almost seemed as though she were gliding. He'd seen beautiful women before, though, women who caught his eye, but to his mind, they usually lacked the traits he found most desirable. Traits like intelligence, confidence, strength of spirit, passion, traits that inspired others to greatness, traits he aspired to himself." ― Nicholas Sparks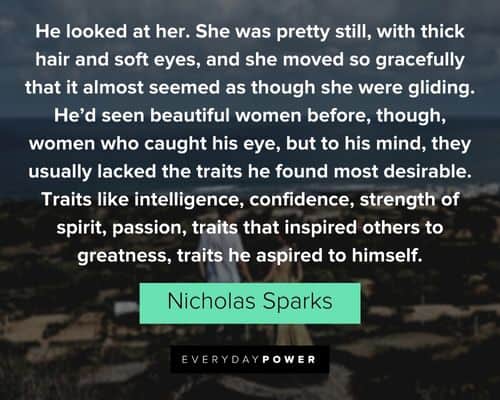 19. "Every girl is beautiful. Sometimes it just takes the right guy to see it." ― Nicholas Sparks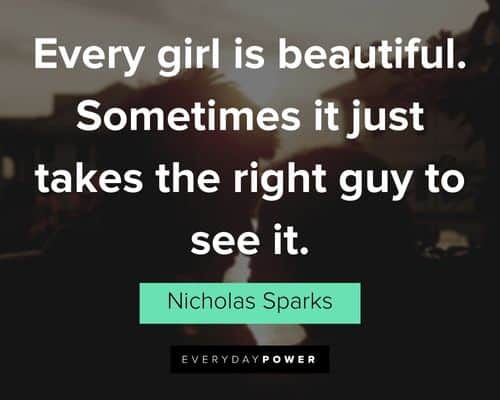 20. "Silence is pure and holy. It draws people together because only those who are comfortable with each other can sit without speaking." ― Nicholas Sparks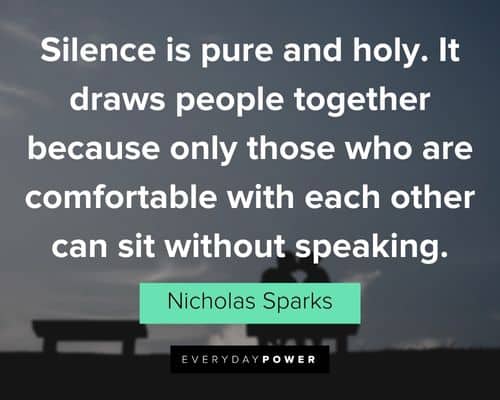 21. "And when I came in with tears in my eyes, you always knew whether I needed you to hold me or just let me be. I don't know how you knew, but you did, and you made it easier for me."- Nicholas Sparks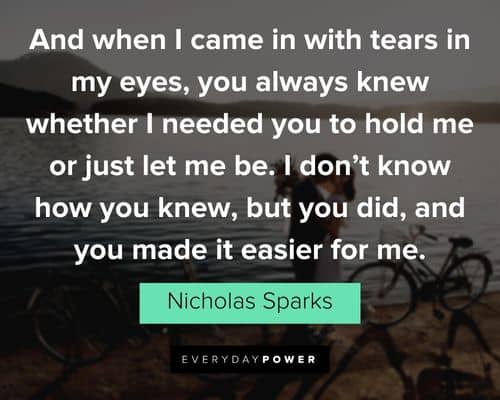 22. "I love you. I am who I am because of you. You are every reason, every hope, and every dream I've ever had, and no matter what happens to us in the future, everyday we are together is the greatest day of my life. I will always be yours." ― Nicholas Sparks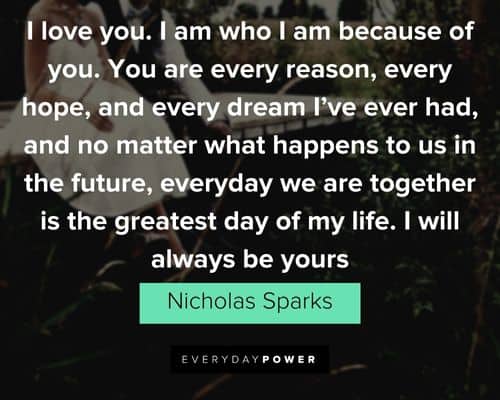 23. "We fell in love, despite our differences, and once we did, something rare and beautiful was created. For me, love like that has only happened once, and that's why every minute we spent together has been seared in my memory. I'll never forget a single moment of it." ― Nicholas Sparks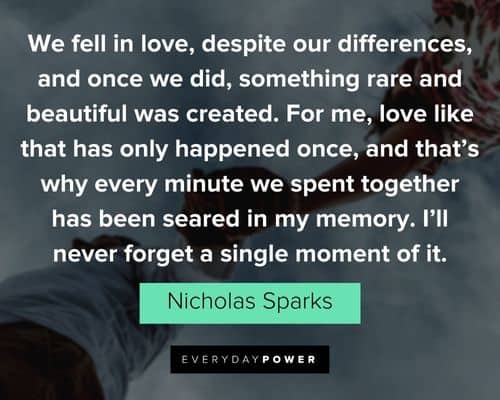 24. "They didn't agree on much. In fact, they didn't agree on anything. They fought all the time and challenged each other ever day. But despite their differences, they had one important thing in common. They were crazy about each other." ― Nicholas Sparks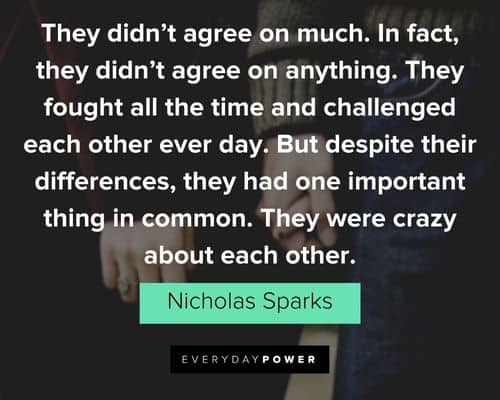 25. "She made me who I am and holding her in my arms was more natural to me than my own heartbeat." – Noah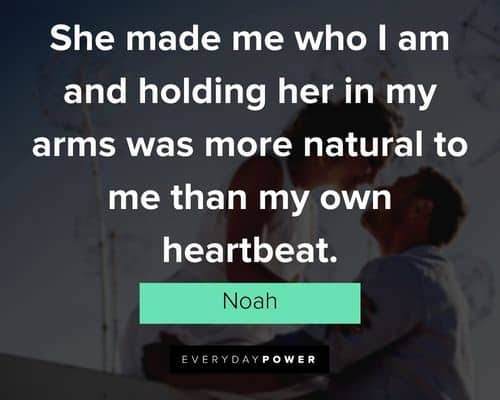 Which quote from the Notebook inspired you to enjoy the love in your own life?
If you've already found that special person in your life, don't let them get away.
Enjoy and cherish each moment with them and make sure you let them know how much you appreciate having them in your life.
If you haven't found that person yet, use The Notebook quotes above as motivation that they are out there.
And remember, love and relationships aren't easy, so don't quit when it starts feeling like it's hard.
There is a love out there that changes you to the core when you find it.
It makes you a better person and encourages you into action to end up with the person of your dreams.
Sometimes it feels like love and sometimes it feels a little tragic, but it's a ride that you don't want to miss.
Hopefully, The Notebook quotes have inspired you to enjoy the love in your own life.
Do you have any other favorite quotes to add?
Let us know in the comment section below.