Cow Quotes For Finding Serenity
Get more serenity in your life with these iconic cow quotes.
From a human perspective, cows are one of the most amazing animals on Earth.
In some places, cows are considered sacred and are worshipped.
You might ask why. Why do large populations of people feel the cow is such a vital animal?
Well, think about it. Cows are gifts to humankind.
They literally ask for nothing in return from us.
They do not require us to exist, nor do they act violently towards us.
At the same time, cows provide humans with food, clothing, milk, butter, cheese, fuel, and even a cleanser.
Cows would get along just fine without human interaction.
Cows allow themselves to be used, serve, and even be consumed by us for our survival.
Not many other animals can say they have such an indelible mark on human history.
Read on and enjoy the cow quotes below.
Check out our most popular quote article, a list of short inspirational quotes for daily inspiration.
If you enjoy this collection, check out our inspirational quotes category page.
Funny Cow Quotes
We all need some lighthearted fun in our lives. For some lighthearted cow quotes take a look at the quotes below.
1. "Don't have a cow, man." – Matt Groening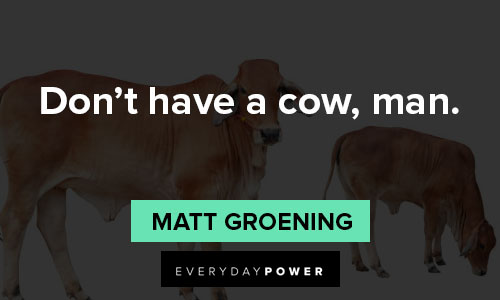 You will also enjoy our article on bullying quotes.
2. "I've never met a general yet who could milk a cow." – Lennart Meri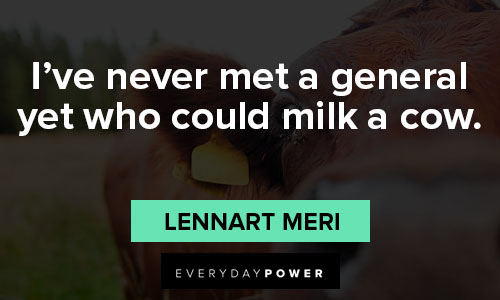 You will also enjoy our article on Animal Farm quotes.
3. "Holy cow!" – Harry Caray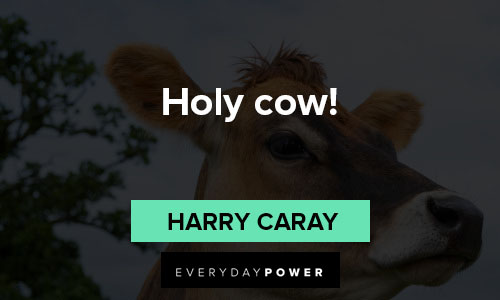 You will also enjoy our article on serenity quotes.
4. "I'm a cowboy who never saw a cow." – Johnny Mercer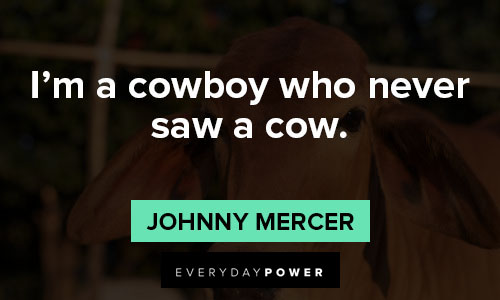 5. "A publisher who writes is like a cow in a milk bar." – Arthur Koestler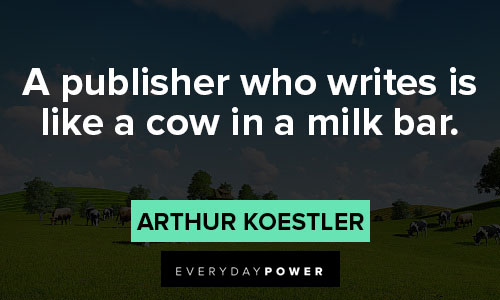 6. "North Dakota State. What do you have to do there to graduate? Milk a cow with your left hand?" – Bobby Heenan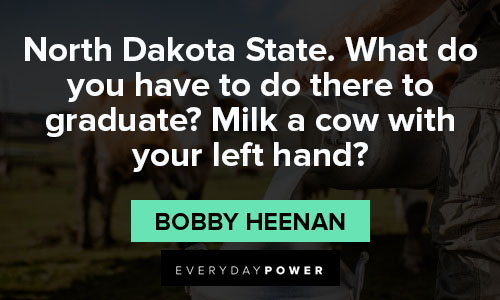 7. "The mere brute pleasure of reading – the sort of pleasure a cow must have in grazing." –Philip Stanhope, 4th Earl of Chesterfield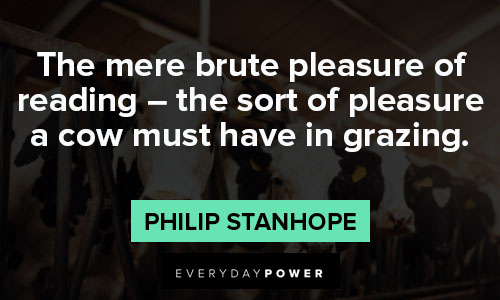 8. "Not every man remembers the name of the cow which supplied him with each drop of milk he has drunk." – Shmuel Yosef Agnon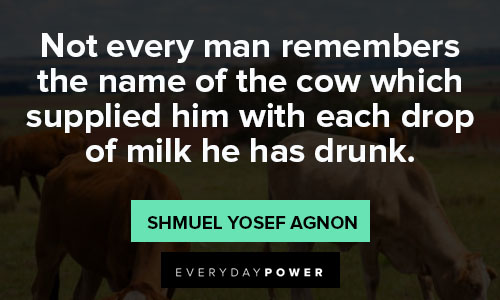 9. "I do believe sometimes discipline is very important. I'm not just lying around like a lazy cow all the time." – Bjork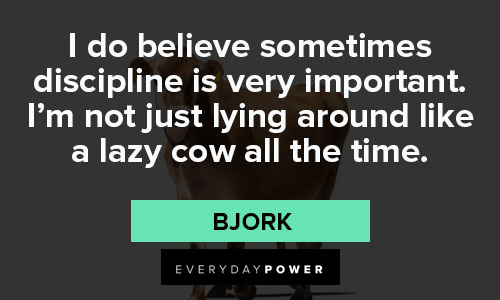 10. "Money can't buy happiness, but it can buy Cows. And that is pretty much the same thing." – Unknown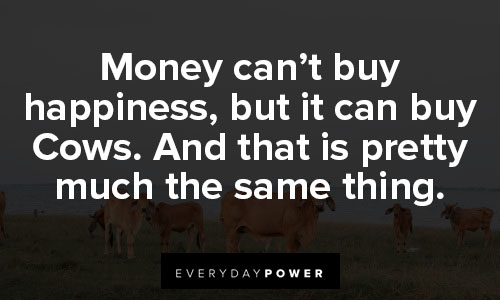 Cow Quotes And Sayings
Some simple cow quotes for you to enjoy from famous people are below. Take a look and enjoy.
11. "I absolutely adore cows." – Mary Quant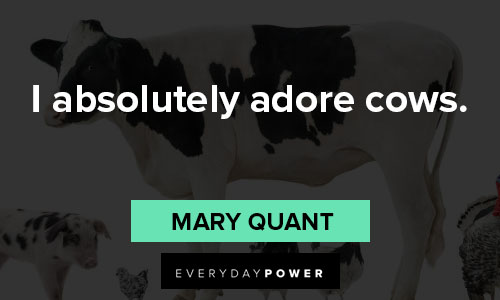 12. "I have a cow's valve in my heart." – Maurice Strong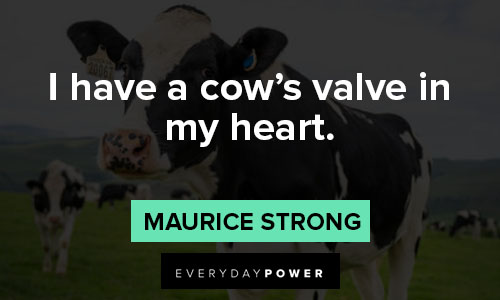 13. "The Chinese use every spare bit of an animal: cow lungs, pig ears, chicken feet, duck blood." – Jennifer Lee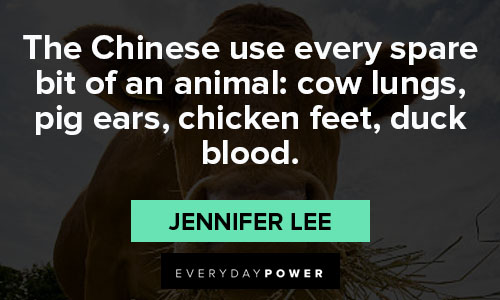 14. "Real nutrition comes from soybeans, almonds, rice, and other healthy vegetable sources, not from a cow's udder." – Ingrid Newkirk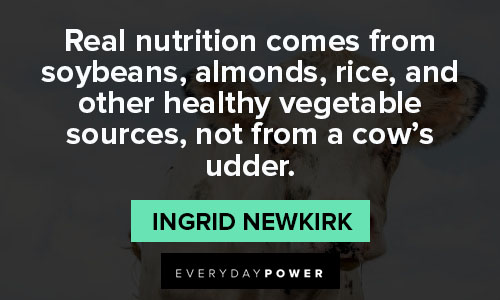 15. "A cow out on grass is just an incredible thing to behold." – Michael Pollan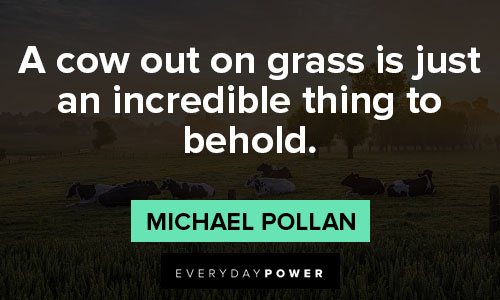 16. "​​Everyone has a reason why their particular sacred cow is the sacred cow to be honored." –Jim Norton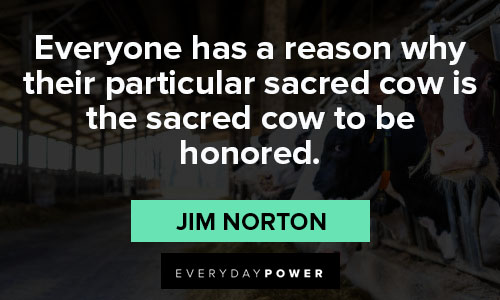 17. "Giving goat's milk to children is popular in Europe and other parts of the world." – Kristin Cavallari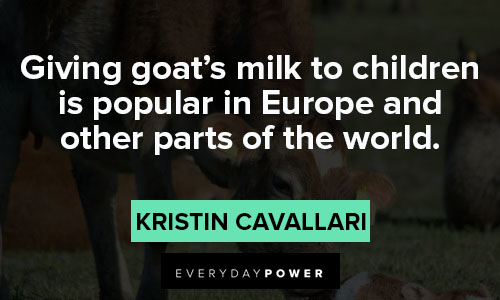 18. "I can't say that I've ever actually got on a horse and roped a cow, no." – Blake Shelton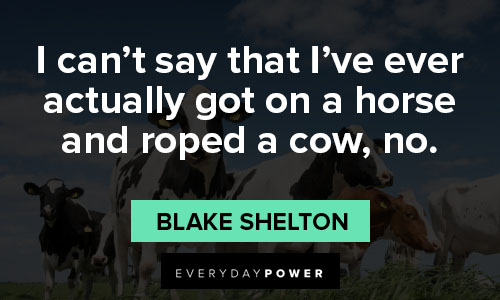 19. "This was more than just a cow – this was an entire career I was looking at." – Gary Larson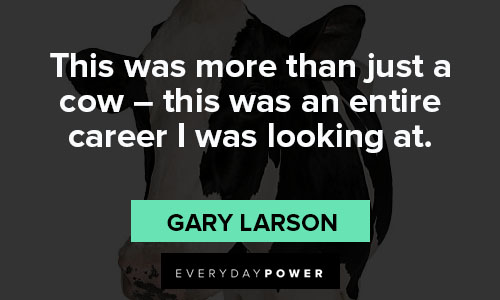 20. "No one asks the cow or the chicken where it gets its protein." – John Salley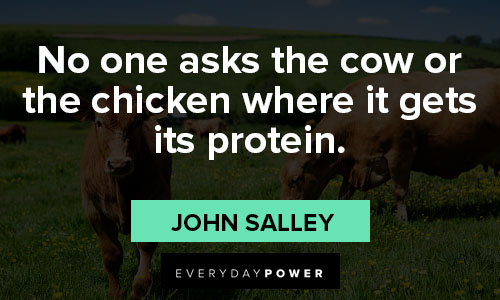 Cow Quotes on the Importance of Cows
All animals are important, but cows have especially been important to humans. Check out the quotes below to see why.
21. "When you're the cash cow that lays the golden goose egg, people are always going to cheer you on, whatever." – Noel Gallagher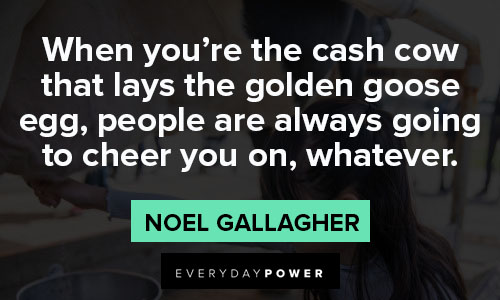 22. "I was in a bar in Rio and a cow walked in, I looked into its eyes, and I saw such tranquillidad, serenity. Then I started seeing cows everywhere. I realise why the Indians worship them." – Manu Chao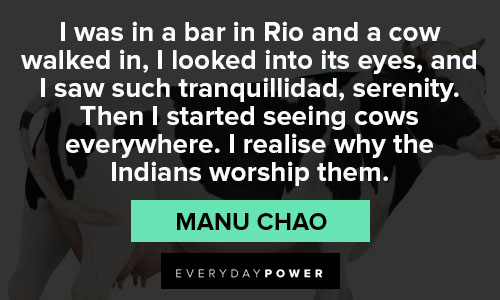 23. "If an actor knows how to milk a cow, I always know it will not be difficult to be in business with him." – Werner Herzog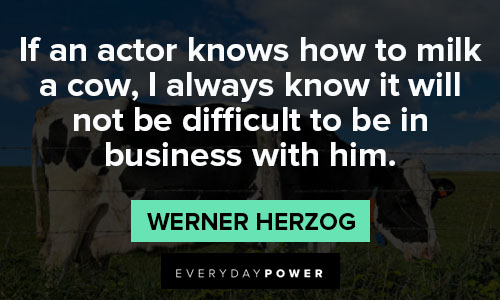 24. "I am really rather like a beautiful Jersey cow, I have the same pathetic droop to the corners of my eyes." – Deborah Kerr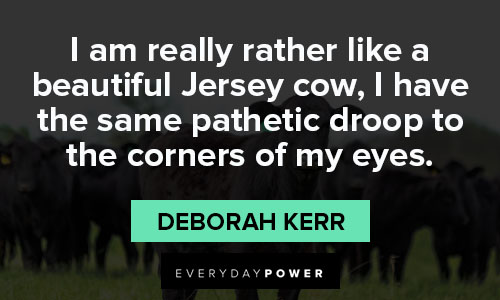 25. "I grew up in a village of 12 houses. We had a well and a cow." – Olesya Rulin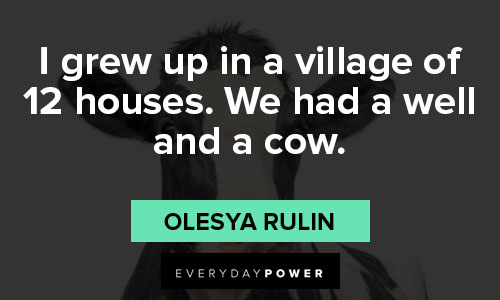 26. "A dead cow or sheep lying in a pasture is recognized as carrion. The same sort of a carcass dressed and hung up in a butcher's stall passes as food." – John Harvey Kellogg
27. "I find television to be a bit like a meat grinder. It's like, you have a cow, you put it through a meat grinder, and out comes a hot dog. It's almost unrecognizable." – Jillian Michaels
28. "Holy cow, in the course of one week I feel like I've lived about a year!" – Karlie Kloss
29. "I've never milked a cow or anything like that." – Kelsea Ballerini
30. "If I don't work, I'll be sitting on the couch watching TV, eating popcorn and getting like a cow." – Celia Cruz
Cow Quotes For Instagram
These quotes are perfect for those of you that like quick hitting social media posts. Look for your favorite below.
31. "I couldn't kill a chicken, I couldn't kill a cow – I was a vegetarian too at that time – so I thought, well what is there that I could kill? I couldn't kill this and I couldn't kill that." – Ellen Burstyn
32. "When I was younger, I was insecure for about 10 years: I wore glasses, had a cow's lick, buck teeth and braces. I looked ridiculous." – Jack Whitehall
33. "I am not about fringing, cow girl boots, that kind of Coachella vibe. I just wear something comfortable." – Georgia May Jagger
34. "I had a free-range childhood. We lived in town but with a cow, chooks, bees, and multiple veggie gardens so we could live self-sufficiently." – Zoe Foster Blake
35. "Hendrix was a different kind of guitar player. It was like, 'Holy cow, this guy can sing, he can play all this weird stuff… what is this?' It was a new kind of music." – Rick Nielsen
36. "We had three cows and a goat. People from New York and L.A. are like, 'Oh my gosh, that's a farm!' But people in Tennessee are like, 'That's not a farm.'" – Kelsea Ballerini
37. "Holy cow, she was tough as nails, man. When I was starting, Moolah was the head woman. She could kick 90 percent of the guys' butts." – Paul Orndorff
38. "For the most part, the meat we eat consists of muscle tissue taken from farm animals, whether it's a sirloin steak, which is cut from the rear of a cow, or a pork chop, taken from flesh near the spine of a pig." – Michael Specter
39. "It's hard to believe a kid hitting golf balls in the cow pastures of New Mexico could have accomplished what I have accomplished." – Billy Casper
40. "We milked a cow, raised chickens, pigs and beef cattle. We heated our one-story house with wood and stayed cold all winter." – Bonnie Jo Campbell
Miscellaneous Cow Quotes
Enjoy the quotes below. You will find funny, motivational, and teaching cow quotes.
41. "I think it's important that, as a matter of course, the brain and spinal column were removed from this cow, and that would be the material that would cause concern in terms of human health." – Ann Veneman
42. "When I got older, it got harder because when kids get older, they get meaner, so I went through a lot of bullying and people calling me, like, 'zebra' or 'cow,' so it was really hard growing up." – Winnie Harlow
43. "Stray cattle roam every lane and alley, but we are building cow shelters and trying to resolve the problem." – Hema Malini
44. "Cows and other ruminants can do things we just can't do. They have the most highly evolved digestive organ on the planet, called the rumen. And the rumen can digest grass. It takes grass, cellulose in grass, and turns it into protein, very nutritious protein. We can't do that." – Michael Pollan
45. "First of all, I'm a Midwesterner, being from Kansas, and Chicago is basically a big Midwestern cow town." – Bill Kurtis
46. "The steaks out there are colossal – it's like having a shark and a cow on your plate." – Paul Hollywood
47. "In the Children's Zoo, Enrichment meant presenting the goats with a trash can smeared with peanut butter or dangling keys at the end of a broomstick in front of the cow." – Ben Dolnick
48. "There are few things better than falling asleep in a field and being woken up by an inquisitive cow." – Mary Quant
49. "The average man is a conformist, accepting miseries and disasters with the stoicism of a cow standing in the rain." – Colin Wilson
50. "Goat's milk is the closest thing out there to human breast milk. Plus, it is more easily digested than cow's or soy milk." – Kristin Cavallari
The cow quotes above show the importance of cows to humans. Have the quotes changed how you think of cows?
The cow has been aiding humankind for eons.
Did you know that all cows are female? The males are bulls.
There are over 800 different breeds of cows grazing all over the planet.
In Hinduism, the cow is venerated as a sacred being. The cow is believed to represent divine and natural beneficence.
Cows have been associated with various deities within Hindu culture, such as Shiva, Indra, and Krishna.
The cow has had a significant impact on the rest of the world.
In their own way, cows act as surrogate mothers for many humans who choose to drink cows' milk as babies.
Even the waste of the cow has impressive qualities for humans.
Aside from fertilizer, cow dung has many purposes. Cow dung can actually be used as an effective disinfectant, mosquito repellent, fuel for a fire, and even serve to prevent pimples!
Do you have any experiences with cows that was not covered by the cow quotes in the article? If you or your family has any different experiences, please share.