Cowboy Quotes for Your Country Side
Whether you wanted to be a cowboy as a child or you love the idea of saddling up on a ranch of your own, you'll like these cowboy quotes.
While a cowboy is simply defined as an animal herder who works with cattle on a ranch, we tend to think of "cowboys" as a lot more than that.
Cowboys are the tough men from the wild west.
Cowboys are known for:
fighting the bad guys
riding horses and bulls
being strong
Don't forget to check out these cowgirl quotes, too!
Iconic actors like Clint Eastwood and John Wayne have depicted cowboys in movies.
And there are many popular cowboy movies, from Tombstone to the Lone Ranger.
If you enjoy cowboy movies, western books, or just like working out on the ranch, you'll enjoy these cowboy quotes.
Don't forget to check out these horse quotes that will inspire you to take a ride.
Check out our most popular quote article, a list of short inspirational quotes for daily inspiration.
Explore our complete collection of motivational quotes here.
Famous western and cowboy quotes
1. "The first picture of me that I know of was me in the crib wearing a pair of cowboy boots." – Marty Stuart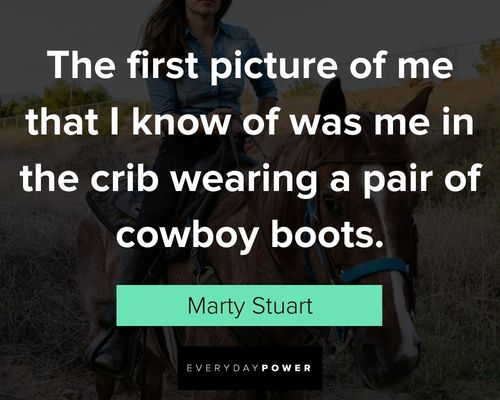 2. "True cowboys are the ones who aren't afraid to get dirty." – Lane Frost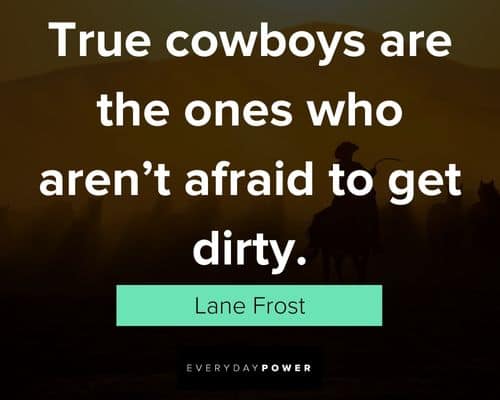 3. "Life's a rodeo and all you have to do is stay in the saddle." – George Jung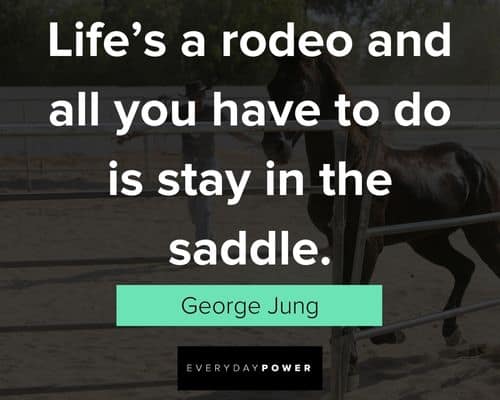 4. "The great cowboys are the ones with the biggest hearts." – Ty Murray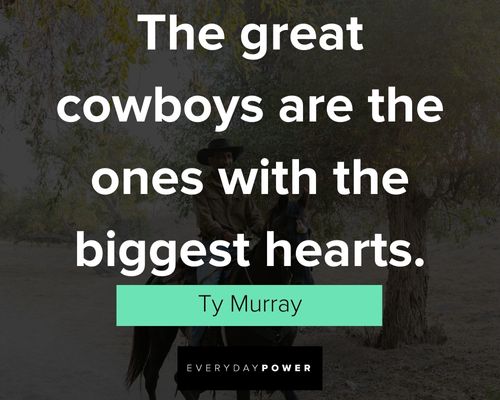 5. "Courage is being scared to death… and saddling up anyway." – John Wayne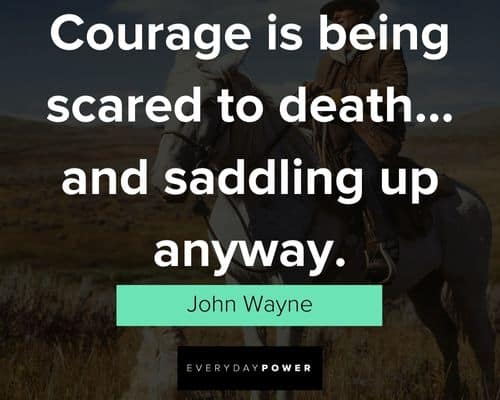 6. "If I thought you weren't my friend, I just don't think I could bear it." – Doc Holliday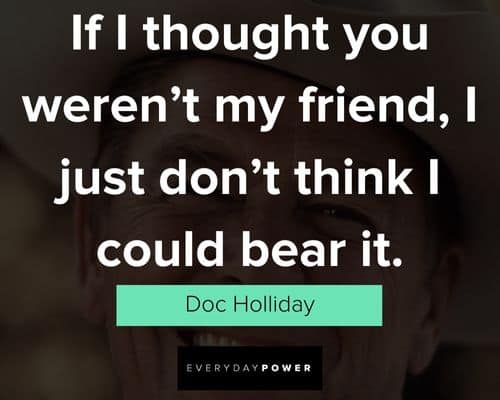 7. "I'm the stuff men are made of." – John Wayne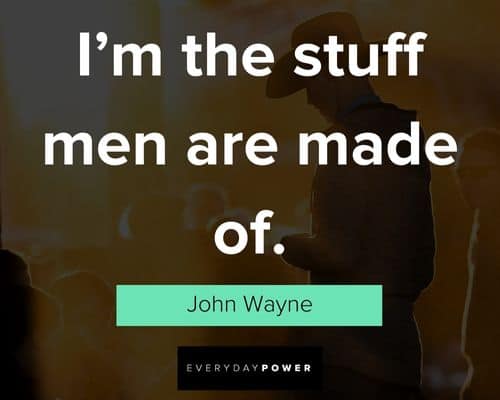 8. "America is a land of opportunity and don't ever forget it." – Will Rogers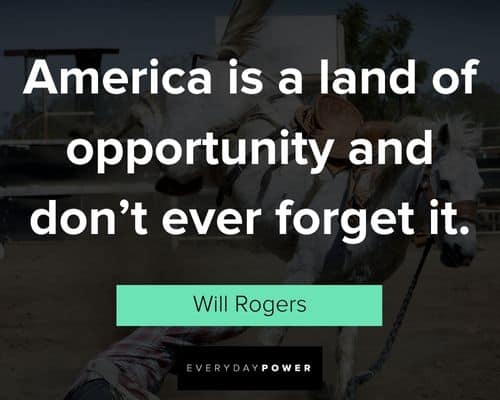 9. "I'm your huckleberry." – Doc Holliday (Tombstone)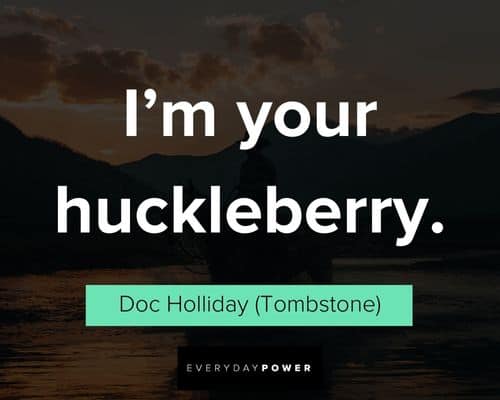 10. "To live is to experience things, not sit around pondering the meaning of life." – Paulo Coelho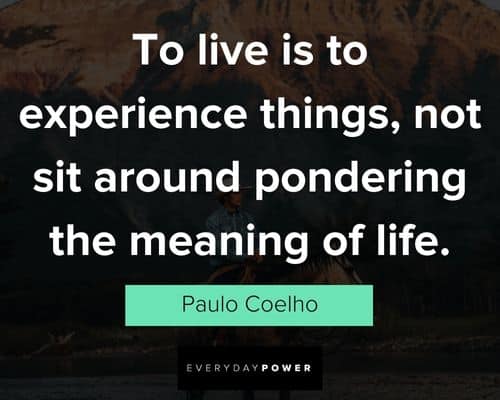 Cowboy quotes and sayings about bull riding
11. "If you think bull riding isn't intense, come sit on his back and try on my saddle. This ain't for tenderfoots." – Clancy Jean Driscoll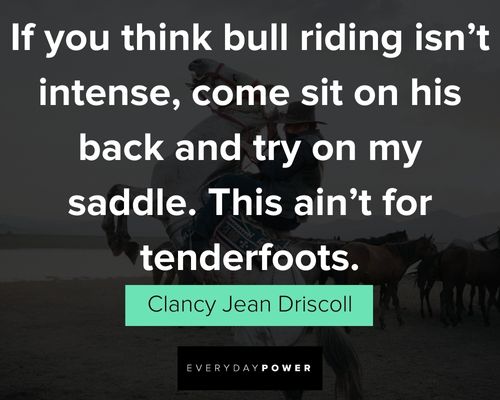 12. "If I'm going to become the first cowboy in history to win seven all-around world titles, I have to bear down. I have to ride this bull." – Ty Murray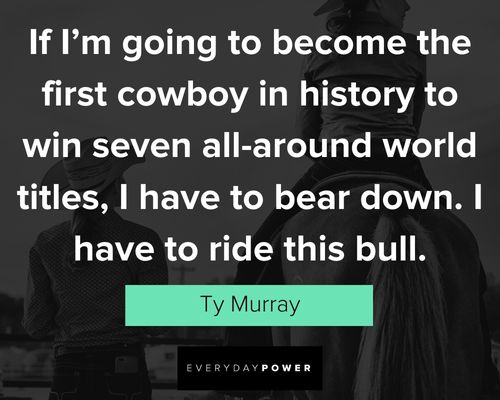 13. "Rodeo cowboys usually keep going until they've crippled—injured by animals—run out of money for entry fees and travel expenses, quit or get killed in the arena. The camaraderie among them is unlike any other sport." – Chris LeDoux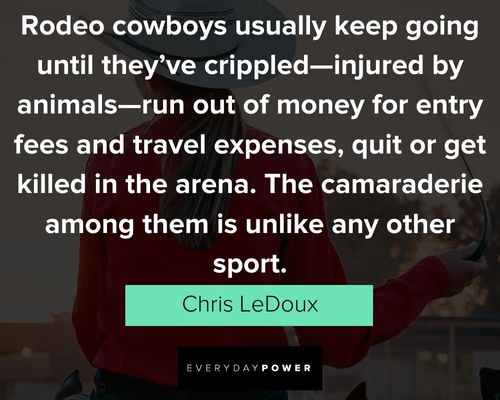 14. "Rodeo, like poetry, can get into your hemoglobin, into the deep helices of DNA, and once there it becomes your metaphorical makeup for life." – Paul Zarzyski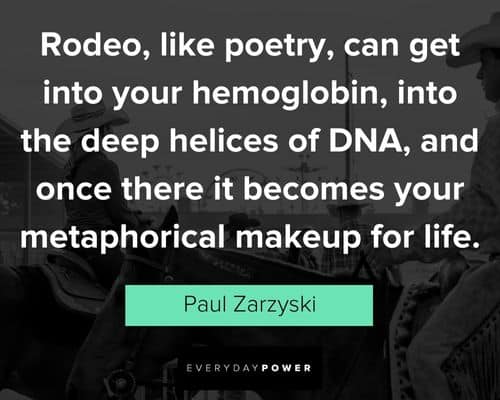 15. "Anyone who has ever experienced the thrill of rodeo life wishes it could go on forever." – Ralph Clark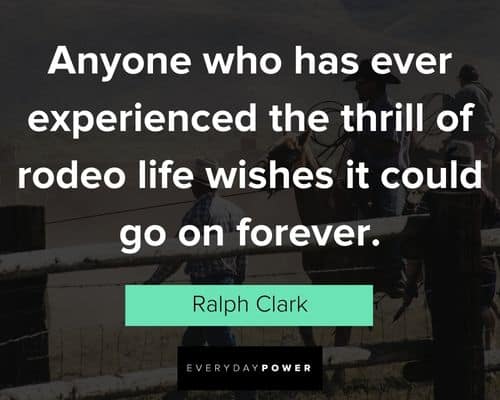 16. "The best bulls in rodeo are unpredictable. Trying to outsmart them can lead cowboys to outsmart themselves." – Ty Murray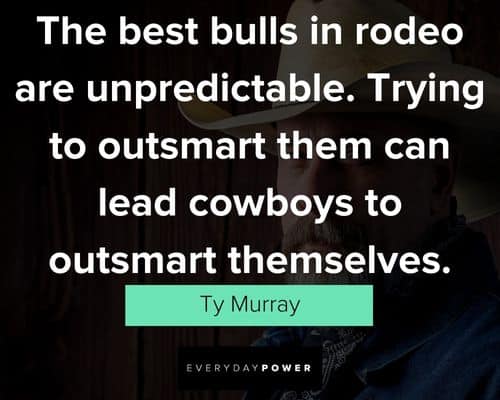 If you enjoy this article, check out our collection of cowgirl quotes for unleashing your inner power.
Wise cowboy quotes
17. "If you're going to wear a cowboy hat, you're going to have to go all the way. You should have livestock around you, settle all of your disputes with a pistol, and ride a horse absolutely everywhere." – Tom Segura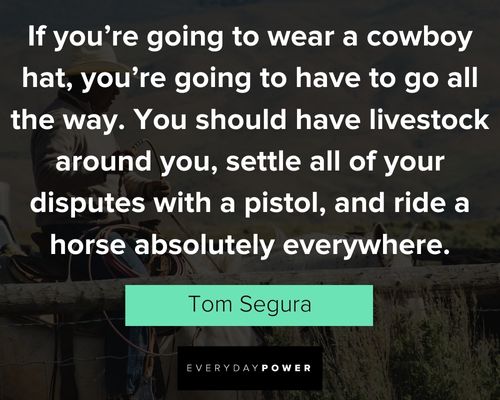 18. "I spent two months in Fredericksburg, Texas, when I was 8, while my father shot a movie, and I loved it. I just embraced the whole cowboy culture. I got myself a pair of awesome boots and a cowboy hat." – Alexander Skarsgard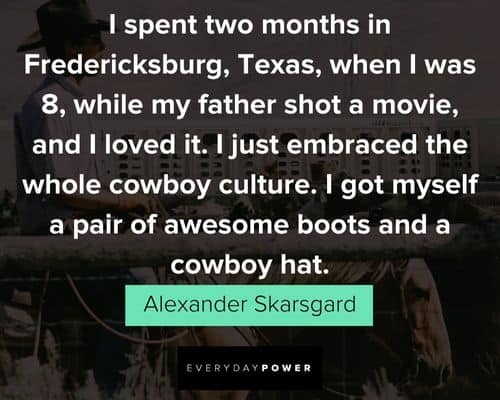 19. "When I grew up, I only had two dreams. One was to be a cowboy and another was to be in the military. I grew up extremely patriotic and riding horses." – Chris Kyle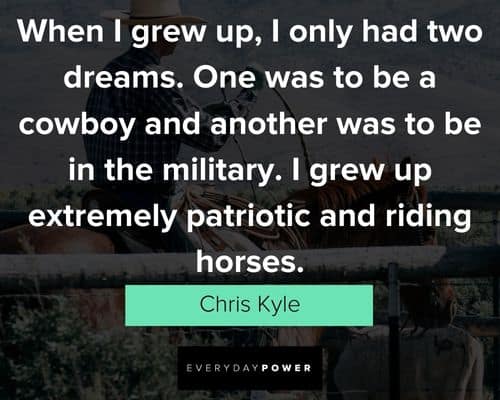 20. "My dad grew up in western Nebraska. I'd visit all the time as a kid, and it's very much like the Wild West. It felt to me like a cowboy movie. Stuff like that made me become this dreamer at a young age." – Kevin Morby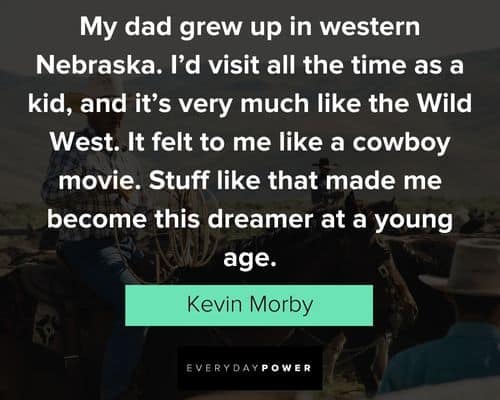 21. "I think I was probably a cowboy in a past life." – Gin Wigmore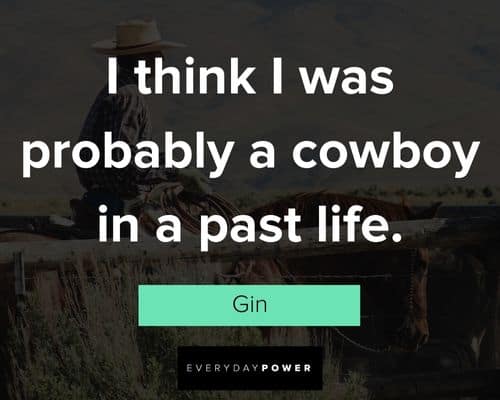 22. "I loved cowboy movies when I was a kid. When I was five years old, I was already wearing a cowboy hat and suit. When I grew up, I knew John Wayne, Clint Eastwood, Kirk Douglas and so on." – Jackie Chan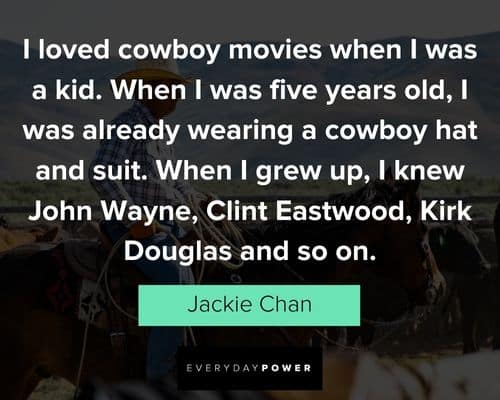 Cowboy quotes about horses
23. "The horse is a mirror to your soul. And sometimes you might not like what you see in the mirror." – Buck Brannaman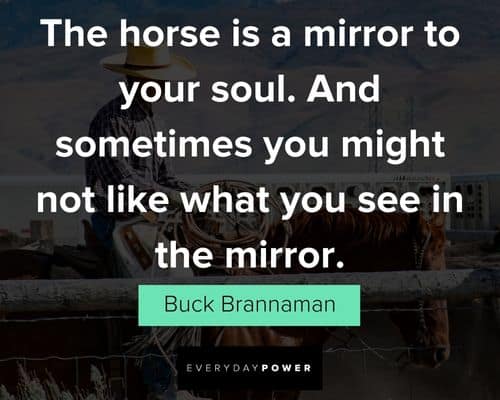 24. "Cowboys come in many different shapes and sizes but all cowboys must be able to ride horses." – Meg Clibbon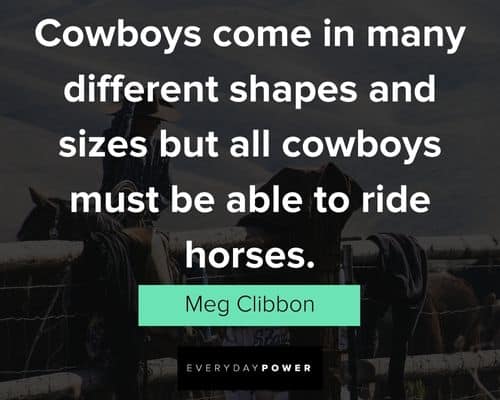 25. "Let him ride a horse. He's a cowboy ain't he." – Nathanael West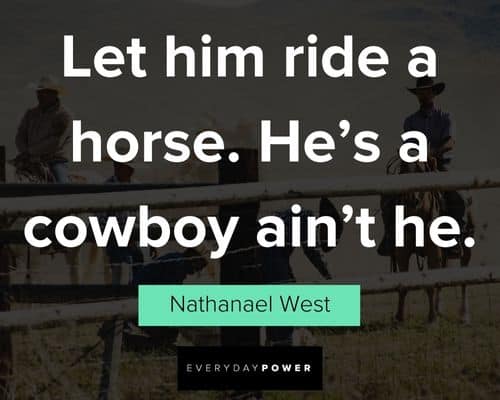 26. "A cowboy is a man with guts and a horse." – William James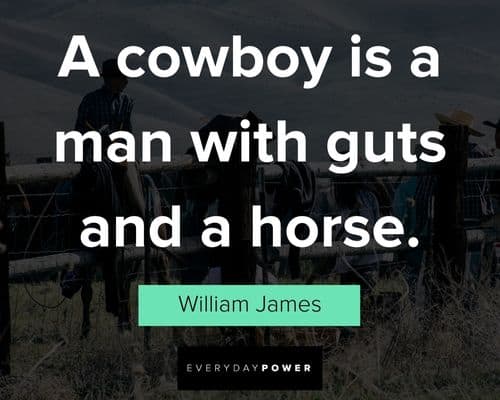 27. "Ain't nuthin' like ridin' a fine horse in new country." – Augustus MacCrae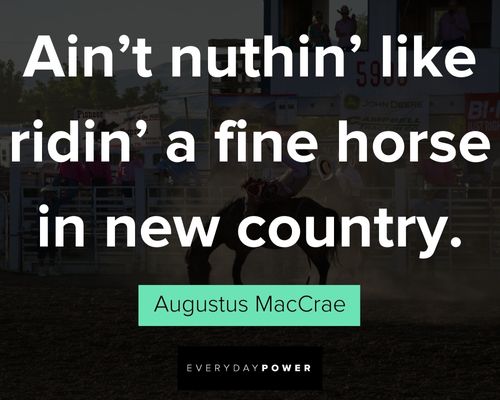 28. 'You can tell a true cowboy by the type of horse that he rides." – Anonymous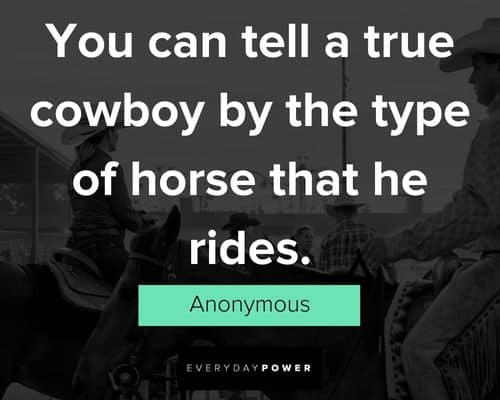 Funny cowboy quotes and sayings
29. "Nature gave us all something to fall back on, and sooner or later we all land flat on it." – Unknown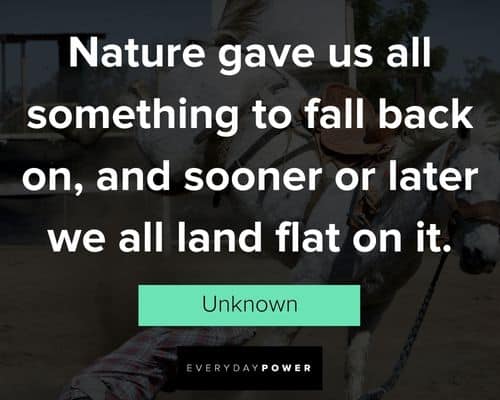 30. "A man isn't born a cowboy… he becomes one." – Unknown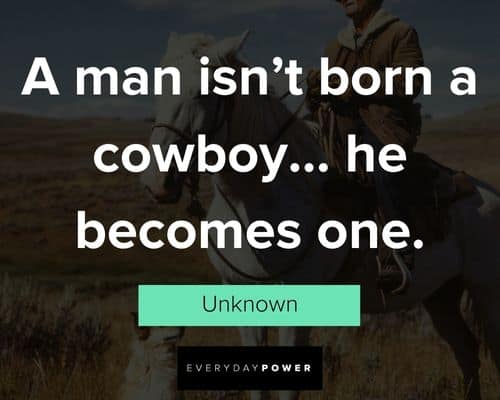 31. "Sometimes you get and sometimes you get got." – Unknown
32. "Always drink upstream from the herd." – Unknown
33. "Don't squat with your spurs on." – Unknown
34. "Never approach a bull from the front, a horse from the rear, or a fool from any direction." – Unknown
35. "If you climb in the saddle, be ready for the ride." – Unknown
Cowboy quotes that will make your day
36. "It doesn't matter if a cowboy lives in the mountainsides or in the flats, as long as it's warm and there is a place to lay his hat." – Anonymous
37. "I've got two guns. One for each of ya…" – Doc Holiday
38. "You see, in this world, there's two kinds of people, my friend – those with loaded guns, and those who dig. You dig." – Clint Eastwood
39. "When my time comes, just skin me and put me up there on Trigger, just as though nothing had ever changed." – Roy Rogers
40. "I won't be wronged, I won't be insulted, and I won't be laid a hand on. I don't do these things to other people, and I require the same from them." – J.B. Books
41. "My grandpa was a big cowboy in his values and the way he lived his life. For our family, the ranch represented our family time when we got to drive down through all that desert farmland and Grandpa would wake us up at 5 A.M. to feed the horses if we wanted to earn the right to ride them later. I always had so much fun." – Cam
42. "The cowboy look – the hat and bandana – that's not a fashion statement. That clothing is purely practical." – Ethan Coen
43. "When you're young and you fall off a horse, you may break something. When you're my age, you splatter." – Roy Rogers
44. "I don't care about going down in history as a great bull rider or bronc rider. I hope people will remember me as a great cowboy." – Ty Murray
45. "The cowboy must never shoot first, hit a smaller man, or take unfair advantage." – Anonymous
46. "I'm not the sort to back away from a fight. I don't believe in shrinking from anything. It's not my speed; I'm a guy who meets adversities head-on." – John Wayne
47. "When I was a kid, if a guy got killed in a western movie I always wondered who got his horse." – George Carlin
48. "When people think of the West, it's easy to envision wagon trains, Buffalo Bill, the glory days of the Gold Rush. Cowboy hats come to mind." – John Hickenlooper
49. "What do you call a happy cowboy? A jolly rancher!" – Unknown
50. "Well, there are some things a man just can't run away from." – John Wayne
More cowboy quotes
51. "Never slap a man who's chewing tobacco." – Will Rogers
52. "A cowboy would rather throw a bull than eat beans with his knife." – Charles Dorian
53. "You're gonna have to hold on tight because this rodeo is just getting started." – Joya Ryan
54. "A decent cowboy does not take what belongs to someone else and if he does he deserves to be strung up and left for the flies and coyotes." – Judge Roy Bean
55. "It's been a childhood dream of mine to be a Cowboy, honestly." – Matt Cassel
56. "A good old rodeo never hurt anyone." – Taylor Kitsch
57. "Put 'Cowboy' on every card. I'd be ready to go." – Donald Cerrone
58. "Cowboy work is more than a job; it is a lifestyle and a medium of expression." – John R. Erickson
59. "Real cowboys never run, they just ride away." – Cowboy saying
60. "First buy a cowboy hat and boots. Then you're on your way to being a Texan." – James A. Michener
Cowboy quotes that will make you smile
61. "There is no better place to heal a broken heart than on the back of a horse." ― Missy Lyons
62. "Now you are thinking like a thief. Fewer guns and more exits. We'll cure your cowboy ways yet." ― Richard Kadrey
63. "A cowboy's hands are as strong as steel, as tough as leather, but soft enough to touch a butterfly's wing and the skin of a woman without disturbing the beauty of either." ― Carol Crandell
64. "Training horses, heck riding horses, isn't easy. Failing is part of the process. It's how you brush yourself off and get back in the saddle that counts the most." ― Carly Kade
65. "Such is the life and death of a good cowboy." ― Larry McMurtry
66. "You can't cover up the swagger of a cowboy." ― Jaycee Ford
67. "A cowboy is someone who loves his work. Since the hours are long—ten to fifteen hours a day—and the pay is $30 he has to. What's required of him is an odd mixture of physical vigor and maternalism. ― Gretel Ehrlich
68. "It ain't where, it's how you live. We weren't raised to take, but we were raised to give the shirt off our back to anyone in need." ― Brantley Gilbert
69. "You can take the boy out of the country, but you can't take the country out of the boy." ― Arthur Baer
70. The cowboy has been called America's folk hero." ― Charles W. Harris
Hardworking cowboy quotes
71. "I thought being a cowboy would be a terribly romantic thing to do. But it wasn't. I shoveled a lot of stalls." -Bob Weird
72. "There's a big difference between me and a real, legitimate working hand, or a world-champion rodeo cowboy. I play 'em, and I aspire to be like that, but those guys are tough." -Luke Perry
73. "I'm a cowboy who never saw a cow." -Johnny Mercer
74. "When you're a cowboy, life isn't all about horses and rodeo's. It's about mud and dirt, and cowboy boots." -Cowboy proverb
75. "Every woman wants a cowboy." -B.J. Daniels
76. "I want to be a Cowboy for life." -Amari Cooper
77. "I just fell in love with the cowboy way of life." -Donald Cerrone
78. "And my heart is sinking like a setting sun, setting on the things I wish I'd done. Oh the last goodbye's the hardest one to say, and this is where the cowboy rides away." -George Strait
79. "To sit on a ranch horse that's been broken in, it's like getting in a Porsche." -Sam Shepard
80. "Cowboys work hard, play well, love soft, and are a hell of a lot better than any other boy I've ever seen." -Olivia Flannery
Top 10 Cowboy Quotes Sayings and Captions
81. "From an early age children play 'cowboys and Indians', Nobody ever plays 'UN peacekeeping force'." — A.J. Beirens
82. "It is easier to get an actor to be a cowboy than to get a cowboy to be an actor." — John Ford
83. "I'm an old-time cowboy. I'm an outlaw." — Mike Hughes
84. "Cowboys don't go around breaking hearts." — Missy Lyons
85. "I have horses, I drive a truck, and I wear cowboy boots. First I'm a Texan." — Henry Thomas
86. "When in Texas, do as the Texas do: Drive trucks, wear cowboy boots, and two-step!" — Kaitlyn Bristowe
87. "I used to go to a dude ranch which is when you spend your holiday on a ranch so I became a bit of a cowboy." — Bud Lucky
88. "Could I be jealous of the way he was touching my horse? Yep…I was." — Carly Kade
89. "Funny how women are ashamed of their inner fairy whereas men are forever proudly displaying their inner cowboy or fireman." — Dawn French
90."Now if you think the grass is greener on the far side of the hill, / All you cowboys: take it easy, there`s no grass there at all." — Chris De Burgh
Funny Cowboy Quotes To Lift Your Spirit
91. "As long as there is one cowboy taking care of one cow, it ain't dead." ― Monte Walsh
92. "Yup. The best way to absorb the cowboy lifestyle was to just jump right into it… or on top of one. Casey smiled." ― Cat Johnson
93. "Sometimes a cowboy isn't perfect but you got to love him anyway." — Jennie Marts
94. "If a cowboy sings on a stage, and no one is there to hear him… can he make aliving?" — Amy Yasbeck
95. "If a cowboy can't ride his pony, what's the point?" — Anne Caryl
96. "So you're telling me that intoxicated cowboy is my best hope of getting to Paint River Ranch tonight?" The bartender gave a sympathetic shrug. "Yep. And you'd better catch him before he starts drinking again." ― Elizabeth Otto
97. "I was feeling real good and real manly. Until a real cowboy walked by and told me I had my hat on backwards. So much for my career as a cowboy." — Michael Biehn
98. "I don't walk around with a cowboy hat. I did get a tattoo that says 'cowboy' that's a bit of an over-compensation, probably." — Ronnie Dunn
99. "You can do anything that you wanna do, but uh-uh, don't step on my cowboy boots."— Hank Williams, Jr.
100. "I'm scared of snakebites – that's the origin of cowboy boots, protection – but my toes need to breathe." — Gavin McInnes
What did you learn from these cowboy quotes?
Some like to focus on the cowboy of the past while others are living the cowboy life today.
If you can't get enough of these cowboy quotes, look for other ways to add a little cowboy experience to your day.
Go horseback riding, attend a rodeo or plan a trip out west to stay on a working ranch.
Or you can watch the old westerns that give you a taste of the cowboys of the past that helped to settle the west.
Whether it's the good guys or the bad guys, there are some great memorable lines that actors playing cowboys have delivered throughout the past.
You've just read several in the quotes above.
What's your biggest takeaway from these cowboy quotes and sayings?
Do you have any other favorite quotes to add?
Let us know in the comment section below.