60 Nancy Pelosi Quotes From America's Most Powerful Woman
Nancy Pelosi is the current Speaker of the House of Representatives, the highest-ranking elected female official in the United States.
With a historic title comes a long history in government, as shown by the Nancy Pelosi quotes below.
What have you learned about Nancy Pelosi in the past?
Nancy Pelosi began her career in politics as an intern for Senator Daniel Brewster in the 1960s.
She worked her way up the local Democratic political ladder and became a member of the U.S.
House of Representatives in 1987.
Pelosi served as Speaker of the House of Representatives from 2007 to 2011 and was re-elected in 2019.
Pelosi helped push many important forms of legislation, including the Affordable Care Act and the Don't Ask Don't Tell Repeal Act.
Read the Nancy Pelosi quotes below to learn more about her upbringing, policies, and politics.
Don't forget to also read these Elizabeth Warren quotes on capitalism, politics and more.
If you enjoy this article, check out our most popular quote article, a list of short inspirational quotes for daily motivation.
If you want more motivational quotes, check out our motivational quotes category page.
Nancy Pelosi quotes about American government and politics
1. "Maybe it will take a woman to clean up the House." – Nancy Pelosi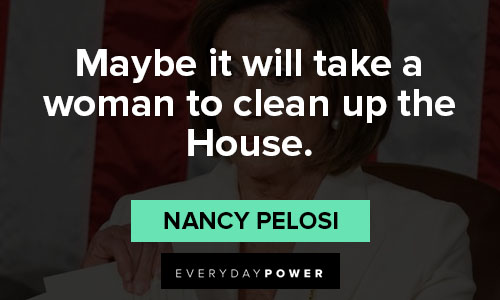 2. "Being the first woman speaker and breaking the marble ceiling is pretty important. Now it's time to move on." – Nancy Pelosi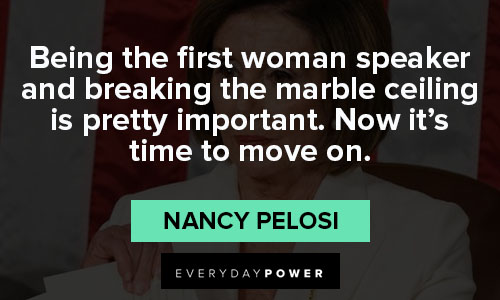 3. "My biggest fight has been between those who wanted to do something incremental and those who wanted to do something comprehensive. We won that fight, and once we kick through this door, there'll be more legislation to follow." – Nancy Pelosi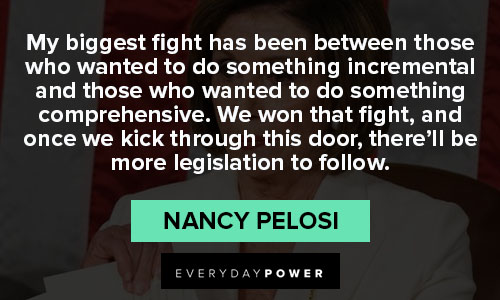 4. "Bipartisanship is nice, but it cannot be a substitute for action, not having it cannot prevent us from going forward." – Nancy Pelosi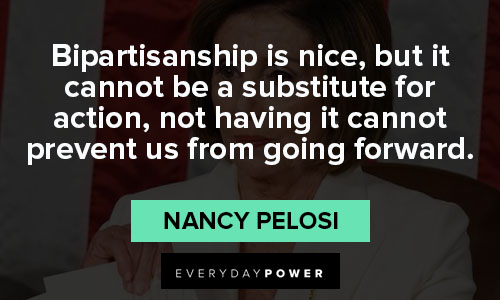 5. "Let's just do what is right for the American people. And those of us who are involved in politics and government know that our responsibility is to the American people, that we have a responsibility to find our common ground, to seek it and to find it." – Nancy Pelosi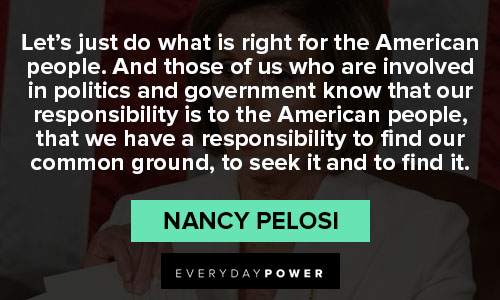 6. "If I cry, it's about the personal loss of a friend or something like that. But when it comes to politics – no, I don't cry." – Nancy Pelosi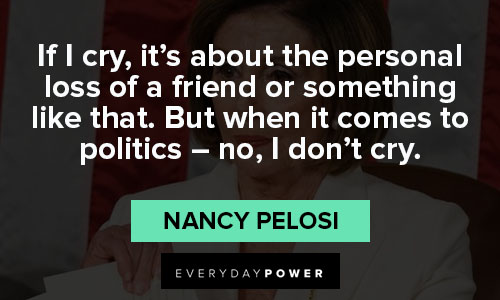 7. "For 25 years, it has been my privilege to represent the city of San Francisco and the great state of California; to work to strengthen our vibrant middle class; to secure opportunity and equality." – Nancy Pelosi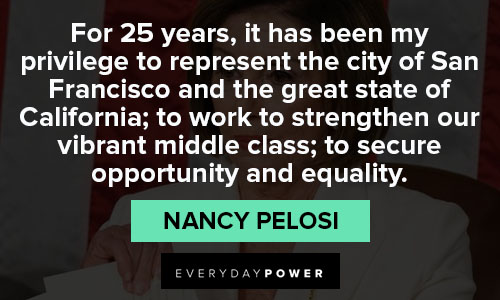 8. "I never dread going back to Congress." – Nancy Pelosi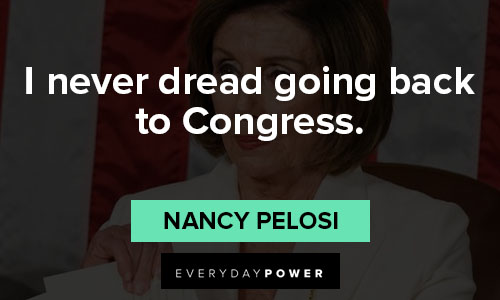 9. "I've never walked away from any of my positions. I take pride in them." – Nancy Pelosi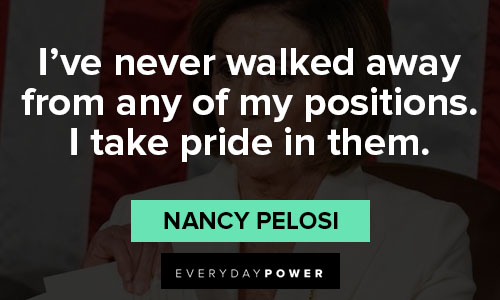 10. "I read that my lifelong dream is to serve as speaker with Hillary Clinton as president. So what?" – Nancy Pelosi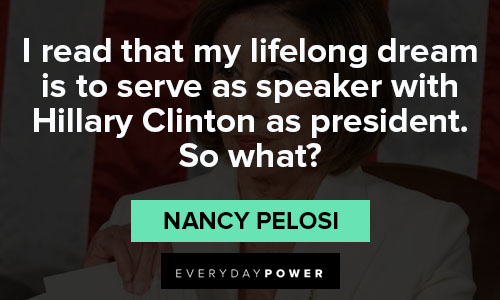 11. "I always saw politics as an expansion of my role as a mom." – Nancy Pelosi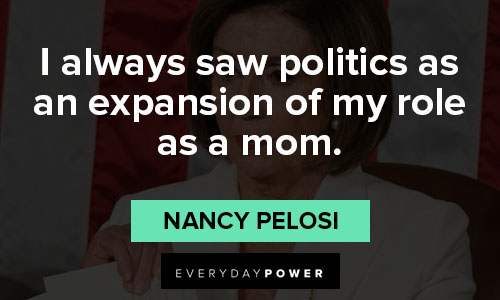 12. "I would say that one of the things that encouraged me so much when I became elected to the leadership was the letters I received from fathers of daughters, saying that, 'My daughter can now do many more things because of what you did.'" – Nancy Pelosi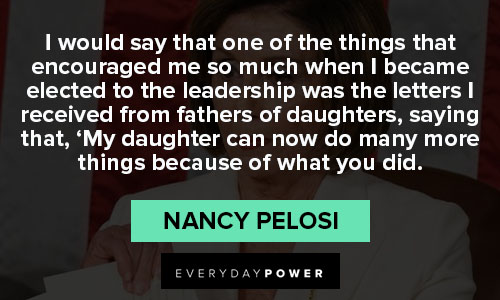 13. "Washington and Congress are steeped in history and tradition, and that's been very male-oriented." – Nancy Pelosi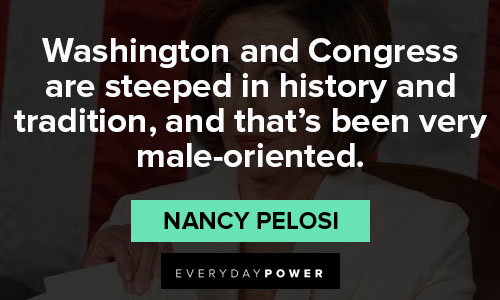 14. "I really want women to know their power, to value their experience. To understand that nothing has been more wholesome in the political process than the increased involvement of women." – Nancy Pelosi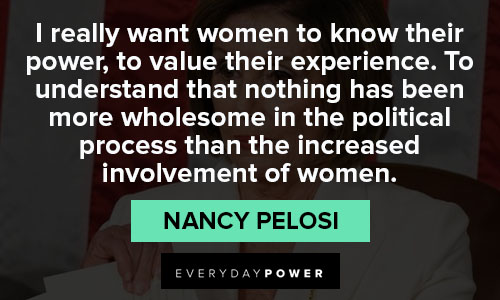 15. "My vision for the future always centers around our children – it always centers around our children. So anytime anybody asks me what are the three most important issues facing the Congress, I always say the same thing: 'Our children, our children, our children.'" – Nancy Pelosi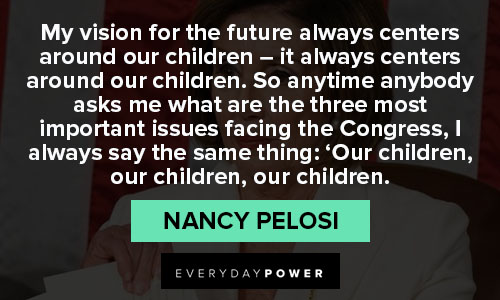 Also check out these Andrew Yang quotes from the former 2020 Democratic candidate.
Nancy Pelosi quotes about Democrats and Republicans
16. "What the Republicans have said is rather than touch one hair on the heads of the wealthiest people in our country, people who make over $1 million a year, they're saying, 'Seniors should pay $6,000 more dollars a year. But please don't let us ask the wealthiest to do their fair share.'" – Nancy Pelosi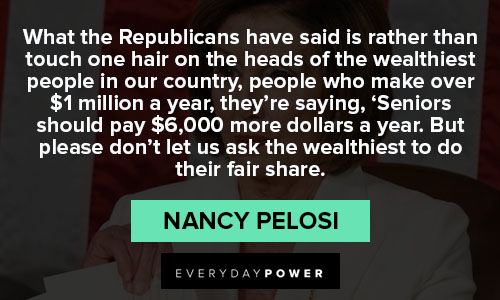 17. "The name 'Republican' in some ways has been hijacked by obstructionists." – Nancy Pelosi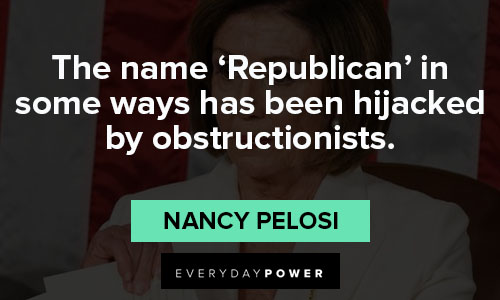 18. "Republicans support opening the floodgates to special interest money and suppressing the right to vote. It's just plain wrong." – Nancy Pelosi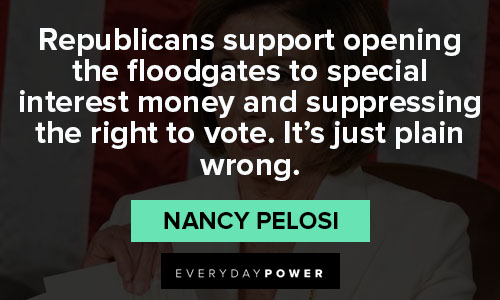 19. "The American people voted to restore integrity and honesty in Washington, D.C., and the Democrats intend to lead the most honest, most open and most ethical Congress in history." – Nancy Pelosi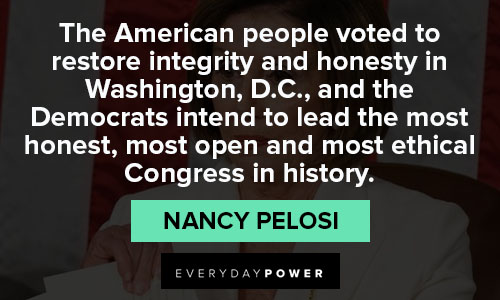 20. "Democratic priorities remain clear: to provide a tax cut for working families, to promote policies that produce jobs and economic growth, and to assist millions of our fellow Americans who have lost their jobs through no fault of their own." – Nancy Pelosi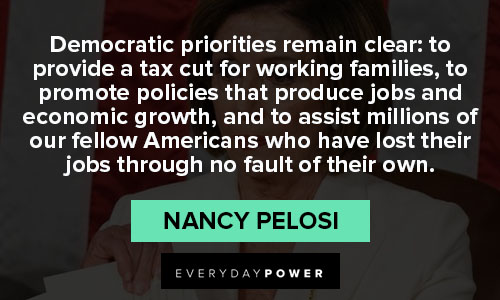 21. "Democrats embrace The Affordable Care Act. We're very proud of it." – Nancy Pelosi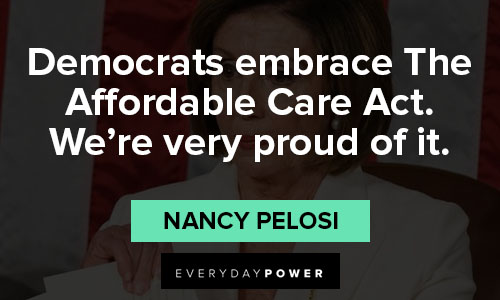 Nancy Pelosi quotes about policies
22. "We are not going back to the failed policies of the past. We are fighting for the middle class!" – Nancy Pelosi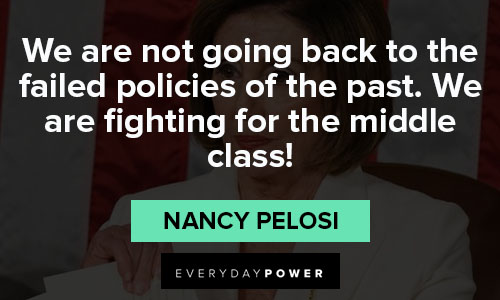 23. "Social Security has never failed to pay promised benefits, and Democrats will fight to make sure that Republicans do not turn a guaranteed benefit into a guaranteed gamble." – Nancy Pelosi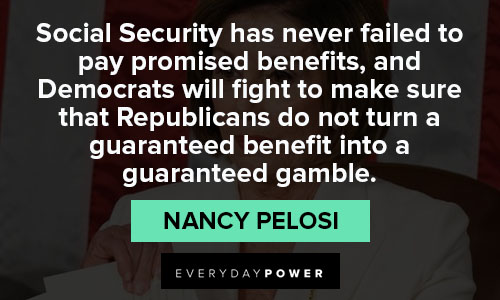 24. "With Americans worried about losing their jobs, their savings, their homes and their chance at the American Dream, the New Direction Congress will work in a bipartisan way to lift our economy and help America's middle class." – Nancy Pelosi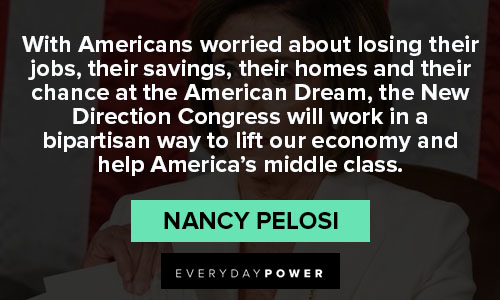 25. "If you make – not have – $1 million a year, should you not participate in the sense of community of our country? I'm willing to put that on the table." – Nancy Pelosi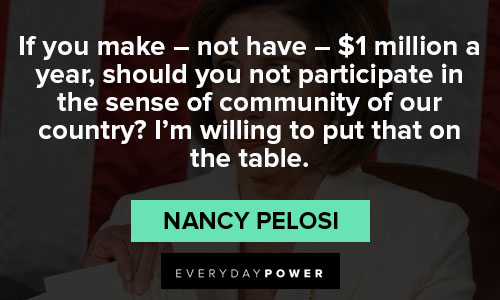 26. "Every month that we do not have an economic recovery package 500 million Americans lose their jobs." – Nancy Pelosi
27. "I have deep emotions about the American people. If I were to cry for anything, I would cry for them and the policies that they're about to face." – Nancy Pelosi
28. "In our recovery package we put new standards of accountability and transparency, which we hope will now apply." – Nancy Pelosi
29. "What we're discussing privately and publicly, is a budget which is a blueprint for the future which creates jobs, which educates our children, which provides healthcare for all Americans, which takes our deficit down, which gives a tax cut for 95% of the American people." – Nancy Pelosi
30. "If people don't have a job, they're not too interested in how you intend for them to have a job. They want to see results." – Nancy Pelosi
Also check out these Pete Buttigieg quotes from America's first openly gay presidential candidate.
Powerful Nancy Pelosi quotes
31. "Don't underestimate your opponent, but don't overestimate them, either." – Nancy Pelosi
32. "We have so much room for improvement. Every aspect of our lives must be subjected to an inventory… of how we are taking responsibility." – Nancy Pelosi
33. "The American dream is about freedom." – Nancy Pelosi
34. "Freedom is secured every day by our men and women in uniform. We must build a future worthy of their sacrifice." – Nancy Pelosi
35. "Jobs mean freedom for workers to support their families." – Nancy Pelosi
36. "If you don't vote, you don't count." – Nancy Pelosi
37. "I think that much of the truth has been withheld from the American people." – Nancy Pelosi
38. "A successful marriage is a decision. You decide it's going to work. You can't always be there, but you have to be there enough. And you have to make sure you are where you're needed most." – Nancy Pelosi
Nancy Pelosi quotes about society
39. "Americans deserve a better tomorrow, today." – Nancy Pelosi
40. "America must be a light to the world, not just a missile." – Nancy Pelosi
41. "America will be far safer if we reduce the chances of a terrorist attack in one of our cities than if we diminish the civil liberties of our own people." – Nancy Pelosi
42. "The impact of climate change is a tremendous risk to the security and well-being of our countries." – Nancy Pelosi
If you're enjoying these quotes, you'll love our collection of climate change quotes to inspire you to take action.
43. "Think of an economy where people could be an artist or a photographer or a writer without worrying about keeping their day job in order to have health insurance." – Nancy Pelosi
Nancy Pelosi quotes about upbringing
44. "As many of you know, I come from San Francisco. We don't have a lot of farms there. Well, we do have one—it's a mushroom farm, so you know what that means." – Nancy Pelosi
45. "I must have good genes from my parents because I feel no slowdown of energy, enthusiasm or even memory." – Nancy Pelosi
46. "As you may know, I was raised in an Italian Catholic family in Baltimore, Maryland." – Nancy Pelosi
47. "My father was in Congress when I was born. He was mayor my whole life from when I was in grade school – first grade – to when I went away to college." – Nancy Pelosi
48. "My brother is the former mayor of Baltimore." – Nancy Pelosi
49. "My father died the year I was elected to Congress: 1987." – Nancy Pelosi
50. "I went to Catholic school throughout my whole academic life. In fact, my children – my husband and I and our children in my own family now have over 100 years of Catholic education among us." – Nancy Pelosi
51. Be yourself, know your power, have confidence in what you have to contribute." – Nancy Pelosi
52. "Go to find common ground; where you can't, you stand your ground." – Nancy Pelosi
More Nancy Pelosi quotes and sayings
53. "Power is not anything that's given away. Power is something you have to compete for." – Nancy Pelosi
54. "I know my debt of gratitude to the women who went before, I know my responsibility to young women coming forward." – Nancy Pelosi
55. "I want women to have all the opportunities that they aspire to." – Nancy Pelosi
56. "As we disagree with each other, we learn more about each other, and more and more people are coming together." – Nancy Pelosi
57. "Do not ever say to anybody it's time for us to have a woman in the leadership, because that's the least important selling point." – Nancy Pelosi
58. "Let's respect the dignity of women to make their own decisions about the size and timing of their families." – Nancy Pelosi
59. "There is no question that women helping women works for women." – Nancy Pelosi
60. "Let's respect women for the value – let's respect everyone, men and women, for the value they bring to the workplace." – Nancy Pelosi
Have you ever felt restricted by something you couldn't control (i.e. age, gender, race, etc.?)
The tenacity of Nancy Pelosi is an endless inspiration, especially for women across the nation.
Even in 2020, there are many people, especially those in positions of power, who have blocked others from pursuing their goals because of their gender.
I can only hope that one day America will finally become a more equality-focused society.
The work of Nancy Pelosi has inspired millions of women to make their dreams come to fruition, especially women in politics.
Last year, Nancy Pelosi was honored by Time Magazine as one of their 100 Most Influential People. 
If you like this article, check out these Howard Zinn quotes from the Democrat Socialist.
Which of these powerful Nancy Pelosi quotes is your favorite?
Is there another politician that we should showcase on Everyday Power?
Let us know below!