Fence Quotes Compiled for Fence Lovers
Fence quotes are interesting and inspiring both at the same time.
A homeowner knows the importance of having a good fence surrounding their property.
Fences help to keep the things you want to stay in your yard, like kids and dogs, from getting out.
And fences can also help keep unwanted things out of your yard.
Fences also create clear boundaries for others to see, like your neighbors.
These boundaries can help you have better relationships with neighbors since everyone knows where one piece of property stops and the next one begins.
Fences can be a good analogy for the important boundaries we need to set in life with others to maintain healthy relationships and protect our mental health and overall wellness.
The fence quotes below will share a little of both.
If you love this quote collection, read out our most popular quote article about short inspirational quotes for daily motivation.
If you need more inspirational quotes, check out our motivational quotes category page.
Top Ten Fence Quotes
Some people like fences and what they accomplish, while others don't. See what you think about these fence quotes.
1. "Don't ever take a fence down until you know why it was put up." – Gilbert K. Chesterton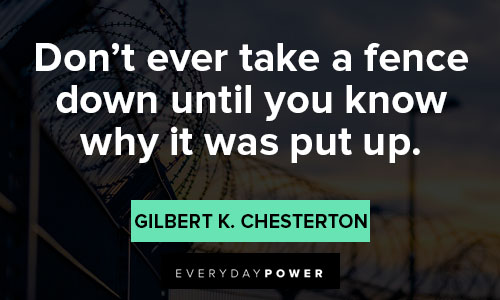 2. "A politician is an animal which can sit on a fence and yet keep both ears to the ground." – H. L. Mencken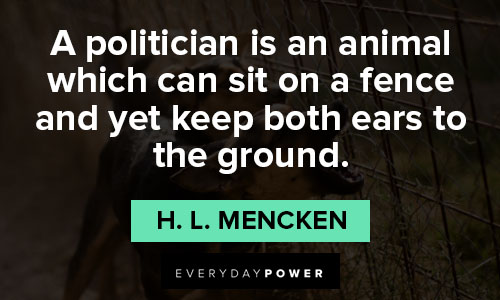 3. "The only fence against the world is a thorough knowledge of it." – John Locke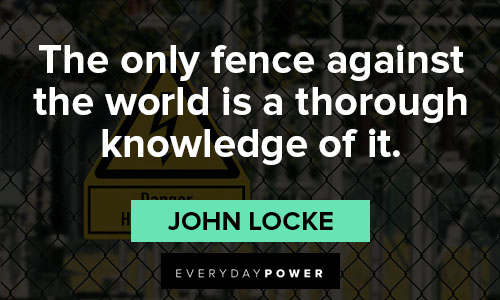 You will also enjoy our article on Austin Powers quotes.
4. "They claim this mother of ours, the Earth, for their own use, and fence their neighbors away from her, and deface her with their buildings and their refuse." – Sitting Bull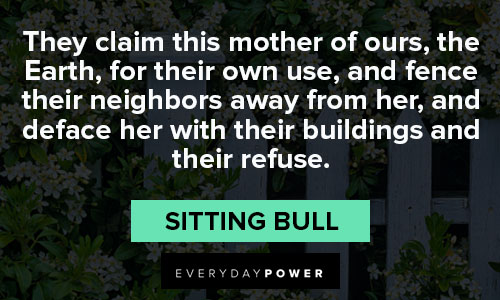 5. "If you strive for the moon, maybe you'll get over the fence." – James Woods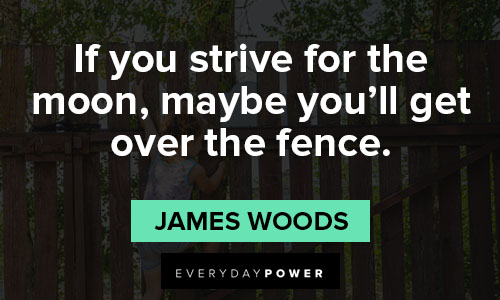 6. "Love your neighbor as yourself, but don't take down the fence." – Carl Sandburg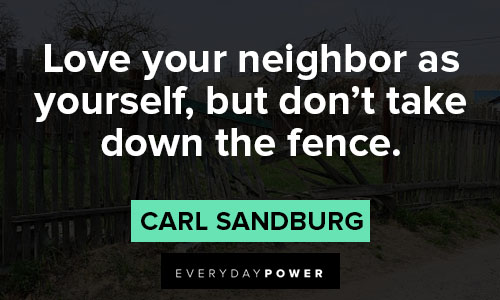 7. "He has sat on the fence so long that the iron has entered his soul." – David Lloyd George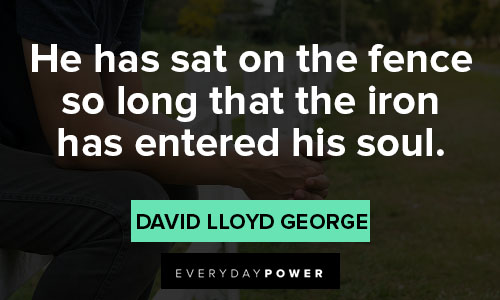 8. "Honesty is never seen sitting astride the fence." – Lemuel K. Washburn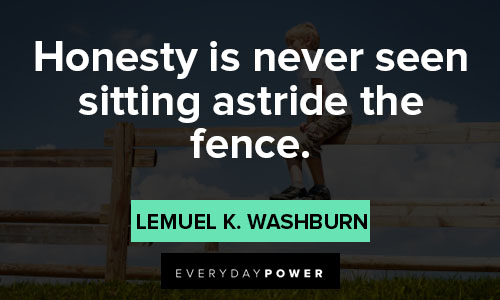 9. "You can choose not to sit on the fence. You can choose not to criticise. You must stand as guard at the door of your own mind and choose to be positive." – Gail Kelly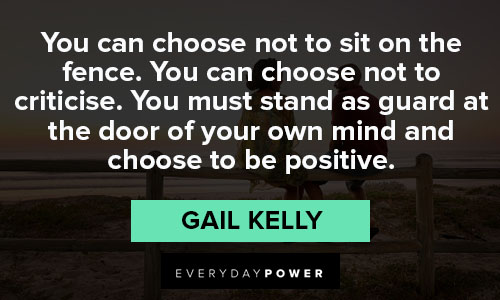 10. "The security fence is reversible. Human lives are irreversible." – Silvan Shalom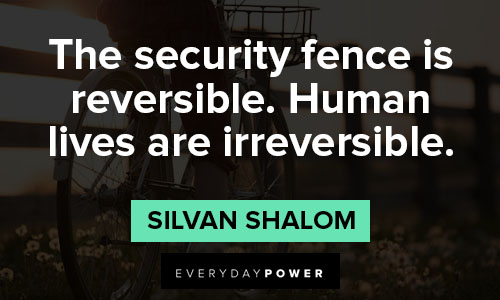 You will also enjoy our article on roofing quotes.
Interesting Fence Quotes
There are so many analogies using fences as examples. You can find some examples of them used below.
11. "Human beings are human beings. They say what they want, don't they? They used to say it across the fence while they were hanging wash. Now they just say it on the Internet." – Dennis Miller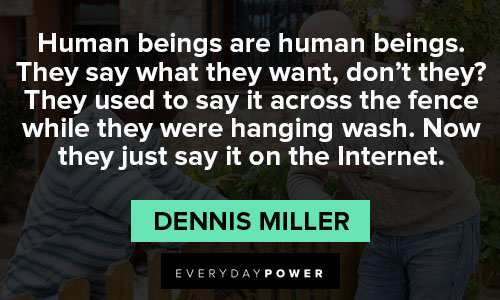 12. "The tradition is a fence around the law; tithes are a fence around riches; vows are a fence around abstinence; a fence around wisdom is silence." – Akiva ben Joseph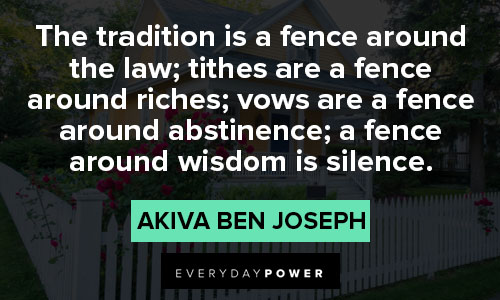 13. "The concept of cultural appropriation is nothing less than an intellectual fence: Keep out." – Richard Cohen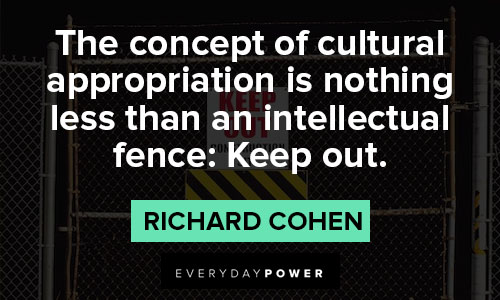 14. "My earliest memories are being pinned to a fence with a switchblade.' – Quincy Jones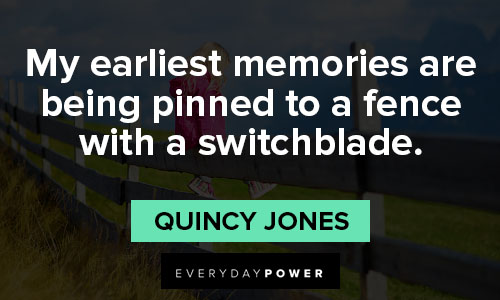 15. "I've always felt like a guy where the grass is greener on my side of the fence." – Jim Boeheim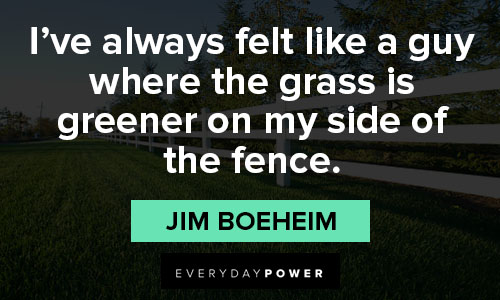 16. "I used to go to Glastonbury when I was young back in the '90s, back when you could jump the fence." – Bonobo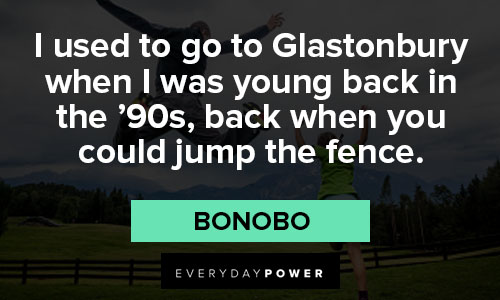 17. "I admire politicians. It is a really tough assignment, and I would fall at the first fence." – Joanna Lumley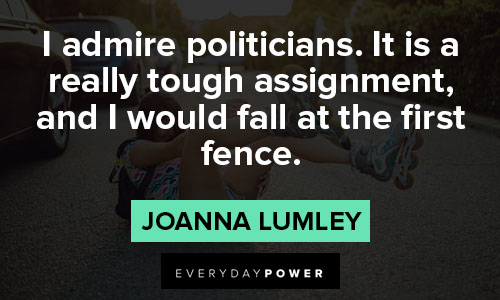 18. "Young players will run through a barbed wire fence for you." – Brendan Rodgers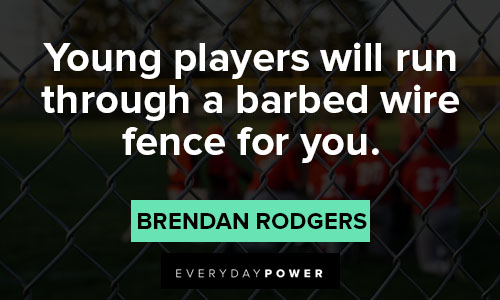 19. "Viewers don't want you to walk the fence – they do want a point of view – and that's what we bring." – Ed Schultz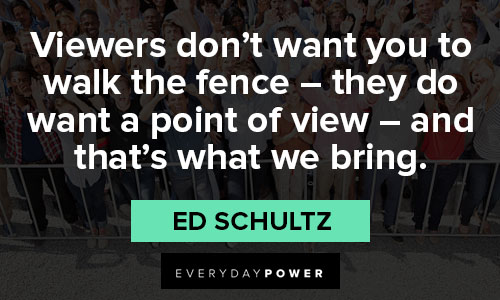 20. "I think with social media and Instagram, people are able to see what's over the fence of everyone else, and it all seems within reach." – Max Joseph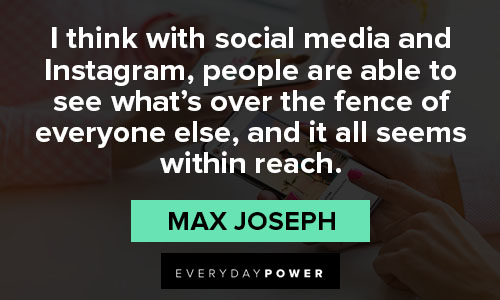 Engaging Fence Quotes
It's easy to think the things on our side of the fence are better or worse than the other side. However, we often don't have a clear picture of the other side. See what you can learn from these fence quotes.
21. "In a complex and troubling world, who wouldn't want to simplify? Everybody does. Everybody wants to simplify and put up a picket fence." – Gary Ross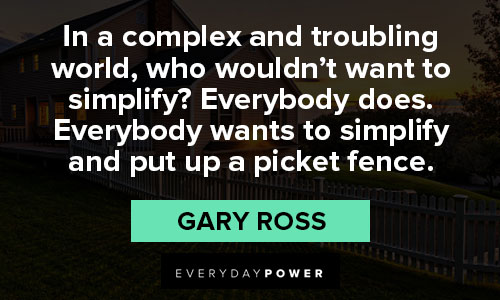 22. "All I watch is war movies. The stories be touching… just to see what they go through on both sides of the fence." – 21 Savage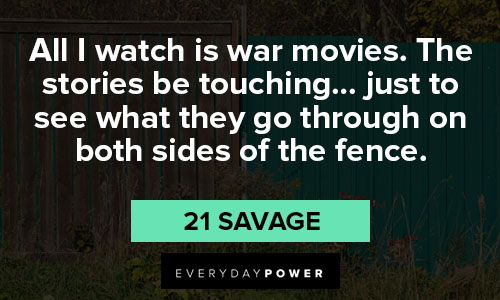 23. "I go for my shots with no regrets, even if I play to the fence." – Garbine Muguruza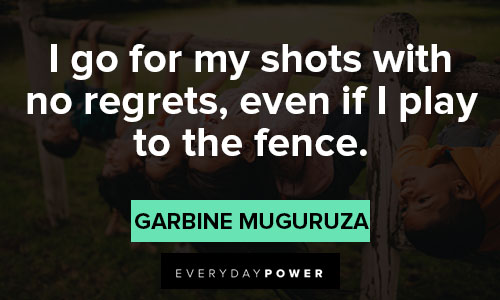 24. "We can build the fence. We can triple the border patrol. We can end sanctuary cities by cutting off funding to them. We can end welfare for those here illegally." – Ted Cruz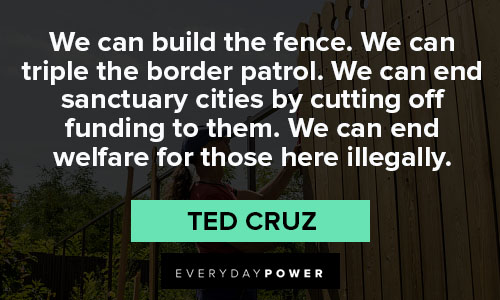 25. "Even though the museums guarding their precious property fence everything off, in my own studio, I made them so you and I could walk in and around, and among these sculptures." – George Segal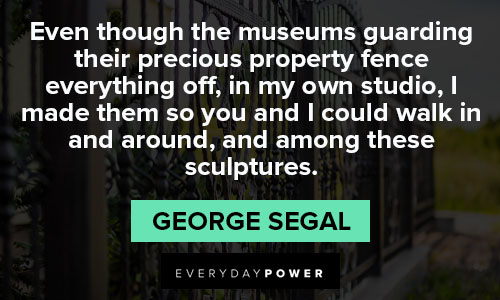 26. "I always thought it was a goat that kicked me over the fence. My mama told me the other day it was a cow. Now I'm sort of scared of both." – Kelsea Ballerini
27. "Nothing creative functions well when fenced in or leaning on a prop. A contract is a fence and a prop." – Van Heflin
28. "Metal, I love metal sounds. If I have a stick with me, I just drag it across a fence. And all fences make different sounds, just like people when they laugh." – Aurora
29. "Fear is the highest fence." – Dudley Nichols
30. "I grew up with the white picket fence. My dad went to work nine to five, and he had a station wagon." – Matt Dillon
Fence Quotes for everyone
Some people share about physical fences and others use the word as a metaphor. These quotes have a wide range of meanings related to fences.
31. "I do get freaked out sometimes. I have kids hop my fence, get into my back yard, and just start screaming at me." – Deadmau5
32. "I devoted my career to building an affinity with my fans who have supported me unflinchingly and no barbed wire fence or prison wall will stop that." – Foxy Brown
33. "It's all kind of a big illusion: the white picket fence and the perfect marriage and the kids. Check that box off, check that box off, and move forward." – Sarah McLachlan
34. "You try to – you want to fly on both sides of the political fence because that's where the – where the comedy is." – Denis Leary
35. "Downhillers are going over 110 miles per hour. But no matter what, you can't hit the fence at 100 miles per hour." – Julia Mancuso
36. "Everyone saw me on TV or read articles, and it was all about my great marriage, the white picket fence, all this success and my perfect life. But behind the scenes, it was a struggle." – Lindsey Vonn
37. "I was in my dad's church, his Baptist church, and I think the first song I ever performed was 'Jesus Be a Fence Around Me'." – Aretha Franklin
38. "As you ride in a steeplechase, and you're on the horse, going quite fast, you think, 'That's quite a big fence…' But trust the horse, and don't give him any reason to doubt you." – Victoria Pendleton
39. "You can't stop demographics. And show me a fence that ever worked. It didn't work at Hadrian's Wall. The Great Wall of China didn't work. The Berlin Wall." – James Turrell
40. "I think you start hitting home runs, and you start getting caught up in seeing how far you can hit them. They're fun, but you really only have to hit them a foot over the fence. They all count the same." – Vernon Wells
More Fence Quotes for your inspiration
Can't get enough of these quotes? Here are ten more for you to enjoy.
41. "I am the Internet guy. But the reason the 'Onion News Empire' was such an easy decision to make is I so trust that side of the fence now." – Jeffrey Tambor
42. "I own a ranch in Texas, so there's always something to do as far as work goes, whether it's tractor stuff or tearing down fence." – Stone Cold Steve Austin
43. "Great leaders are not proverbial fence sitters. They judge. They opine. They challenge. They fight for their vision." – Gad Saad
44. "In our pugilistic take-no-prisoners era, preaching grace toward those on the other side of the political fence is decidedly countercultural." – Kirsten Powers
45. "I'm the wrong person to ask for advice when it comes to losing weight because I've never been on that side of the fence." – Diana Penty
46. "With training for T20, I try to clear the fence a lot." – Steve Smith
47. "I think my strength as a performer is my ability to straddle the fence between comedy and tragedy." – Mariette Hartley
48. "I just wanted to experience what it felt like on the other side of the fence. As we all know, the heels have the most fun out there in the ring." – Ricky Steamboat
49. "I will support Ireland at rugby, but when England and Ireland are playing, I sit on the fence." – Eoin Morgan
50. "If you're on the fence about speaking your truth or sharing your world with a greater audience, don't be. We need each other badly." – Kerby Jean-Raymond
Which of these Fence Quotes is your Favorite?
Fences have been used in many analogies and sayings throughout history.
We have expressions like "be on the fence," "swing for the fences," and also ones like "good fences make good neighbors."
Fences create a barrier that shows there are clearly two sides.
Metaphorical fences can represent opposite sides of thought or differing opinions.
Physical fences can help you protect what is yours. Emotional fences and barriers can help you protect yourself as a person.
If you have fence quotes that are your favorite, please let us know by sharing them with us in the comments section. We would love to hear from you.