63 Halloween Quotes for Scary Social Media Posts
To get you in the mood to enjoy everyone's favorite holiday, below you'll find our list of spooky Halloween quotes.
After all, the spookiest time of the year is upon us!
If you're looking for a chilling Halloween quote to use as a caption on your social media, we've got you covered.
Tell us your favorite thing about Halloween in the comment section below.
What are the benefits of reading these Halloween quotes?
These quotes will make for great Instagram captions; whether you're uploading photos of your Halloween party or you simply want to show off your ghoulish costume.
One of the best things about Halloween is that, unlike other Holidays such as Christmas, almost everyone can take part in it.
This special day brings people together with a sense of community and encourages generosity.
It's the great kick-off for the rest of the year of fun festivities, and even adults can get to dress up and transform into anything they'd like to be.
These Halloween quotes will get you in the spirit for:
trick-or-treating
haunted houses
corn mazes
carving pumpkins
For those who love to travel back in time, it might fascinate you to know that one of America's most favorite time of the year didn't actually originate in the United States.
The history of Halloween dates back, 2,000 years ago, to a pagan festival called Samhain, when Celtic people in Europe celebrated the end of the harvest and the start of a new year.
On this day, the Celts would light bonfires and wear costumes in honor of the dead.
To get you in the spooky spirit, here is our collection of fun, creepy, and downright scary Halloween quotes and sayings collected from a variety of sources over the years.
Also, read these Hocus Pocus quotes from the beloved Halloween movie.
If you enjoy this article, check out our most popular quote article, a list of short inspirational quotes for daily motivation.
Browse our entire collection of inspirational quotes for more motivating ideas and concepts.
Halloween quotes for scary social media posts
1. "There is something haunting in the light of the moon." – Joseph Conrad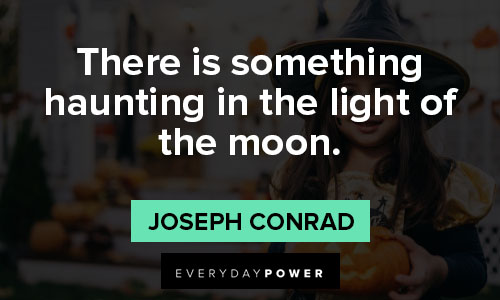 You will also enjoy our article on face mask quotes.
2. "On Halloween, witches come true; wild ghosts escape from dreams. Each monster dances in the park."— Nick Gordon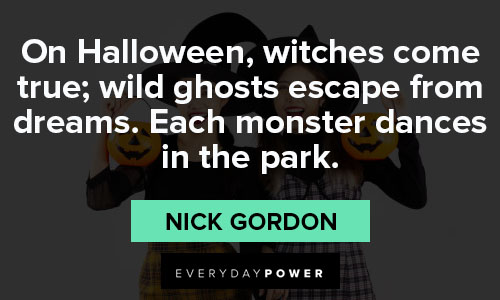 You will also enjoy our article on fog quotes.
3. "The moon has awoken with the sleep of the sun, the light has been broken; the spell has begun." – Midgard Morningstar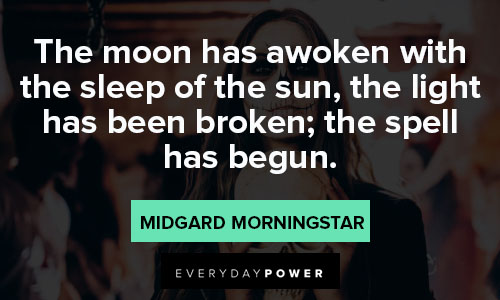 You will also enjoy our article on Samhain quotes.
4. "Whatever you do, don't fall asleep." – A Nightmare on Elm Street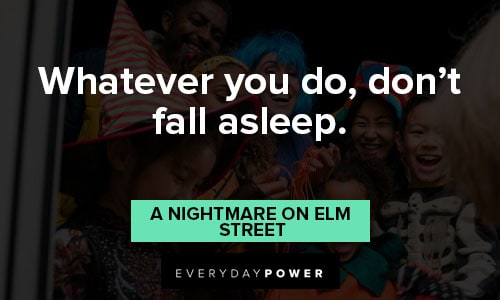 You will also enjoy our article on Halloweentown quotes.
5. "Ghosts and goblins come to play on October's final day!"— Rusty Fischer
6. "Halloween wraps fear in innocence, as though it were a slightly sour sweet. Let terror, then, be turned into a treat…" – Nicholas Gordon
7. "Double, double toil and trouble; Fire burn and cauldron bubble."—William Shakespeare
8. "The farther we've gotten from the magic and mystery of our past, the more we've come to need Halloween." – Paula Guran
9. "Oh look, another glorious morning. Makes me sick!" – Winifred Sanderson, Hocus Pocus
10. "I am all in a sea of wonders. I doubt; I fear; I think strange things, which I dare not confess to my own soul." – Bram Stoker
If you're enjoying these quotes, make sure to read our collection of Facebook quotes that are perfect to post as your FB status.
Halloween quotes that will get you in the spooky spirit
11. "Halloween is not only about putting on a costume, but it's about finding the imagination and costume within ourselves." – Elvis Duran
12. "Werewolves howl. Phantoms prowl. Halloween's upon us now." – Richelle E. Goodrich
13. "There is nothing that gives more assurance than a mask." – Colette
14. "We have had our summer evenings, now for October eves!" – Humbert Wolfe
15. "I'm so glad I live in a world where there are Octobers."— L.M. Montgomery
16. "On Halloween you get to become anything that you want to be."— Ava Dellaira
17. "Never trust anything that can think for itself if you can't see where it keeps its brain." – J.K. Rowling
18. "Be afraid … Be very afraid."– Ronnie, The Fly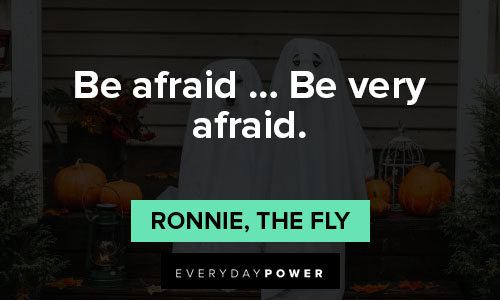 19. "Believe nothing you hear, and only one half that you see." – Edgar Allan Poe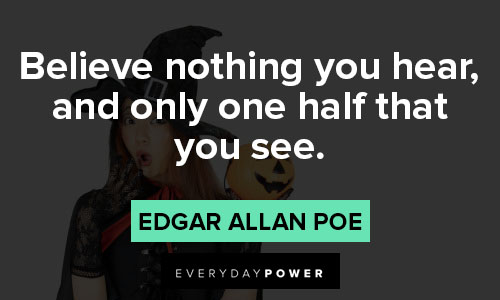 20. "The universe is full of magical things patiently waiting for our wits to grow sharper." – Eden Phillpots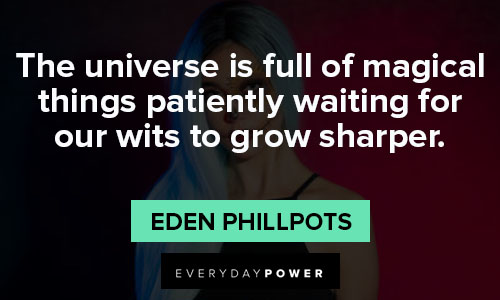 You might also like these funny Halloween quotes for the best Halloween experience.
Halloween quotes to get you in the mood to enjoy everyone's favorite holiday
21. "A person should always choose a costume which is in direct contrast to her own personality." – Lucy Van Pelt
22. "Shadows of a thousand years rise again unseen, voices whisper in the trees, 'Tonight is Halloween!'"— Dexter Kozen
23. "Some people are born for Halloween, and some are just counting the days until Christmas."— Stephen Graham Jones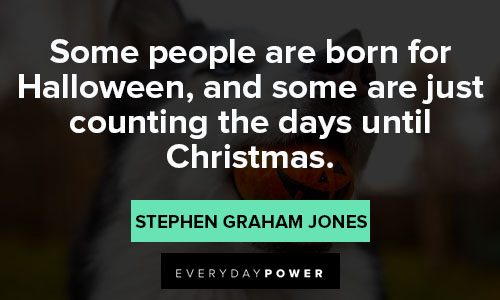 If you're enjoying these quotes, make sure to read our collection of funny Christmas quotes about the power of humor during the holiday.
24. "Trick or treat, bag of sweets, ghosts are walking down the street."- Unknown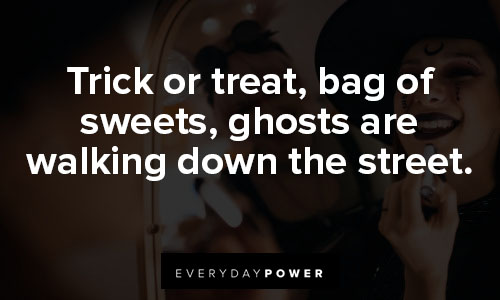 25. "Nothing on Earth so beautiful as the final haul on Halloween night." – Steve Almond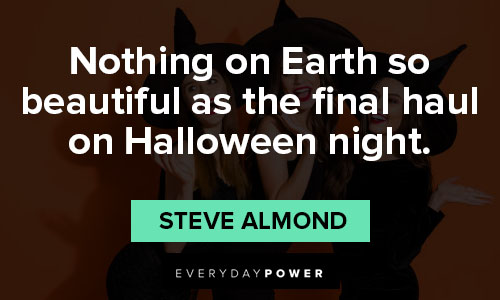 26. "There are nights when the wolves are silent and only the moon howls." – George Carlin
27. "There is something at work in my soul, which I do not understand."- Mary Shelley, Frankenstein (see more quotes from Frankenstein)
28. "Magic is really very simple, all you've got to do is want something and then let yourself have it."– Aggie Cromwell
29. "Anyone could see that the wind was a special wind this night, and the darkness took on a special feel because it was All Hallows' Eve." – Ray Bradbury
30. "She used to tell me that a full moon was when mysterious things happen and wishes come true." – Shannon A. Thompson
You will also enjoy our article on Spaceballs quotes.
Halloween quotes to get you in the holiday spirit
31. "I put a spell on you because you're mine." – Jay Hawkins
32. "I love Halloween, and I love that feeling: the cold air, the spooky dangers lurking around the corner."— Evan Peters
33. "When witches go riding, and black cats are seen, the moon laughs and whispers, 'tis near Halloween." – Unknown
34. "I'm a homicidal maniac, they look just like everyone else."– Wednesday, The Addams Family
35. "Just because I cannot see it, doesn't mean I can't believe it!" – Jack Skellington in "Nightmare Before Christmas"
36. Have you come to sing pumpkin carols?"— Linus, It's the Great Pumpkin, Charlie Brown
37. "'Tis the night—the night of the grave's delight, and the warlocks are at their play; Ye think that without the wild winds shout, but no, it is they—it is they." – Cleveland Coxe
38. "I've seen enough horror movies to know that any weirdo wearing a mask is never friendly." – Elizabeth, Friday the 13th Part VI: Jason Lives
39. "There is a child in every one of us who is still a trick-or-treater looking for a brightly-lit front porch." – Robert Brault
40. "I must go in. The fog is rising." – Emily Dickinson
Other eerie quotes about Halloween
41. "I would like, if I may, to take you on a strange journey."- The Criminologist, The Rocky Horror Picture Show
42. "It's all just a bunch of hocus pocus!"— Max, Hocus Pocus
43. "Hell is empty and all the devils are here."— William Shakespeare
44. "We make up horrors to help us cope with the real ones." – Stephen King
45. "If human beings had genuine courage, they'd wear their costumes every day of the year, not just on Halloween." – Douglas Coupland
46. "Where there is no imagination there is no horror." – Arthur Conan Doyle
47. "This witch can be bribed with chocolate." – Unknown
48. "Villainy wears many masks, none so dangerous as the mask of virtue." – Ichabod Crane, Sleepy Hollow
49. "October proved a riot a riot to the senses and climaxed those giddy last weeks before Halloween."― Keith Donohue
50. "Oh how the candles will be lit and the wood of worm burn in a fiery dust. For on all Hallow's Eve will the spirits come to play, and only the fruit of thy womb will satisfy their endless roaming."― Solange Nicole
More Halloween quotes and sayings
51. "Eat lots of candy, scare someone, don't be yourself because it's Halloween!" – Unknown
52. "The world turned upside down—in a good way—for one black velvet night." – Karen Fortunati
53. "Stay warm, toasty and scary. Happy Halloween!" – Unknown
54. "Clothes make a statement. Costumes tell a story." – Mason Cooley
55. "Roses are red, violets are blue, I'm out of candy, look how scary are you." – Unknown
56. "Halloween is an opportunity to be really creative." – Judy Gold
57. "As spirits roam the neighborhoods at night, let loose upon the Earth till it be light." – Unknown
58. "By the pricking of my thumbs, something wicked this way comes." –William Shakespeare
59. "Hope your day doesn't suck like a vampire. May you have an amazing day and a freakishly scary Halloween!" – Unknown
60. "Men say that in this midnight hour, the disembodied have power." – William Motherwell
61. "Nobody goes trick-or-treating anymore. The monsters have gotten too real." – E.K. Barnes
62. "This is the gateway to Hell, baby… Welcome to The Underworld." – Kassandra Cross
63. "Beware! As you trick or treat. These creatures will find you and make you smell their feet." – Casey Browning
Which of these Halloween quotes is your favorite?
There's no doubt that Halloween is one of America's most beloved holidays.
It's the one time of the year that brings experiences that no other holiday can provide.
It doesn't matter whether you're a kid or an adult; there are so many ways to celebrate Halloween.
We hope the above quotes got you and your loved ones in the mood to enjoy everyone's favorite holiday.
Did you enjoy these Halloween quotes?
Which of the quotes was your favorite?
Let us know in the comment section below.
Also, don't forget to share with your friends and family.