50 Temptation Quotes to Help You Navigate Your Desires
As these temptation quotes show, we are all tempted by one thing or another.
Just what is temptation? It is a strong desire or drive to do something.
This is in part because of the religious association with temptation.
From a religious aspect, the lure to do 'sinful' things comes from the Devil himself.
It is the Devil's attempt to pull the faithful away from God.
This isn't just relegated to Christianity.
Many religions have a similar figure who tempts people to do things that are against the social norms.
In nonreligious terms, objects and behaviors that are tempting are presented as gratifying in the short-term.
However, they can be harmful in the long-term.
There is a psychological reason behind temptation and it is important to understand.
So, just why does temptation happen and what can you do about it?
Keep reading through these temptation quotes to find out!
Check out our most popular quote article, a list of short inspirational quotes for daily inspiration.
Our inspirational quotes category page has all of our motivational quotes for all the different areas of life.
Short temptation quotes for Instagram
These short captions would pare with with a photo for an Instagram post. Check out the quotes below.
1. "Temptation to behave is terrible." — Bertolt Brecht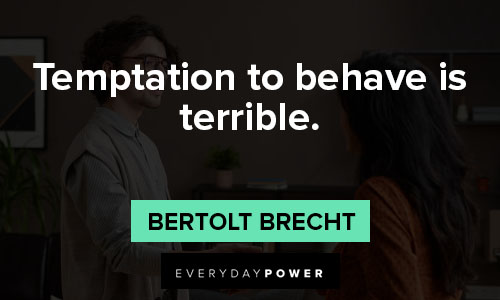 You will also enjoy our article on devil quotes.
2. "I can resist everything except temptation." — Oscar Wilde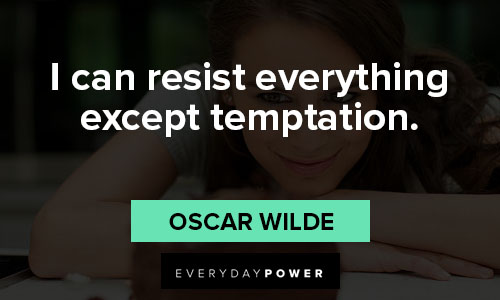 3. "Virtue is insufficient temptation." — George Bernard Shaw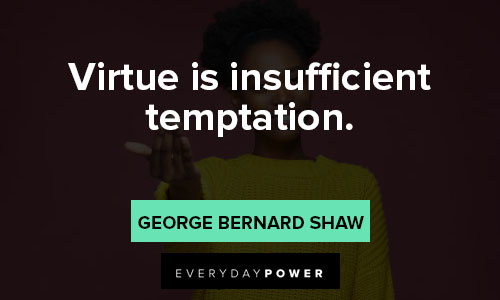 4. "I generally avoid temptation unless I can't resist it." — Mae West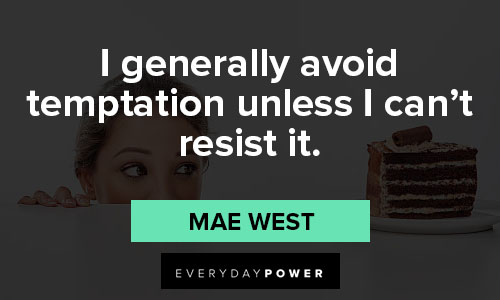 5. "The biggest human temptation is to settle for too little." — Thomas Merton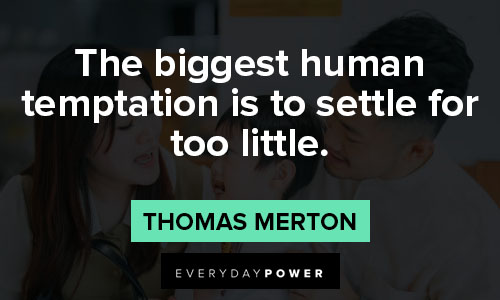 6. "Yield to temptation. It may not pass your way again." — Robert A. Heinlein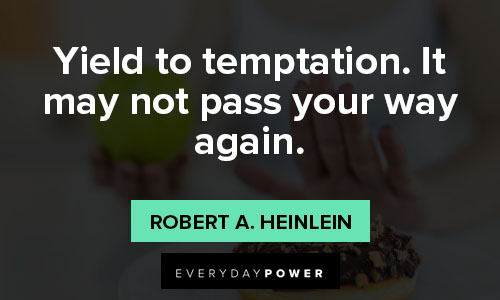 7. "We gain the strength of the temptation we resist." — Ralph Waldo Emerson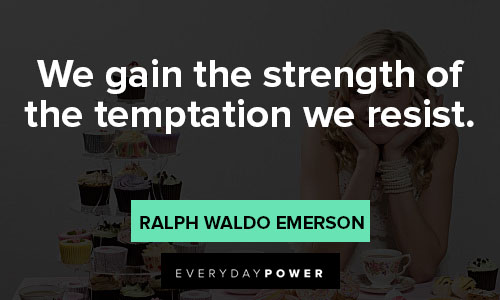 8. "Lead me not into temptation; I can find the way myself." — Rita Mae Brown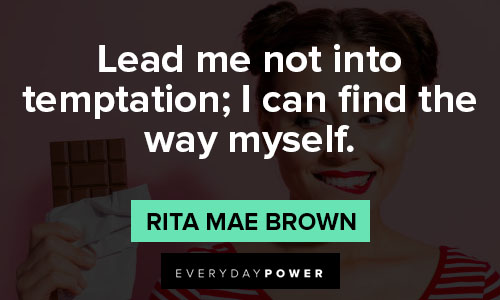 9. "Every moment of resistance to temptation is a victory." — Frederick William Faber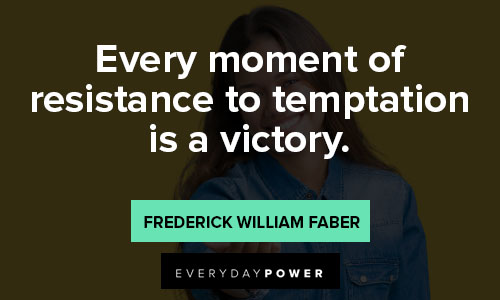 10. "Lead us not into temptation. Just tell us where it is; we'll find it." — Sam Levenson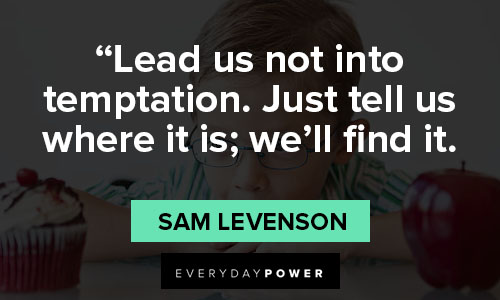 Funny and thought provoking temptation quotes
As these funny quotes show, not everyone has the same temptation. Which of the quotes apply to you?
11. "The poor man's temptation is a loaf of bread." — Yiddish proverb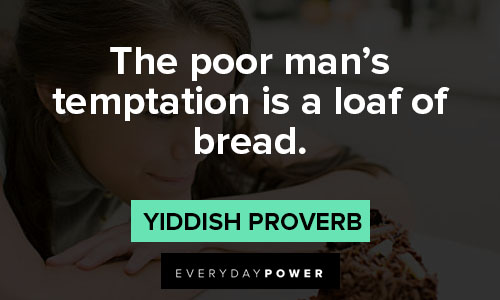 12. "Temptation is a woman's weapon and man's excuse." — H. L. Mencken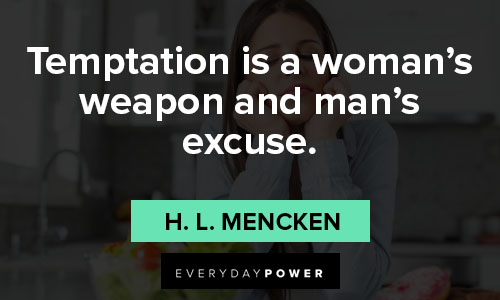 13. "Knowing was a temptation. What you don't know won't tempt you." — Margaret Atwood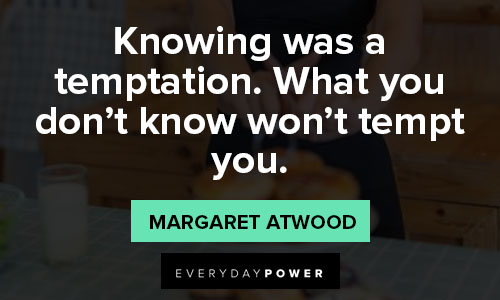 14. "The problem with temptation is that you may not get another chance." — Laurence J Peter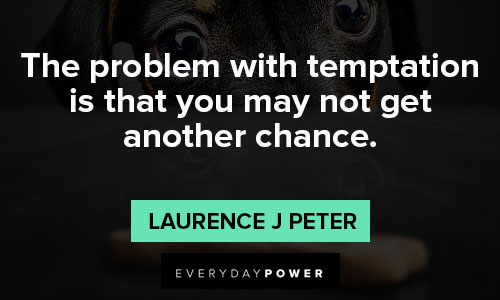 15. "Do not worry about avoiding temptation. As you grow older it will avoid you." — Joey Adams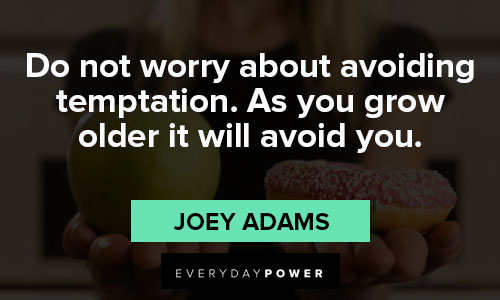 16. "Temptation is to romance what the humping canine is to everlasting love." ― Stewart Stafford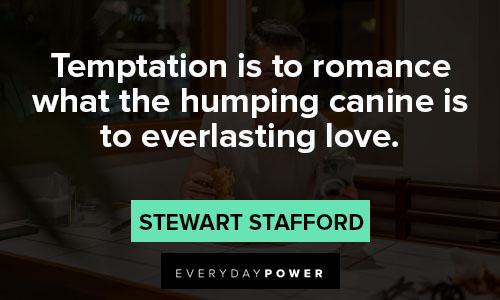 17. "It's a temptation that exists for everyone- for talk and hype to replace action." — Ryan Holiday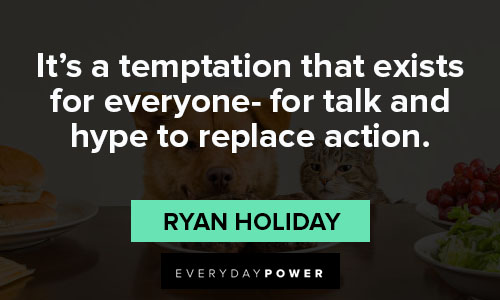 18. "Most people would like to be delivered from temptation but would like it to keep in touch." — Robert Orben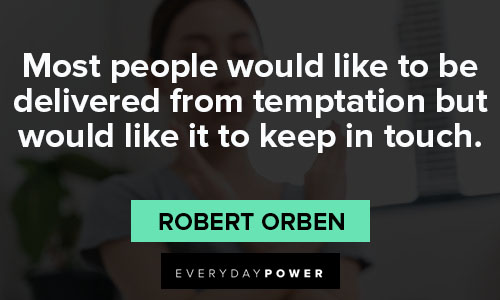 19. "The first temptation, upon meeting an old friend after many years, is always to – look the other way." — Ugo Betti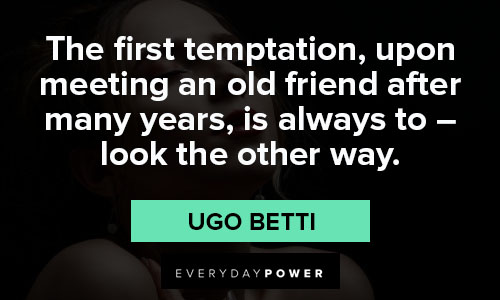 20. "Victorious living does not mean freedom from temptation, nor does it mean freedom from mistakes." — E. Stanley Jones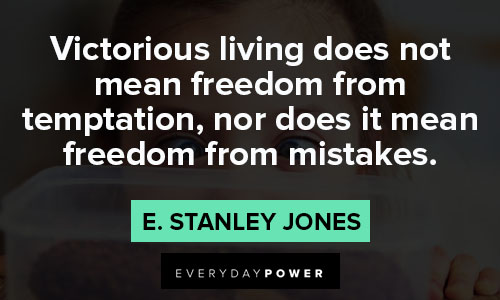 Temptation quotes that will help you better understand what you are facing
Understanding what you are facing is one of the biggest weapons against temptation. Check out the quotes below for more understanding.
21. "Never succumb to the temptation of bitterness." — Martin Luther King, Jr.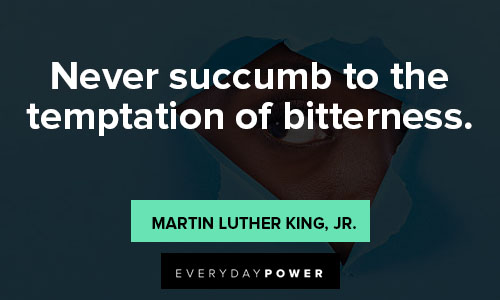 22. "Every life is a march from innocence, through temptation, to virtue or vice." — Lyman Abbott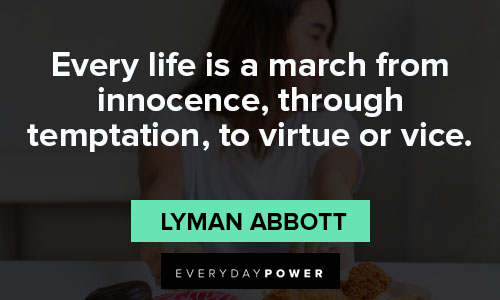 23. "The last temptation is the greatest treason: to do the right deed for the wrong reason." — T. S. Eliot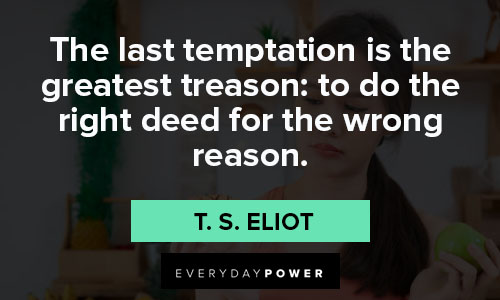 24. "There are several good protections against temptation, but the surest is cowardice." — Mark Twain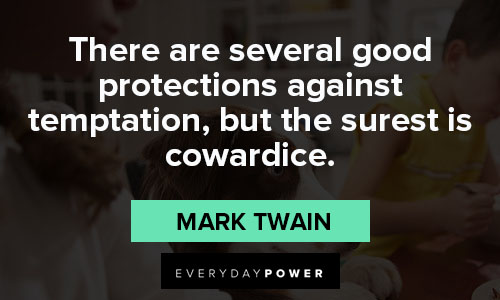 25. "I have learned that as an artist, I cannot succumb to the temptation to please others." — Kiana Madeira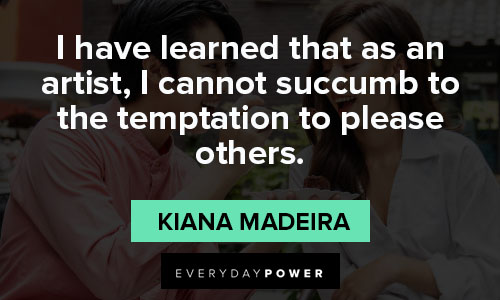 26. "Ever notice that the whisper of temptation can be heard farther than the loudest call to duty." — Earl Wilson
27. "We find many things to which the prohibition of them constitutes the only temptation." — William Hazlitt
28. "Many a dangerous temptation comes to us in gay, fine colours, that are but skin-deep." — Matthew Henry
29. "Every time I say 'no' to a small temptation, I strengthen my will to say 'no' to a greater one." — Mother Angelica
30. "When you're young, the temptation is maybe to think, 'More is more.' But a lot of the time less is more." — Daniel Ricciardo
Temptation quotes about God, the devil, sin and goodness
Temptation is often mentioned with God, the devil, sin, and goodness. Take a look at the quotes below to see how others feel about this topic.
31. "God tests, but he does not tempt." ― Criss Jami, Killosophy
32. "The ordeal of virtue is to resist all temptation to evil." — Thomas Malthus
33. "The temptation of the age is to look good without being good." — Brennan Manning
34. "Most dangerous is that temptation that doth goad us on to sin in loving virtue." — William Shakespeare
35. "Temptation is the devil looking through the keyhole. Yielding is opening the door and inviting him in." — Billy Sunday
36. "… the devil doesn't come dressed in a red cape and pointy horns. He comes as everything you've ever wished for …" ― Tucker Max, Assholes Finish First
37. "Temptation coaxes us toward sin, and sin leads to sickness and death, and ultimately confinement in the realm of the evil one." — Frederica Mathewes-Green
38. "Every conquering temptation represents a new fund of moral energy. Every trial endured and weathered in the right spirit makes a soul nobler and stronger than it was before." — William Butler Yeats
39. "When I am able to resist the temptation to judge others, I can see them as teachers of forgiveness in my life, reminding me that I can only have peace of mind when I forgive rather than judge." — Gerald Jampolsky
40. "We never find out the strength of the evil impulse inside us until we try to fight it: and Christ, because he was the only man who never yielded to temptation, is also the only man who knows to the full what temptation means." ― C.S. Lewis, Mere Christianity
Temptation quotes about goals, success, and desire
When we are pursuing goals or success we are often tempted by other desires. Don't stray from your path, stay focused.
41. "The road to success is dotted with many tempting parking spaces." ― Will Rogers
42. "Tis one thing to be tempted, Escalus, another thing to fall." — William Shakespeare
43. "There is a charm about the forbidden that makes it unspeakably desirable." ― Mark Twain
44. "Temptation is the feeling we get when encountered by an opportunity to do what we innately know we shouldn't." ― Steve Maraboli
45. "In every trial or temptation, there is a hidden lesson we ought to learn; such lesson is there to propel us for our future journey." — Isaac A. Yowetu
46. "The permanent temptation of life is to confuse dreams with reality. The permanent defeat of life comes when dreams are surrendered to reality." — James A. Michener
47. "Having a bottom line makes it easier to resist pressure and temptations of the moment."
― Roger Fisher, Getting to Yes: Negotiating Agreement Without Giving In
48. "The most important thing is that we are on the right path, and we will not deviate from it, even in the face of strong temptation to choose temporary gains over long-term benefits." — Yemi Osinbajo
49. "The temptation to take the easy road is always there. But discipline is paramount to ultimate success and victory for any leader and any team." — Jocko Willink
50. "We all have vulnerabilities that can sidetrack us from reaching our goals. Recognize the times when you're most likely to give into temptation, and make it harder for a single moment of weakness to sabotage your best efforts." — Amy Morin
Understanding temptation and what to do about it
Why are people prone to temptation?
What happens in the brain when someone is feeling tempted?
Are there things that make it easier to resist temptation?
Understanding the roots of temptation is much easier once you understand the psychology behind it.
There have been several studies conducted to help us better understand temptation and answer questions like the ones posed here.
Not everyone has the same reaction to temptations.
Some people are better at resisting than others. Science has pointed to the brain's reward system as a way of understanding this.
This part of the brain causes the release of dopamine.
Dopamine functions as a neurotransmitter in the brain.
It has a major role in our reward and motivational behavior.
Things like addictive drugs, and other temptations release large amounts of dopamine.
This doesn't mean you are doomed to give into things that are bad for you, or that religious beliefs are the only way to resist temptation.
Improving your self-awareness will help you better understand your strengths and weaknesses.
Meditation can also increase your self-regulatory skills.
Establishing a daily routine can help you build healthy habits and stay focused on your goals.
Do you have any other temptation quotes you or your friends would like to share?
You can use the comment section below to share your thoughts.