25 Helen Keller Quotes On Vision, Love and Success To Inspire You
These Helen Keller quotes will change the way you view the world.
Our latest collection of Helen Keller quotes that will inspire you to never give up, regardless of circumstance.
Helen Keller was born deaf and blind but powered her way through life to become an impactful speaker, author, and activist.
Recognized by President Johnson for her work with the Women's Suffrage Movement, Keller was an icon for personal power for both women and men all over the world.
Her ability to overcome any and all obstacles in her path makes her a true force in our history.
She not only represents strength, but she also represents hope.
Before we get into the best Helen Keller quotes, let's take a look at some life lessons we can learn from her.
Life lessons from Helen Keller
1. Go after your dreams.
Helen Keller did not believe in living life timidly or in being "realistic." Keller believed that if you truly want to be happy and live an exciting life you would need to go after your dreams, which by default could not be realistic – otherwise, it wouldn't be a dream.
She believed that anything great that has ever been done, had to be different and defy odds…which makes it unrealistic and uncommon. She saw being "realistic" as a way of conforming to what society wants you to be.
2. You must have a vision for yourself.
Keller once said, "It's a terrible thing to see, and have no vision!" Keller believed that we need to have a direction and a grand vision for ourselves.
It's important to envision the future and imagine who we want to be, where we want to go and what kind of life we want to lead. If we can see it in our mind, we can hold it in our hand.
3. Nothing is impossible.
Helen Keller believed that people can accomplish anything if they stick to it long enough. She encouraged ALL people to stay committed to their dream until it works out.
And, even if it doesn't work out, the process of sticking with it will have taught us so much that we are now able to go and accomplish something else.
4. Experience is the best teacher.
Helen Keller thought that "Life is a succession of lessons which must be lived to be understood." Reading, listening, and watching is great, but nothing can substitute the power of experience. Life teaches lessons and life teaches with experience.
Great experiences bring powerful understandings. And, all experiences become great, when you look for the meaning in them.
5. Focus on the positive.
Helen Keller knew that everyone was fighting their own battle. Everyone's battle is different, but everyone has one. Regardless of your situation, it's important that we focus on the positives because that gives us the energy to keep fighting.
Yes, the world is full of negativity, pain, and tragedy. But, it's also full of people who are fighting against it!
You will also enjoy our article on pet loss quotes.
6. Surround yourself with winners.
Helen Keller once said, "While they were saying among themselves it cannot be done, it was done." It's simple, winners hang out with winners.
Don't waste your time hanging around people who gossip, criticize, complain and condemn. Of course, we all have our moments when we are leading the charge of negativity, but that's all the more reason to surround ourselves with winners who can help pick us up when we're down.
7. Your future is in your hands.
Keller once said that "What I am looking for is not "out there," it is in me." You have been given everything you need to win.
You have the same fundamental tools as the legends in history. Now, what you do with them is up to. Greatness and success are yours for the taking!
Please enjoy some of our favorite Helen Keller quotes!
Check out our most popular quote article, a list of short inspirational quotes for daily inspiration.
Check out our inspirational quotes category page for more inspirational life quotes.
Helen Keller quotes that will elevate your mindset
1. "Although the world is full of suffering, it is full also of the overcoming of it." ― Helen Keller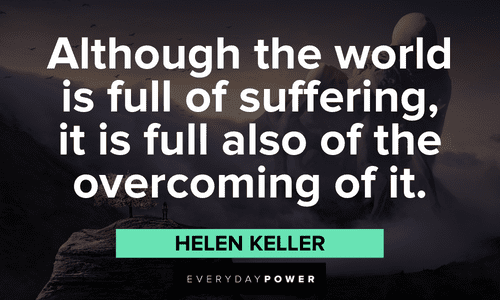 You will also enjoy our article on Bart Simpson quotes.
2. "The most pathetic person in the world is someone who has sight but no vision." ― Helen Keller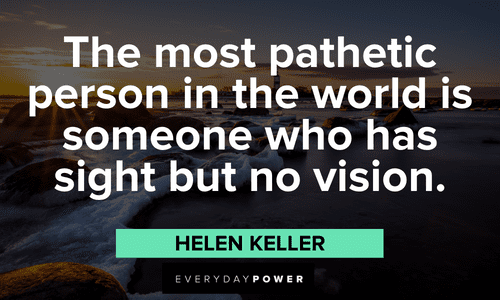 3. "Life is either a daring adventure or nothing at all." ― Helen Keller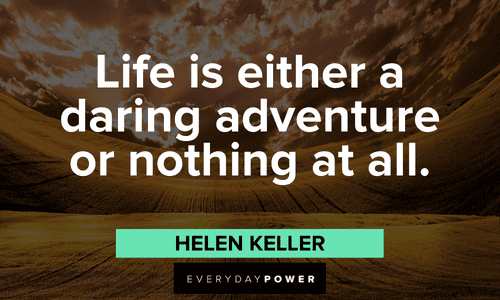 4. "What I'm looking for is not out there, it is in me." ― Helen Keller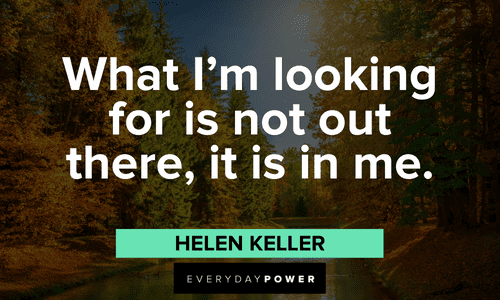 5. "Life is short and unpredictable. Eat the dessert first." ― Helen Keller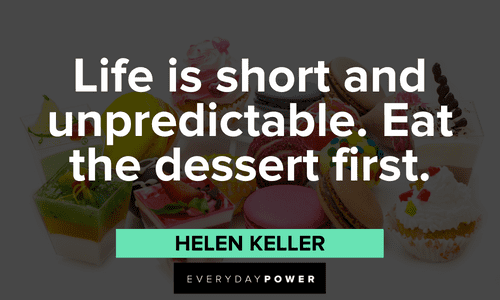 6. "Happiness is the final and perfect fruit of obedience to the laws of life." ― Helen Keller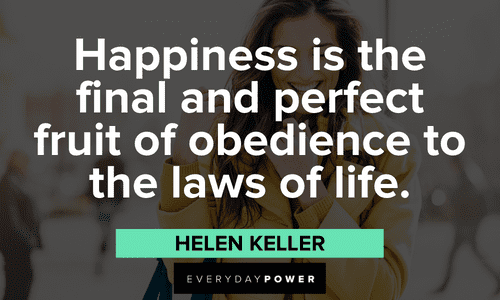 7. "A happy life consists not in the absence, but in the mastery of hardships." ― Helen Keller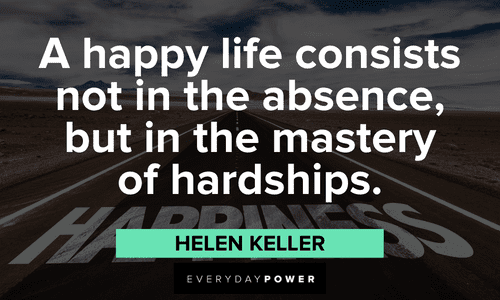 8. "We are never really happy until we try to brighten the lives of others." ― Helen Keller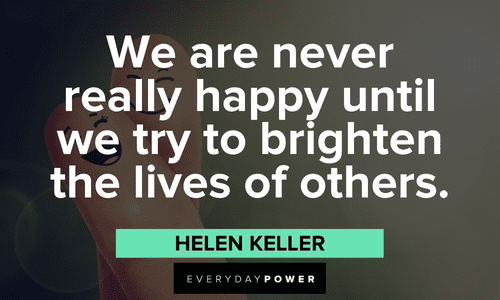 9. "Knowledge is love and light and vision." ― Helen Keller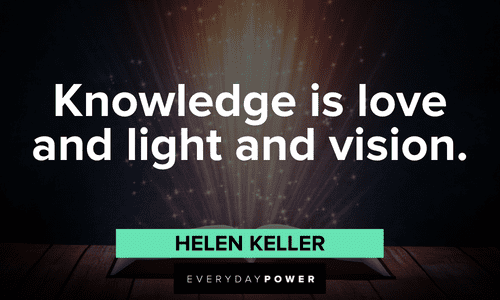 10. "Of all the senses, sight must be the most delightful." ― Helen Keller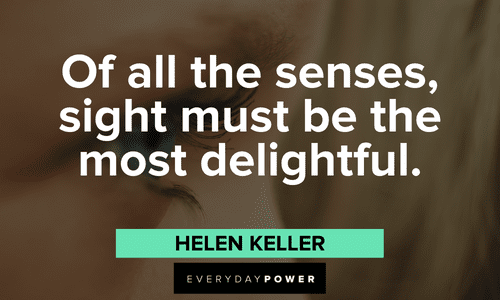 Helen Keller quotes about dreams and goals
11. "I long to accomplish a great and noble task, but it is my chief duty to accomplish small tasks as if they were great and noble." ― Helen Keller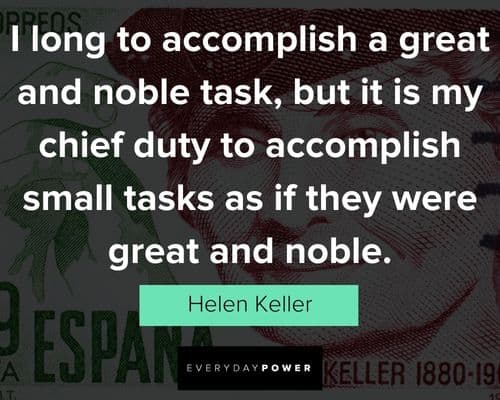 12. "People don't like to think, if one thinks, one must reach conclusions. Conclusions are not always pleasant." ― Helen Keller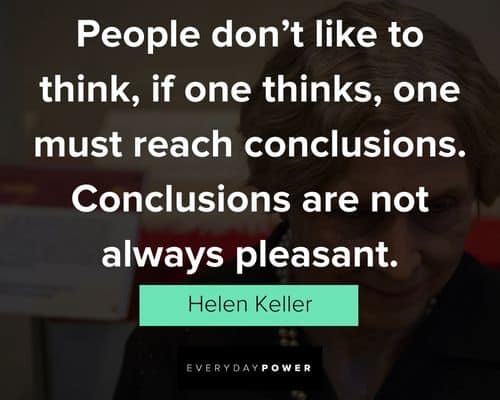 13. "The best and most beautiful things in the world cannot be seen or even touched. They must be felt with the heart." ― Helen Keller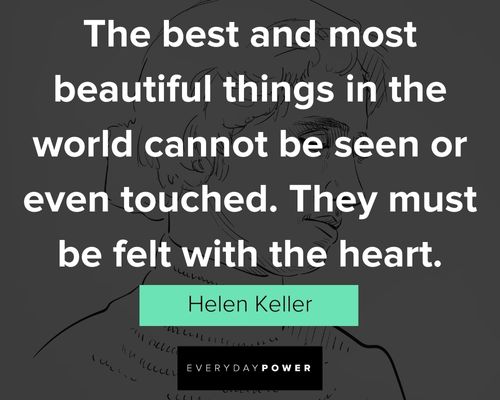 14. "You don't love someone for their looks, or their clothes, or for their fancy car, but because they sing a song only you can hear." ― Helen Keller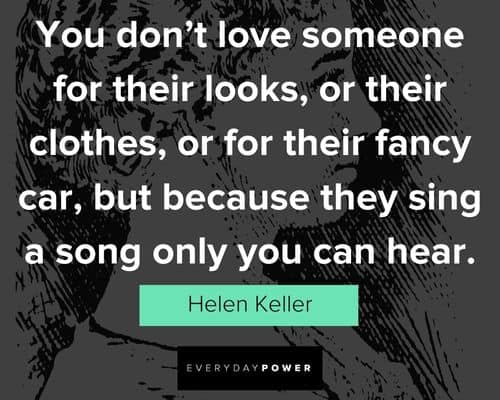 15. "Death is no more than passing from one room into another. But there's a difference for me, you know. Because in that other room I shall be able to see." ― Helen Keller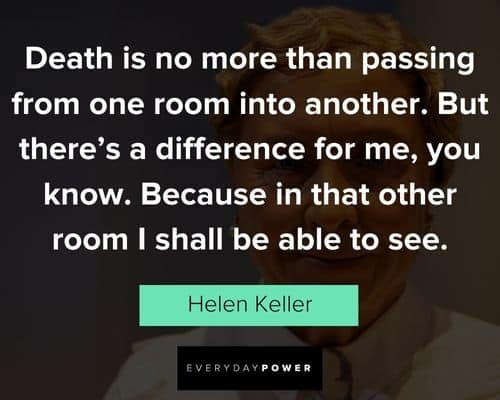 Helen Keller quotes about love and happiness
16. "Character cannot be developed in ease and quiet. Only through experience of trial and suffering can the soul be strengthened, vision cleared, ambition inspired, and success achieved." ― Helen Keller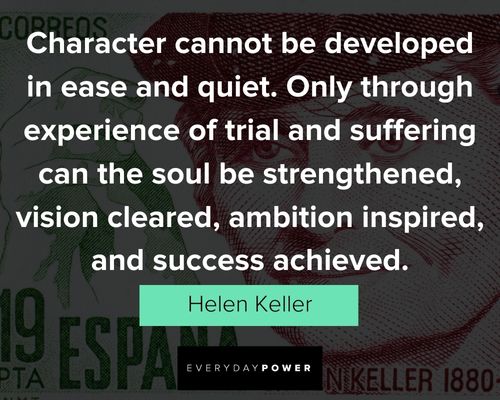 17. "When one door of happiness closes, another opens;, but often we look so long at the closed door that we do not see the one which has been opened for us." ― Helen Keller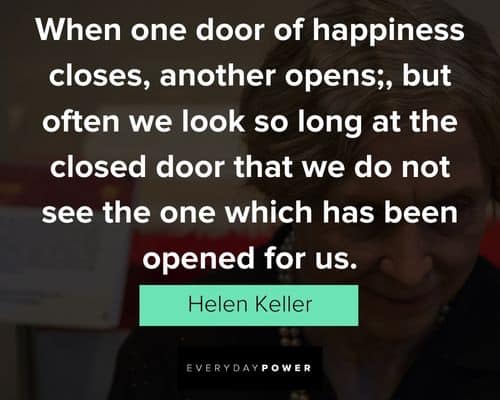 18. "I take happiness very seriously. It is a creed, a philosophy and an objective." ― Helen Keller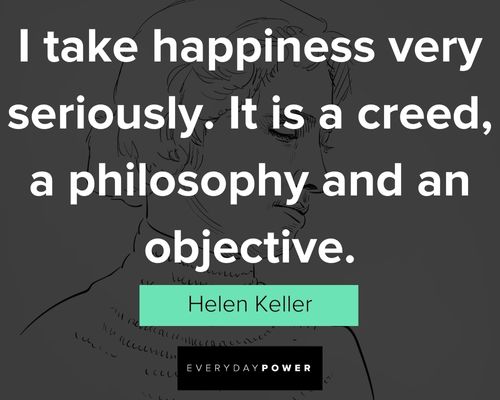 19. "It all comes to this: the simplest way to be happy is to do good." ― Helen Keller
20. "Your success and happiness lies in you. Resolve to keep happy, and your joy and you shall form an invincible host against difficulties." ― Helen Keller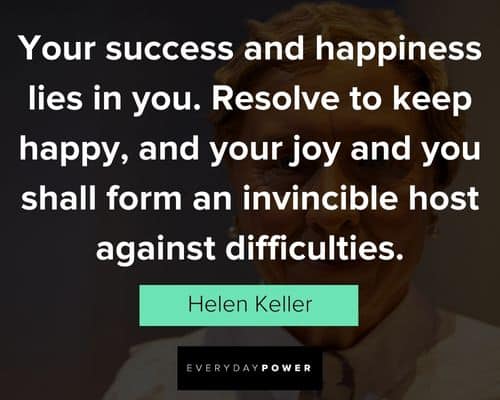 Helen Keller quotes about vision
21. "The only thing worse than being blind is having sight but no vision." ― Helen Keller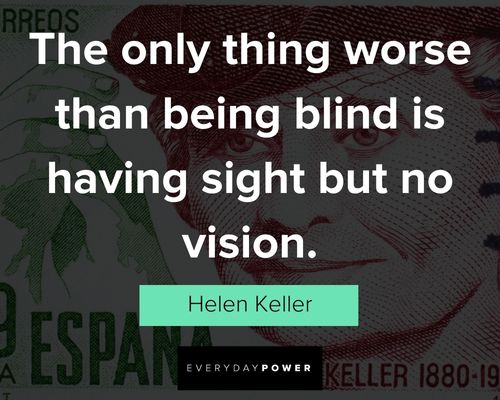 22. "As selfishness and complaint pervert the mind, so love with its joy clears and sharpens the vision." ― Helen Keller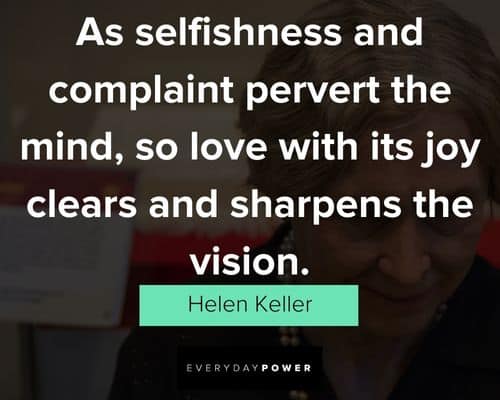 23. "When you lose your vision, you lose contact with things. When you lose your hearing, you lose contact with people." ― Helen Keller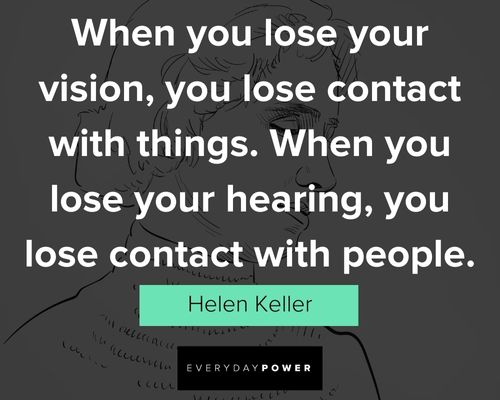 24. "The highest result of education is tolerance." ― Helen Keller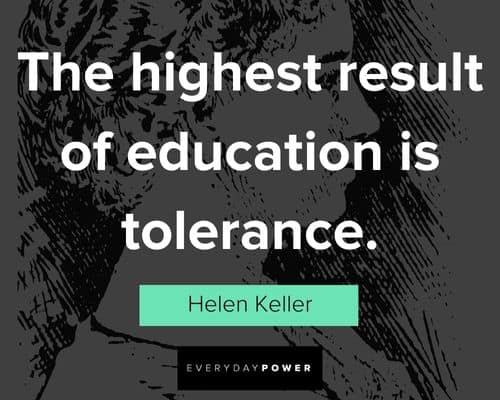 25. "Optimism is the faith that leads to achievement. Nothing can be done without hope." ― Helen Keller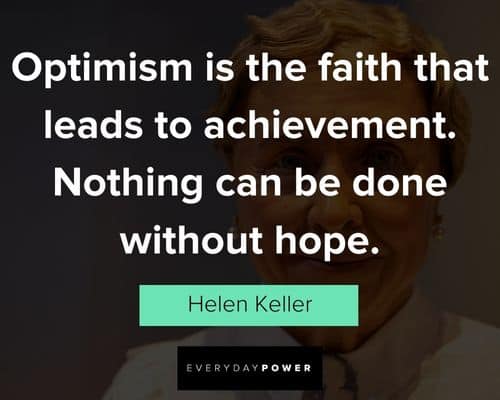 What other Helen Keller quotes would you add to the list?
Despite being blind and deaf, Helen Keller was able to overcome her handicaps to become one of the foremost humanitarians, authors, and speakers of the 20th century.
Even today, she still inspires people across the globe.
She represents not only personal power but also hope and courage.
Hopefully, these Helen Keller quotes have inspired you to live your life to the best of your ability and to never give up.
Which of these Helen Keller quotes was your favorite?
Do you have any other Helen Keller quotes to share with us?
Tell us in the comment section below.