Jazz Quotes from Legendary Musicians
These jazz quotes from legendary musicians will give you the ultimate flashback.
Music is the art of sound.
It expresses the ideas and emotions of the musician in different forms.
Great music can make us feel the emotion the musician is conveying.
But, aside from that, music can bring us together.
It can make us feel connected to those around us.
It is where language, distance, and borders do not matter.
It is all about the emotions that we can share with others.
Although music has a lot of genres, jazz is one of the most popular forms ever created.
It's the kind of music where improvisation is essential.
Jazz is about finding your own sound and style.
It's about making something familiar into something personal.
Here are some jazz quotes that will make you feel connected with others.
Don't forget to also check out these music quotes on how it heals our soul.
If you enjoy this article, check out our most popular quote article, a list of short inspirational quotes for daily motivation.
If you want more motivational quotes, check out our motivational quotes category page.
Inspirational jazz music quotes
1. "When you begin to see the possibilities of music, you desire to do something really good for people." – John Coltrane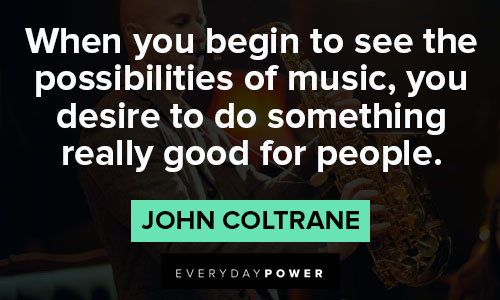 2. "Master your instrument. Master the music. And then forget all that bullshit and just play." – Charlie Parker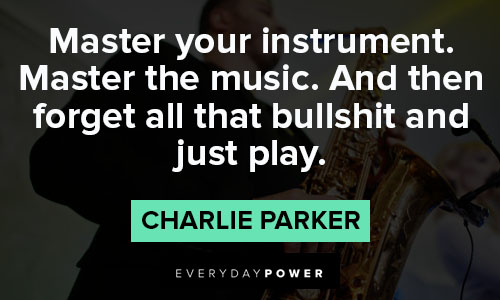 3. "If you don't live it, it won't come out your horn." – Charlie Parker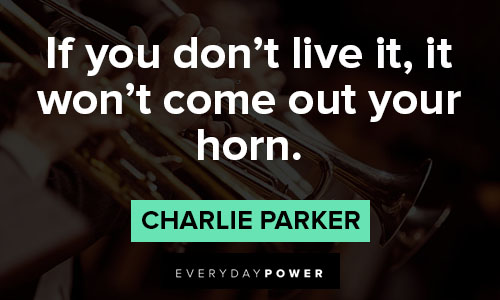 4. "Life is a lot like jazz. It's best when you improvise." – George Gershwin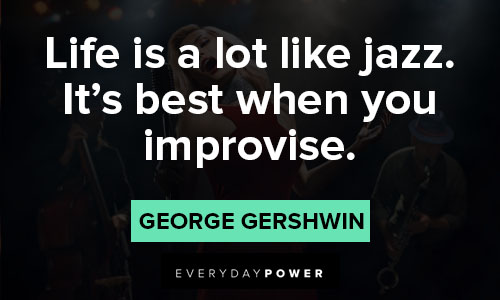 5. "If you don't make mistakes, you aren't really trying." – Coleman Hawkins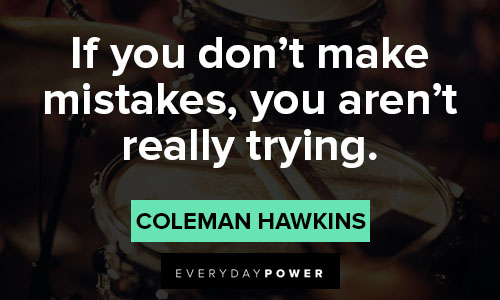 6. "Do not fear mistakes. There are none." – Miles Davis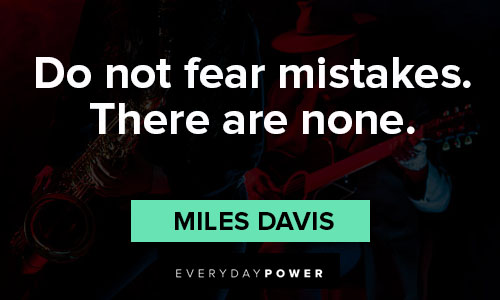 7. "If you hit a wrong note, then make it right by what you play afterward." – Joe Pass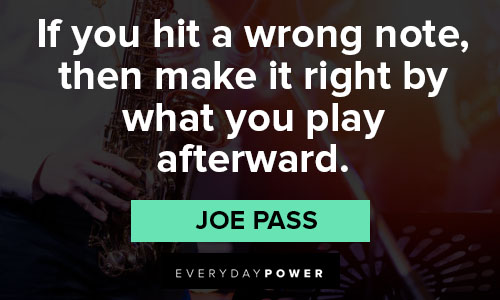 8. "Jazz is something you have to feel, something you have to live." – Ray Brown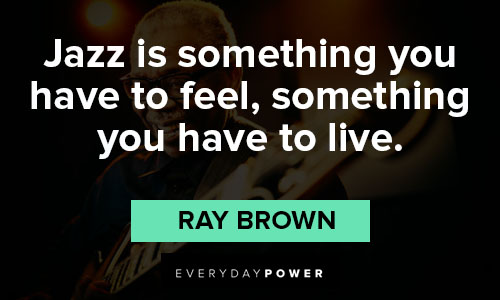 9. "It's not exclusive, but inclusive, which is the whole spirit of jazz." – Herbie Hancock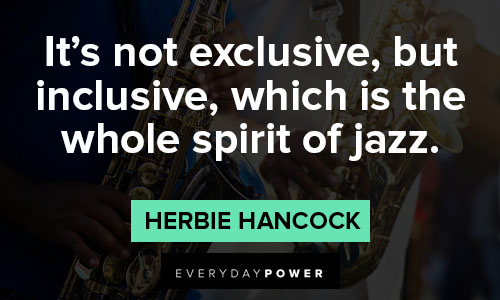 10. "It's like an act of murder. You play with intent to commit something." – Duke Ellington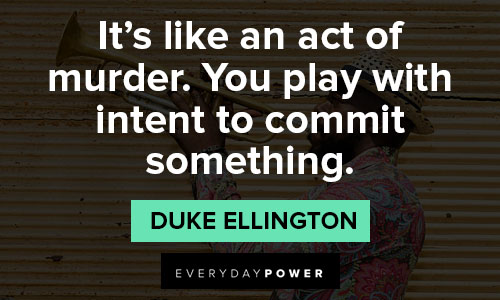 You will also enjoy our article on Rock & Roll quotes.
Famous Jazz quotes and sayings about life
11. "Jazz stands for freedom." – Dave Brubeck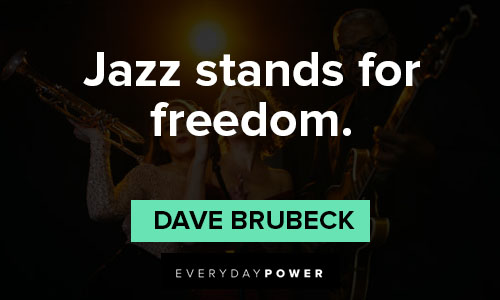 12. "Knowledge speaks, but wisdom listens." – Jimi Hendrix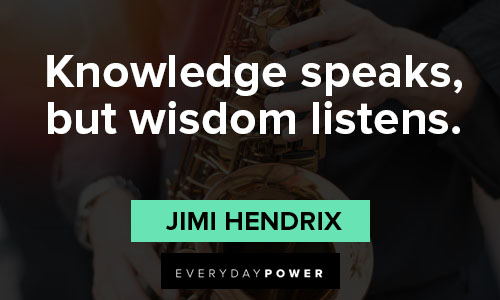 13. "Making the simple complicated is commonplace." – Charles Mingus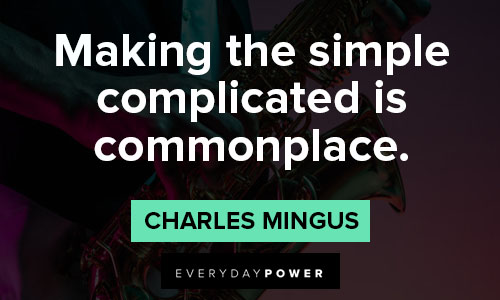 14. "A jazz musician is not a jazz musician when he or she is eating dinner or when he or she is with his parents or spouse or neighbors. He's above all a human being . . . the true artform is being a human being." – Herbie Hancock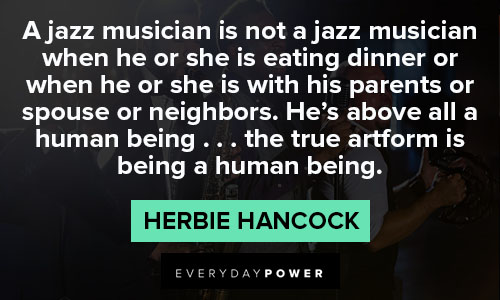 15. "A problem is a chance for you to do your best." – Duke Ellington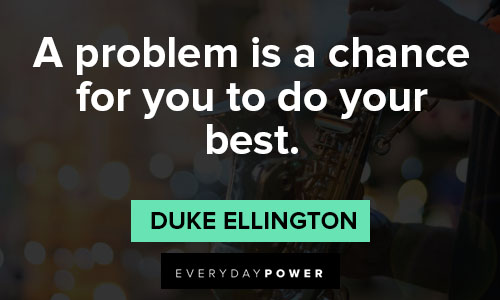 16. "Jazz is about being in the moment." – Herbie Hancock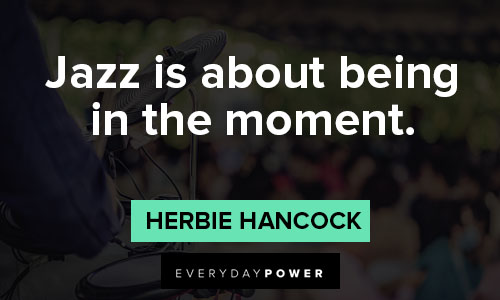 17. "Jazz is one of the best things that you can find in your life, it can always be your friend." – George Gershwin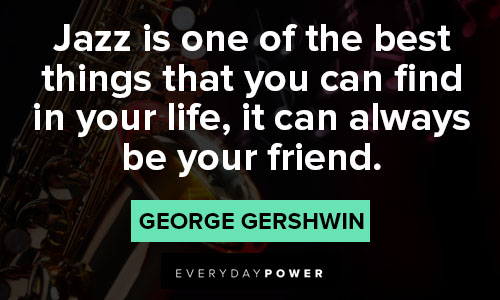 18. "You should never be comfortable, man. Being comfortable fouled up a lot of musicians." – Miles Davis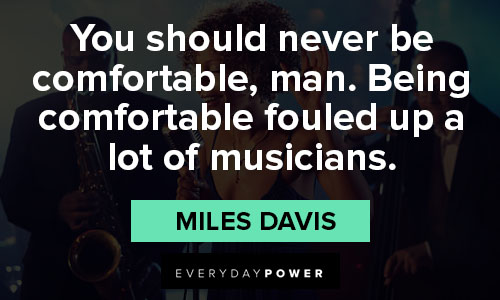 19. "Jazz and love are the hardest things to describe from rationale." – Mel Torme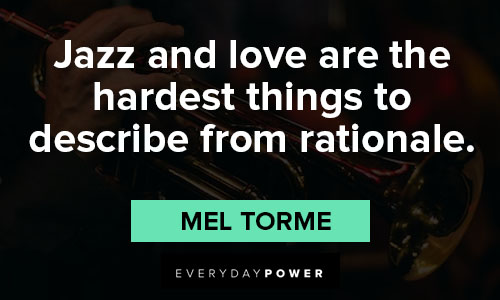 20. "There are no wrong notes." – Thelonius Monk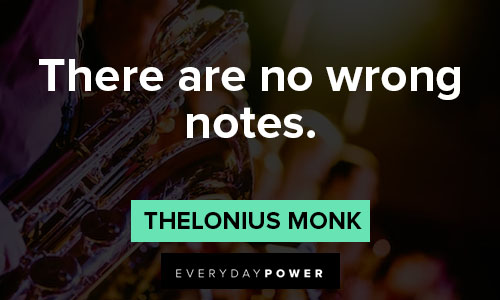 If you enjoy this article, check out our collection of Billie Holiday quotes from the woman who changed jazz.
Beautiful jazz quotes and one liners
21. "They teach you there's a boundary line to music. But, man, there's no boundary line to art." – Charlie Parker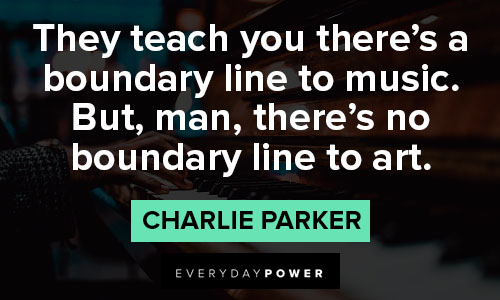 22. "Jazz music is an intensified feeling of nonchalance." – Francoise Sagan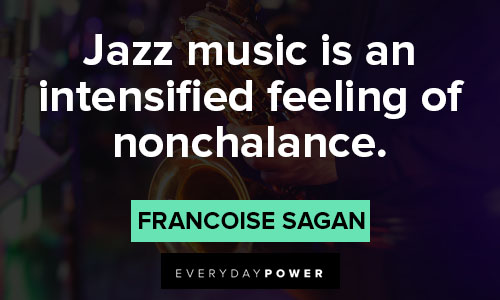 23. "As any jazz musician knows, it takes flexibility and adaptability for improvisation to create beauty." – Doc Childre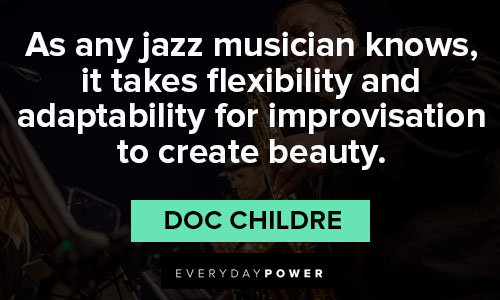 24. "Some people are born with a brain that has this weird, magical mathematical thing that makes them an amazing jazz musician." – Andy Richter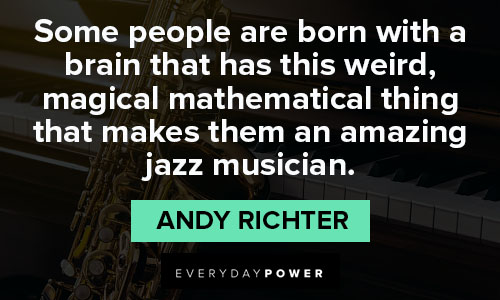 25. "Jazz is the big brother of Revolution. Revolution follows it around." – Miles Davis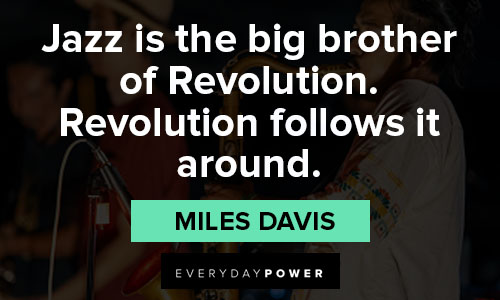 26. "Jazz is a white term to define black people. My music is black classical music." – Nina Simone
27. "You will never know what the meaning of Jazz is if ask what it means." – Louis Armstrong
28. "Jazz is played from the heart. You can even live by it. Always love it." – Louis Armstrong
29. "We must be as pure as our music." – Albert Ayler
30. "Jazz washes away the dust of everyday life." – Art Blakey
Awesome jazz quotes about improvisation
31. "Jazz musicians are the coolest people on the planet. Can I have some cool?" – Jon Stewart
32. "In my view, a jazz musician is a great musician." – Michael Parkinson
33. "Some people think I'm a rock 'n' roll musician and some think I'm a jazz musician but, for me, there is no difference." – Georgie Fame
34. "Jazz was not only built in the minds of the great ones but on the backs of the ordinary ones." – Cab Calloway
35. "Jazz is the only music in which the same note can be played night after night but differently each time." – Ornette Coleman
36. "If you're in jazz and more than ten people like you, you're labeled commercial." – Herbie Mann
37. "What is jazz? It's almost like asking, What is French? Jazz is a musical language— a dialect that actually embodies the spirit of America." – Branford Marsalis
38. "Music is my religion. Music is the only thing that has never failed me. People let you down, music won't." – Gary Bartz
39. "The real innovators did their innovating just by being themselves." – Count Basie
40. "I felt the responsibility to present a viable alternative to the popular electric sound." – Ron Carter
Funny jazz quotes
41. "I can't understand these guys who just have to have your autograph. I asked one of them, 'What do you do when you get home, take it out and look at it?'" – Artie Shaw
42. "Well, I'm too old to pimp, and too young to die, so I'm just gon' keep playin'" – Clark Terry
43. "By and large, jazz has always been like the kind of a man you wouldn't want your daughter to associate with." – Duke Ellington
44. "We're not going to play the blues anymore. Let the white folks play the blues. They got 'em, so they can keep 'em." – Miles Davis
45. "All music is folk music. I ain't never heard a horse sing a song." – Louis Armstrong
46. "Jazz is not dead, it just smells funny." – Frank Zappa
47. "I never practice my guitar. From time to time I just open the case & throw in a piece of raw meat." – Wes Montgomery
48. "If you find a note tonight that sounds good, play the same damn note every night!" – Count Basie
49. "I don't care if a dude is purple with green breath as long as he can swing." – Miles Davis
50. "I tried practicing for a few weeks and ended up playing too fast." – Paul Desmond
More interesting jazz quotes
51. "One chord is fine. Two chords are pushing it. Three chords and you're into jazz." – Lou Reed
52. "Diplomacy is like jazz: endless variations on a theme." – Richard Holbrooke
53. "Though the Jazz Age continued it became less and less an affair of youth. The sequel was like a children's party taken over by the elders." – F. Scott Fitzgerald
54. "Jazz is the last refuge of the untalented. Jazz musicians enjoy themselves more than anyone listening to them does." – Tony Wilson
55. "Jazz is smooth and cool. Jazz is rage. Jazz flows like water. Jazz never seems to begin or end. Jazz isn't methodical, but jazz isn't messy either. Jazz is a conversation, a give and take. Jazz is the connection and communication between musicians. Jazz is abandon." – Nat Wolff
56. "Boxing is like jazz. The better it is, the less people appreciate it." – George Foreman
57. "You not only have to know your own instrument, you must know the others and how to back them up at all times. That's jazz." – Oscar Peterson
58. "Jazz came to America three hundred years ago in chains." – Paul Whiteman
59. "Jazz is the big brother of the blues. If a guy's playing blues like we play, he's in high school. When he starts playing jazz it's like going on to college, to a school of higher learning." – B. B. King
60. "Jazz is a fighter. The word 'jazz' means to me, 'I dare you. Let's jump into the unknown!'" – Wayne Shorter
Jazz Quotes for Swinging to the Beat of Jazz
61. "Jazz is not just music, it's a way of life, it's a way of being, a way of existence." ― Wynton Marsalis
62. "Jazz is the expression of America. It is an original art form that grew from roots in blues and ragtime, and was shaped by gospel, spirituals, swing, bebop and free jazz." ― Herbie Hancock
63. "Jazz music is America's past and its potential, summed up and sanctified and accessible to anybody who learns to listen to, feel, and understand it." ― Toni Morrison
64. "Jazz is not just music, it is a language." ― Lionel Hampton
65. "Jazz is the best possible expression of individuality." ― Louis Armstrong
66. "Jazz is a very democratic musical form. It comes out of a communal experience. We take our respective instruments and speak with one voice." ― Wynton Marsalis
67. "Jazz is the art form that is most capable of reflecting the reality of life." ― Thelonious Monk
68. "Jazz is about freedom within limits." ― Keith Jarrett
69. "Jazz is the most advanced and articulate form of musical expression yet produced by American culture." ― Gunther Schuller
70. "Jazz is the soundtrack of America. It's a musical form that celebrates life, and it's the art that reflects the soul of the nation." ― Terrence Blanchard
What did you learn from these jazz quotes?
Often, musicians refer to music as the language of the soul, and if we take that into account, we should all agree that jazz is a beautiful soul.
More importantly, music fills in the gaps, what words fail to convey, especially in jazz.
Jazz music relies heavily on the spontaneity of skills, emotion, and the environment.
It is a complex tune yet so beautiful it creates an impact on anyone who can hear it.
Jazz music is a reflection of the musician.
You might also enjoy these Joni Mitchell quotes.
It is like directly looking at the musician's soul.
It is almost like having a conversation.
It is exciting and relaxing, both at the same time.
So, why don't you turn up a piece of Jazz music right now and experience the vibe?
Hopefully, these Jazz quotes, and sayings will help you appreciate music as it is.