25 Jim Rohn Quotes On Life, Leadership, and Time
These Jim Rohn quotes will help you better understand how he impacted the business world.
Jim Rohn (born Emanuel James "Jim" Rohn on September 17, 1930) was an author, motivational speaker, and entrepreneur who became famous for sharing his business philosophy.
He authored 17 written, audio, and video media, including The Power of Ambition, Take Charge of Your Life, and The Day That Turns Your Life Around.
How Jim Rohn Got His Start
Rohn started working as a stock clerk for Sears, the department store.
Soon afterward, a friend took him to a lecture by entrepreneur John Earl Shoaff.
In 1955, Shoaff's AbundaVita direct selling business added Rohn to their team as a distributor.
He resigned two years later and joined another direct-selling company, Nutri-Bio – also owned by Shoaff.
Shoaff started to mentor Rohn, and the organization's founders chose Rohn to be the vice president.
When Nutri-Bio went out of business in the early 1960s, Rohn began speaking at meetings of his Rotary Club.
Soon after, people began asking him to speak at luncheons and other events.
His first public seminar was in 1963 at the Beverly Hills Hotel.
He began making a career of giving seminars all over the country, teaching people his personal development philosophy and as well as telling them his life story.
In the 1970s, he did seminars for Standard Oil while also participating in a business devoted to personal development called "Adventures in Achievement."
He presented his seminars worldwide over the course of more than 40 years.
In his older years, he wrote books such as My Philosophy For Successful Living and The Art of Exceptional Living.
Rohn also mentored motivational speakers like Tony Robbins and Mark R. Hughes.
He died on December 5, 2009.
Our inspirational quote category page has even more inspirational and educational quotes.
Jim Rohn Quotes about Success and Happiness
1. "Discipline is the bridge between goals and accomplishment." – Jim Rohn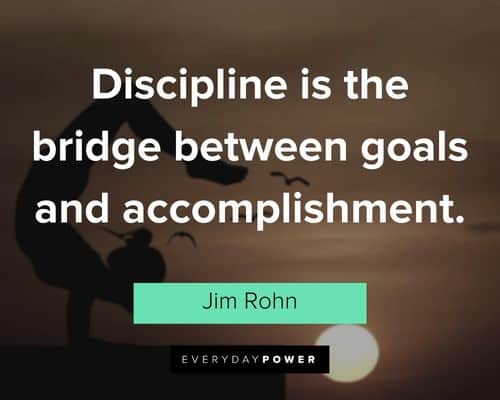 You will also enjoy our article on discipline quotes.
2. "You are the average of the five people you spend the most time with." – Jim Rohn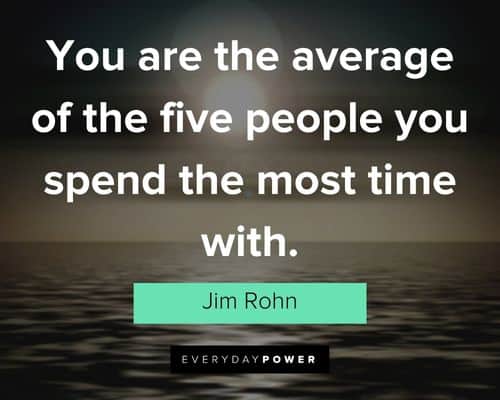 3. "Formal education will make you a living; self-education will make you a fortune." – Jim Rohn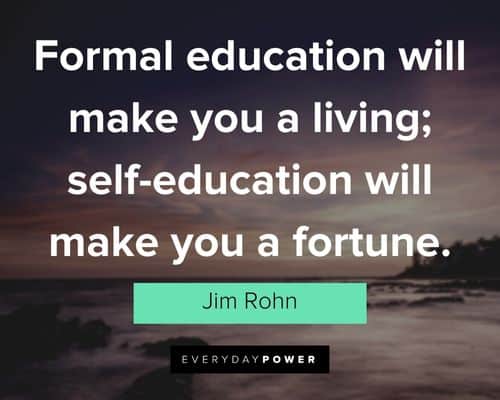 4. "Those who will not read are no better off than those who cannot read." – Jim Rohn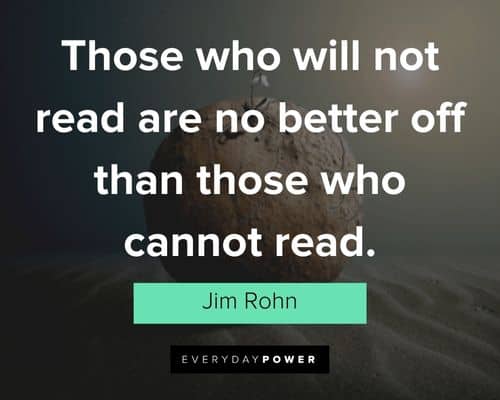 5. "You have two choices: You can make a living, or you can design a life." – Jim Rohn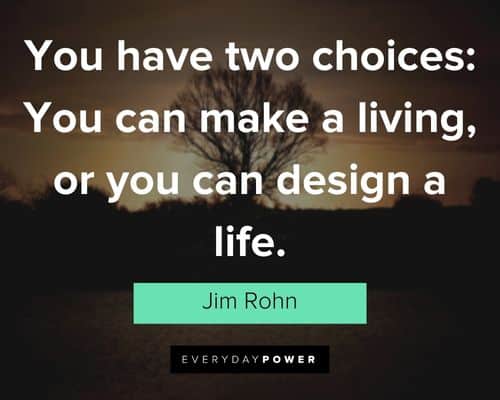 6. "Learn how to be happy with what you have while you pursue all that you want." – Jim Rohn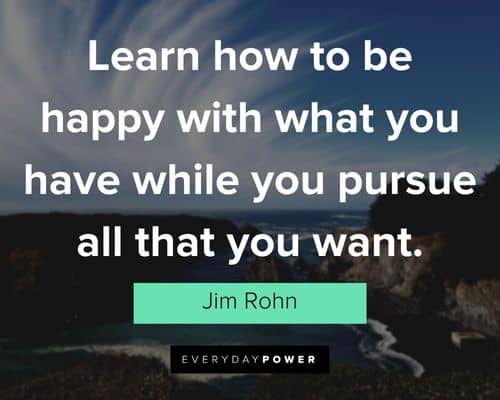 7. "Without a sense of urgency, desire loses its value." – Jim Rohn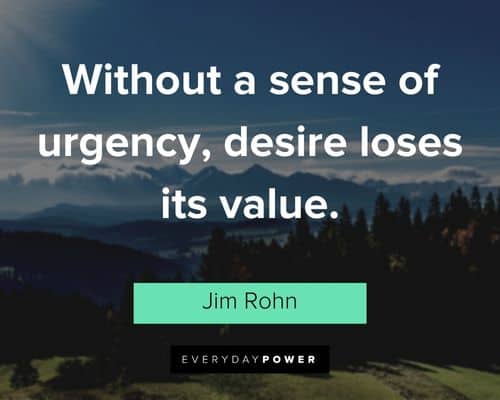 8. "You cannot make progress without making decisions." – Jim Rohn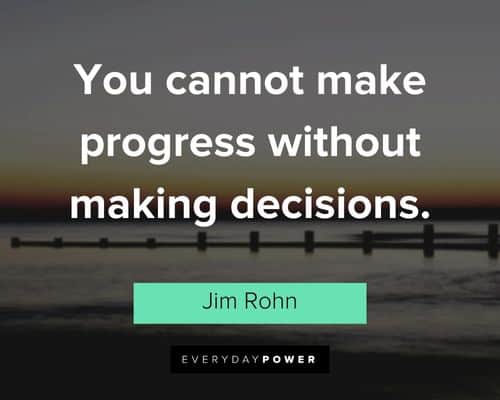 9. "The few who do are the envy of the many who watch." – Jim Rohn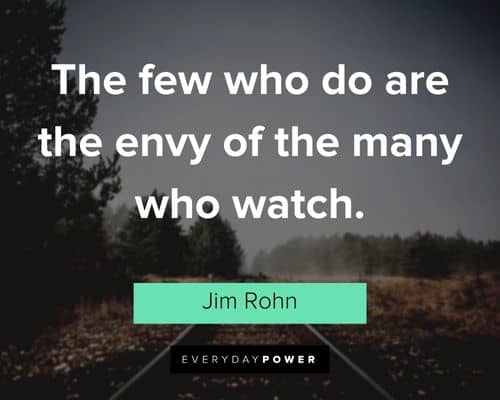 10. "Your life does not get better by chance, it gets better by change." – Jim Rohn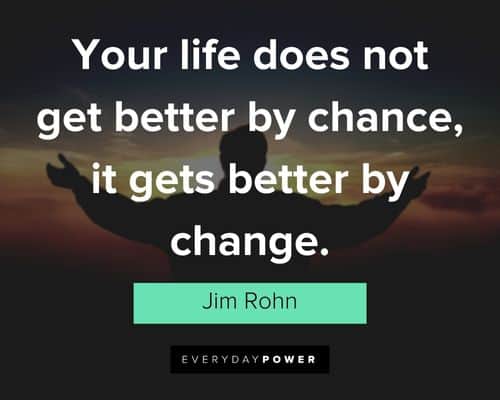 Check out our list of David Goggins quotes that will inspire you to overcome whatever you may be going through.
Unforgettable Jim Rohn Quotes on Goals and Character
11. "If you want to be a leader who attracts quality people, the key is to become a person of quality yourself." – Jim Rohn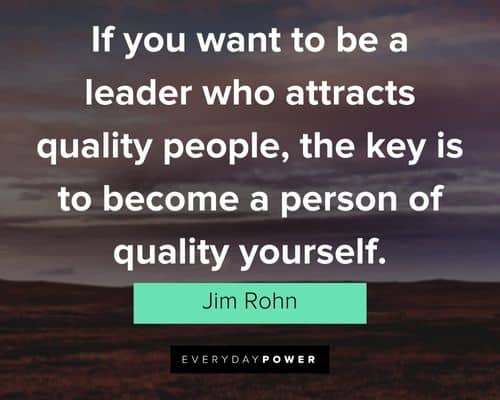 12. "Happiness is not something you postpone for the future; it is something you design for the present." – Jim Rohn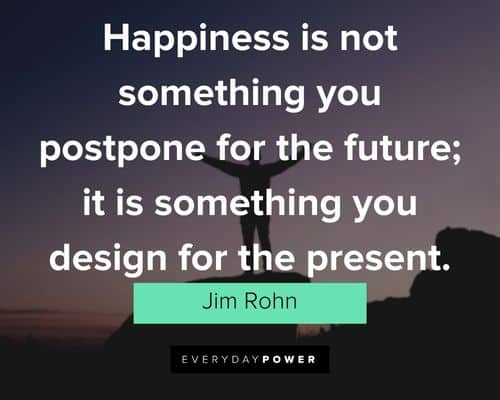 13. "You cannot change your destination overnight. But you can change your direction." – Jim Rohn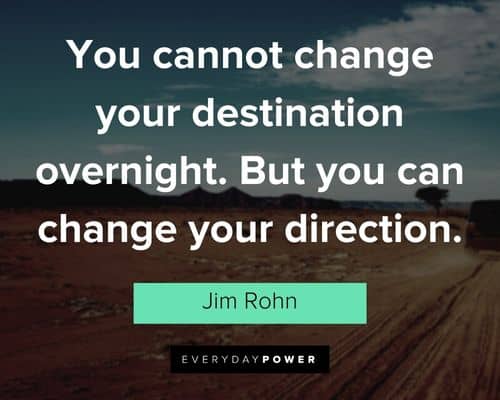 14. "If you just communicate, you can get by. But if you communicate skillfully, you can work miracles." – Jim Rohn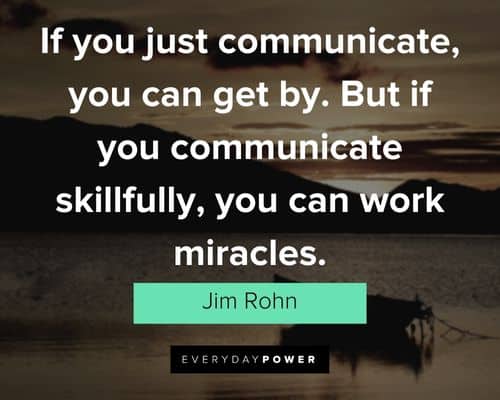 15. "You must take personal responsibility. You cannot change the circumstances, the seasons, or the wind, but you can change yourself. That is something you have charge of." – Jim Rohn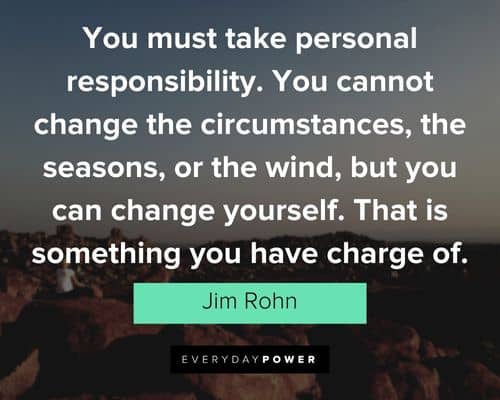 16. "If you are not willing to risk the unusual, you will have to settle for the ordinary." – Jim Rohn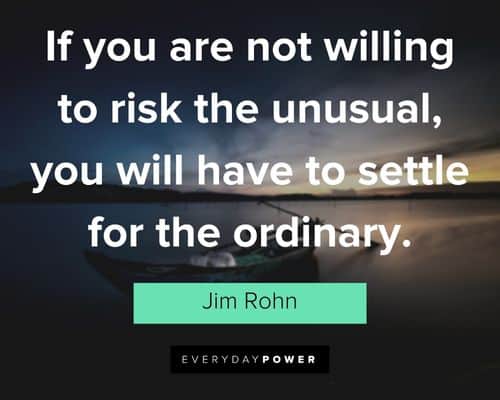 17. "Motivation alone is not enough. If you have an idiot and you motivate him, now you have a motivated idiot." – Jim Rohn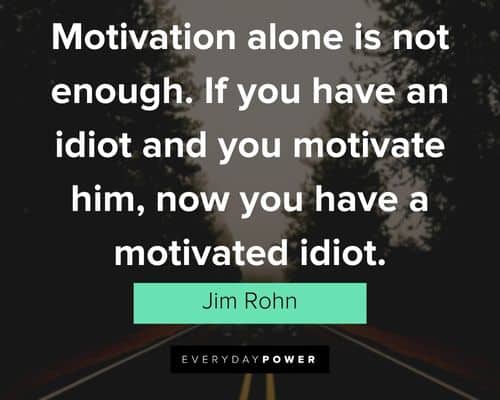 18. "Effective communication is 20 percent what you know and 80 percent how you feel about what you know." – Jim Rohn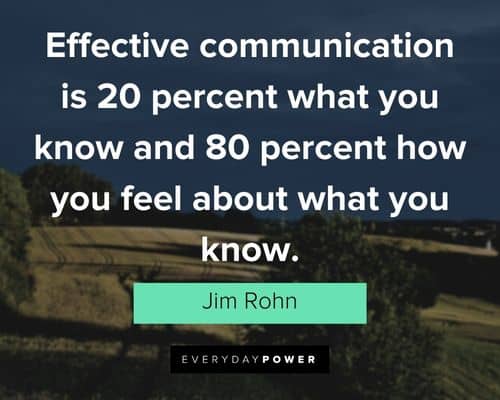 19. "If you don't design your own life plan, chances are you'll fall into someone else's plan. And guess what they have planned for you? Not much." – Jim Rohn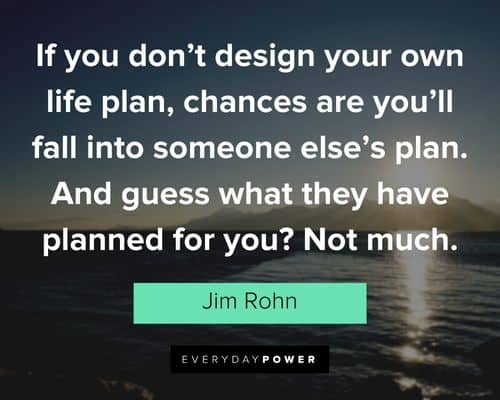 20. "There are only three colors, 10 digits, and 7 notes; its what we do with them that's important." – Jim Rohn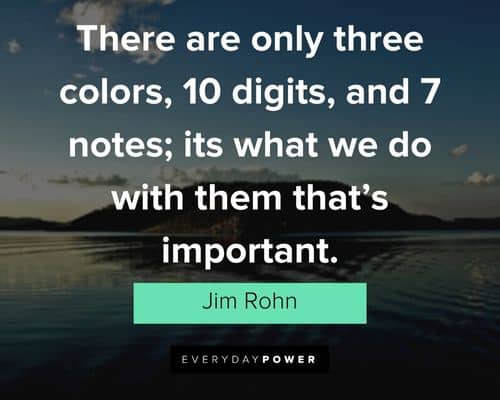 What made Jim Rohn famous?
Jim Rohn started out in life like many ordinary people. However, he charted a new course through discipline and daring to be different. Then tried to help others do the same.
21. "Your philosophy determines whether you will go for the disciplines or continue the errors." – Jim Rohn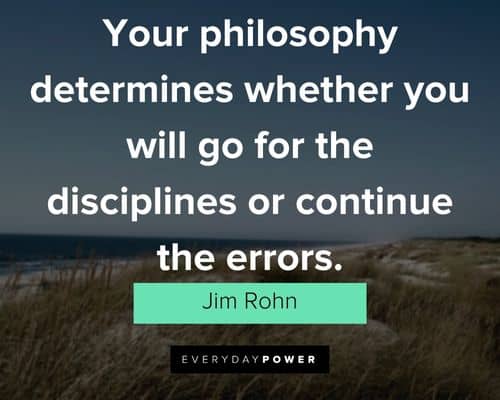 22. "You must take personal responsibility. You cannot change the circumstances, the seasons, or the wind, but you can change yourself. That is something you have charge of." – Jim Rohn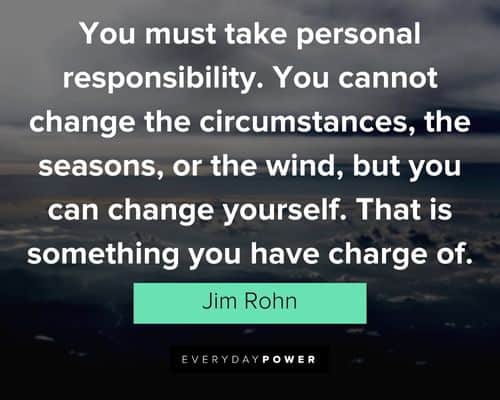 23. "Failure is simply a few errors in judgment, repeated every day." – Jim Rohn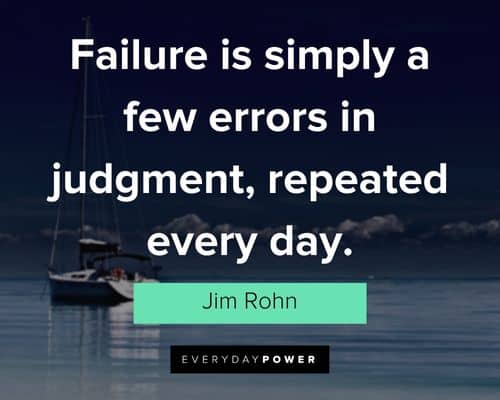 24. "Character isn't something you were born with and can't change, like your fingerprints. It's something you weren't born with and must take responsibility for forming." – Jim Rohn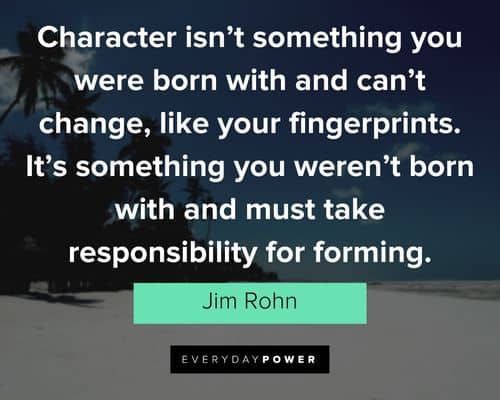 25. "We generally change ourselves for one of two reasons: inspiration or desperation." – Jim Rohn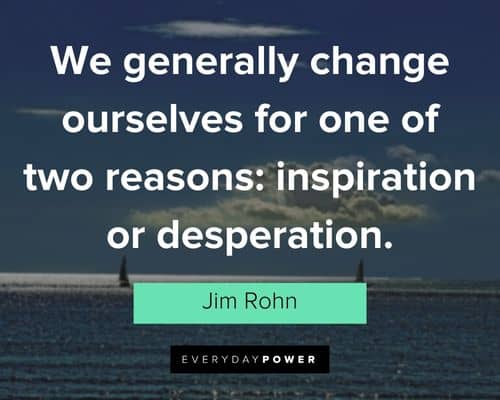 Which Jim Rohn quotes are your favorite?
Jim Rohn's life story and rise to success prove that we can achieve anything if we only set our minds to it.
But more than becoming a great entrepreneur, speaker, and author, he also made a point to give back to society.
Never forget those who helped you along the way.
Carve your own path by helping others as well.
Use these inspirational Jim Rohn quotes to remind you to work hard for your dreams daily.
Let us know your thoughts in the comment section.
If you found these quotes helpful, please click the share button.
Check out these related lifestyle articles:
Inspirational Biographies: Books to Motivate You
Inspirational biographies, however, provide insight into the life struggles of the rich and successful.
Take Initiative in Life & Watch What Happens
We all dream big, but big dreams take initiative to make happen.
10 Reasons Why Entrepreneurship Will Make You Feel Alone
Any successful entrepreneur will tell you it's not always an easy journey, but these tips will help you along the way.
Make Things Happen Starting Today
Wondering why some people can make things happen and others can't? Know the other things you can do to start becoming more productive today.
Check out these related quote articles:
Education Quotes About Learning & Students
Check out this list of education quotes that will help you appreciate the power of learning.
Life constantly offers valuable lessons that shape our journey and guide our growth.
Challenge Quotes About Life and Tough Times
The human spirit has an unwavering ability to overcome, as seen in these challenge quotes.
Motivational Quotes of the Day
Discover this treasure trove of motivational quotes to ignite your inner fire and propel you toward greatness.