Discipline Quotes To Fuel Your Perseverance
Staying motivated takes sharp focus, and these discipline quotes will serve as a constant reminder on your quest to achieve greatness.
Self discipline is one of the most important and useful skills you can have. It is an essential skill in every area of life.
Discipline is the number one trait needed to create a happy mood, and healthy and meaningful life. It allows you to benefit from consistent, daily action towards the achievement of your goals and dreams. Studies have also shown that people with self discipline make positive decisions more easily and tend to feel more satisfied with their lives.
On the other hand, lack of discipline results in failure and other problems. Without discipline, it's impossible to achieve any kind of success; whether it's in your personal life or in your professional life.
Self discipline is nothing more than having inner strength and control of yourself, your actions, and your reactions. It is what gives you the ability to follow through your decisions, without changing your mind.
To help you take control of your habits and choices, below is our collection of inspirational, wise, and powerful discipline quotes, discipline sayings, and discipline proverbs, collected from a variety of sources over the years.
Also read these promise quotes about keeping your word that will remind you to always be honest and honorable.
Discipline Quotes To Fuel Your Perseverance
1. "Self-discipline is when your conscience tells you to do something and you don't talk back." – W. K. Hope

2. "Men need discipline! Countries need discipline! World needs discipline! He who wants to be successful needs discipline! Be a man of discipline!" ― Mehmet Murat ildan

3. "Discipline and commitment is a pathway to reach goals and dreams." – Dr. Anil Kr Sinha

4. "The discipline is the key to the success of your life purpose; without that, you reach no anywhere." ― Ehsan Sehgal

5. "True discipline is really just self-remembering; no forcing or fighting is necessary." ― Charles Eisenstein

6. "Discipline trains you to put up with disappointments, every rose has a thorn." – Sai Baba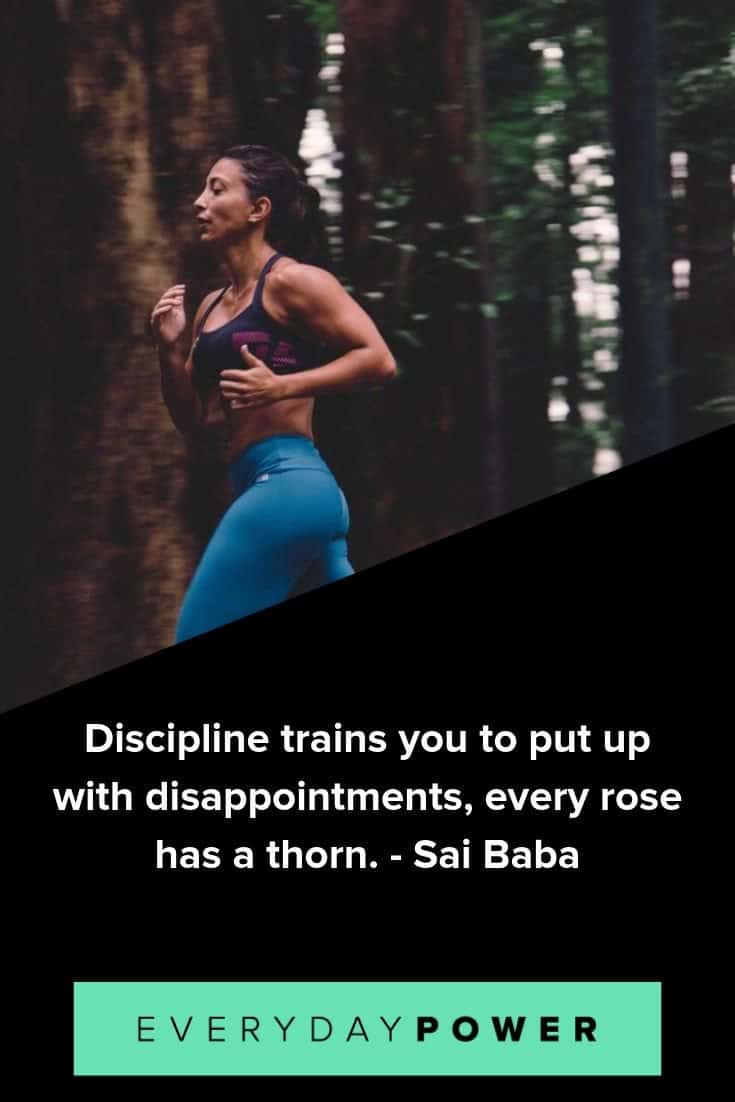 7. "No matter how sweet is smells, if you know it will give you discomfort later, don't even attempt to taste it. Discipline yourself to stay out of sin!" ― Israelmore Ayivor

8. "The foundation of a strong self comes from small acts of daily discipline." ― Ophelia Filek

9. "A disciplined mind leads to happiness, and an undisciplined mind leads to suffering." ― Dalai Lama

10. "Freedom is not attained through the satisfaction of desires, but through the suppression of desires." ― Epictetus
Discipline quotes that will inspire you to create a better life

11. "Discipline is not about the rules, it is about respect. Its respect for those around you, the things you own and for yourself. Discipline is part of being a steward." ― Janna Cachola

12. "Whoever submits himself to a super-discipline can expect great triumphs." ― Samael Aun Weor
13. "Always Remember to take your Vitamins: Take your Vitamin A for ACTION, Vitamin B for Belief, Vitamin C for Confidence ,Vitamin D for Discipline, Vitamin E for Enthusiasm!!" ― Pablo

14. "Self-respect is the root of discipline: The sense of dignity grows with the ability to say no to oneself." ― Abraham Joshua Heschel

15. "Discipline is just choosing between what you want now and what you want most." – Augusta F. Kantra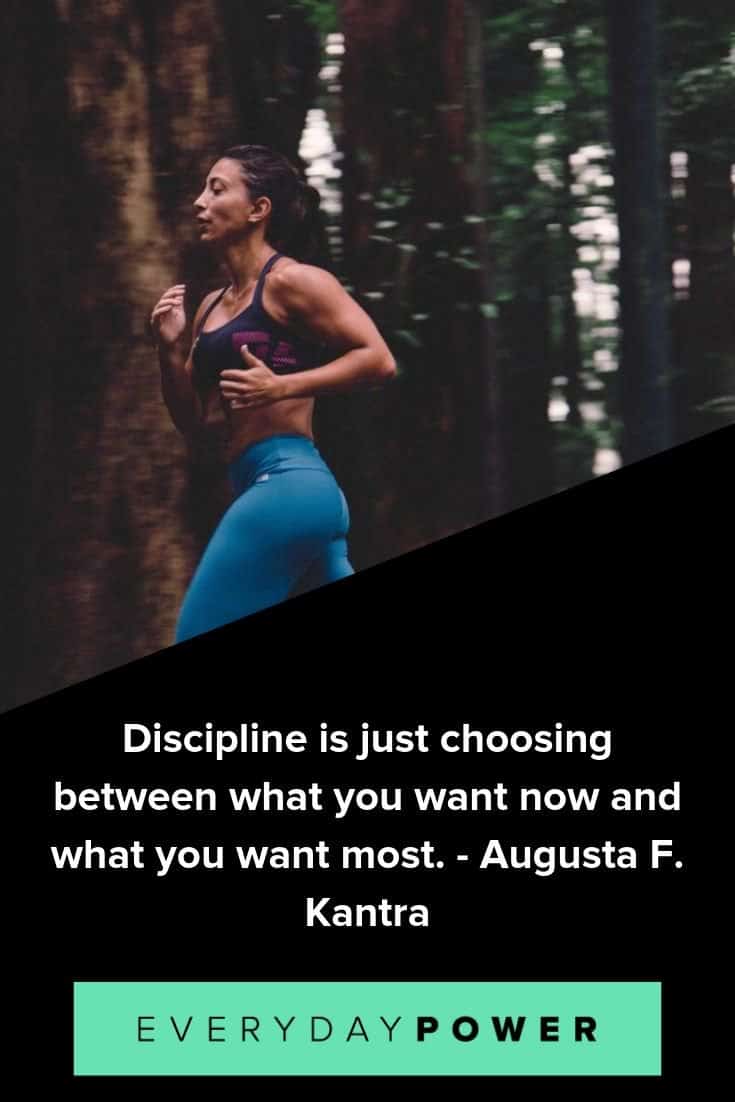 16. "By constant self-discipline and self-control, you can develop greatness of character." ― Grenville Kleiser

17. "It's been said that there are only two pains in life, the pain of discipline or the pain of regret, and that discipline weighs ounces while regret weighs tons." ― Anthony Robbins

18. "Discipline yourself to do the things you need to do when you need to do them, and the day will come when you will be able to do the things you want to do when you want to do them!" – Zig Ziglar

19. "Discipline is the refining fire by which talent becomes ability." – Roy L. Smith
20. "Discipline not just determines success but determines how long you can stay successful." ― C Muthu Palaniappan
If you're enjoying this article, make sure to also check out our collection of encouraging quotes to help keep you going.
Discipline quotes to help you take control of your habits and choices

21. "Some people regard discipline as a chore. For me, it is a kind of order that sets me free to fly." – Julie Andrews

22. "When an individual is motivated by great and powerful convictions of truth, then he disciplines himself, not because of the demands of the church, but because of the knowledge within his heart" ― Gordon B. Hinckley

23. "We must do our work for its own sake, not for fortune or attention or applause." ― Steven Pressfield
24. "Right discipline consists, not in external compulsion, but in the habits of mind which lead spontaneously to desirable rather than undesirable activities." – Bertrand Russell

25. "Don't let the things of the world distract you. Focus on your purpose." ― Sunday Adelaja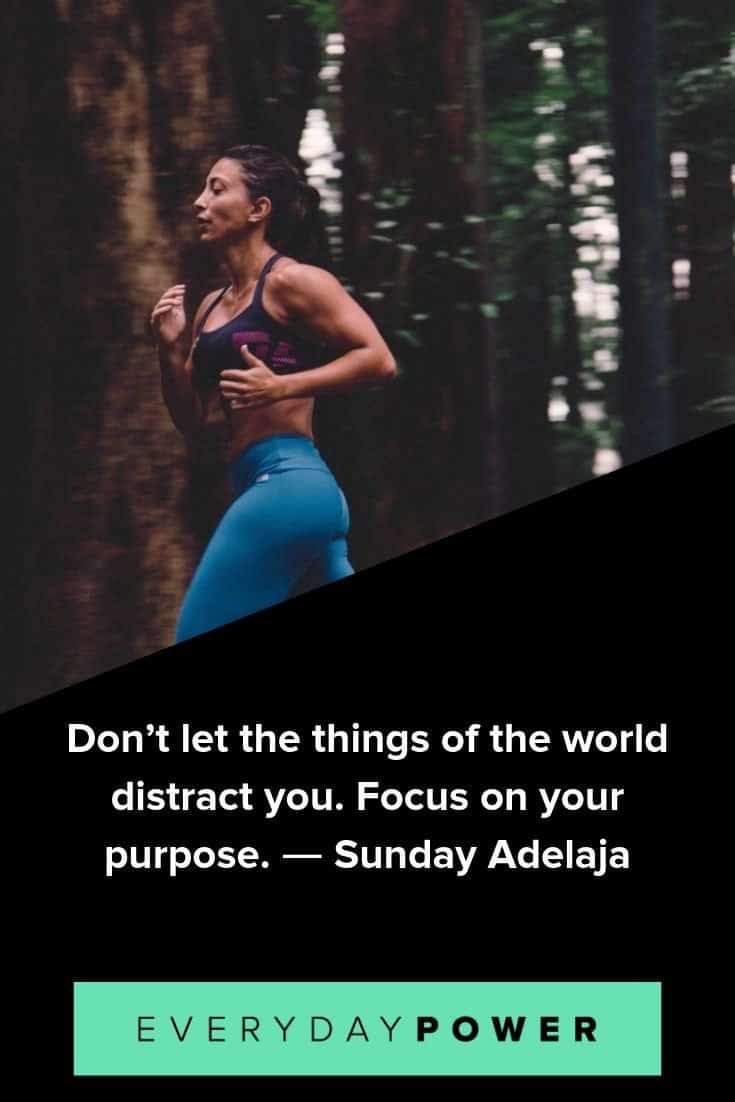 26. "Discipline is the thing that makes you do what you might not want to, but you do it anyway because it's what you have to do in order to get what you want or desire." ― Kyle Vidrine

27. "For every disciplined effort there is a multiple reward." – Jim Rohn

28. "With discipline, you can lose weight, you can excel in work, you can win the war." ― Amit Kalantri

29. "The most successful people in life are the ones who settle their critical issues early and manage them daily." ― John C. Maxwell

30. "The most powerful control we can ever attain, is to be in control of ourselves." ― Chris Page
If you're enjoying this article, make sure to also check out these wise sayings about life to expand your understanding.
Discipline quotes to help you follow through with your decisions and plans

31. "If you will discipline yourself to make your mind self-sufficient you will thereby be least vulnerable to injury from the outside." – Critias Of Athens

32. "A person either disciplines his finances or his finances disciplines him." ― Orrin Woodward

33. "Without discipline the Army would just be a bunch of guys wearing the same color clothing." – Frank Burns

34. "A mode of conduct, a standard of courage, discipline, fortitude and integrity can do a great deal to make a woman beautiful." ― Jacqueline Bisset

35. "Never give up. Believe behave and you will become." ― Jennifer Pierre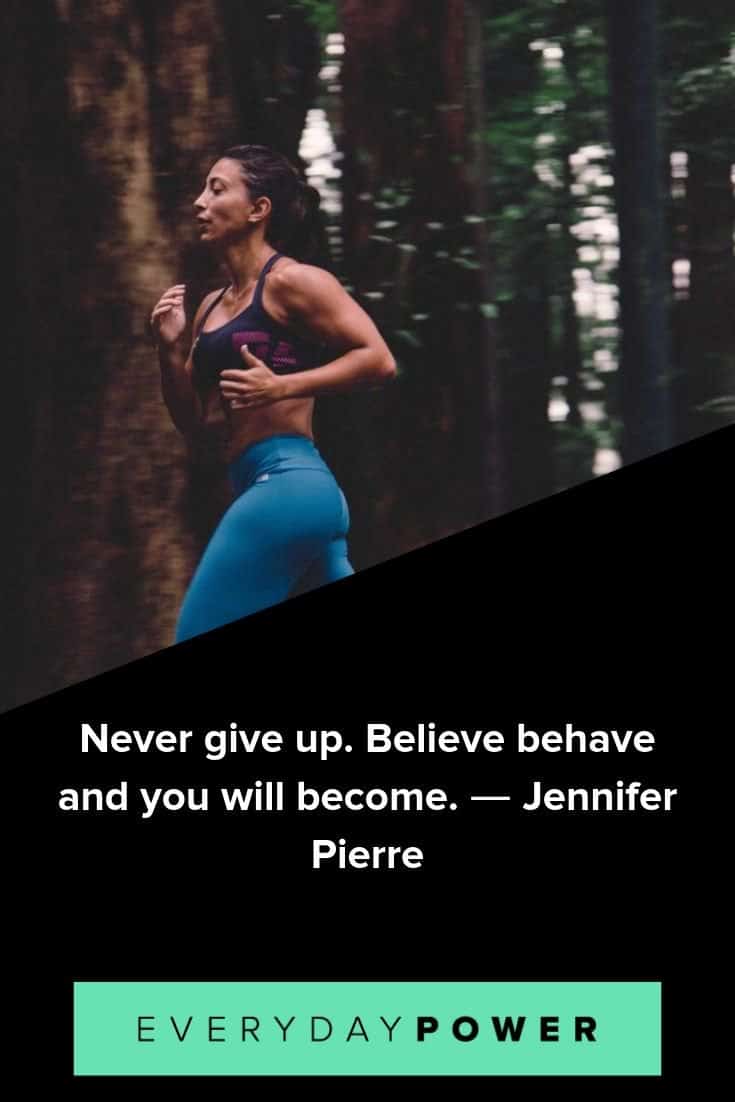 36. "Do not let the temporal pain of discipline you need to acquire knowledge stop you from acquiring it." ― Sunday Adelaja
37. "Misbehavior and punishment are not opposites that cancel each other – on the contrary, they breed and reinforce each other." ― Haim G. Ginott

38. "Self discipline is the mother of success." ― Topsy Gift

39. "If measured and weighed properly, the pain, loss, tragedy, sorrow, regret and agony behind worldly pleasure are far more than the enjoyment in it." ― Bamigboye Olurotimi

40. "Self-control is the chief element in self-respect, and self-respect is the chief element in courage." ― Thucydides
If you're enjoying this article, make sure to also check out these achievement quotes to motivate you for massive success.
Other discipline quotes to help you gain the willpower to live a happier life

41. "Discipline and constant work are the whetstones upon which the dull knife of talent is honed until it becomes sharp enough, hopefully, to cut through even the toughest meat and gristle." – Stephen King

42. "If you dedicate your attention to discipline in your life you become smarter while you are writing than while you are hanging out with your pals or in any other line of work." ― Russell Banks

43. "No man is such a conqueror, as the one that has defeated himself." – Henry Ward Beecher

44. "Self-discipline is the ability to organize your behavior over time in the service of specific goals." ― Nathaniel Branden

45. "True freedom is impossible without a mind made free by discipline." ― Mortimer J. Adler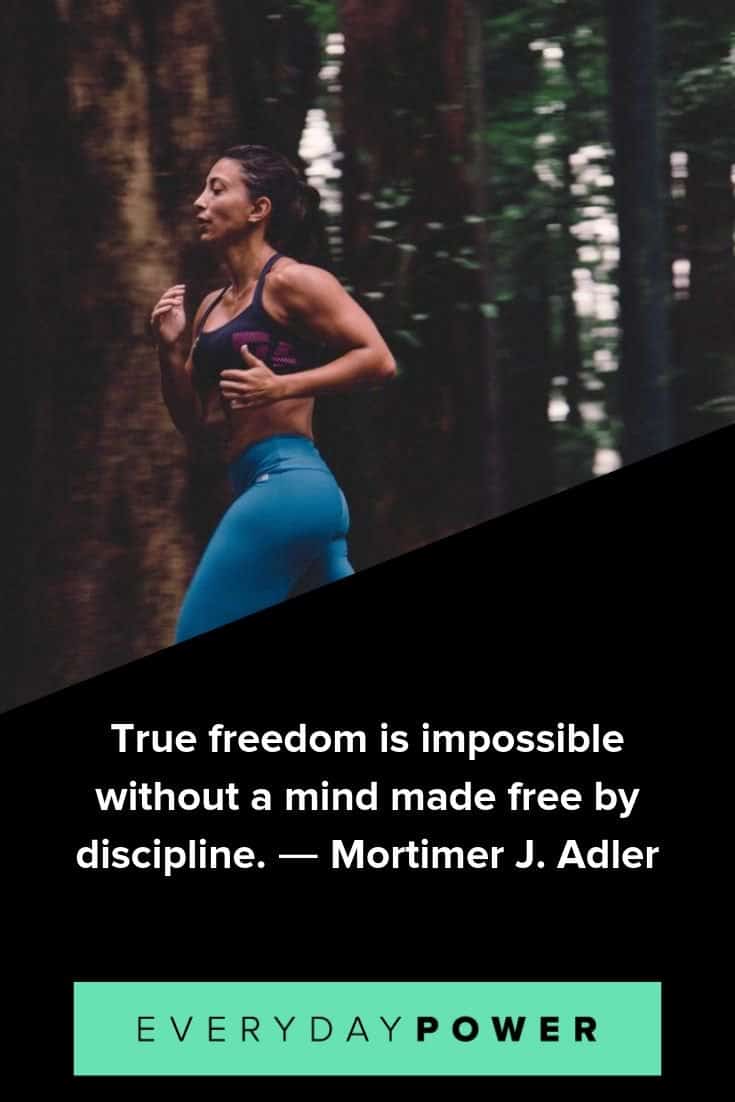 46. "Discipline isn't about showing a dog who's boss; it's about taking responsibility for a living creature you have brought into your world." ― Cesar Millan

47. "Discipline is the bridge between goals and accomplishment." – Jim Rohn

48. "The notion of freedom proclaimed by the modern world is anti-discipline. But true freedom cannot be separated from discipline." ― Matthew Kelly

49. "Lack of discipline leads to frustration and self-loathing." – Marie Chapian
50. "Discipline imposed from the outside eventually defeats when it is not matched by desire from within." – Dawson Earle Trotman
Don't go without reading these perseverance quotes to make you strong.
Which of these discipline quotes was your favorite?
Self discipline gives you the power to stay focused on what needs to get done to successfully reach your full potential. It is one of the most important requirements for living a happy and meaningful life.
The good news is that we all have the ability to develop the self discipline necessary to reach our goals and dreams. Hopefully, the discipline quotes above will help you create a better life.
Which of these quotes resonated with you best? Do you have any other inspirational discipline quotes to add? Feel free to share with us in the comment section below.
May 5, 2019 7:00 AM EST
Click to view