JoJo Quotes From the Multi-Talented Singer-Songwriter
If you love JoJo's music, you're going to be a fan of these JoJo quotes.
JoJo is the nickname and stage name of Joanna Noëlle Levesque.
JoJo is known for achieving fame in her early years after being discovered while competing on America's Most Talented Kids at the age of 13.
However, she was offered a record deal when she was six years old, but her mom thought she was too young to begin a career in music.
However, by the age of 14, JoJo's debut single "Leave (Get Out)" hit spot 12 on the Billboard Hot 100, making her the youngest solo artist to achieve that.
In total, she has six albums and has won multiple awards over the years.
If you enjoy this article, check out our most popular quote article, a list of short inspirational quotes for daily motivation.
Browse our entire collection of inspirational quotes for more motivating ideas and concepts.
Best JoJo Quotes
If you're a fan of the artist, these JoJo quotes will give you a peek into her life. See what you learn from these quotes.
1. "I think every little girl is fascinated with mermaids." – JoJo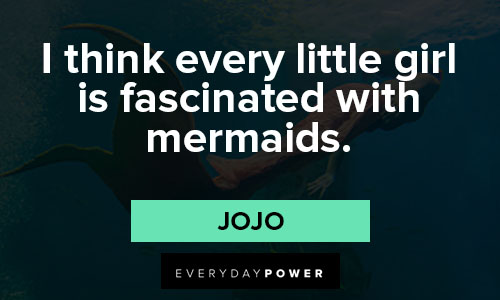 2. "I think we should all come together, and that race and color or social demographics really don't matter." – JoJo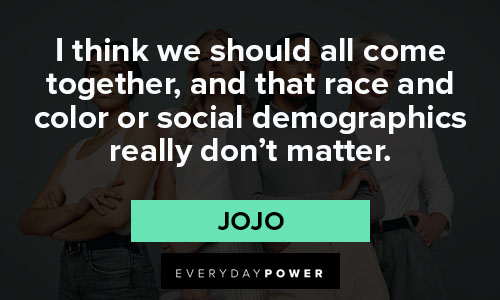 3. "I've been singing since I was two. Music was my first passion, and I love writing, singing, creating, and being creative." – JoJo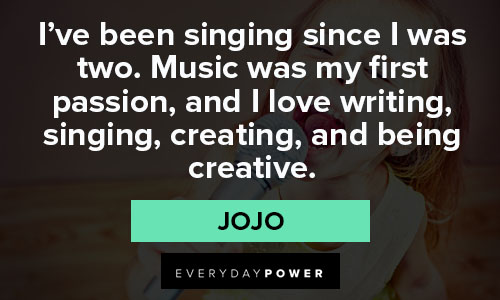 4. "I really shine in the afternoon. I need some time to warm up in the day. I'm pretty tired toward the end of the night." – JoJo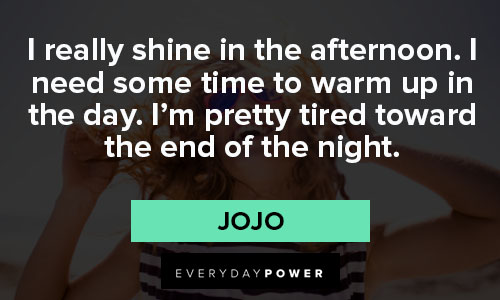 5. "I look up to people who succeed in accomplishing their dreams." – JoJo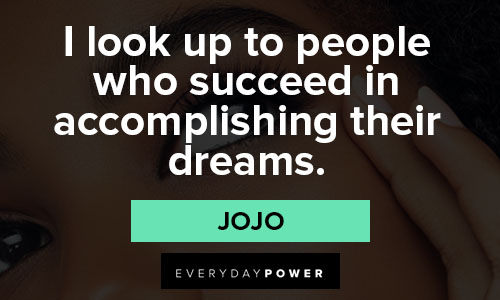 6. "If anyone will listen, I will continue to sing." – JoJo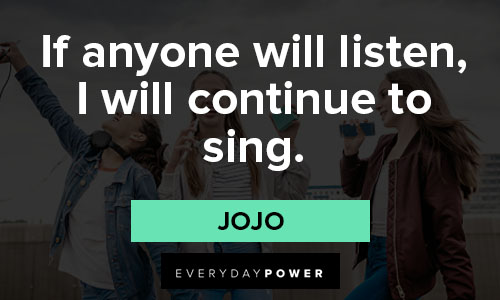 7. "I'm really inspired by people's redemption and resilience." – JoJo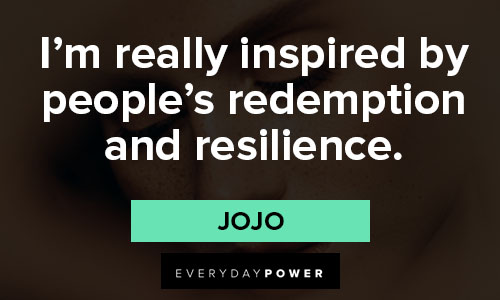 8. "As I'm getting older, I'm realizing how everything is interconnected. There are things that really took a toll on me as a teenager. I've carried a lot of that weight." – JoJo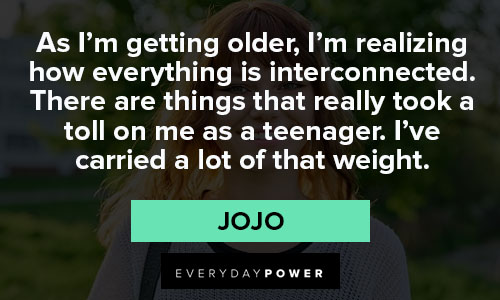 9. "For me, anxiety is putting too much pressure, too much weight, and too much importance on me." – JoJo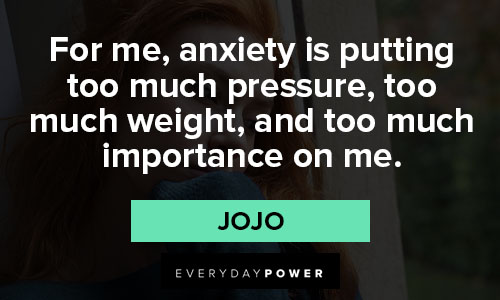 10. "You can be young and still have views and opinions." – JoJo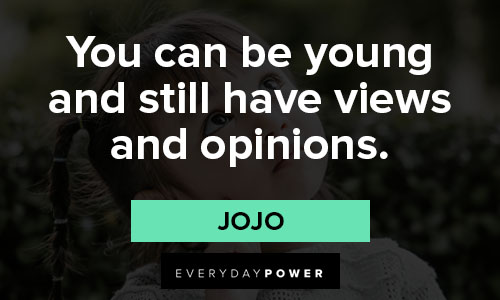 If you enjoy this article, check out our collection of Gerard Way quotes from the American singer and songwriter.
JoJo Quotes on music and life
It's easy to make assumptions about what life is like for famous people, but they are often a lot more like everyone else than we expect. These JoJo quotes will help you know more about her.
11. "It can feel so all-consuming and dark when you're depressed. The thought that there's this nasty bitch who also lives inside me, whose name is Burlinda and who tries to take over every once in a while, I think is funny. It makes it a little lighter." – JoJo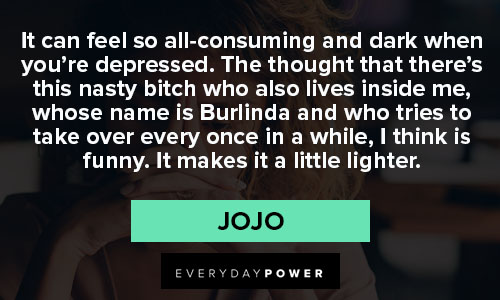 12. "I feel like I am a real artist, and I want to be able to feel what I am singing about. So when I sing, "Leave (Get Out),' I have been through that. I think it is just a new generation, whether people are ready for it or not. Teenagers are dating." – JoJo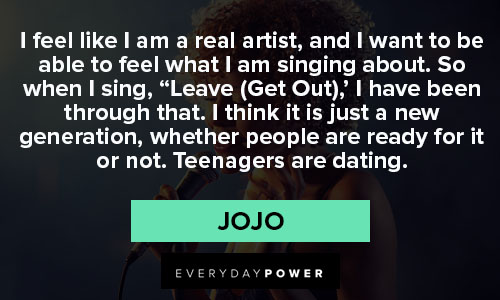 13. "Music is something that I have to do on a regular basis. It really is my life, and I absolutely love it. It's a part of my day-to-day. So if I had to choose, it would be music. But I love acting too." – JoJo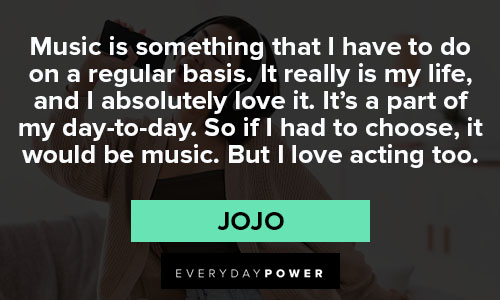 14. "I don't attend an actual school, but I'm still following through with high school. I do work with a tutor for about six hours a day. It's hard core but definitely worth it, and it's my main focus now – finishing up high school before I release my new album and apply to college." – JoJo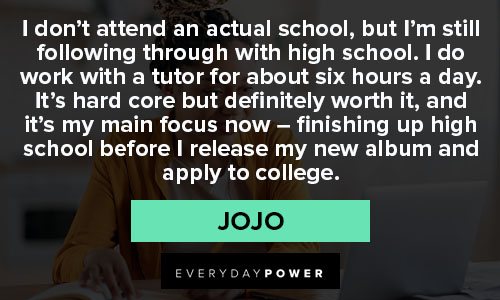 15. "I ask you not to judge me for my weakness. The only way I can endure is to be in a place where I will never see you, never be haunted by the possibility of seeing you with him. I need to be somewhere where sheer necessity forces you from my thoughts minute by minute, hour by hour, I cannot do that here." – JoJo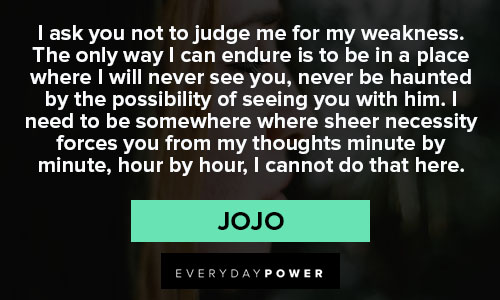 16. "I'm afraid of animals." – JoJo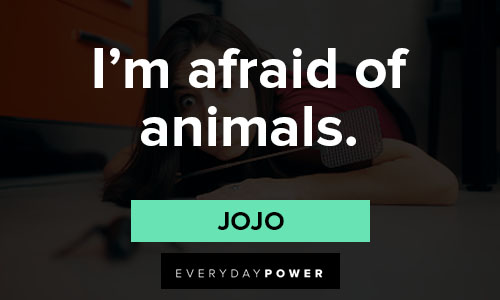 17. "I'm like a hermit. Once I'm home, I'm home and when I ride in the car, I don't really listen to the radio as much." – JoJo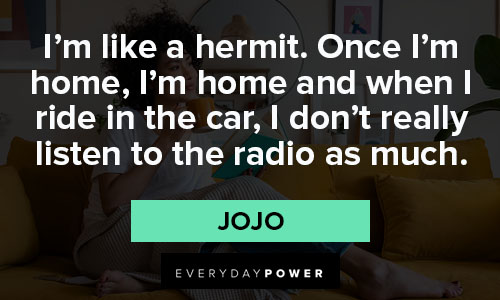 18. "I'm lucky to have a great support system in my friends and some of my family. If you have those people that you trust, go ahead and fall back into them and let them be your hammock and cocoon and let them embrace you." – JoJo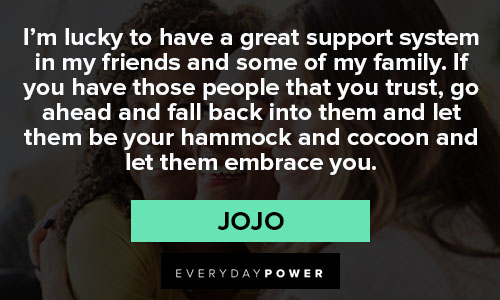 19. "I was inspired by Colin Farrell in the fact that he's Irish and has freckles but with black hair. I'm a bunch of different things, Irish Polish, Native American, and French, but I wanted to tap into that Irish side and be freckle-y with black hair, so that's what I did." – JoJo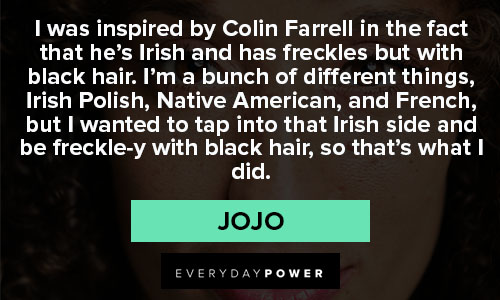 20. "I got back on antidepressants. I wanted to believe that I could clean up my diet, and get out in the sun, and write in my journal, and meditate and do yoga and just be okay. But I needed a little lift. I needed a little help. And I'm not ashamed that I did that. It was an important turning point for me." – JoJo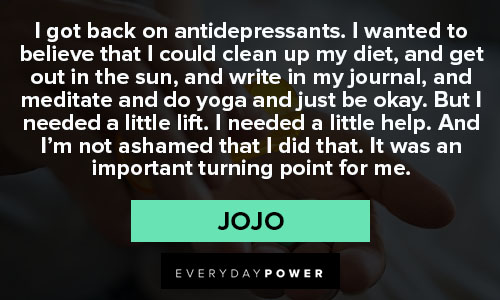 How did you enjoy these JoJo quotes?
Outside of music, JoJo has also had a successful acting career.
She first appeared on television as a child on the show Kids Say the Darndest Things.
She was also on Destination Stardom and The Bernie Mac Show prior to competing on America's Most Talented Kid.
She's been on multiple shows since then, including Punk'd, Hawaii Five-0, Lethan Weapon, and most recently, The Masked Singer.
JoJo has won several awards, including Radio Disney Music Award's Best Video That Rocks, Best Artist or song Your Teacher Likes, Favorite Karaoke Song, Yahoo Artist Awards for Best Performance in a Feature Film, and Boston Music Awards National Female of the Year.
She has also been nominated for many others, including MTV Video Music Award, Billboard Music Awards, and People's Choice Awards.
Are you a JoJo fan? Share your favorite JoJo quote or lyric with us below.