Kevin Hart quotes on Success, Family and Work Ethic
February 24, 2021 6:00 AM EST
Our latest collection of Kevin Hart quotes on Everyday Power.
Kevin Hart is an American comedian, actor and producer who is popular for his many comedy concert films.
He is one of the biggest names in comedy, having built himself up from the very bottom through hard work.
Born in Philadelphia, Pennsylvania, on July 6, 1979, Hart began working as a stand-up comedian shortly after graduating from high school.
He got his first real break in 2001 following his role on the TV series "Undeclared".
Since then, he has appeared in several films and released five comedy albums.
Hart is big-time Hollywood success who was named one of the 100 most influential people in the world by Time Magazine in 2015.
One of his major strengths is his work ethic, which has kept him at the top of the game even after all of the fame and fortune.
As one of the biggest stars in the world, Kevin Hart is someone who has clearly tapped into his Everyday Power.
In that respect, here are some powerful quotes from the comedian to inspire you to greatness.
We also have a collection of Dave Chappelle quotes that are hilarious and insightful. Be sure to also check it out.
If you like this article, we suggest you explore our most popular quotes article, a list of short inspirational quotes for daily encouragement.
Look through our complete collection of inspirational quotes here.
Kevin Hart quotes on success, family and work ethic
1. "A lot of blood, sweat, and tears have gone into this career of mine." – Kevin Hart
2. "A reputation as a hard worker is a good reputation to have." – Kevin Hart
3. "If you give up at the first sign of struggle, you're really not ready to be successful." – Kevin Hart
4. "The best tip I could give you is to be active. So many people talk about what they want to do and they just love words. Put actions behind your words. Don't be a talker, be a doer." – Kevin Hart
5. "My experiences in life are getting bigger and better. The more stuff I do, the more stuff I talk about – having kids, traveling, going through relationship problems, dealing with things in my own family. All that stuff builds character." – Kevin Hart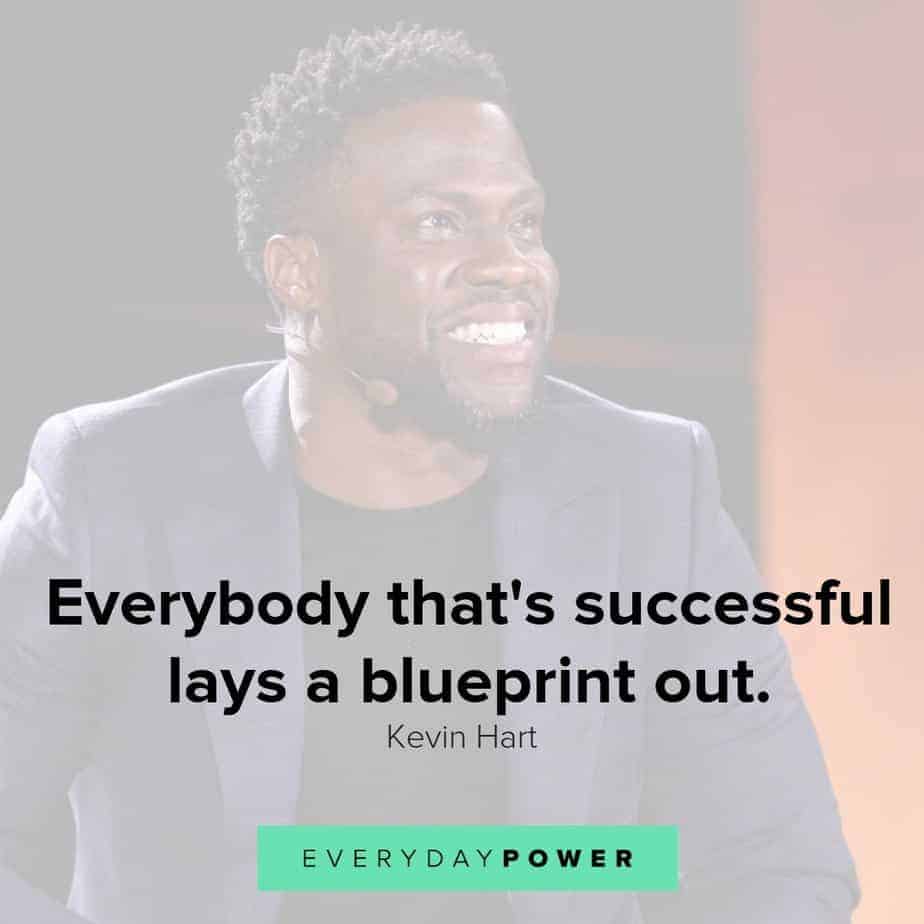 You will also enjoy our article on Step Brothers quotes.
6. "Everybody that's successful lays a blueprint out." – Kevin Hart


7. "I feel like whatever you've done in your career, good or bad, it's nothing but preparation for the big events to come." – Kevin Hart
8. "The best feeling in the world is seeing the benefits and rewards of hard work." – Kevin Hart
9. "My goals are so high that I don't have time to relax in any way, shape or form." – Kevin Hart


10. "Be loyal to those who help you grow. You got a team, you keep your team together, you run as a unit. You got a team of people, it means they believed in you, they bought into your dream. That means they invested into you, they invested time, energy and effort. In return, you gotta invest your vision and promise them that we're all going to win together."
– Kevin Hart
Don't forget to also read our collection of the best Rodney Dangerfield quotes as well as these funny Steven Wright quotes.

Kevin Hart quotes to inspire you to greatness
11. "My main goal is to be a self-made man and have control over what's mine."- Kevin Hart
12. "At the end of the day, your fans are the people who support you in and out. And their opinions matter." – Kevin Hart
13. "No matter what, people grow. If you chose not to grow, you're staying in a small box with a small mindset. People who win go outside of that box. It's very simple when you look at it." – Kevin Hart
14. "The only time you should look back in life is to see how far you have come." – Kevin Hart
15. "I didn't work hard to sit down and not work." – Kevin Hart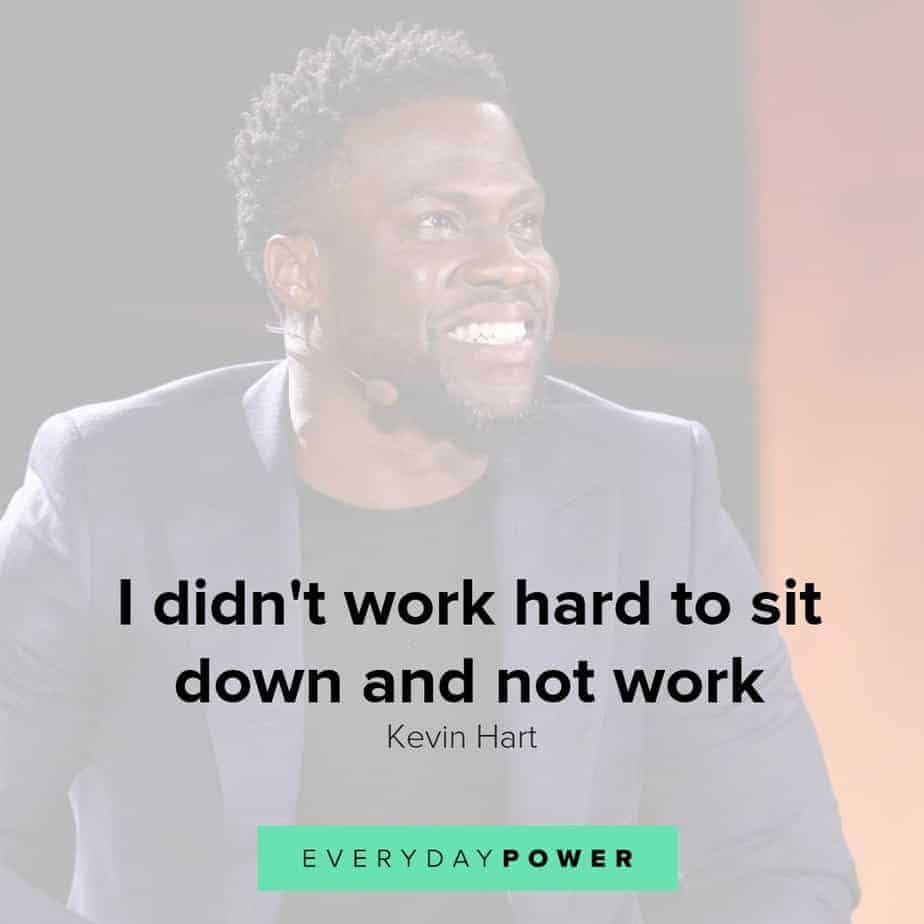 16. "Every experience is a potential life lesson. Even if you don't appreciate it at the time, each struggle in the present is preparing you for something else in the future." – Kevin Hart

17. "I stayed true to my dreams and, eventually, they came true." – Kevin Hart

18. "Appreciate hard work and the process of hard work. Because after that's over and you get the rewards of success, you look back on these moments and you respect those moments the best. You have no character, you have no place to come from." – Kevin Hart
19. "There is no need to seek external approval when you already have internal approval." ― Kevin Hart
20. "If life is a struggle, then struggle. If you get rejected, get rejected again. If your dreams are smashed, keep dreaming. Just keep your eyes on the prize—and always remember that you have to fail to win." – Kevin Hart

Also check out these hilarious quotes from Step Brothers movie.
Kevin Hart quotes to motivate you
21. "I don't care how busy I am – I will always make time for what's most important to me." – Kevin Hart
22. "The day you stop doing the small things is the day you think you're above everybody else." – Kevin Hart
23. "Life is too short to worry about what others say about you. Have fun and give them something to talk about." – Kevin Hart
24. "Your life today is the sum total of your choices. So if you're not happy with it, look back at your choices and start making different ones." – Kevin Hart
25. "I just want to be a great example to younger kids." – Kevin Hart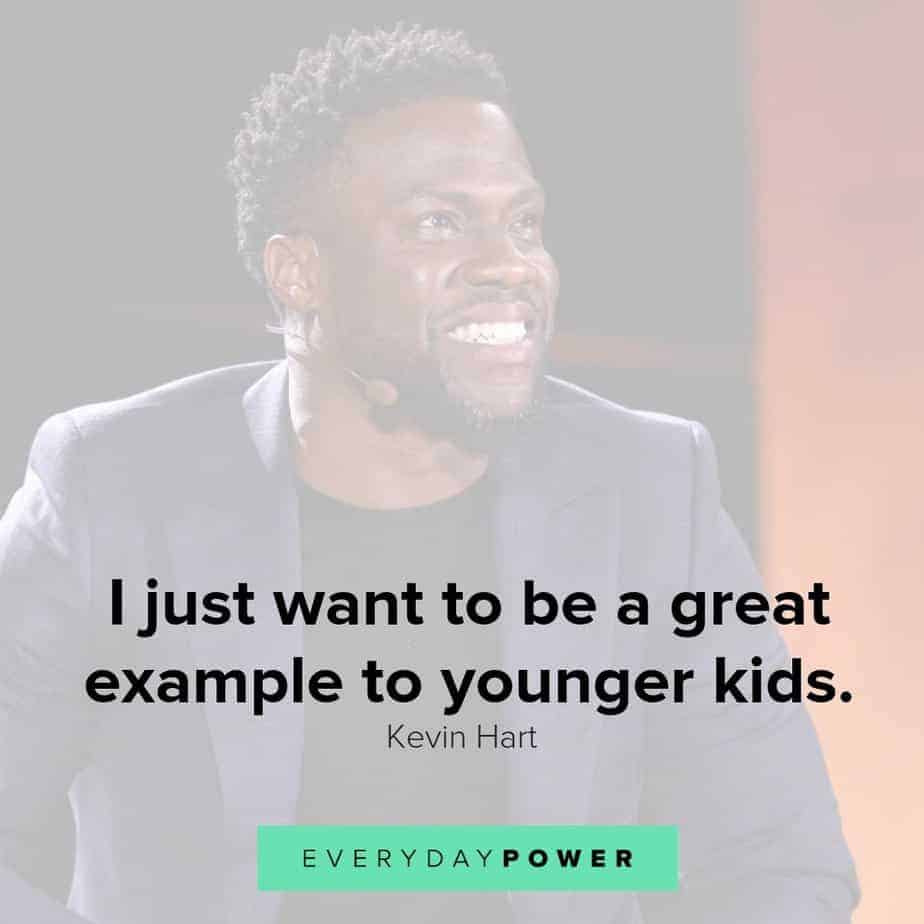 26. "I don't think you get successful to brag and throw what you have in the world's face. That's all private." – Kevin Hart

27. I never do anything that I don't want to do. – Kevin Hart

28. "You get one life. I'm going to embrace mine." – Kevin Hart
29. "In life, you can choose to cry about the bullshit that happens to you or you can choose to laugh about it. I choose laughter." – Kevin Hart
30. "You matter. And no one is allowed to take away your right to your property, your right to your safety, or your right to be yourself. Those are things that should be defended." – Kevin Hart
Other inspirational Kevin Hart quotes
31. "People want to act like they know celebrities. They want to see pictures. They want to know where you're going. They want to hear you talk about your family." – Kevin Hart
32. "You need a teacher, because those who can't do, teach. So if you wanna learn something, go to someone who can't do it. Dammit, I think I wrote this one wrong." – Kevin Hart
33. "You are already in your experience. So you can either resent and resist it, and make it that much less enjoyable, or you can accept it and find something positive in it." – Kevin Hart
34. "This way, when your best possible future comes looking for you almost always at a time and in a place you least expect it—you will be able to recognize its face and respond to its call." – Kevin Hart
35. "People call this the elusive obvious. It's right there in front of your face, so close that everyone can see it but you." – Kevin Hart
36. "Can you fail and still be strong. Can you not fit in and accept yourself. Can you lose everything and still keep searching. Can you be in the dark and still believe in the light." – Kevin Hart
37. "Don't invite them into the conversation. You already know what you want to dedicate yourself to, so you don't need to ask for their approval. There's no need to seek external approval when you already have internal approval." – Kevin Hart
38. "People May Hate You For Being Different and Not Living By Society's Standards, but Deep Down, They Wish They Had The Courage To Do The Same." – Kevin Hart
39. "Laughter heals all wounds, and that's one thing that everybody shares. No matter what you're going through, it makes you forget about your problems. I think the world should keep laughing." – Kevin Hart
40. "Success isn't supposed to happen, no matter how hard you work. There's no guarantee you're going to succeed. There's nothing set in stone." – Kevin Hart

Which of these Kevin Hart quotes was your favorite?
It's no doubt that Kevin Hart is one of the biggest names in the comedy industry.
But before he became the superstar he is today, Hart experienced plenty of failures and disappointments.
He could have decided to turn to another career but he chose to never give up on his dreams.
He is a true example that the way to success is never easy.
Hopefully, these quotes have inspired and motivated you to fight for your dreams and become the best you can be.
Be sure to check out these Me Time Quotes from the movie starring Kevin Hart and Mark Wahlberg!
Did you enjoy these Kevin Hart quotes?
Which of the quotes was your favorite?
Tell us in the comment section below.
We would love to hear all about it.