20 KISS Quotes from the Rock and Rock Legends
You can rock and roll with these KISS quotes while learning about your favorite band.
KISS is a rock band formed by members Gene Simmons, Paul Stanley, Peter Criss, and Ace Frehley in 1973.
The group is known for its stage costumes and wild face paint.
The band's look led to the creation of their characters, the Starchild, the Demon, the Spaceman, and the Catman.
KISS concerts stunned fans with theatrics like smoking guitars, fire-breathing, rockets, blood-spitting, and the use of pyrotechnics.
During the 1980s, the group began what is now known as the "unmasked" era where they performed without makeup on stage.
However, they began performing in character more than a decade later.
The band has experienced several changes in members. Current members include Paul Stanley, Gene Simmons, Eric Singer, and Tommy Thayer.
Enjoy the following KISS quotes.
Check out our most popular quote article, a list of short inspirational quotes for daily inspiration.
Check out our inspirational quotes category page for more inspirational life quotes.
KISS quotes from your favorite band members
What sets KISS apart? These quotes give you inside perspectives from the band members.
1. "I'm packin' my pistol." ― Paul Stanley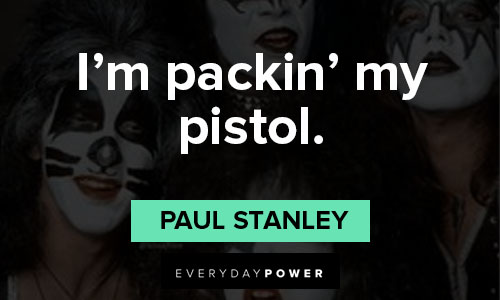 You will also enjoy our article on Grease quotes.
2. "I think KISS fans are so loyal. They want the band to be there, and that's the most important thing." ― Eric Carr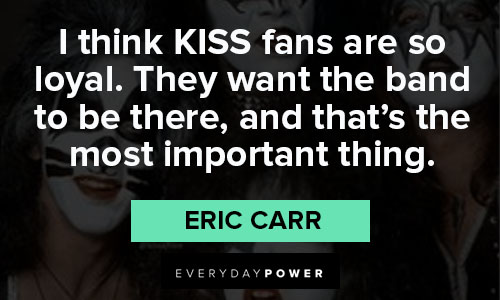 You will also enjoy our article on Rock & Roll quotes.
3. "I'm always busy. Believe it or not, if KISS isn't on tour, there's still plenty to do in the KISS camp." ― Tommy Thayer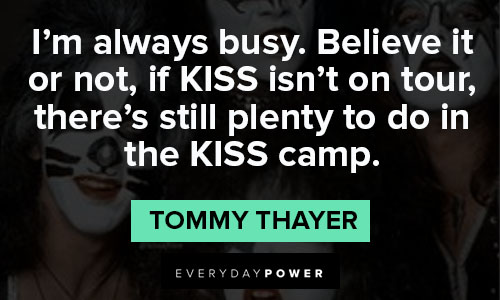 4. "Our idea was to put together the band we never saw onstage: we wanted to be The Beatles on steroids." ― Gene Simmons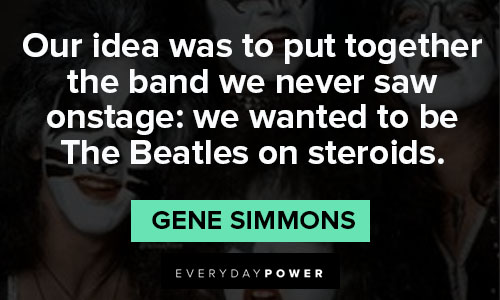 5. "When you are a rock star in front of 20,000 people, you receive instant gratification. A rock star on tour is a king in his domain." ― Gene Simmons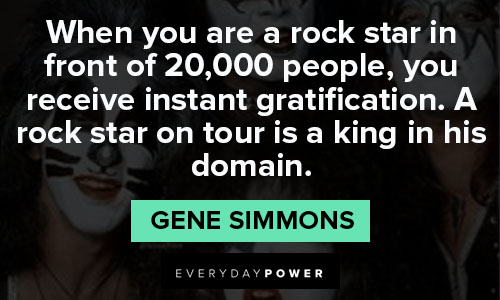 6. "I think KISS has always been about celebrating self-empowerment. Celebrating the idea that anything is possible with determination and hard work." ― Paul Stanley
7. "People relate to the spirit of the band, which is to live your way and succeed on your own terms. There's no hypocrisy in being successful and still railing against conformity." ― Paul Stanley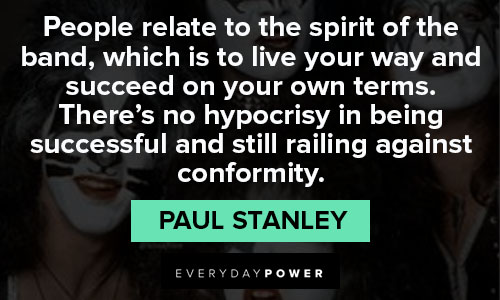 8. "I wanted to be in a band that gave bang for the buck. I wanted to be in the band who didn't look like a bunch of guys who, you know, should be in a library studying for their finals." ― Gene Simmons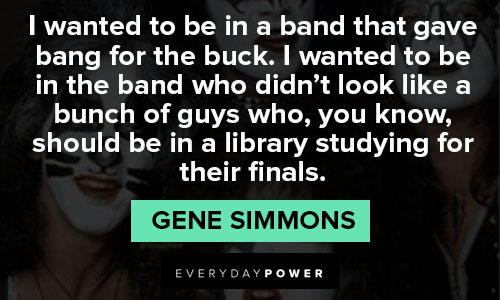 9. "I would urge all bands that say they only care about credibility and don't care about money to send Gene Simmons every dollar that they don't want. I'd be happy to take it off them." ― Gene Simmons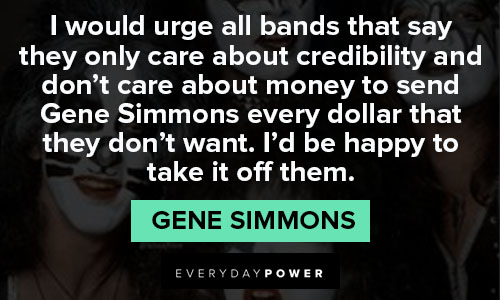 10. "The Rock and Roll Hall of Fame is marketing. You've got a bunch of faceless people in a back room who trademark a name that sounds very official. Well, if you had thought of it first, you would have been The Rock and Roll Hall of Fame." ― Paul Stanley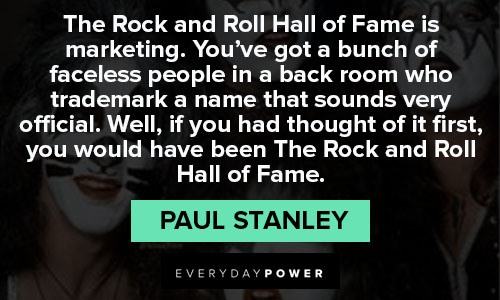 KISS quotes for their biggest fans
The success of the group doesn't fall on a single individual. These quotes show why it's the group as a whole that's successful.
11. "Tony Byrd, in charge of guitars, keyboards, and Kool-Aid." ― Paul Stanley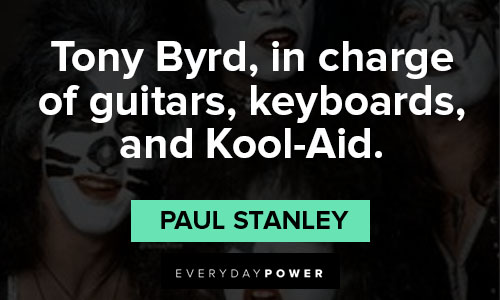 12. "When rock & roll is done with that fervor, it's close to gospel." ― Paul Stanley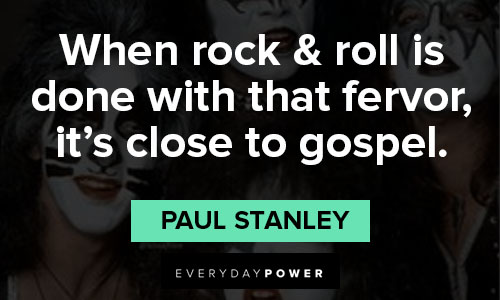 13. "What we've created is perhaps the four most iconic faces on planet earth." ― Gene Simmons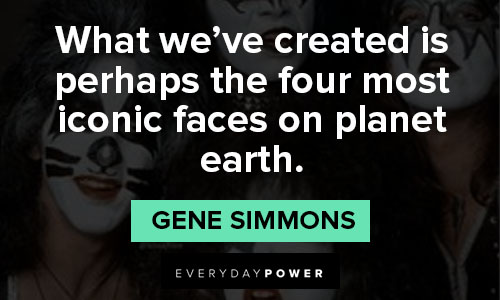 14. "KISS is bigger than any one of us, and the idea and the ideal is going to continue after we're not in the band." ― Gene Simmons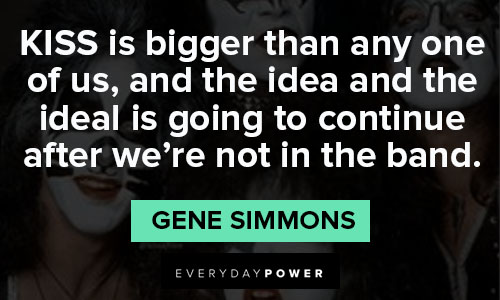 15. "James Bond has a license to kill, rockstars have a license to be outrageous. Rock is about grabbing people's attention." ― Gene Simmons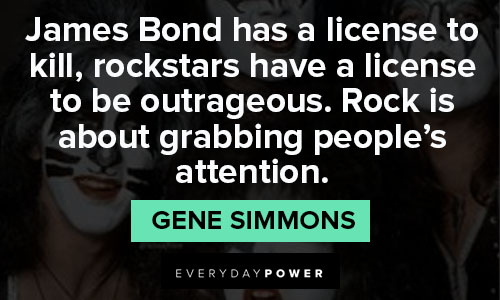 16. "When you start fooling around with drugs, you're hurting your creativity, you're hurting your health. Drugs are death in one form or another." ― Paul Stanley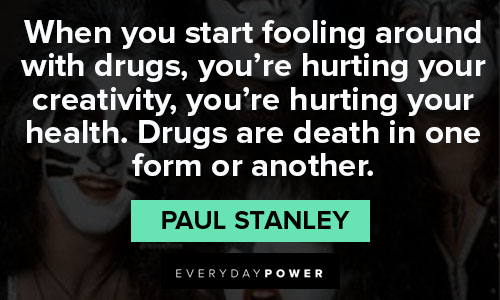 17. "People think KISS is the same thing as U2 and the Stones, that we get up onstage and play some songs, but they don't have a f*cking clue." ― Gene Simmons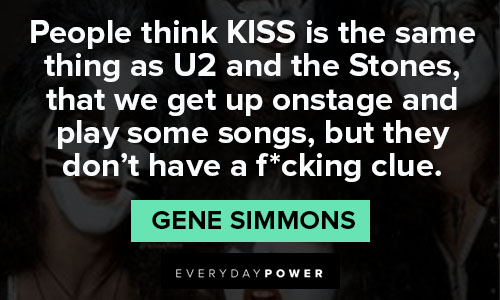 18. "I'm a great believer in not overthinking lyrics. You might become technically better as a songwriter, but you lose what originally made your songs great." ― Paul Stanley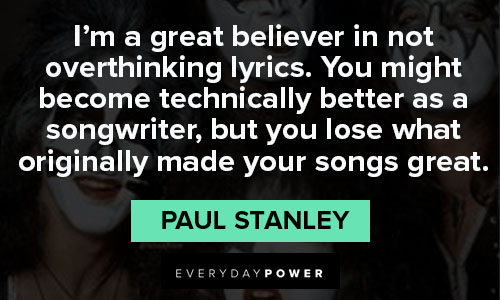 19. "There are no fans more rabid or devoted than KISS fans. KISS fans are what all other fans are measured against. That's how it came to be known as the KISS Army." ― Paul Stanley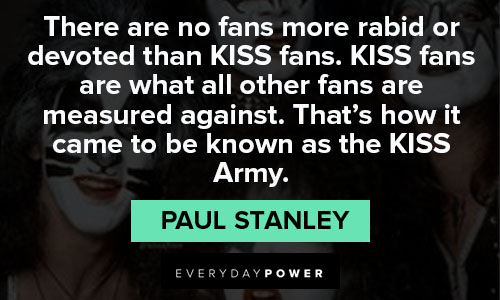 20. "Before a show, you might have aches or pains, or it's a bad rainy day, or it's too humid.… Once it's the roar of the crowd and the smell of the grease paint, forget it. Once the adrenaline kicks in and your chest expands, you forget about all that." ― Gene Simmons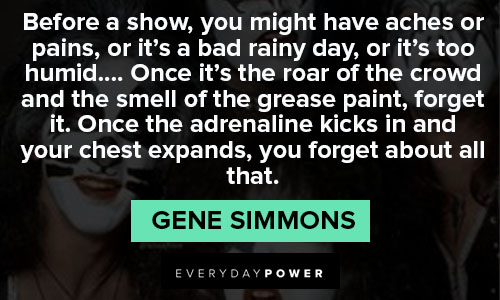 What's your favorite KISS song?
KISS has a long list of accomplishments, including having more Gold albums than any other American band.
They also have 14 Platinum albums, with three turning multi-Platinum.
In addition, the Rock and Roll Hall of Fame inducted the original four band members.
The group is known as one of the most influential rock bands.
They received many awards, including People's Choice Awards for Favorite New Song, Metal Edge Readers' Choice Awards for Band of the Year, Best Concert Performance, song of the Year, Album of the Year, Stage Show of the Year, and more.
In addition, they were nominated for a Grammy for Best Hard Rock Performance in 1999.
The band has continued to perform together for their End of the Road World Tour, which began in 2019.
Unfortunately, there were delays due to the pandemic, but they recently added 100 cities to the tour for 2023.
Have you been to a KISS concert? Share your favorite KISS quotes with us in the comments.