25 Parks and Rec Quotes About Life, Friendship, and Voting
These Parks and Rec quotes will inspire you to binge-watch the entire series.
Parks and Recreation is one of the most beloved sitcoms of all time.
This hilarious show is famous for its funny quotes, heartwarming characters, and perfectly executed jokes.
Who is your favorite Parks and Rec character?
Fans of Parks and Rec know that this show is loaded with moments of pure comedy genius.
Tune in to follow the journey of Leslie Knope as she climbs the political ladder in Pawnee, Indiana.
This show will make you laugh, cry, and feel inspired.
As you read this collection of Parks and Rec quotes, think back to some of your favorite scenes.
Parks and Recreation features a fantastic cast, great writing, and nonstop laughs.
This list is just a small sample of some of the best jokes and one-liners.
Whether you've seen the show or not, these hilarious Parks and Rec quotes are guaranteed to make you laugh.
For more laughter, check out our collection of Ron Swanson quotes about the meaning of life, or jump to another iconic show with these quotes from Arrested Development.
Check out our most popular quote article, a list of short inspirational quotes for daily inspiration.
Check out our entire collection of motivational quotes here.
Parks and Rec quotes that will make you laugh
1. "I don't want to be overdramatic, but today felt like a hundred years in hell and the absolute worst day of my life." – Leslie Knope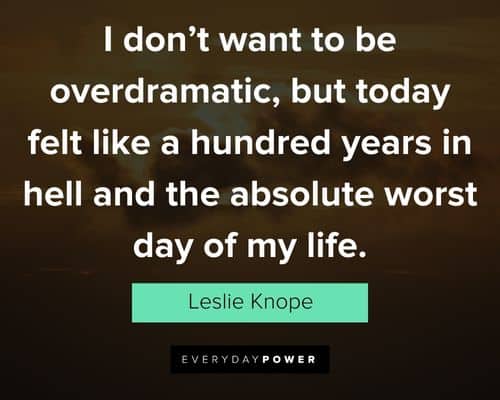 You will also enjoy our article on quotes about voting.
2. "I once worked with a guy for three years and never learned his name. Best friend I ever had. We still never talk sometimes. – Ron Swanson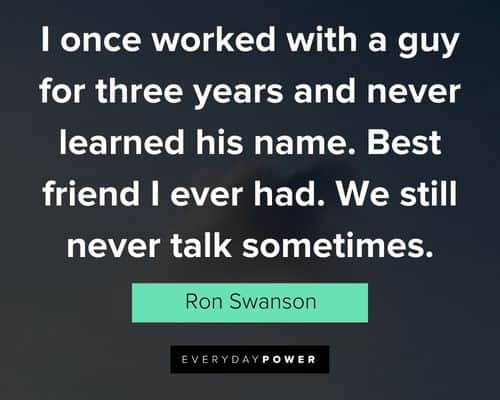 You will also enjoy our article on Aubrey Plaza quotes.
3. "Everything hurts and I'm dying." – Leslie Knope
4. "There's only one thing I hate more than lying: skim milk. Which is water that is lying about being milk." – Ron Swanson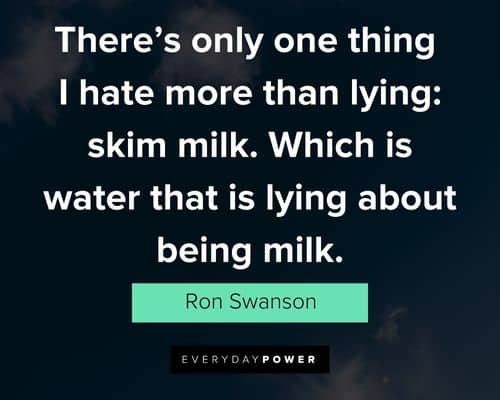 5. "If I keep my body moving, and my mind occupied at all times, I will avoid falling into a bottomless pit of despair." – Chris Traeger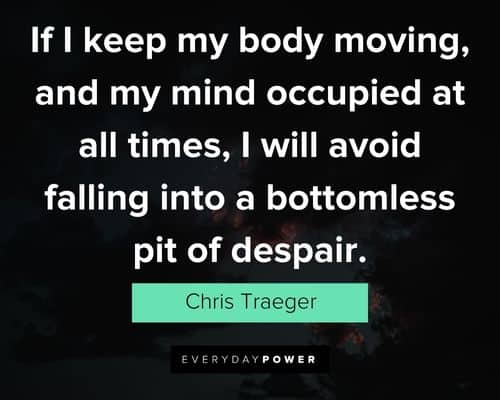 6. "I care. I care a lot. It's kinda my thing." – Leslie Knope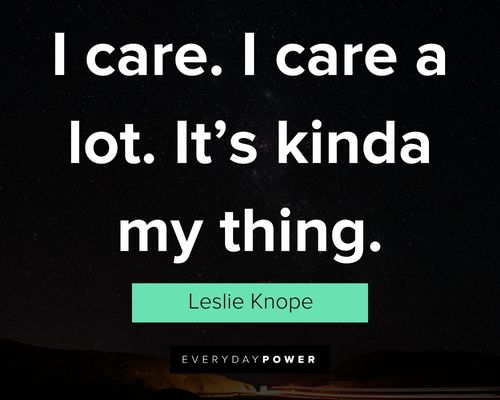 7. "I want to be a giant head and mouth, and just eat rows and rows of junk food pellets." – Ann Perkins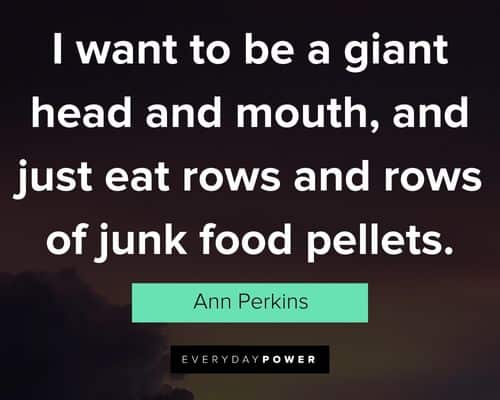 8. "Ugh. I hate talking to people about things." – April Ludgate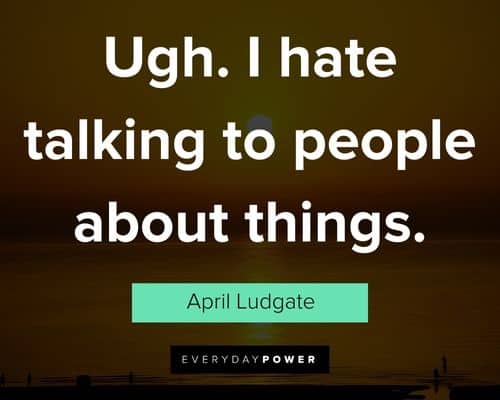 9. "I have never taken the high road. But I tell other people to 'cause then there's more room for me on the low road." – Tom Haverford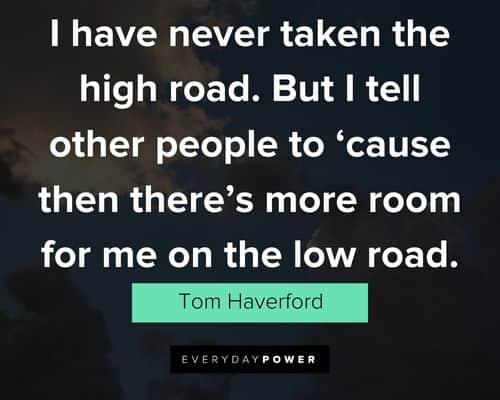 10. "I'm allergic to sushi. Every time I eat more than 80 sushis I barf." – Andy Dwyer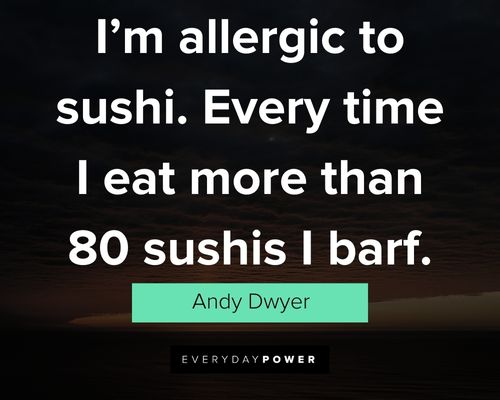 Hilarious Parks and Recreation quotes
11. "It's like I always say. When life gives you lemons, you sell some of your grandma's jewelry, and go clubbing." – Jean Ralphio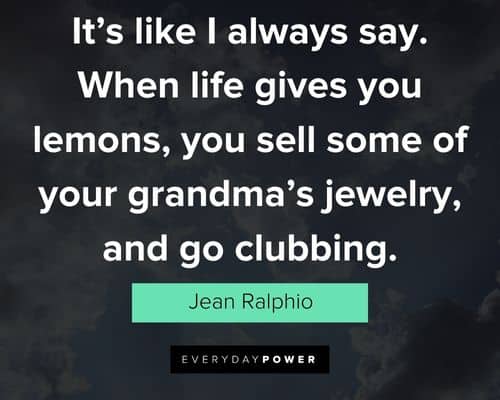 12. "When Andy and I used to go to the movies, he would always try to guess the ending of the movie. And he would always guess that the main character had been dead the whole time. Even when we saw Ratatouille." – Ann Perkins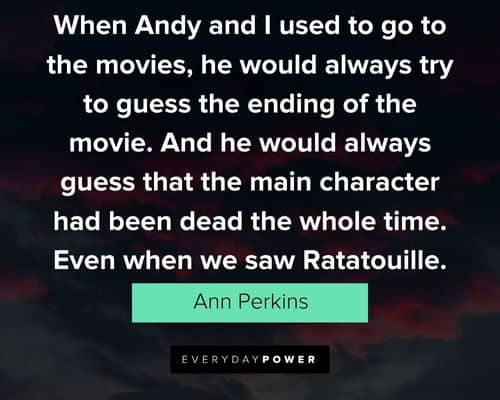 13. "I stand behind my decision to avoid salad and other disgusting things." – Leslie Knope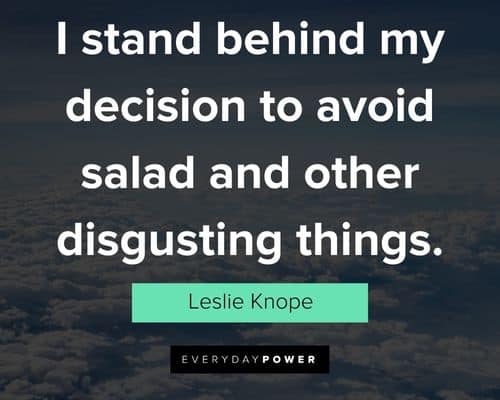 14. "My body is finely tuned, like a microchip, and the flu is like a grain of sand. It could literally shut down the entire system." – Chris Traeger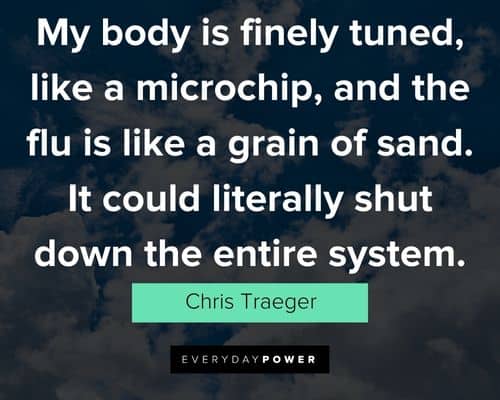 15. "I totally hear you, but, erm, I also don't like what you're saying. So if you say no, I will start a fire in the bathroom." – Mona Lisa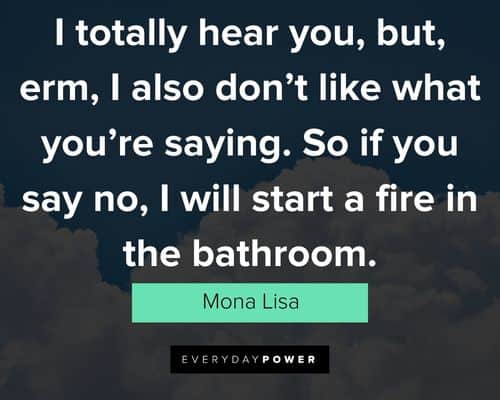 16. "These dogs are so cute I want to throw up and kill myself." – Craig Middlebrooks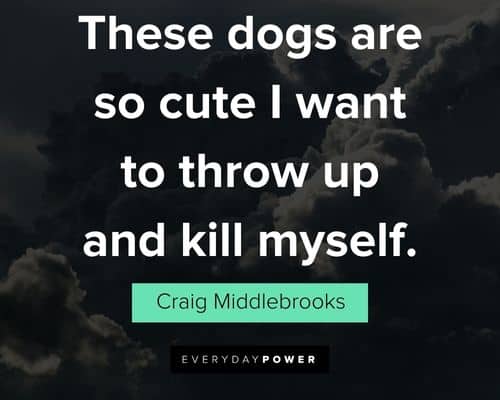 17. "Treat yo self." – Donna Meagle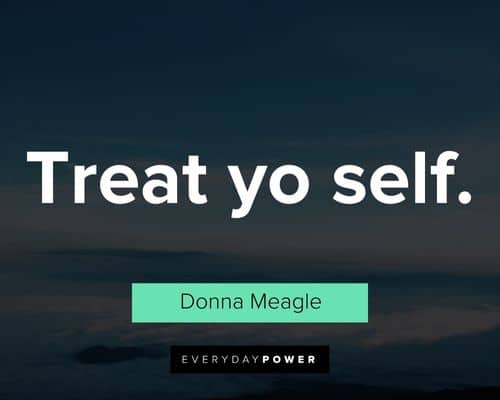 18. "I'm gonna buy some sweat pants and a Nicholas Sparks novel. Might as well lean into it." – Tom Haverford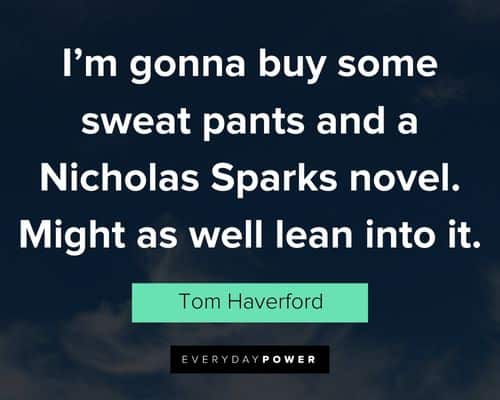 19. "One person's annoying is another's inspiring and heroic." – Leslie Knope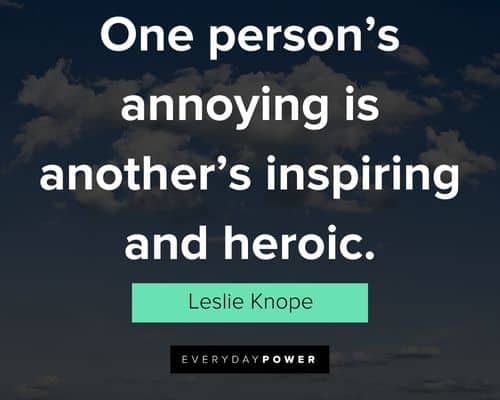 20. "Boss man, I wanna go home early. Ooh, hold on actually, hang on. Yeah, no, I wanna quit and never come here again." – Mona Lisa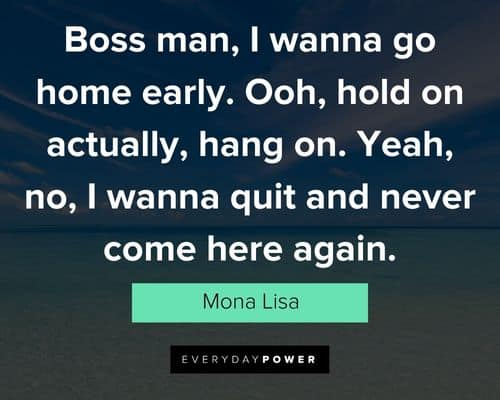 Also check out these hilarious Waterboy quotes that will remind you that "you can do it"
Parks and Rec quotes that will make your day
21. "I once forgot to brush my teeth for 5 weeks. I didn't actually sell my car, I just forgot where I parked it. I don't know who Al Gore is and at this point I'm too afraid to ask. When they say 2 percent milk I don't know what the other 98 percent is. When I was a baby, my head was so big scientists did experiments on me. I once threw beer at a swan and then it attacked my niece, Rebecca." – Andy Dwyer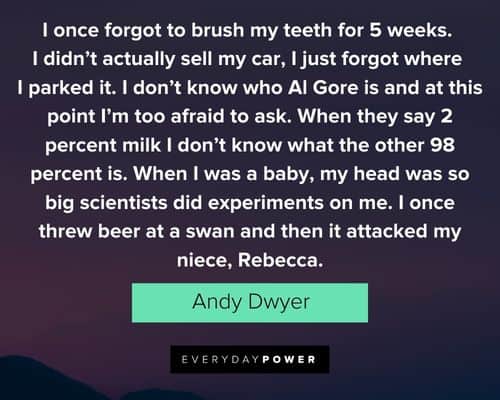 22. "You know my code. Hoes before bros. Uteruses before duderuses. Ovaries before brovaries." – Leslie Knope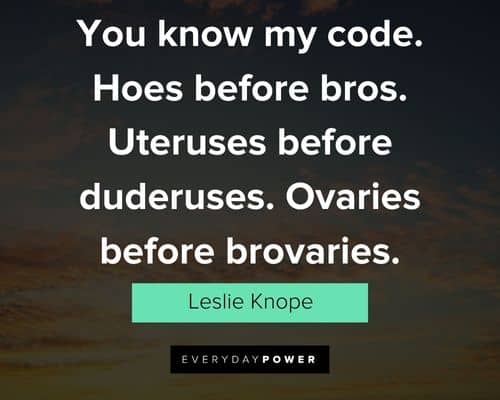 23. "I think you've got several options. They're all terrible…but you have them." – Chris Traeger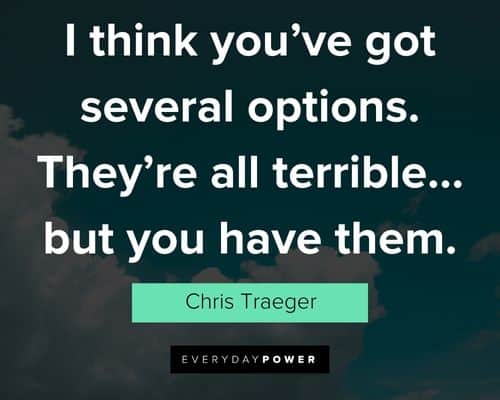 24. "There's nothing we can't do if we work hard, never sleep, and shirk from all other responsibilities in our lives." – Leslie Knope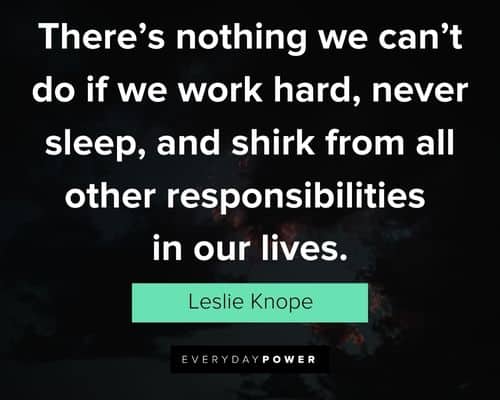 25. "I'm a simple man. I like pretty, dark-haired women, and breakfast food." – Ron Swanson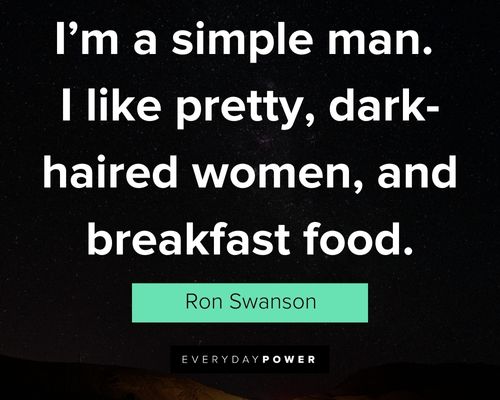 You might also like these Barney Stinson quotes from the popular How I Met Your Mother character.
Which of these Parks and Rec quotes makes you laugh the most?
Parks and Recreation is a hilarious show full of funny quotes and memorable lines.
This collection of the funniest quotes will make you laugh even if you've never seen the show.
Parks and Rec is an awesome show to watch with friends or by yourself.
Whether you're a fan of Leslie, Ron, Andy, or April, you'll love these hilarious quotes.
If you watched Parks and Rec when it first aired, you may not remember all of these amazing quotes.
Take the time to read these lines and refresh your memory.
This list of Parks and Rec quotes and lines will make you fall in love with your favorite characters all over again.
Share these funny quotes with your friends to make them smile.
What are your favorite funny or inspirational quotes from the Parks and Rec TV show?
Let us know in the comment section below.