50 Band Quotes From Musical Icons
We all have different ways of grooving, and these band quotes will get you in your groove.
Bands are more than an iconic part of our culture.
There is usually something undeniably cool about somebody who is in a band.
Bands have the power to do more than just perform music.
You might also enjoy these related articles:
Sure, they give us the gift of music and share their talent with us, but they are also like a little family.
Some bands are a healthy family, while others can have a bit of dysfunction among the members.
These band quotes from drummers, guitarists, and lead singers give us a glimpse of life in a band.
Each band is unique, with its own sound, dynamic, and musical genius.
Not everyone can play an instrument, so band members are part of an elite group of talented people.
They are confident and creative people, but they are still people with their own insecurities and traumas, as some of these quotes remind us.
Musicians like Kurt Cobain, Adam Levine, and Bruce Springsteen all weigh in on the inner workings of a band—you don't want to miss this insight into your favorite bands.
If you like this article, we suggest you explore our most popular quotes article, a list of short inspirational quotes for daily encouragement.
Look through our complete collection of inspirational quotes here.
Short band quotes
1. "I'm a one-man band!" — Jose Feliciano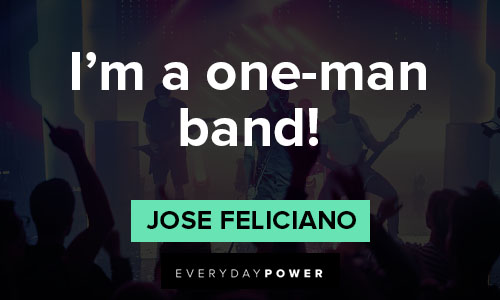 You will also enjoy our article on music quotes.
2. "No band is special, no player royalty." — Krist Novoselic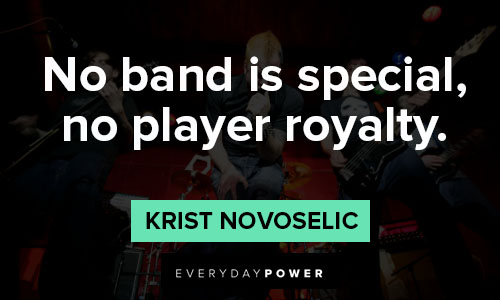 You will also enjoy our article on Pink Floyd quotes
3. "It isn't a band. It's bigger than a band. It's a lifestyle." — Zakk Wylde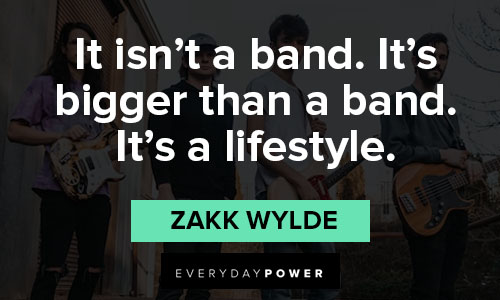 You will also enjoy our article on Rock & Roll quotes.
4. "A good bassist determines the direction of any band." — Ron Carter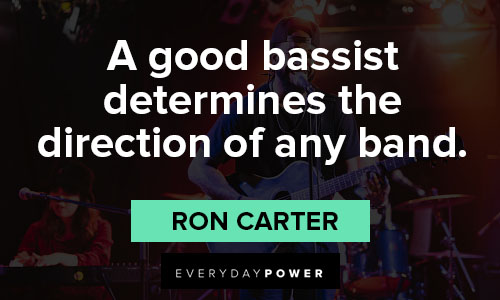 5. "You don't need a band to do hip-hop; you only need a DJ." — The-Dream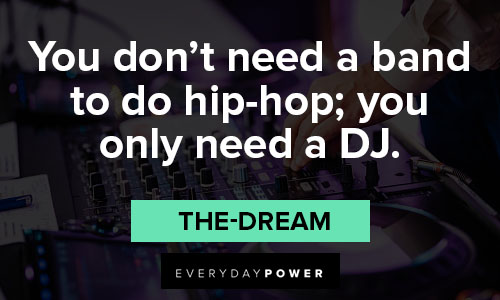 6. "I've said this over and over again, but I love being in a band." — Ringo Starr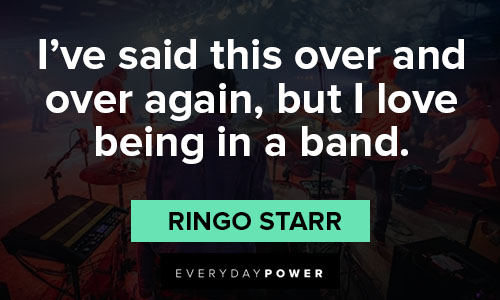 7. "In the long term, we want to become a band that everybody remembers." — Jisoo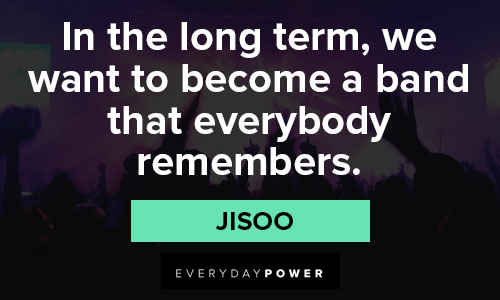 8. "With four perfectionists in the band, we have a hard time reaching perfection." — Adam Jones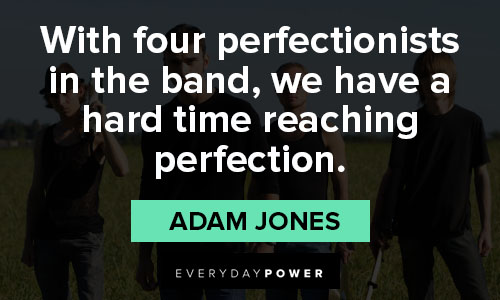 You will also enjoy our article on Slipknot quotes.
9. "I'm doing the best I can with what I got, and that's all anybody in my band is doing." — Jerry Cantrell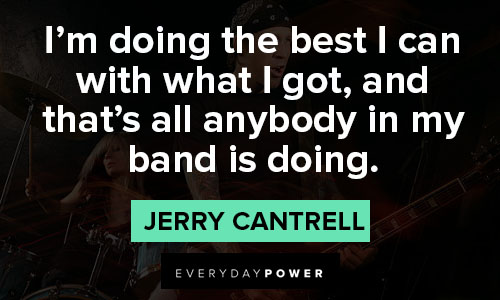 10. "Finding a good band is Iike finding a good wife. You got to keep trying till you find the right one." — Ace Frehley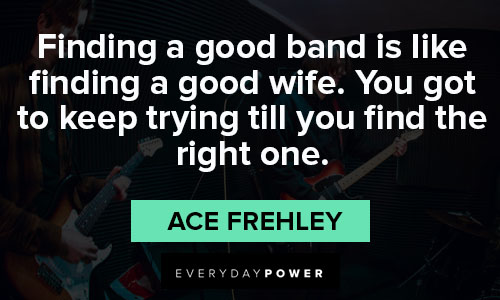 Band quotes shouting out the "greatest bands"
11. "The Beatles were basically a vocal band." — Keith Richards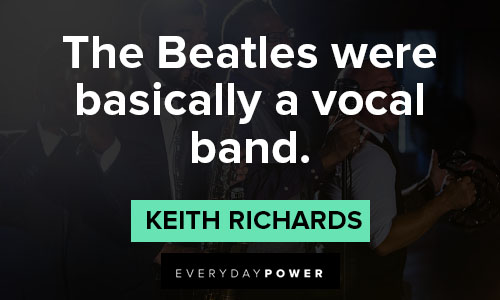 12. "We're not arrogant, we just believe we're the best band in the world." — Noel Gallagher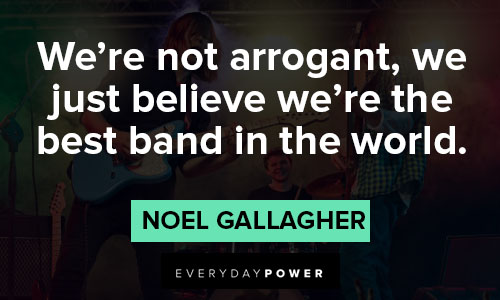 13. "I'm obsessed with Radiohead. They're just the greatest band on the planet." — Aaron Paul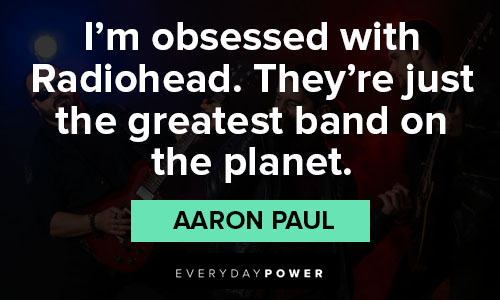 14. "I've been through a lot of experiences in my life being in the biggest band in the world." — David Bryan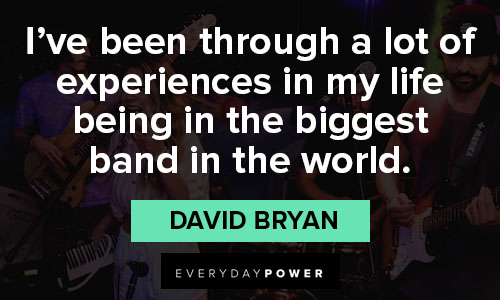 15. "The Velvet Underground is probably the best band that's ever existed, assuredly the best American one." — Ezra Furman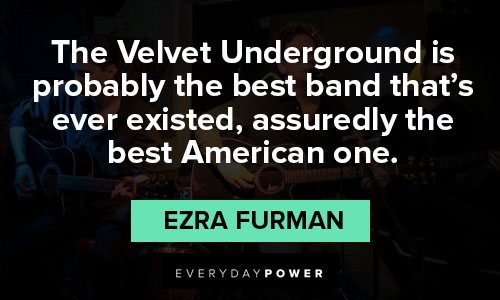 16. "I think Green Day's 'American Idiot' is probably the best comeback or mid-career record that any band has done." — Brian Fallon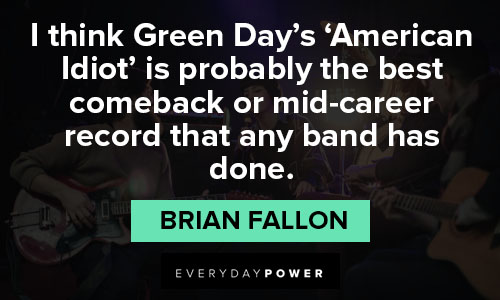 17. "When I heard the Pixies for the first time, I connected with that band so heavily I should have been in that band – or at least in a Pixies cover band." — Kurt Cobain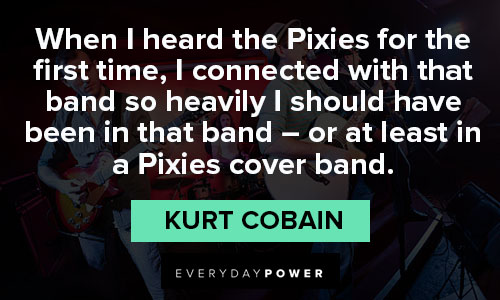 18. "I didn't love Jim Morrison. There was something very reptilian about him. And I didn't care for his singing, but his band! The Doors were fantastic." — Linda Ronstadt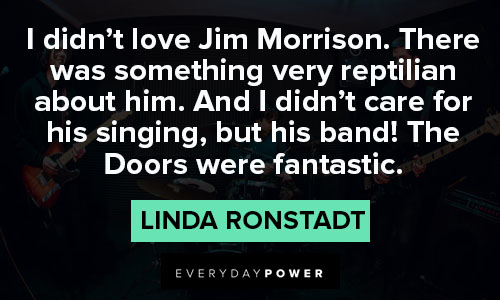 19. "A band which plays songs such as 'Death Knell' or 'Prime Mover' can't just stand on the stage with a shirt and jeans-jacket. It must be more awesome than that." — Tobias Forge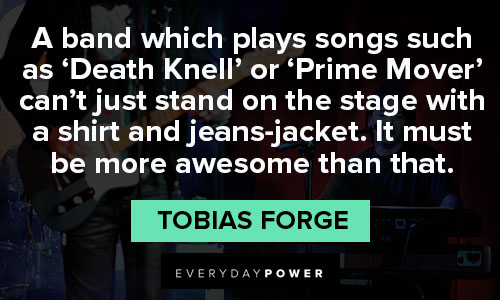 20. "I'd make a White Stripes record right now. I'd be in the White Stripes for the rest of my life. That band is the most challenging, important, fulfilling thing ever to happen to me. I wish it was still here. It's something I really, really miss." — Jack White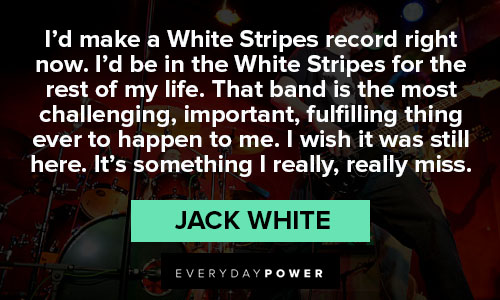 Band quotes from or about drummers and guitarists
21. "A band is as solid as its drummer is." — Joey Kramer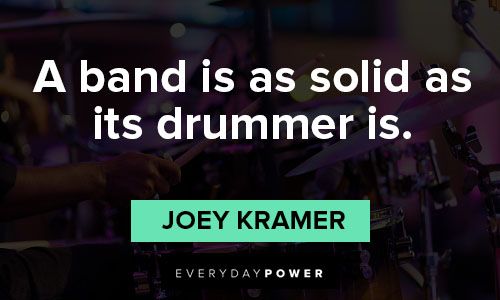 22. "But primarily, the drummer's supposed to sit back there and swing the band." — Buddy Rich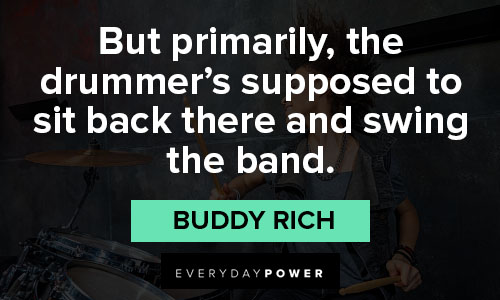 23. "The drummer is the backbone of the band and is the real underrated one." — Bernard Sumner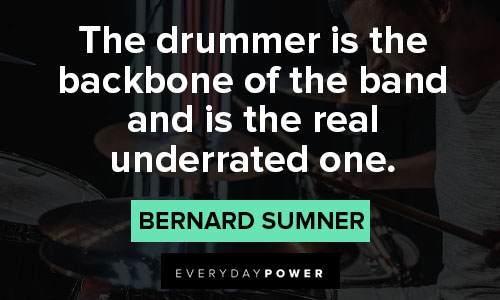 24. "In my last band, Soundgarden, I had a couple of different drummers sit in on some stuff and it was fun for me to kind of take a break and watch the band." — Matt Cameron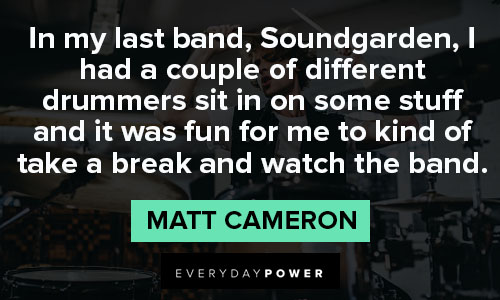 25. "When you get together in a group, it becomes like a family, with the different personalities and the politics that comes with being in a band." — Albert Hammond, Jr.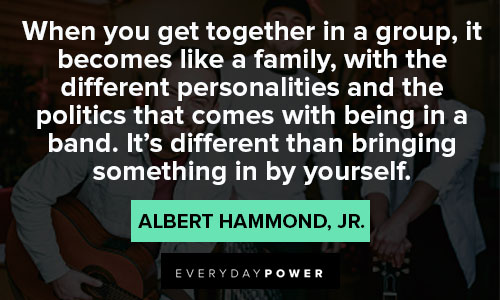 26. "But I've always liked to be the kind of drummer and musician who likes to go outside of what's expected of me, and I've always been able to do more than you necessarily hear with every band I've ever played in." — Matt Cameron
27. "The drummer in my first band was killed in Vietnam. He kind of signed up and joined the marines. Bart Hanes was his name." — Bruce Springsteen
28. "I don't take breaks, man. In the past, I used to spend my free time getting in trouble, and now I spend it working on my music. If I'm not playing drums with my cover band, Chevy Metal, I'm working on songs for myself." — Taylor Hawkins
29. "A great band is more than just some people working together. It's like a highly specialized army unit, or a winning sports team. A unique combination of elements that becomes stronger together than apart." — Steven Van Zandt
30. "It's a magical thing, the guitar. It allows you to be the whole band in one, to play rhythm and melody, sing over the top." — David Gilmour
Band quotes from or about lead singers
31. "As good as I am, I'm nothing without my band." — Steven Tyler
32. "With my voice and my band, I can do anything." — Captain Beefheart
33. "I write the music, produce it and the band plays within the parameters that I set." — Sting
34. "The only reason I became the singer in the band is because I sang the best. It wasn't out of some desire to be a star or be a famous singer." — Adam Levine
35. "I always just wanted to be the singer or the bass player in the band. I'd love to have a band, where I was obviously the singer, but where it wasn't me, it wasn't my name." — Bryan Adams
36. "To tell the truth, I'd join a band with John Lennon any day, but I couldn't join a band with Paul McCartney, but it's nothing personal." — George Harrison
37. "I don't treat the band like I'm above them or that they're a hired hand for me. We've never worked that way. So I'm a team player." — Tom Petty
38. "I can't deny that Eric Clapton's and Eddie Van Halen's lead stuff has influenced a stack of people, but for me, it's the rhythm thing that's way more impressive and important to a band." — Angus Young
39. "Panic! at the Disco, for me, has been an outlet to do whatever. I never felt like there were any rules. It was always carte blanche. I could do whatever I wanted. There were no rules set yet for the band." — Brendon Urie
40. "I'm not a big fan of lead vocalists, people who sing but don't play. I never wanted to be in a band where the guy who was up front just sang." — Eric Clapton
Band quotes from famous musicians
41. "I love being in a band." — Jewel
42. "Every band I knew or played with had flyers and properly-recorded demos and contacts; I couldn't even get a gig." — Beck
43. "I was a jazz major in high school, in an all-jazz band. No matter what I do, it features my musical influences." — Wyclef Jean
44. "You can't be afraid of getting old. Old is good, if you're gathering in life. Our band is good at understanding that equation." — Bruce Springsteen
45. "I do a lot of curiosity buying; I buy it if I like the album cover, I buy it if I like the name of the band, anything that sparks my imagination." — Bruce Springsteen
46. "All of a sudden, someone threw me in front of this rock and roll band. And I decided then and there that was it. I never wanted to do anything else." — Janis Joplin
47. "Every day you wake up is an opportunity to go beyond, and that 's why I let my band go right now." — Carlos Santana
48. "Men are going to go out on the road and they're going to find other women. So if you really want to save yourself a whole lot of heartache, do not fall in love with somebody in a band." — Stevie Nicks
49. "I think we're always doing something for teenagers and youngsters because BTS originally performed itself as a socially conscious band. We always wanted to sell our performances like we did with our debut." — RM
50. "If one more 'journalist' makes a cavalier statement about me and my band, I will personally or with my fans' help, greet them at their home and discover just how much they believe in their freedom of speech." — Marilyn Manson
Quotes from people who quit other things to be in a band
At some point, who hasn't tried to start a band?
"I left school and didn't go to university to be in a band." – James Acaster
Check out these school quotes.
"I dropped out of college when i was 18 to be in a band." – Brody Jenner
"I reckoned I could meet more girls being in a band than playing soccer." – Roger Taylor
Take a moment to look through these soccer quotes.
"I was extreme… from skateboarder to hip-hopper to rave child to lead singer of a rock band – I did it all, and all at the same time." – Pink
What is the best band of all time?
There have been many fabulous bands in many musical genres through the decades.
Picking the "best band" will differ, depending on who you ask!
However, I think there are a few guidelines we could use to determine the answer.
We could look at things like record sales, tour sales, worldwide popularity, and longevity.
LedgerNote went and did some of this work for us and ranked the top ten bands of all time.
They listed the top ten bands: Queen, The Doors, Nirvana, The Who, U2, Led Zeppelin, The Beach Boys, Pink Floyd, and The Rolling Stones.
In their number one spot was The Beatles!
Now, of course, this is opinion-based, but regardless of the order you would have ranked them, it is likely these are bands that would have made your list at least.
Many made the list when musicians spoke about their favorite bands in these band quotes!
I am a die-hard Maroon 5 fan, so they would definitely be on my personal list!
How about you? Who do you think is the greatest band of all time?
Let us know in the comment section below.
You might also like these Twenty One Pilots quotes and Eddie Vedder quotes!