50 Russ Quotes About Music and Life
Rapper and author, Russ, knows the power of believing in yourself.
Enjoy these Russ quotes collected to inspire you to believe in your power to achieve your dreams.
You may also enjoy our article on:
No one knows the power of hustle more than the American rapper, Russ.
Born in 1992, Russ began writing raps at age seven.
By age 14, he was creating his own beats.
By 18 he had recorded his first song.
And by 19 he had appeared on MTV.
To help gain traction in the music industry, Russ released a song a week on SoundCloud for almost three years.
His efforts eventually paid off and he signed to Columbia Records in 2017.
Author of the inspirational book, It's All In Your Head, Russ knows that the biggest obstacle standing between you and success, is yourself.
We hope you are inspired by these Russ quotes.
Don't forget to also check out these G Herbo quotes about life, love, and success.
Check out our most popular quote article, a list of short inspirational quotes for daily inspiration.
Check out our inspirational quotes category page for more inspirational life quotes.
Inspirational Russ quotes and lyrics
1. "What have you done? What will you do? Or what to do now?" — Russ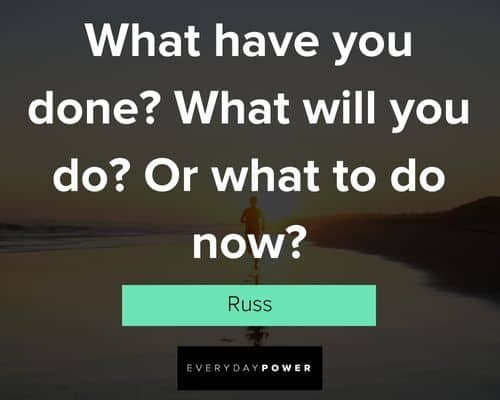 2. "I love to sit down and have a conversation with like-minded people." — Russ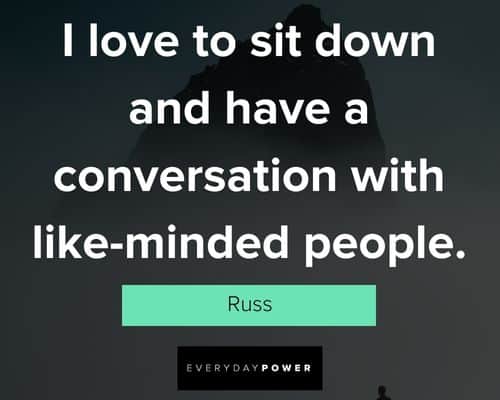 You will also enjoy our article on anxiety quotes.
3. "You must work in the dark for your light to shine." — Russ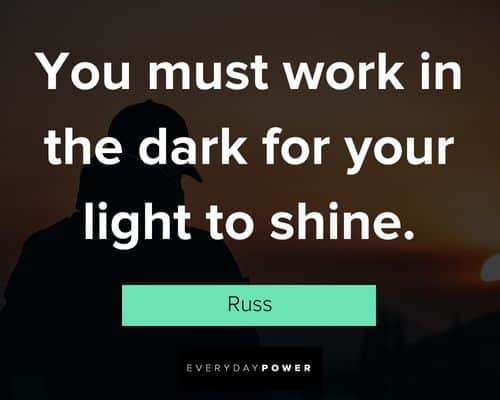 You will also enjoy our article on deception quotes.
4. "I was voted Most Likely to Make a Teacher Retire." — Russ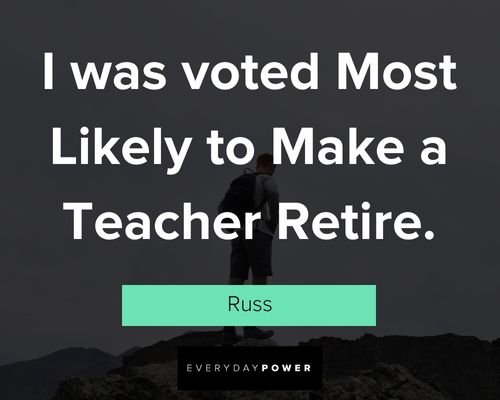 You will also enjoy our article on you can do it quotes.
5. "I didn't go to my prom. I didn't go to my homecoming." — Russ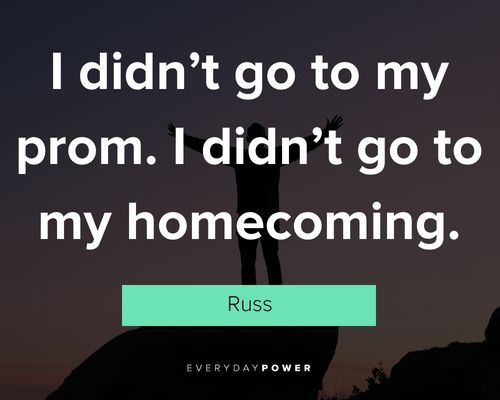 You will also enjoy our article on self made quotes.
6. "Fear is the wall. Belief is what catapults you over the wall." — Russ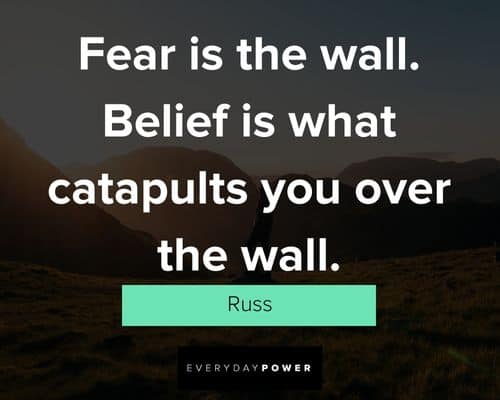 You will also enjoy our article on when reading feels like a waste of time do this.
7. "I'm talking to myself, I hope I'm listening." — Russ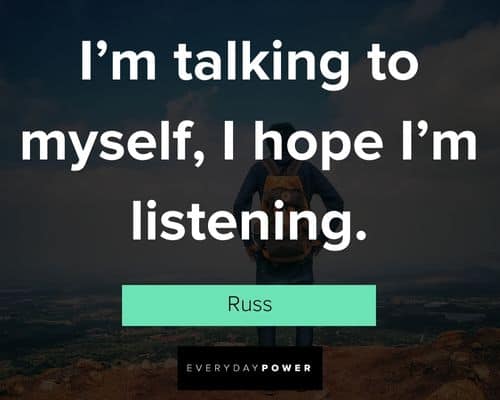 You will also enjoy our article on dont fail because you dont read.
8. "Don't hesitate. Don't doubt. Don't even worry about falling. Wings will grow." — Russ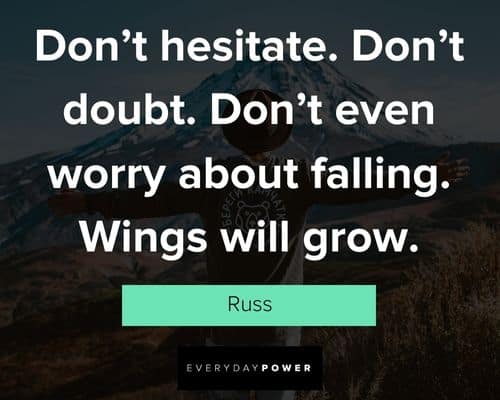 You will also enjoy our article on most popular books you probably havent read yet.
9. "You decide whether to be your greatest obstacle or your biggest fan." — Russ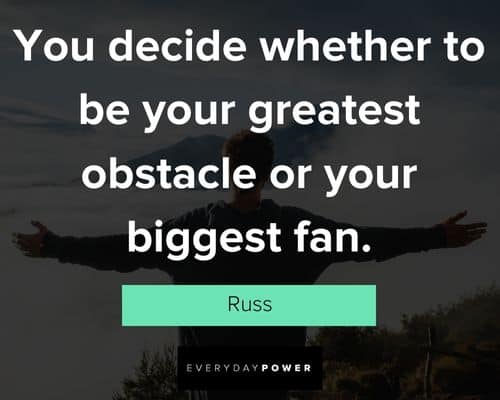 You will also enjoy our article on ten most influential business books.
10. "I have an unremovable stain of self-confidence." — Russ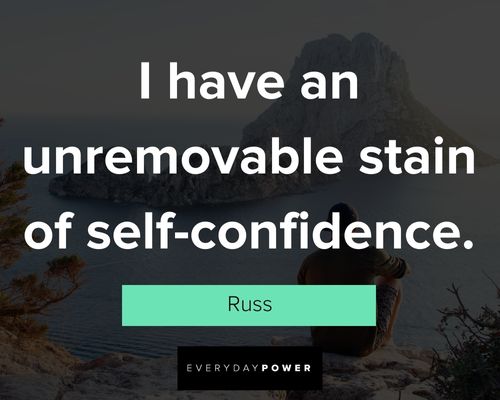 Russ quotes about life
11. "Take it day by day. This is a race, yes, but not against anyone or anything else except your own doubt." — Russ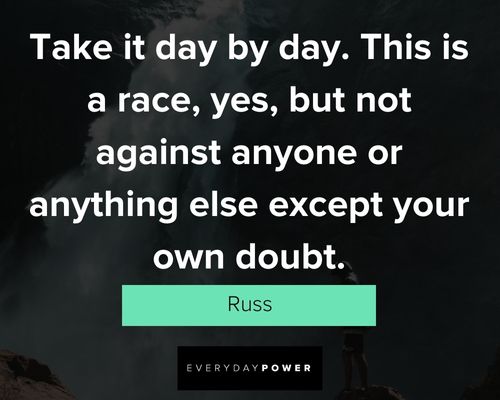 12. "Past is gone and there's no way to travel in time. Future is unforeseeable and there's no guarantee what will happen next." — Russ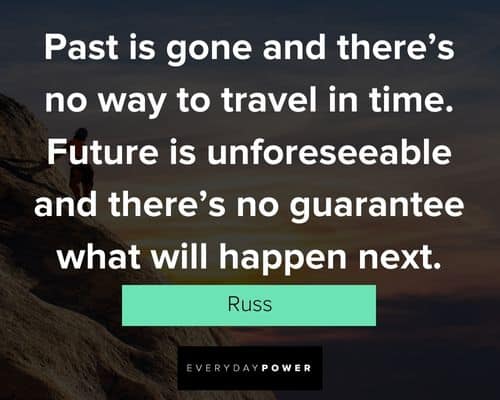 13. "Do whatever you like, go wherever you want, love however you feel it to be true. For if you wait, life won't do the same." — Russ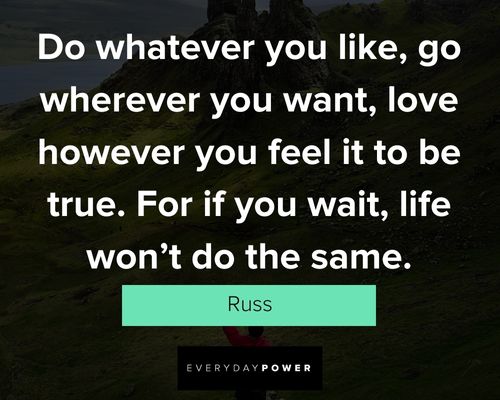 14. "Sometimes I feel like it's going to be collapse & I'm going to be bury under a large amount of problems. You know these sometimes are when I'm all alone, without hope." — Russ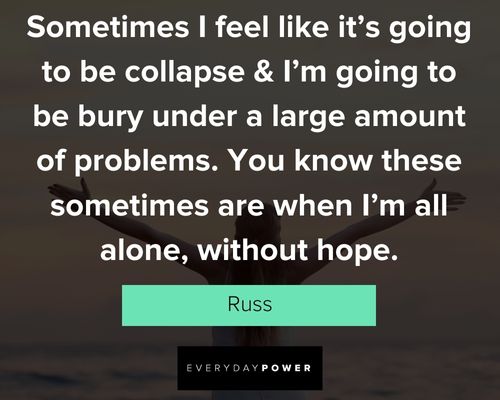 15. "When you need help, no one's going to be there for you. When you feel sad, no one's going to be there for you. When you feel alone no one's going to be there for you. But when you're in perfect comfort, everyone's there… But not for you!" — Russ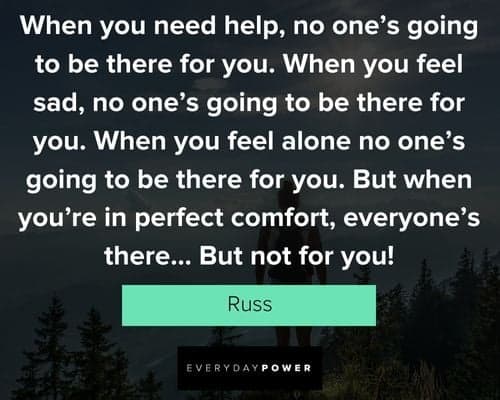 16. "I have a dream-like everyone else in this universe may have and I always ask myself 'Am I strong enough to face my destiny? Smart enough to face my problems? Brave enough to face my fears? And stupid enough to risk my life?' If it would be 'No' then, 'Disapointed' but if 'Yes' then, 'So be it." — Russ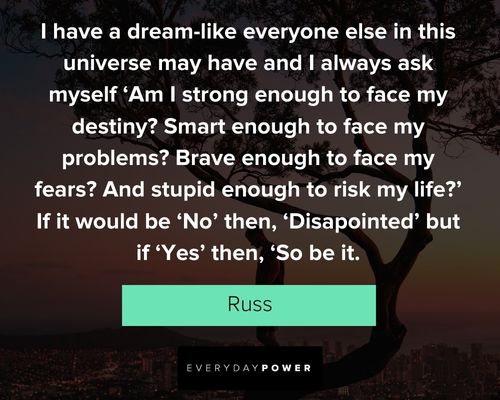 17. "Trends die. That's the natural thing about a trend. It's natural for people to be followers and be sheep and go with a trend." — Russ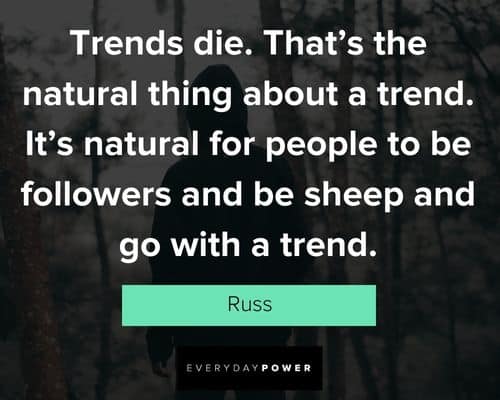 18. "I think people sometimes get my message misconstrued and believe I'm trying to brag, but I'm genuinely trying to show people that you can do it all yourself, and there's so much power and freedom in that." — Russ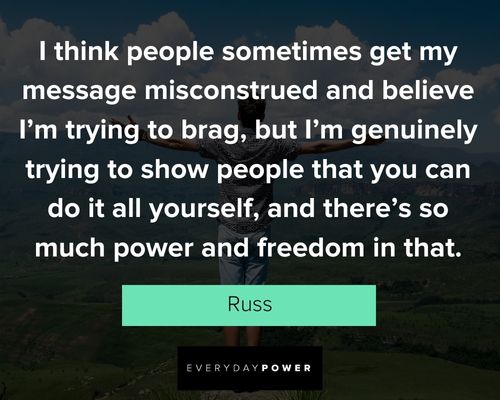 19. "Make your decision and go for your dreams before it gets too late. For that time will never stop for you." — Russ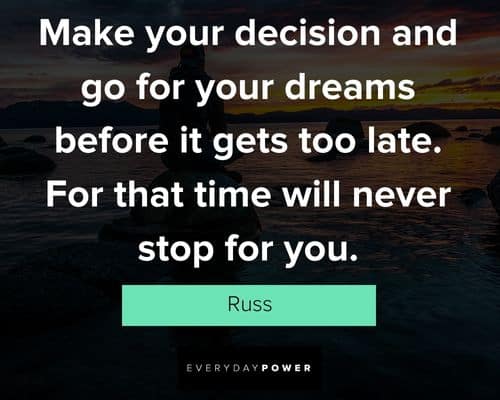 Wise Russ quotes
20. "Trust is easy to give but hard to keep also it's hard to achieve but easy to lose." — Russ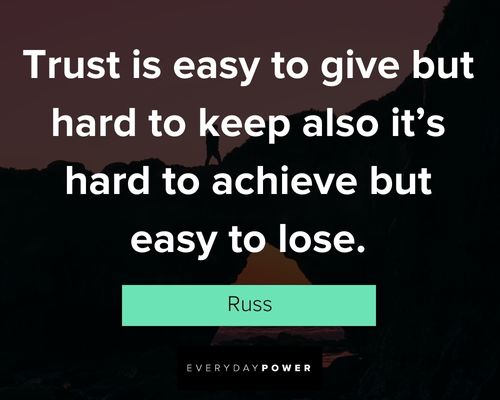 21. "Wind blows. You can set a wall against it, you can build up a windmill. The choice is yours." — Russ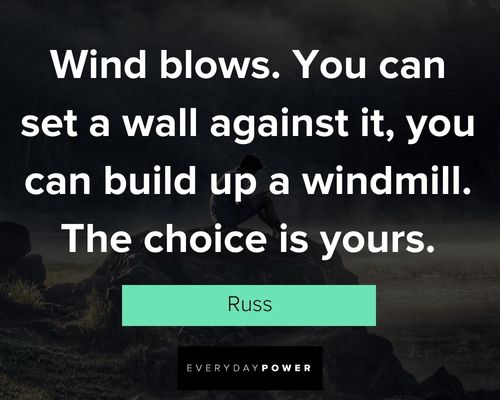 22. "Never make a promise that you can't really keep it. But if you did, in any case, try to keep it anyway, whatever hard, troublesome or even painful." — Russ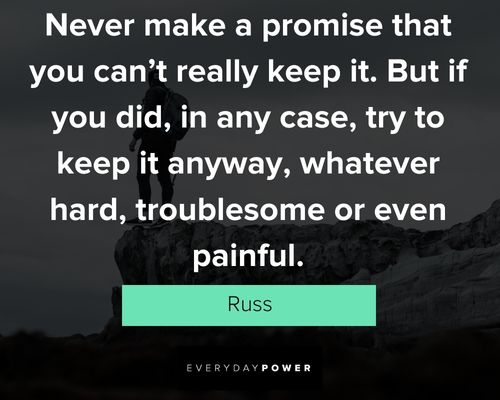 23. "Thinking about past memories & events would mostly cause you sadness. Thinking of the future and what may happen would causes you anxiety. Present is the time you're living in and you can do anything right now." — Russ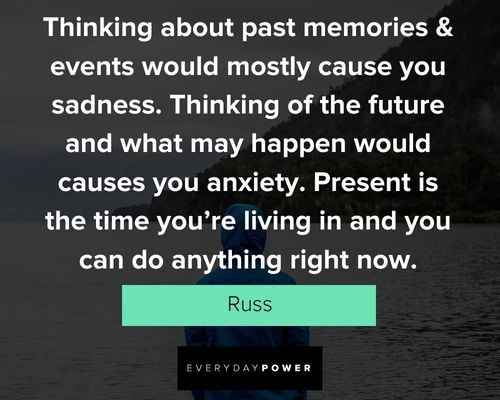 24. "Trust the what. Fuck the when. Never forget the why." — Russ
25. "A full pure heart with empty pocket is much better than full pocket of money with no heart." — Russ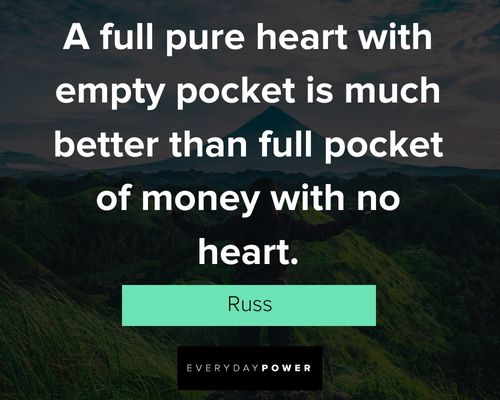 26. "The what-ifs will torment you. The oh, well will free you." — Russ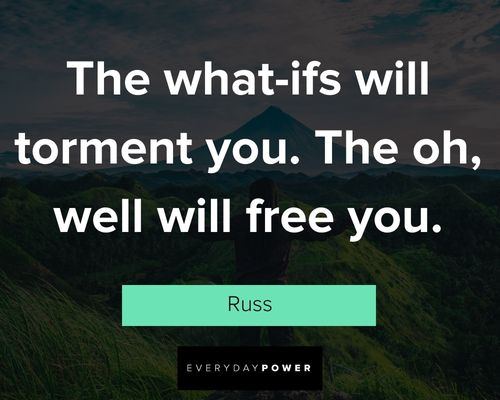 27. "Advice number one: listen to your gut – it's never gonna lead you wrong. Number two: trust yourself. The root of everything is self-belief." — Russ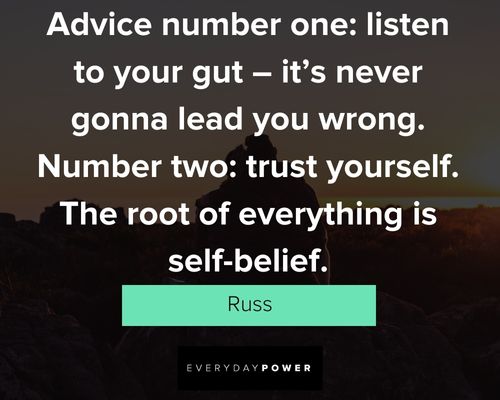 28. "I think talking things out is therapeutic." — Russ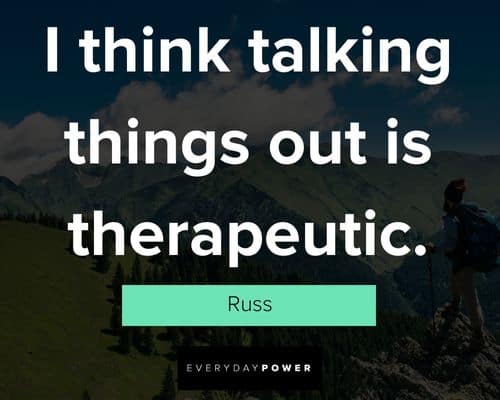 29. "You can have a bunch of individually good players, but it doesn't matter. You gotta learn to play like a team." — Russ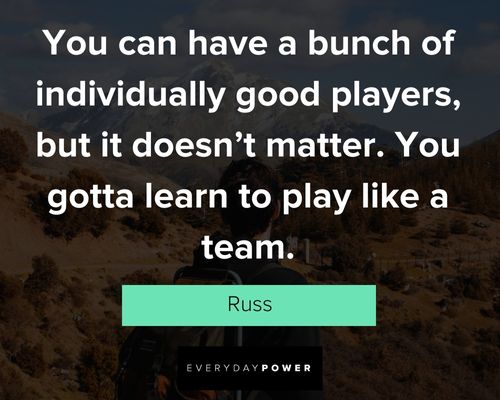 Russ quotes about music
30. "I started playing instruments before I started making beats, and I was never the best guitarist or the best pianist or the best drummer. And when I started making beats, I was not the best beatmaker, and when I started making hooks, I was not the best vocal melody person. When I first started rapping, I wasn't the best rapper at all." — Russ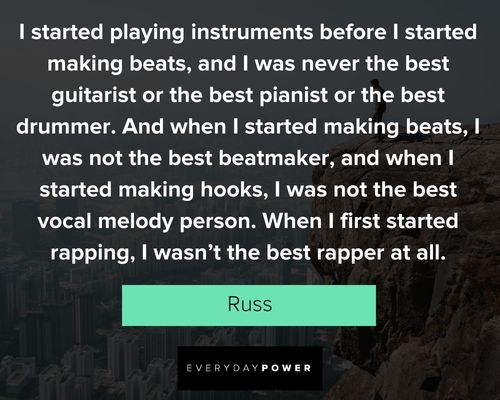 31. "I'm not obsessed with the idea of doing what you're supposed to be doing when you're a rapper. Walking around with cash that you haven't even provisioned for tax. Spending all of your time in the designer store to create some weird impression. I'm not interested, bro. I just like making music, and that's it." — Russ
32. "Every time I put out music and it goes well, it's a confirmation of your taste and your gut." — Russ
33. "If you're an artist, create music and put it out on the Internet. If you do this consistently, your fan base will continue growing, and that will power your entire career." — Russ
34. "I would have only doubted myself if I was really attached to the result of what I was doing, but I was always doing it and will always do it for the love of making songs, and if you liked it you liked it, if you didn't, you didn't. It was always pure and always will be pure." — Russ
35. "That's the thing: I'm not opposed to working with people. I'm just not one of these people that feels the need to hop around the industry and get this guy's beat and get this guy's hook." — Russ
36. "I don't deviate – once you get validated for being you, I don't know why you would deviate. I stick to my gut and my taste." — Russ
37. "I didn't get into music; music got into me." — Russ
38. "When I was making beats, I don't remember thinking about doing it as a career, I just remember that every day I wanted to do it." — Russ
39. "Drake and Kanye make me want to get better." — Russ
40. "From the engineer to the producer, all of these roles are critical to creating a song." — Russ
41. "I like making songs and playing '2K.'" — Russ
42. "I'm not sitting around, waiting for something to run across the Internet so I can go, 'Oh, that's what I'mma write about.' I just go around, live life, make music, and it's epic." — Russ
43. "My raps be crazy, and my hooks are nasty." — Russ
More Russ quotes and and lyrics
44. "No matter how old you are, an empty wrapping paper tube is still a lightsaber." — Russ
45. "She's falling in love now, losing control now/ Fighting the truth, trying to hide/ But I think it's alright girl." — Russ
46. "She's falling but she doesn't think he'll catch her/ 'Cause her last relationship was a disaster/ Accusations every day, she didn't know why/ All her calls would be ignored, he's on his own time." — Russ
47. "Should've ended it before it started/ All she ever got was broken-hearted." — Russ
48. "He redefines in every way what love is/ She fell for him and hasn't gotten up since." — Russ
49. "And if I'm the king and you the queen/ Then why you acting like a peasant?" — Russ
50. "Being self-made means doing things your own way – and doing it without any handouts." — Russ
Russ quotes from his lyrics
51. "He understands she's coming from a hurt place/ Answers all the questions on her survey/ Doesn't get jealous, doesn't break trust." –Russ, "Losin' Control"
52. "But I know what they want from me, dollars, lots of stock in me/ It ain't nothin' personal, it's business, and I'm a commodity/ But honestly, Pop Pop would be turning in his grave/ The day I let someone else become the boss of me." –Russ, "What They Want"
53. "Out of sync out of touch, I should probably give it up but/ I'm a lover not a fighter, but I'll fight for what I love." –Russ, "Ain't Nobody Takin My Baby"
54. "There's a gap now, big enough to make us forget how we felt in the past now." –Russ, "Missin You Crazy"
55. "But next time that I call, I'm hoping that you answer me/ Maybe I'm a fool/ Maybe I'm a fool for you." –Russ, "Cherry Hill"
56. "Plant an orange tree, that's the fruits of my labor/ I'm from the generation where it isn't cool to be haters/ You see, social media made everyone think they're celebrities/ But what have y'all done that's worth celebrating?" –Russ, "Sheep"
57. "I showed the world that you don't have to sell your soul to be somethin'" –Russ, "Nothin New"
58. "I'm up till noon/ Strategizing and overthinking/ Dancing with my doubt." –Russ, "Enjoy the View"
59. "Integrity is intact/ I told you to be yourself, got your identity back/ This is legacy rap." –Russ, "Golden"
60. "I'm a public figure, so my privacy is compromised/ It's like both of them are tryna harmonize/ But one is always louder than the other/ I don't think I know somebody prouder than my mother." –Russ, "No Tears Left
Which Russ quote inspired you the most?
Russ is an artist who has surpassed over a billion streams on Spotify and Apple Music.
He's been on the Forbes 30 Under 30 list and 30 Under 30 Cash Kings list.
He's sold-out arenas around the world.
And he earned the majority of his success without the help of a major record label.
In 2019, Russ published the book, It's All In Your Head, where he shared the secret to his success: self-love and hustle.
In his book, he offers that if you believe in yourself, work hard for your dreams and never give up, your success will be inevitable.
Which of these Russ quotes and lyrics was your favorite?
Let us know in the comments below.