Derek Jeter Quotes on Winning and Courage
These inspirational quotes from Derek Jeter will motivate you to win and be successful
Derek Jeter is a famous pro baseball player and an inspirational leader.
Jeter puts in the hard work during practice so that he can be successful in both baseball and in life.
These Derek Jeter quotes will motivate you on your own journey of success.
When you believe in yourself and act with courage, anything is possible.
Read these inspirational quotes to boost your own confidence and to celebrate the Derek Jeter accomplishments that make us all proud.
If you want to earn respect, you will need to try hard in everything that you do.
Derek Jeter is famous for doing whatever it takes to win the game.
He has reached the top of his career through talent, training, and effort.
Read these Derek Jeter sports quotes before practice or competitions to improve your game.
Don't forget to also check out these baseball quotes to inspire your life.
If you enjoy this article, check out our most popular quote article, a list of short inspirational quotes for daily motivation.
Browse our entire collection of inspirational quotes for more motivating ideas and concepts.
Derek Jeter quotes on winning and courage
1. "There may be people who have more talent than you, but there's no excuse for anyone to work harder than you do – and I believe that." – Derek Jeter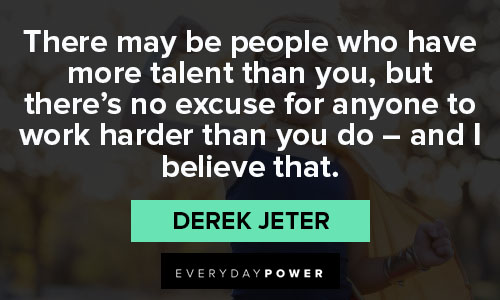 2. "I love it when people doubt me. It makes me work harder to prove them wrong." – Derek Jeter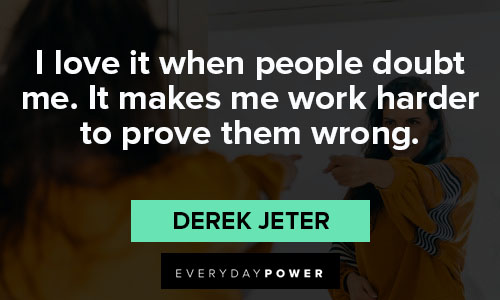 3. "If you're going to win games, you're going to have to come up with the big hits. That's the bottom line." – Derek Jeter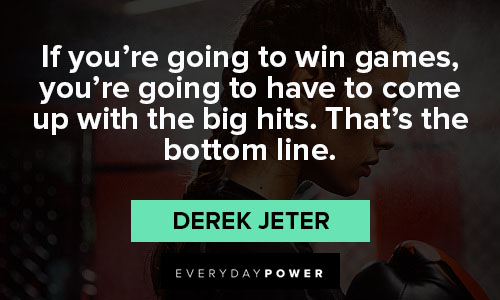 You will also enjoy our article on The Hangover quotes.
4. "I'm not perfect; no one is perfect. Everyone makes mistakes. I think you try to learn from those mistakes." – Derek Jeter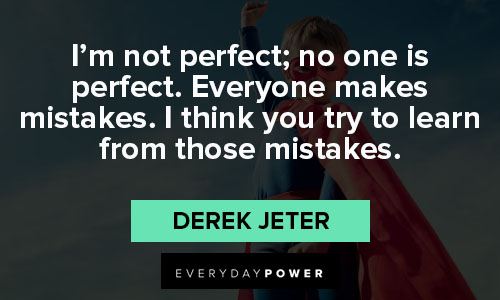 5. "When you put a lot of hard work into one goal and you achieve it, that's a really good feeling." – Derek Jeter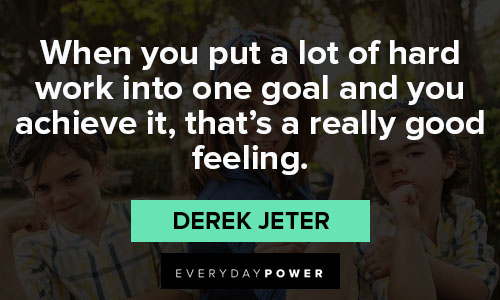 6. "Surround yourself with good people. People who are going to be honest with you and look out for your best interests." – Derek Jeter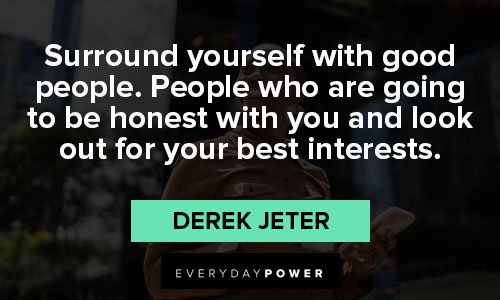 7. "Your image isn't your character. Character is what you are as a person." – Derek Jeter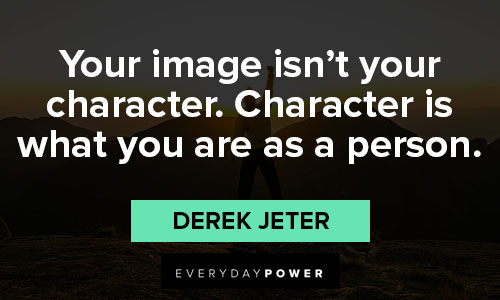 8. "If you're going to play at all, you're out to win. Baseball, board games, playing Jeopardy, I hate to lose." – Derek Jeter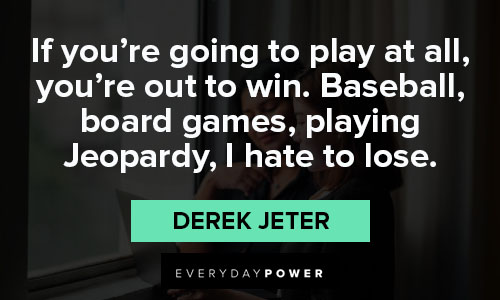 9. "The last thing you want to do is finish playing or doing anything and wish you would have worked harder." – Derek Jeter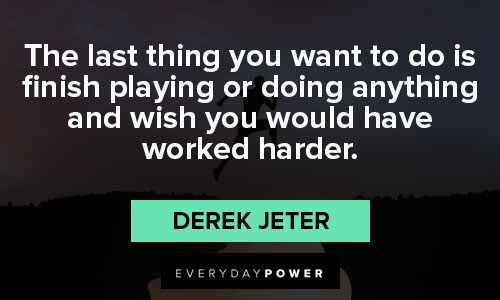 10. "It's never over. You don't want to be in the position to be down four runs in the ninth inning, but it's not over until the last out." – Derek Jeter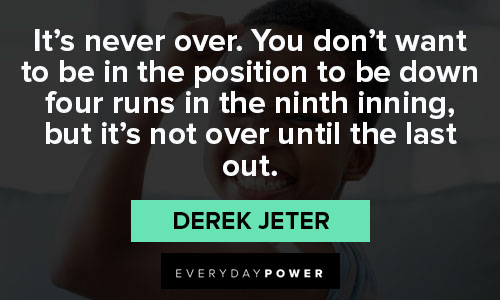 Derek Jeter quotes to boost your confidence
11. "Obviously, you're known for what you do. But you still want to be known as a good person. You're a person a lot longer before and after you're a professional athlete." – Derek Jeter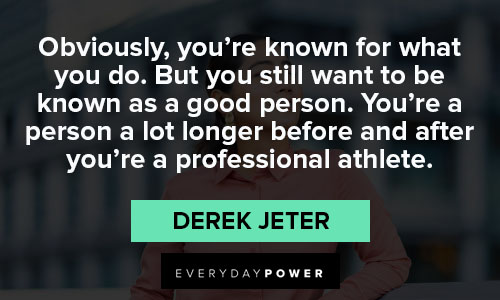 12. "So many people are insanely busy nowadays, and it's easy to say, 'Ah, I'll workout tomorrow.' But you have to set aside a time and stick to that schedule." – Derek Jeter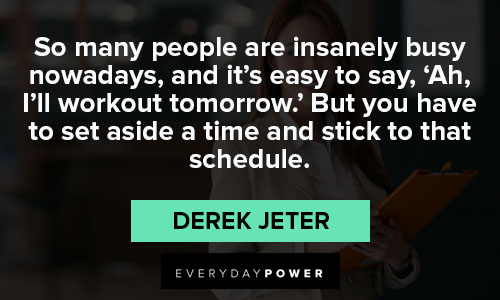 13. "We just want to win. That's the bottom line. I think a lot of times people may become content with one championship or a little bit of success, but we don't really reflect on what we've done in the past. We focus on the present." – Derek Jeter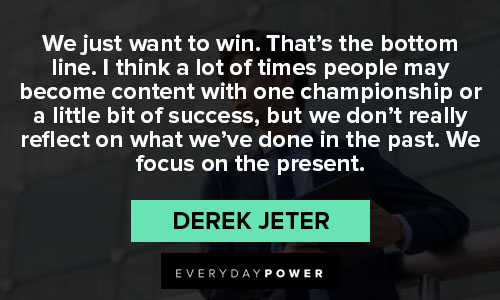 14. "I try to sign for as many kids as possible. Kids come first, and I'll always sign for a kid before an adult. It's funny because I was never big into autographs as a kid. The only player who I ever wanted an autograph from was Dave Winfield." – Derek Jeter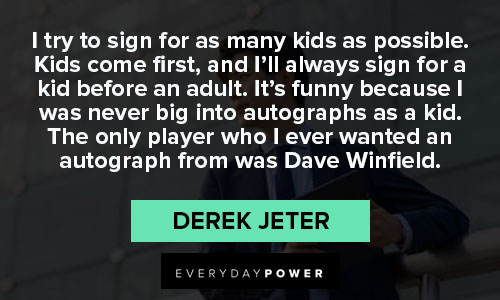 15. "God, I hope I wear this jersey forever." – Derek Jeter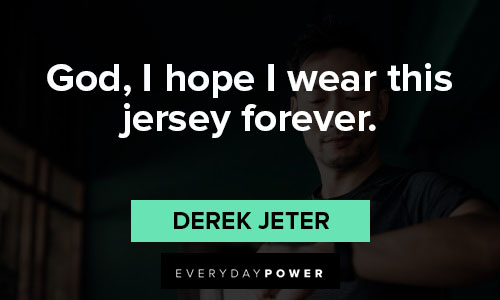 16. "You forget about it whether it was 15-2 or 3-2. It's still a loss. It doesn't matter what the score was if we win tomorrow." – Derek Jeter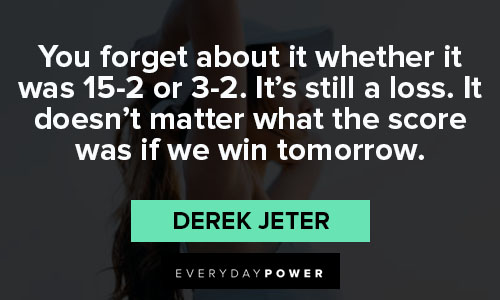 17. "Kids are our future." – Derek Jeter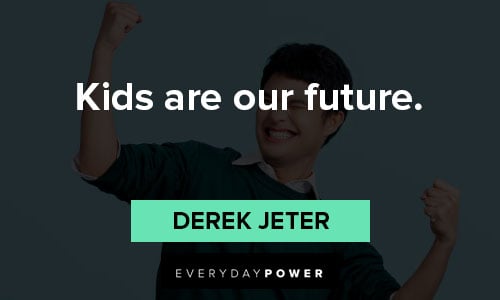 18. "Walking around sometimes, I would love to just be able to watch people, see how they act. Sometimes I would love to be invisible." – Derek Jeter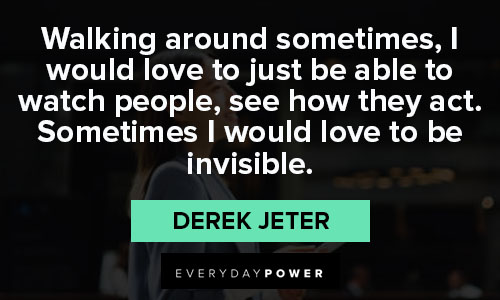 19. "I looked up to my parents because they were very successful in what they wanted to do. I was lucky; I didn't have to look far for role models." – Derek Jeter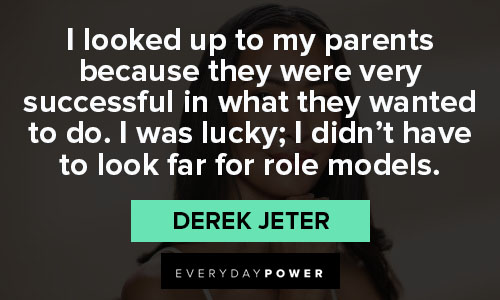 20. "You don't just accidentally show up in the World Series." – Derek Jeter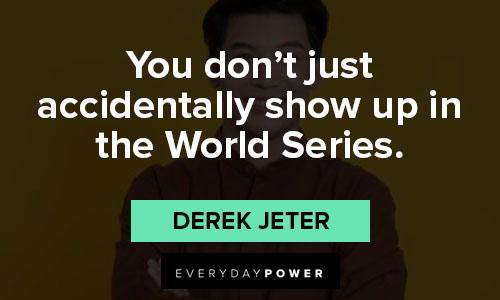 Derek Jeter quotes to motivate you on your journey of success
21. "You gotta have fun. Regardless of how you look at it, we're playing a game. It's a business, it's our job, but I don't think you can do well unless you're having fun." – Derek Jeter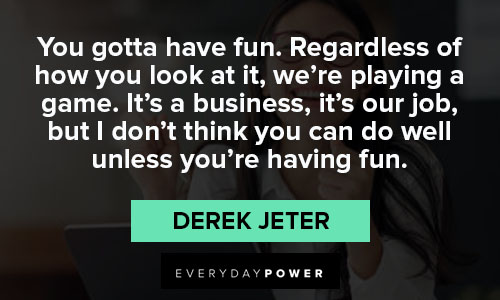 22. "I like to hit the gym early in the morning. I feel better throughout the day when I get in a workout first thing in the morning." – Derek Jeter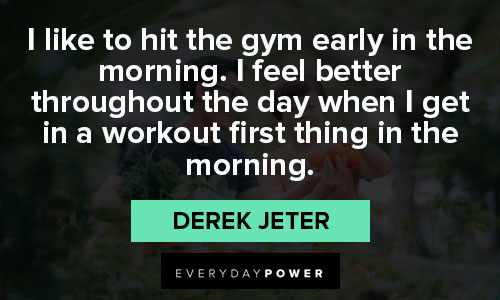 23. "I've always had an interest in business, and my interest in business has really expanded over the years." – Derek Jeter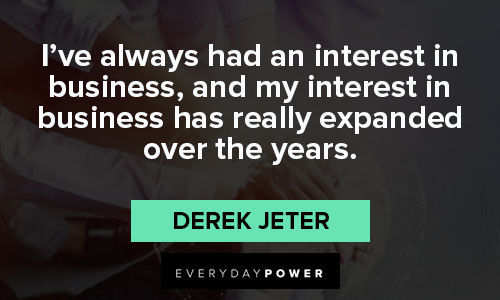 24. "You're playing a game, whether it's Little League or Game 7 of the World Series. It's impossible to do well unless you're having a good time. People talk about pressure. Yeah, there's pressure. But I just look at it as fun." – Derek Jeter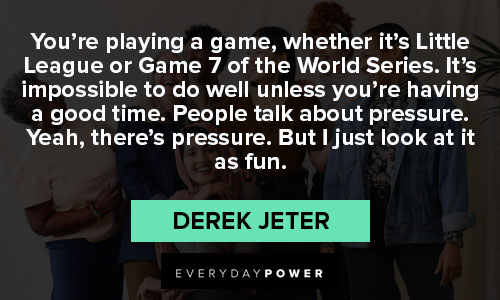 25. "I have feelings. I'm not emotionally stunted." – Derek Jeter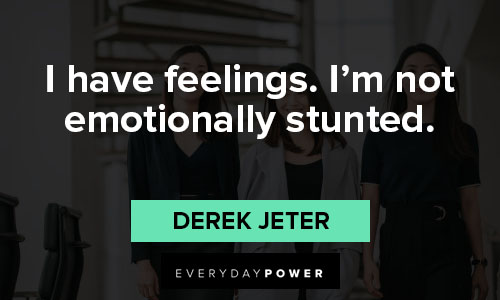 26. "Any player that says they don't want to go to an All-Star Game is lying to you. It's something everyone wants to be a part of." – Derek Jeter
27. "Not everybody's a baseball fan." – Derek Jeter
28. "What kind of influence did my parents have on my life? Well, they had the most influence. These are the people who are closest to me. My parents are very positive people. They've been supportive. They're always there." – Derek Jeter
29. "I remember going from rookie ball to A, to double A, then to triple A. At every level, it seemed like the game was faster. The bigger the situation, the more the game speeds up. That's all mental. It messes people up." – Derek Jeter
30. "I think when things linger, that's when they become a distraction. I don't want any distractions." – Derek Jeter
Derek Jeter quotest o improve your game
31. "There are feelings there, but I think I've just been pretty good at trying to hide my emotions throughout the years. I try to have the same demeanor each and every day." – Derek Jeter
32. "Through time you learn from your experiences. I think I've learned to deal with people a little bit better over time. That, in particular, has developed a little bit." – Derek Jeter
33. "I've never been an actor on Broadway, but it feels like you're on a stage when you play at Yankee Stadium. And that's the feeling I've always had." – Derek Jeter
34. "Athletics keeps us healthy, gets us up and running around. It also gives you an opportunity to meet a lot of different people, which is very important." – Derek Jeter
35. "I like to dance and sing when there's no one around, but, if I'm out, I'm really shy about it. So it takes a lot to get me going, but I enjoy being around music." – Derek Jeter
36. "I have the greatest job in the world. Only one person can have it. You have shortstops on other teams – I'm not knocking other teams – but there's only one shortstop on the Yankees." – Derek Jeter
37. "I can have fun anywhere, as long as I'm with good people. But in the offseason, I like to go somewhere warm, a nice spot in the Caribbean." – Derek Jeter
38. "I wish I trusted people more. But when I meet someone, the first thing is, 'What does this person want?' And I put up a defense mechanism. But I've always been that way." – Derek Jeter
39. "I always used to get in trouble for talking too much. When it was time for parent-teacher conferences, I remember that I was always embarrassed about what my parents would hear about me!" – Derek Jeter
40. "For me, when I was a kid, volunteering was the last thing I was thinking about. When I see kids doing it now, it amazes me. It's very impressive, it gives them something productive to do as opposed to getting in trouble. For them to take time out at such a young age is remarkable. I think all kids should take a little time out to volunteer." – Derek Jeter
More Derek Jeter quotes
41. "My best vacation is somewhere I could hide, somewhere warm and not a lot of people around." – Derek Jeter
42. "I think, a lot of times, players get in trouble when they're asked questions and they think they have to find a way to answer it. If you ask me a question and I say, 'I don't know,' there's really no follow-up." – Derek Jeter
43. "I always have tried to treat people with respect, the way I want to be treated." – Derek Jeter
44. "My dreams do not end with playing Major League Baseball." – Derek Jeter
45. "That's how you win – pitching and defense." – Derek Jeter
46. "You tell me you want to race down the street, I'm going to try to beat you. My grandmother asks me to race down the street, I'm going to try to beat her. And I'll probably enjoy it. Competitive to a fault, sometimes." – Derek Jeter
47. "You can't be sensitive, because you're going to get criticized. I don't care who you are, you're going to get criticized." – Derek Jeter
48. "My heroes, my dreams, and my future lay in Yankee Stadium. And they can't take that away from me." – Derek Jeter
49. "When I was younger, I was always taught not to make excuses." – Derek Jeter
50. "I've found that it's easier to stay in shape than it is to get into shape." – Derek Jeter
What are your favorite Derek Jeter quotes from the pro baseball player?
It's important to get into the right mindset before a baseball game or any kind of competition.
These Derek Jeter quotes will pump you up and give you a needed boost of confidence to help you perform.
Remember these words of wisdom and motivational mantras when you feel yourself wanting to give up.
Why is Derek Jeter a good leader?
These inspirational quotes will show you that Jeter is a dedicated player with great leadership and teamwork skills.
If you want to be as famous and successful as Derek Jeter, try following his words of advice.
Share this collection of famous quotes with all of the baseball fans in your life.
What are your favorite Derek Jeter quotes about winning in both baseball and in life?
Let us know in the comment section below.