Rick Ross Quotes that Show His Many Sides
These Rick Ross quotes show that he's more than just a successful rapper.
When people hear the name Rick Ross the first thing that usually comes to mind is rap.
And while he has made a name and wildly successful career for himself as a rapper, there's more to him than just that.
He is an entrepreneur that founded his own music label.
And while he has a checkered past with the law, he spent several years working in law enforcement before making a name for himself.
With an estimated net worth of $40 million, he is one of the most successful and wealthy rappers in the world.
Below is our collection of inspirational, wise, and thoughtful Rick Ross quotes and sayings, collected from a variety of sources.
And don't forget to check out these Eminem quotes that will surely inspire you to do more and be better!
Check out our most popular quote article, a list of short inspirational quotes for daily inspiration.
Check out our inspirational quotes category page for more inspirational life quotes.
Rick Ross quotes about success
1. "Every boss started as a worker." – Rick Ross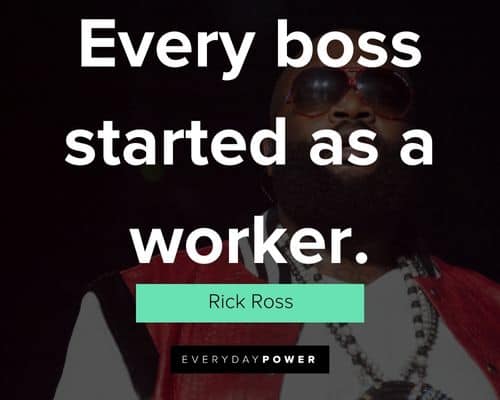 You will also enjoy our article on boss quotes.
2. "How many people you bless is how you measure success." – Rick Ross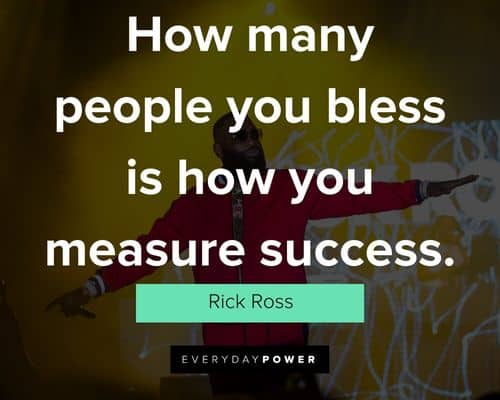 3. "Being dead broke is the Root of all Evil." – Rick Ross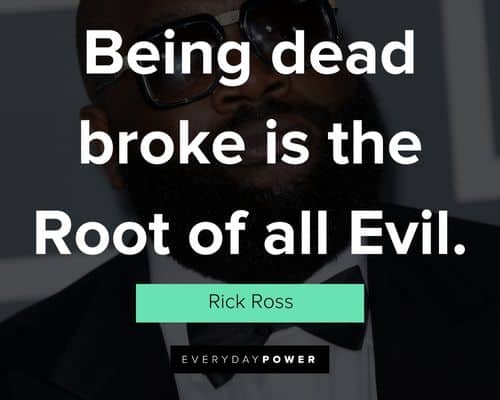 You will also enjoy our article on hustle quotes.
4. "At the end of the day, I'm the biggest boss. I'm self-made." – Rick Ross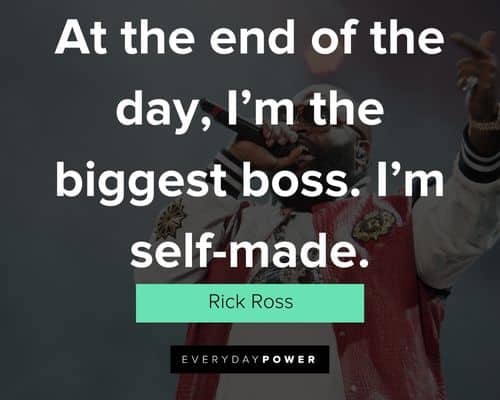 5. "If you're a hater we make you scared to show your face. It's call success." – Rick Ross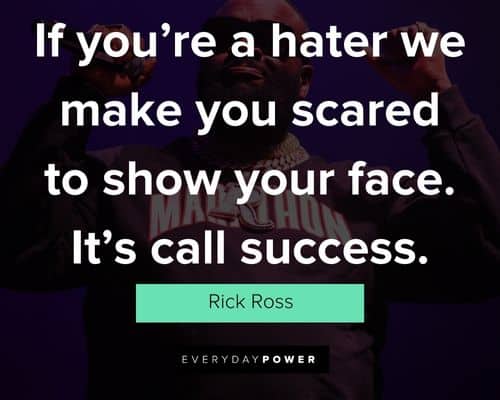 6. "I usually have an idea that I want to build on and let the music take me where I wanna go." – Rick Ross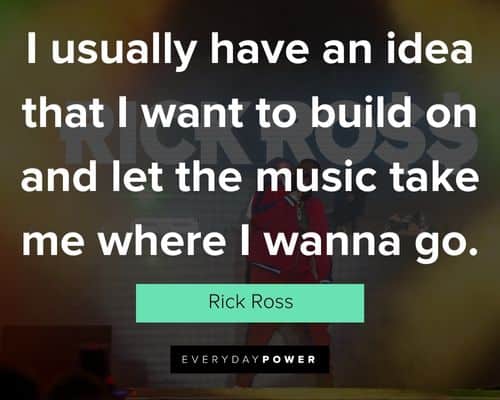 7. "Watching dudes come up is one of my biggest joys." – Rick Ross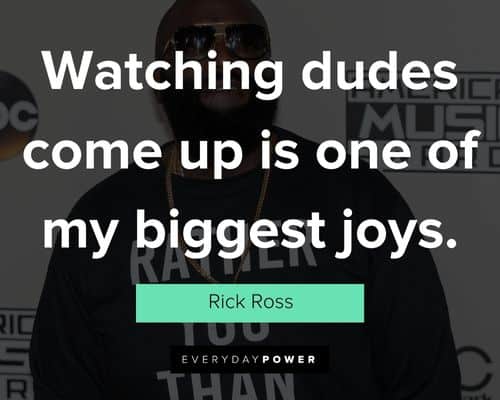 8. "Money doesn't make me – I make the money." – Rick Ross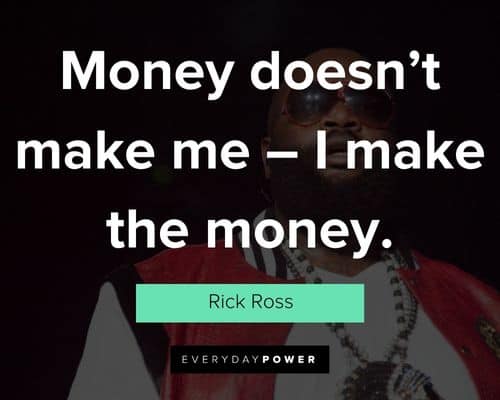 9. "Ambition is priceless. It's something that's in your veins." – Rick Ross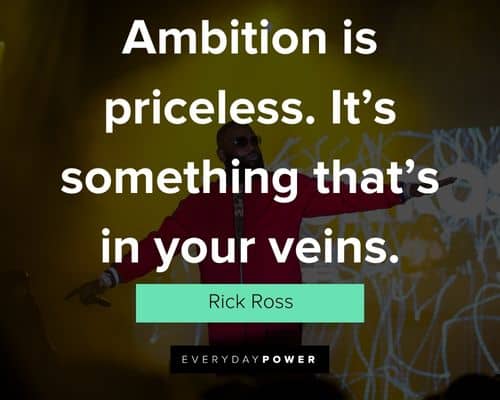 Inspirational Rick Ross quotes
10. "Every day is a new opportunity to reach that goal." – Rick Ross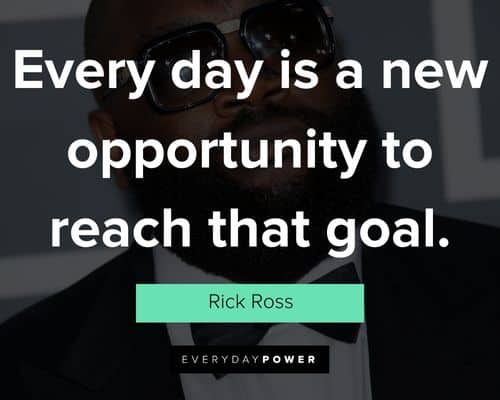 11. "I just take everything one at a time and make sure everything I do is the best." – Rick Ross
12. "I may not be a role model, but I most definitely could be motivation for a lot of people in the hoods." – Rick Ross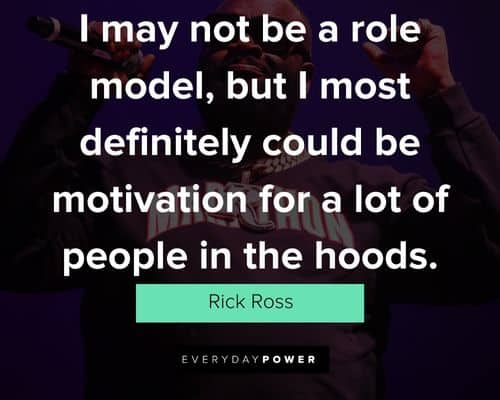 13. "I believe everybody's got the right to live their own life the way they want to." – Rick Ross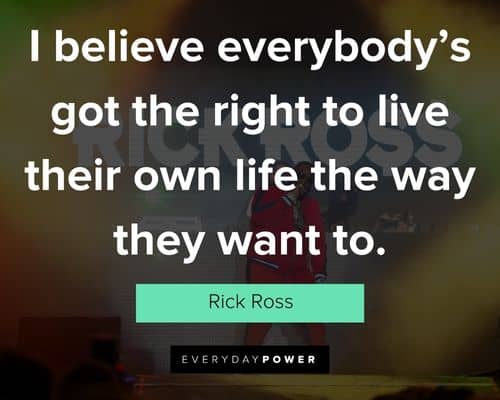 14. "With me being an artist that took over a decade to get on, there's so many different things that I have in common with artists that's struggling to get on." – Rick Ross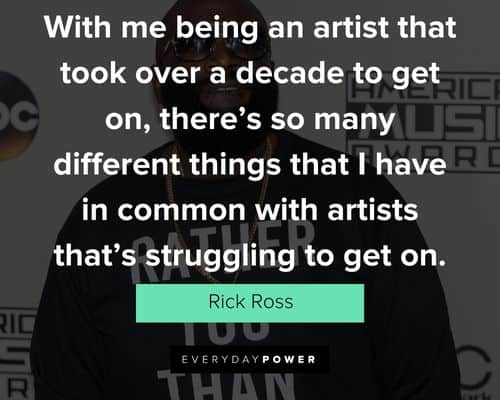 15. "Forget yesterday, live for today. Tomorrow will take care of itself." – Rick Ross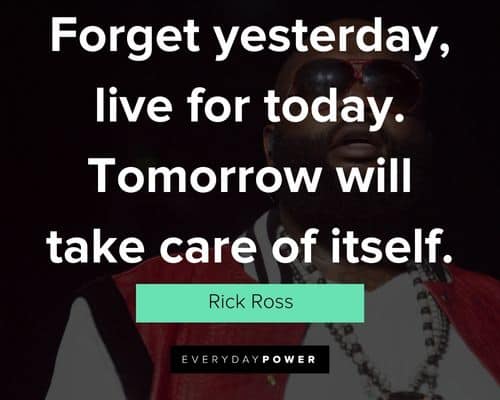 16. "These haters can't hold me back." – Rick Ross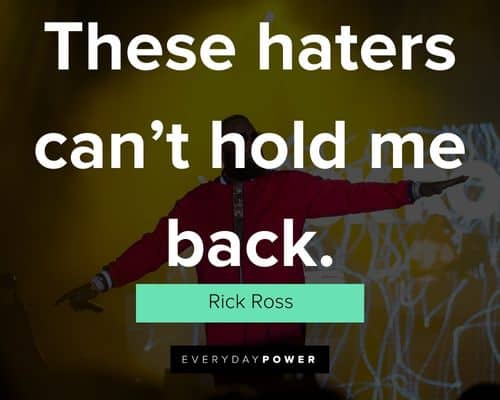 You might also like these Justin Bieber quotes and sayings from the former childhood star.
Rick Ross quotes about people and relationships
17. "Love is free, just expensive to shop." – Rick Ross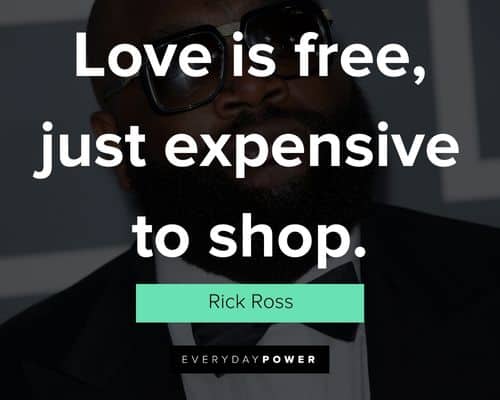 18. "When someone mentions my name because they're attacking someone that I'm close with, it's my problem now." – Rick Ross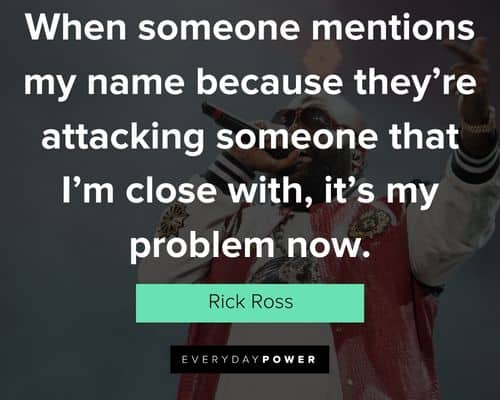 19. "Woman is the most precious gift known to man." – Rick Ross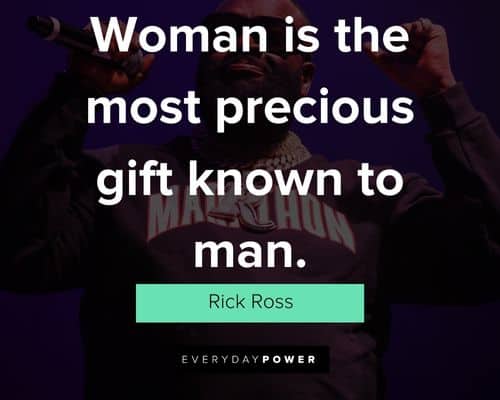 20. "I'm fortunate enough to socialize with some of the greatest musicians around." – Rick Ross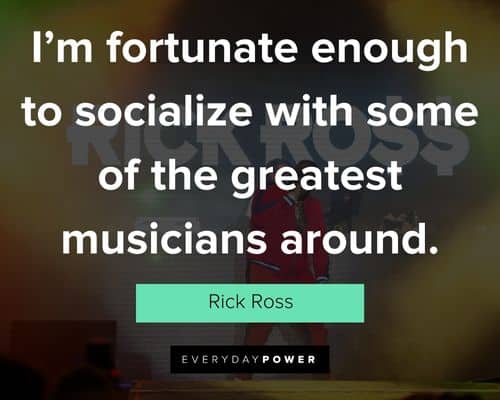 21. "You gotta judge a man by his principles." – Rick Ross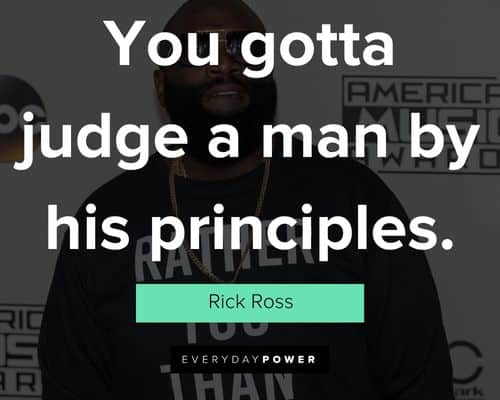 22. "My kids love me. I'm blessed." – Rick Ross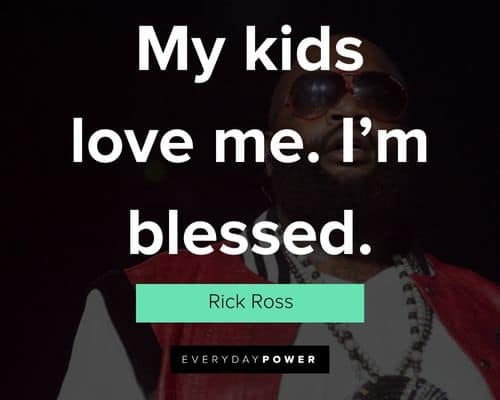 23. "My father watched all the 'Star Trek' and 'Star Wars' that you could imagine, along with the martial arts. So I was into all that as a youngster, and I always rooted for the bad guy." – Rick Ross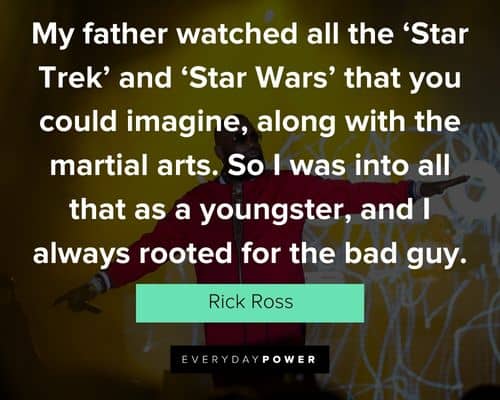 If you're enjoying these quotes, you'll love our collection of Star Trek quotes that will help you go where no man has before.
24. "My mom's the best." – Rick Ross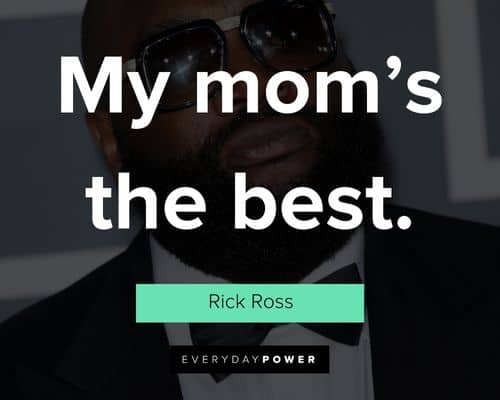 Don't forget to also read these inspirational 50 Cent quotes on success, creativity, and more.
Rick Ross quotes about music
25. "It's pretty much a given known fact in the industry that before I was successful, I wrote for other artists." – Rick Ross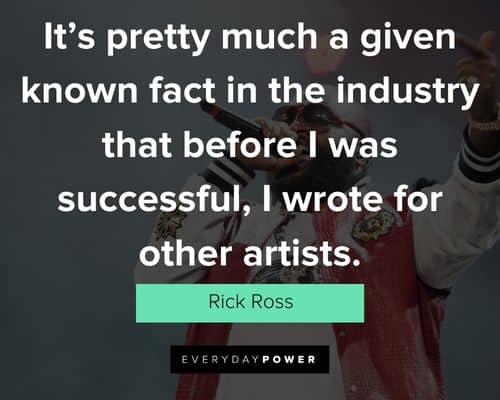 26. "I like to write music for fun. That's my hustle, my grind, my means of stayin' alive, and it's also my recreation, too." – Rick Ross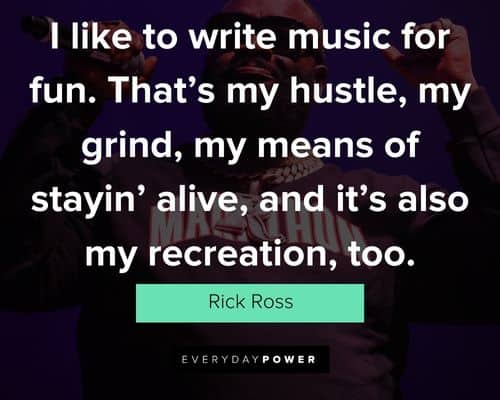 27. "John Legend is brilliant. I feel he may be my best collaborator when it comes to delivering that undeniable soulful sound, and he does it in such a classy way." – Rick Ross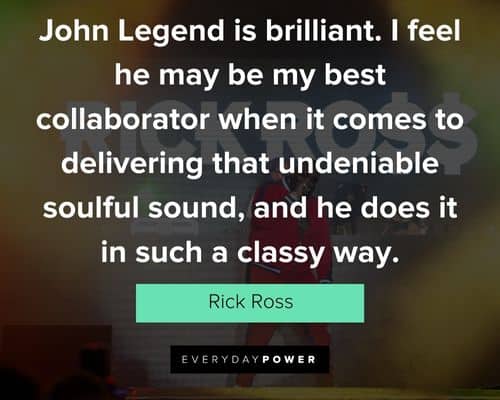 28. "I do see a lot of young artists who write records or sacrifice records, because there are a lot of older artists who are preoccupied; they don't have as much time as they used to to be in the studio." – Rick Ross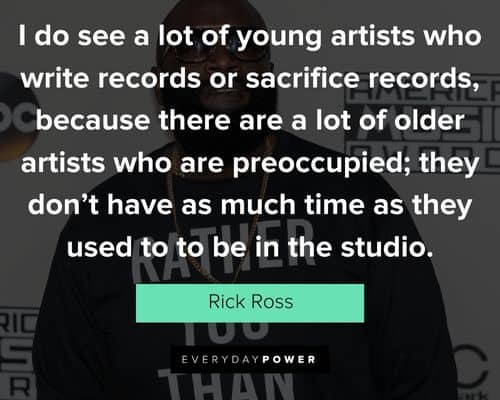 29. "When you face obstacles or go through different phases, I always relied on my music I depend on my music, my teammates. So at the end of the day, having incredible music, for me, would keep me in the space I want to be as an artist." – Rick Ross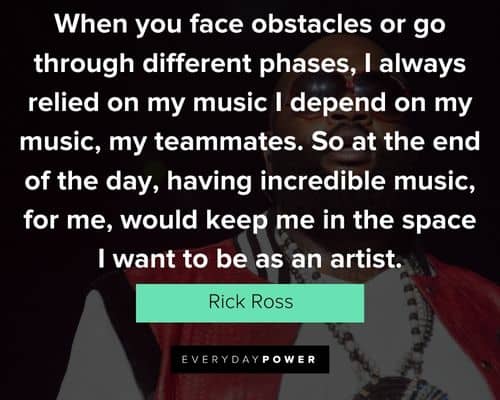 30. "When I make music and I'm talking on records, it's like I'm painting a picture. In my mind, I'm seeing a film." – Rick Ross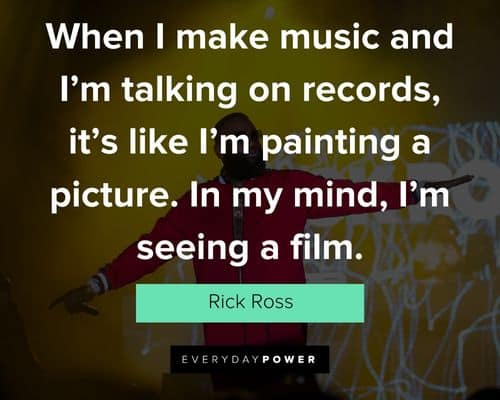 31. "Every day, the approach to life changes. And that's what music is all about to me." – Rick Ross
32. "I ain't makin' music for the media. I make music for the people in the streets – that want a street level of entertainment. I'm makin' music because I have the streets to feed." – Rick Ross
33. "'Rather You Than Me' just speaks for my natural instinct to survive, but it's also me being a writer, me being a poet – there's also a beautiful side to 'Rather You Than Me.'" – Rick Ross
34. "If you're a battle rapper on the block, the emcee battle challenger, not writing your rhymes could really hurt you. When you're an artist where maybe the focus is really the talent and the different things you bring to the game, I believe it's more understandable." – Rick Ross
35. "I feel like I can make records where, you know, I can get in the alley and exchange bars with Styles P, but I can also get in the studio and create a classic with Rihanna." – Rick Ross
Also read these Snoop Dogg quotes and sayings that will remind you how to stay fly.
Rick Ross quotes for life
36. "Regardless of how it goes down, life goes on." – Rick Ross
37. "I've been fortunate enough to experience financial success on a large scale through both my music career and my many business ventures. With this type of financial success comes financial responsibility." – Rick Ross
38. "I'm very versatile and there's nothing I really regret in my life. I'm excited with who I am and I'm just going to keep riding the wave." – Rick Ross
39. "I remember when I couldn't afford to eat like this. It was ramen noodles and the San Francisco Treat. Dessert? Get you a honey bun and put a slice of cheese on it. Put it in the microwave for 45 seconds and you had the gift of a lifetime." – Rick Ross
40. "I'm from where your hustle determines your salary." – Rick Ross
There's more to Rick Ross
It's easy to pigeonhole celebrities and artists and only think of them as being successful for one thing.
But as you can see from these quotes, Rick Ross is more than just a wildly successful rapper.
He's also a businessman, father, and hard worker.
He didn't come from money or always have this level of success in his life, but he found a way to do it.
He's been on both sides of the law, from working law enforcement to being in trouble for everything from drugs to assault which he shares in his autobiography that he recently wrote.
And these are just a few sides of Rick Ross.
Which of these Rick Ross quotes and lyrics is your favorite?
Do you have any other motivational quotes to add?
Let us know in the comment section below.