Snoop Dogg Quotes To Remind You How to Stay Fly
August 7, 2022 5:00 AM EST
Listen to article
4 minutes
Over the decades as a chart-topping musician and pop culture icon, Snoop Dogg has gained a world of life experience.
In the Snoop Dogg quotes below, you will learn his views on success, music, and his tumultuous upbringing.
What's your favorite song by Snoop Dogg?
Snoop Dogg's first splash onto the rap scene came from being discovered by fellow West Coast icon, Dr. Dre.
His first solo singles "Who Am I? (What's My Name?)" and "Gin and Juice" took over the charts, both reaching #1 on Billboard's Hot Rap Songs chart.
Throughout Snoop Dogg's incredible career as a musician, he has released 17 studio albums and has been a part of 14 top ten singles on the Billboard Hot 100.
Take a look at Snoop Dogg's life in and out of the spotlight below.
Don't forget to also check out these Rick Ross quotes that show his many sides.
Check out our most popular quote article, a list of short inspirational quotes for daily inspiration.
Our inspirational quotes category page has all of our motivational quotes for all the different areas of life.
Powerful Snoop Dogg quotes
1. "I want to be loved while I'm here, and the only way to get love is to give love." —​ Snoop Dogg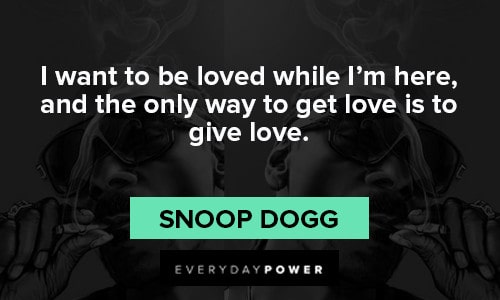 You will also enjoy our article on unappreciated quotes.
2. "She might be with him but she's thinkin' 'bout me." – Snoop Dogg, "Sensual Seduction"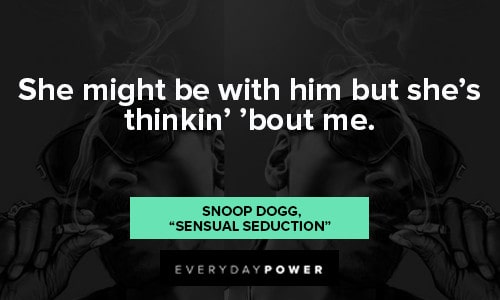 You will also enjoy our article on gangster quotes.
3. "You've got to always go back in time if you want to move forward." – Snoop Dogg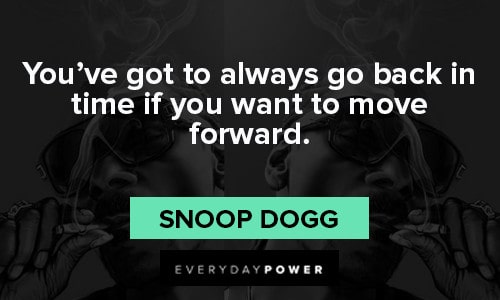 4. "You don't get respect if you don't deserve it." – Snoop Dogg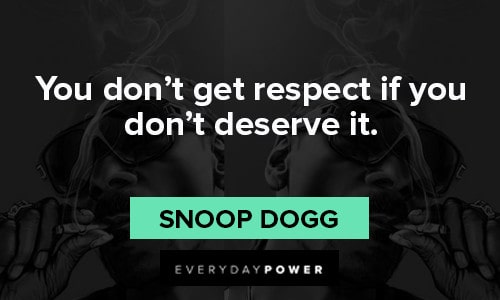 5. "You can teach an old dog a new trick if that old dog listen." – Snoop Dogg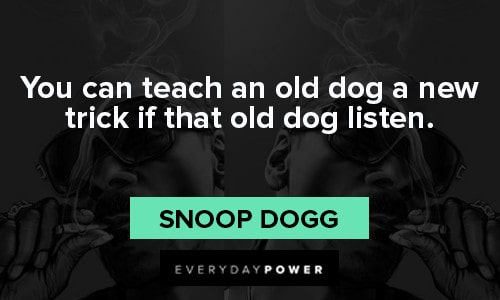 Read our collection of dog quotes about our favorite four legged friends.
6. "If the ride is more fly, then you must buy." – Snoop Dogg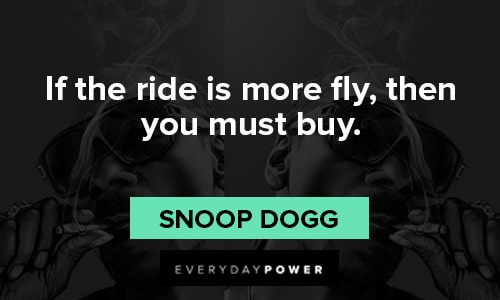 You will also enjoy our article on dog quotes.
7. "If there was no Hammer, there would be no Snoop." – Snoop Dogg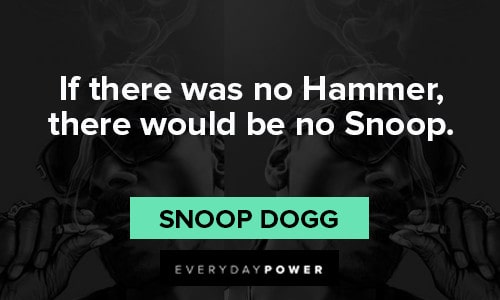 8. "Hip-hop is what makes the world go around." – Snoop Dogg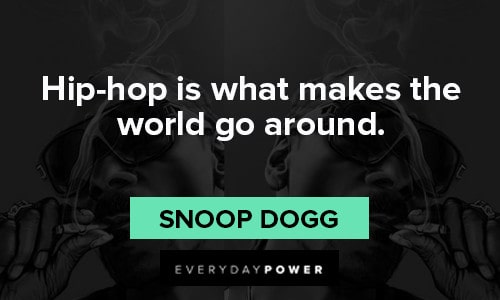 Snoop Dogg quotes on success
9. "If you stop at general math, you're only going to make general math money." – Snoop Dogg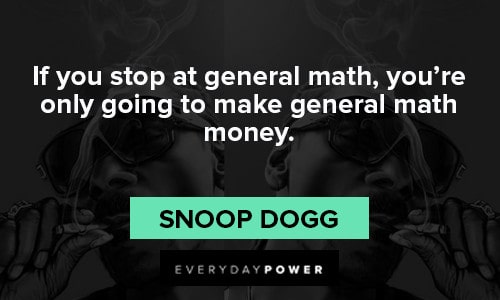 10. "What you want dog? I'm on a million-dollar mission" – Snoop Dogg, "Bacc in da Days"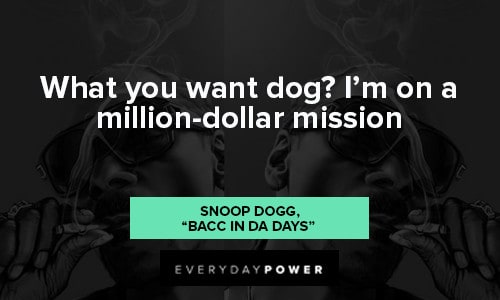 11. "The most important decision I've made in business? The choices of people I have around me. When I first started I brought everybody with me, my homies from the neighborhood, criminals. I just said, 'Come on everybody, we made it.' Then I had to realize we didn't make it. I made it." – Snoop Dogg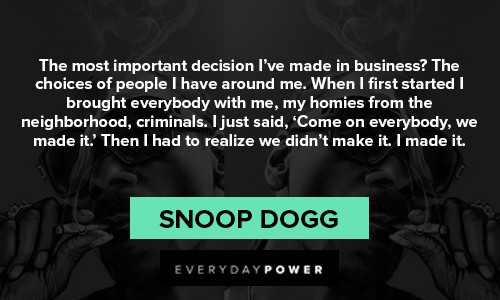 12. "If it's flipping hamburgers at McDonald's, be the best hamburger flipper in the world. Whatever it is you do you have to master your craft." – Snoop Dogg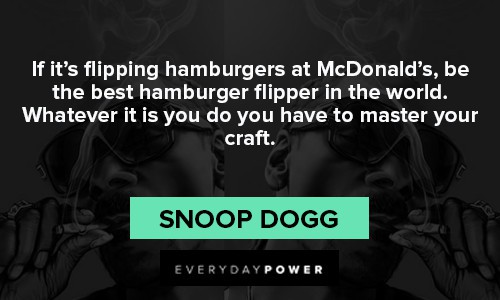 13. "That's why I'm so successful because peace is my main thing, it's not about money. It's about making sure everybody is having a good time and loving and living and enjoying life." — ​Snoop Dogg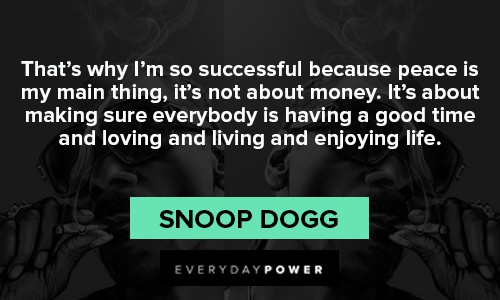 14. "So what if I'm smokin' weed onstage and doing what I gotta do? It's not me shooting nobody, stabbing nobody, killing nobody. It's a peaceful gesture and they have to respect that and appreciate that." – Snoop Dogg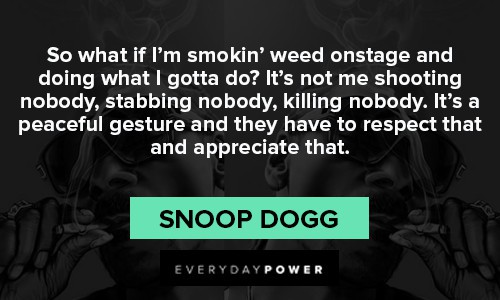 15. "I'm in the game for real; it pays to chill. I walk in the club and they front the bill." – Snoop Dogg, "Boom"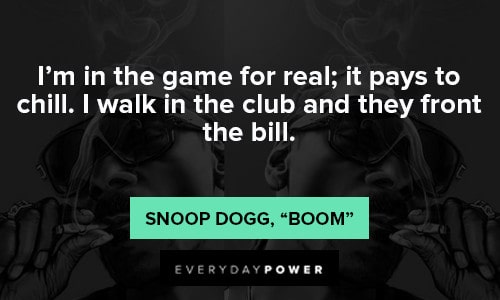 16. "I used to get stressed out all the time when I thought winning was important. I wanted to try to win and help my kids win. Once I figured out it wasn't about winning or losing, it was about teaching these kids about being men, that's when I started to relax." – Snoop Dogg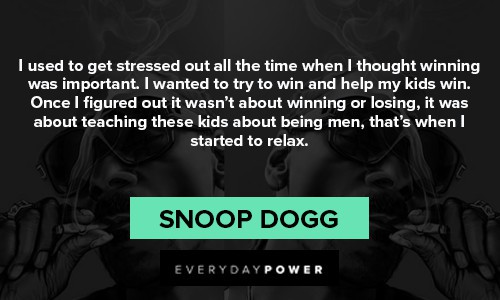 17. "A lot of brands, you can't touch them. When you're dealing with Snoop Dogg, he brings you closer to the brand and it feels like it's a part of you." – Snoop Dogg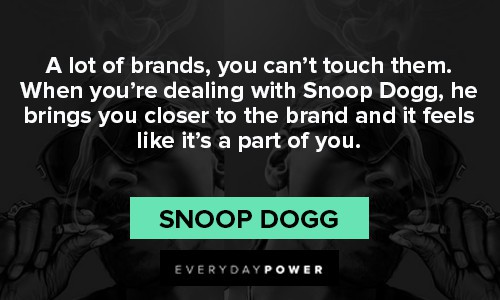 Snoop Dogg quotes on love
18. "Sometimes, if you're lucky, someone comes into your life who will take up a place in your heart that no one else can fill, someone who's tighter than a twin, more with you than your own shadow, who gets deeper under your skin than your own blood and bones." – Snoop Dogg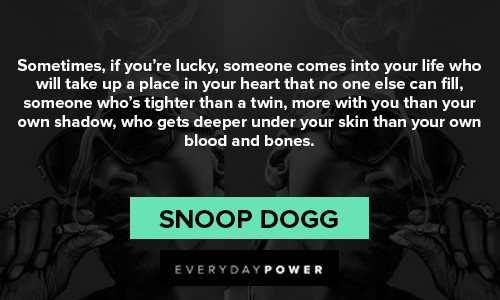 19. "I smack up the world if they rude to you 'cause baby girl, you're so beautiful." – Snoop Dogg, "Beautiful"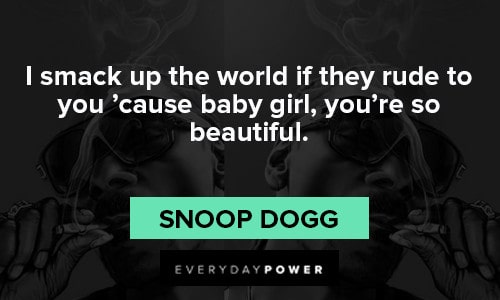 20. "The best advice I've ever got is to be yourself. Stay true to who you are and what you stand for and you'll go far in life." – Snoop Dogg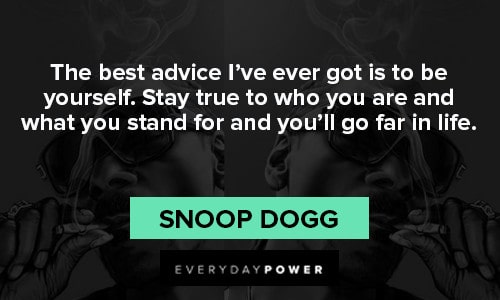 21. "Sometimes, a loss is the best thing that can happen. It teaches you what you should have done next time." – Snoop Dogg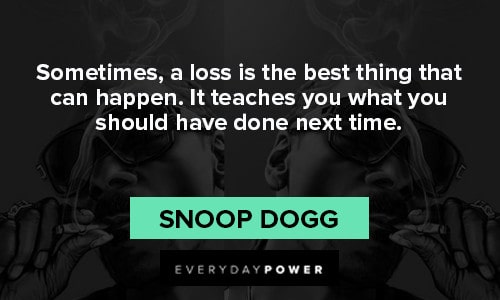 22. "Black and beautiful, you the one I'm choosin'. Hair long, thin, black and curly like you're Cuban." – Snoop Dogg, "Beautiful"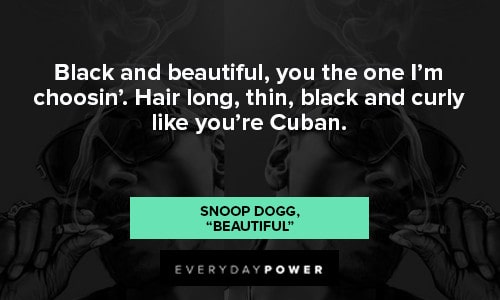 23. "Love gets unappreciated a lot of times, but you still gotta keep giving it." —​ Snoop Dogg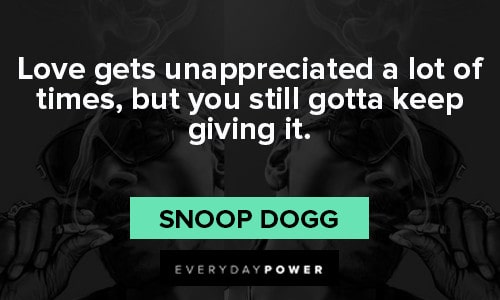 24. "She in love with the gangsta, that's what's up." – Snoop Dogg, "Boom"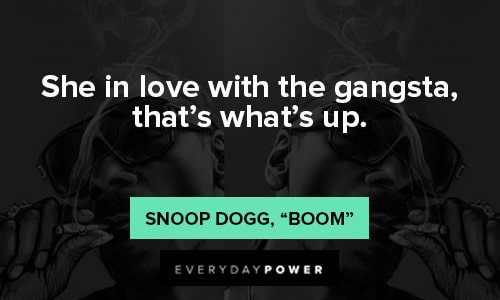 Snoop Dogg quotes on upbringing
25. "It's hard to say goodbye to the streets. It's all how you do it. You can pass by and say, 'What's happening?' and keep it moving, but it's a certain element that will never be able to roll with you once you get to this level, because that's the separation of it all." – Snoop Dogg
26. "What people don't understand is joining a gang ain't bad, it's cool, it's fine. When you in the hood, joining a gang it's cool because all your friends are in the gang, all your family's in the gang. We're not just killing people every night, we're just hanging out, having a good time." – Snoop Dogg
27. "It's like I'm 17 again, peach fuzz on my face. Lookin', on the case. Tryna find a hella taste." – Snoop Dogg, "Young, Wild, and Free"
28. "I was like the class clown in school so I guess I would say I did like the attention. In church I did a lot of plays, my mother made me play characters, do a lot of drama and acting, trying to become someone else. So it helped me create who I am, to create Snoop Dogg." – Snoop Dogg
29. "The Miles Davis of gangbangin' I'm crack slangin'" – Snoop Dogg, "Neva Left"
30. "That's how we do it in the black community; we give back to the people who made us who we are. We never forget that." – Snoop Dogg
31. "With so much drama in the L-B-C, it's kind of hard being Snoop D-O-double-G." – Snoop Dogg, "Gin and Juice"
32. "In the black culture, certain kids are given nicknames that they roll with forever; the nicknames outweigh their real names. I'm one of those scenarios." – Snoop Dogg
33. "A lot of people like to fool you and say that you're not smart if you never went to college, but common sense rules over everything. That's what I learned from selling crack." – Snoop Dogg
34. "Life is about growing and evolving. I feel like my life has been in stages, and the stages I went through when I was younger allowed me to grow into the man I am today." —​ Snoop Dogg
35. "There ain't nothing a young man can do to prepare himself for the hell I've gone through. I'm living positive. I've been through jail. I've been through selling drugs. I've been shot at. But I'm just as cool as ever. I don't understand the big misperception that people feel I'm a villain or something—I'm no sort of roughneck. I'm a smooth macadamian." – Snoop Dogg
Don't forget to also read these 50 Cent quotes on success, creativity, and more.
Funny Snoop Dogg quotes
36. "To go sit down with people you've got a misunderstanding with is a big step. It shows that you have no hate in your heart, and you really wanna resolve it." – Snoop Dogg
37. "Snoop Scorsese, that's my director name." – Snoop Dogg
38. "Drop it like it's hot." – Snoop Dogg, "Drop it Like It's Hot"
39. "When I'm no longer rapping, I want to open up an ice cream parlor and call myself Scoop Dogg." – Snoop Dogg
Snoop Dogg quotes about career and music
40. "To me, the Seventies were very inspirational and very influential… With my whole persona as Snoop Dogg, as a person, as a rapper. I just love the Seventies style, the way all the players dressed nice, you know, kept their hair looking good, drove sharp cars and they talked real slick." – Snoop Dogg
41. "It's so easy for a kid to join a gang, to do drugs… we should make it that easy to be involved in football and academics." – Snoop Dogg
42. "Yo' what's up? This is Snoop D-O-Double-G sayin' stop the violence, drop the guns, and increase the peace." – Snoop Dogg
43. "I just change with the times. I really don't have a say in what's going on. Music was here before me." – Snoop Dogg
44. "I love making music and I'm falling in love with making records, so it's like having two girlfriends. But I can handle it." – Snoop Dogg
45. "Look at music for what it's worth around the world and not just America. In other countries, people are still buying CDs and going to record stores. But in America, it's all about digital. The game is breaking down. But, look at me, you need to know how to play the game the right way." – Snoop Dogg
46. "I move with the time. Whatever's happening in time, I'm in." – Snoop Dogg
47. "There's nobody doing rap like I do rap." – Snoop Dogg
48. "My liberty is about living. It's about spreading more love. Even though I was always a peaceful, loving individual, my music sometimes didn't reflect that. But now it's different. My music is reflecting the way I feel." – Snoop Dogg
49. "There's so much that I want to do. I feel like I'm the Magic Johnson of rap. You know, Magic was great on the basketball court, but he's bigger as a businessman." – Snoop Dogg
50. "I used to be focused on being the dopest rapper in the game, and then once that became what I was, I wanted something different, and I wanted to become the best businessman in the game. I wanted to learn how to master the business like I mastered the rap." – Snoop Dogg
You might also like these rapper quotes about music and motivation.
Snoop Dogg quotes about his thoughts and life
51. "Well, hip-hop is what makes the world go around." — Snoop Dogg
52. "Barack Obama makes me feel good to be a black man." — Snoop Dogg
53. "I like going to areas where the murder rate is high and dropping it." — Snoop Dogg
54. "Britney would make a better prostitute than Christina. She's thicker." — Snoop Dogg
"55. ​​I'm looking for a deal from one of you TV networks to give Snoop Dogg his own hood TV show where I can find America's hottest hood artists." — Snoop Dogg
56. "The red carpet is a beautiful situation for people. I think everybody appreciates it and loves it and honors it. Nobody really acts a fool because they know this is a one-time thing." — Snoop Dogg
57. "On 'Old School,' I was not an actor, I was Snoop Dogg, so I came to the set with a whole different vibe, and a different crew of people. And on 'Starsky and Hutch,' I was more of an actor. I wasn't Snoop Dogg, the rapper." — Snoop Dogg
58. "I want to write, direct, produce, but in steps. I want to take steps. I don't want to just jump in because I sold a lot of records and just feel like I can jump into the movie world. Naw, I want to learn the movie world like I learned the music world." — Snoop Dogg
59. "Women are in a position now to voice their opinion… women are getting empowered. The more power they get, the more voice they get to shift certain things around. Now I have a daughter, I understand. When I didn't have a daughter, I didn't understand." — Snoop Dogg
60. "My younger son, Cordell, aka Lil Snoop, loves me like a fan loves Snoop Dogg. He's inspired by making me happy. My older son, Corde, aka Spank, does everything I say, with effort and determination – but he does it for himself. He gets his thrill out of seeing his own results on the football field." — Snoop Dogg
How important is collaborating with others to you?
Throughout his career as a rapper, he wasn't afraid to take inspiration from influences outside of his inner circle.
This could include the younger generation of rappers or musical influences from overseas.
His openness to transformation is one of the main reasons why Snoop Dogg has sustained such a long-running career.
If you're going through a creative rut, don't be afraid to look outside yourself for inspiration.
Another person, or another environment, may be able to ignite a source of motivation within yourself that you never knew existed.
Collaboration is one of the many keys to success, as Snoop Dogg's career shows.
Which of these Snoop Dogg quotes and lyrics is your favorite?
Tell us your thoughts below!