Ronnie Coleman Quotes From the Retired Professional Bodybuilder
These Ronnie Coleman quotes show the importance of training hard to achieve your goals.
Ronnie Coleman is a retired professional bodybuilder known for being the winner of the title of Mr. Olympia for eight years in a row.
Coleman became a professional bodybuilder after receiving a lifetime membership to a gym.
He received the membership as long as he let his friend Gustavo Arlotta train him for the 1990 Mr. Texas bodybuilding competition.
Then, Coleman earned first place in the heavyweight competition and the overall category.
At this time, the Mr. Texas bodybuilding competition kick-started Coleman's bodybuilding career.
Before Coleman became a professional bodybuilder, he worked as a police officer in Texas.
Coleman served as a police officer from 1989 to 2000. In addition, He continued working as a reserve officer up until 2003.
If you love this quote collection, read out our most popular quote article about short inspirational quotes for daily motivation.
If you need more inspirational quotes, check out our motivational quotes category page.
Ronnie Coleman Quotes on Training and Hardwork
It takes a high level of work to achieve great results. And Ronnie Coleman is a great example. He had to train hard and overcome obstacles to reach the level of success that he did.
1. "Everybody wants to be a bodybuilder." – Ronnie Coleman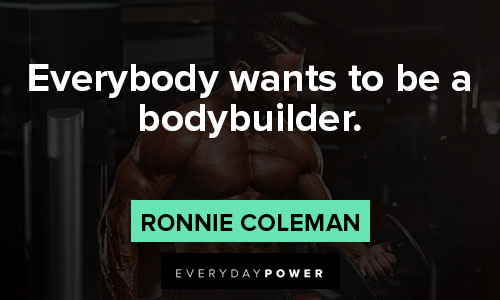 2. "The more I have to do, the better off I am." – Ronnie Coleman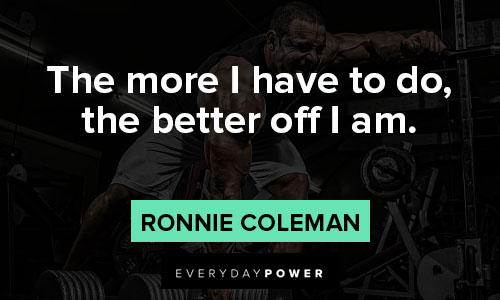 3. "When you hit failure, your workout has just begun." – Ronnie Coleman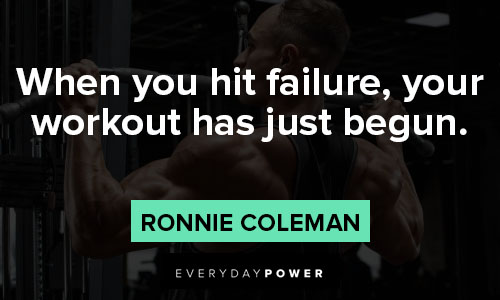 4. "A day in the life of Ronnie Coleman mainly consists of eating, training or sleeping." – Ronnie Coleman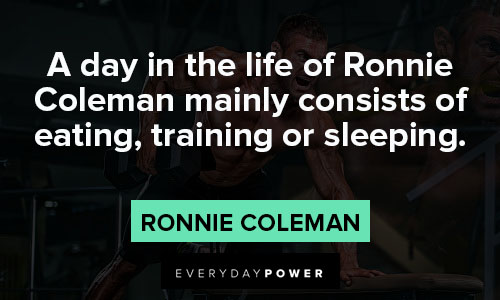 5. "I don't know how well-known it is, but I had back surgery in '07, and it took about two years to recover." – Ronnie Coleman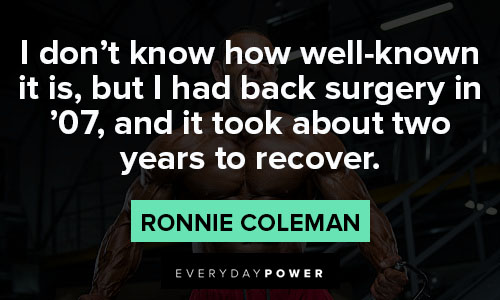 6. "I take about 12 weeks to get ready for a show. But I train all year round." – Ronnie Coleman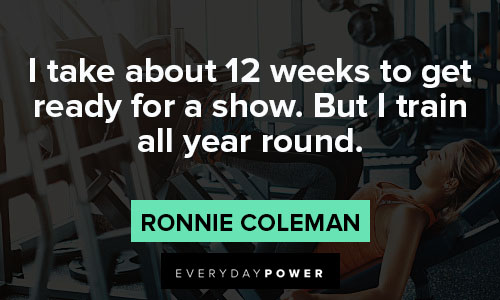 7. "Progress takes time and discipline." – Ronnie Coleman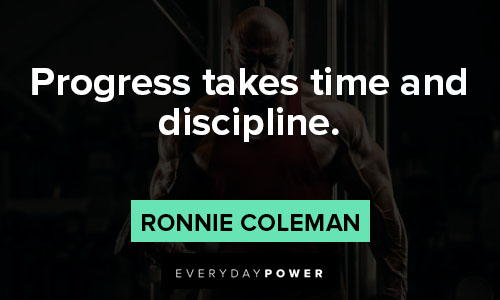 8. "The gym is one of the few places where I can just be myself without any hindrances and inhibitions." – Ronnie Coleman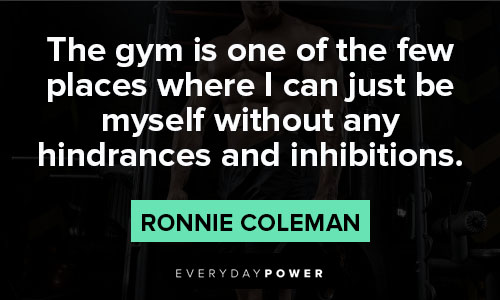 9. "Bodybuilding is about building your body. Whether you do it to maintain your fitness levels, climb Everest, run the marathon, or be a competitive bodybuilder is up to you." – Ronnie Coleman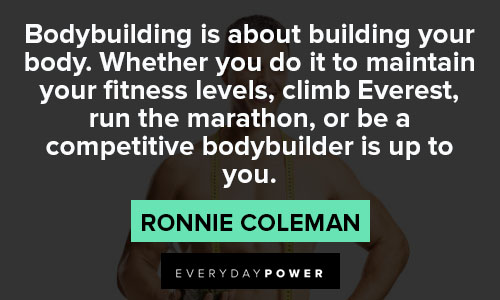 10. "Hard work and training. There's no secret formula." – Ronnie Coleman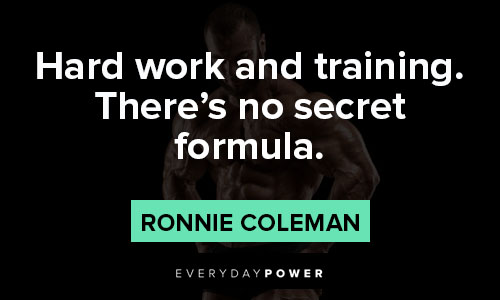 If you enjoy this article, check out our collection of Zyzz quotes to remember the bodybuilder.
Ronnie Coleman Quotes to Be More Intentional
Ronnie Coleman was intentional in the work he did and how he spent his time. If you're looking for examples of how to be more intentional in your own life, these quotes may help.
11. "I've never really considered myself as being the best bodybuilder. I always try to let the people decide that. I just try to do the best I can do at whatever it is that I'm doing." – Ronnie Coleman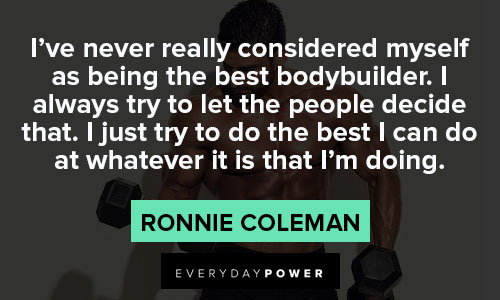 12. "It is important to have people believe in you. With this support, what you can achieve is limitless." – Ronnie Coleman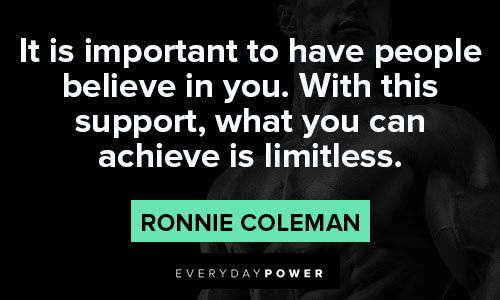 13. "I eat chicken and rice, steak, and baked potato. That's it." – Ronnie Coleman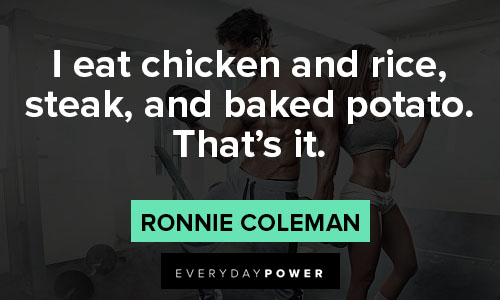 14. "As my athletic career was coming to an end in 2007, I asked myself, do I want to work for somebody, or go out and make a difference?" – Ronnie Coleman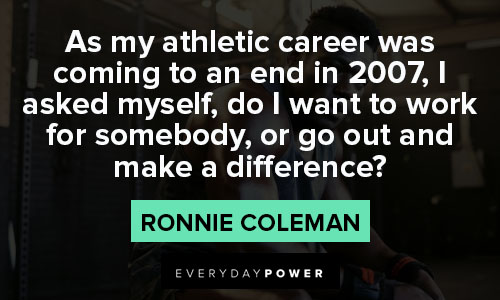 15. "Just take it year by year. So much time is dedicated to doing this that I can't see having too much time for much else." – Ronnie Coleman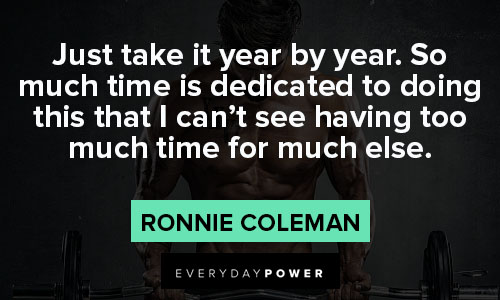 16. "It's almost better than winning the lottery because you worked for it. It's like something you want all your life, but you never thought it would happen, and all of a sudden it did." – Ronnie Coleman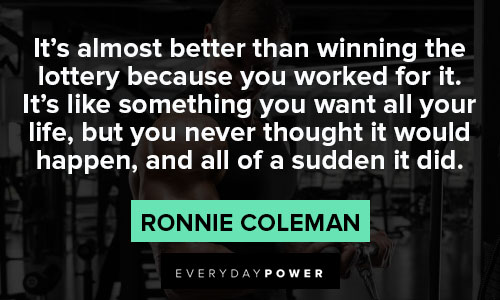 17. "I want to help the up-and-coming kids. A lot of times, kids don't have much to do in the summertime. When I was a kid, I didn't do nothing. I want to get bodybuilding out there, and it will start with the younger generation." – Ronnie Coleman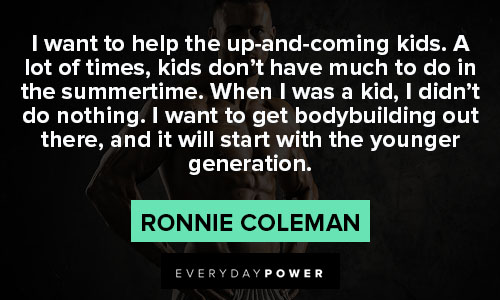 18. "I loved challenging myself every day. The weight room was my therapy for everyday life stresses. No matter what I was doing, I always wanted to be the best." – Ronnie Coleman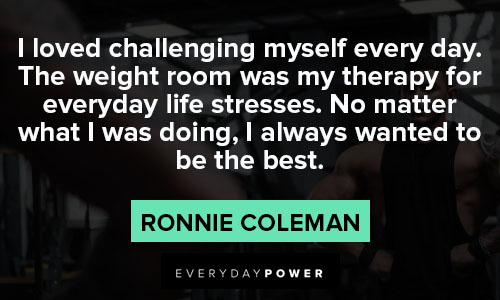 19. "It is a lot of pressure to prepare for Mr. Olympia." – Ronnie Coleman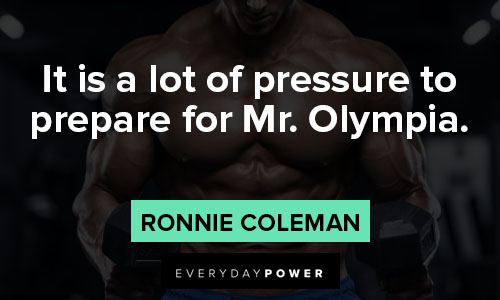 20. "No dessert. I don't do dessert." – Ronnie Coleman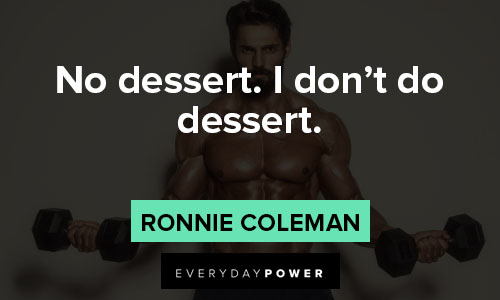 Are you feeling inspired by Ronnie Coleman?
Ronnie Coleman has released seven films during his career so far, with the last one being released in 2018.
Some of these films include Ronnie Coleman: The First Training Video, Ronnie Coleman: The Last Training Video, and Ronnie Coleman: The King.
In addition, Coleman also released a book titled, "Yeah Buddy! My Incredible Story."
Throughout and after his career as a bodybuilder, Coleman had to undergo many surgeries.
As a result, in 2020, Coleman stated that he could not walk on his own due to some of the surgeries he had received.
However, Coleman can now walk with crutches and has not completely stopped his training at the gym.
Which of these Ronnie Coleman quotes motivated you the most? Share in the comments and on social media with your friends.