Ricky Bobby Quotes from Talladega Nights
Allow these Ricky Bobby quotes to make you laugh and brighten your day.
Talladega Nights: The Ballad of Ricky Bobby is a 2006 sports comedy that stars Will Ferrell as Ricky Bobby.
Let us know your favorite Ricky Bobby quote in the comment section below.
What are the benefits of reading these Ricky Bobby quotes?
Ricky Bobby was raised by his mother and only saw his father once during his childhood, but he learned a "need for speed" from his dad.
Ricky Bobby is a parody of the stereotypical redneck NASCAR enthusiast who only cares about going fast.
These Ricky Bobby quotes will:
Offer you a new perspective on NASCAR
Give you a good laugh
Leave you with some quotes that are relatable to things we go through in life
Ricky Bobby is full of laughs, particularly with his relationship with his Father, Mother, and best friend.
The movie will have you laughing from start to finish with a hilarious cast of characters.
The film received positive reviews, with praise for its "mix of satire, clever gags, and excellent ensemble performances."
It grossed over $163 million worldwide and was the No. 1 film at the box office in its first week.
Don't also forget to read these hilarious Talladega Nights quotes on winning.
Memorable Ricky Bobby Quotes
1. "I came here to tell you one thing: come race time tomorrow, I'm coming for you." – Ricky Bobby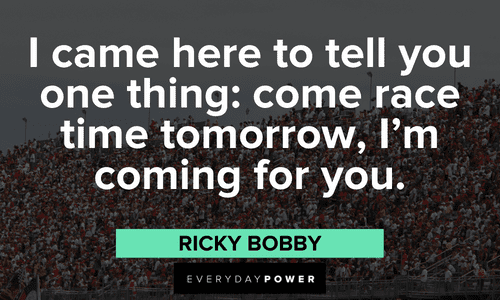 2. "Man, what the hell are you talking about?" – Ricky Bobby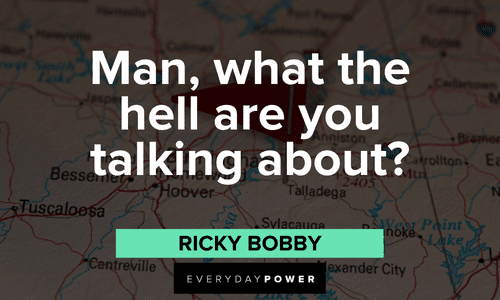 3. "I wanna go fast!" – Ricky Bobby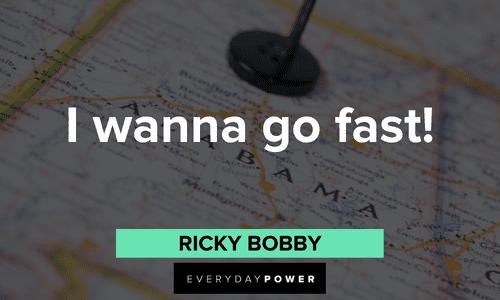 4. "Cal, that is a new house! It just has a lot of creaks and moans and groans in it!" – Ricky Bobby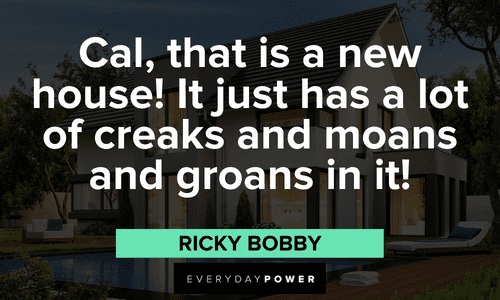 5. "Get back, I'll windmill ya." – Ricky Bobby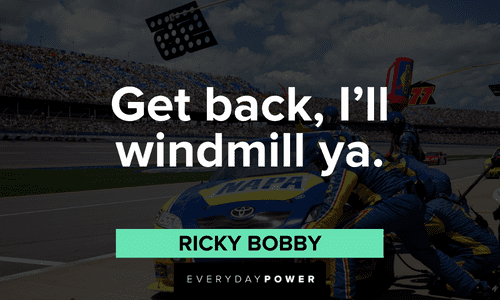 6. "Holy moly, that's like lookin' up Yasmine Bleeth's skirt!" – Ricky Bobby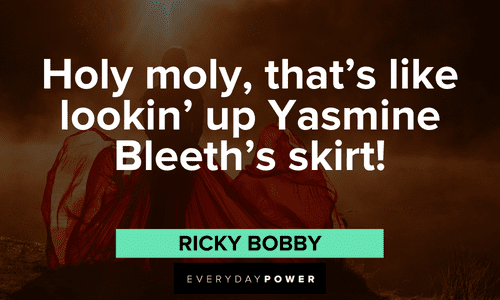 7. "Oh hey, I'm Ricky Bobby." – Ricky Bobby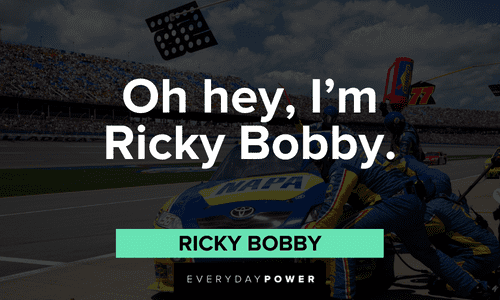 8. "Holding hands with a man makes me terribly uncomfortable." – Ricky Bobby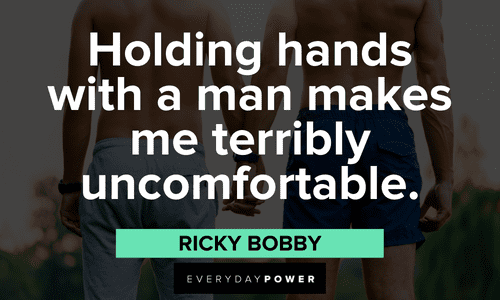 9. "I'm embarrassed. I really thought I could feel it." – Ricky Bobby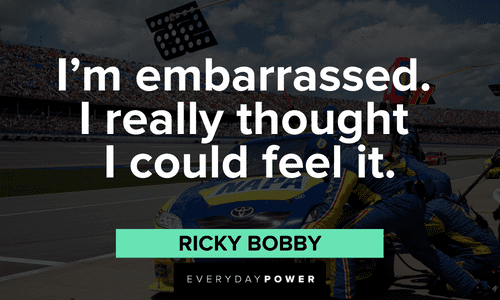 10. "I'd love to sign your baby!" – Ricky Bobby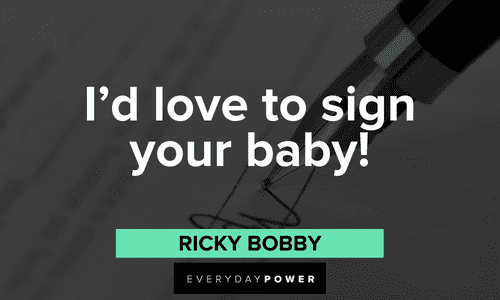 More Ricky Bobby quotes
11. "Where are you, Pepé Le Bitch?" – Ricky Bobby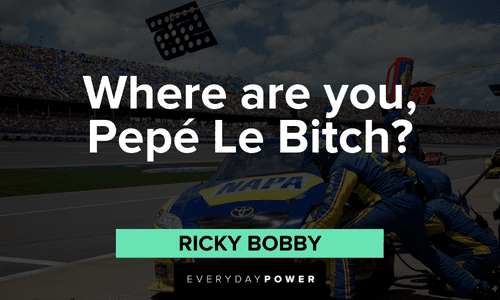 12. "Losing is never fun, but here's a little something to keep your spirits up. It's real nice. I got it at Target. It's on sale." – Ricky Bobby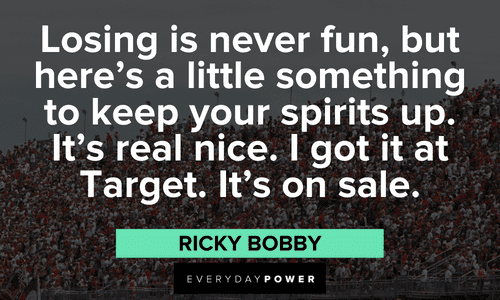 13. "Why the hell am I even talking to you anyway?" – Ricky Bobby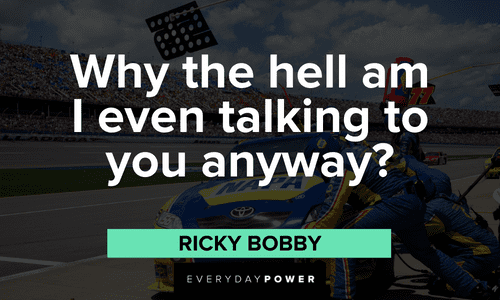 14. "No one lives forever, no one. But with advances in modern science and my high-level income, it's not crazy to think I can live to be 245, maybe 300." – Ricky Bobby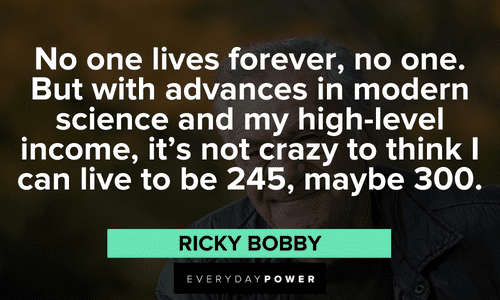 15. "I get emotional. You guys are workin' so hard, and I'm just so proud of you. You remind me of me, precocious and full of wonderment." – Ricky Bobby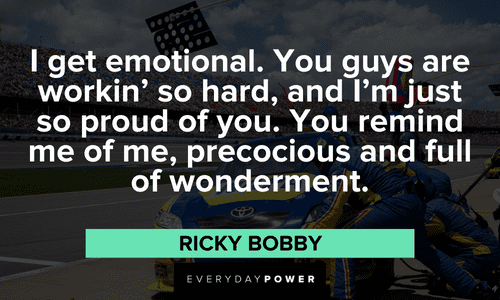 16. "Here's the deal. I'm the best there is. Plain and simple. I wake up in the morning and I piss excellence." – Ricky Bobby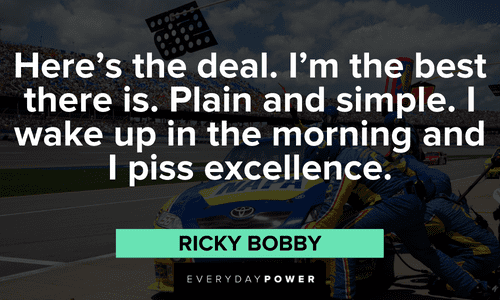 17. "You don't understand. You don't understand because you don't understand liberty. You don't understand freedom." – Ricky Bobby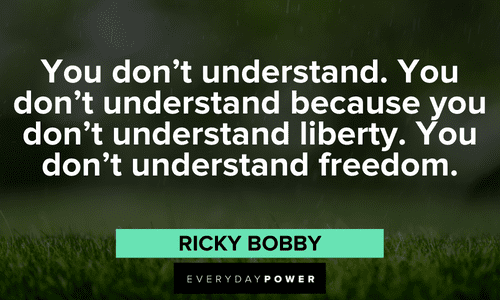 18. "Health care systems, giant water parks. The same reason anyone comes to America." – Ricky Bobby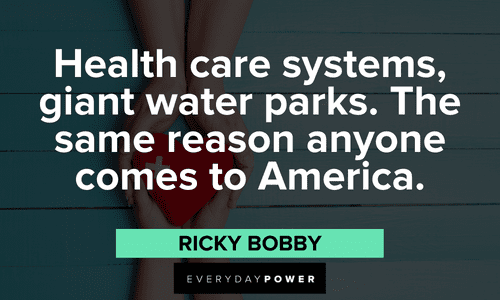 19. "Well let me just quote the late-great Colonel Sanders, who said"…" I'm too drunk to taste this chicken." – Ricky Bobby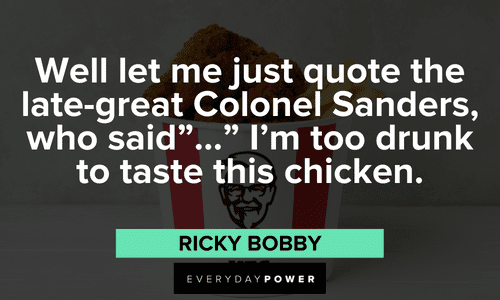 Ricky Bobby Quotes from his kid Walker
20. "ANARCHY! ANARCHY!" – Walker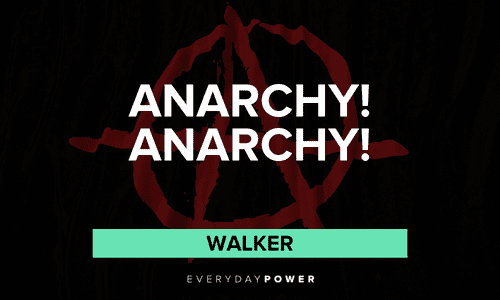 21. "Granny? How much longer are we gonna have to do this?" – Walker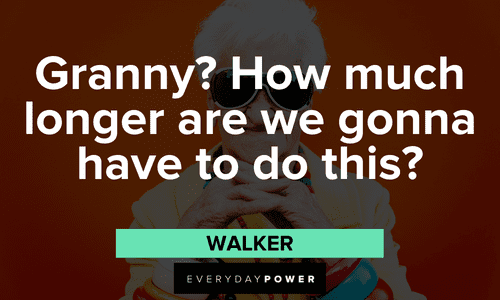 22. "My friends and I skipped school and we filled up a cup of pee and tried to get our neighbor's dog to drink it. But he wouldn't." – Walker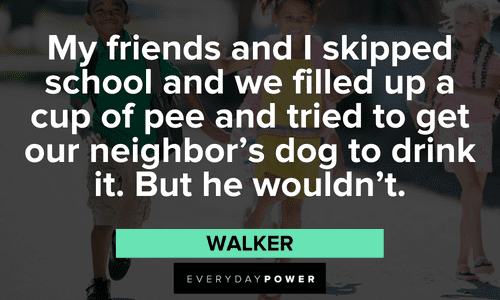 Ricky Bobby Quotes from his kid Texas Ranger
23. "Old man, I'm gonna come at you like a spider monkey!" – Texas Ranger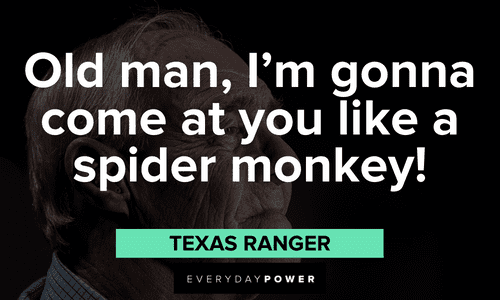 24. "I don't know what that means, but I LOVE it!" – Texas Ranger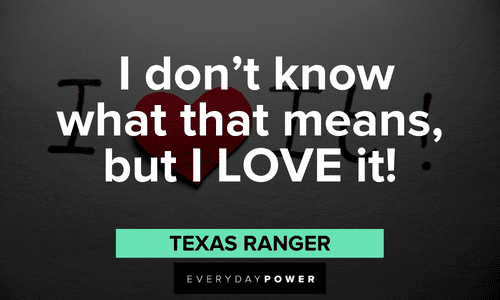 25. "You better shut the hell up or I'll come over there and rip a hole in that tent!" – Texas Ranger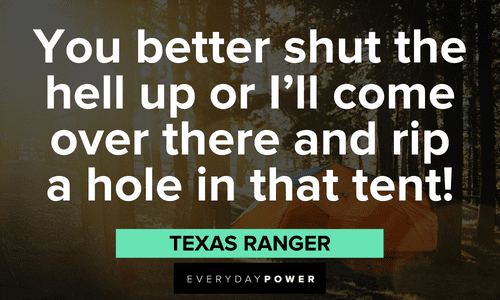 Which of these Ricky Bobby quotes is your favorite?
Ricky Bobby has one goal, and that is to be number one.
His quote, "If you ain't first, you're last," says everything about how he lives his life.
In the movie, Ricky Bobby goes from having everything to having nothing.
He loses his house, money, fame, and wife.
In losing everything, he can find everything he needs, including a relationship with his father, mother, and kids.
His father teaches Ricky to overcome his biggest problem, which is fear.
Once he learns to harness his fear, he drives better than ever, and his comeback begins.
The best part of Ricky Bobby's story happens while Ricky is preparing for his comeback to racing and the hilarious situations he encounters.
Did you enjoy these Ricky Bobby quotes and sayings?
Which of the quotes is your favorite?
Let us know in the comment section below.
August 24, 2022 5:00 AM EST
Be the first one to leave a comment!