Taxi Driver Quotes From The Iconic Martin Scorsese Film
Listen to article
4 minutes
These Tax Driver quotes will make you see why it's considered one of the greatest films ever made.
Taxi Driver is an American film directed by Martin Scorsese.
It was written by Paul Schrader and starred Robert De Niro, Jodie Foster, Cybill Shepherd, and Harvey Keitel.
The events of the movie happen post-war and are set in a decaying and morally bankrupt New York City.
The film follows Travis Bickle (De Niro), a taxi driver and veteran of the Vietnam war.
Travis is a lonely man who works nights and has insomnia.
These Taxi Driver quotes reveal his deteriorating mental state as he battles PTSD, depression, and the seedy characters he meets during the night cab rides.
Scorsese wanted the film to feel like a dream to audiences.
Filming began in the summer of 1975 in New York City.
The movie had a low budget of $1.9 million and the actors took pay cuts to make sure the movie wouldn't go over cost.
The film was theatrically released by Columbia Pictures on February 8, 1976.
Taxi Driver is dark and explores some controversial themes including graphic violence and the casting of then-12-year-old Foster in the role of a child prostitute.
Some of these Taxi Driver quotes are not safe for work, but vividly depict the world in which Travis immerses himself as a vigilante.
Don't forget to also check out these Taken quotes from the action franchise.
Check out our most popular quote article, a list of short inspirational quotes for daily inspiration.
Our inspirational quotes category page has all of our motivational quotes for all the different areas of life.
Taxi Driver quotes about loneliness and living in the city
1. "Loneliness has followed me my whole life; everywhere. In bars, in cars, sidewalks, stores, everywhere. There's no escape." — Travis Bickle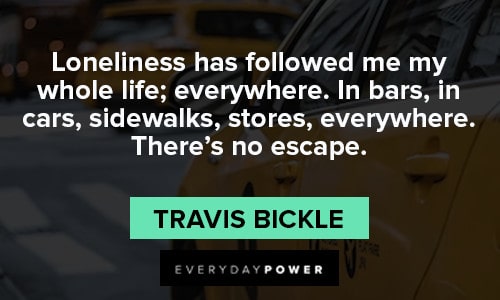 2. "I'm God's lonely man." — Travis Bickle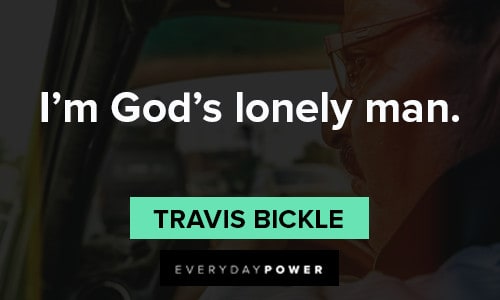 3. "I think you're a lonely person. I drive by this place a lot and I see you here. I see a lot of people around you. And I see all these phones and all this stuff on your desk. It means nothing." — Travis Bickle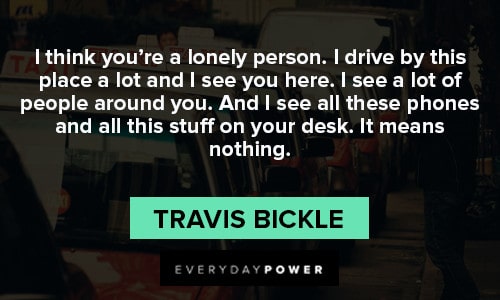 4. "I realize now how much she's just like the others, cold and distant, and many people are like that, women for sure, they're like a union." — Travis Bickle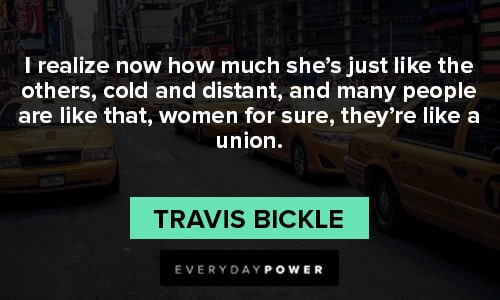 5. "I don't believe that one should devote his life to morbid self-attention, I believe that one should become a person like other people." — Travis Bickle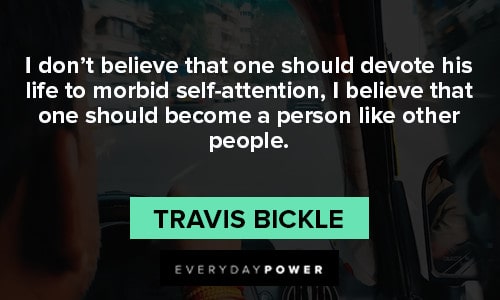 6. "When I came inside and I met you, I saw in your eyes and I saw the way you carried yourself that you're not a happy person. And I think you need something. And if you want to call it a friend, you can call it a friend." — Travis Bickle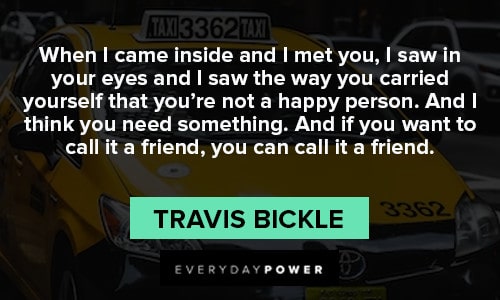 7. "Thank God for the rain to wash the trash off the sidewalk." — Travis Bickle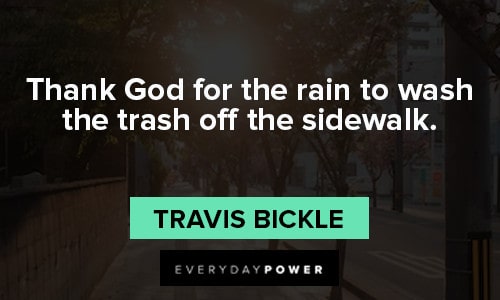 8. "I used to have a pony on Coney Island. It got hit by a truck." — Sport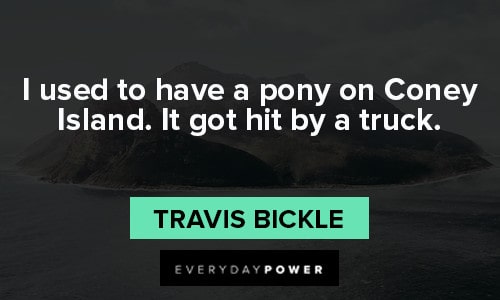 9. "Leave me alone, I'm dead." — Travis Bickle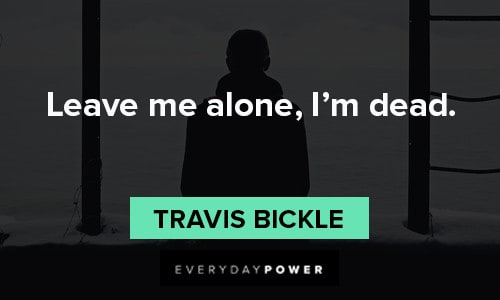 Taxi Driver quotes about the job, working, and politics
10. "I… I just want to work long hours. What's moonlighting?" — Travis Bickle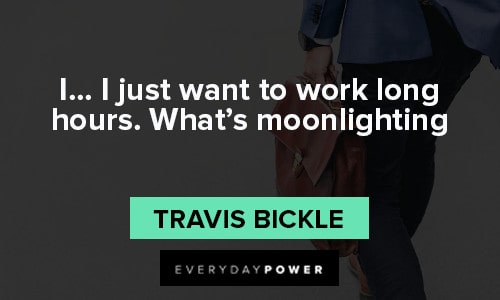 11. "Someday a real rain will come and wash all this scum off the streets. I go all over. I take people to the Bronx, Brooklyn, I take 'em to Harlem. I don't care. Don't make no difference to me. It does to some. Some won't even take spooks. Don't make no difference to me." — Travis Bickle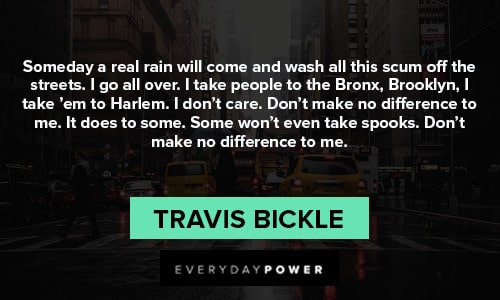 12. "Each night when I return the cab to the garage, I have to clean the cum off the back seat. Some nights, I clean off the blood." — Travis Bickle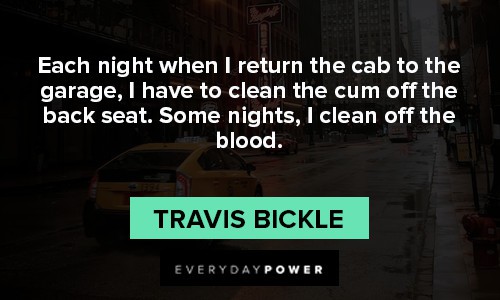 13. "I'll work anytime, anywhere." — Travis Bickle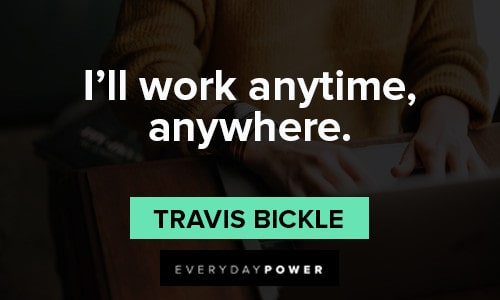 14. "Twelve hours of work and I still can't sleep. Damn. Days go on and on. They don't end." — Travis Bickle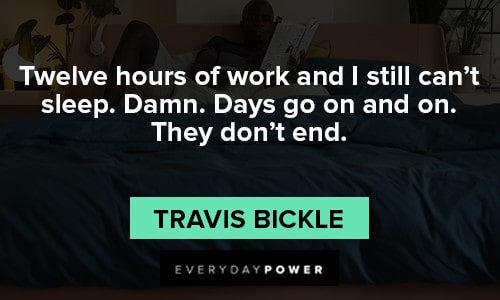 15. "You get a job. You become the job." — Wizard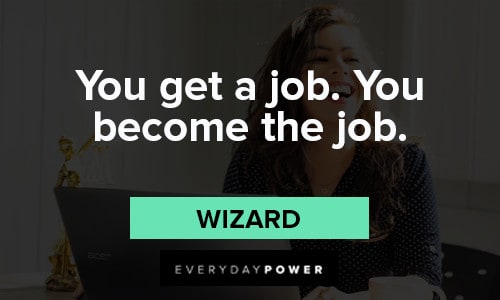 16. "First push the man, then the issue." — Betsy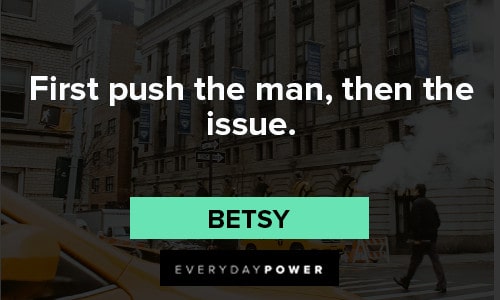 17. "Listen to what you're saying. You sound like you're selling mouthwash." — Tom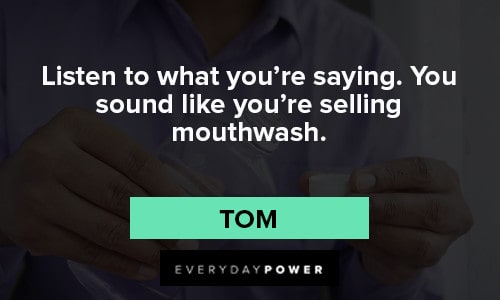 18. "Let me tell you something. I have learned more about America from riding in taxi cabs than in all the limos in the country." — Senator Charles Palantine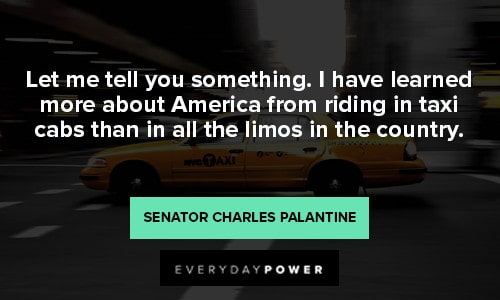 Taxi Driver quotes from Travis Bickle about himself and his life
19. "I gotta get in shape. Too much sitting has ruined my body. Too much abuse has gone on for too long. From now on, there will be 50 pushups each morning, 50 pullups. There will be no more pills, no more bad food, no more destroyers of my body. From now on will be total organization. Every muscle must be tight." — Travis Bickle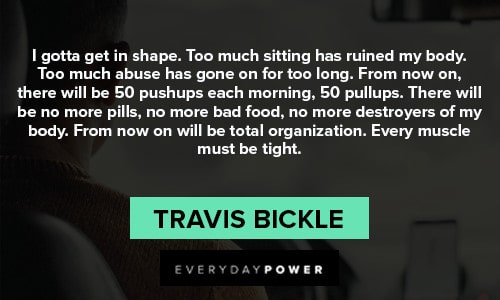 20. "I got some bad ideas in my head." — Travis Bickle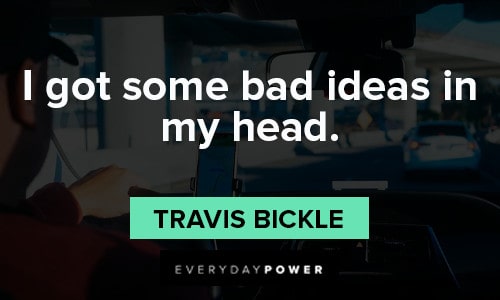 21. "Now I see this clearly. My whole life is pointed in one direction. There never has been a choice for me." — Travis Bickle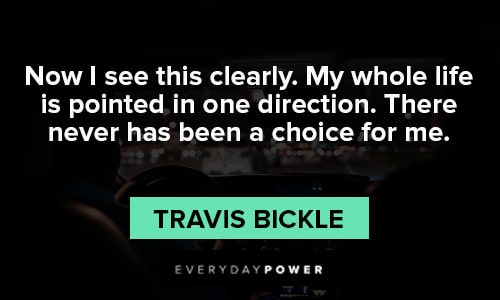 22. "I'm no pusher. I never have pushed." — Travis Bickle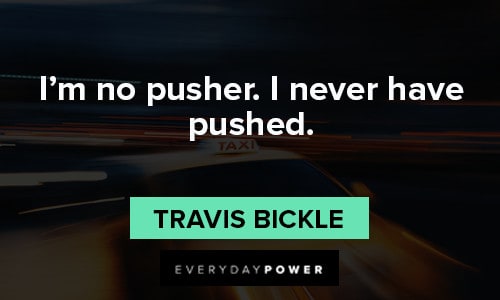 23. "My life has taken another turn again. The days can go on with regularity over and over, one day indistinguishable from the next. A long continuous chain. Then suddenly, there is a change." — Travis Bickle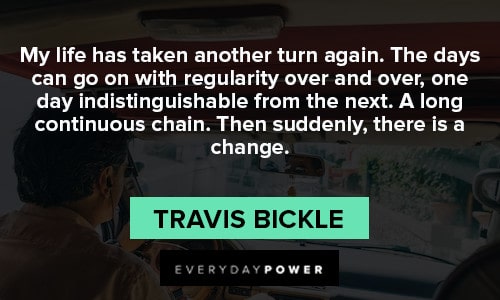 24. "The days go on and on… they don't end. All my life needed was a sense of someplace to go." — Travis Bickle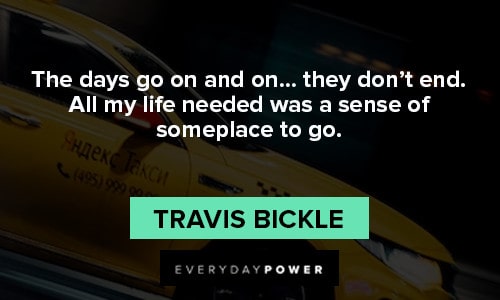 25. "The idea had been growing in my brain for some time: TRUE force. All the King's Men cannot put it back together again." — Travis Bickle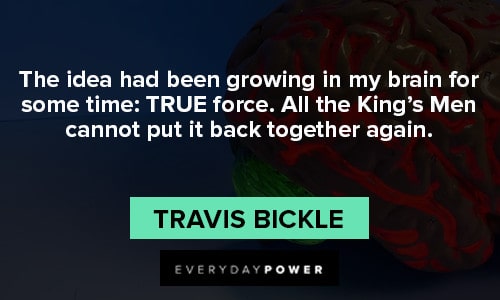 Which of these Taxi Driver quotes is your favorite?
Despite, or maybe even because of, its theme, the movie was met with critical and commercial success.
It is considered one of the greatest films ever made, receiving many accolades including the 1976 Cannes Film Festival's Palme d'Or, and four nominations at the 49th Academy Awards, including Best Picture, Best Actor (for De Niro), and Best Supporting Actress (for Foster).
In 1994, the film was selected for preservation in the National Film Registry because of its "culturally, historically, or aesthetically" significance by the US Library of Congress.
This movie made people uncomfortable as it focused on crime, mental illness, and morally corrupt topics.
However, its brilliant writing and superior acting make it well worth the watch.
Do you think this is one of the best films ever made?
Do you have a favorite Taxi Driver quote that didn't make the list?
Let us know what you think in the comment section below.
August 11, 2022 5:00 AM EST