Two and a Half Men Quotes to Remind You of the Sitcom
These Two and a Half Men quotes are entertaining for some and relatable for others.
Share your take in the comments below.
Two and a Half Men is an American TV sitcom series that aired in 2003 to 2015.
It centered around Charlie, a bachelor single jingle writer and his brother, Alan, and Jake, Alan's son.
The story presents its conflict when Alan got divorced and had to move in with Charlie.
This results in a series of hilarious interactions with the brothers and Jake throughout the series.
Alan and Charlie have always been in complex relationships with women and finding little success with them.
Although Charlie has a hedonistic approach to life, he'll find himself falling in love and then failing in relationships repeatedly throughout the series.
Fans of the series felt it successfully created fun and entertaining gags, particularly on the topic of being a bachelor.
Here are the most hilarious Two and a Half Men quotes to brighten up your day.
Don't forget to also check out these Futurama quotes for fans of animated sci-fi.
Check out our most popular quote article, a list of short inspirational quotes for daily inspiration.
Our inspirational quotes category page has all of our motivational quotes for all the different areas of life.
Two and a Half Men quotes from Alan
1. "I'd rather be a second-class citizen here in paradise, than king of a urine-soaked, fire-trap next to Burbank Airport!" — Alan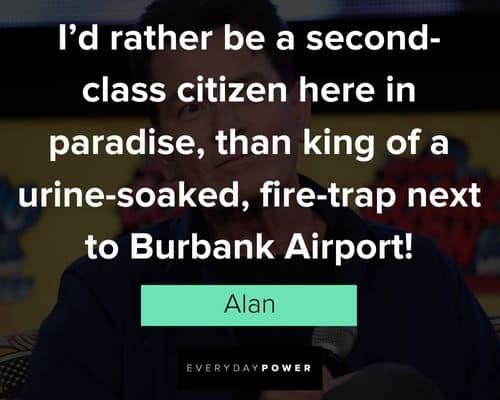 You will also enjoy our article on Lucifer quotes.
2. "I watch one donkey sex show, and you make me pay for it the rest of my life!" — Alan
3. "I'm not gay. I'm literate and urbane and that confuses people." — Alan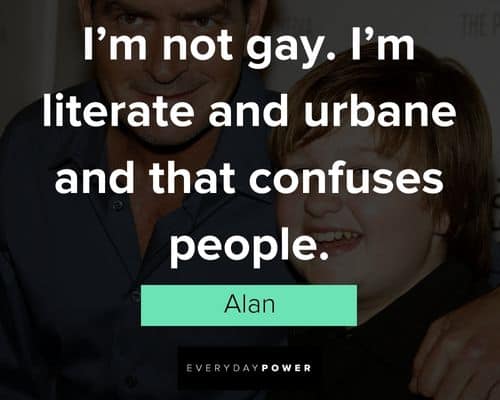 4. "I'm Alan Harper, and I am not having sex!" — Alan
5. "I'll give you a hint, I didn't do the dog people style." — Alan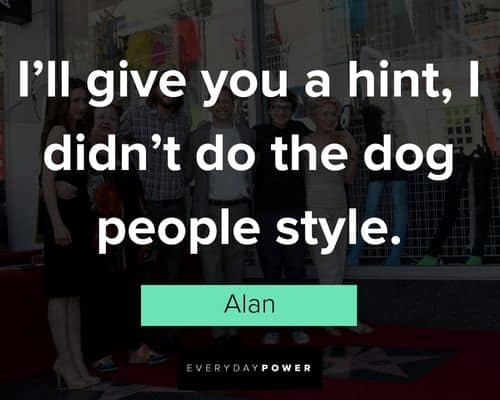 6. "In the dating game, wedding rings are like kryptonite. If superman was a vagina." — Alan
7. "That is one talented lady; and by talented… I mean annoying; and by lady, I mean bitch." — Alan
8. "Women reject me for 100 different reasons. White teeth would reduce that to 99 problems." — Alan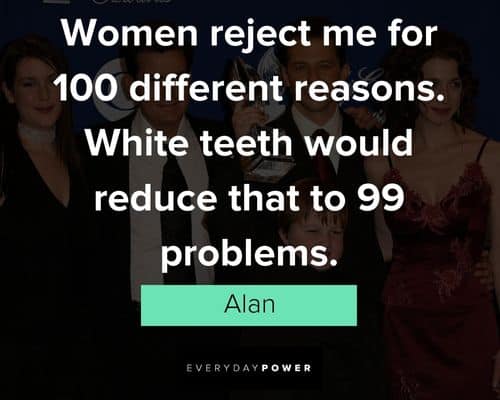 9. "Come on Sam, time is money and you are out of both." — Alan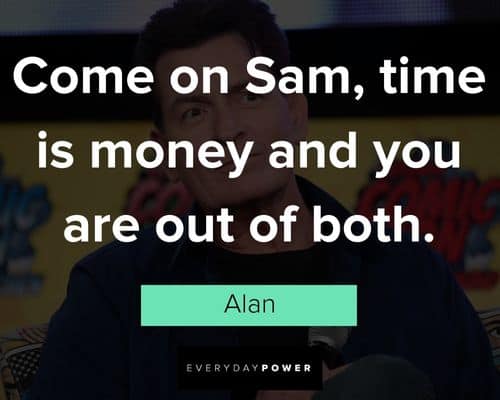 10. "When a boy becomes a man – and that's what you're becoming – he has to start protecting the women in his life from certain things." — Alan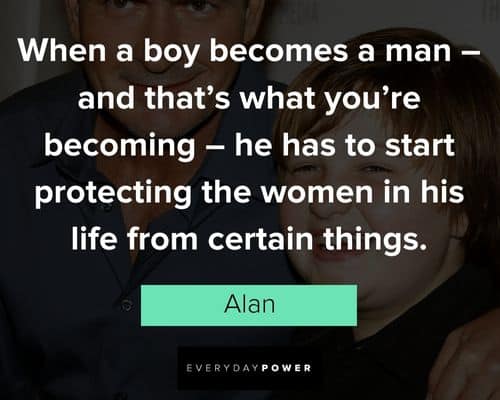 11. "We judge a person by what's inside and not by what they wear." — Alan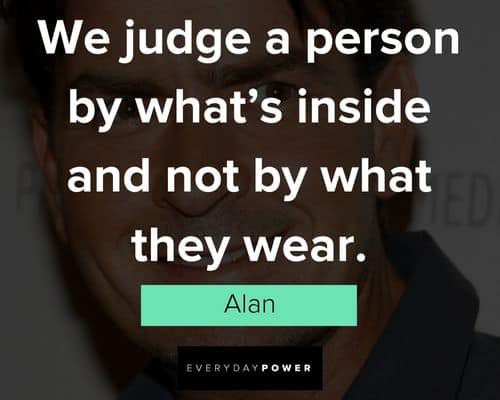 12. "Be sure to wear a condom, not everything stays in Vegas!" — Alan
13. "I know what you said you wanted, but I really dont think Pamela Anderson will agree to swallow your ashes." — Alan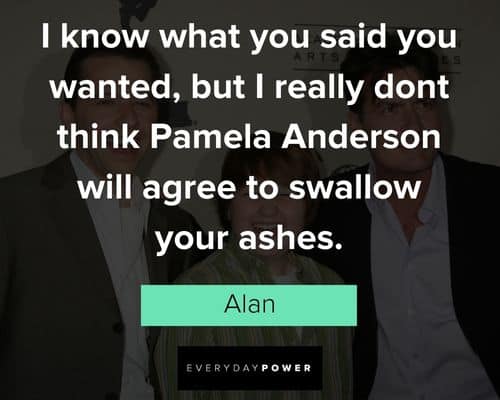 If you enjoy this article, check out our collection of It's Always Sunny in Philadelphia quotes from the gang.
Two and a Half Men quotes from Charlie
14. "My name is Charlie, and, um, my maid says I'm a sex addict." — Charlie
15. "Congratulations, Alan… your son is officially pastry-whipped." — Charlie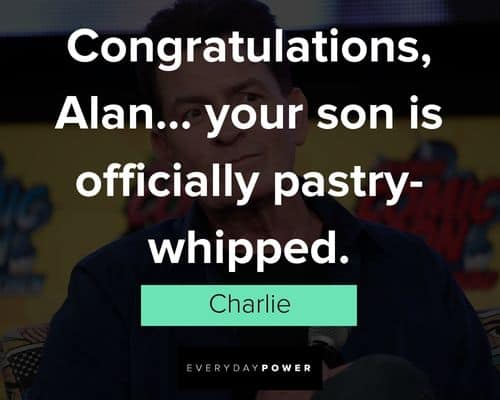 16. "I either drank too much, or got hit by a train." — Charlie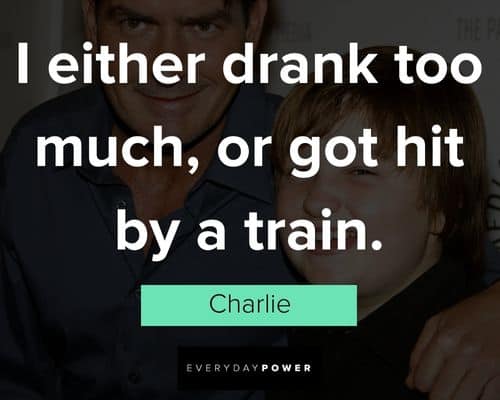 17. "Because we love them and want to protect them. A clueless woman is a happy woman". — Charlie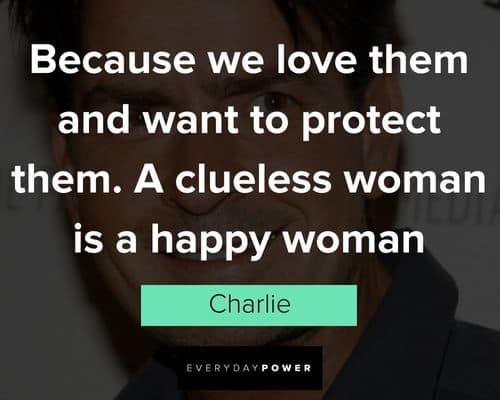 18. "It's just never a good idea to tell a woman more than they need to know." — Charlie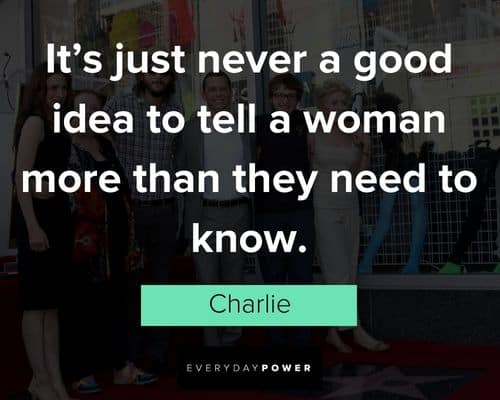 19. "Everyone has a little baggage. I drink and try to mouth kiss hookers. You, you're cheap annoying and no one like you." — Charlie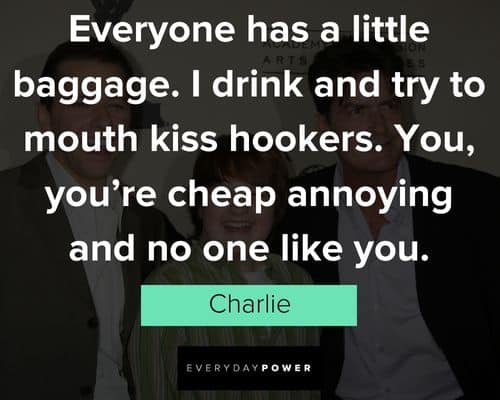 20. "I'm afraid I'm gonna hit you so hard, I'll be an only-child." — Charlie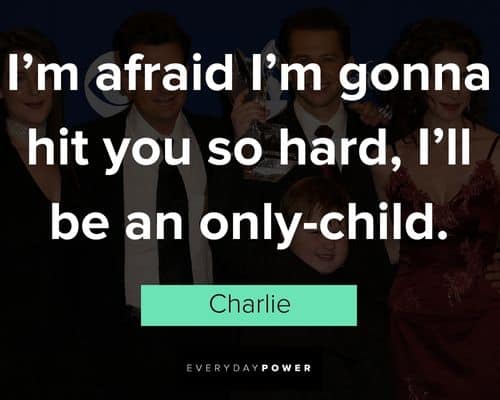 21. "The damage has been done. All that's left to do now is drink until the part of the brain that creates mental pictures is dead." — Charlie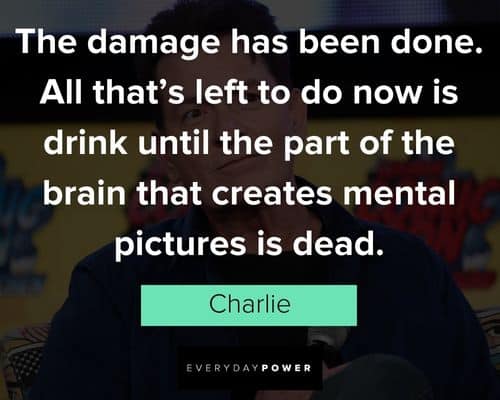 22. "Dont worry, there's not enough blood left in my legs to go anywhere." — Charlie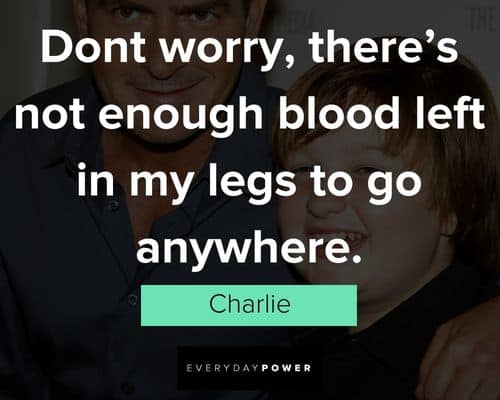 23. "You know what the problem is? The women, the drinking… you guys look at me and you think it's easy." — Charlie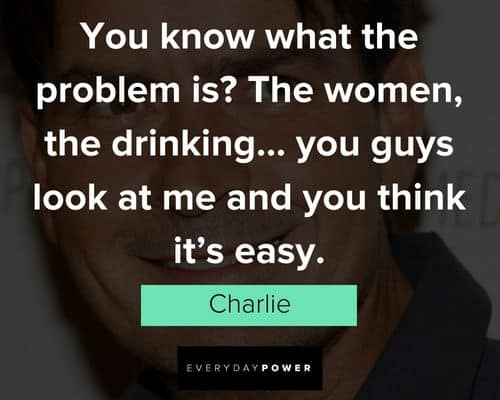 24. "My past is divided between things I can't remember and things I don't want to and you're both." — Charlie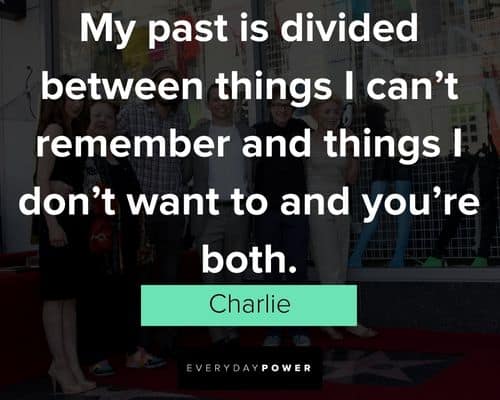 Two and a Half Men quotes from Evelyn
25. "Children are God's little way of punishing us for having sex." — Evelyn
If you enjoy this article, check out our collection of Broad City quotes sharing friendship ties.
Which of these Two and a Half Men quotes is your favorite?
The series also has a variety of side characters that sync together with the main characters' personalities and dilemmas.
One standout character is Berta, Charlie's housekeeper.
Berta is sharp-tongued and initially apprehensive with the shift in dynamics in their household.
With these mini details, fans felt the series managed to stay exciting and fun to watch.
If you are a fan of this series and watched it all the way through, you'll understand how the characters evolved over the years.
Charlie, for example, was able to settle down in Paris and marry his stalker, Rose.
This is huge character development as Charlie finally ends the bachelor chapter of his life.
However, it was later hinted that Rose may have killed Charlie, because of his affairs with other women.
Regardless, we hope you enjoy reading these Two and a Half Men quotes and sayings.