30 LeBron James quotes about life, leadership and hard work
Looking for Lebron James quotes to spark your motivation?
These Lebron James quotes will inspire you to work hard for your success.
Lebron James is easily one of the most popular players in the NBA due to his skill set, demeanor, and desire to win.
Lebron started making headlines very early in his career when his High School games were televised on ESPN, which was never done before.
Since then, James has won two NBA championships, multiple MVP's, and has even played for his home state, twice.
To help you win in life, below you'll find our collection of inspirational, wise, and motivational Lebron James quotes and sayings, collected from a variety of sources over the years.
Enjoy these inspirational Lebron James quotes about maximizing our potential and discovering our greatness!
Remember to also read our collection of Micheal Jordan quotes that will inspire you to become the best version of yourself.
If you like this article, we suggest you explore our most popular quotes article, a list of short inspirational quotes for daily encouragement.
Check out more inspirational quotes on our motivational quotes category page.
Inspirational Lebron James Quotes about Personal Greatness
1. "You can't be afraid to fail. It's the only way you succeed – you're not gonna succeed all the time, and I know that." – LeBron James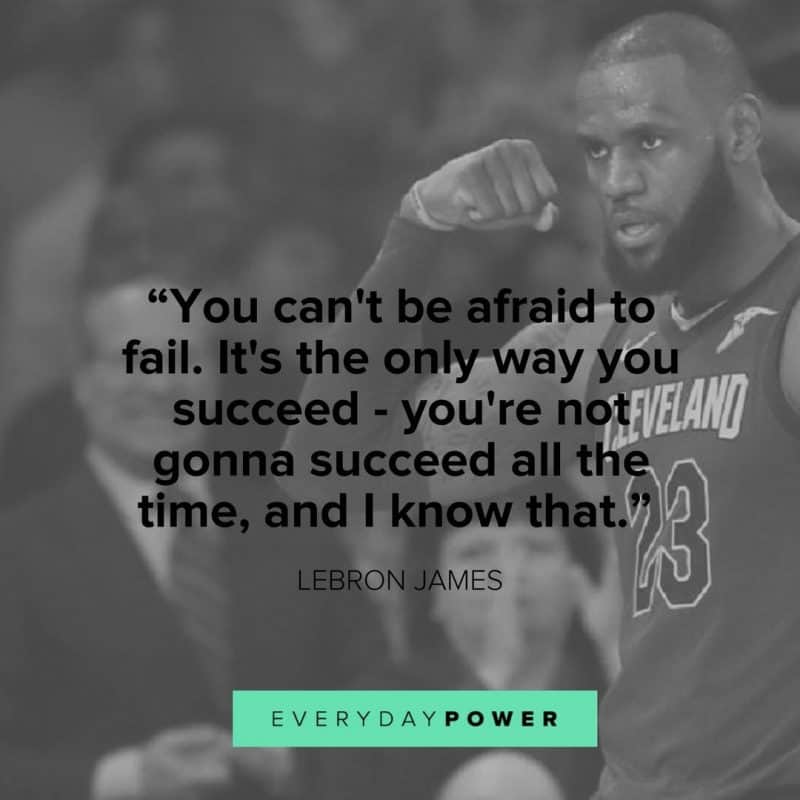 You will also enjoy our article on lil durk quotes.
2. "Once you become a professional athlete or once you do anything well, then you're automatically a role model …I have no problem being a role model. I love it. I have kids looking up to me and hopefully I inspire these kids to do good things." – LeBron James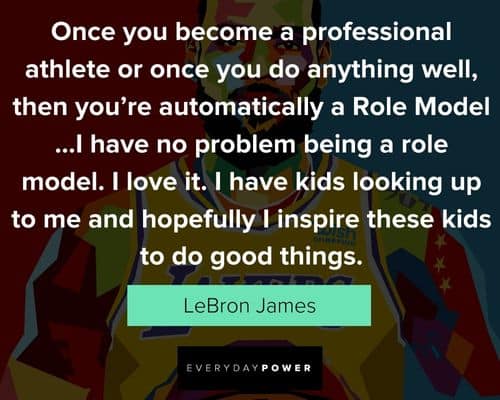 You will also enjoy our article on hockey quotes.
3. "I like criticism. It makes you strong." – LeBron James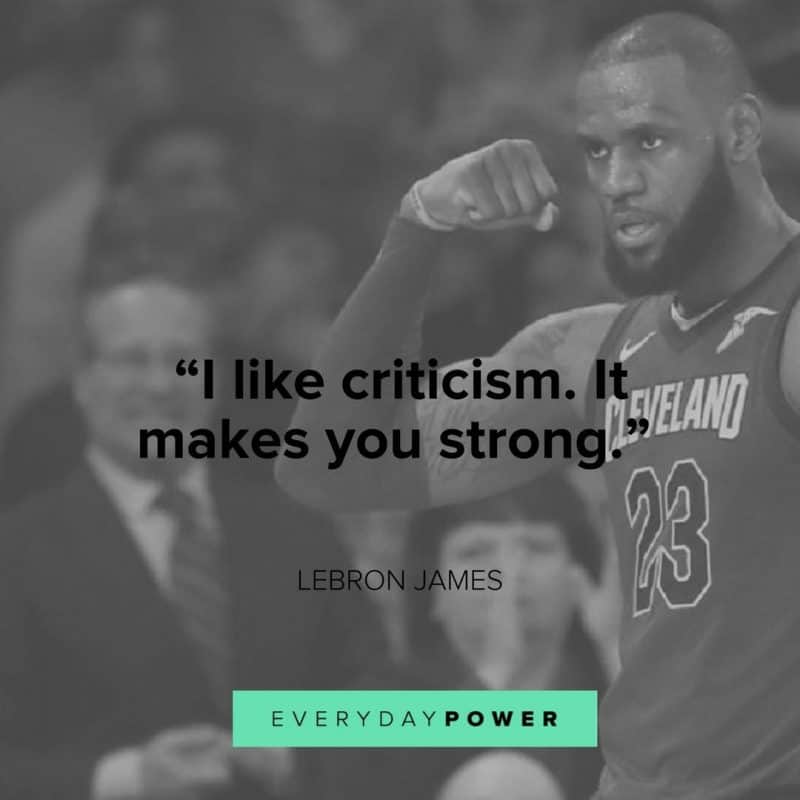 4. "I hear that word pressure all the time. There is a lot of pressure put on me, but I don't put a lot of pressure on myself. I feel if I play my game, it will take care of itself." – LeBron James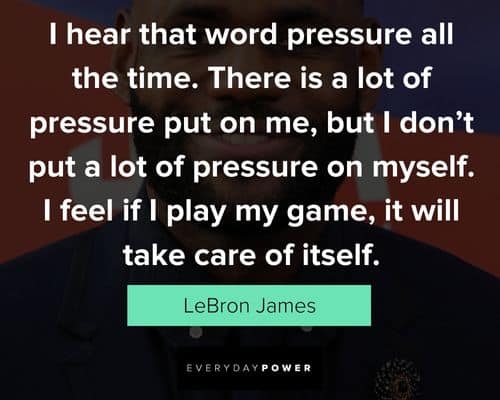 5. "Once you get on the playing field it's not about whether you're liked or not liked. All that matters is to play at a high level and do whatever it takes to help your team win. That's what it's about." – LeBron James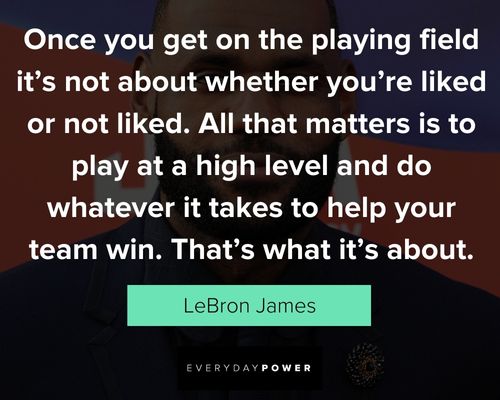 6. "Commitment is a big part of what I am and what I believe. How committed are you to winning? How committed are you to being a good friend?" – LeBron James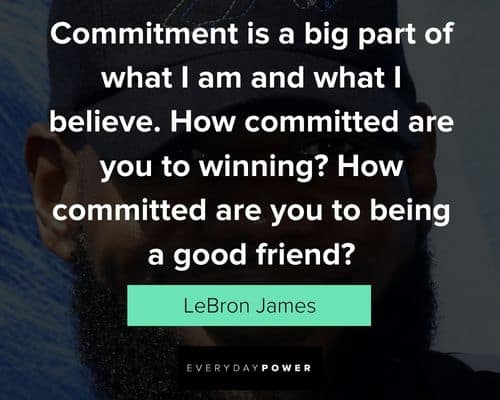 7. "I feel my calling here goes above basketball." – LeBron James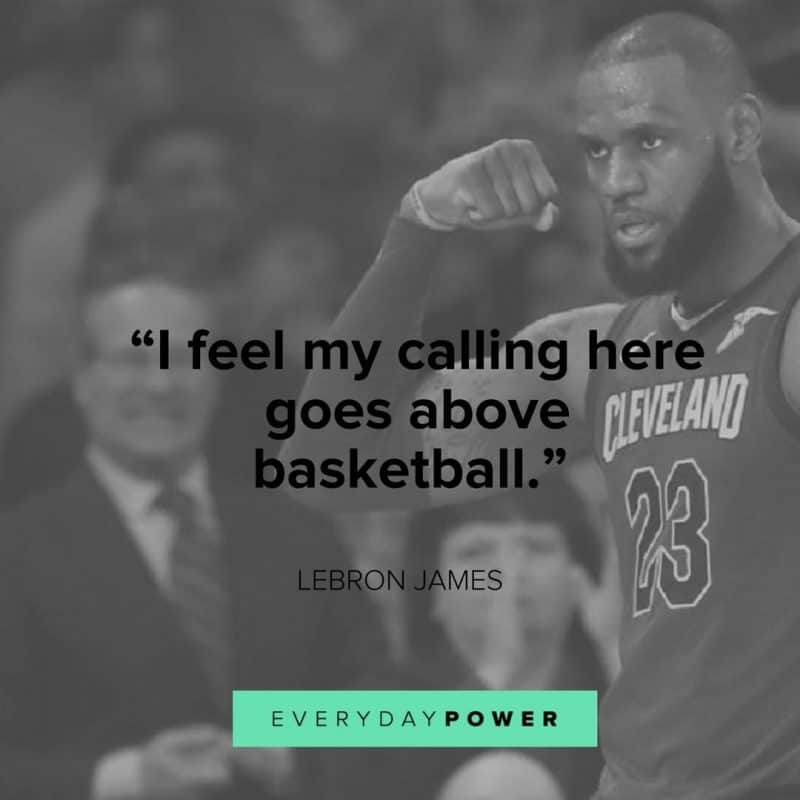 8. "Sometimes in the past when I played, something might make me lose focus, or I would go home after a game where I thought I could have played better and I would let it hang over my head for a long time when it shouldn't. But now, being a parent, I go home and see my son and I forget about any mistake I ever made or the reason I'm upset. I get home and my son is smiling or he comes running to me. It has just made me grow as an individual and grow as a man." – LeBron James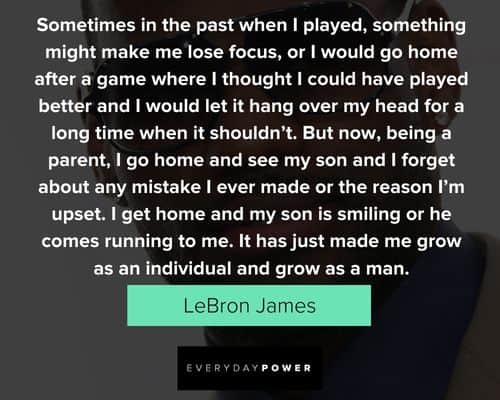 9. "You know, my family and friends have never been yes-men: 'Yes, you're doing the right thing, you're always right.' No, they tell me when I'm wrong, and that's why I've been able to stay who I am and stay humble." – LeBron James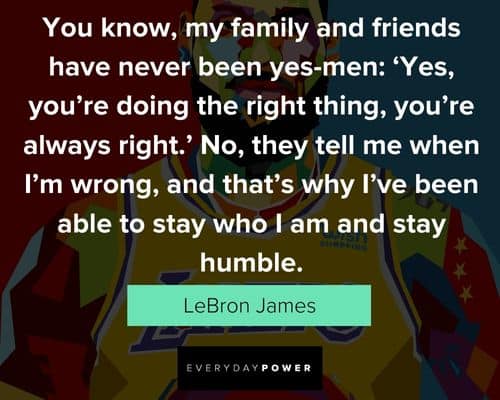 10. "To being trustworthy? To being successful? How committed are you to being a good father, a good teammate, a good role model? There's that moment every morning when you look in the mirror: Are you committed, or are you not?" – LeBron James
You might also like these inspirational Tiger Woods quotes for a successful future.
Lebron James Quotes To Bring Out The Best In You
11. "I always say, decisions I make, I live with them. There's always ways you can correct them or ways you can do them better. At the end of the day, I live with them." – LeBron James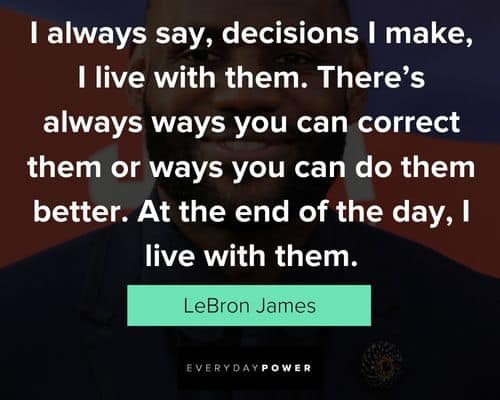 12. "I'm going to use all my tools, my god-given ability, and make the best life I can with it." – LeBron James
13. "I hate letting my teammates down. I know I'm not going to make every shot. Sometimes I try to make the right play, and if it results in a loss, I feel awful. I don't feel awful because I have to answer questions about it. I feel awful in that locker room because I could have done something more to help my teammates win." – LeBron James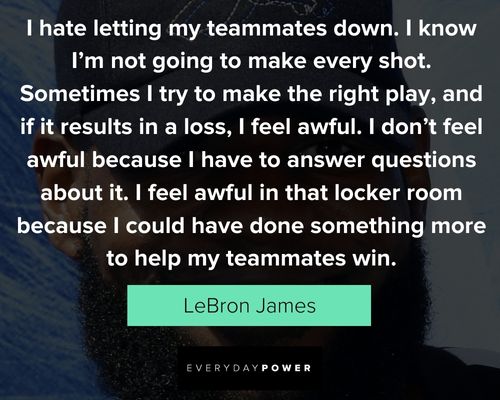 14. "I don't need too much. Glamour and all that stuff don't excite me. I'm just glad I have the game of basketball in my life." – LeBron James
15. "I think, team first. It allows me to succeed, it allows my team to succeed." – LeBron James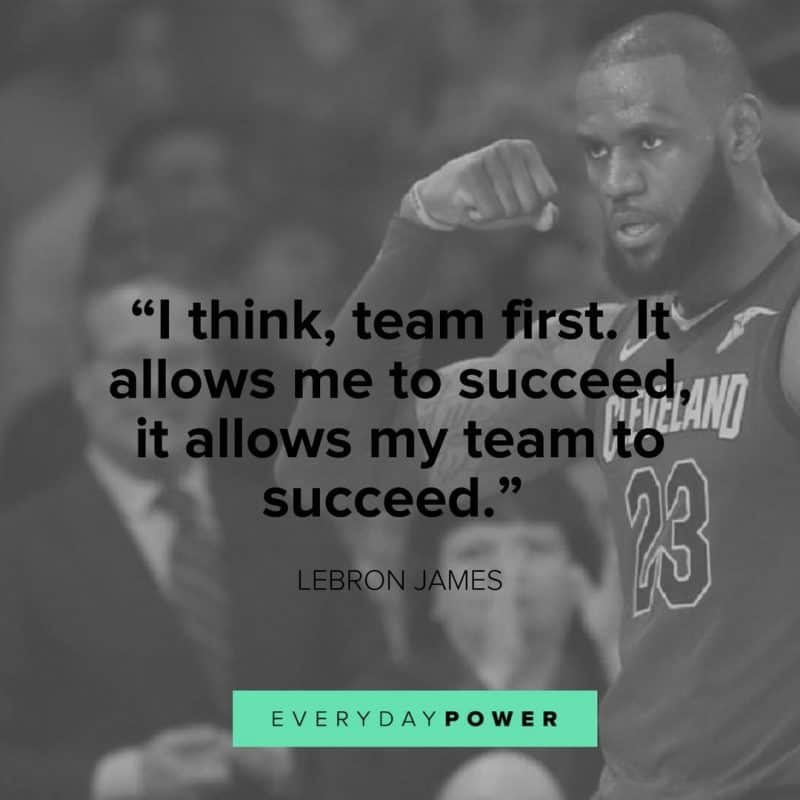 16. "Ask me to play, I'll play. Ask me to shoot, I'll shoot. Ask me to pass, I'll pass. Ask me to steal, block out, sacrifice, lead, dominate, anything. But it's not just what you ask of me. It's what I ask of myself." – LeBron James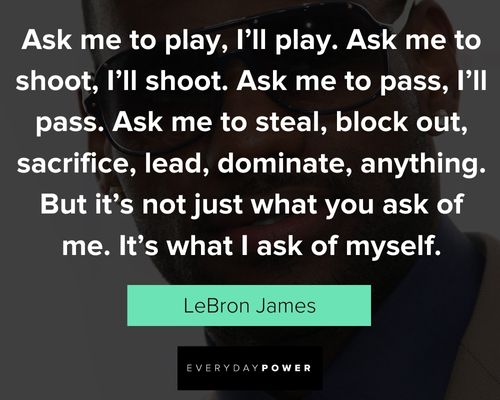 17. "I hear my friends and my mom tell me I'm special, but honestly, I still don't get it." – LeBron James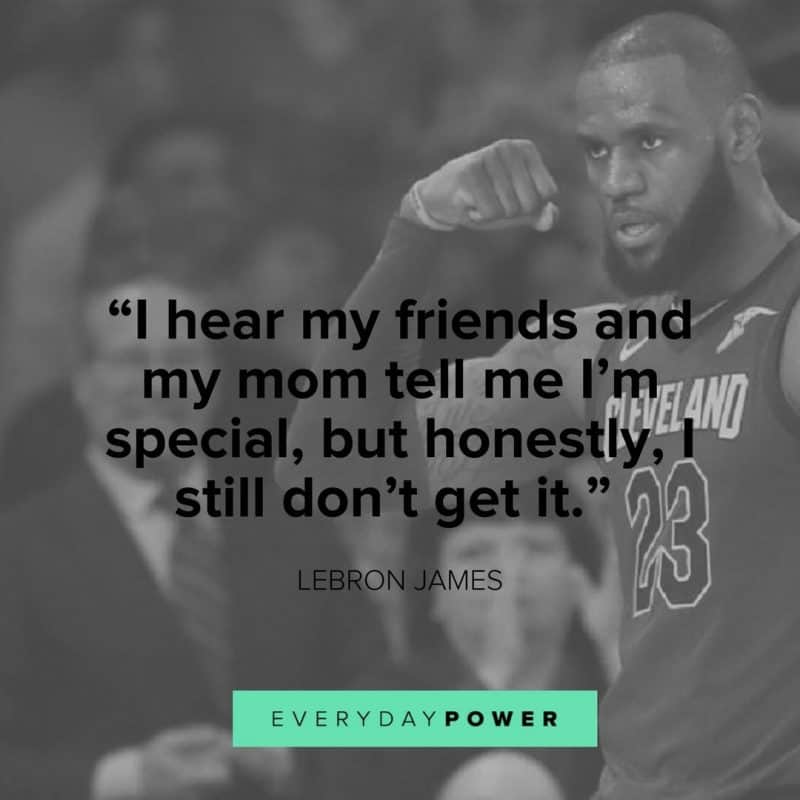 18. "I treated it like every day was my last day with a basketball." – LeBron James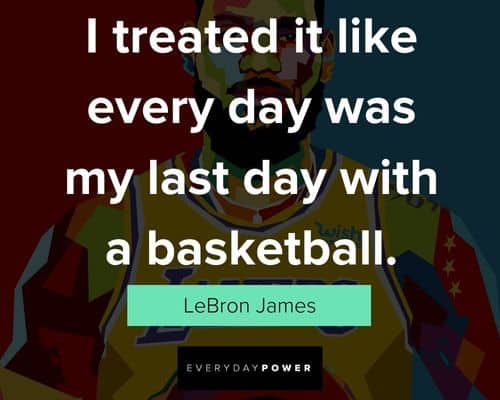 19. "My game is really played above time. I don't say that like I'm saying I'm ahead of my time. I'm saying, like, if I'm on the court and I throw a pass, the ball that I've thrown will lead my teammate right where he needs to go, before he even knows that that's the right place to go to." – LeBron James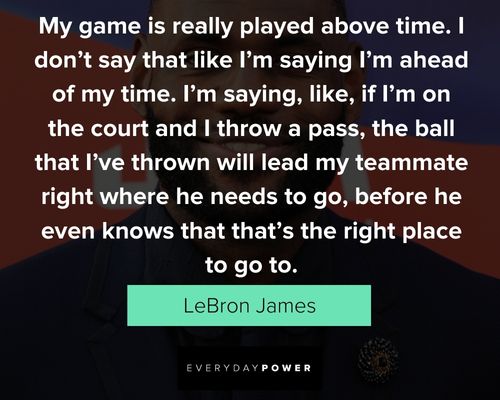 20. "If you put everything together as far as my mind, my body, my game. If you put everything in one bottle, this is probably the best I've been." – LeBron James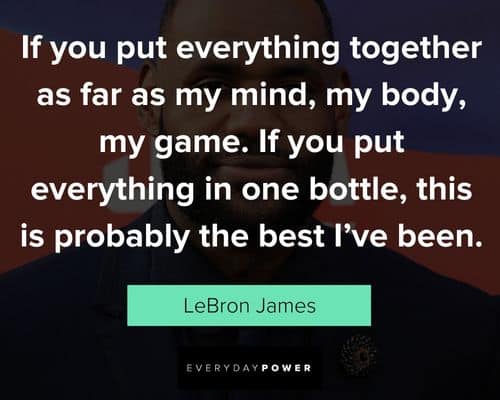 Also check out these Wayne Gretzky quotes that transcend hockey.
More Lebron James Quotes and Sayings
21. "I laugh and joke, but I don't get distracted very easily." – LeBron James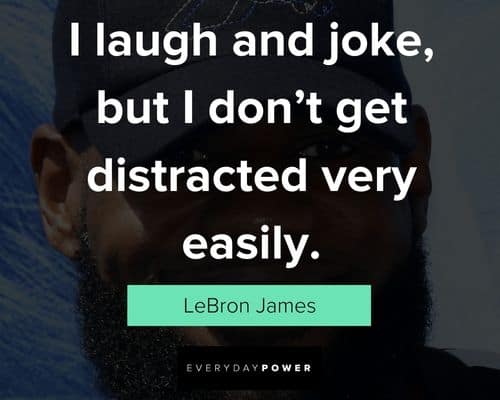 22. "Warren Buffett told me once and he said always follow your gut. When you have that gut feeling, you have to go with don't go back on it." – LeBron James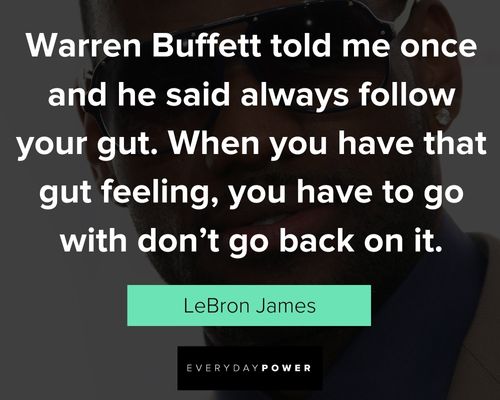 23. "I do have motivation. A lot of motivation." – LeBron James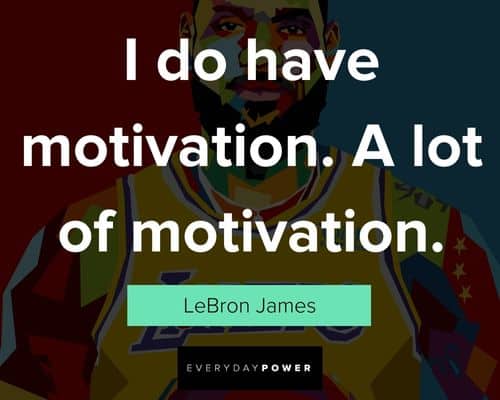 24. "I think the reason why I am who I am today is because I went through those tough times when I was younger." – LeBron James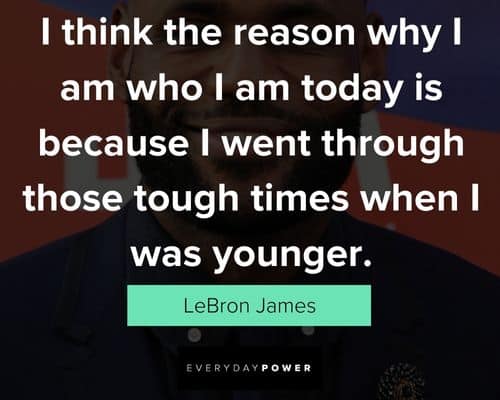 25. "I'm confident with my ability." – LeBron James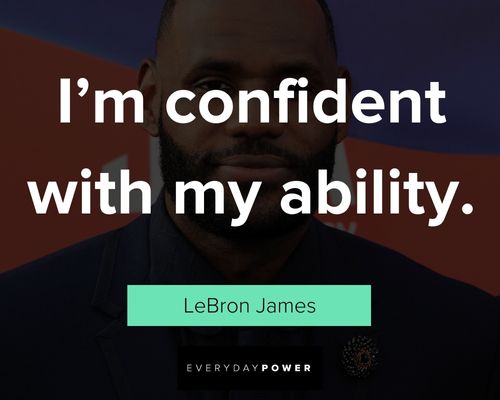 26. "The first time I stepped on an NBA court I became a businessman." – LeBron James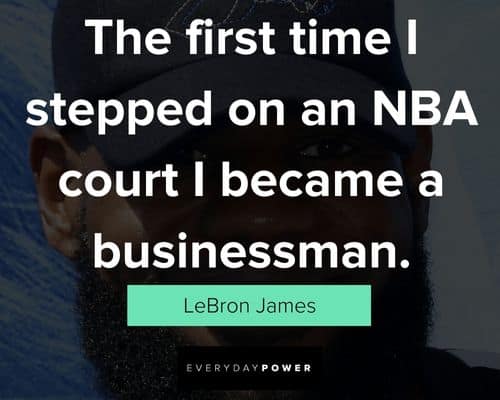 27. "I make impact plays. I make game-changing plays." – LeBron James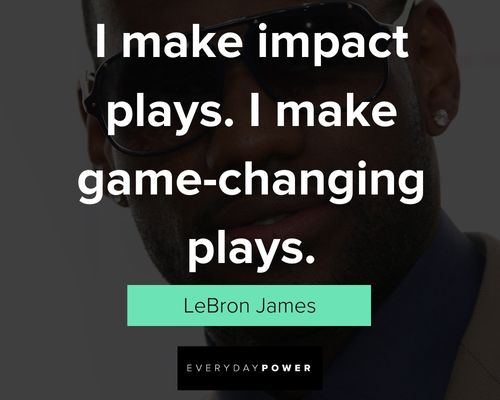 28. "Every night on the court I give my all, and if I'm not giving 100 percent, I criticize myself." – LeBron James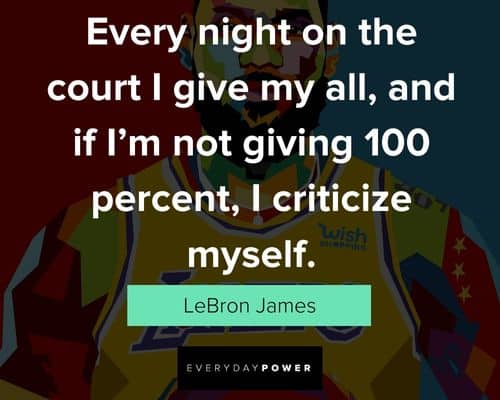 29. "I love showcasing my talents – not only to my hometown fans and my own team but to the world." – LeBron James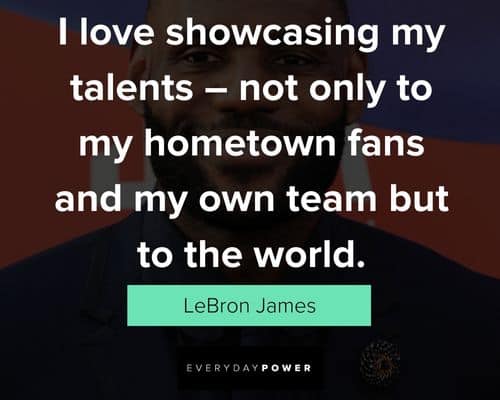 30. "There are always people always asking you for something. But I feel like I have a foundation. I have a supporting cast where it doesn't bother me too much." – LeBron James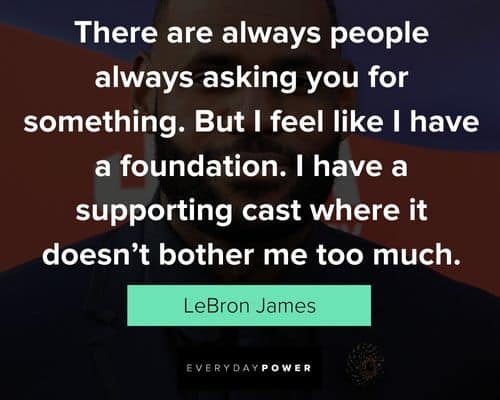 Did you enjoy these Lebron James quotes?
LeBron James has always carried himself well.
A young man with all of this attention, money, and fame, you'd never read anything about public lapses in his character.
This happens all too often for many young superstars nowadays.
He is a true role model – both on and off the court.
Hopefully, these Lebron James quotes will inspire you to become the best version of yourself.
Which of these Lebron James quotes resonated with you best?
Do you have any other favorite quotes to add?
Let us know in the comment section below.