Blues Brothers Quotes From the Musical Comedy
The Blues Brothers is a 1980 American musical comedy inspired by NBC's Saturday Night Live.
John Landis directed the film and John Belushi stars as 'Joliet' Jake Blues and Dan Aykroyd as his brother Elwood.
These Blues Brothers quotes reference all the times they spoke about getting the band back together and performing.
The film, which was set in and around Chicago, featured a star-studded cast of musical talent and actors.
There were musical numbers from R&B and soul legends like James Brown, Cab Calloway, Aretha Franklin, Ray Charles, Chaka Khan, and John Lee Hooker.
Carrie Fisher, Henry Gibson, Charles Napier, and John Candy also make appearances in the film.
The movie is a redemption story about paroled convict Jake, and his blood brother Elwood, who believe they are on 'a mission from God' to save the Catholic orphanage they were raised in from foreclosure.
They just need to come up with $5,000 to pay the tax bill, and decided to put the band back together to do it!
Keep reading to find out more about their quest, which faces many struggles.
Don't forget to also check out these Tommy Boy quotes from the 90s American cult classic.
Check out our most popular quote article, a list of short inspirational quotes for daily inspiration.
Check out our inspirational quotes category page for more inspirational life quotes.
Blues Brothers movie quotes about getting the band back together and performing
1. "The Blues Brothers. It should read: Tonight Only: the Blues Brothers triumphant return." ― Jake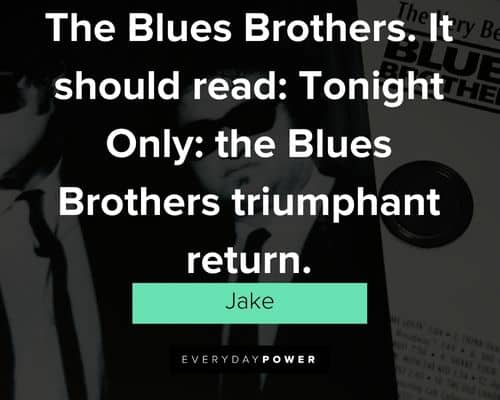 2. Jake: "The band. The band!"
James Brown: "Do you see the light?"
Jake: "Yes, yes, Jesus H. God Tap-dancing Christ. I have seen the light!"
3. (At the Palace Hotel Ballroom): "Welcome, from Calumet City, Illinois: the show band of Joliet Jake and Elwood Blues: The Blues Brothers." ― Curtis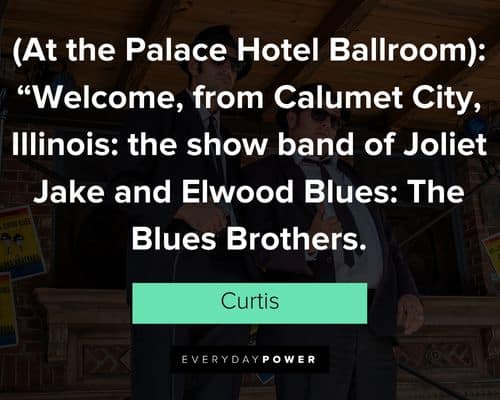 4. "We're putting the band back together." ― Elwood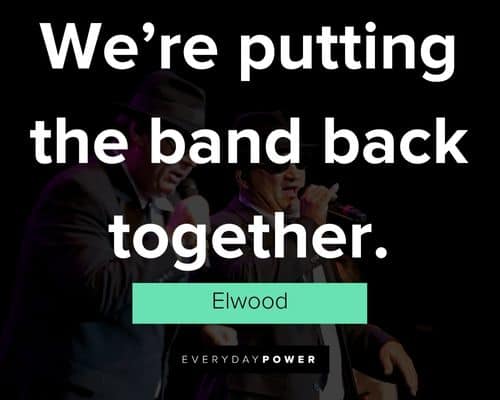 You will also enjoy our article on Two and a Half Men quotes.
5. Jake: "So far we've covered all of Lake, McHenry, and part of DuPage County."
Elwood: "Good, let's get to the gig."
6. "We're the Good Ole'… Blues Brothers band from Chicago." ― Elwood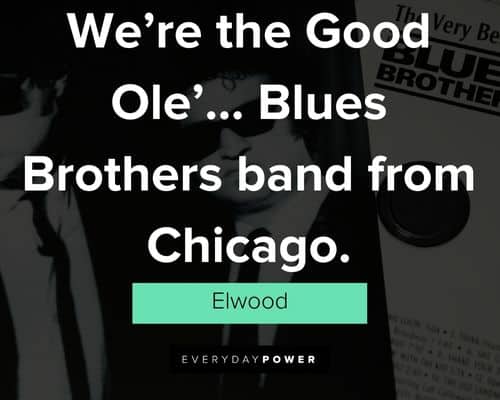 7. Band Member: "It's used. There's no action left in that keyboard."
Ray: "Excuse me, I don't think there's anything wrong with the action on this piano."
Blues Brothers sunglasses quote
8. Elwood: "We're 106 miles to Chicago. We've got a full tank of gas, half a pack of cigarettes, it's dark and we're wearing sunglasses."
Jake: "Hit it."
9. Elwood: "What music do you play?"
Cocktail Waitress: "We got both kinds, Country and Western."
You will also enjoy our article on Phantom of the Opera quotes.
Blues Brothers quotes about struggles including running out of gas and needing money
10. Mystery Woman: "You miserable slug! You think you can talk your way out of this? You betrayed me."
Jake: "No, I didn't. Honest… I ran out of gas. I… I had a flat tire. I didn't have enough money for cab fare. My tux didn't come back from the cleaners. An old friend came in from out of town. Someone stole my car. There was an earthquake. A terrible flood. Locus. It wasn't my fault. I swear to god!"
11. "Fix the cigarette lighter." ― Jake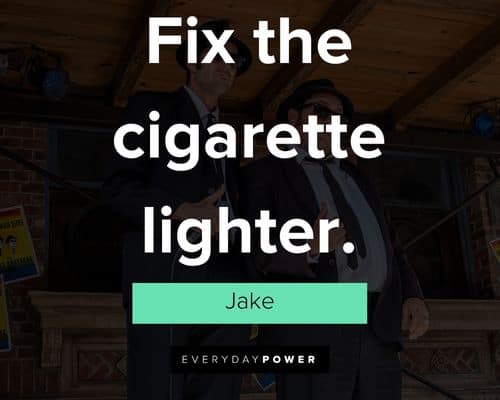 12. Jake: "About our money for tonight…"
Bob: "That's right. $200, and you boys drank $300 worth of beer."
13. Jake: "First, you trade the Cadillac. Then, you lied to me about the band. And now, you're gonna put me right back in the joint."
Elwood: "Wasn't lies, it was just… bullshit."
14. "$5,000 bucks? Who do you think you are, The Beatles?" ― Maury Sline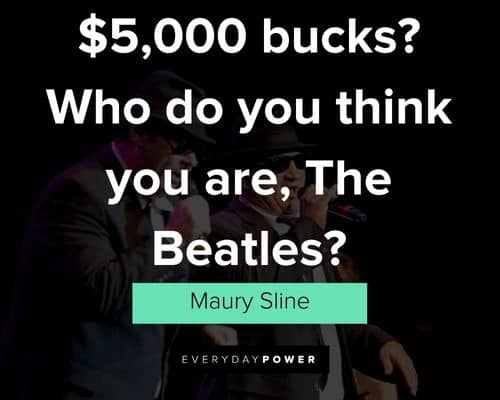 15. "As usual, I'll have to take an I.O.U." ― Ray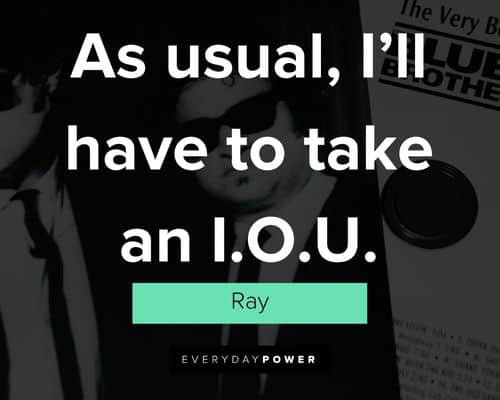 16. Elwood: "They don't have my address. I falsified my renewal. I put down 1060 West Addison."
Jake: "1060 West Addison? That's Wrigley Field."
17. "You want out of this parking lot? OK!" ― Elwood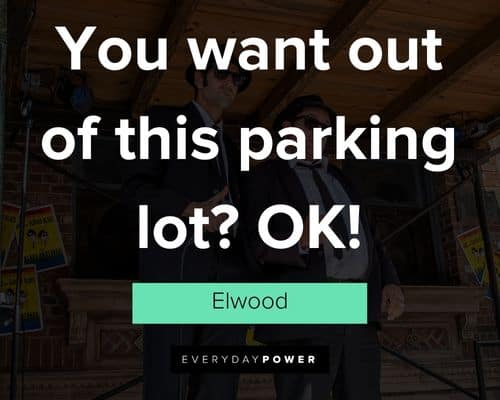 Blues Brothers quotes that border on religious
18. "I gotta quit… I'm gonna become a priest." ― Elwood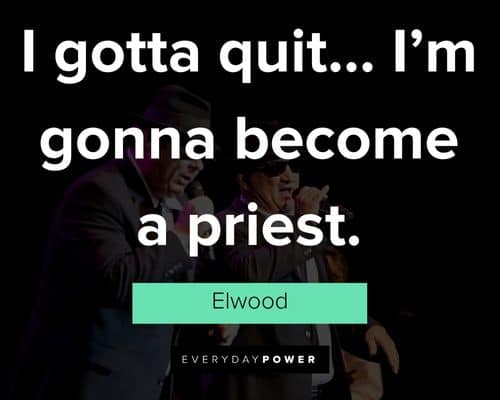 19. "Our Lady of Blessed Acceleration, don't fail me now." ― Elwood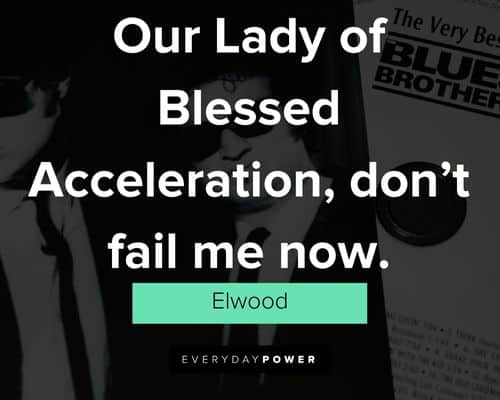 20. "You are such a disappointing pair. I prayed so hard for you. It saddens and hurts me that the two young men whom I raised to believe in the Ten Commandments have returned to me as two thieves, with filthy mouths and bad attitudes… Get out, and don't come back until you've redeemed yourselves." ― sister Mary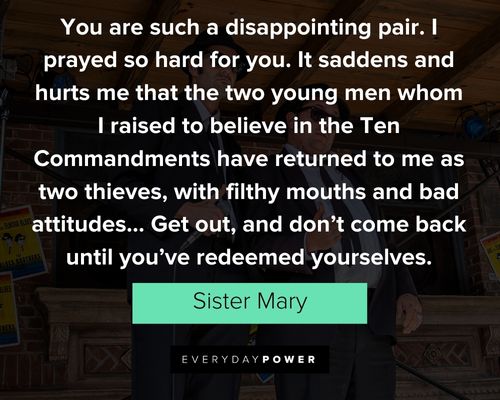 21. "Don't you blasphemy in here, don't you blasphemy in here! You're gonna walk out of here without your dry white toast, without your four fried chickens. And without Matt 'Guitar' Murphy." ― Mrs. Murphy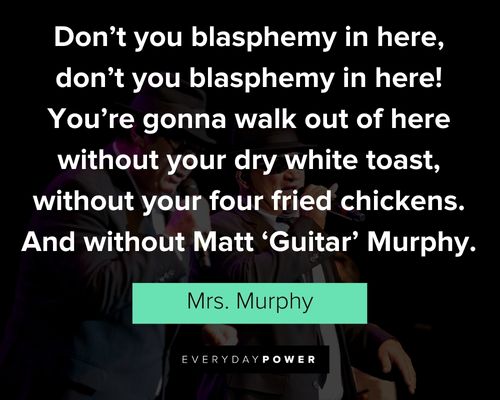 22. "We're on a mission from God." ― Elwood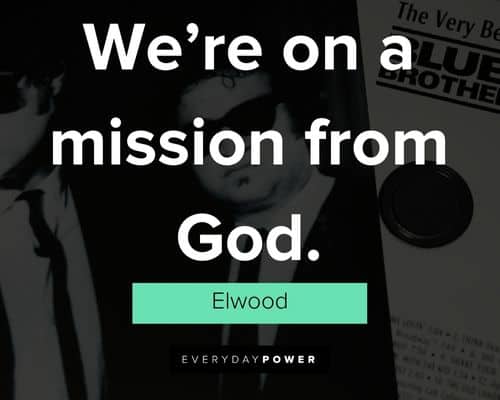 23. Elwood: "You promised you'd visit the penguin the day you got out of prison."
Jake: "Yeah… so I lied to her."
Elwood: "You can't lie to a nun, Jake. We're gonna go in and see the penguin."
Jake: "No. Fucking. Way."
24. "You contemptible pig! I remained celibate for you. I stood at the back of a cathedral, waiting, in celibacy, for you, with three hundred friends and relatives in attendance. My uncle hired the best Romanian caterers in the state. To obtain the seven limousines for the wed fding party, myather used up his last favor with Mad Pete Trullo. So for me, for my mother, my grandmother, my father, my uncle, and for the common good, I must now kill you, and your brother." ― Mystery Woman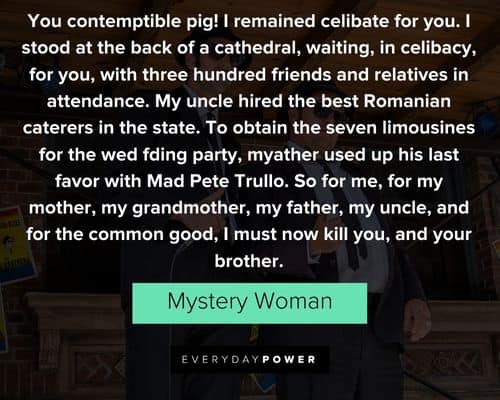 Blues Brothers quotes about the police and from other county officials
25. "Sir, where is the office of the assessor of Cook County?" ― Elwood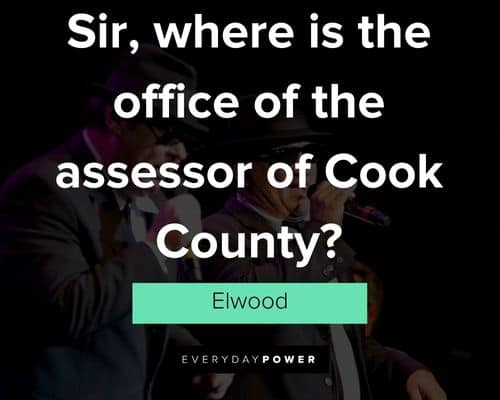 Which of these Blues brothers quotes is your favorite?
Some challenges they face along the way seem a little absurd, like a homicidal 'mystery woman', Neo-Nazis, and a country and western band.
Not to mention the relentless police pursuit.
Universal Studios also faced a set of challenges with the film.
Production costs for the film skyrocketed and they couldn't control what was happening.
Aykroyd, who was new to film screenwriting, took six months to deliver a long and unusable script.
Landis rewrote it before production, causing a significant delay to start filming.
Belushi also contributed to costly and lengthy delays, thanks to his drug use and partying.
These problems and the actual cost of the destructive car scenes made the movie one of the most expensive comedies ever produced.
However, it still grossed over $115 million and became a cult classic.
Let us know what you thought of the movie in the comment section below.
Don't forget to also mention any other favorite Blues brothers quotes and lines?