50 Dinner Quotes About The Important Evening Meal
A lot can happen at dinner—as you will see in these dinner quotes!
Dinners can be a fun family time, or they can be uncomfortable situations in which we find ourselves facing toxic family members.
Dinner, and food, in general, are vital to our health.
However, many other critical decisions, about political or business policy have also been debated over dinner.
Dinner itself is considered to be the evening meal in modern-day society.
It is also typically the largest meal of the day.
Many adults find the question, "What is for dinner?"
to be the bane of their daily existence.
What does dinner usually look like?
The typical American dinner consists of a protein, starch, and a vegetable.
Americans are known for being 'meat and potatoes' type of people for a reason!
Keep reading for more healthy guidelines when it comes to what to make for dinner.
Don't forget to also check out these healthy eating quotes celebrating better food choices.
Check out our most popular quote article, a list of short inspirational quotes for daily inspiration.
Our inspirational quotes category page has all of our motivational quotes for all the different areas of life.
Dinner quotes from influential people
1. "Rather go to bed without dinner than to rise in debt." — Benjamin Franklin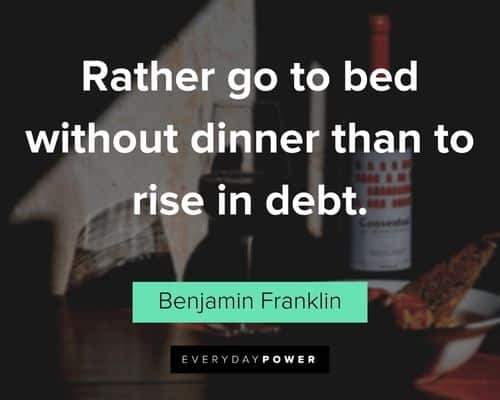 You will also enjoy our article on food quotes.
2. "He that waits upon fortune, is never sure of a dinner." — Benjamin Franklin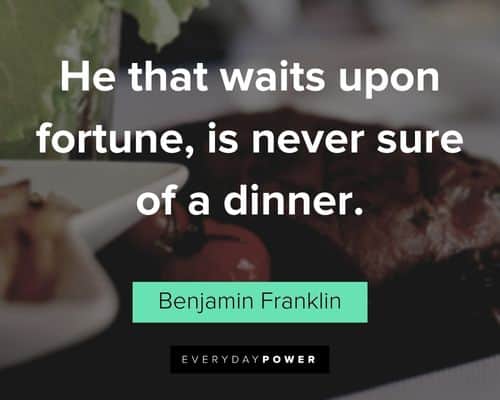 3. "All great change in America begins at the dinner table." — Ronald Reagan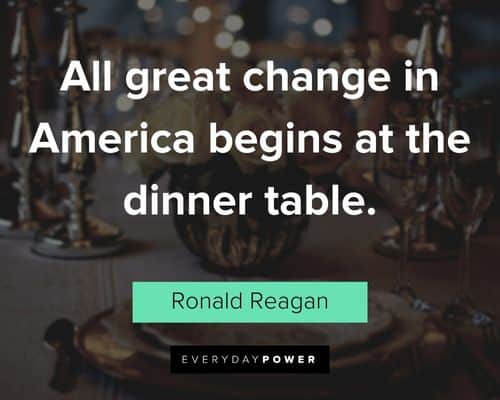 4. "You can imagine the kind of dinner parties I had to go to at a young age… pretty dull." — Prince Harry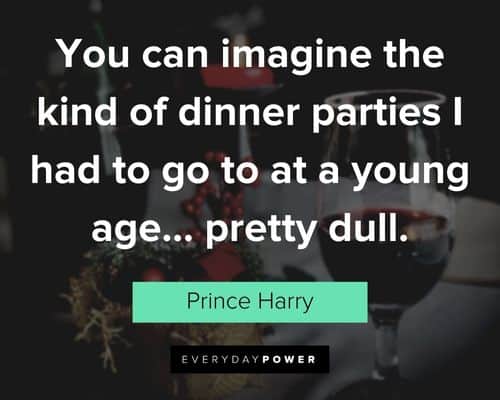 5. "The slogan of progress is changing from the full dinner pail to the full garage." — Herbert Hoover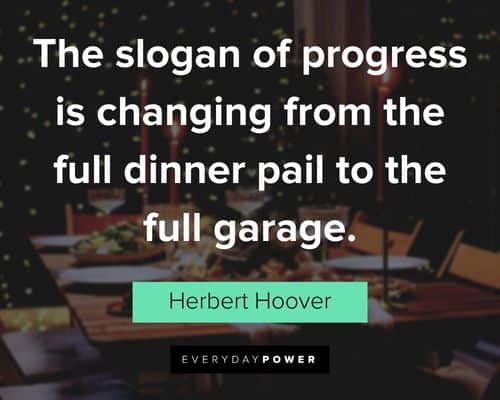 6. "At dinner parties I sit below the salt now. There are a lot of interesting people there." — Donald T. Regan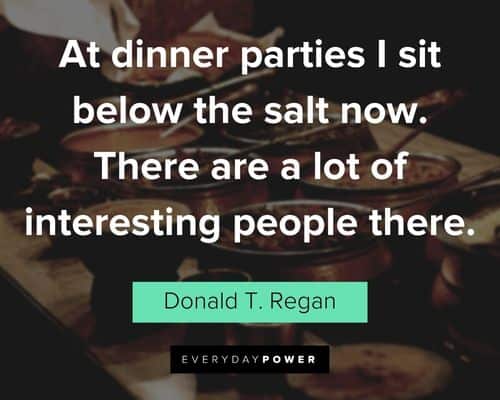 7. "To be honest dinner conversations was the worst bit about being a child and listening to the boring people around me." — Prince Harry
8. "I would not vote for the mayor. It's not just because he didn't invite me to dinner, but because on my way into town from the airport there were such enormous potholes." — Fidel Castro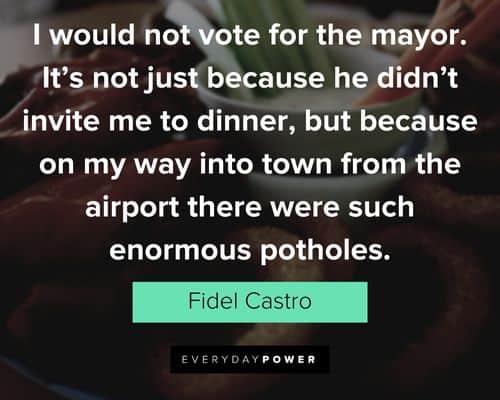 9. "My diet has definitely become greener; however, I am a big proponent of everything in moderation. I enjoy having a farm-to-table dinner, as well as indulging in a special, decadent treat on occasion." — Ivanka Trump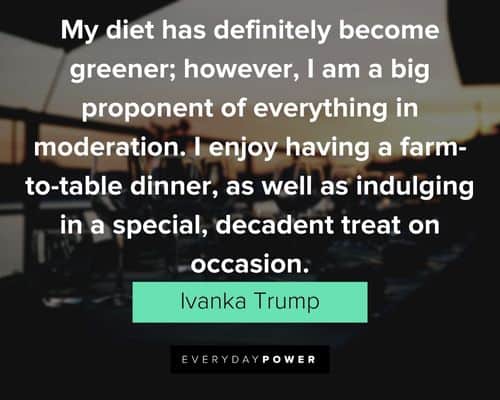 10. "Her friends say she is very funny. At a family dinner, she stood to go, and the footman very properly pulled her chair away. At that moment I asked her a question and she sat down again, except there was no chair. Everyone, including the Queen, laughed and laughed." — Prince Andrew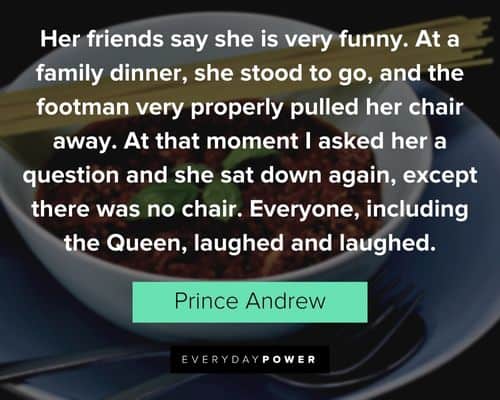 Dinner quotes from famous people
11. "The most essential part of my day is a proper dinner." — Rachael Ray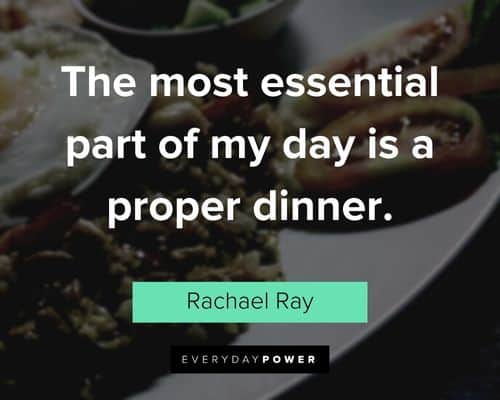 12. "My body is like breakfast, lunch, and dinner. I don't think about it, I just have it." — Arnold Schwarzenegger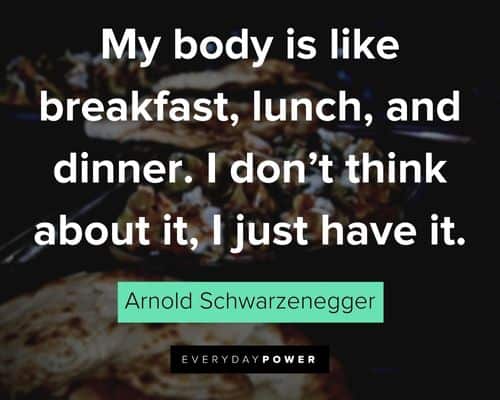 13. "A good film is when the price of the dinner, the theatre admission and the babysitter were worth it." — Alfred Hitchcock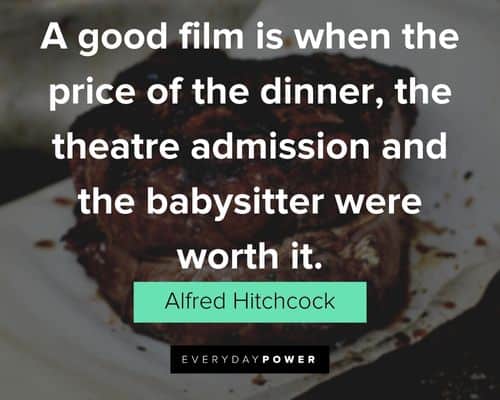 14. "Luxury lives in the finer details. It's a cloth napkin at a dinner table. It's a mint on your pillow before bed." — Iggy Azalea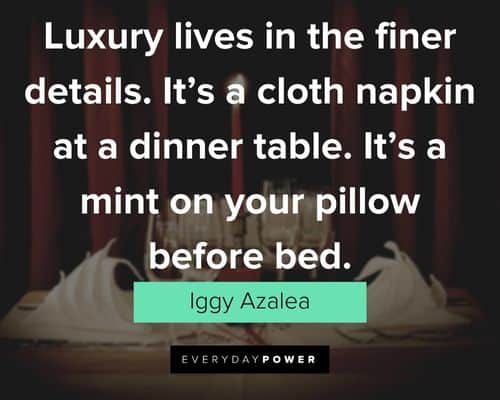 15. "There is just no comparison between having a dinner date with a man and staying home playing canasta with the girls." — Marilyn Monroe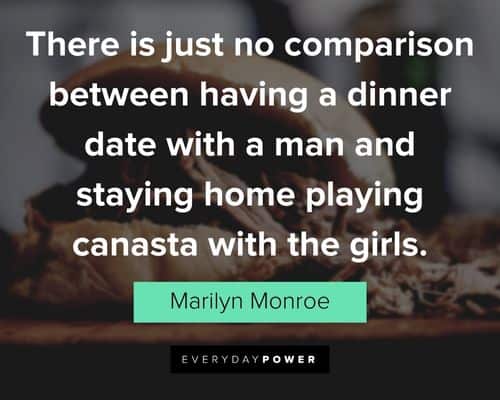 16. "The rules about opening doors and buying dinner and all of that other 'gentleman' stuff is a chess game, especially these days." — Anna Kendrick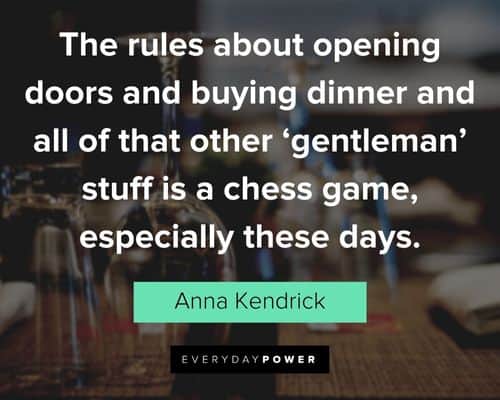 17. "Dating is kind of hard. Like dinner or something like that. Like a forced awkward situation is very strange. Especially for me, for some reason." — Zac Efron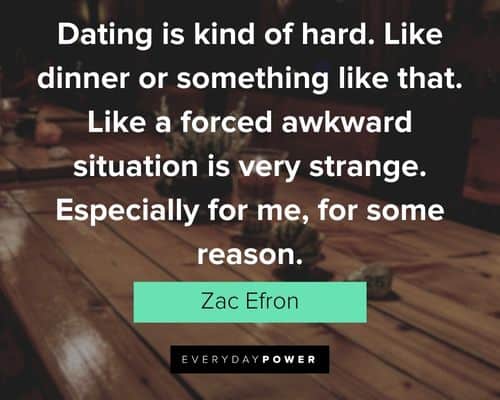 18. "As hard as it is and as tired as I am, I force myself to get dinner at least once a week with my girlfriends, or have a sleepover. Otherwise, my life is just work." — Jennifer Lawrence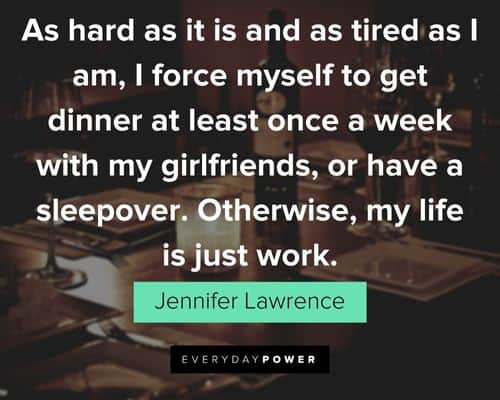 19. "If people see me having dinner with a beautiful woman, they immediately believe that I'm having a love affair with her. Of course that's rubbish. I'm not a playboy!" — George Clooney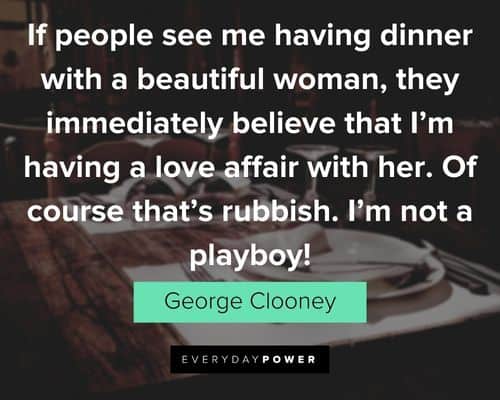 20. "I'm very low-key. I don't really blend in, so it's difficult to go out in public. I like to do things that are kind of quiet, whether it's a dinner at my house or a restaurant, or a movie night at home." — Dwayne Johnson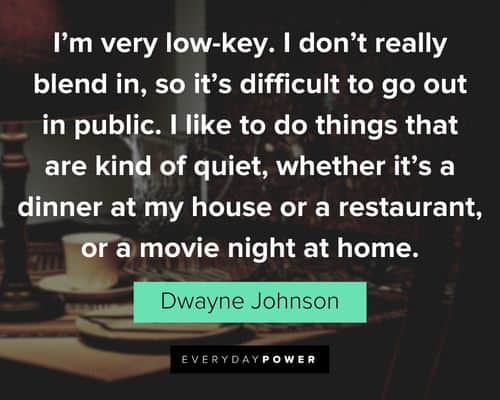 Funny dinner quotes
21. "Burning dinner is not incompetence but war." — Marge Piercy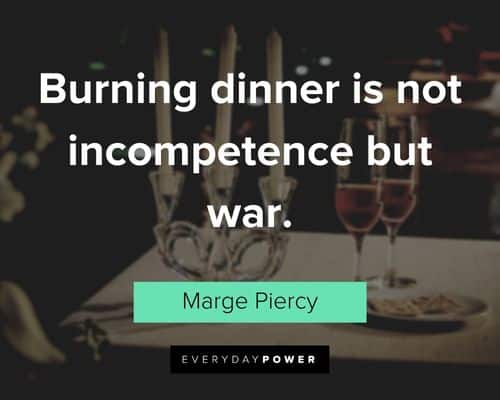 22. "I only eat one meal a day. Lunch, not dinner." — Robert Goulet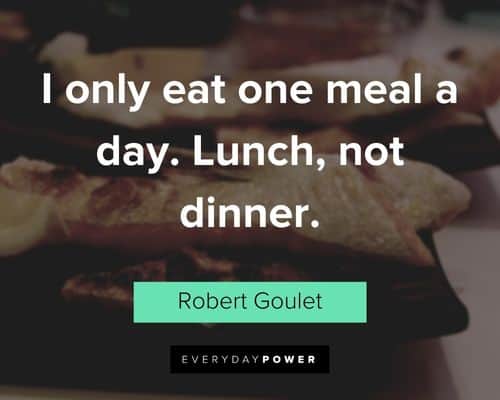 23. "Dinner is where the magic happens in the kitchen." — Kris Carr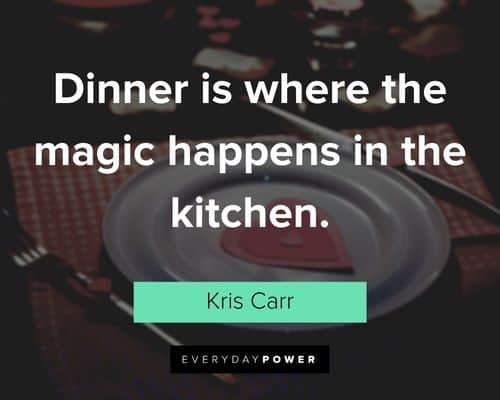 24. "Ask your child what he wants for dinner only if he's buying." — Fran Lebowitz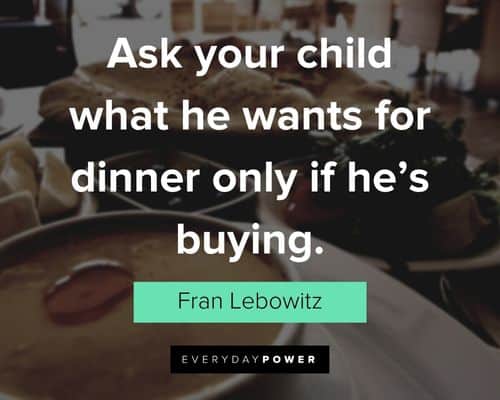 25. "A bachelor's life is a fine breakfast, a flat lunch, and a miserable dinner." — Francis Bacon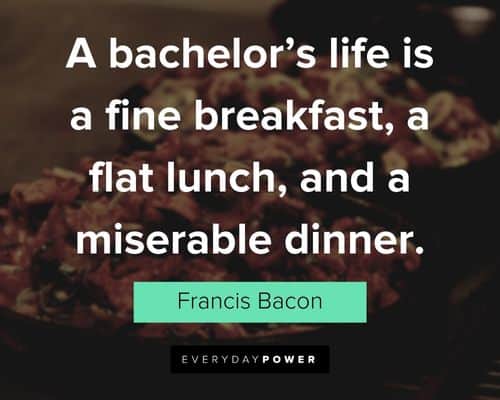 26. "I don't walk into a dinner party and say, 'You're an idiot; give me my coat.'" — Don Rickles
27. "Marriage is a feast where the grace is sometimes better than the dinner." — Charles Caleb Colton
28. "I live by this rule – breakfast like a king, lunch like a prince and dinner like a pauper." — Suniel Shetty
29. "I have long maintained that each of us has three chances a day to be happy: Breakfast, lunch, and dinner." — Elin Hilderbrand
30. "I get more disgusted with men all the time – particularly traveling Americans. They start out on a trip to Europe and never bother to pack a dinner jacket. This is not only stupid – it's bad manners." — Elsa Schiaparelli
Dinner quotes about what people eat
31. "When I'm home, I cook my own dinner, all organic." — Big Sean
32. "Smoked salmon is for dinner. Belly lox is for breakfast. Don't get that mixed up." — Alan King
33. "My favourite dinner is a cup of tea and a ham sandwich with English mustard." — Marco Pierre White
34. "Yes, beef is what was for dinner last night. Tonight it will be my dinner, and it will continue to be." — Christopher Bond
35. "In the morning, I always eat fruit and yogurt with cereal. And for lunch and dinner, I always have vegetables as a side." — Vittoria Ceretti
36. "So I have the green smoothie every day for breakfast, and then sometimes even for lunch too, and then I have a normal dinner." — Dita Von Teese
37. "Chicken, brown rice, and veggies is a great healthy dinner option. It's full of whole grains and protein, and will keep you full for a long time." — Mia Hamm
38. "I am not a fine chef, but I can certainly get dinner on the table for 14 people. With that many, I try to keep it simple: salmon, mashed potatoes, sauteed spinach, and salad." — Cindy Crawford
39. "I always have breakfast, say, scrambled egg whites, a vegetable smoothie, or whole-grain cereal with low-fat milk. For lunch and dinner, I eat a lot of fish and vegetables. And throughout the day, I try to stay hydrated." — Beyonce Knowles
40. "When I'm doing a movie, I eat the same thing every day. For lunch, it's tuna salad or chicken salad and cole slaw. That's it. For dinner it's either veal and rice, fish and rice or steak and rice. It gets boring; boy, does it get boring." — Sylvester Stallone
Dinner quotes about politics and business
41. "Growing up, around the dinner table my father and I didn't talk sports. We talked business." — Jared Kushner
42. "Then I started getting invited to do political functions like the governor's birthday ball or mayor's dinner." — Norm Crosby
43. "Democracy must be something more than two wolves and a sheep voting on what to have for dinner." — James Bovard
44. "I am not interested in politics at all. At home, around the dinner table, we never discuss politics." — Columba Bush
45. "If a politician found he had cannibals among his constituents, he would promise them missionaries for dinner." — H. L. Mencken
46. "Every President that went to China, I would meet them and have dinner and talk about the past and the future. That was in the '70s." — Jet Li
47. "You don't enter politics when you come to parliament. I was getting politics for breakfast, dinner and tea when I was a little kid." — Dennis Skinner
48. "And I'm not apolitical – I'm very specific in my politics. But a lot of the time it's nobody's business unless you're over at my house having dinner." — Tom Hanks
49. "I love the English way, which is not as capitalistic as it is in America. People don't talk about work and money. They talk about interesting things at dinner parties." — Gwyneth Paltrow
50. "I think the political class in Berlin doesn't need to be supervised and monitored by intelligence services in order to find out what they're thinking. Just go to lunch with them, go to dinner with them, or read the papers." — Angela Merkel
What is for dinner?
If you are reading this and it reminded you to figure out what to make for dinner—here are a few healthy tips!
Preparing a healthy and delicious dinner does not have to be a labor-intensive or complicated quest.
When it comes to picking a protein lean meat, skinless chicken, or fish are the best choices.
If you are a vegetarian make sure you are getting some sort of protein in with your evening meal.
Lentils, soy products (like tofu), and beans are some great options!
Next, make sure you are getting in some grains and vegetables.
A grain bowl with meat and vegetables is a fabulous dinner choice.
A dessert with fresh fruit will also help you sneak in another serving of something from this food group.
What is your favorite dinner recipe?
Do you have any other favorite dinner quotes and sayings you want to share?
If you like planning dinners for friends or family, check out these hospitality quotes!
You can let us know in the comment section below.