Ed Sheeran Quotes That Will Make You "Happier" and Smile
These Ed Sheeran quotes are sure to brighten your day and make you "happier."
Share which quote made you smile the most in the comments below.
Ed Sheeran just might be my favorite British, red-haired, songwriter of all time!
Maybe you are wondering which of Ed Sheeran's song is most famous?
Well, wonder no more!
According to the internet, the winner is "A-Team" and "Lego House".
Personally, my favorite is "Happier"!
Not only is Ed Sheeran exceptionally talented, but he is philanthropic as well!
He has supported the following charities in the past: charity:water, the Children's Cancer Association, and East Anglia's Children's Hospices.
I'm not surprised that he seems to be an all-around great guy!
Check out these quotes from Ed Sheeran that proves he has a sense of humor (especially about his hair)!
Ed also has some great quotes about songwriting, success, and relationships!
Also check out these Selena Gomez quotes that will make you stop and look at her right now.
Check out our most popular quote article, a list of short inspirational quotes for daily inspiration.
Our inspirational quote category page has even more inspirational and educational quotes.
Ed Sheeran quotes about his ginger hair
1. "I personally don't think ginger men have a habit of being attractive. We have to make ourselves seem attractive by doing stuff." – Ed Sheeran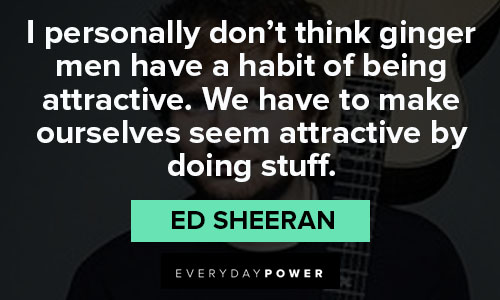 2. "I've always had really messy hair." – Ed Sheeran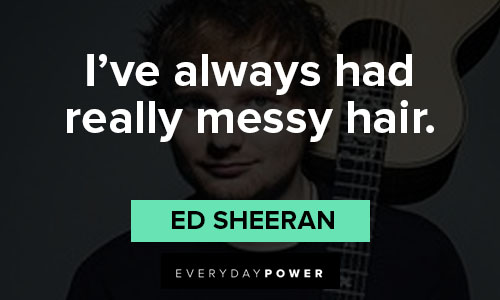 3. "I've had years of teasing about my red hair, but I definitely think it toughened me up. If you're ginger, you end up pretty quick-witted." – Ed Sheeran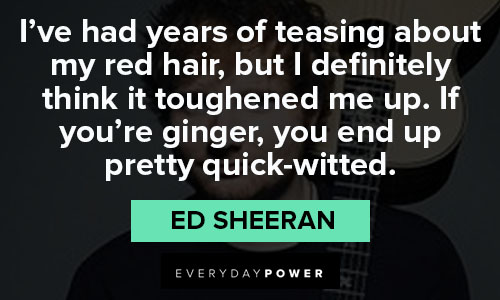 You will also enjoy our article on Moulin Rouge quotes.
4. "Tell her that she turns my cheeks the color of my hair." – Ed Sheeran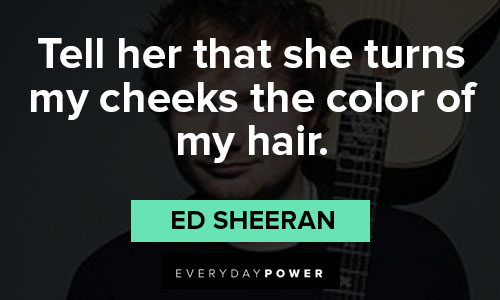 5. "I keep attracting ginger dudes who want to chat to me about their problems with being Ginger. It's a bit weird." – Ed Sheeran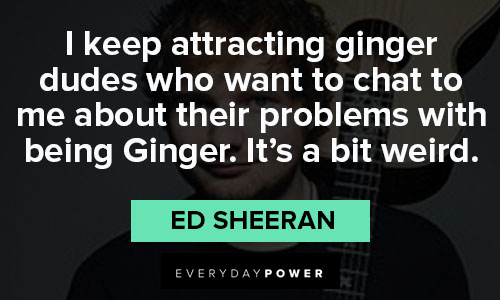 6. "Being ginger can seem like a bad thing when you are young, but as a musician, it has been my saving grace, because if you see a ginger kid on TV and there is only one messy-haired ginger kid who plays guitar, it is very easy to find them on Youtube." – Ed Sheeran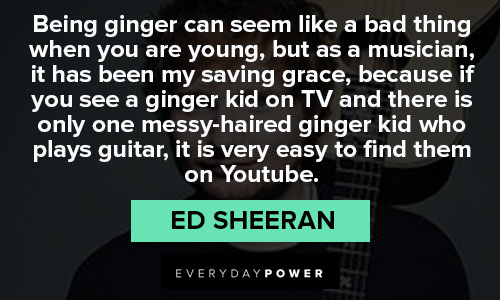 7. "There are a lot of ginger dudes in England who are using me. That's why I'm not hating on it. You know what, we're finally getting laid! This is a good thing." – Ed Sheeran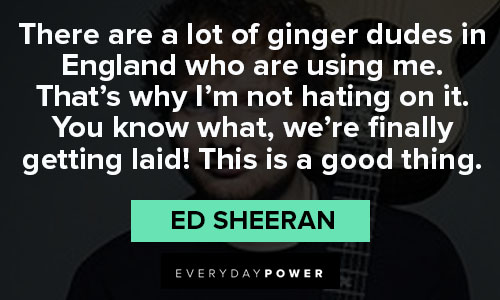 Ed Sheeran quotes about songwriting
8. "As far as songwriting, my inspirations came from love, life and death, and viewing other people's situations." – Ed Sheeran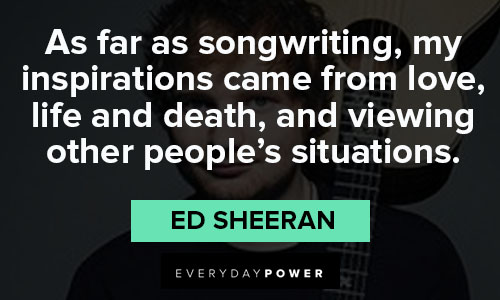 9. "I don't think that there's much that sets me apart from other musicians, but I think there are definitely things that set me apart from other kinds of artists. I feel that musicians do it their own way, write their own songs and put on great live shows." – Ed Sheeran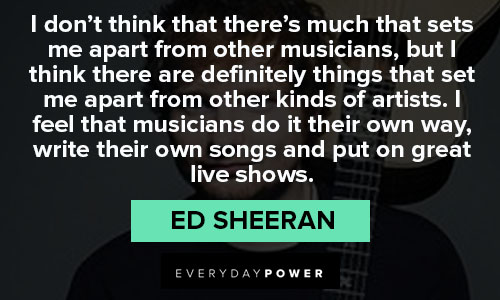 10. "The more you write tunes, the better they will become. The more you do gigs, the better you will become." – Ed Sheeran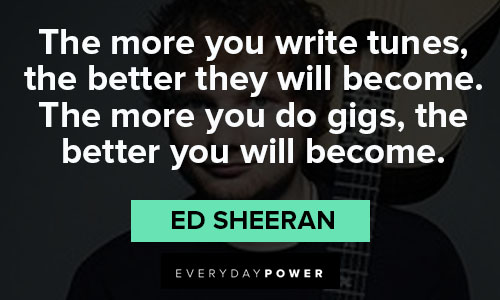 11. "Everyone knows almost everything about me. I make it very clear that I'm cool with people knowing all my personal life through my songs." – Ed Sheeran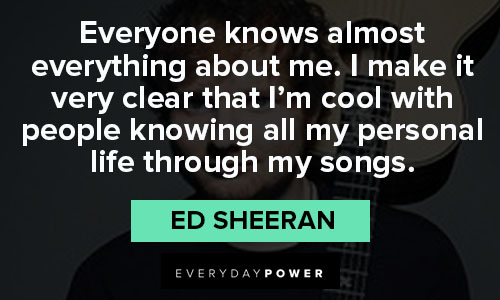 12. "The thing that I took away as an early fan from Bob Dylan was the storytelling aspects. He can tell some wicked stories."– Ed Sheeran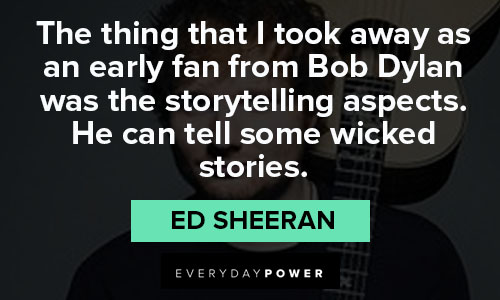 13. "My love songs are very personal and quite weird. They don't really have the big radio hit choruses because basically they're my therapy, stuff I have to get off my chest."– Ed Sheeran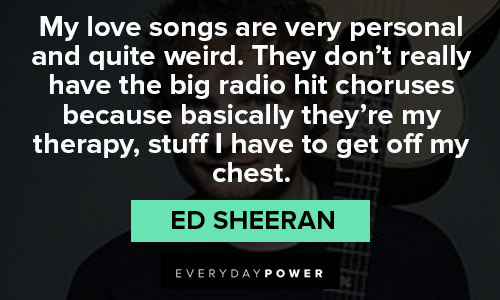 14. "My songs are where my heart is." – Ed Sheeran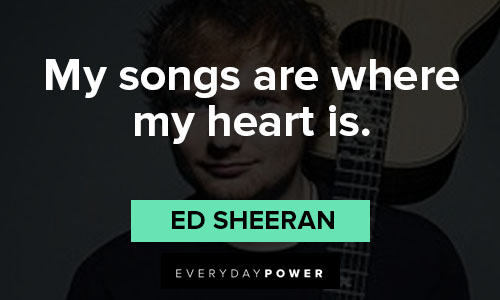 You might also like these inspirational Justin Bieber quotes from the former childhood star.
Ed Sheeran quotes on music and his career
15. "I want to have a career that evolves as I go on." – Ed Sheeran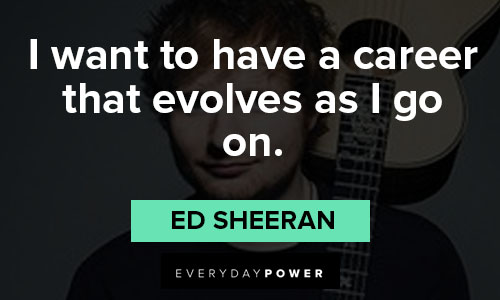 16. "I'm quite arty. I didn't know whether to become an artist or musician but I realized I could paint with music. All my songs have colors." – Ed Sheeran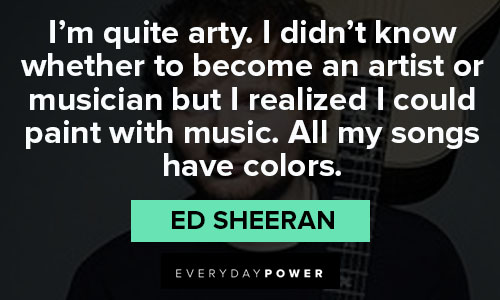 17. "But once you've made a song and you put it out there, you don't own it anymore. The public owns it. It's their song. It might be their song that they wake up to, or their song they have a shower to, or their song that they drive home to or their song they cry to, scream to, have babies to, have weddings to – like, it isn't your song anymore." – Ed Sheeran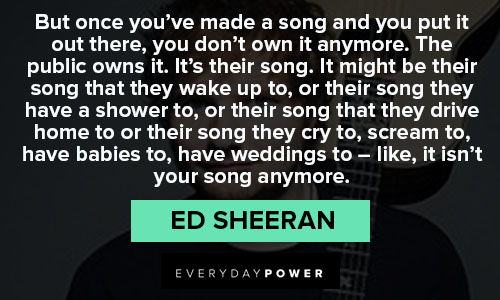 18. "It was my love for the guitar that first got me into music and singing." – Ed Sheeran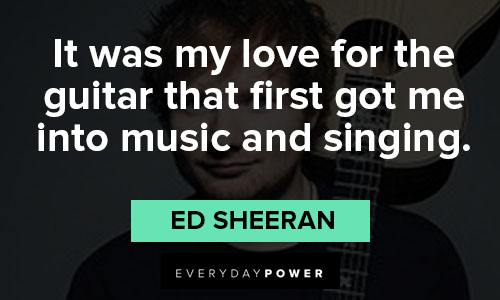 19. "I think the music I've created is quite odd, and people are going to start talking about that." – Ed Sheeran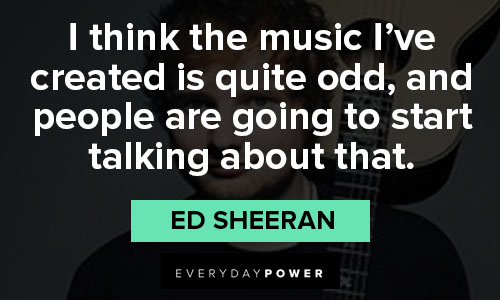 20. "I was on some TV shows with Lady Gaga the other week, and you could see the difference in reaction between her fans and my fans outside. She comes out, and she looks like a star, and the reaction is just tears, crying, people going, 'Oh my God, Oh my God.' My fans are like: 'Alright, Ed.'" – Ed Sheeran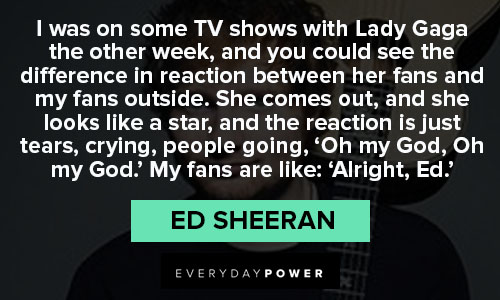 21. "Music is a powerful tool in galvanizing people around an issue. There's no better way to get your point across than to put it in a beautiful song." – Ed Sheeran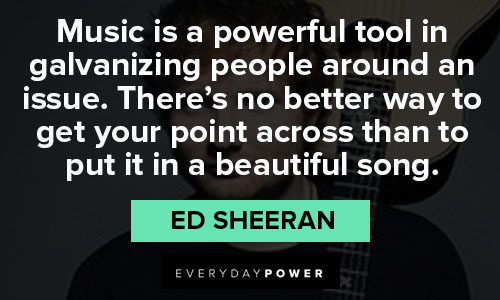 22. "I can't tell you the key to success, but the key to failure is trying to please everyone."– Ed Sheeran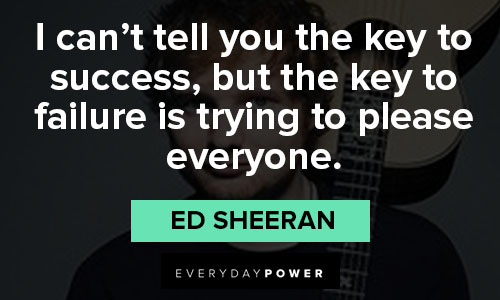 23. "Please be real with yourself… The only person you can succeed at being is yourself, don't put on a different persona in front of people, we can see through it… Be you."– Ed Sheeran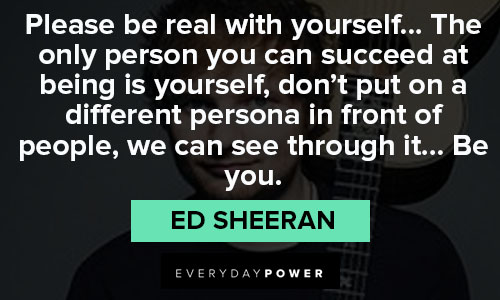 Also read these motivational gentleman quotes that will inspire you to become an upstanding member of society.
Ed Sheeran quotes that make for great advice
24. "Be original; don't be scared of being bold!" – Ed Sheeran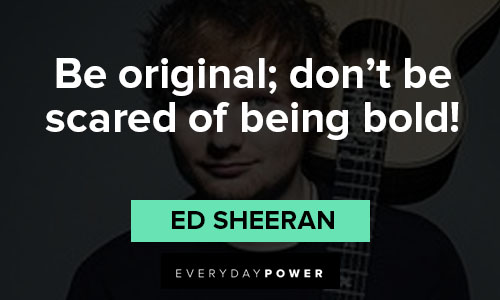 25. "The main thing that you have to remember on this journey is, just be nice to everyone and always smile." – Ed Sheeran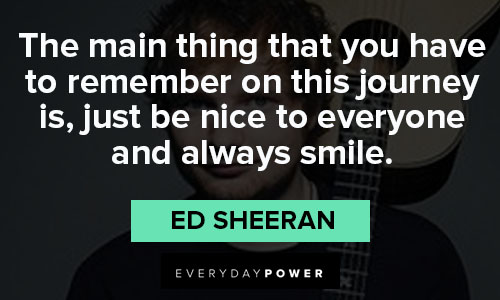 26. "Everything will be okay in the end. If it's not okay, then it's not the end." – Ed Sheeran
27. "Pain is only relevant if it still hurts." – Ed Sheeran
28. "What didn't kill me, it didn't make me stronger at all." – Ed Sheeran
29. "Success is the best revenge for anything." – Ed Sheeran
30. "Just be you. That's the best advice I can give." – Ed Sheeran
31. "Be nice to everyone, always smile, and appreciate things because it could all be gone tomorrow." – Ed Sheeran
32. "The worst things in life come free to us." – Ed Sheeran
33. "It's alright to cry, tears remind you you're alive." – Ed Sheeran
34. "Negativity isn't the way to go. Smile more, eat some chocolate." – Ed Sheeran
35. "Quirks might seem weird when you're young, but they make you stand out when you're older and that's important." – Ed Sheeran
36. "No one's perfect. You make mistakes all the time. The key is to learn from them and not make the same mistakes again." – Ed Sheeran
37. "Someone told me, 'Always say what's on your mind' And I am only being honest with you, I get lonely and make mistakes from time to time." – Ed Sheeran
38. "You want to make sure that someone is there for you when you really need them, and not just there for you for the good times." – Ed Sheeran
These Snoop Dogg quotes will remind you how to stay fly.
Ed Sheeran quotes on love and relationships
39. "Try to find someone with a sense of humor. That's an important thing to have because when you get into an argument, one of the best ways to diffuse it is to be funny. You don't want to hide away from a point, because some points are serious, but you'd rather have a discussion that was a discussion, rather than an argument." – Ed Sheeran
40. "I'd like to say that I'm a rock star, but I'm not – I'm honestly more of a relationship kind of guy. I'm a guy you could take home to meet your mum rather than a guy your mum wouldn't like." – Ed Sheeran
41. "And I will stop trying to fall in love again, and keep it a secret. It never works out anyway." – Ed Sheeran
42. "You start off with a little spark, and it's whether or not you nurture that spark. You have to expand it and work on it." – Ed Sheeran
43. "Before I save someone else, I have to save myself." – Ed Sheeran
44. "Granny Sheeran told me when I'm looking for a partner to fall in love with their eyes cause eyes are the only things that don't age, so if you fall in love with their eyes you'll be in love forever." – Ed Sheeran
45. "I don't really do that whole 'single life' thing. I'm kind of heads down and get things done." – Ed Sheeran
46. "A tongue has no bones, but it can break a heart." – Ed Sheeran
47. "Love can change the world in a moment, but what do I know?" – Ed Sheeran
48. "I'll be taking my time, spending my life falling deeper in love with you so tell me that you love me too." – Ed Sheeran
49. "A heart that's broke is a heart that's been loved." – Ed Sheeran
50. "You want to make sure that someone is there for you when you really need them, and not just there for you for the good times." – Ed Sheeran
Don't forget to also read these motivational 50 Cent quotes on success, creativity, and more.
Which of these Ed Sheeran quotes is your favorite?
Not only do Ed's songs provide us with inspiration (and great entertainment), but his personal story is moving as well!
He went from being a bullied kid to a superstar, even if he thinks he isn't as cool as Lady Gaga!
I saw some pictures of him as a little guy and he is just adorable!
It saddens me that we live in a world where people would be cruel to someone because of their hair color!
He seems to have moved on and used that as motivation to succeed!
We love you, Ed!
Did you enjoy these Ed Sheeran quotes and lyrics?
Do you have a favorite Ed Sheeran song or lyric you want to share?
Use the comment section below and show some love for the red-haired crooner!