Euphoria Quotes that Take You Into the Drama Series
These Euphoria quotes give you a peek into the HBO teen drama.
Euphoria is a teen drama series running on HBO.
It follows a story of high school students as they experience real life and discover themselves.
The series features Zendaya as the lead character, which makes it more exciting for the fans.
Throughout the series, you will see a recurring theme of sex, drugs, love, identity, friendships and psychological trauma.
Many felt that this made Euphoria relatable to many people because it tackled real-life conflicts and challenges faced by teenagers today.
These Euphoria quotes will give you a preview of what the show is about.
Don't forget to also check out these Orphan Black quotes from the Sci-Fi series.
Check out our most popular quote article, a list of short inspirational quotes for daily inspiration.
Our inspirational quotes category page has all of our motivational quotes for all the different areas of life.
Euphoria quotes to make you miss the show
1. "She's my best friend, even though I think we've grown apart." — Rue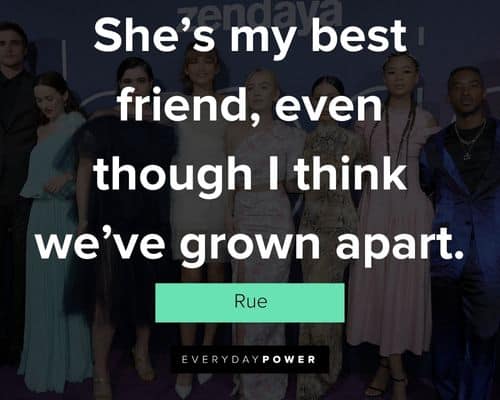 You will also enjoy our article on teen quotes.
2. "I feel like I'm not even a person yet." — Lexi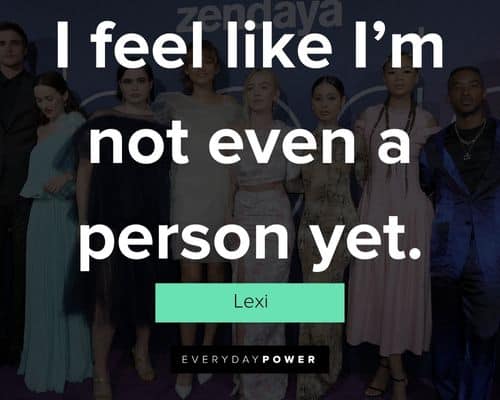 3. "The world's coming to an end, and I haven't even graduated high school yet." — Rue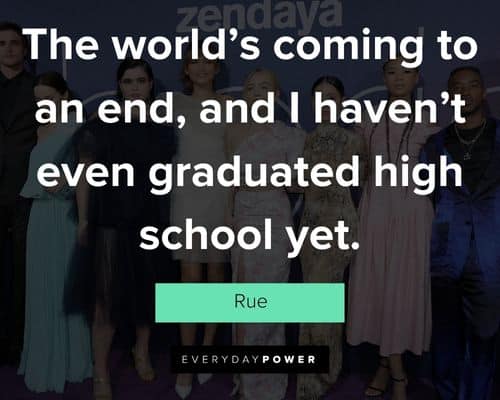 4. "My world got too small." — Jules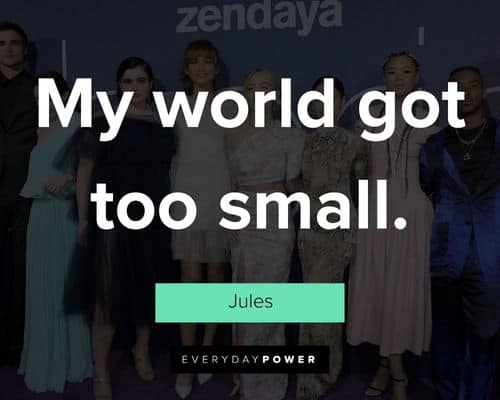 5. "So, if they have something to say, they should just say it to my face, right?" — Maddy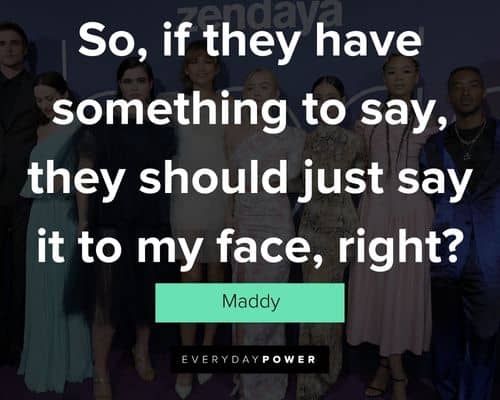 6. "I ruined my entire life for you." — Cassie Howard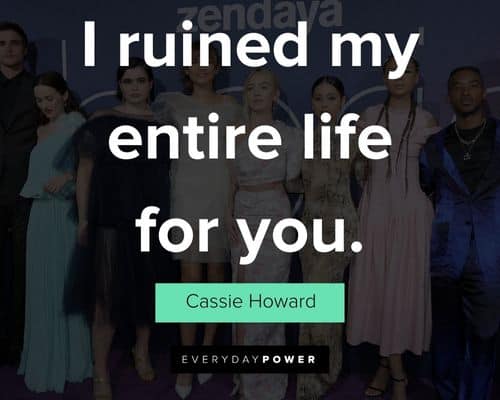 7. "The beautiful thing about getting high is that time ceases to exist." — Rue Bennett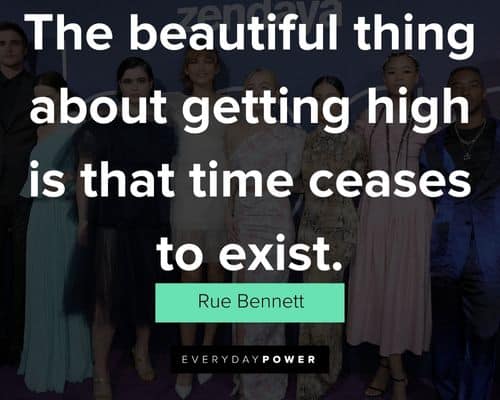 8. "Sorry, if I missed the old you." — Lexi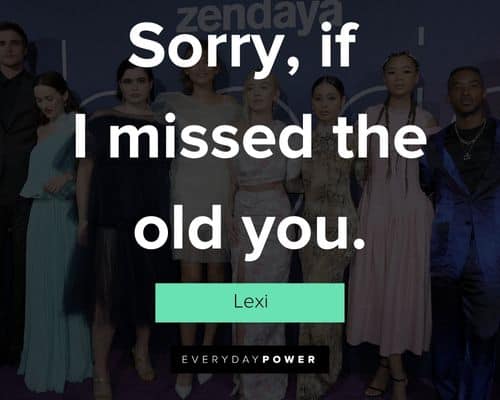 9. "You love to be loved." — Maddy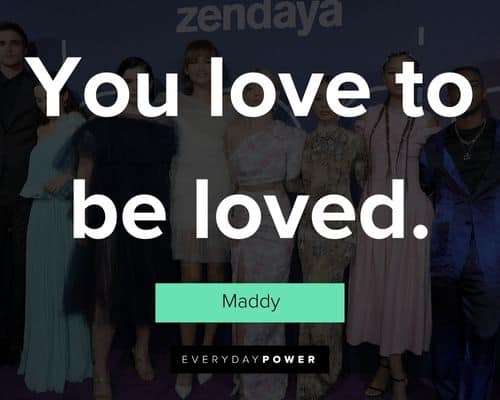 10. "Every time I feel good, I think it'll last forever, but it doesn't." — Rue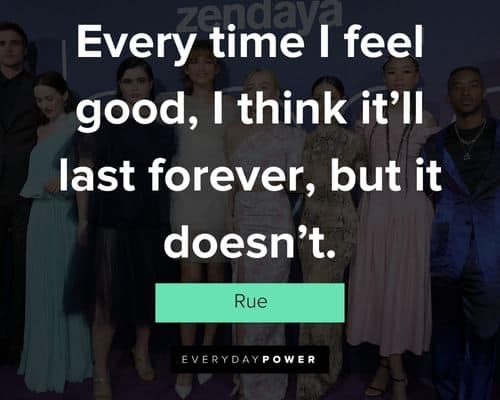 If you enjoy this article, check out our collection of Outer Banks quotes to hold you over until season 3.
Euphoria quotes from Rue
11. "I know it all may seem sad, but guess what? I didn't build this system, nor did I f*ck it up." — Rue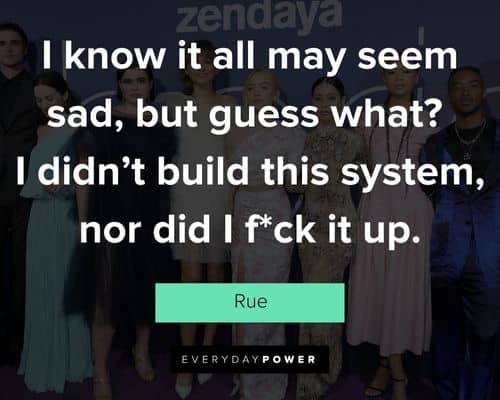 12. "It wasn't the violence that scared her. It was the fact that she knew no matter he did, she'd still love him." — Rue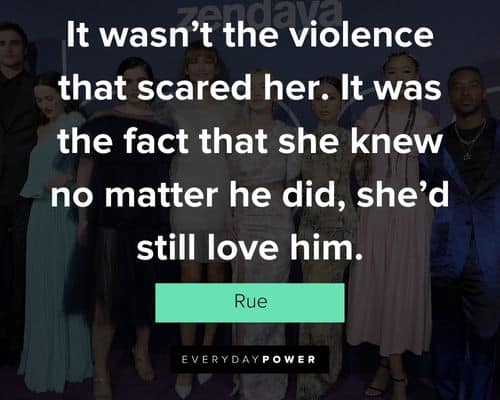 13. "A good day appears without a map or a compass and you must choose." — Rue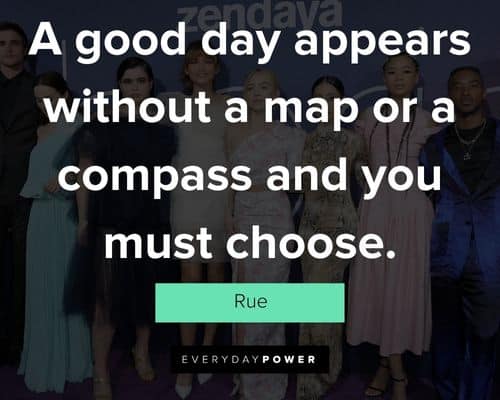 14. "Suddenly, the whole world goes dark and nothing else matters except the person standing in front of you." — Rue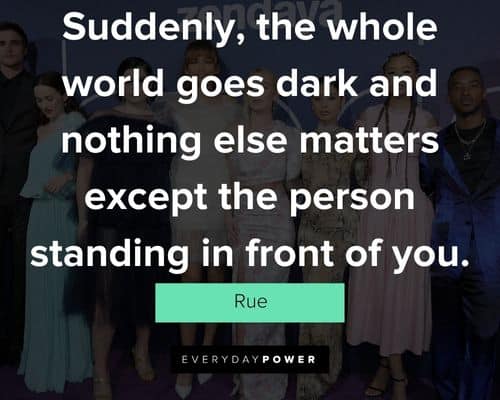 15. "The absolute worst part of depression is that even though you know you're depressed, you're unable to stop yourself from getting worse." — Rue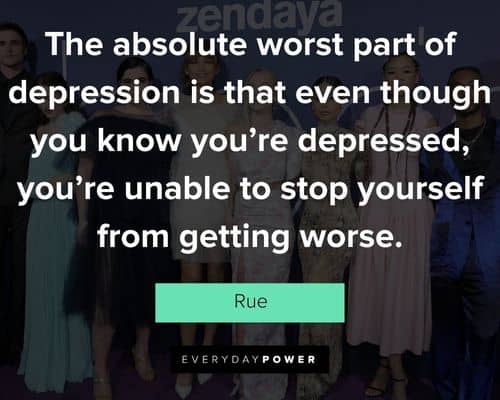 16. "She hated her life, not because it was bad, but because when you hate your brain and your body, it's hard to enjoy the rest." — Rue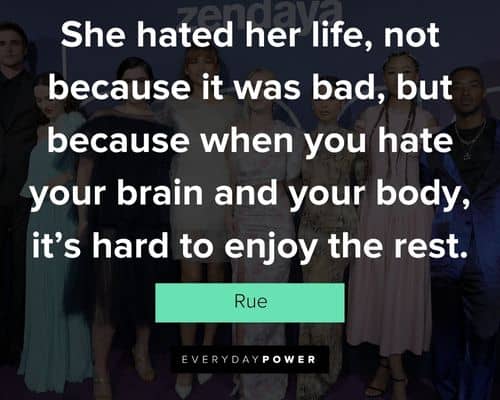 17. "That's the thing with guys like Nate. They don't actually want a person. They want something they can own and possess." — Rue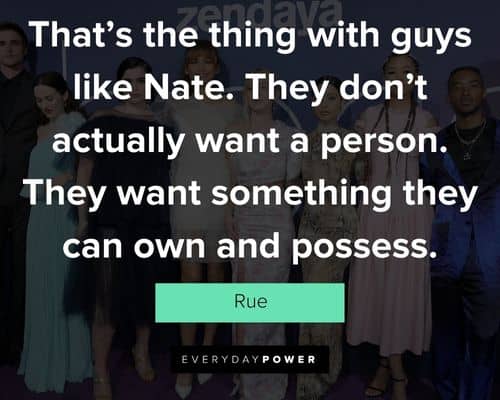 18. "If I could be a different person, I promise you, I would." — Rue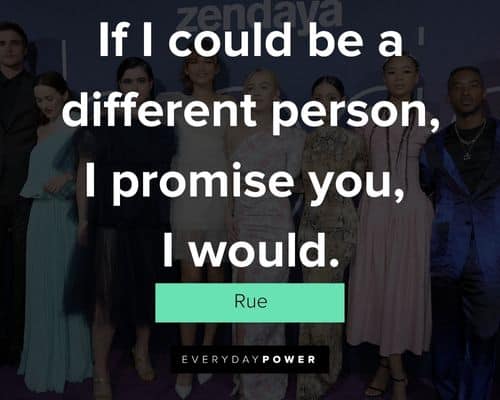 19. "What, you think 'cause I went to rehab, I stayed clean?" — Rue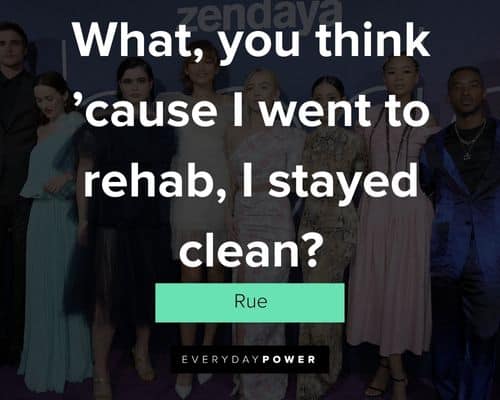 20. "Everyone on the planet watches porn. Fact." — Rue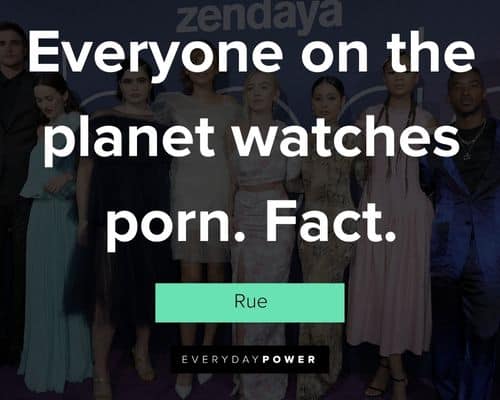 21. "It was the first day of school, and my heart was racing. I made a new best friend and for the first time since getting out of rehab, I was feeling good about the world." — Rue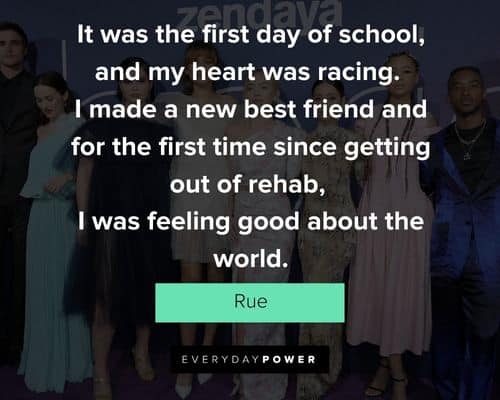 22. "Real love is when you can't exist without someone, when you'd rather die than be apart." — Rue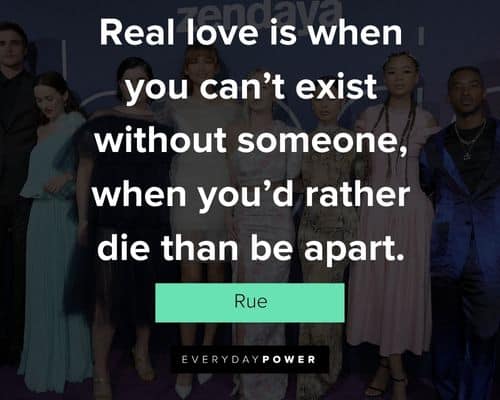 23. "But honestly, the best thing I've ever had is Fentanyl. There's not a thing on planet Earth that compares to Fentanyl." — Rue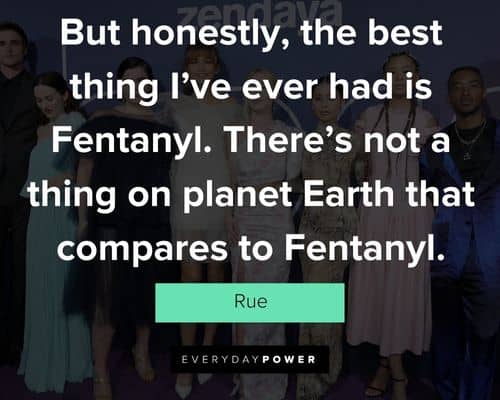 24. "All I know is, life is not a Nicholas Sparks novel." — Rue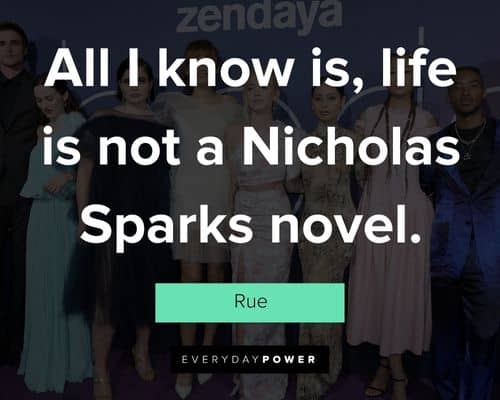 25. "I'm a burden, and it is what it is, and it's embarrassing, and it's stupid, but, um, it's true. So, I'm sorry." — Rue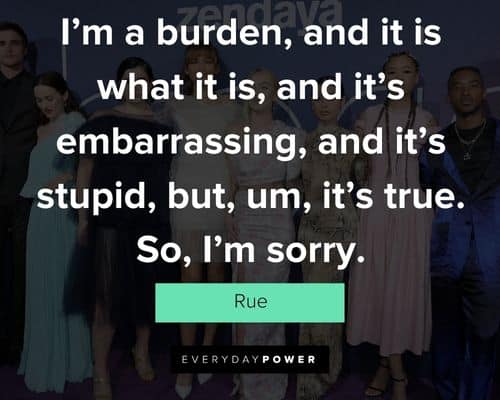 What are your thoughts on the show Euphoria?
The series received tons of positive feedback from the audience for its successful portrayal of complex and mature issues in life.
This series will give you a better perspective in life to understand people, especially teens suffering from mental disorders and addictions.
Life struggles and complex choices are significant themes in this series, which some find makes it interesting every episode.
Despite the impactful cinematography and flawless acting, the show is criticized for its use of excessive nudity and mature materials that may not suit younger audiences even though it's targeted toward teens.
Before watching the series, read these Euphoria quotes and sayings.
If you want more memorable quotes from Euphoria, check out these Maddy Perez Quotes.
And don't forget to share your opinions in the comment section below.