French Quotes For The Ohh La La In Life
Oui oui, we have the French quotes you have been looking for.
France is a country rich in heritage and tradition.
It is no wonder why France is often one of the number 1 tourist destinations in the world.
About 220 million people across the world speak French.
In the English language, about 45% of the words have French origins.
France is a diverse place known for its devotion to culinary arts and artisanship.
If you have ever had the pleasure of visiting France, you will notice that the atmosphere is full of warm smells and beautiful scenery.
In Paris, the Eiffel Tower shines brightly over the skyline, dominating the view under the sun or the moon's glow.
Walking on a rue, you are greeted with the enticing smell of freshly baked baguette wafting through the air.
Take a moment to check out these clever, funny, and deep French quotes.
If you love this quote collection, read out our most popular quote article about short inspirational quotes for daily motivation.
If you need more inspirational quotes, check out our motivational quotes category page.
French Quotes on Food and Cooking
When most of us think about France one of the first things we think about is the food. Enjoy the quotes below discussing French Food.
1. "Nothing could be more French than pastry." – Rachel Khoo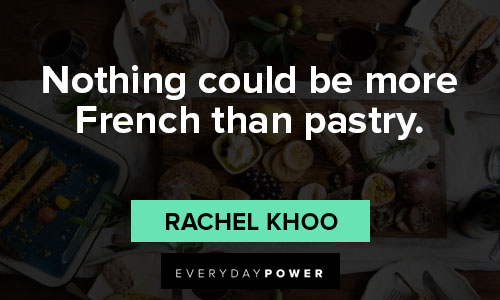 You will also enjoy our article on Joe Dirt quotes.
2. "Mayonnaise: One of the sauces which serve the French in place of a state religion." –Ambrose Bierce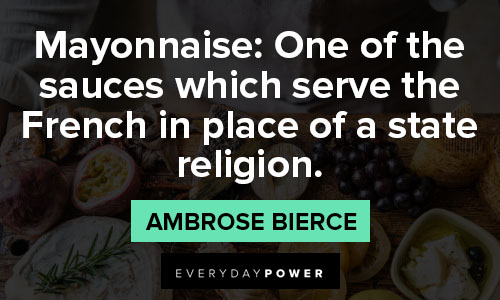 3. "'Escargot' is French for 'fat crawling bag of phlegm'." – Dave Barry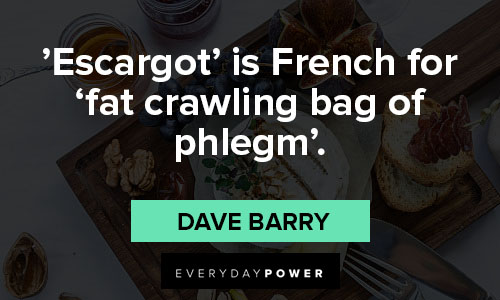 4. "Stock is everything in cooking, at least in French cooking." – Auguste Escoffier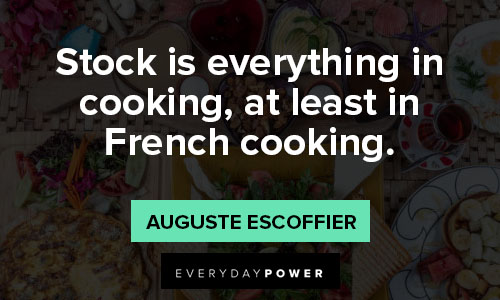 5. "When I was growing up, I never really ate vegetables. I was just a hot dog, hamburger, French fry person like most kids." – Gza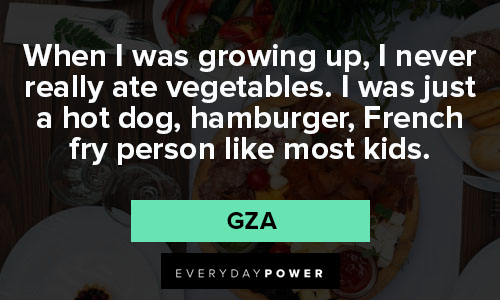 6. "I was ecstatic they re-named 'French Fries' as 'Freedom Fries'. Grown men and women in positions of power in the U.S. government showing themselves as idiots. " – Johnny Depp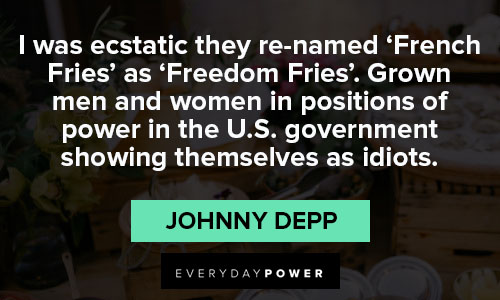 7. "If I could eat French fries every day of my life, I would." – Adrienne C. Moore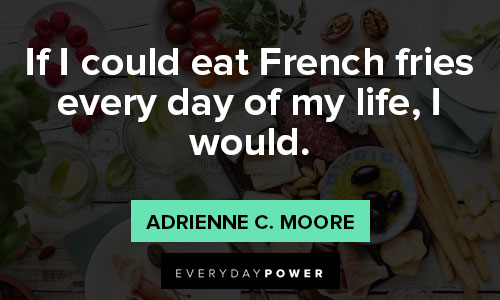 8. "I can make the best French toast." – Peter O'Toole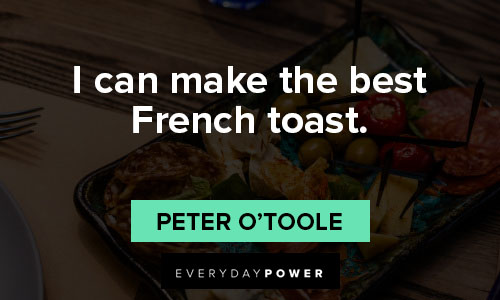 9. "To understand Europe, you have to be a genius – or French." – Madeleine Albright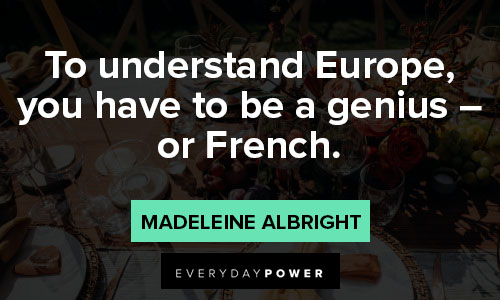 10. "I love French stuff. Mmmm, french fries." – Denis Leary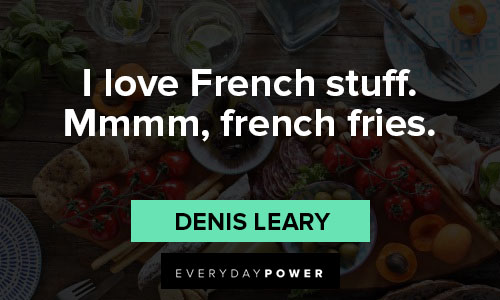 French Quotes on Cooking
The French food is famous, but it only becomes food from the great cooking. Enjoy the quotes below about French Cooking.
11. "I think I should learn French and be a better cook – basic, really good life stuff." – Angelina Jolie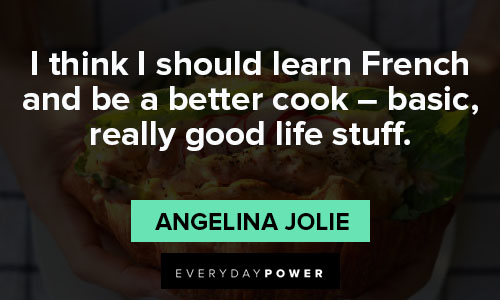 12. "I like junk food, French fries, hamburgers – I love it." – Rain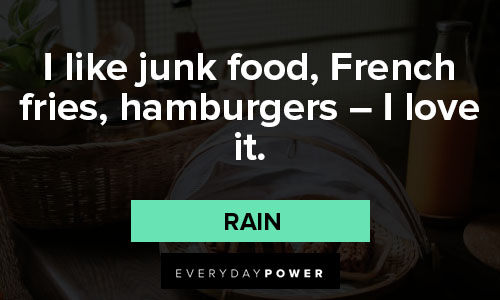 13. "I don't know about French wines at all." – Joe Maddon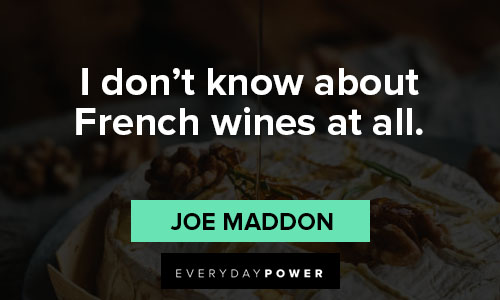 14. "I grew up in France, my first language was French, and I tend to gravitate towards French cooking." – Robert Stack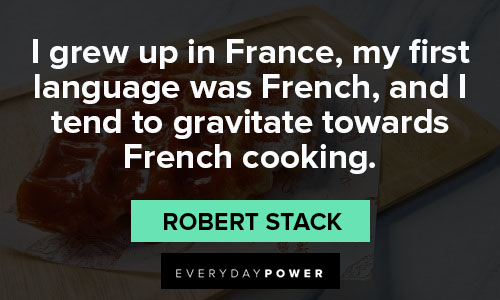 15. "Sometimes it's just 'Oh my God, I love the taste of fried oysters on French bread with mayonnaise and an order of French fries." – Richard Simmons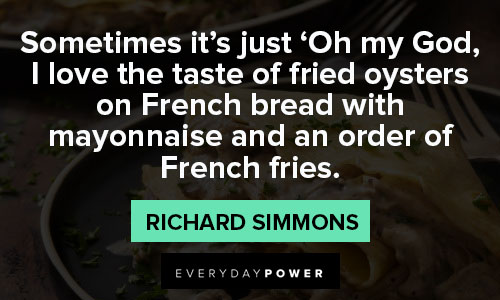 16. "French fries. I love them. Some people are chocolate and sweets people. I love French fries. That and caviar." – Cameron Diaz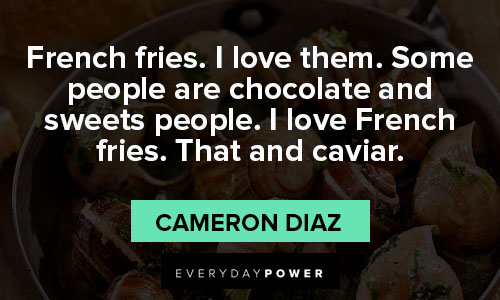 17. "I went into a French restaurant and asked the waiter, 'Have you got frog's legs?' He said, 'Yes,' so I said, 'Well hop into the kitchen and get me a cheese sandwich.' " – Tommy Cooper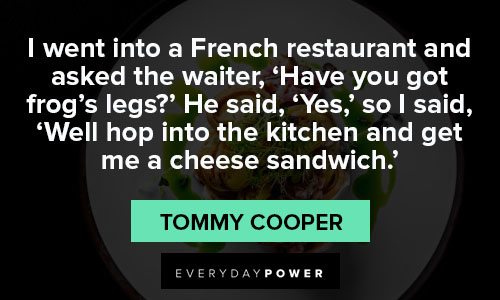 18. "We have these weapons of mass destruction on every street corner, and they're called donuts, cheeseburgers, French fries, potato chips, junk food. Our kids are living on a junk food diet. " – Joel Fuhrman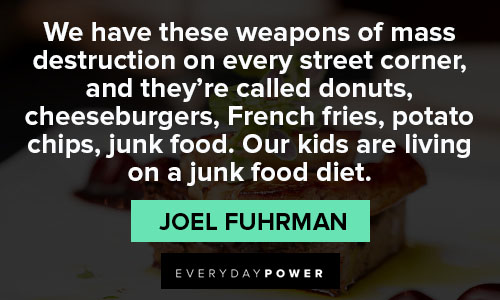 If you enjoy this article, check out our collection of Paris quotes about the city of light.
Funny French Quotes
For those times when you need a laugh we have some funny French quote. Take a look below.
19. "Stripes are very French – who doesn't love a good stripe?" – Camille Rowe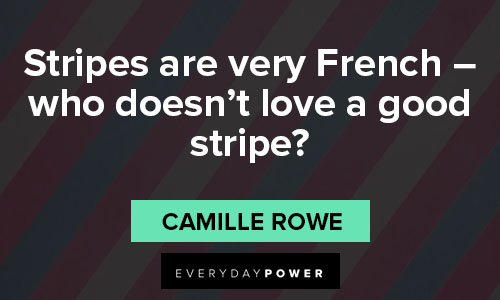 20. "I don't know why you use a fancy French word like detente when there's a good English phrase for it – cold war." – Golda Meir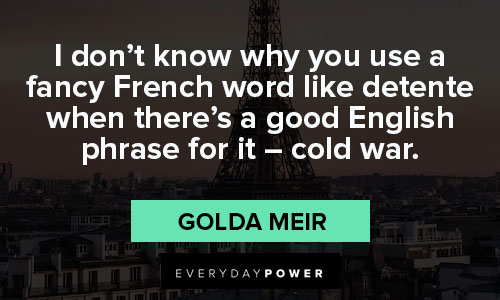 21. "What Shakespeare was able to do in English he would certainly not have done in French." – Victor Hugo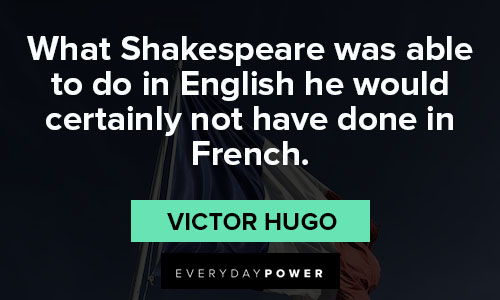 22. "I pity the French Cinema because it has no money. I pity the American Cinema because it has no ideas." – Jean-Luc Godard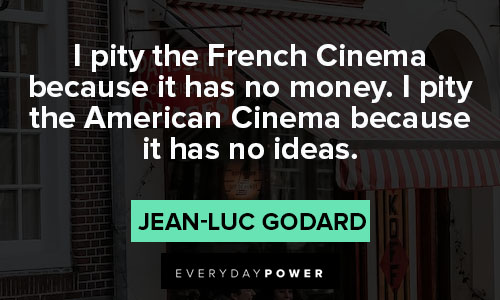 23. "French is the language that turns dirt into romance." – Stephen King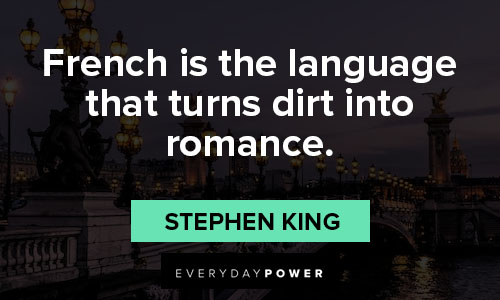 24. "I'm French, so I'm quite lazy about exercising, and I smoke. But I do love going for a run in the morning with my dog." – Eva Green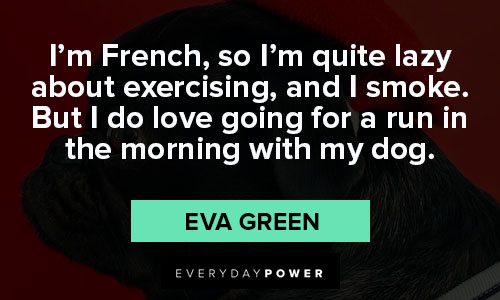 25. "My father's really fluent in French, but I can't speak at all. I actually took it twice in school already and failed both times!" – Jean-Luc Bilodeau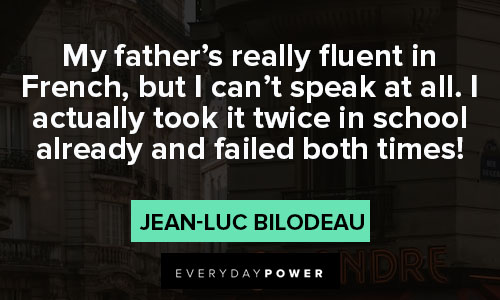 26. "As the French say, there are three sexes – men, women, and clergymen." – Sydney Smith
27. "I cannot prevent the French from being French." – Charles de Gaulle
French Quotes on Life
Enjoy the quotes on French life. Check out the quotes below.
28. "The French complain of everything, and always." – Napoleon Bonaparte
29. "I have tried to lift France out of the mud. But she will return to her errors and vomitings." – Charles de Gaulle
30. "Even if I am French, I have African roots." – Kylian Mbappe
31. "I'm not British. I'm not American. I'm not French. Whatever thing they practice, that is their business. I am an African. I am Rwandese." – Paul Kagame
32. "The French don't seek out alliances except when there are difficulties." – Eric Rohmer
33. "French horn can be very epic, and at the same time, very dark and moving." – Alexandre Desplat
34. "We were a family who had come from nothing and now we had respect from French people of all sorts." – Zinedine Zidane
35. "The French are so into themselves that they don't even notice you." – Bono
36. "I learned my French through school. I was lucky in that the tutor on 'The Wonder Years' set spoke fluent French." – Danica McKellar
37. "I speak English, so I am no longer cute. My tongue itches for French." – Anna Held
38. "The French are a smallish, monkey-looking bunch and not dressed any better, on average, than the citizens of Baltimore." – P. J. O'Rourke
39. "I was born in Paris, and my mother was a French teacher, but then I rebelled against my upbringing and studied Spanish in school. So now I just speak bad French and bad Spanish." –Lydia Leonard
French Quotes on Success
The French are famous for many things. Please enjoy the quotes below that highlight some of their success.
40. "French women have been made beautiful by the French people." – Charlotte Rampling
41. "I was a typical French student of the 1990s – I imagined that, after a short excursion, I would work the rest of my life at home." – Emmanuelle Charpentier
42. "French architecture always manages to combine the most magnificent underlying themes of architecture; like Roman design, it looks to the community." – Stephen Gardiner
43. "The French Revolution is the ultimate modernist statement. Destroy everything. Don't build on the past. There is no past." – John Corigliano
44. "Countries like France should not be naive. We don't have a French YouTube or Amazon or Netflix." – Xavier Niel
45. "The French want no-one to be their superior. The English want inferiors." – Alexis de Tocqueville
46. "I have never in my life played the French Defence, which is the dullest of all openings." – Wilhelm Steinitz
47. "The Frenchman constantly raises his eyes above him with anxiety. The Englishman lowers his beneath him with satisfaction." – Alexis de Tocqueville
48. "The French have the reputation of being arrogant. I don't think it's arrogance but a certain authenticity." – Simon Baker
49. "Like a French poem is life; being only perfect in structure when with the masculine rhymes mingled the feminine are." – Henry Wadsworth Longfellow
50. "The clear French landscape is as pure as a verse of Racine." – Paul Cezanne
Has your life ever been impacted by looking into someone else's life?
This collection of French quotes is a start in widening our world point of view.
Certainly, a little glimpse into someone else's world can really impact your own life.
Additionally the ability to travel and see new places is a gift.
They say the world is a book, and if we stay in one place, we only get to read one page.
However, it is natural for humans to imagine or associate specific themes or ideas with areas they have never been.
Undeniably, visiting France and seeing a county that required its tall buildings to maintain a garden on the roof for both climate and aesthetic purposes was inspirational.
It was both tasteful and practical. French culture has a history of raising awareness for critical issues.
Music composer John Corigliano compared art creation to the French Revolution, noting, "The French Revolution is the ultimate modernist statement. Destroy everything. Don't build on the past. There is no past."
There are benefits of living in the moment and creating at the moment.
Many forward-thinking ideas have come from France.
French culture has made quite an impact on our world.
Can you name anything from French culture that has made an impact on your life or on the lives of people close to you?