Frida Kahlo Quotes for Strength and Inspiration
The legendary artist is still an icon and inspiration to admirers today, and these Frida Kahlo quotes will paint their beauty in your mind.
Open up your mind to all the colors and explore these quotes with an open heart that's ready to be filled with inspiration!
Frida Kahlo has been a long-time icon of mine.
She inspires the art I create, the woman I am, and the boundaries I know I can push because she blazed a trail.
Frida was SO far ahead of her time.
When you look back, you would be in awe.
If you read her diary from the last year of her life, so full of emotion and art, you see that the "Art journal" is not the new fad they claim it to be.
But it was something she was doing out of art and instinct many decades ago.
This was a woman who dealt with and survived a great deal but always did so with a sense of pride, strength, and dignity.
I hope you will be inspired by her as much as I am.
Born Magdalena Carmen Frieda Kahlo y Calderón on July 6, 1907, in Mexico City, Frida enjoyed art from an early age.
She died on 13 July 1954 at the age of 47.
For more inspiration, be sure to also check out our collection of quotes about painting and art.
Frida Kahlo Quotes About Love and Pain
1. "Feet, what do I need you for when I have wings to fly?" – Frida Kahlo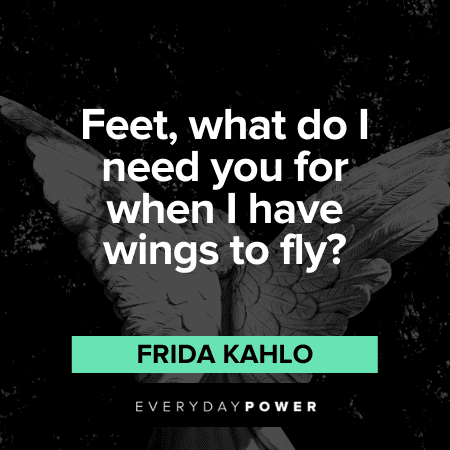 2. "I think that little by little I'll be able to solve my problems and survive." – Frida Kahlo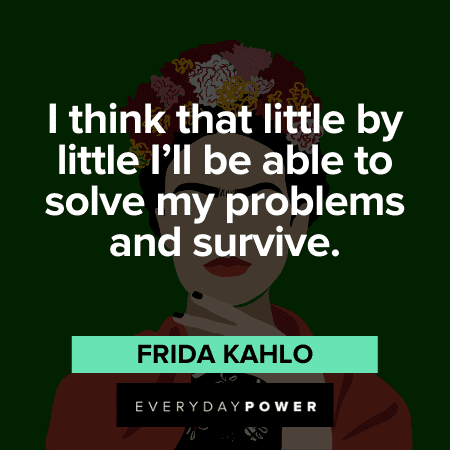 3. "Painting completed my life." – Frida Kahlo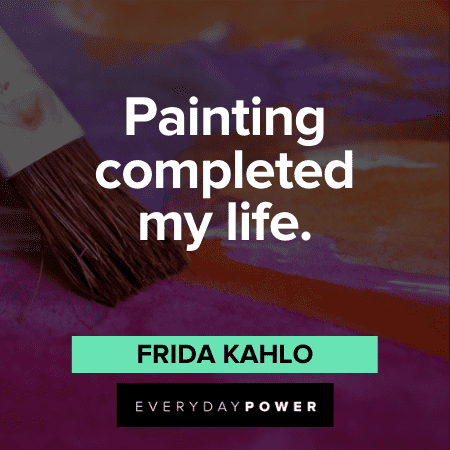 4. "Only one mountain can know the core of another mountain." – Frida Kahlo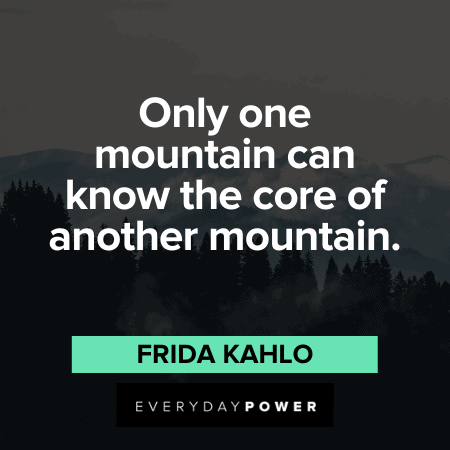 5. "I hope the exit is joyful. And I hope never to return." – Frida Kahlo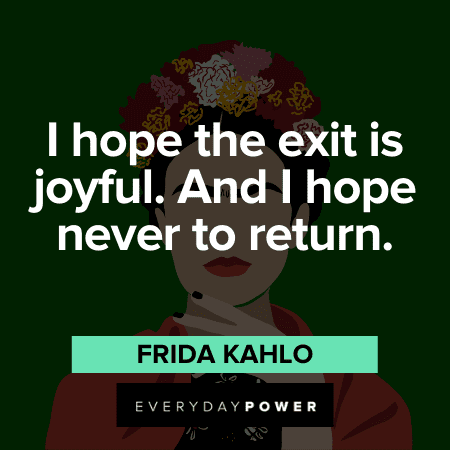 6. "Pain, pleasure, and death are no more than a process for existence." – Frida Kahlo
7. "Tragedy is the most ridiculous thing." – Frida Kahlo
If you're enjoying these quotes, read our collection of ambition quotes to set your sights sky-high.
8. "I paint self-portraits because I am so often alone, because I am the person I know best." – Frida Kahlo
Frida Kahlo quotes about life
9. "My painting carries with it the message of pain." – Frida Kahlo
10. "I was born a bitch. I was born a painter." – Frida Kahlo
11. "I am not sick. I am broken. But I am happy to be alive as long as I can paint." – Frida Kahlo
12. "At the end of the day we can endure much more than we think we can."― Frida Kahlo
13. "I am my own muse, I am the subject I know best. The subject I want to know better." – Frida Kahlo
14. "I drank because I wanted to drown my sorrows, but now the damned things have learned to swim." – Frida Kahlo
15. "Really, I do not know whether my paintings are surrealist or not, but I do know that they are the frankest expression of myself." – Frida Kahlo
16. "Nothing is absolute. Everything changes, everything moves, everything revolves, everything flies and goes away." – Frida Kahlo
17. "You are all the combinations of numbers of life." –Frida Kahlo
18. "I paint flowers so they will not die." – Frida Kahlo
19. "At the end of the day, we can endure much more than we think we can." – Frida Kahlo
20. "Why do I need feet when I have wings to fly?"― Frida Kahlo
Also, read these motivational Karl Lagerfeld quotes about art and fashion.
Frida Kahlo Quotes about Love and Her Art
21. "To paint is the most terrific thing that there is, but to do it well is very difficult." – Frida Kahlo
22. "They thought I was a Surrealist, but I wasn't." – Frida Kahlo
23. "I leave you my portrait so that you will have my presence all the days and nights that I am away from you." – Frida Kahlo
24. "I put on the canvas whatever comes into my mind." – Frida Kahlo
25. "Diego was everything; my child, my lover, my universe." – Frida Kahlo
What are your thoughts on these powerful Frida Kahlo quotes?
I hope that you have found some inspiration and insight from the words of Frida.
Long before it was "allowed" or acceptable, she was paving the way for strong women to do what they loved, and to speak their mind without having to edit herself.
This is only a taste of her words.
I encourage you to explore this inspirational woman further, as I know you will grow to respect and be endeared by her.
She was no shrinking violet – she painted vibrant flowers, and she was one as well.
August 5, 2022 5:00 AM EST
Click to view