Greg Plitt Quotes About Life, Fear and Only Living Once
Looking for motivational Greg Plitt quotes that will help you live life to the fullest?
These Greg Plitt quotes will inspire you to work hard for your goals and dreams.
Greg Plitt was a fitness model, trainer, motivational speaker and online sensation who touched the loves of anyone who heard him speak.
Driven by his passion for fitness, he soon learned that his ability to inspire people to get into great shape could be applied to any and all areas of life.
Greg Plitt's YouTube speeches have gone viral and he is best known for his straight talk, strong language and no excuse mindset.
Whenever you are feeling lethargic, under committed or like the world is against you, read these inspirational quotes from Greg Plitt and notice the change in your mindset.
We hope you enjoy these Greg Plitt quotes as much as we do!
If you want more motivational quotes, check out our motivational quotes category page.
Motivational Greg Plitt Quotes on Working Out, Life and Greatness
1. "You got one life to live. Why wait until tomorrow to start it?" – Greg Plitt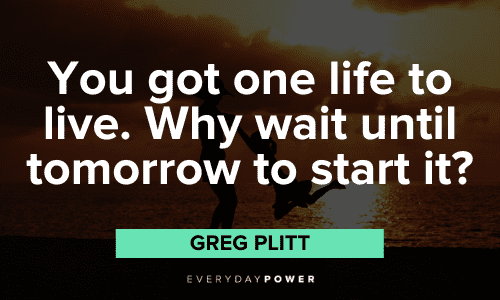 You will also enjoy our article on Fitness Motivational Quotes.
2. "One Hour of pain produces a lifetime of pride." – Greg Plitt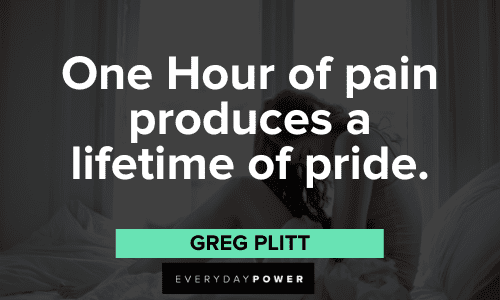 You will also enjoy our article on Ram Dass quotes.
3. "The only reps you don't grow from, are the reps you don't fucking do." – Greg Plitt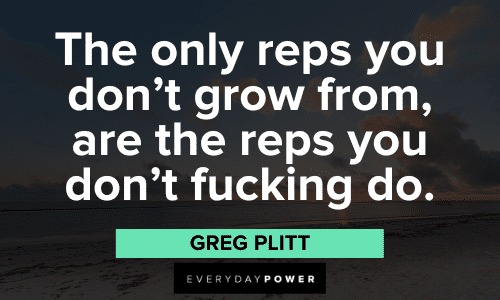 You will also enjoy our article on hockey quotes.
4. "The hardest things in life are done the least but provide the most." – Greg Plitt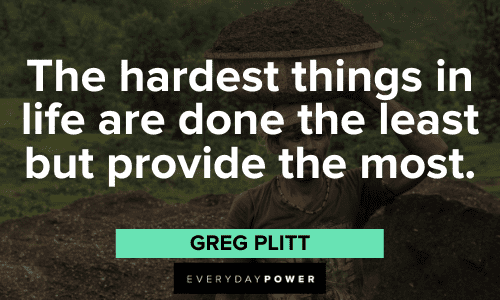 You will also enjoy our article on gym quotes.
5. "Happiness is when you finally connect your mind to your body." – Greg Plitt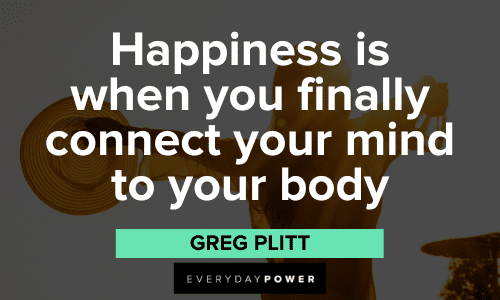 6. "Weakness leaves, pride comes in. Confidence grows. Successful life." – Greg Plitt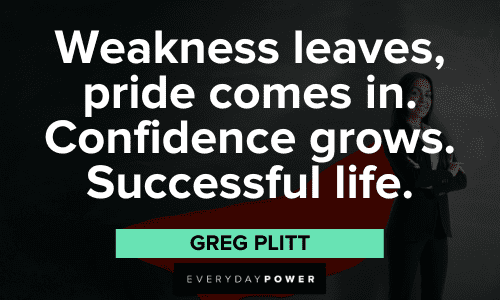 7. "The clock is ticking, are you becoming the person you wanna be?" – Greg Plitt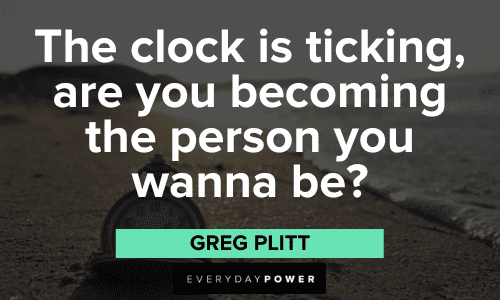 8. "Where else in life can you put work and endeavor every single day and get a reward for it?" – Greg Plitt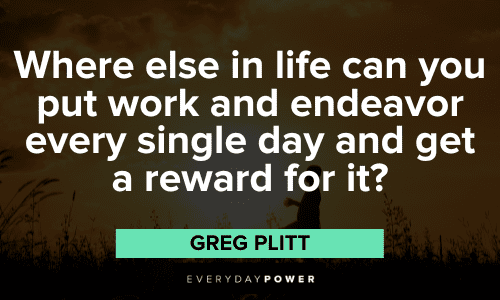 9. "Walk through the mud in life, if you ever want to get to the higher ground." – Greg Plitt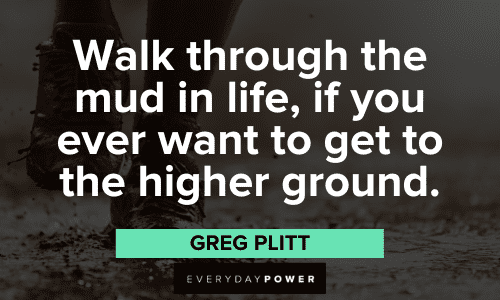 10. "Every action has a purpose. When every action has a purpose every action has a result." – Greg Plitt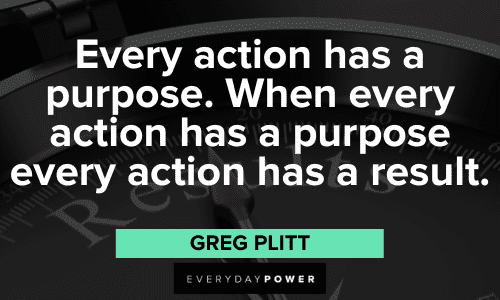 Greg Plitt Quotes about believing in yourself
11. "Your body is the house you force to live in for the rest of your life. You don't get to sell, you don't get foreclosure, you can't do a quick sale. All you can do is to modify and improve it. Or you can tarnish it. One house to live in, man. What kind of house do you want to live in?" – Greg Plitt
12. "Stop fucking going about the day as a servant, become the master, run your day and stop letting it run you." – Greg Plitt
13. "It's called the pump people, you got to experience it, it's one of the better highs in life, you don't need to shoot up for it , you don't need to snort it, all you got to do is sweat for it." – Greg Plitt
14. "I keep going till that pain says hello to me, I don't say goodbye until that pain says hello. That's a good set." – Greg Plitt
15. "Sacrifice today for tomorrow's betterment, you are willing to pay those payments with pain, because pain is just a message when you are fixing something that's insufficient in your life." – Greg Plitt
16. "Second by second you lose the opportunity to become the person you want to be , when are you going to stop making excuses and take charge of your fucking live?" – Greg Plitt
17. "Don't talk in here, you perform in here, when you go out there you don't need to talk, do you?" – Greg Plitt
18. "The invincibility guys, you repeat that every single day. No one is catching you, man. Separate between you and the second place is forever. They'll never close that gap." – Greg Plitt
19. "The little things that you do every single day, that you choose to do, could be the little bit of better forms. All those little things, will adds up to be failure or success. You gotta create each one, every single day." – Greg Plitt
20. "When you find that burns during your lift, that's the heat of transformation. That's what changes everything for you. Don't be so anxious to finish the set, once you get the burns, dwelling in it as long as you can. The longer that burns stay, the more changes you gonna have. That burn states will get you from where you are to where you want to be." – Greg Plitt
21. "In life, it's not the genetic guy who wins or the guy with the most potential who wins; it's the person with the greatest perseverance who wins. Always be willing to get up and go at it again and again. That's the guy who has his hands raised later in life. That's the guy you guys need to be." – Greg Plitt
22. "There are two types of pain, the one that breaks you and the one that changes you. In the gym, pain is felt as a result of weakness leaving the body. Physical pain is the glue of transformation and the pain of progress. The more you endure the harder it gets to accept the thought of failure." – Greg Plitt
23. "Why cry about missed opportunities when you have the ability to smile at opportunities lived? The past has created who you are NOW, where we learn and grow from the past, never resting upon previous achievements or allowing past failure to paralyze us in our current endeavor. All that was has created us to be the best we currently are for our greatest hour is about to arise!" – Greg Plitt
24. "Success doesn't know these things about cold or early or tired. It just knows if you showed up or not." – Greg Plitt
25. "The difference between a winner and a loser – they both failed, but the winner gets back up and does it again and again until it goes his way." – Greg Plitt
Which Greg Plitt quotes were your favorite?
One of our favorite quotes by Greg Plitt is: If you mentally believe it will happen, your body is going to find a way to make it physically happen.
We hope his word will help you become the best version of your self.
Did you enjoy these Greg Plitt quotes?
Which of the quotes was your favorite?
Let us know in the comment section below.
Also, don't forget to share with your friends and followers.