Janet Jackson Quotes on Life, Love, and Music To Inspire You
June 28, 2022 5:00 AM EST
Listen to article
4 minutes
Looking for inspirational Janet Jackson quotes?
Who is Janet Jackson?
Janet Damita Jo Jackson, more commonly known as Janet Jackson, is one of music's most popular figures.
As the youngest child of the Jackson family, she showed great talent and potential in the industry early on.
In fact, she signed her first recording contract when she was only 16.
Aside from her multi-million dollar success in music, she's also a famed dancer, actress, record producer, and author (True You: A Journey to Finding and Loving Yourself available on Amazon).
Janet Jackson's best hits include "Nasty", "Rhythm Nation", "That's the Way Love Goes", "Together Again" and "All for You".
She's one of the best-selling artists in pop music history, having sold more than 100 million records worldwide.
Janet Jackson also remains as a great influence for aspiring artists in the industry.
Her talent, energy, and innovative performances have paved the way for performers today.
It's not surprising that she's still an icon 30 years later.
Whether you're a fan or you simply need a little encouragement, these Janet Jackson quotes on life, love, and music should hit the spot.
Gather some wise words from contemporary music's best loved performer.
Also check out these Beatles quotes that reach for a better world.
Check out our most popular quote article, a list of short inspirational quotes for daily inspiration.
Check out our inspirational quotes category page for more inspirational life quotes.
Inspirational Janet Jackson quotes on Success, Life and Love
1. "Freedom means choices." – Janet Jackson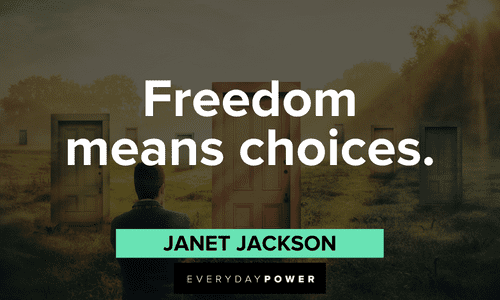 You will also enjoy our article on Lost Boys quotes.
2. "If I wasn't singing, I'd probably be, probably an accountant." – Janet Jackson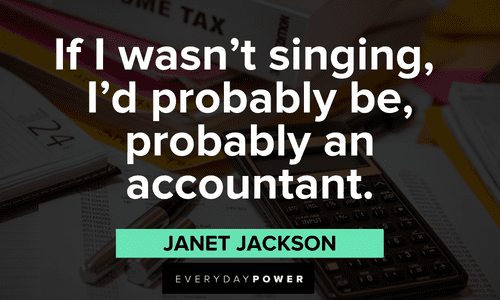 3. "People need to stay out of other people's business." – Janet Jackson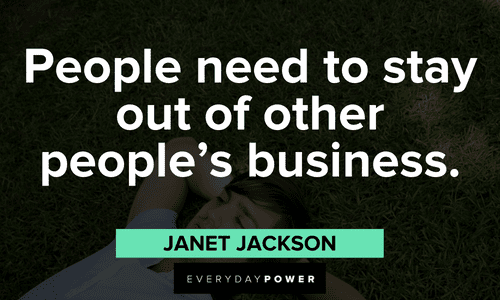 4. "Those songs are all precious moments to me. They're about just plain feeling good." – Janet Jackson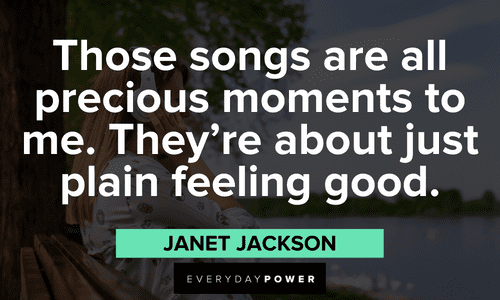 5. "You can never be happy until you understand why you're doing what you're doing." – Janet Jackson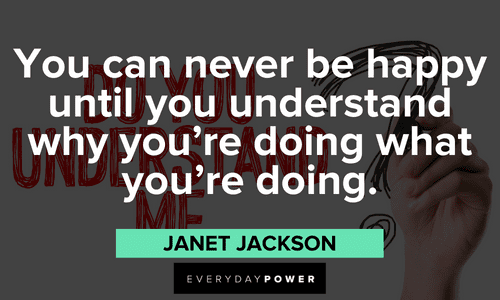 6. "All kids rebel. My way was to dye my hair half pink and half blue. It was a mess." – Janet Jackson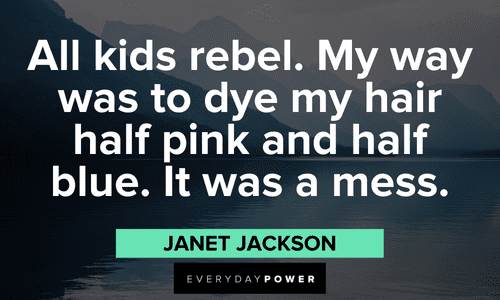 7. "I'm just trying to get used to living on a fixed income. Now, it's going to get unfixed." – Janet Jackson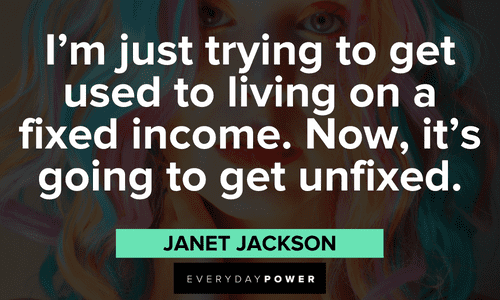 8. "I set out to please myself, hopefully in the end, the listeners will enjoy what I've created." – Janet Jackson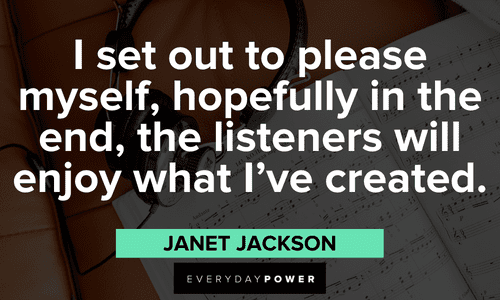 9. "You get yourself up for it somehow, and your endurance and the crowd gets you up, too." – Janet Jackson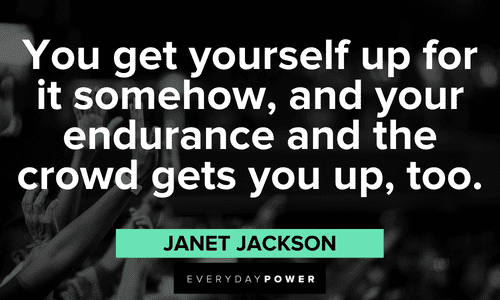 10. "There was also loneliness. I had few friends. Work consumed me. In some ways, it still does." – Janet Jackson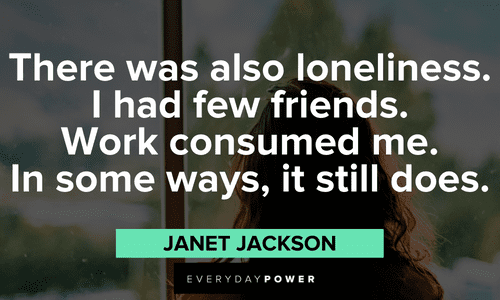 Janet Jackson Quotes on Music
11. "In complete darkness, we are all the same. It is only our knowledge and wisdom that separates us. Don't let your eyes deceive you." – Janet Jackson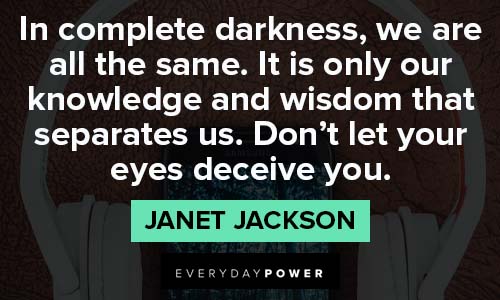 12. "I love working with organizations. I love giving. I want to do more of that. You got to give back. I love helping people, especially children." – Janet Jackson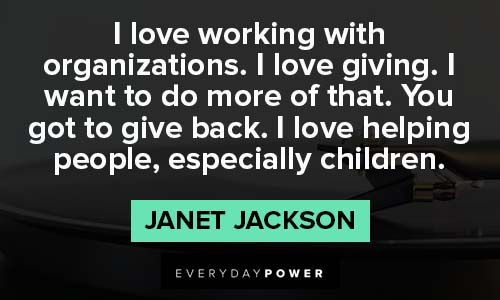 13. "I wanted to talk about my life. There is so much. i was 18 when I made the record, and I had a lot to say." – Janet Jackson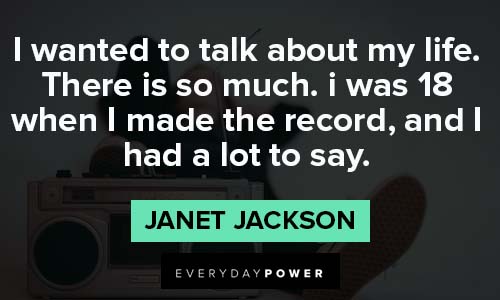 14. "During my life, I've been on both sides of the rope. At times, especially during my childhood, I felt left out and alone. At times, I felt misunderstood…But no human heard those feelings expressed. They stayed buried in the past. But now the truth has to come out, and for me, the truth takes the form of a song." – Janet Jackson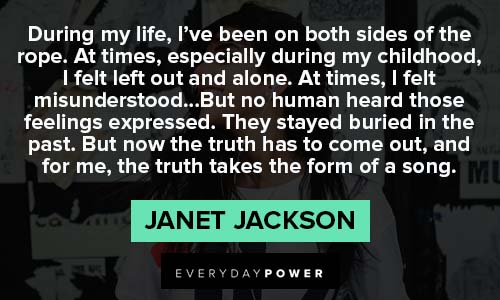 15. "To have someone to relate to and hopefully enjoy the music and get a positive message out of it, to make the best music that we possibly could, those were the goals." – Janet Jackson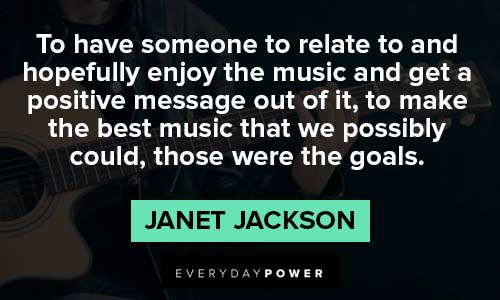 16. "I was very independent growing up, but there were things that were bothering me that I never told anybody." – Janet Jackson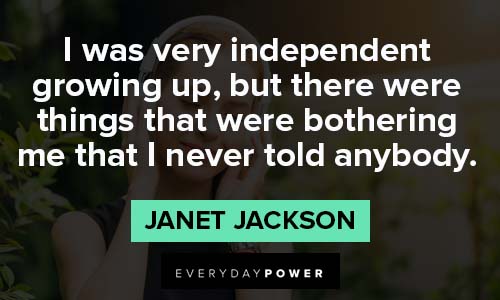 17. "We're all driven to premieres or nightclubs and seen the rope separating those who can enter and those who can't. Well, there's also a velvet rope we have inside of us, keeping others from knowing our feelings. In this album, I'm trying to expose and explore those feelings. I'm inviting you inside my barrier." – Janet Jackson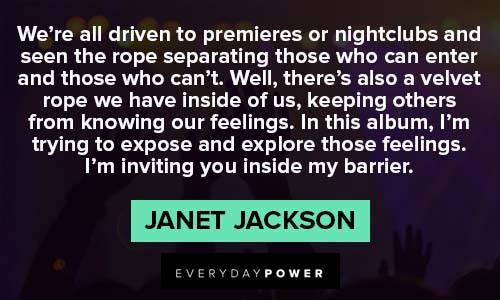 18. "To be given permission to be confused – and remain confused – for as long as it takes would have been a huge gift." – Janet Jackson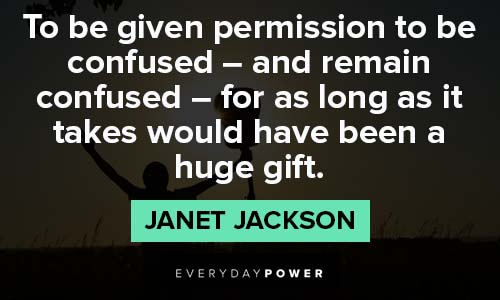 19. "Singing and dancing – and all the joy that goes with performing – come from my heart. If I can't feel it, I won't do it." – Janet Jackson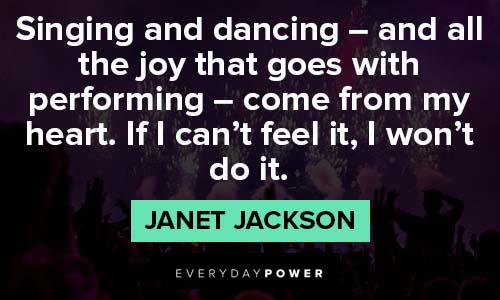 20. "My dad taught us that there's no greater distance than that between first and second place." – Janet Jackson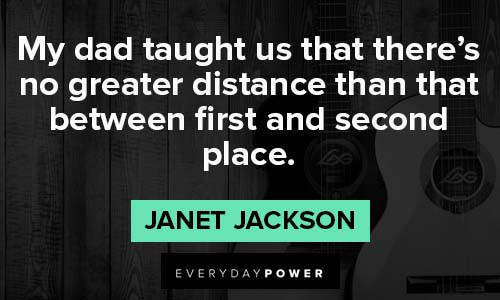 More Janet Jackson Quotes for Inspiration and Motivation
21. "My mother is very strong. Aside from wanting her beauty and her heart, I really wanted her strength. And I've always thought I don't have it." – Janet Jackson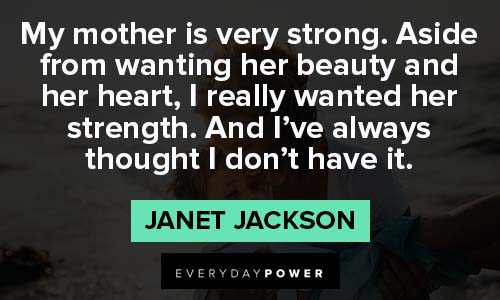 22. "Life is a journey, and I'm still walking it. And, like everyone, I'm going to have some days that are better than others, some days that are tougher than others." – Janet Jackson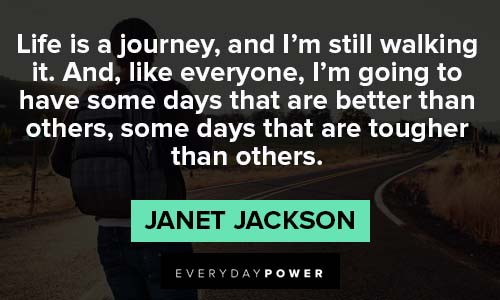 23. "I am not a religious person, but I am spiritual. But I don't believe in things like guilt. I believe in a higher power. I believe in inspiration." – Janet Jackson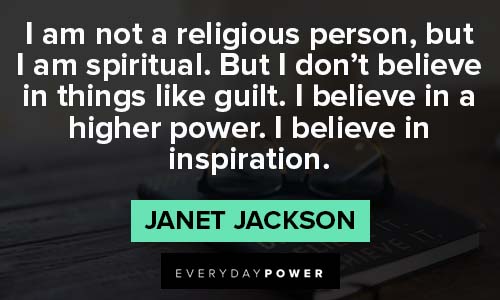 24. "Dreams can become a reality when we possess a vision that is characterized by the willingness to work hard, a desire for excellence, and a belief in our right and our responsibility to be equal members of society." – Janet Jackson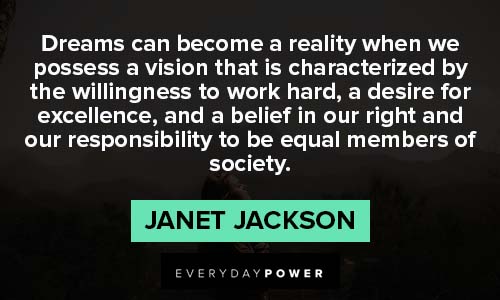 25. "Competition is great. And as long as it's friendly and not a malicious thing, then I think it's cool." – Janet Jackson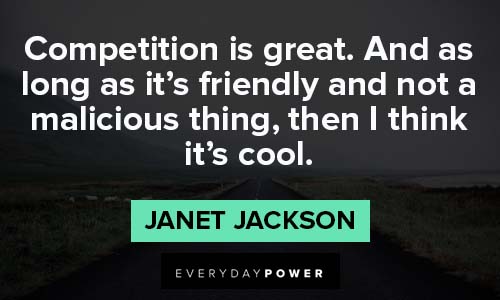 26. "I have a pretty bad temper. But you have to really push me to see it. But everybody has their things." – Janet Jackson
27. "People do see me as sweet and innocent. Not to say that I am not those things. But I have other sides to me." – Janet Jackson
28. "I also experienced serious rejection. I auditioned for dozens of commercials, for example, but was never chosen." – Janet Jackson
29. "I walked out into the world and saw things I'd only read about. I learned the hard way. It was scary, but I saw I had two choices – sink or swim. I swam." – Janet Jackson
30. "The pain is necessary. Sometimes pain is the teacher we require, a hidden gift of healing and hope." – Janet Jackson
Which of these Janet Jackson quotes speak to you the most?
Janet Jackson was among the ranks of recognized artists (like Whitney and Prince) who crossed over racial boundaries in the recording industry.
But like the rest of us, she also had her share of trials.
She used her sixth album, The Velvet Rope, as an outlet to channel her battles with anxiety and depression.
Despite the scandals and controversies, she continued to make music that reflected her views.
Perhaps the most successful of the Jackson family, Janet Jackson's legacy can be seen not only through her music and lyrics, but also in her influence on women and young girls.
She has definitely set the stage for the performers we know of today.
If you enjoyed these Janet Jackson quotes, don't forget to share them!