60 Relatable Lil Baby Quotes on Wealth, Music, and More
Looking for the best relatable quotes from Atlanta rapper Lil Baby?
We have curated all of our favorite Lil Baby quotes in the extensive list below.
What's your favorite song by Lil Baby?
Born Dominique Armani Jones, Lil Baby is a rapper and singer from Atlanta, Georgia.
After releasing a string of successful mixtapes, Lil Baby dropped his certified gold debut album Harder Than Ever in 2018.
The album features the Drake-featured track "Yes Indeed", which has since been certified triple platinum.
Many artists feature the rapper's unique flow on their tracks, including Gucci Mane, Schoolboy Q, and DJ Khaled.
Learn more about the life and music of the rapper in these Lil Baby quotes.
Don't forget to also check out our collection of The Weeknd quotes on love, music, and more.
If you enjoy this article, check out our most popular quote article, a list of short inspirational quotes for daily motivation.
If you want more motivational quotes, check out our motivational quotes category page.
Lil Baby quotes on music
1. "I never knew anything about rapping." – Lil Baby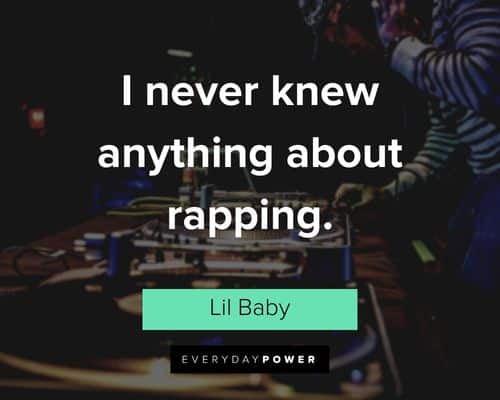 You will also enjoy our article on baby quotes.
2. "I like music, I listened to all rappers; people like Jeezy, Yo Gotti, T.I." – Lil Baby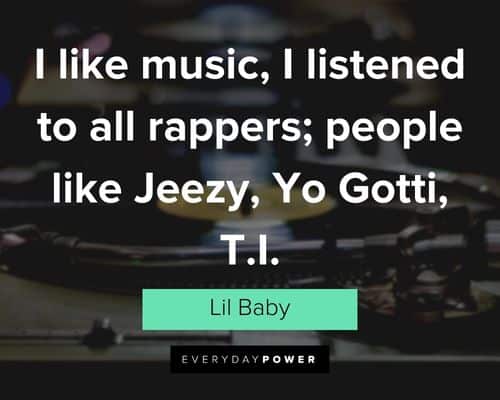 You will also enjoy our article on lil durk quotes.
3. "I'm a rapper but I'm more of a hustler." – Lil Baby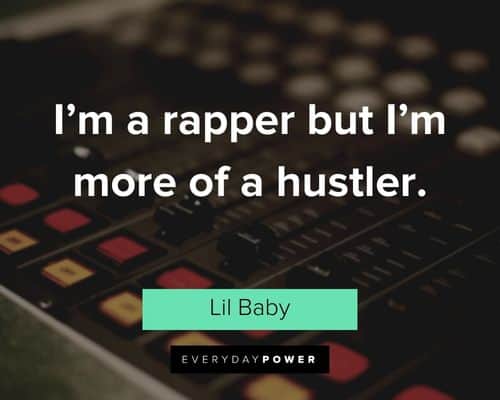 You will also enjoy our article on Lil Wayne quotes.
4. "I can't really describe my sound." – Lil Baby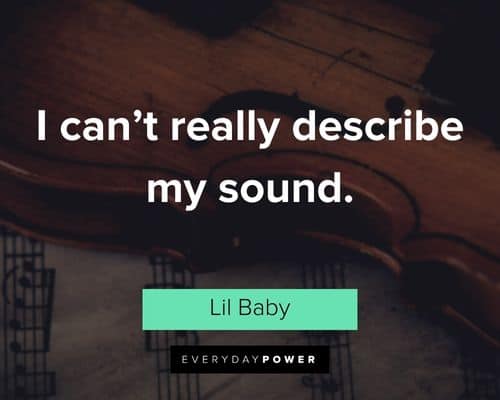 5. "To me, I'm on a whole different level of rapping." – Lil Baby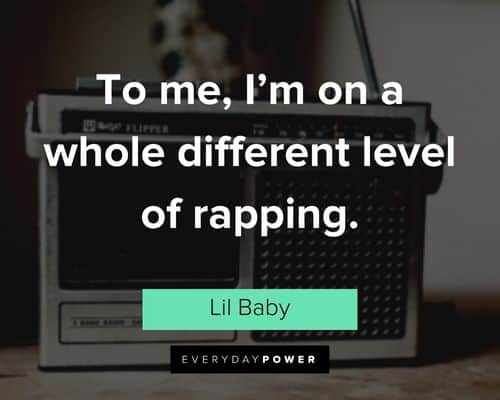 6. "I got more songs with Gunna than anybody – that's like the only person who I'm around!" – Lil Baby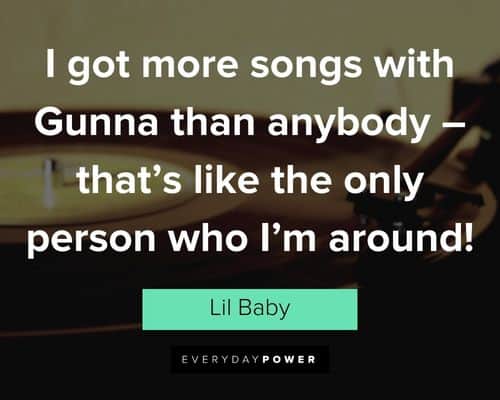 7. "Young Thug, he gave me all the jewels. He literally paid me to leave the neighborhood." – Lil Baby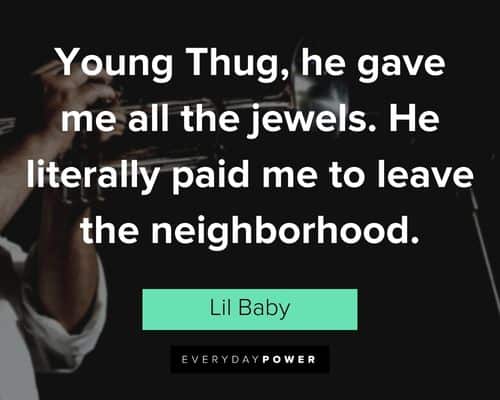 8. "I done paid Gunna to write my songs. I never put the songs out but like when I first started rapping I used to pay him like $100 like 'I'ma give you a $100 write something for me so I can try to learn to go in and record it.'" – Lil Baby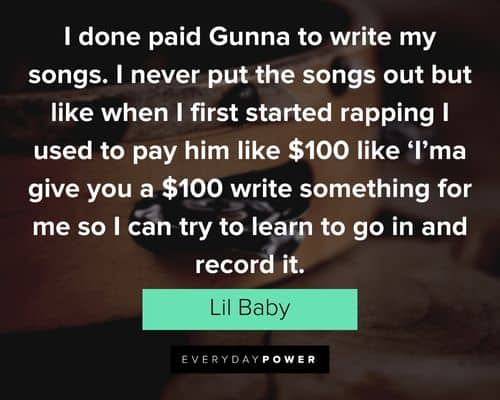 9. "I've grown, and my passion for music has grown. I've become more advanced and I've enhanced my vocabulary. All around artist development." – Lil Baby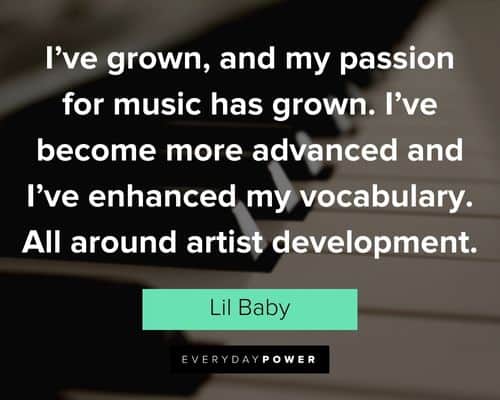 10. "I just save my money, man. I don't even try to enjoy it like these other rappers; they having fun and they lit, but they gon' be broke later on. I be savin', I be chillin'. It feels good to know I got it, but it feel better to know I'ma keep it too." – Lil Baby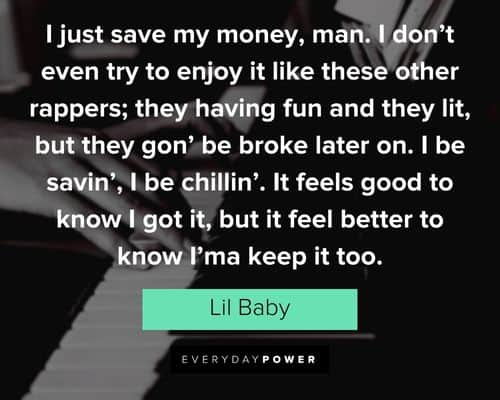 11. "Every day I'm getting shaped and molded. Keepin' on, being a better artist, and improving on this, improving on that. The more I'm in it, the more I'm practicing and the more I'm advancing." – Lil Baby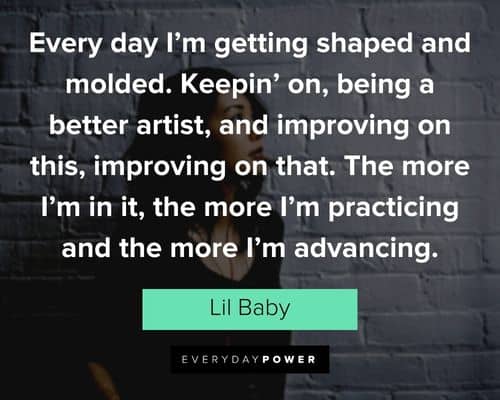 12. "The rap game is kinda crazy, so I go with the flow but make sure that I cover my bases and do whatever to make sure I'm good no matter what." – Lil Baby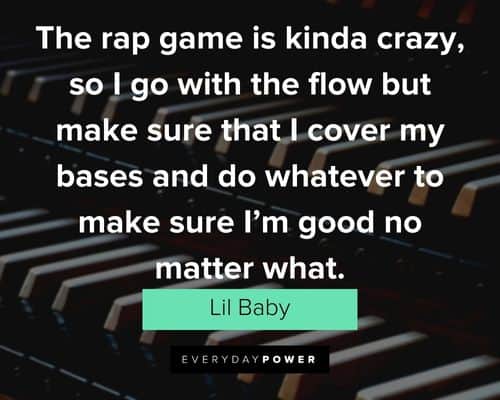 13. "I don't really have a writing process. I don't write at all but, honestly, I feel like it's a modern-day writing because everything is technology and if I go in there and freestyle and I keep it, I feel like I wrote that. If I go in there and fix it, it's almost like something I wrote." – Lil Baby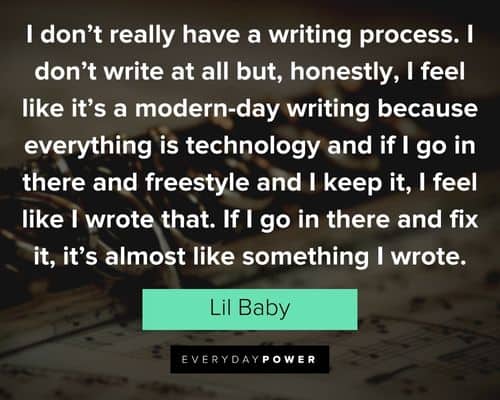 14. "I know I can't rap forever, but I know as long as I got a label or something I can get money forever." – Lil Baby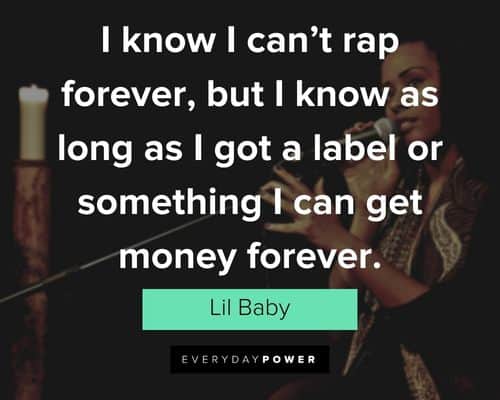 15. "I'm all about giving up-and-coming people a chance." – Lil Baby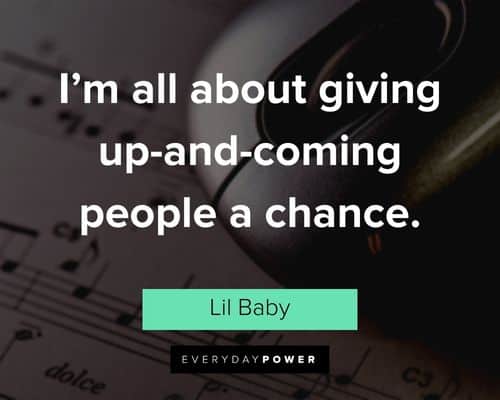 16. "I'm changing every day as far as this rap thing. I'm learning new things. I'm getting bigger by the day." – Lil Baby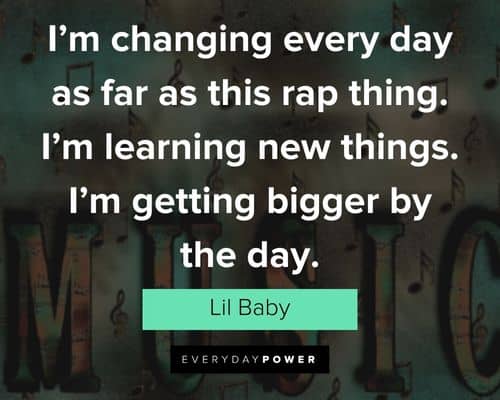 Also read these Lil Nas X quotes and tweets that will make your day.
Relatable Lil Baby quotes
17. "Keep our business to ourselves. The internet ain't doin' no help." – Lil Baby, "Close Friends"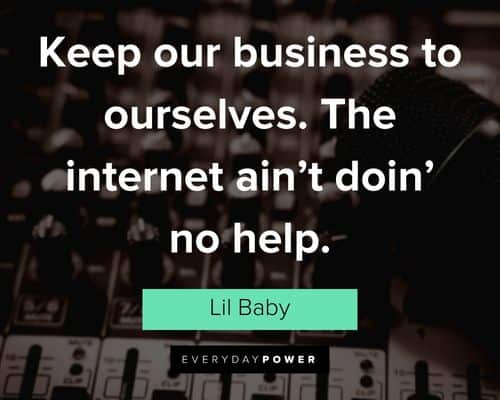 18. "Baby we gon' live it all the way up. Just stay down for me, I'm on my way up." – Lil Baby, "For You"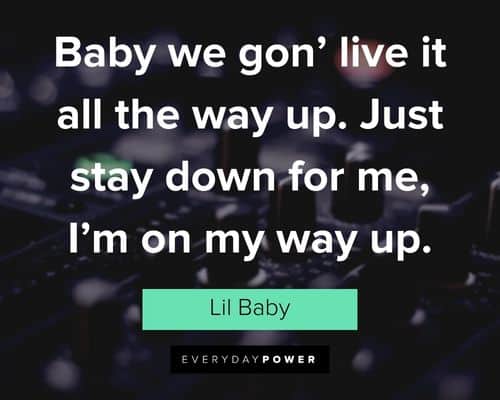 19. "I don't really know the logistics of a Soundcloud rapper." – Lil Baby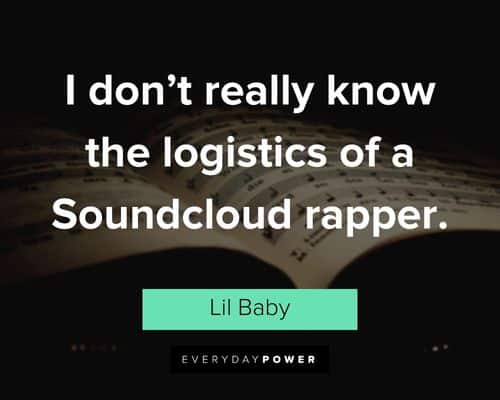 20. "Why you tryna leave me alone?" – Lil Baby, "Leave Em Alone"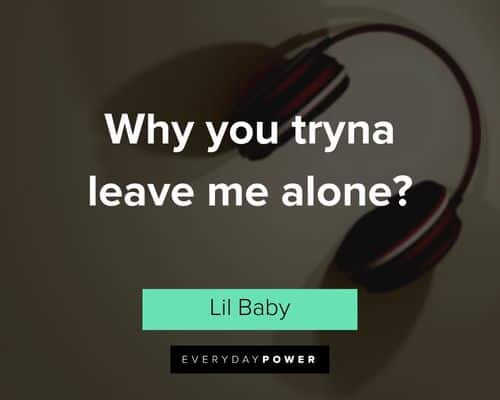 21. "I'm the frontrunner, burning right through the hood." – Lil Baby, "Southside"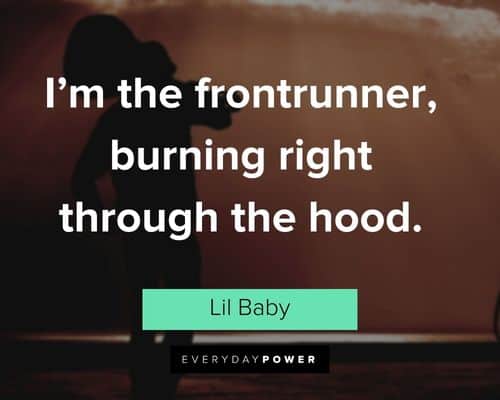 22. "I be hearin', say you buyin' them purses. I can't even lie, you ain't my type you ain't even all that fine in person." – Lil Baby, "Woah"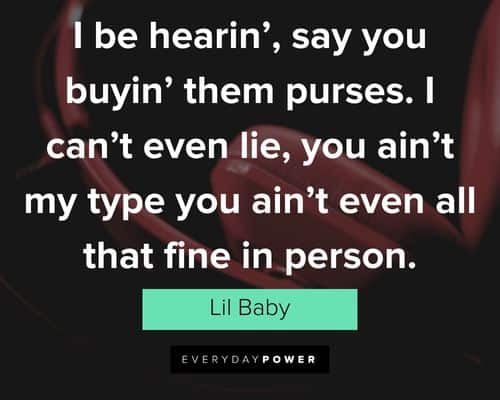 23. "I got a boss mentality." – Lil Baby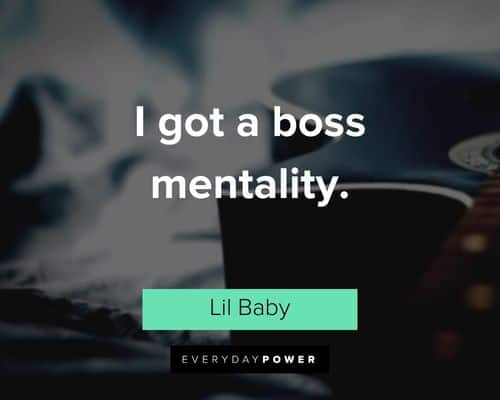 24. "I know they hatin' on me, but I don't read comments" – Lil Baby, "Drip Too Hard"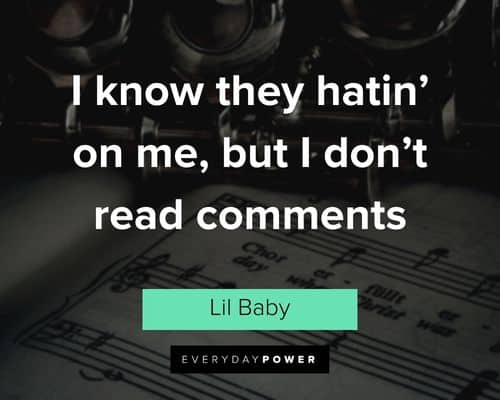 25. "The haters watchin' too hard, I think they got binoculars." – Lil Baby, "Baby"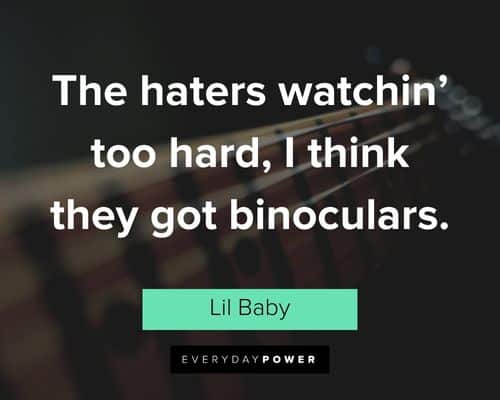 26. "Work hard and determine, it's safe to say I earned it." – Lil Baby, "Woah"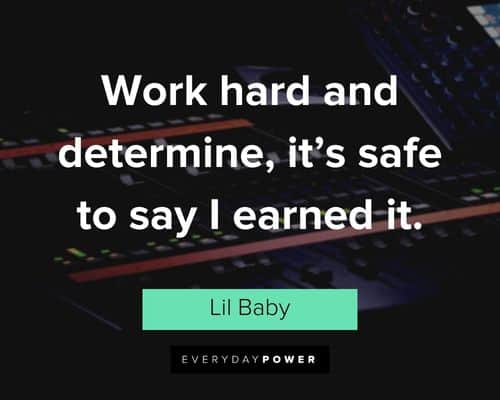 27. "All your friends really wish that they was on what we on." – Lil Baby, "Leave Em Alone"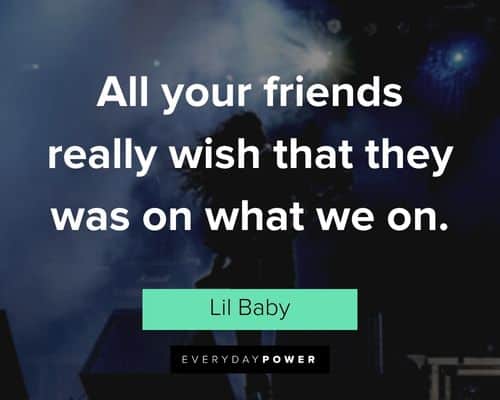 28. "I clean up real nice, I don't got a maid." – Lil Baby, "Sold Out Dates"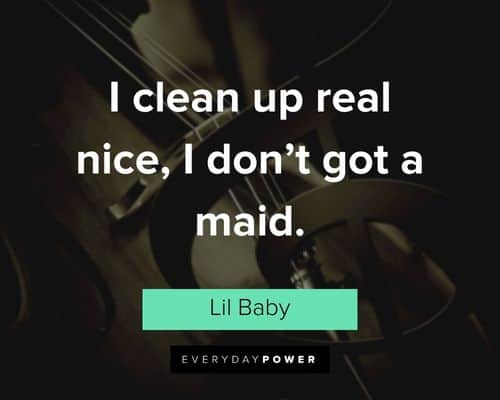 29. "You might love watching basketball, but that don't mean that you'll get on the court." – Lil Baby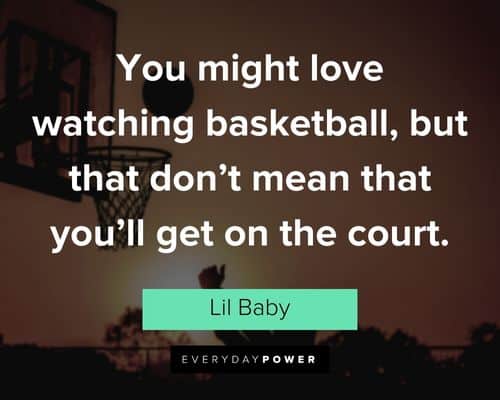 30. "Whether I'm at the gas station or I be at the store, I be there by myself. I be regular." – Lil Baby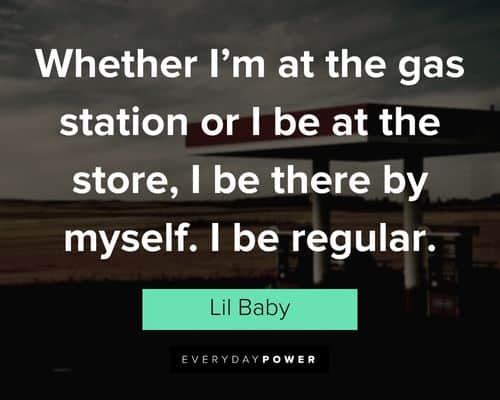 Don't forget to also read these great BTS quotes from the platinum-selling South Korean boy band.
Lil Baby quotes on wealth
31. "Brand new whip, got no keys. Tailor my clothes, no starch, please." – Lil Baby, "Yes Indeed"
32. "Big body Benz "beep, beep" when it back in." – Lil Baby, "Southside"
33. "25 hundred for a new pair of tennis shoes. The same price, I could make them youngins come and finish you." – Lil Baby, "Yes Indeed"
34. "You won't believe what I made in a year. I'm flippin' these bags, I made me a mill." – Lil Baby, "Never Needed No Help"
35. "I'm really a millionaire, still in the projects." – Lil Baby, "Baby"
36. "Hundred thousand dollars on my neck. 'Nother fifty thousand on my wrist. Every nigga with me real rich." – Lil Baby, "My Dawg"
37. "I took a Tesla and landed on Mars." – Lil Baby, "Leaked"
38. "Lamborghini, I don't want no Porsches." – Lil Baby, "Life Goes On"
39. "Money all colors like Monopoly." – Lil Baby, "To the Top"
Lil baby quotes on upbringing
40. "I got the name Lil Baby because I always hung around older dudes." – Lil Baby
41. "I used to always be in Atlanta, chilling. I didn't really have as much to do. So I would gamble as a hobby. Now I'd rather go into the studio and try to make me a hit." – Lil Baby
42. "I'm straight as the street, man I come from the pavement." – Lil Baby, "Yes Indeed"
43. "If you're a young black dude from the hood you want to come through the hood in a car that makes a lot of noise." – Lil Baby
44. "My story is going to be completely different than someone else's story in terms of hard work. What I might feel like is hard work, another person is dying to do." – Lil Baby
45. "I've been through all the bad parts of the streets." – Lil Baby
46. "I ain't never had nothing good in life." – Lil Baby
47. "I can do bad on my own and good by myself. I never needed no help." – Lil Baby, "Never Needed No Help"
48. "We was skippin' school on the train' duckin' truancy. My main partner turned into a rat, he talkin' 'bout robbin' me." – Lil Baby, "Baby"
Lil Baby quotes on parenting
49. "My ultimate goal is my son, and a lot of other kids, to not have to grow up the way I grew up. I just give them a different outlook on something. I want to let them know they can have this much fun by doing something legal like me rapping for instance." – Lil Baby
50. "I want to be a superhero dad to where my kid feel like everything I do is nothing wrong." – Lil Baby
Have you seen these Kevin Gates quotes about hard work and struggle?
51. "I feel like whatever is meant is meant. I feel like this is already written." – Lil Baby
52. "I have an impact and people look up to me now. It's more than the money." – Lil Baby
53. "I grew up listening to everybody." – Lil Baby
54. "I just got an ear for the kind of things I like." – Lil Baby
55. "A lot of songs I'm kind of singing and rapping." – Lil Baby
56. "None of you guys get fly as me, woah, Matter of fact." – Lil Baby
57. "Niggas can't out snake me ima king cobra." – Lil Baby
58. "If you the richest in the room you need a new room." – Lil Baby
59. "Ain't in competition with no one , I'm tryna ball wit ya." – Lil Baby
60. "If you learned a lesson it wasn't a loss." – Lil Baby
What do you love the most about Lil Baby?
With millions of Instagram and Twitter followers, the influence of Lil Baby's music stretches worldwide.
It's amazing to see how fast Lil Baby's career has grown, especially after serving two years in jail at the beginning of his career.
Lil Baby is great at providing punchy lines that fit perfectly onto social media captions.
He's an artist that understands how music is currently digested.
As a result, he isn't afraid to remain versatile to keep his music fresh and vibrant.
Which of these Lil Baby quotes and lyrics is your favorite?
Is there another rapper we should showcase on Everyday Power?
Let us know in the comments section below!