Tupac Quotes on Life, Love, And Being Real That Will Inspire You
Tupac quotes are for anyone who still misses the man who inspired millions with his powerful lyrics.
These Tupac quotes and lyrics are just as powerful today as they were when the late rapper was still alive.
Born Lesane Parish Crooks in New York, Tupac Shakur was a superstar in every sense of the word.
Tell us about your favorite Tupac quote or lyric in the comment section below.
He was the face of west coast hip-hop during the 90s.
What are the benefits of reading these Tupac quotes?
If you're searching for 2Pac quotes to help you get inspired, these motivational words about love and life will have you looking at the world in a new light.
Tupac was:
A popular and inspirational musician
An advocate who often spoke out about police brutality and financial greed
An inspiration and fresh voice for many
Tupac Shakur is best known for his albums, 2Pacalypse Now (1991), Strictly 4 My N.I.G.G.A.Z… (1993), Me Against the World (1995), All Eyez on Me (1996), and The Don Killuminati: The 7 Day Theory (1996).
Below is our collection of inspirational, real, and thought-provoking Tupac quotes and lyrics collected from a variety of sources over the years.
Just who was Tupac, and what did he accomplish?
2Pac is one of the best-selling artists of all time in any genre, with over 75 million records sold.
Two of his albums, All Eyez on Me (1996) and Greatest Hits (1998), have been certified Diamond in the United States.
In 2002, Tupac was inducted into the Hip-Hop Hall of Fame, and he is ranked among the 100 Greatest Artists of All Time by Rolling Stone magazine.
Tupac was one of my favorite rappers as I was growing up.
I loved his delivery; he spoke with so much passion.
His content was about being a young man trying to find himself while avoiding all the traps and pitfalls of life.
And his confidence was just electric.
I have been a 2pac fan my entire life, and putting together this collection of quotes was a lot of fun.
Don't forget to also check out our collection of quotes on being real.
Check out our most popular quote article, a list of short inspirational quotes for daily inspiration.
If you enjoy this collection, check out our inspirational quotes category page.
Famous Tupac Quotes on Thug Life, Success and Dreams
1. "Reality is wrong. Dreams are for real." – Tupac Shakur
You will also enjoy our article on rap quotes.
2. "I don't have no fear of death. My only fear is coming back reincarnated." – Tupac Shakur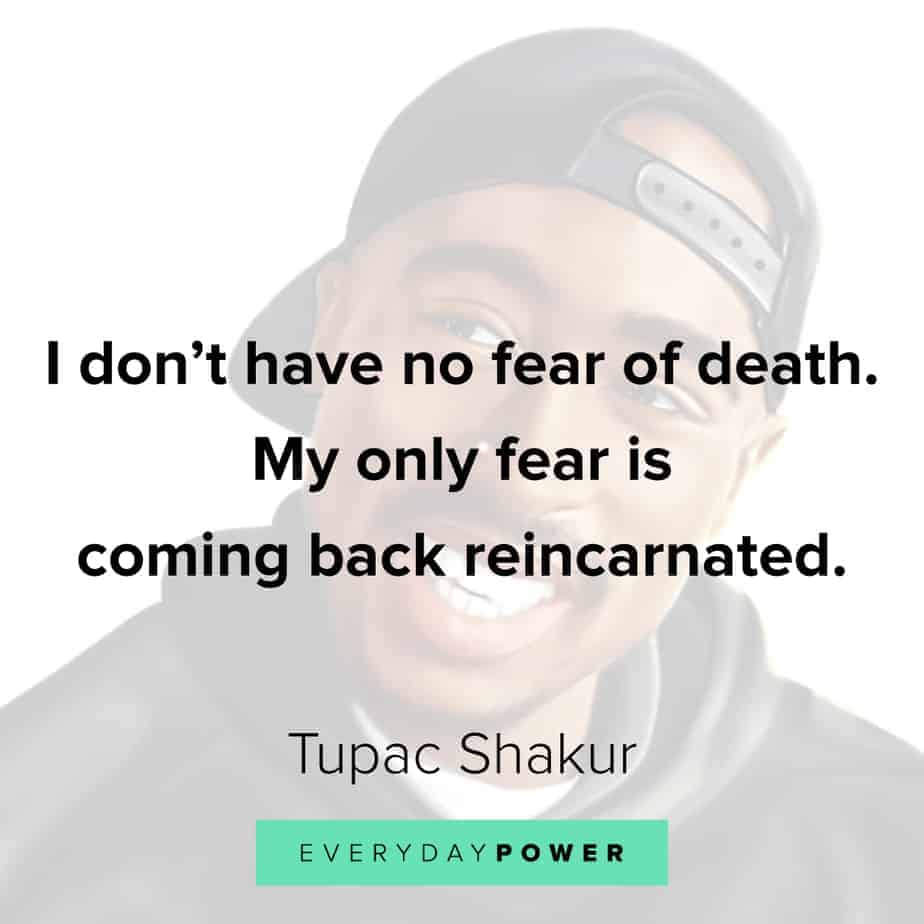 3. "Don't change on me. Don't extort me unless you intend to do it forever." – Tupac Shakur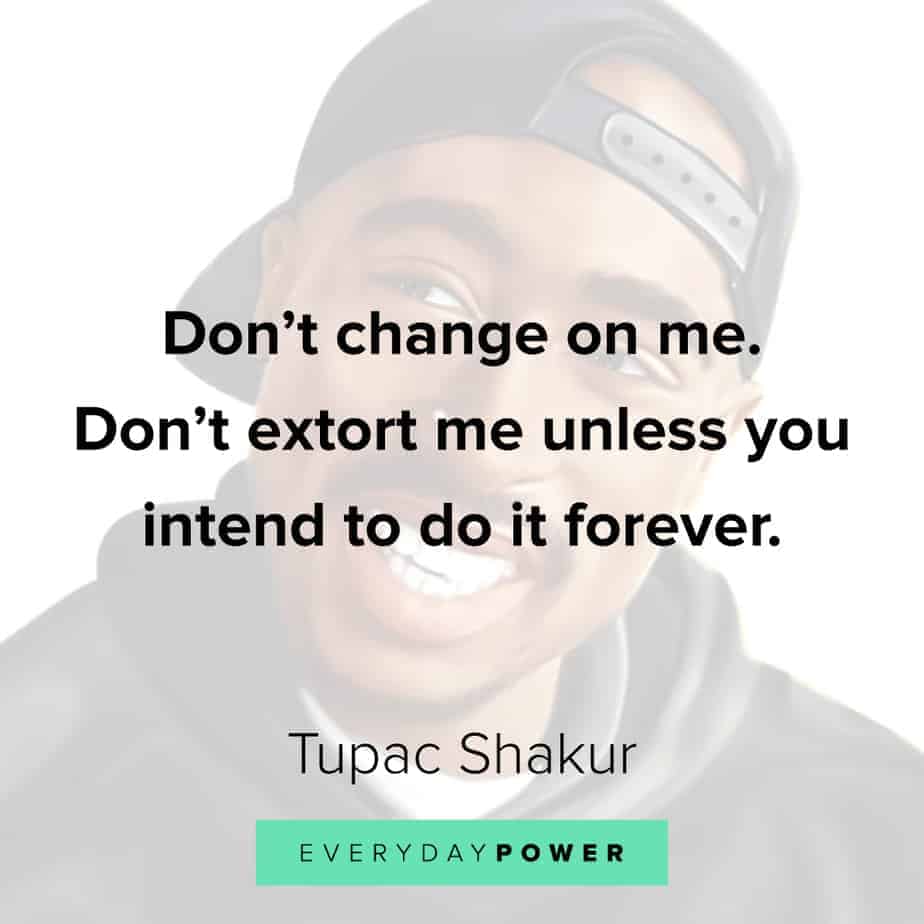 4. "Our future is our confidence and self-esteem." – Tupac Shakur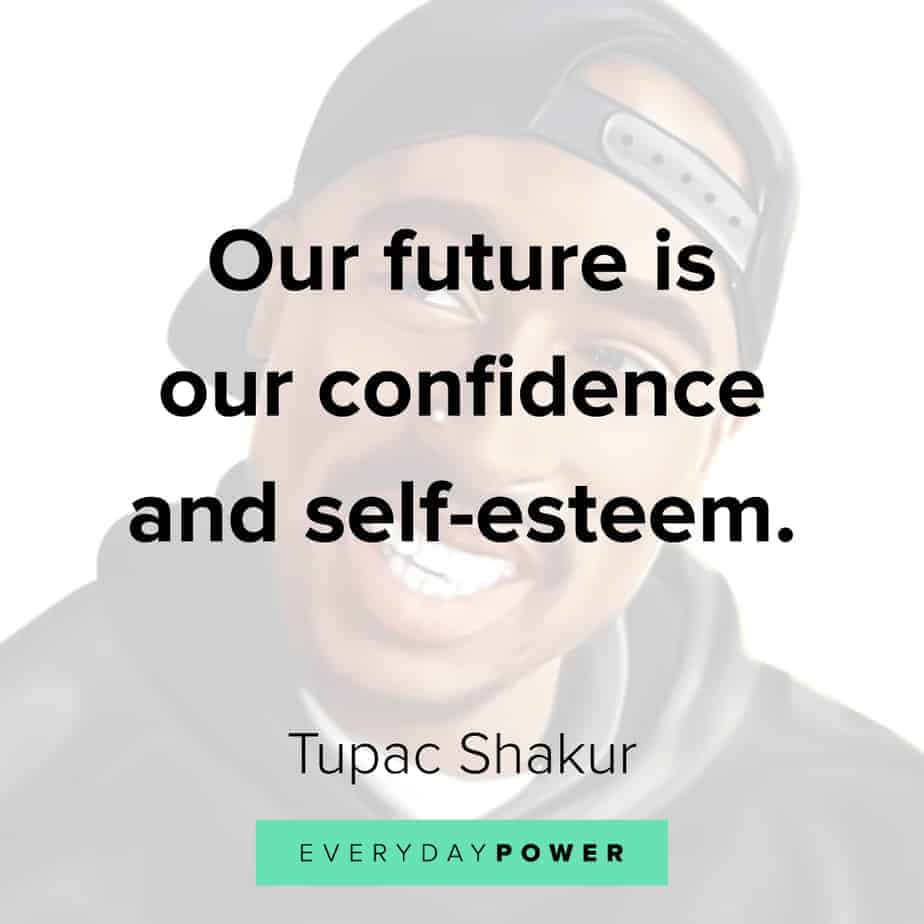 5. "Everybody's at war with different things. I'm at war with my own heart sometimes." – Tupac Shakur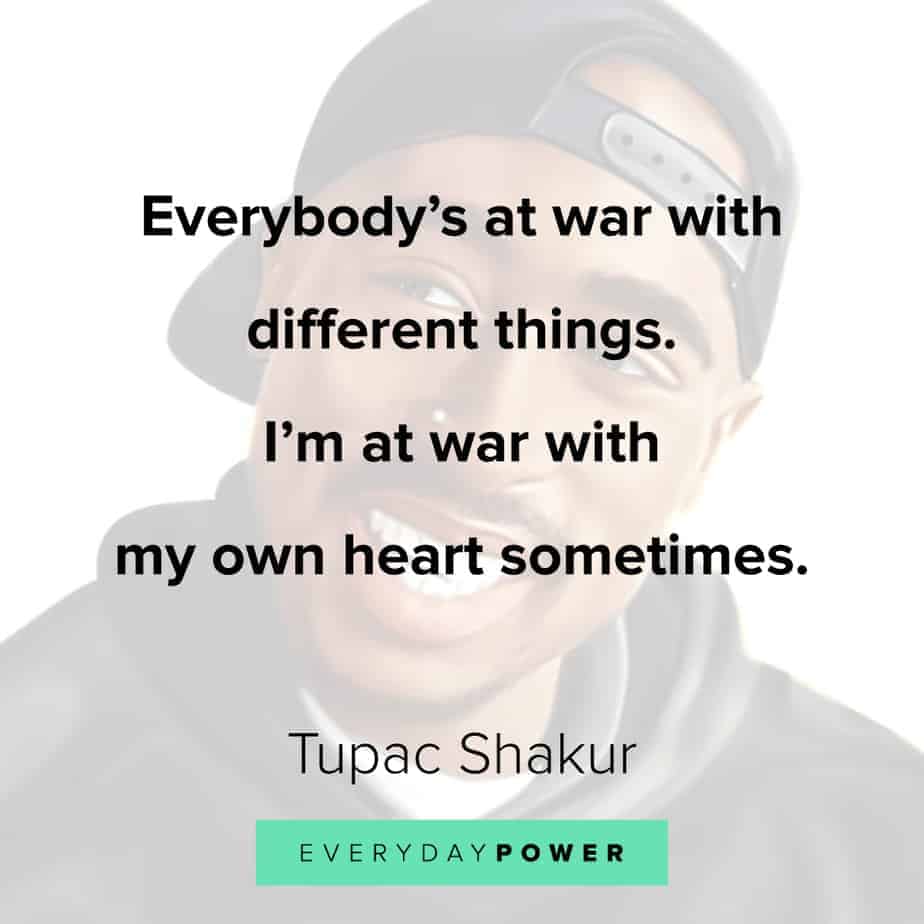 6. "If you can make it through the night, there's a brighter day." – Tupac Shakur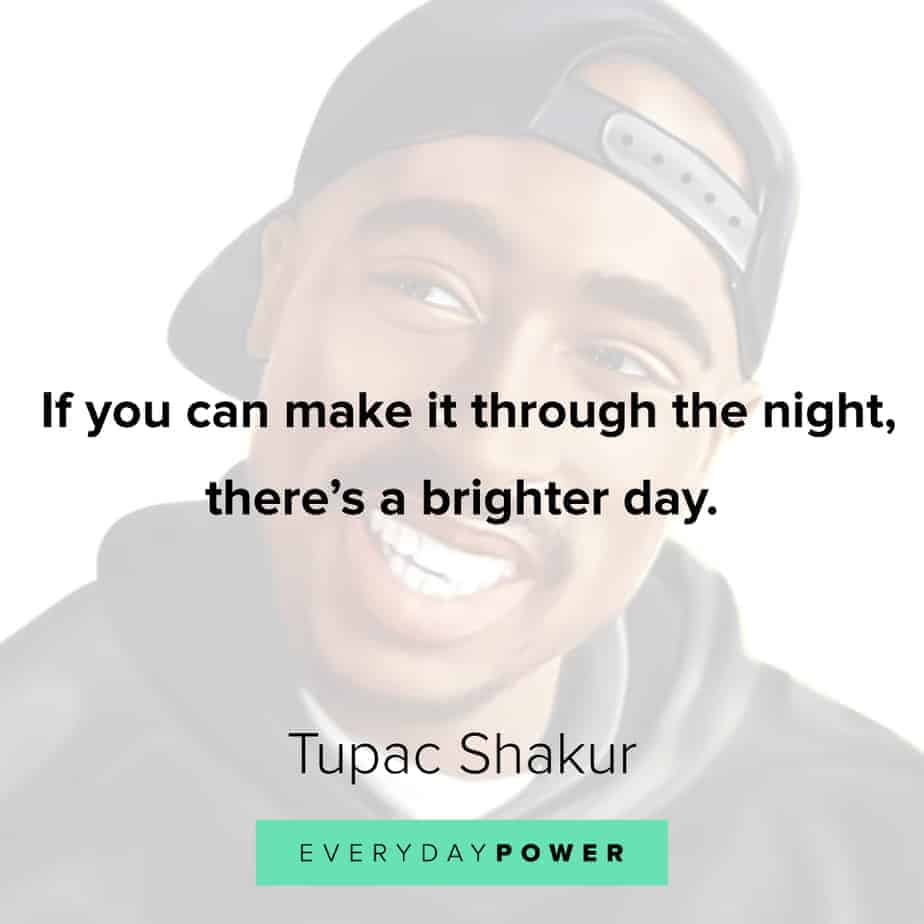 7. "During your life, never stop dreaming. No one can take away your dreams." – Tupac Shakur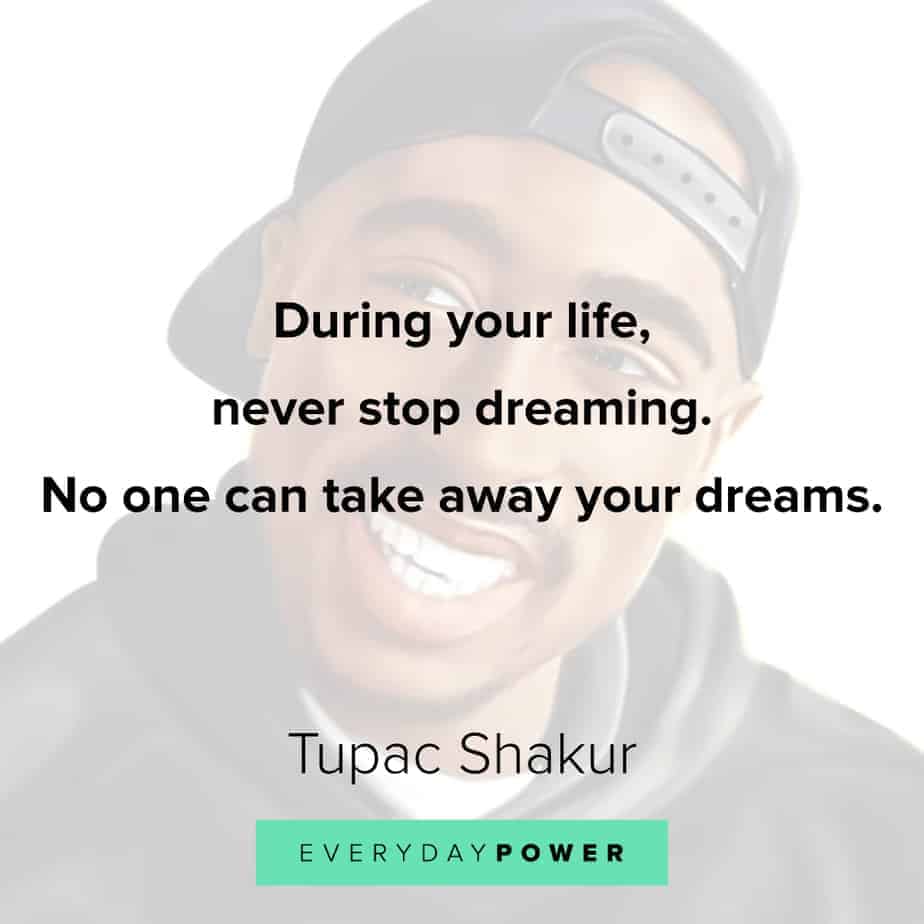 8. "We can never go nowhere unless we share with each other." – Tupac Shakur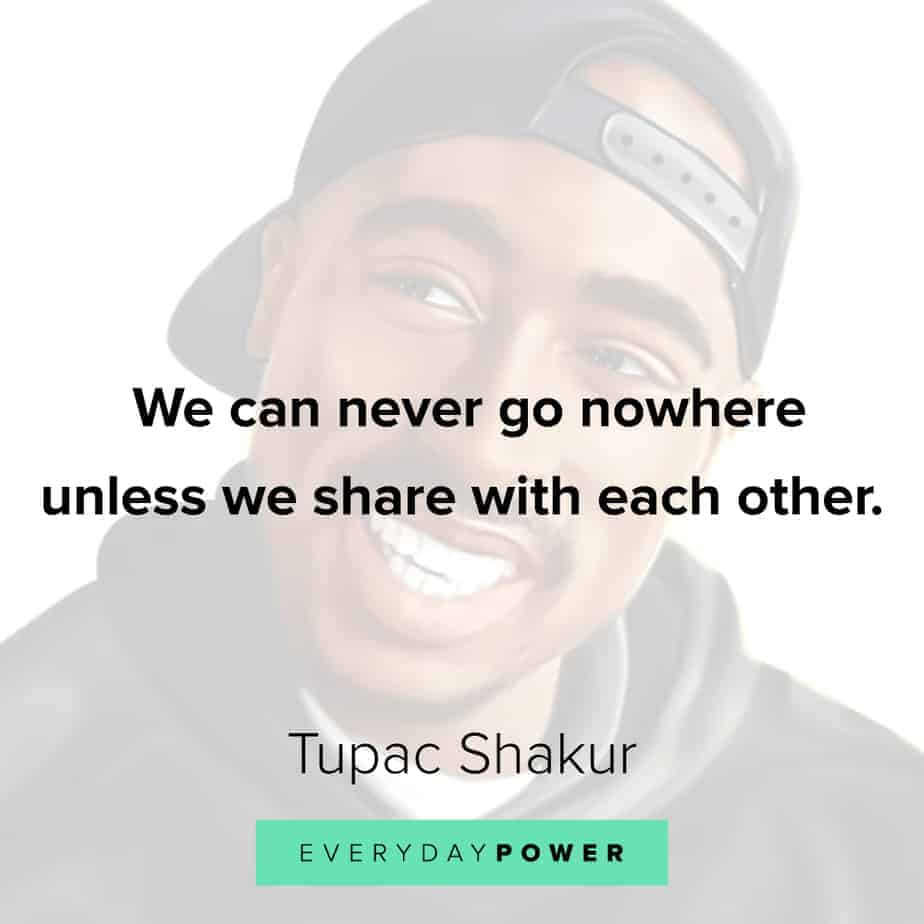 9. "The seed must grow regardless of the fact that it's planted in stone." – Tupac Shakur
Tupac Quotes about love and life
10. "Behind every sweet smile, there is a bitter sadness that no one can see and feel." – Tupac Shakur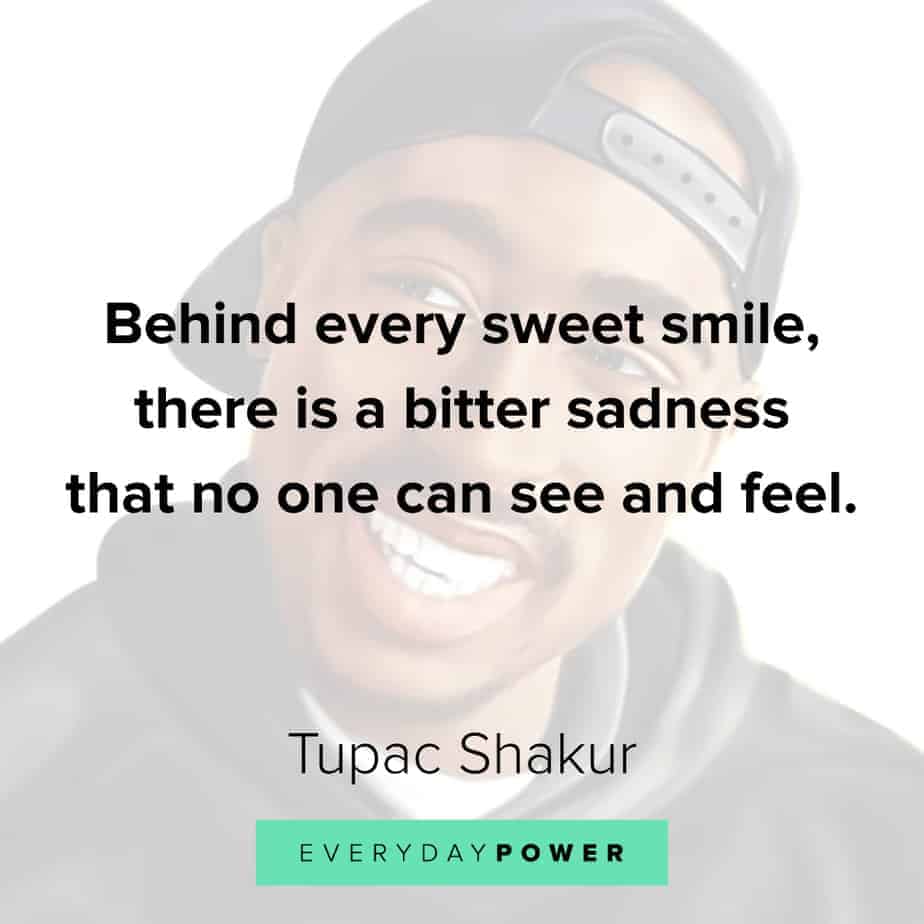 If you're enjoying this article, make sure to also check out these quotes by famous people about life, love and success.
11. "When you do rap albums, you got to train yourself. You got to constantly be in character." – Tupac Shakur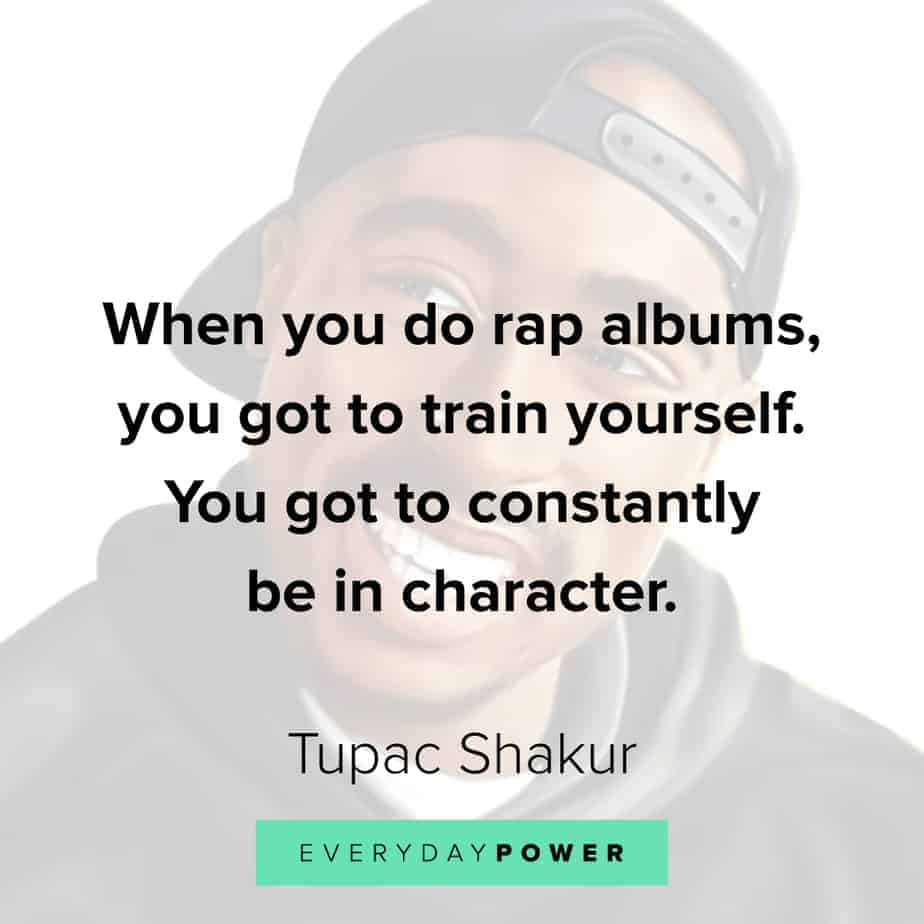 12. "We was young and we was dumb, but we had heart." – Tupac Shakur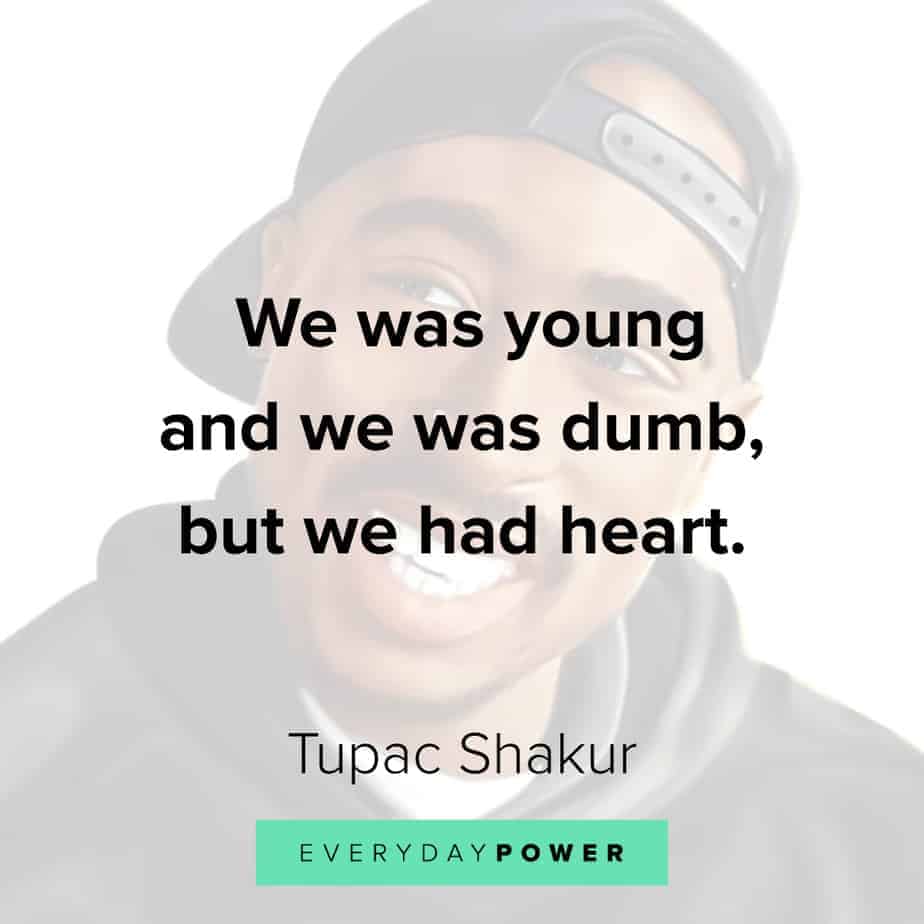 13. "Do everything you can to make it around the system, over the system, or out the system." – Tupac Shakur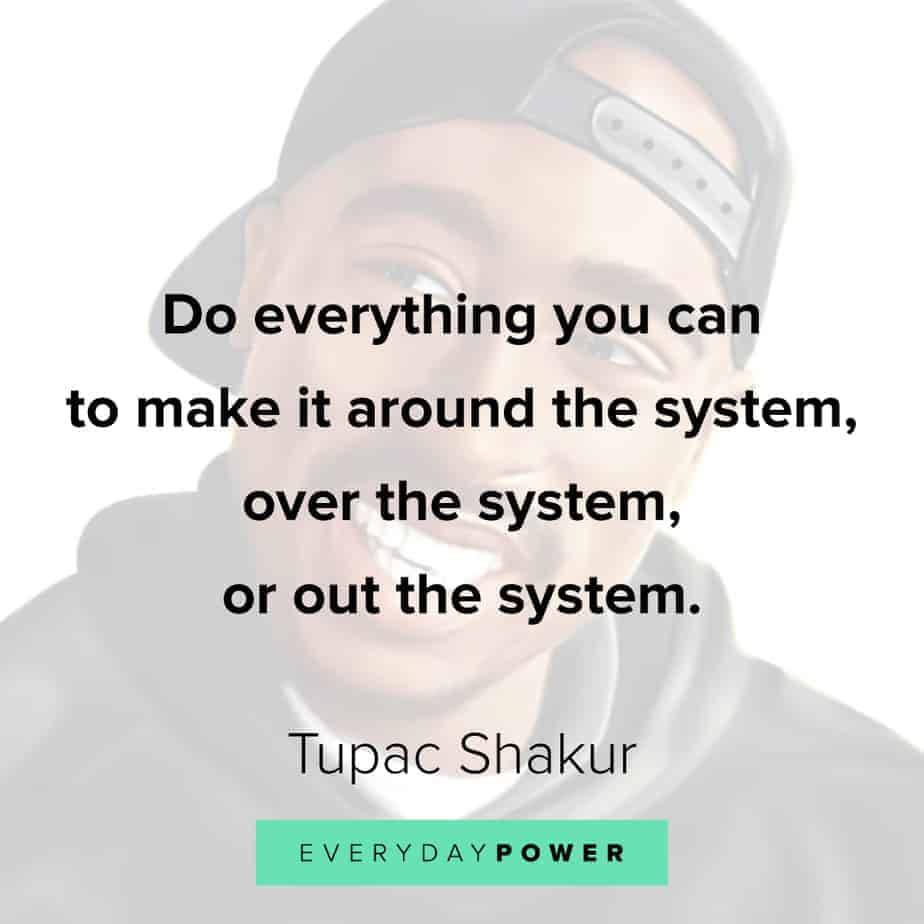 14. "All I'm trying to do is survive and make good out of the dirty, nasty, unbelievable lifestyle that they gave me." – Tupac Shakur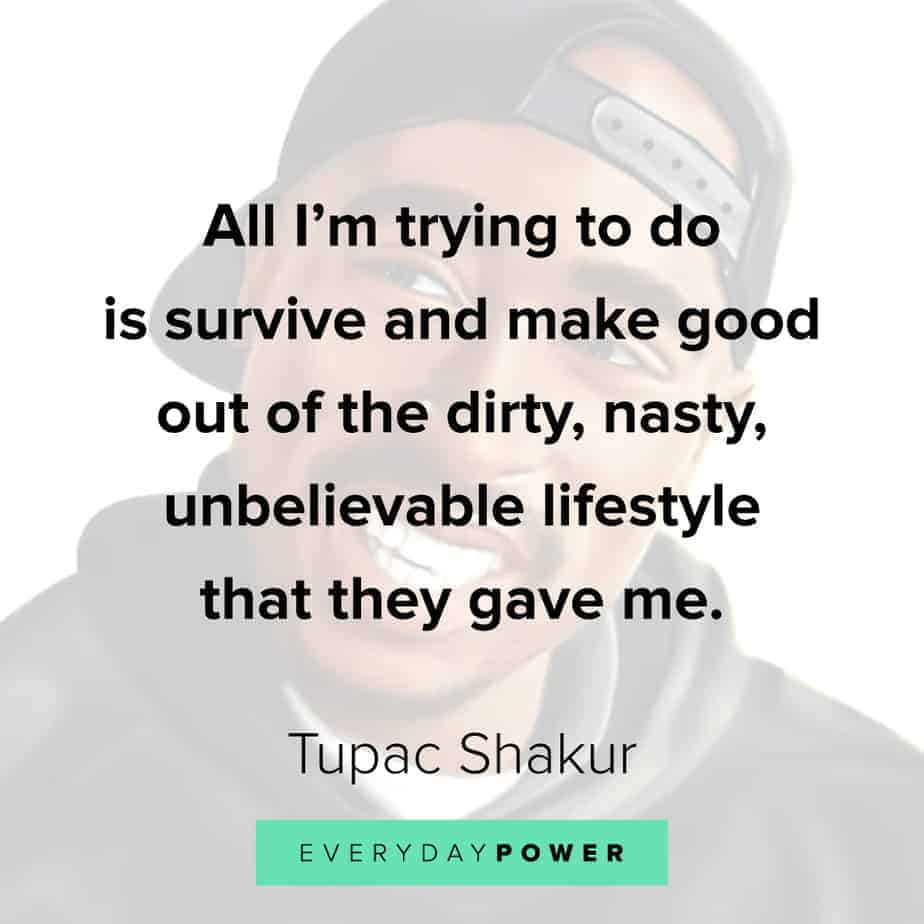 15. "My mama always used to tell me: 'If you can't find somethin' to live for, you best find somethin' to die for.'" – Tupac Shakur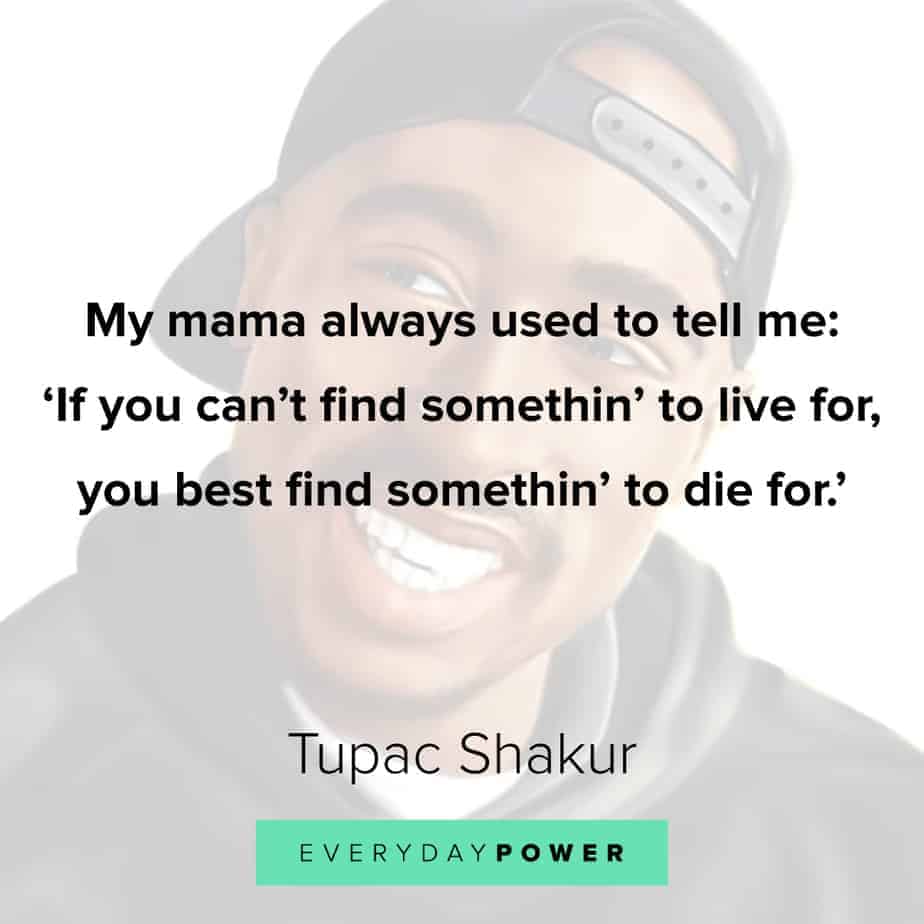 16. "I am not a perfectionist, but still I seek perfection. I am not a great romantic, but yet I yearn for affection" – Tupac Shakur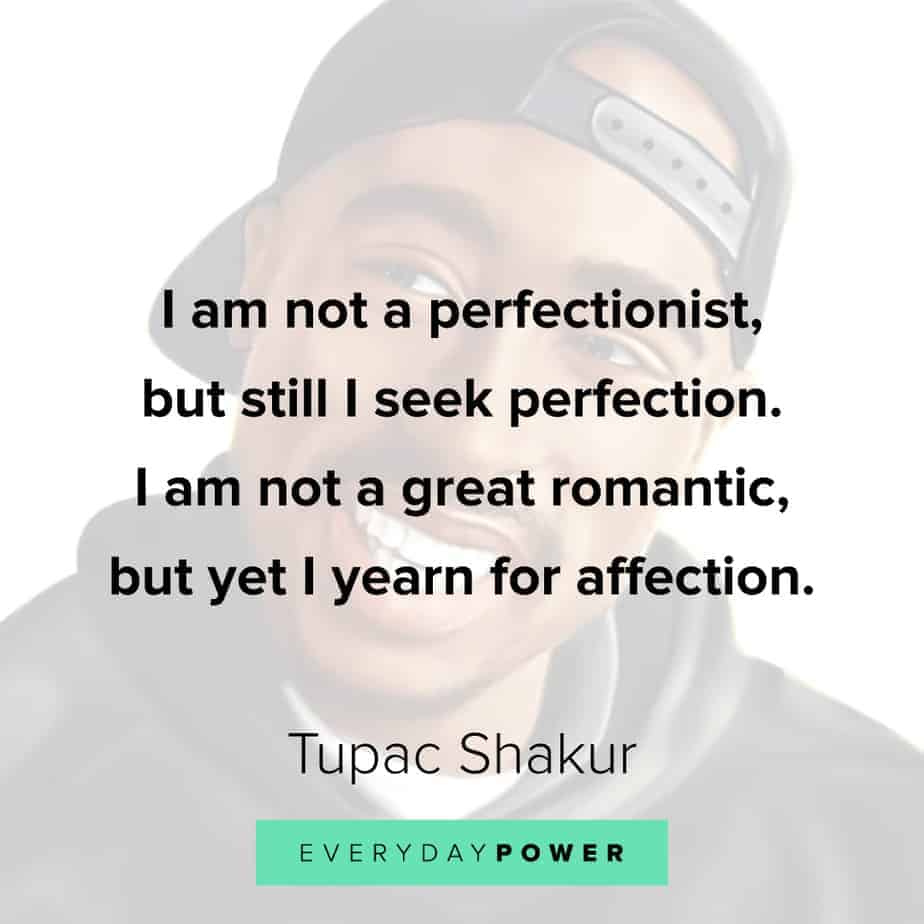 17. "Death is not the greatest loss in life. The greatest loss is what dies inside while still alive. Never surrender." – Tupac Shakur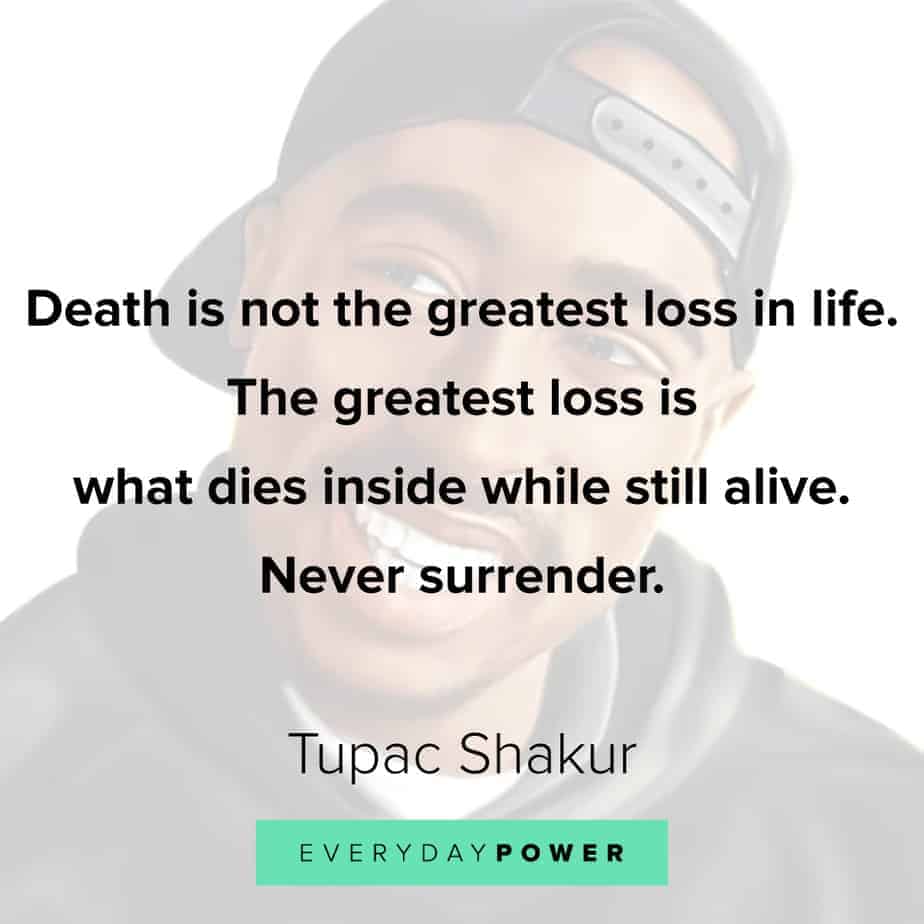 18. "I'm not saying I'm gonna change the world, but I guarantee that I will spark the brain that will change the world." – Tupac Shakur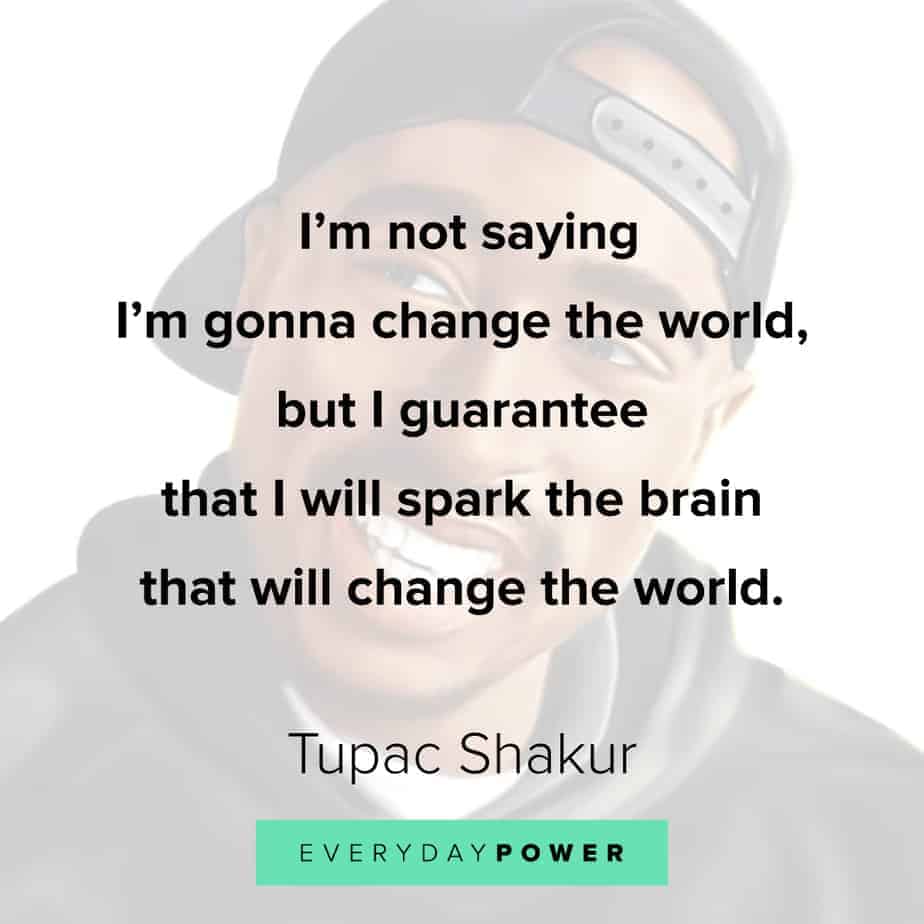 19. "This fast life soon shatters, cause after all the lights and screams, nothing but my dreams matter." – Tupac Shakur
If you're enjoying this article, be sure to also check out these J. Cole quotes on life & love.
2pac quotes about life, success, and fame
20. "One thing we all adore, something worth dying for, nothing but pain, stuck in this game, searchin' for fortune and fame." – Tupac Shakur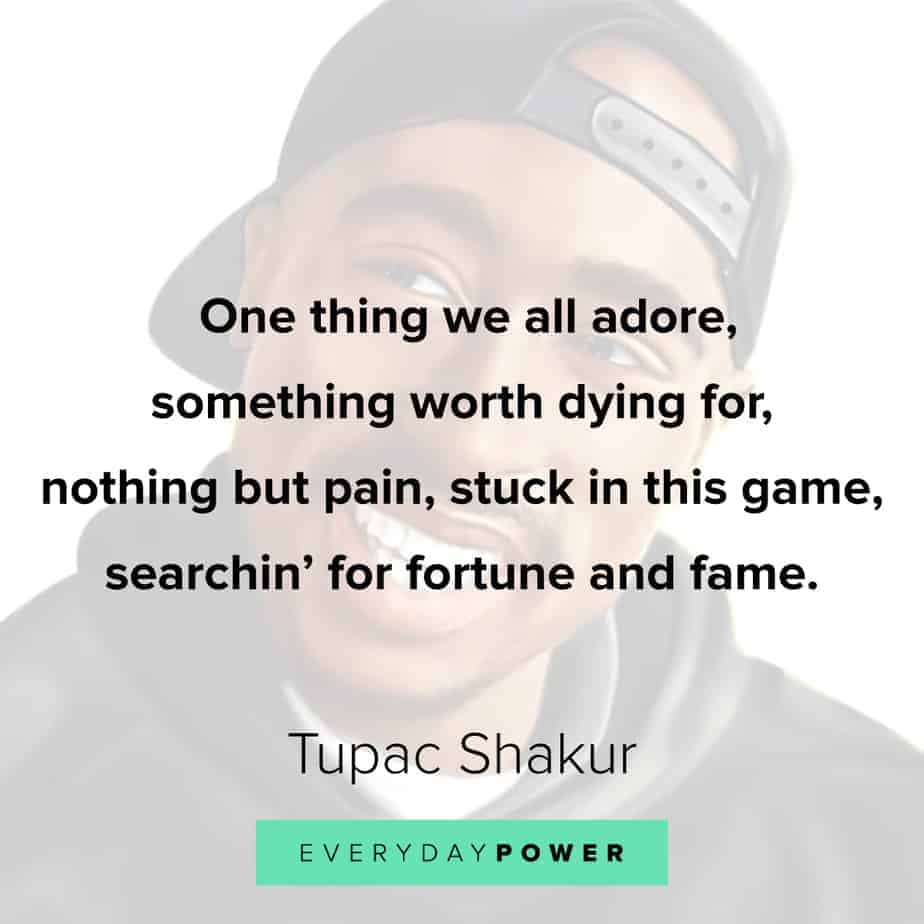 21. "I feel like role models today are not meant to be put on a pedestal. But more like angels with broken wings." – Tupac Shakur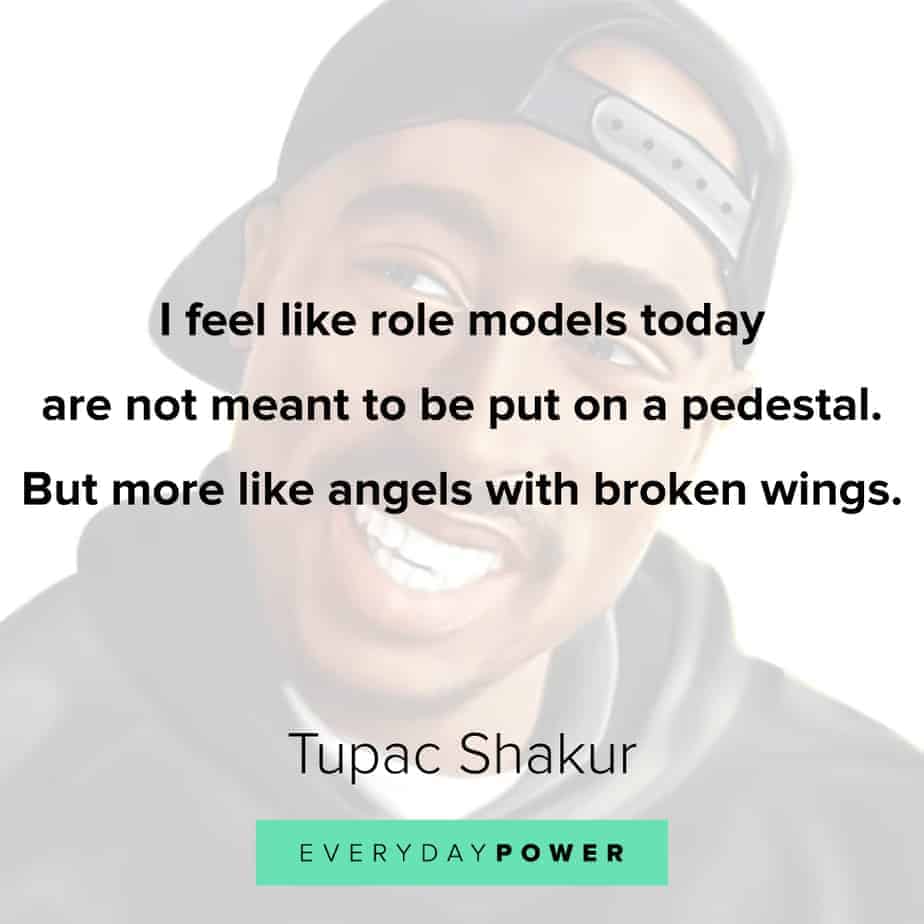 22. "The only time I have problems is when I sleep." – Tupac Shakur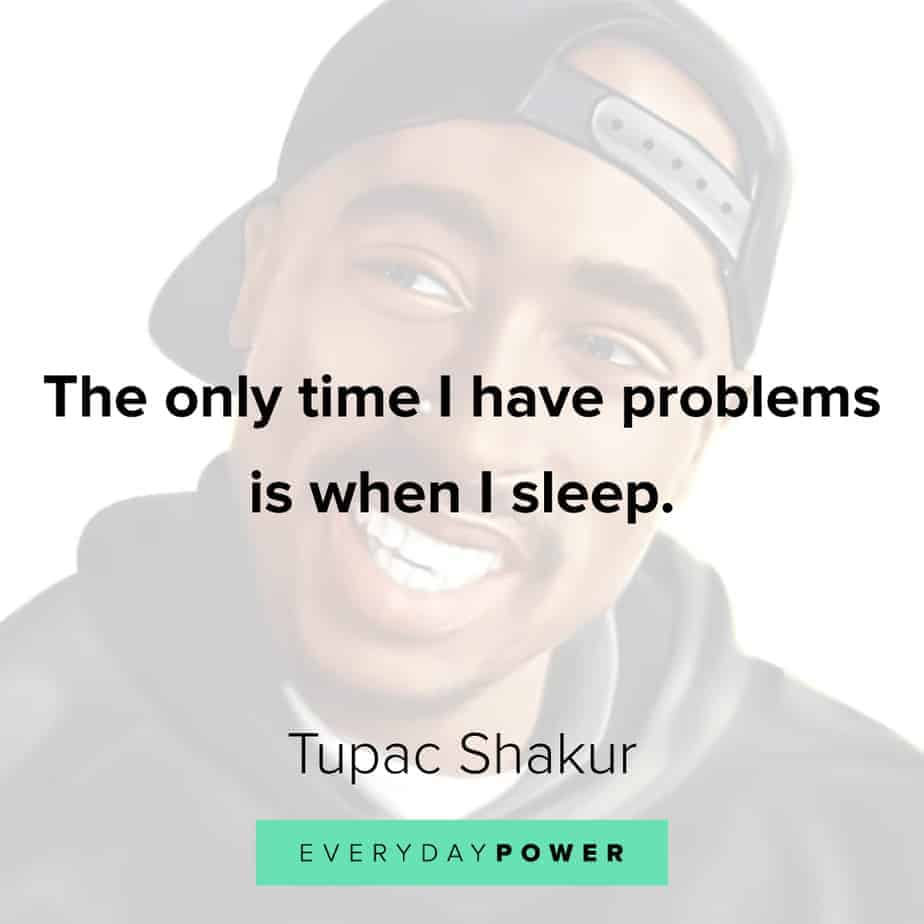 23. "Just cause you live in the ghetto doesn't mean you can't grow." – Tupac Shakur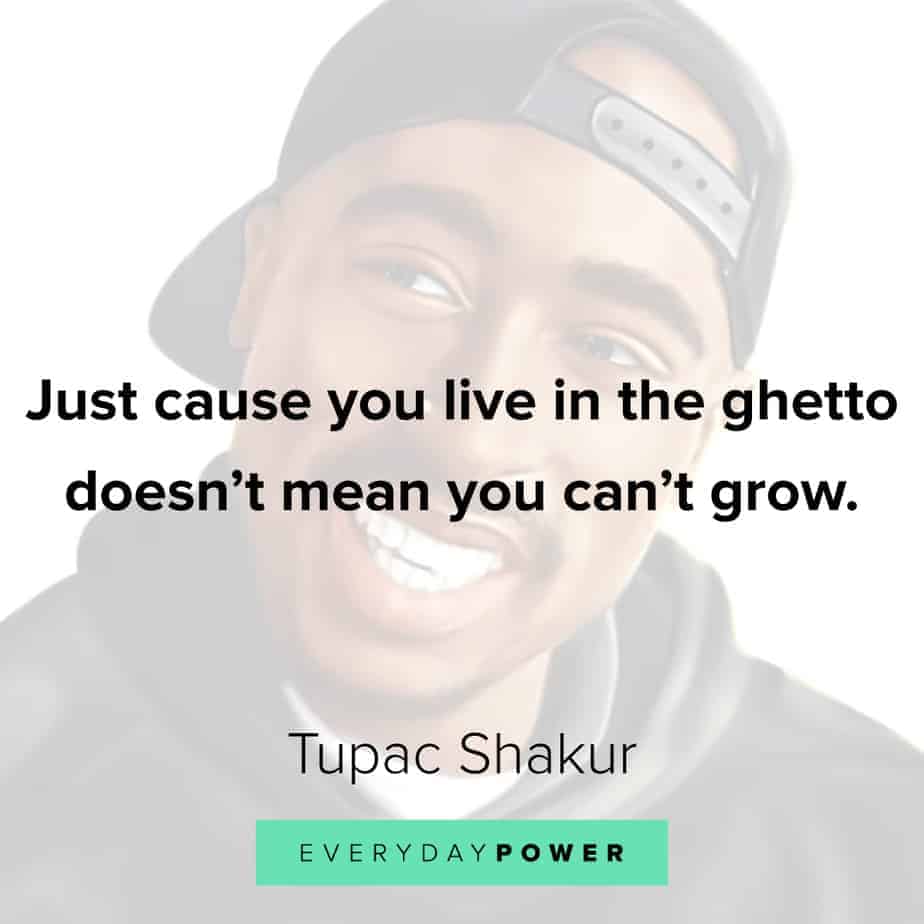 24. "When I was a little baby, I remember that one moment of calm-peace, and 3 minutes after that, it was on." – Tupac Shakur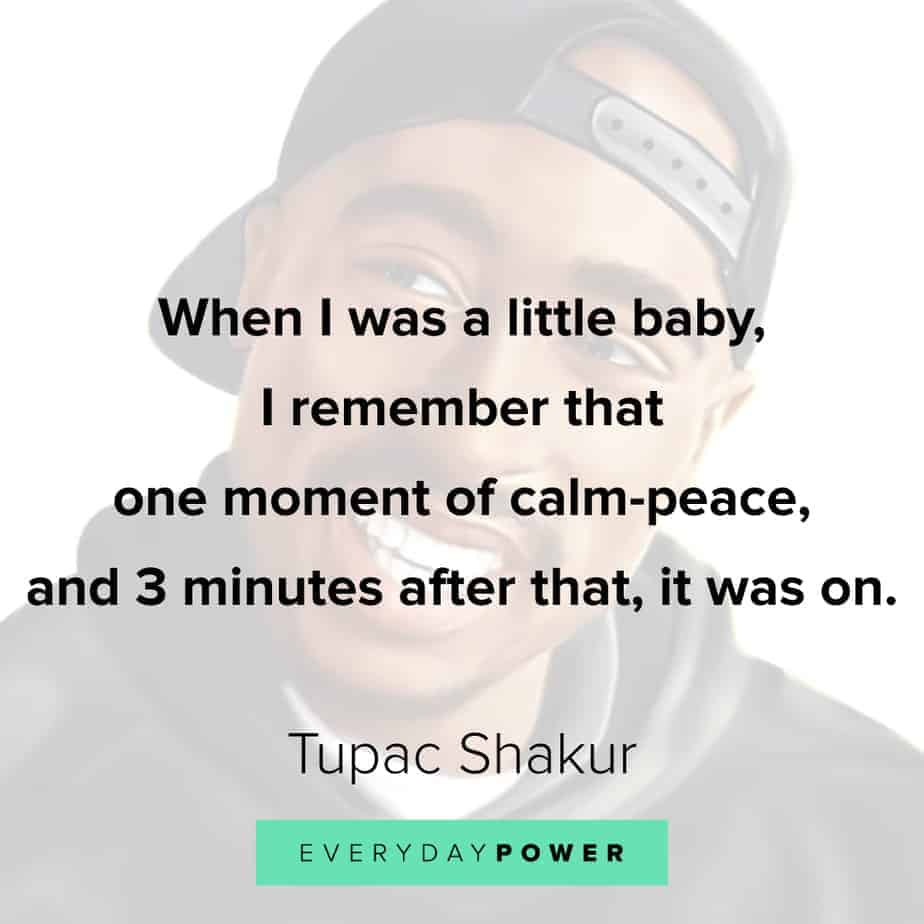 25. "I'm not saying girls are perfect cause we all know that's not true. But why be unfaithful to her if she was true to you?" – Tupac Shakur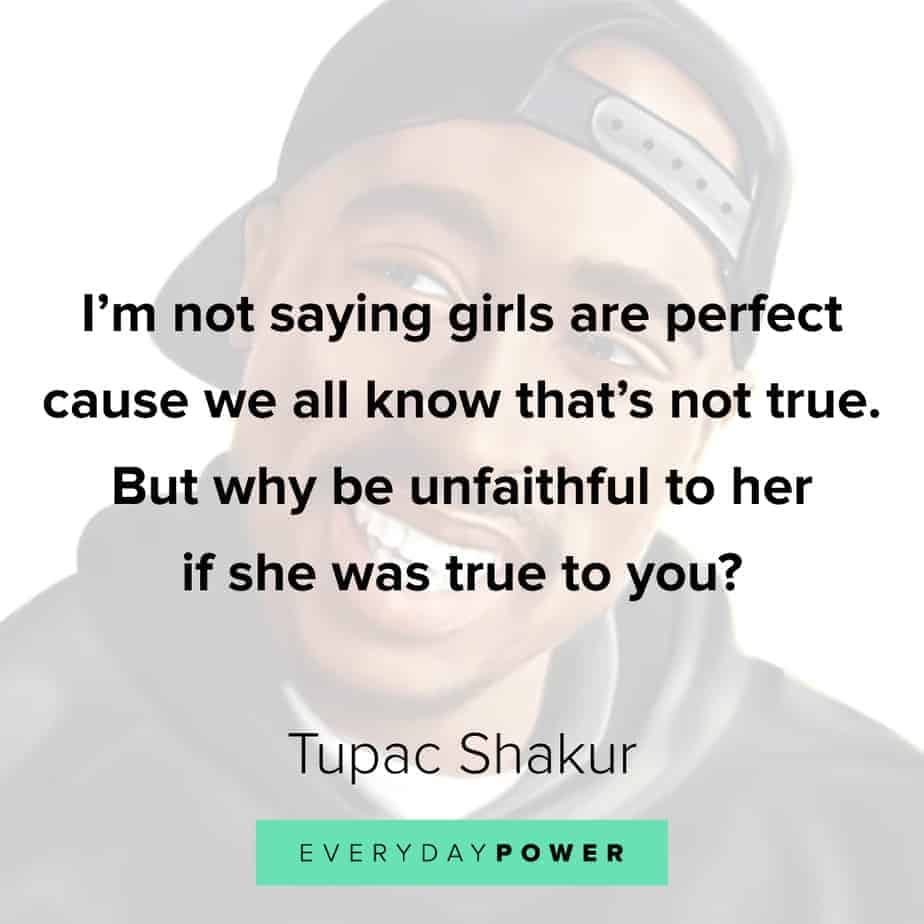 Which of these Tupac quotes was your favorite?
Tupac will always be remembered as one of hip-hop's most iconic figures and its most powerful enigma.
More than 25 years after his death, the rapper's legacy still lives on.
Hopefully, his words have inspired you to pursue greatness.
Did you enjoy these Tupac quotes and lyrics?
What other Tupac quotes would you add to the list?
Tell us in the comment section below.
We would love to hear all about it.
August 18, 2022 5:00 AM EST