25 Ken Kaneki Quotes From The Popular Manga Series
These Ken Kaneki quotes from Tokyo Ghoul reveal his internal struggle with his identity and depression.
Share your favorite Ken Kaneki quote with us in the comment section below.
You may also enjoy our article on:
What are the benefits of reading these Ken Kaneki quotes?
Just who is Ken Kaneki?
Well, he is the main protagonist of Tokyo Ghoul, a Japanese dark fantasy manga series.
These Ken Kaneki quotes will help you:
understand the character better
impress your manga-obsessed friends
relate and cope with your own life struggles
Ken was a human who studied Japanese Literature at Kamii University and lived a relatively normal life.
All of that changed when Rize's kakuhou, a sac-like organ that is only present in ghouls, is transplanted into him.
This turned him into a One-Eyed Ghoul.
He learned to live as a Ghoul and earned the name Eyepatch.
Author Ishida Sui created the series that chronicles Kaneki's life struggles while he tries to figure out where he belongs now that he is not a human and is fighting to accept his new reality as a ghoul.
He is captured by Aogiri Tree, which prompts him to finally accept his ghoul side.
Ken puts together a team with the goal of protecting the ones he cares about and "plucking out" people who threaten his new home and way of life.
Keep reading these Ken Kaneki quotes to learn more about the main protagonist of Tokyo Ghoul.
Don't forget to also check out these anime quotes to motivate & inspire.
Check out our most popular quote article, a list of short inspirational quotes for daily inspiration.
Check out our entire collection of motivational quotes here.
Best Ken Kaneki quotes about ghouls and death
1. "I'm begging you, don't make me a killer!" — Ken Kaneki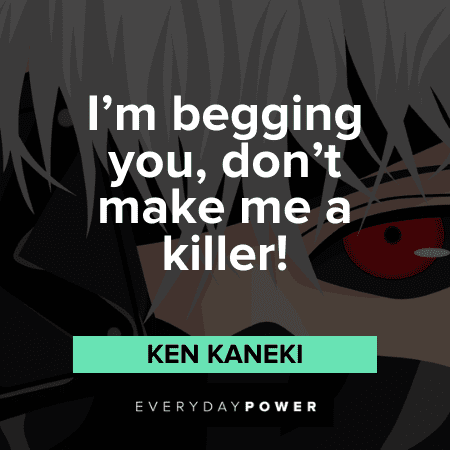 You will also enjoy our article on brother and sister quotes.
2. "The pain you feel today will be the strength you'll have tomorrow." — Ken Kaneki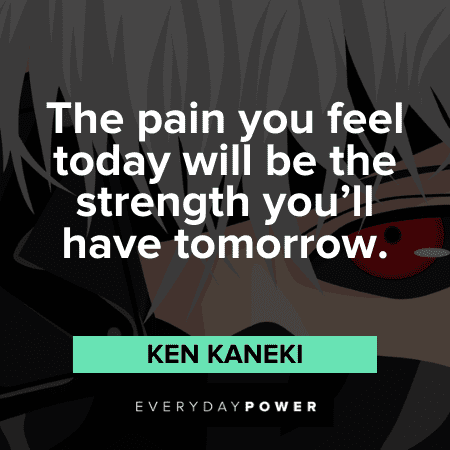 3. "I was wrong. I wasn't eating ghouls. I'm the one who was being eaten." — Ken Kaneki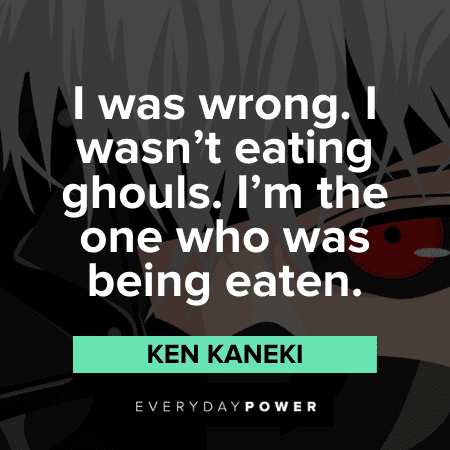 4. "All the liabilities in this world are due to the inadequacies of the person involved." — Ken Kaneki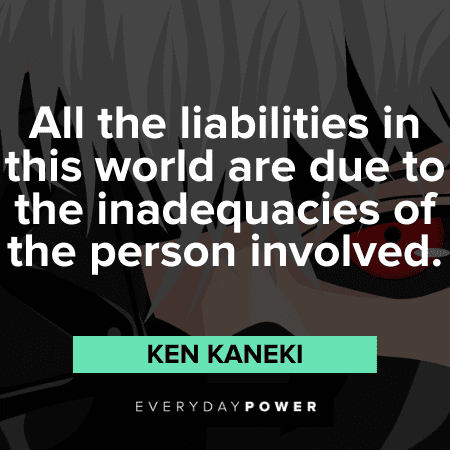 5. "Never trust anyone too much. Remember, the devil was once an angel." — Ken Kaneki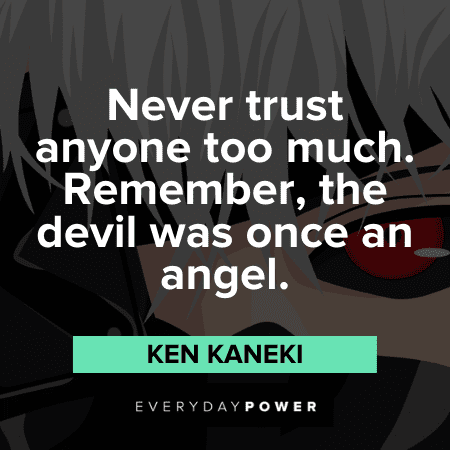 You will also enjoy our article on Haikyuu quotes.
6. "I won't forgive anyone who threatens the peace in my life." — Ken Kaneki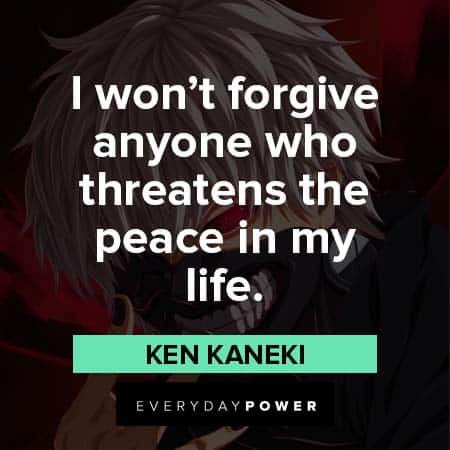 7. "You're wrong. It's not the world that's messed up; it's those of us in it." — Ken Kaneki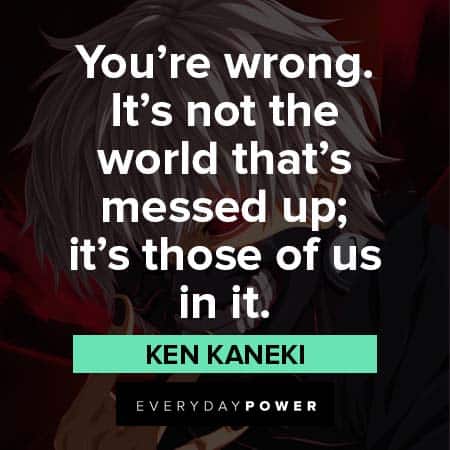 Ken Kaneki quotes filled with life advice
8. ""I won't pull back, I will press forward, like a centipede." – Ken Kaneki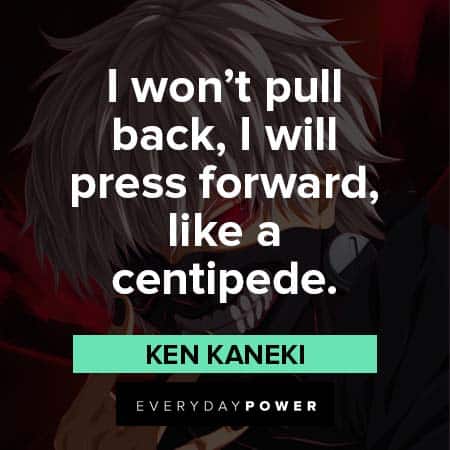 9. "We need to stop fighting and start talking. Because when it comes to the state of the world, you can't point your finger at ghouls or humans. We're all to blame." — Ken Kaneki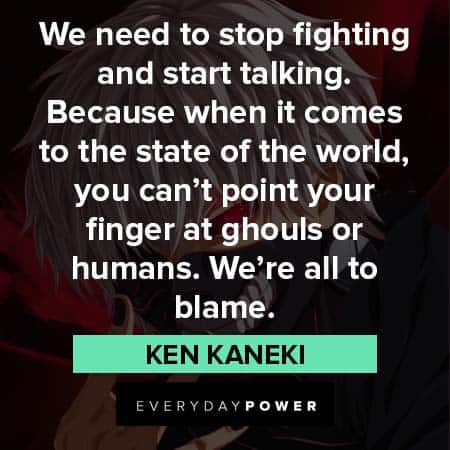 10. "It's better to be hurt than to hurt others. Nice people can be happy with just that." — Ken Kaneki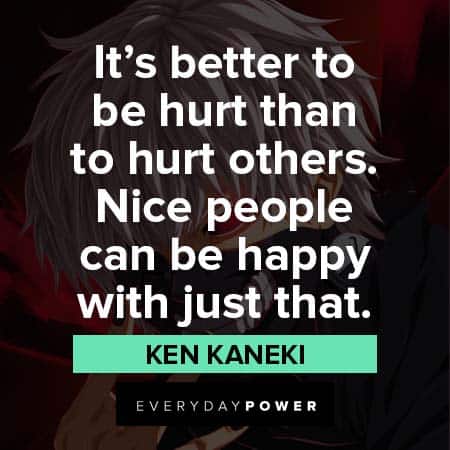 11. "I don't care about taking the side of those I cannot see. I fight for those close to me. And it just so happens that they're mostly ghouls." — Ken Kaneki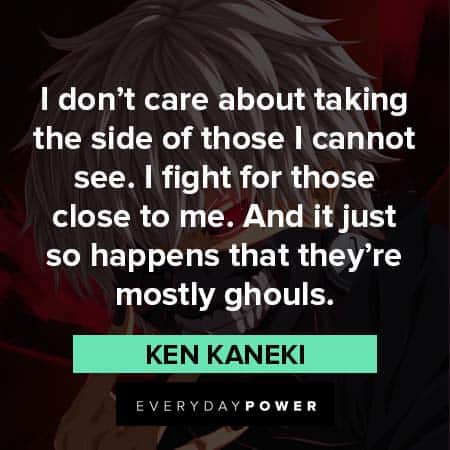 12. "Sometimes good people make bad choices. It doesn't mean they are bad people. It means they're human." — Ken Kaneki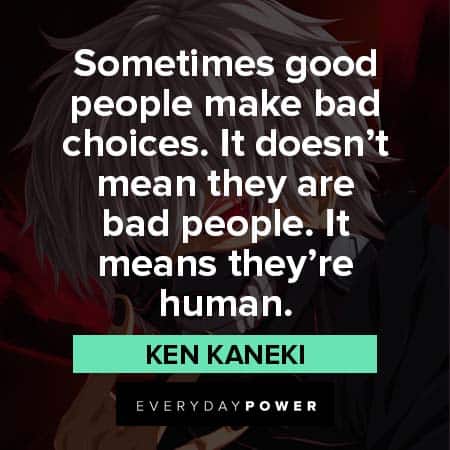 13. "I think what's necessary is the 'right distance.' Instead of mutually tramping on each others' existence, we should just respect each other a little more." — Ken Kaneki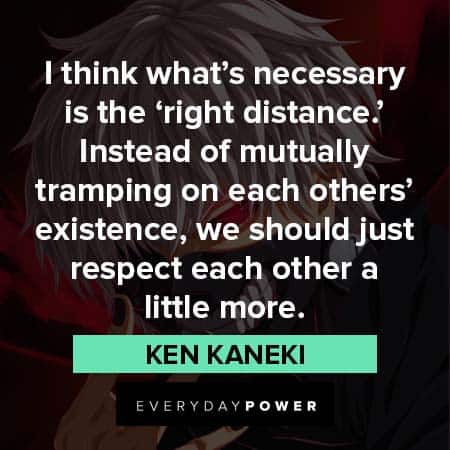 14. "We have to break a chain of grief." — Ken Kaneki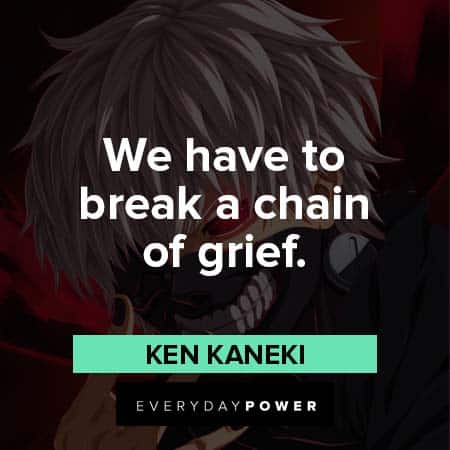 15. "Sometimes you're confronted with the ugly parts of yourself that you don't want to see, but books can also tell you a lot about the things you didn't notice when you're just trying to get through somehow." — Ken Kaneki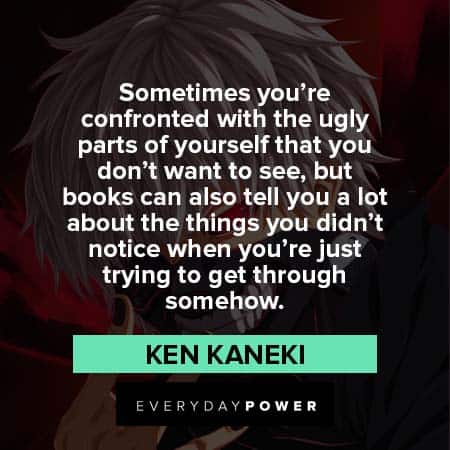 16. "Donato has to keep proving himself. He wants to prove just how valuable he is. Isn't that the case with you as well?" — Ken Kaneki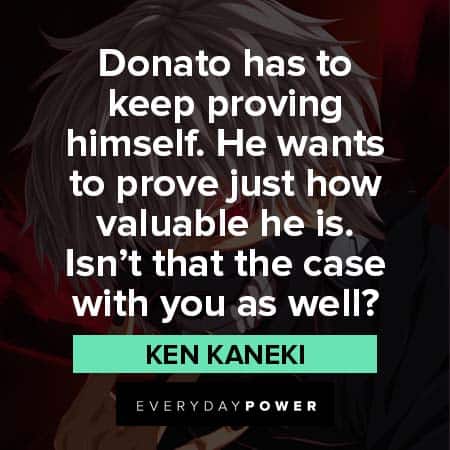 Cool Ken Kaneki quotes about himself
17. "If you were to write a story with me in the lead role, it would certainly be… a tragedy." — Ken Kaneki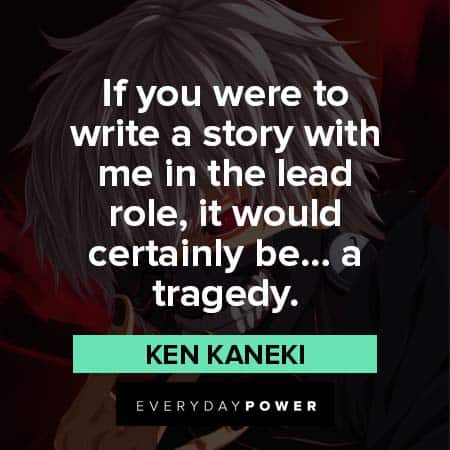 18. "What's wrong isn't me, what's wrong is the world!" — Ken Kaneki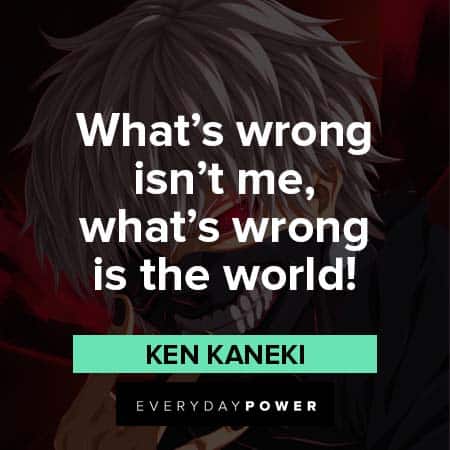 19. "Never kick me when I'm down, because when I get up… you're f*cked." — Ken Kaneki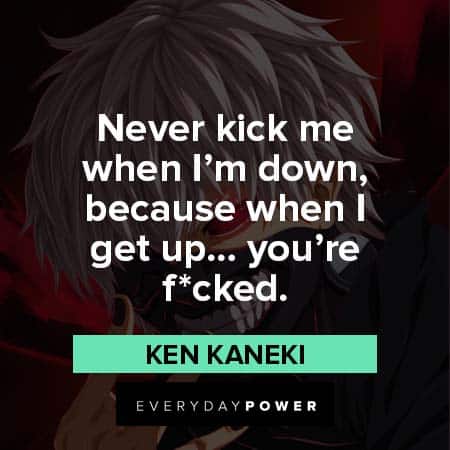 20. "I have to learn by experiencing things myself.. that's all I can do." — Ken Kaneki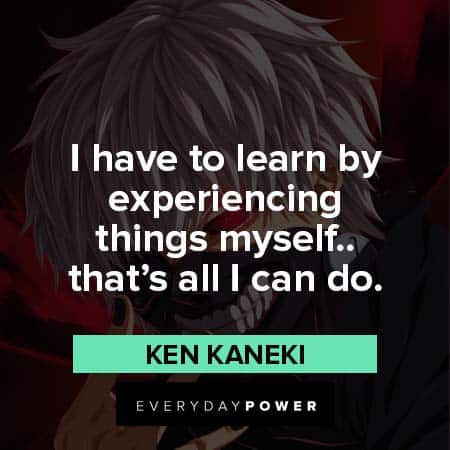 21. "Anyone who tries to take my friends from me will get no mercy." — Ken Kaneki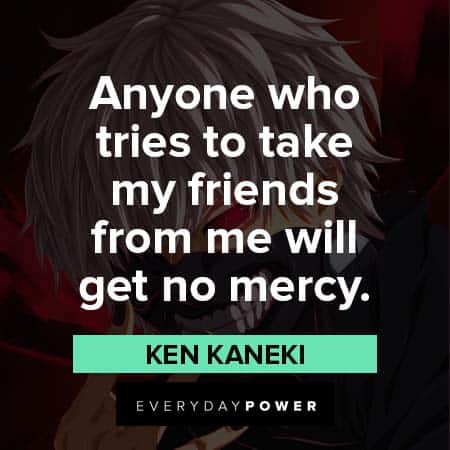 22. "I'm tired of not being able to do anything." — Ken Kaneki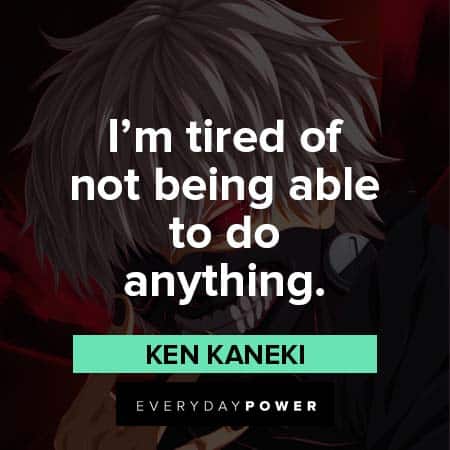 23. "I wanna be nice, but everyone annoys me." — Ken Kaneki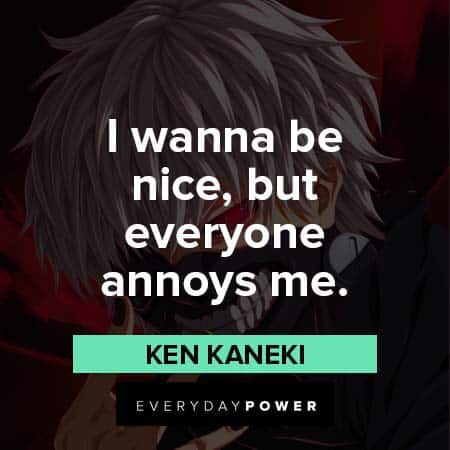 24. "This world is survival of the fittest. The strong eat.' 'Who is strong?' I am. Me." — Ken Kaneki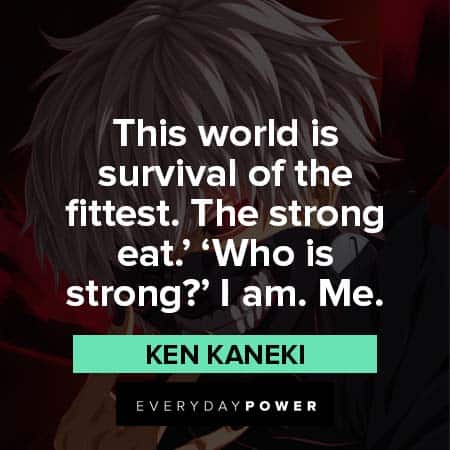 25. "I keep it all inside because I'd rather the pain destroy me than everyone else." — Ken Kaneki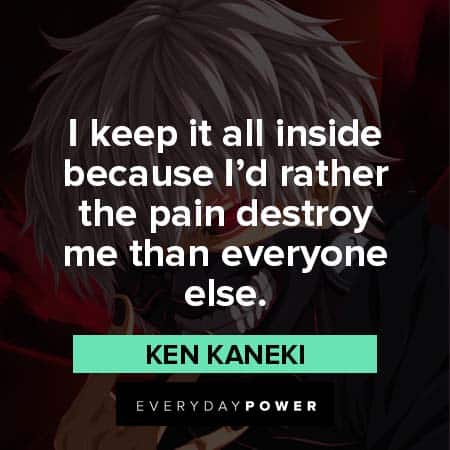 If you're enjoying these quotes, you'll love our collection of Naruto quotes about life, success and relationships.
Which of these Ken Kaneki quotes is your favorite?
What is Ken Kaneki like?
Fans of the series know Kaneki is a gentle soul who rarely ever harms another person unless he feels forced.
He has a profound fear of being alone and recognizes that he will have no one if he hurts people around him.
The thought of being alone haunts him and is a big factor in his protective nature.
This is one thing that makes the series easy to relate to.
Kaneki undergoes several personality shifts as the series progresses.
When he fully accepts his ghoul side and allows it to consume his human side, his changing hair color notes the change.
One part of his personality that doesn't change is his love of books.
Throughout the entire series, Kaneki is an avid reader.
This is likely because of a memory of his late father, and their shared love of reading.
What do you think of the Tokyo Ghoul series and Ken Kaneki?
Share your thoughts and other favorite Ken Kaneki quotes and lines in the comment section below.