Kenny Powers Quotes from Eastbound & Down
Fans of Eastbound & Down will enjoy these Kenny Powers quotes.
Let us know in the comment what your favorite quote is from below.
Kenny Powers is a fictional character in the hit HBO television comedy series Eastbound & Down, created by Ben Best, Jody Hill, and Danny McBride.
You may also enjoy our article on:
What are the benefits of reading these Kenny Powers quotes?
Played by Danny McBride, Powers is a world-famous baseball player who is known for his poor work ethic and short temper.
His personality eventually took a toll on his professional career.
After savoring a career as a successful pitcher whose star lost its shine because of his temper, Powers ended up being a temporary physical education teacher.
This taught him many lessons in life while dealing with other characters' own stories.
We can learn lessons from Kenny Powers, too, like:
the meaning of love and hate
how to deal with competition
how to be persistent and stand your ground
To know more about why this character is loved by many, check out these funny Kenny Powers quotes.
Don't forget to check out these Dr. Spencer Reid quotes that prove he's an amazing character.
If you love this quote collection, read out our most popular quote article about short inspirational quotes for daily motivation.
If you need more inspirational quotes, check out our motivational quotes category page.
Best Kenny Powers Quotes and Lines About Playing
1. "Stay in school. Fight the power. Don't do drugs. Unless, of course, you're doing them with me." – Kenny Powers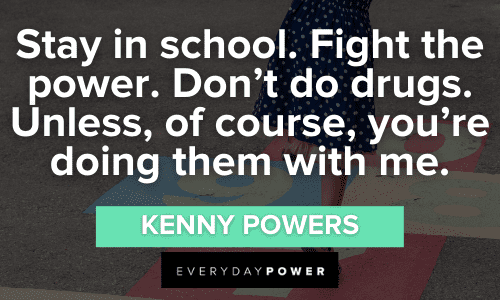 You will also enjoy our article on Sports Quotes.
2. "I'm sober and ready to destroy the competitions." – Kenny Powers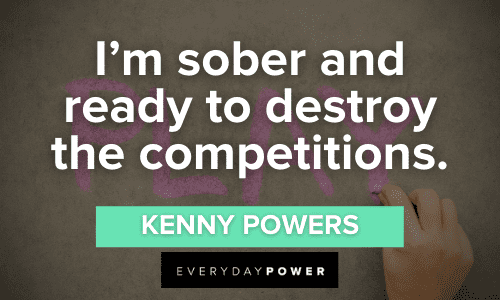 You will also enjoy our article on Ricky Bobby quotes.
3. "There's no better feeling than winning." – Kenny Powers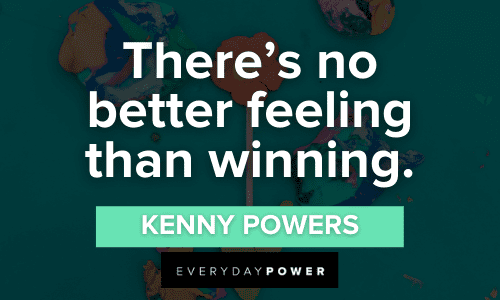 You will also enjoy our article on beth dutton quotes.
4. "If you've got something you want to say, then just say it." – Kenny Powers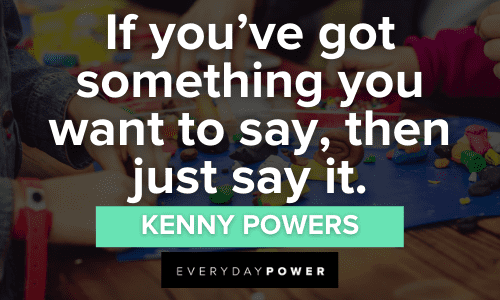 You will also enjoy our article on Toy Story quotes.
5. "I play real sports. Not trying to be the best at exercising. F*ck this guy." – Kenny Powers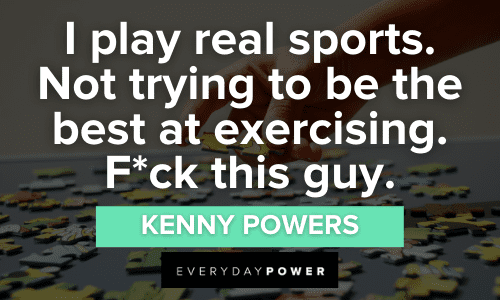 You will also enjoy our article on Superbad quotes.
6. "I brought you guys up from less than f*ckin' nothin', and took you up to a championship level, only to abandon you there." – Kenny Powers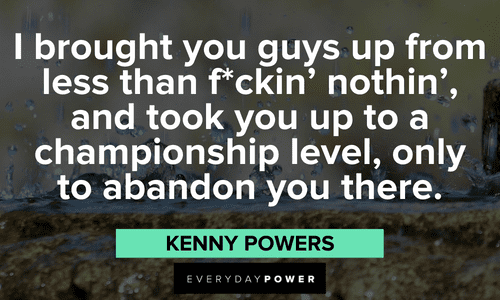 You will also enjoy our article on soulmate quotes and sayings.
7. "Oddly enough, the people here aren't that different from the ones back home, when you get past the lack of interest in real sports, and the need to have yellow rice at every fuckin' meal." – Kenny Powers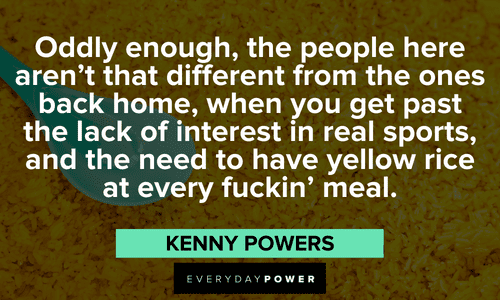 You will also enjoy our article on Kingdom Hearts quotes.
8. "I'm sick and tired of carrying all the weight… the coaches and owners not giving me the sh*t I need to win." – Kenny Powers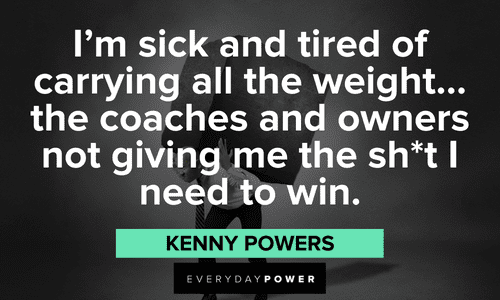 9. "Kenny Powers is a man. Kenny Powers is an athlete. Kenny Powers is a lover. But the most he is, I mean, the thing that Kenny Powers is the most, is a goddamn champion." – Kenny Powers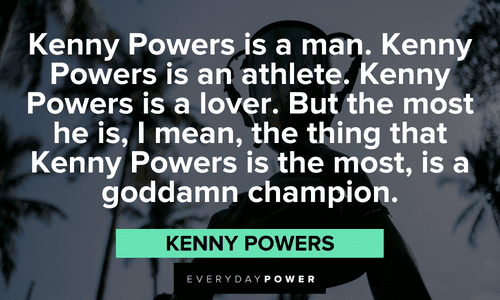 10. "Ask anybody out there, and they'll tell you that the foundation of a great baseball player starts with an understanding of some basic fundamentals: running, stretching, physical conditioning. These are the things that prepare your body for the many challenges a baseball player faces." – Kenny Powers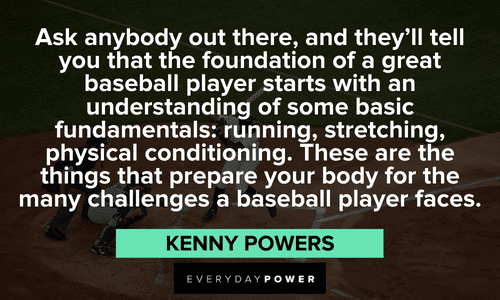 11. "When my ass was 19 years old, I changed the face of professional baseball. I was handed the keys to the kingdom." – Kenny Powers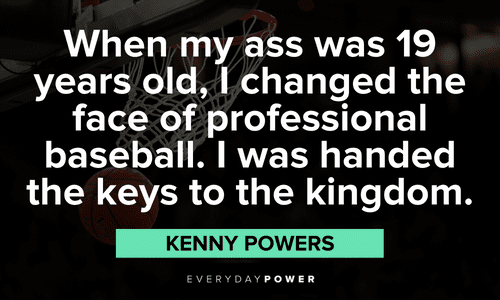 Funny Kenny Powers Quotes
12. "How does any genius figure out his inventions? I mean, how did Leonardo DiCaprio figure out about gravity? 'Cause the bitch was sleepin' underneath a tree and an apple hit him on his head." – Kenny Powers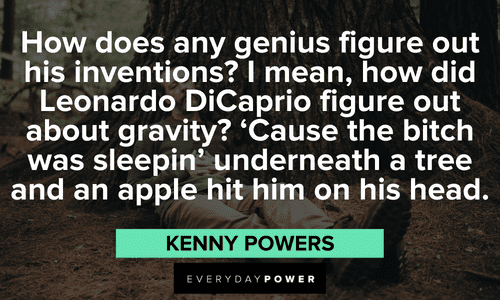 13. "Toby, what do you want from me? I've been super cool to you. I've given you a bowl of Chex Mix and some water. Why are you making curses upon me? If I give you a toy, will that erase the curse?" – Kenny Powers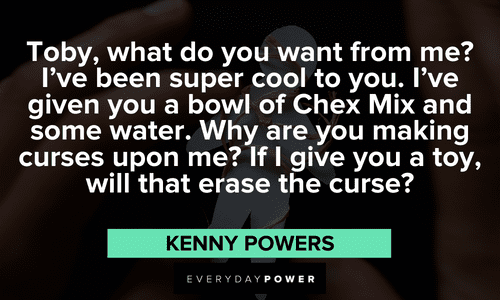 14. "Is that my thong? Oh, dude no way! You do not go in my drawers and take out a pair of my chones. That is a big no-no!" – Kenny Powers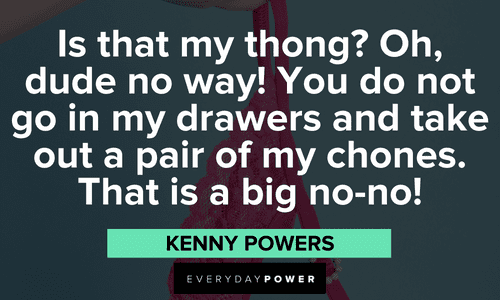 15. "Sure, I've been called a xenophobe, but the truth is I'm not. I honestly just feel that America is the best country and all the other countries aren't as good. That used to be called patriotism." – Kenny Powers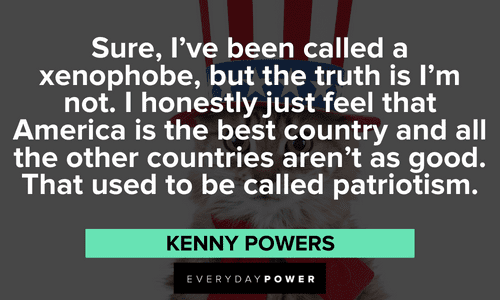 16. "Why give 100% when 35% will get you paid and laid." – Kenny Powers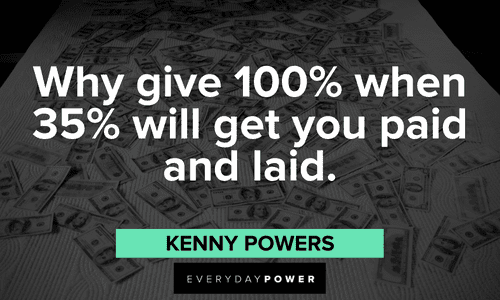 17. "Whenever I look at a Mexican I will think of you. Whenever you look at that jackass you think of me, OK?" – Kenny Powers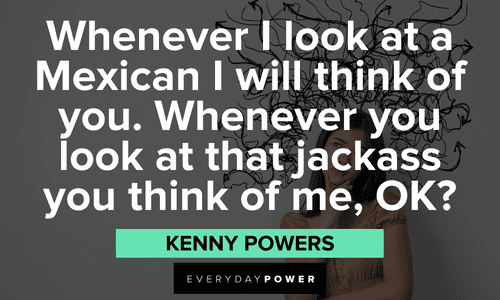 18. "In most of nature, the alpha is the strongest of the pack. Creature of immense strength, large in size, a leader from birth, hippos, bumblebees, Wayans brothers—most of the time, they just look to the biggest amongst them." – Kenny Powers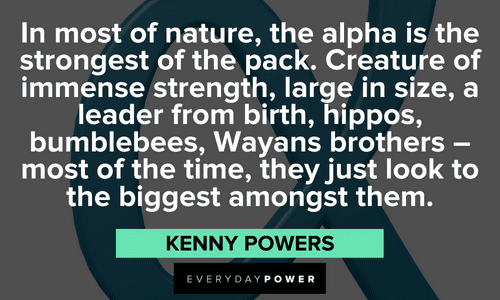 19. "I can't believe I opened up my heart up to that bitch. Opened it wide up. And she just squatted with that big beautiful booty and dumped all over it." – Kenny Powers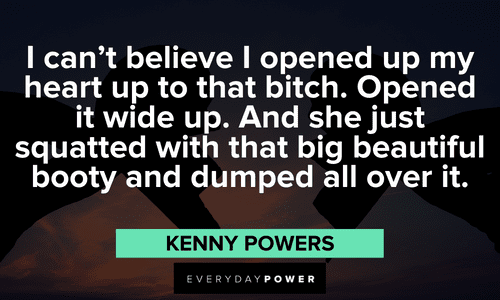 Memorable Kenny Powers Quotes
20. "There have been many comebacks throughout history… Well, my comeback is almost complete, and I can say that, when it is complete, it will shake the pillars of this land or town.'" – Kenny Powers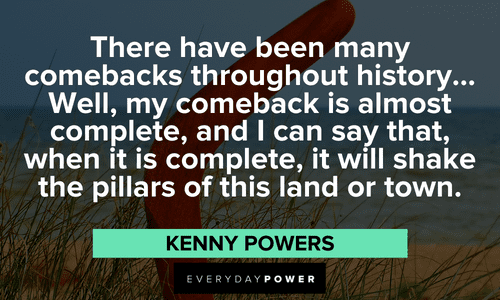 21. "See, in life, when you have talent all the other s**t doesn't matter. If we were on an island with no weights and no running drills, who would be on top then? The guy with the talent." – Kenny Powers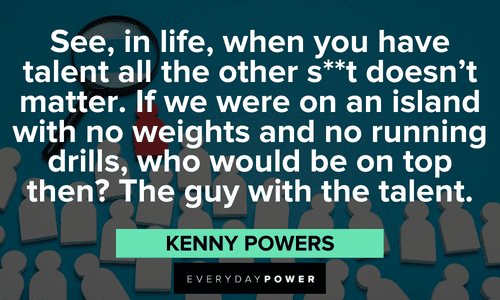 22. "I learned a lot down in Mexico. I learned that sometimes to be the man, you gotta beat the man. I learned the grass is not always greener. I learned that adversity's sweet milk. That's philosophy, April." – Kenny Powers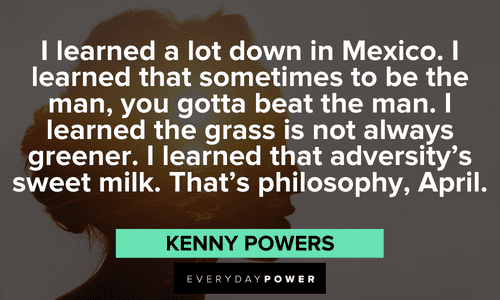 23. "But to capture the heart of one of your teachers, and take her away from you forever. So at this time I would like the beautiful, the forgiving, the talented, big-chested art teacher, to please step forward." – Kenny Powers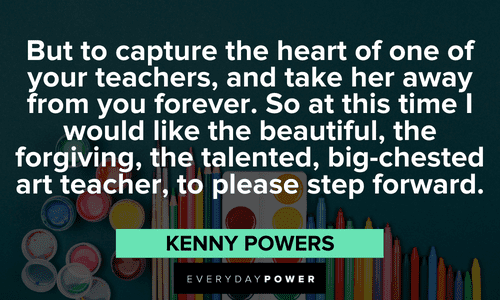 24. "OK, Toby, here we go, bud. We're going to put you on the big people's furniture. Try not to shit all over it, OK?" – Kenny Powers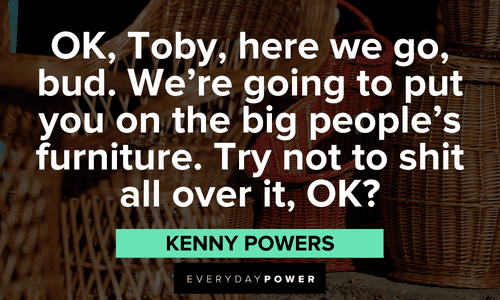 25. "Purity – it's what we all desire, and it is what I've come here to share with you. Hence the all whites." – Kenny Powers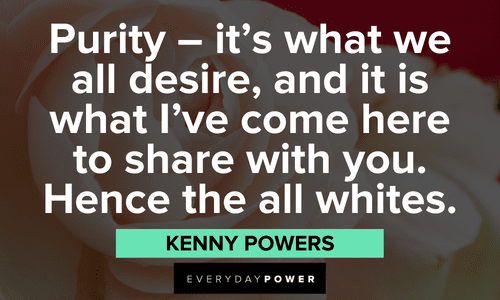 Which of these Kenny Powers quotes is your favorite?
Even when Kenny Powers lost his spotlight on the playing field, he could still welcome the change in his life.
It also taught him to become more mature and less impatient and learn from his other characters.
The experience helped him improve as a person, making people love him even more.
Despite throwing bad temper tantrums, the audience saw the other personality of the fictional character.
Kenny Powers' quotes may seem just funny, but by watching the HBO series and looking closely at where he came from as an individual, many will soon understand him.
Do you enjoy these Kenny Powers quotes and lines?
Which of the quotes is your favorite?
Let us know in the comment section below.