Focus Quotes to Inspire Epic Concentration
This focus quotes collection will boost your concentration and help you focus on what matters in your life.
Focus is a skill that allows us to take action without procrastination and to maintain our attention and effort until our goals are accomplished.
In the midst of distractions and challenges, focus allows us to pay attention and to sustain the effort and energy needed to hit our targets and accomplish our goals and dreams.
You may also enjoy our article on:
According to a survey by the American Psychological Association, stress and distractions are two of the top barriers to productivity.
The study highlights the need for strategies such as using focus quotes by management to help combat these issues among employees.
By being more focused, we can improve our clarity, pay attention to what matters most, make better decisions and become more effective in whatever we do.
Although we live in a noisy world, we can learn to improve focus and boost our concentration.
Clearing the noise in your environment, having a plan to follow, creating a reward for completion of your tasks, creating routine, and working methodically are some things you can do to improve your focus.
To help you defy distractions and get more done, here is our collection of inspirational, wise, and thoughtful focus quotes and focus sayings, collected from a variety of sources over the years.
Also, check out our most popular quote article, a list of short inspirational quotes for daily wisdom.
See the rest of our quote database for even more inspirational ideas and thoughts.
Focus Quotes to Inspire Epic Concentration
According to a study by the University of Arizona, having a positive attitude can improve cognitive function and increase productivity.
The findings from the study suggest Inspirational focus quotes can help inspire epic concentration, ensure a positive mindset, and boost productivity.
1. "Concentrate all your thoughts upon the work at hand. The sun's rays do not burn until brought to a focus."- Alexander Graham Bell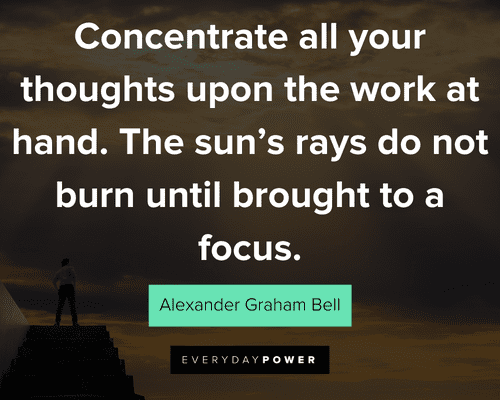 You will also enjoy our article on commitment-quotes.
2. "Stay focused, go after your dreams and keep moving toward your goals."- LL Cool J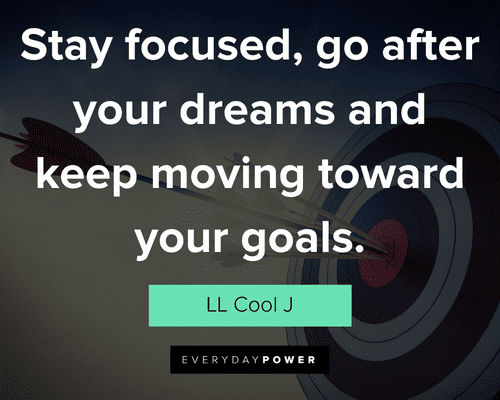 You will also enjoy our article on positive thinking quotes.
3. "Live life to the fullest, and focus on the positive." – Matt Cameron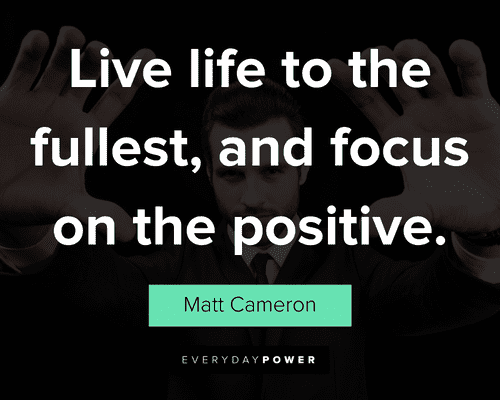 You will also enjoy our article on monday motivation quotes.
4. "What you stay focused on will grow." ― Roy T. Bennett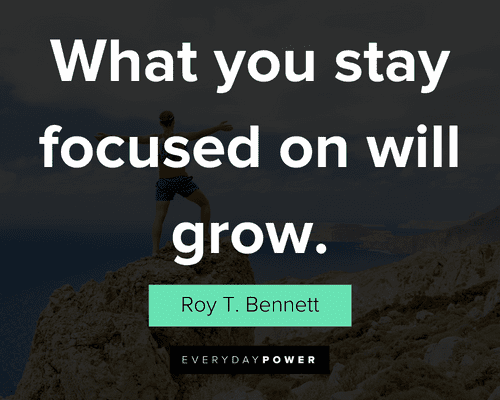 You will also enjoy our article on future quotes.
5. "Stay focused on the mission." – Naveen Jain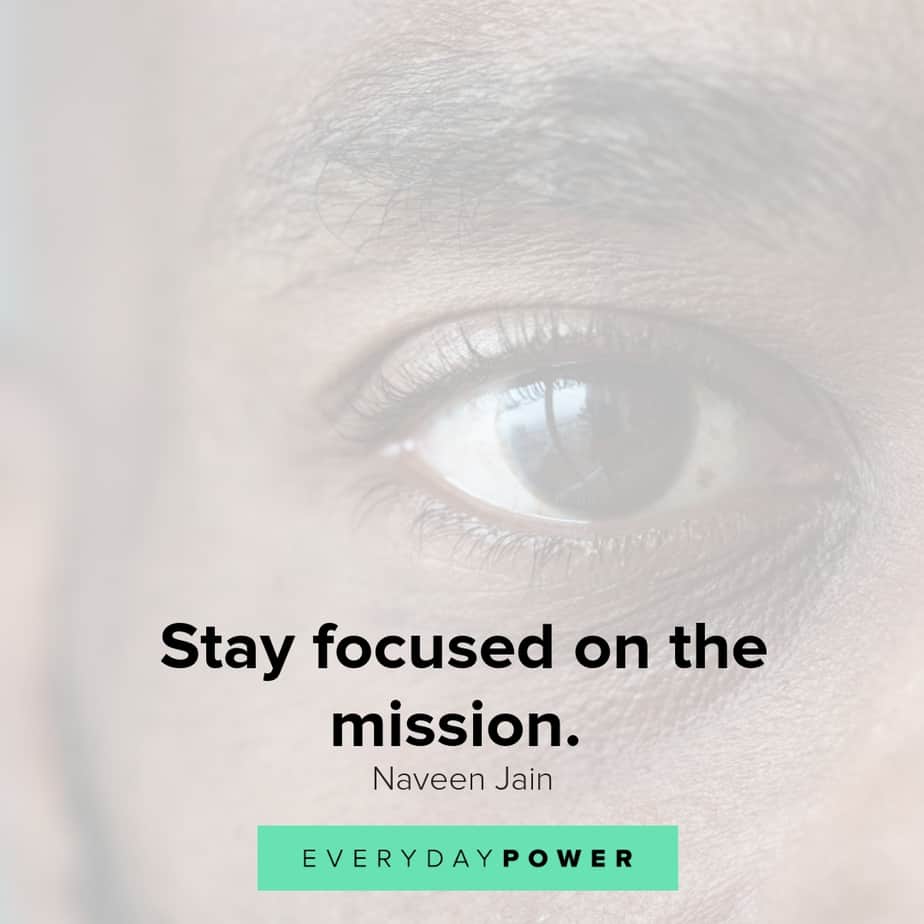 You will also enjoy our article on consistency quotes.
6. "I learned that focus is key. Not just in your running a company, but in your personal life as well." – Tim Cook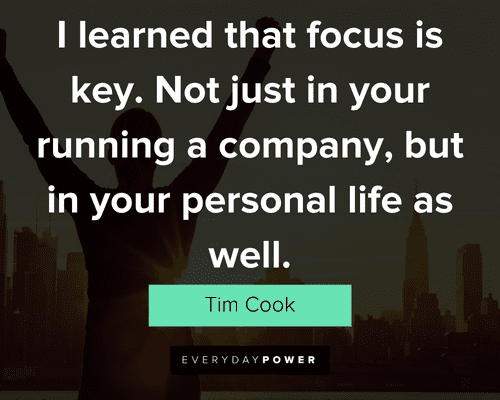 You will also enjoy our article on quality quotes.
7. "If you want to live a long life, focus on making contributions." – Hans Selye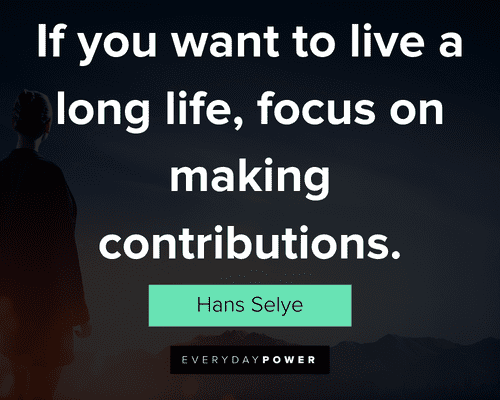 You will also enjoy our article on morning quotes.
8. "Everyone's time is limited. What matters most is to focus on what matters most." ― Roy Bennett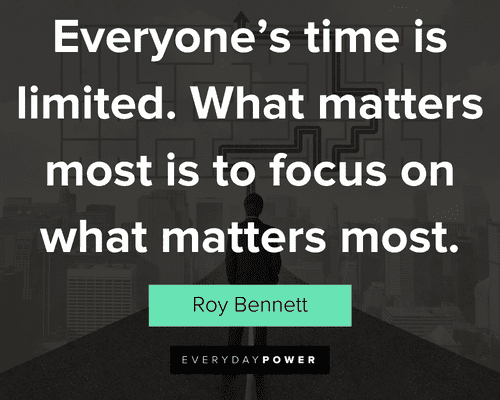 You will also enjoy our article on motivational quotes for kids.
9. "My success, part of it certainly, is that I have focused in on a few things."— Bill Gates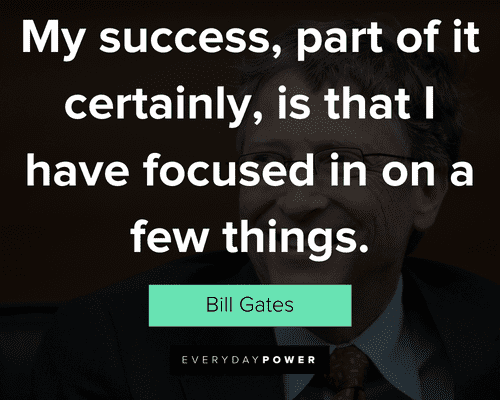 You will also enjoy our article on meaningful quotes.
10. "What you focus on expands. So focus on what you want, not what you do not want." ― Esther Jno-Charles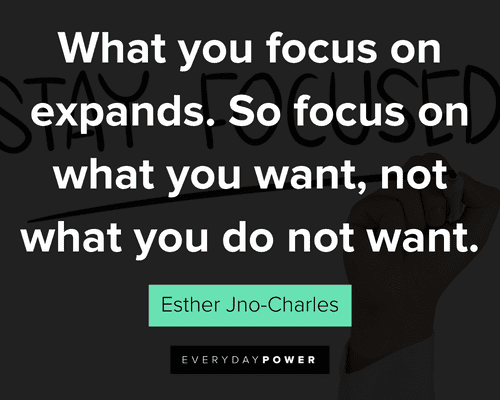 Focus quotes to boost your concentration
According to research from the University of Texas, people who write down their goals are 42% more likely to achieve them than those who don't.
The study suggests that written goals are a reminder of the goals and aspirations individuals are striving towards, helping maintain focus and motivation.
11. "I don't focus on what I'm up against. I focus on my goals and I try to ignore the rest." – Venus Williams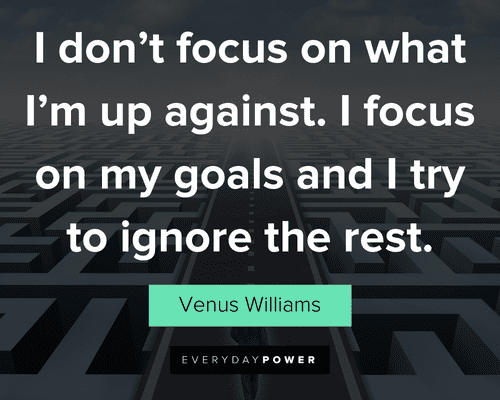 You will also enjoy our article on motivational quotes about success.
12. "My key to dealing with stress is simple: just stay cool and stay focused." – Ashton Eaton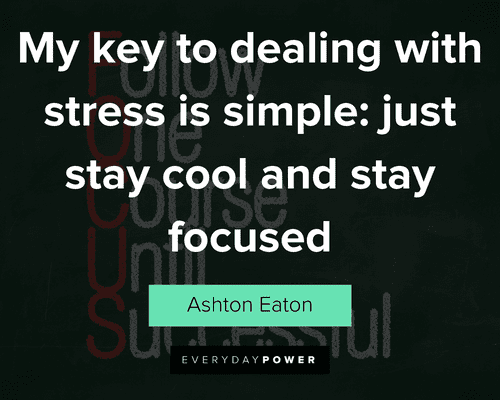 You will also enjoy our article on beautiful smile quotes.
13. "The successful warrior is the average man, with laser-like focus."
– Bruce Lee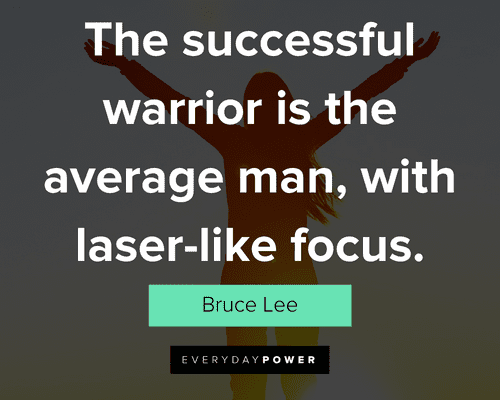 You will also enjoy our article on moneybagg yo quotes.
14. "I learned to focus and work hard and not give up. I learned that every obstacle is really an opportunity." – Jenna Ushkowitz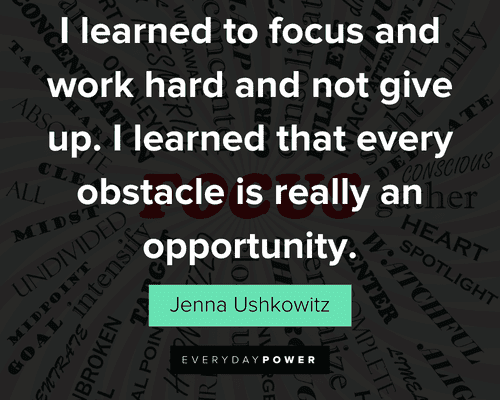 15. "Focusing is about saying No." ― Steve Jobs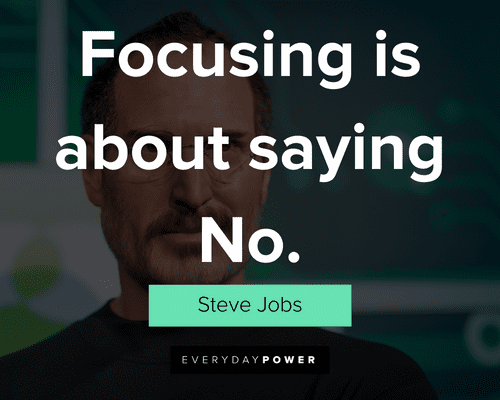 16. "Your focus should be on creating an environment where growth can occur and then letting nature take its course." – Patrick Lencioni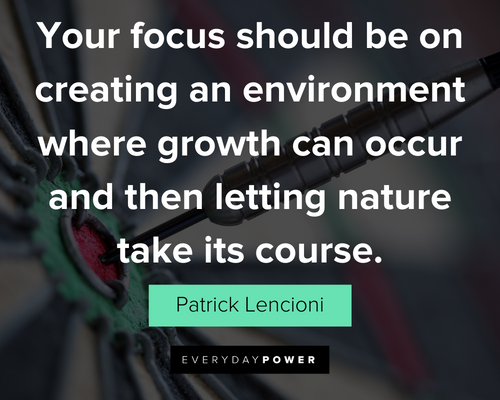 17. "But when you're beginning, you should try to focus on something you love and your own way of doing things."— Jerry Harrison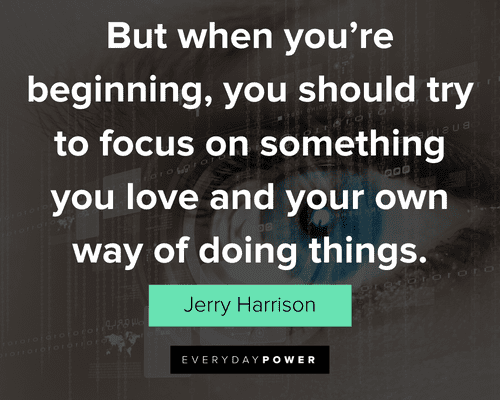 18. "Don't waste your time to make new dreams. but waste it to make one of your lifetime dream, come true." ― Olivia Sinaga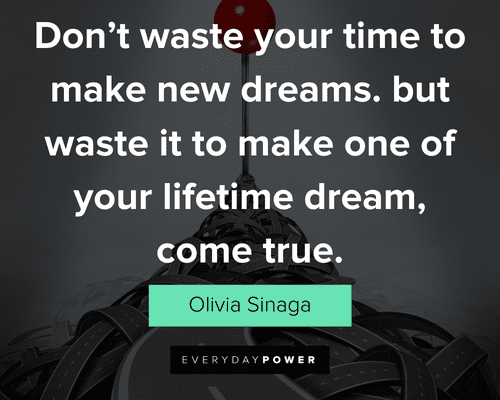 19. "Learning how to rein in your thoughts and focus is going to help you to achieve your goals in life. Without focus, you can never achieve anything." – Eric Phillips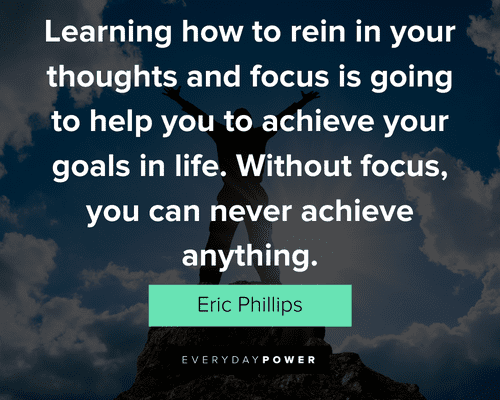 20. "A negative focus can result in our entirely missing the possibilities placed in our path." – Anne Wilson Schaef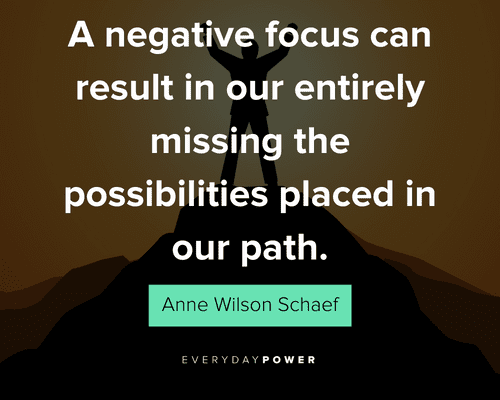 If you're enjoying this article, be sure to also check out our collection of running quotes to motivate you to stay active.
Focus quotes to help you pay attention to what matters
21. "Choose to focus your time, energy and conversation around people who inspire you, support you and help you to grow you into your happiest, strongest, wisest self." – Karen Salmansohn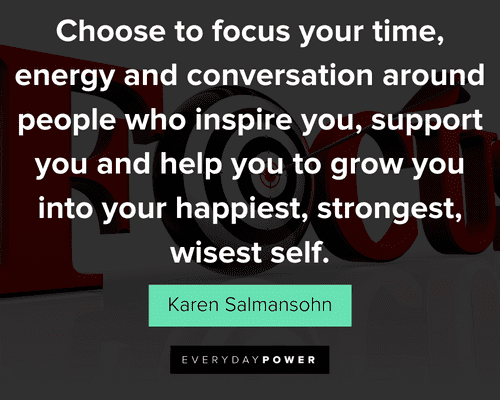 22. "The biggest challenge is to stay focused. It's to have the discipline when there are so many competing things." – Alexa Hirschfeld

23. "Lack of direction, not lack of time, is the problem. We all have twenty-four hour days." – Zig Ziglar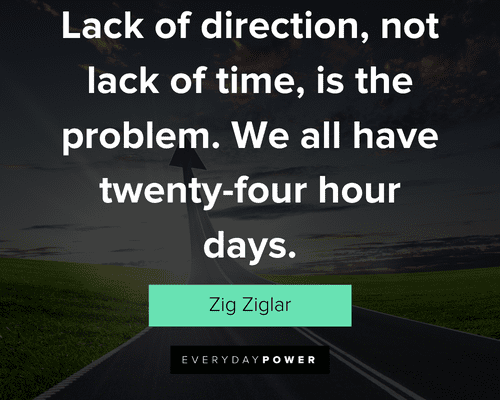 24. "Always focus on the front windshield and not the review mirror." ― Colin Powell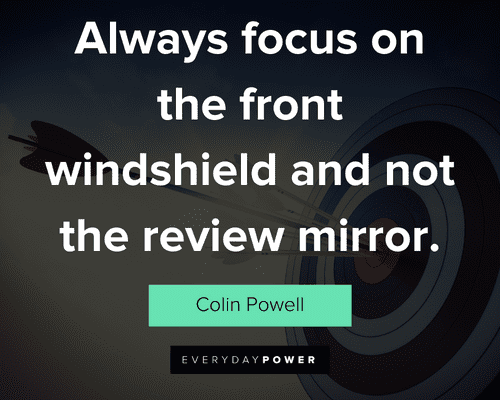 25. "I know how to stay focused on a mission." – Mike Pompeo

26. "Over the years, I've learned, focus on the job at hand, and opportunities will open after." – Antonio Villaraigosa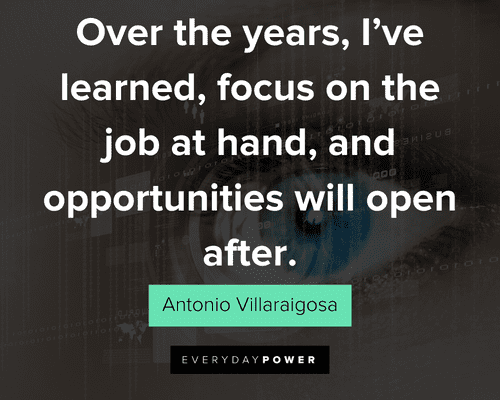 27. "Focus 90% of your time on solutions and only 10% of your time on problems." – Anthony J. D'Angelo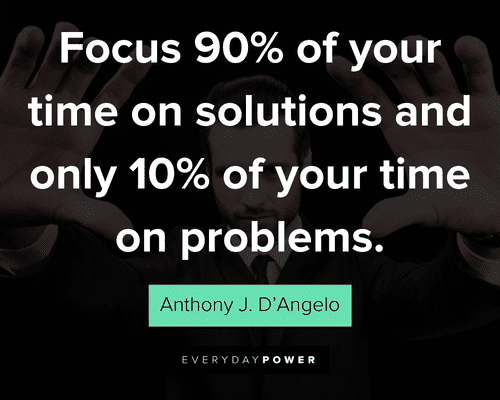 28. "Be dramatically willing to focus on the customer at all costs, even at the cost of obsoleting your own stuff."— Scott Cook
29. "Focusing on what you don't have keeps you too preoccupied to enjoy the things you do have!" – Andrew Farland
30. "Prioritizing sharpens your vision so you can focus on the most important things." – Myles Munroe
If you enjoy this article, check out our collection of distraction quotes to help you manage your life better.
Focus quotes to help you defy distractions and get more done
31. "You can do anything as long as you have the passion, the drive, the focus, and the support." – Sabrina Bryan
32. "You have to stay focused and be mentally tough. That's what I've really learned: every day is a grind, and you have to go hard." – Chris Gronkowski
33. "It is during our darkest moments that we must focus to see the light."-
Aristotle Onassis
34. "When you fully focus your mind, you make others attracted to you."
― Toba Beta
35. "Focus on your goals, not your fear." ― Roy Bennett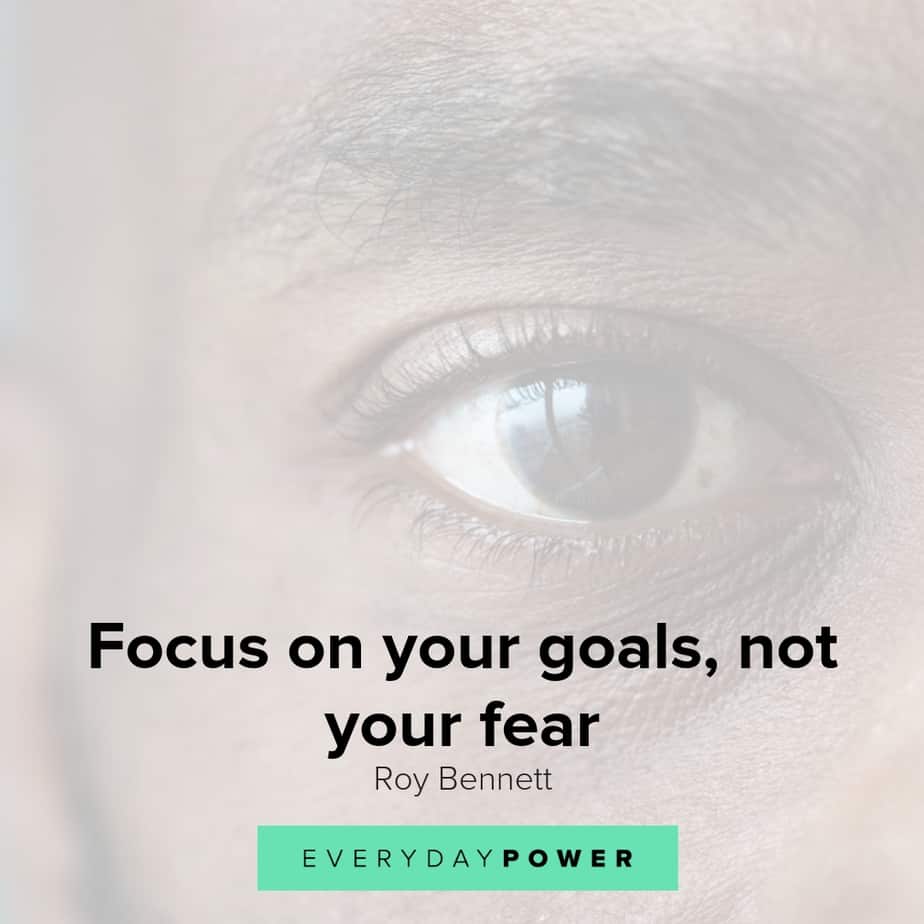 36. "Focus on doing the right things instead of a bunch of things." – Mike Krieger
37. "Concentrated attention is the collection of units of power on a chosen point of intention."— James Arthur Ray
38. "Our focus is our future, and what we focus on will multiply in our life." – David DeNotaris
39. "It's all about reprogramming our minds to focus more on what brings us joy." ― Alaric Hutchinson
40. "Recognize how focusing on what you do want, what you do intend to accomplish, also defines what you choose not to do in your life." – Meir Liraz
Other inspiring and motivating focus quotes
41. "Don't dwell on what went wrong. Instead, focus on what to do next. Spend your energies on moving forward toward finding the answer."
– Denis Waitley
42. "The best career advice I've gotten is to stay focused, keep moving forward." – Tyga
43. "Focus is a matter of deciding what things you're not going to do." – John Carmack

44. "FOCUS = Follow On Course Until Successful." ― Ifeanyi Enoch Onuoha

45. "Focus on the positives and be grateful." – Katrina Bowden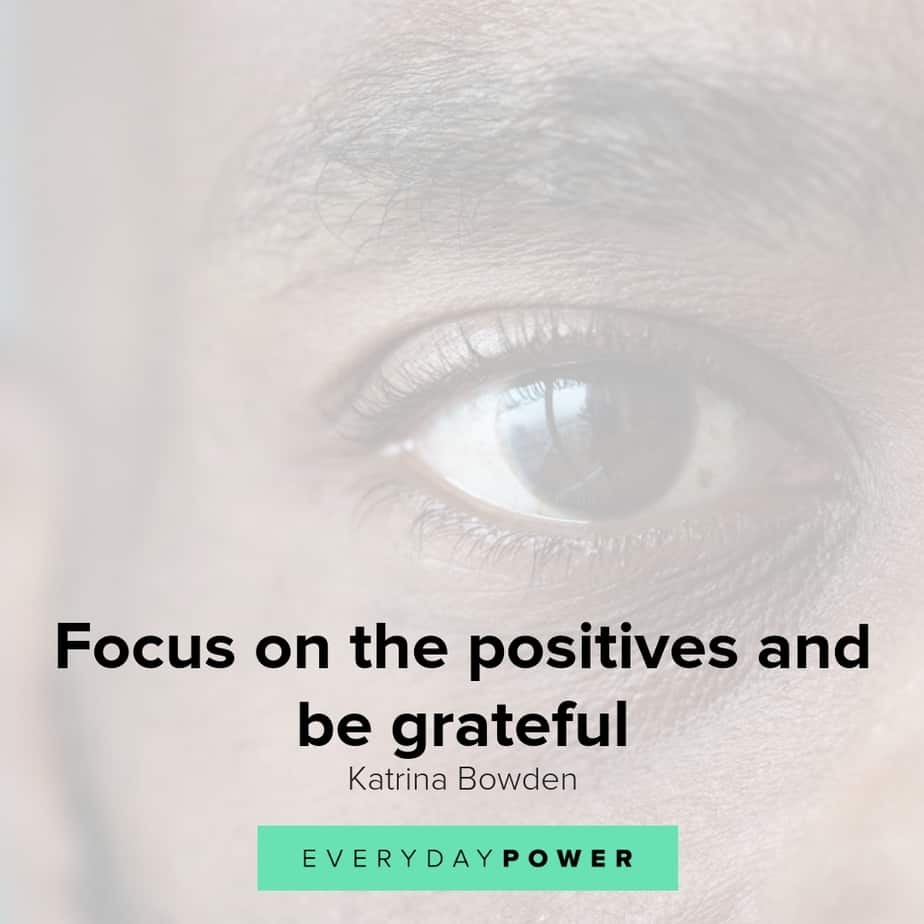 46. "If you focus more on the inside, you'll feel just as great about the outside. I feel attractive when I'm doing good and helping people." – Keke Palmer
47. "Focus on remedies, not faults. "— Jack Nicklaus
48. "Focus means eliminating distractions, not just from other people, but the things we do to distract ourselves." – Catherine Pulsifer
49. "Pay attention to the things that are critical to your happiness and the happiness of others." ― Israelmore Ayivor
50. "Concentrate on what you do want rather than what you don't." – Andy C. E. Brown
Focus Quotes to Inspire You to Achieve Your Goals
51. "In a world deluged by irrelevant information, clarity is power." – Yuval Noah Harari
52. "Success demands singleness of purpose." – Vince Lombardi
53. "Only through focus can you do world-class things, no matter how capable you are." – Bill Gates
54. "It is those who concentrate on but one thing at a time who advance in this world." – Og Mandino
55. "Too much sugar leads to a heavy body, and too many distractions lead to a heavy mind." – Naval Ravikant
56. "Knowing what to leave out is just as important as knowing what to focus on." – Warren Buffett
57. "I'll live the focused life, because it's the best kind there is." – Winifred Gallagher
58. "Your attention has value. Don't give it away. They will say it's important but it's not. Stay focused." – Maxime Lagacé
59. "These three things leads to positive non-linear results: clarity, focus, and time. Simple but not easy." – Shane Parrish
60. "The difference between successful people and very successful people is that very successful people say 'no' to almost everything." – Warren Buffett
Focus Quotes To Inspire Dreamers
61. "Focus more on your desire than on your doubt, and the dream will take care of itself." — Mark Twain
62. "What you focus on grows." — Esther Hicks
63. "Focus on unlocking your genius." — Maxime Lagacé
64."Always remember, your focus determines your reality." — George Lucas
65. "Goals may give focus, but dreams give power." — John C. Maxwell
66. "Don't make excuses for why you can't get it done. Focus on all the reasons why you must make it happen." — Ralph Marston
67. "Stay focused, ignore the distractions, and you will accomplish your goals much faster." — Joel Osteen
68. "Focus on your greater goal, your destiny." — Robert Greene
69. "Whatever you focus on is what you get." — Tony Robbins
70. "All great achievements are the result of sustained focus over time – all of them." — Gary Keller
Focus Quotes To Help You Achieve Your Goals
71. "I find hope in the darkest of days, and focus in the brightest. I do not judge the universe." ― Dalai Lama
72. "Always focus on your effort, instead of the results of that effort." ― Russell Simmons
73. "Focus on being productive instead of busy." ― Tim Ferriss
74. "Presence is more than just being there." ― Malcolm Forbes
75. "To focus means to bring your attention to the center, to concentrate on one thing intently in order to gain clarity." ― Cheryl Richardson
76. "I believe that as much as you take, you have to give back. It's important not to focus on yourself too much." ― Nicole Kidman
77. "Good performance is about the capacity to focus and concentrate." ― Betty Buckley
78. "One of the keys to thinking big is total focus. I think of it almost as a controlled neurosis, which is a quality I've noticed in many highly successful entrepreneurs." ― Donald Trump
79. "I needed to be in the bush. There I find solitude and beauty and purity and focus. That's where my heart lies." ― Mark Burnett
80. "Organize as much as possible around teams, to achieve enhanced focus, task orientation, innovativeness, and individual commitment." ― Tom Peters
Focus Quotes To Pay Attention To More Important Situations
81. "Meditation is a time to focus, train the mind, and bring it to stillness. It is not a time to rest and relax." ― Darren Main
82. "Your current conditions do not reflect your ultimate potential, but rather the size and quality of goals upon which you currently are focusing." ― Tony Robbins
83. "Along with a strong belief in your own inner voice, you also need laser-like focus combined with unwavering determination." ― Larry Flynt
84. "The more clearly we can focus our attention on the wonders and realities of the universe about us, the less taste we shall have for destruction." ― Rachel Carson
85. "Focusing your life solely on making a buck shows a poverty of ambition. It asks too little of yourself. And it will leave you unfulfilled." ― Barack Obama
86. "I think being a competitive diver for years helps you focus and dedicate yourself to what's needed." ― Jason Statham
87. "Focus on your problem zones, your strength, your energy, your flexibility and all the rest." ― Jack LaLanne
88. "I'm someone who loves to enjoy life and tries to focus on real things and real friendships. That's why I live very simply." ― Cameron Diaz
89. "The future is finally something that we can now put into focus." ― Lou Gramm
90. "Keep focused on the substantive issues. To make a decision means having to go through one door and closing all others." ― Abraham Zaleznik
Focus Quotes To Help You Commit
91. "Success isn't magic or hocus-pocus. It's simply learning how to focus." ― Jack Canfield
92. "Wherever you focus your attention and put your energy, that area will bring forth fruit." ― John A. Andrews
93. "Always try to be positively focused on what you want and adamantly averse to those trying to keep you from it." ― Monica L. Wofford
94. "Focus on a big dream that includes others; By empowering others you will in turn become empowered." ― John A. Andrews
95. "Life is short. Focus from this day forward on making a difference." ― Thomas J. Vilord
96. "Focus on where you want to go, not where you're currently are." ― Thomas J. Vilord
97. "It's important to focus on what we do best and master one craft at a time." ― Russell Simmons
98. "If we want to direct and focus our lives, career, relationships, achievements, then we must take control of our consistent actions." ― James Frey
99. "Every relationship needs commitment in it in order for it to grow and when the focus is love, we raise our standards." ― John A. Andrews
100. "To be successful, your personal plan must focus on what you want, not what you have." ― Nido Qubein
Did you enjoy these focus quotes?
We live in a noisy world and constant distractions can make it difficult to pay attention to what matters.
Increasing our focus allows us to have more clarity, make better decisions and improve our effectiveness.
Hopefully, these quotes will help boost your concentration, whether you're looking to focus on your goals in life, business, or the people that matter to you.
Which of these focus quotes resonated with you best?
Do you have any other favorite quotes to add?
Tell us in the comment section below.